Everything you love about a rich warming chai latte, but made into this classic comforting dessert! Our Chai Latte Bread Pudding is a delicious fall twist on an easy bread pudding recipe and a great way to repurpose some stale bread.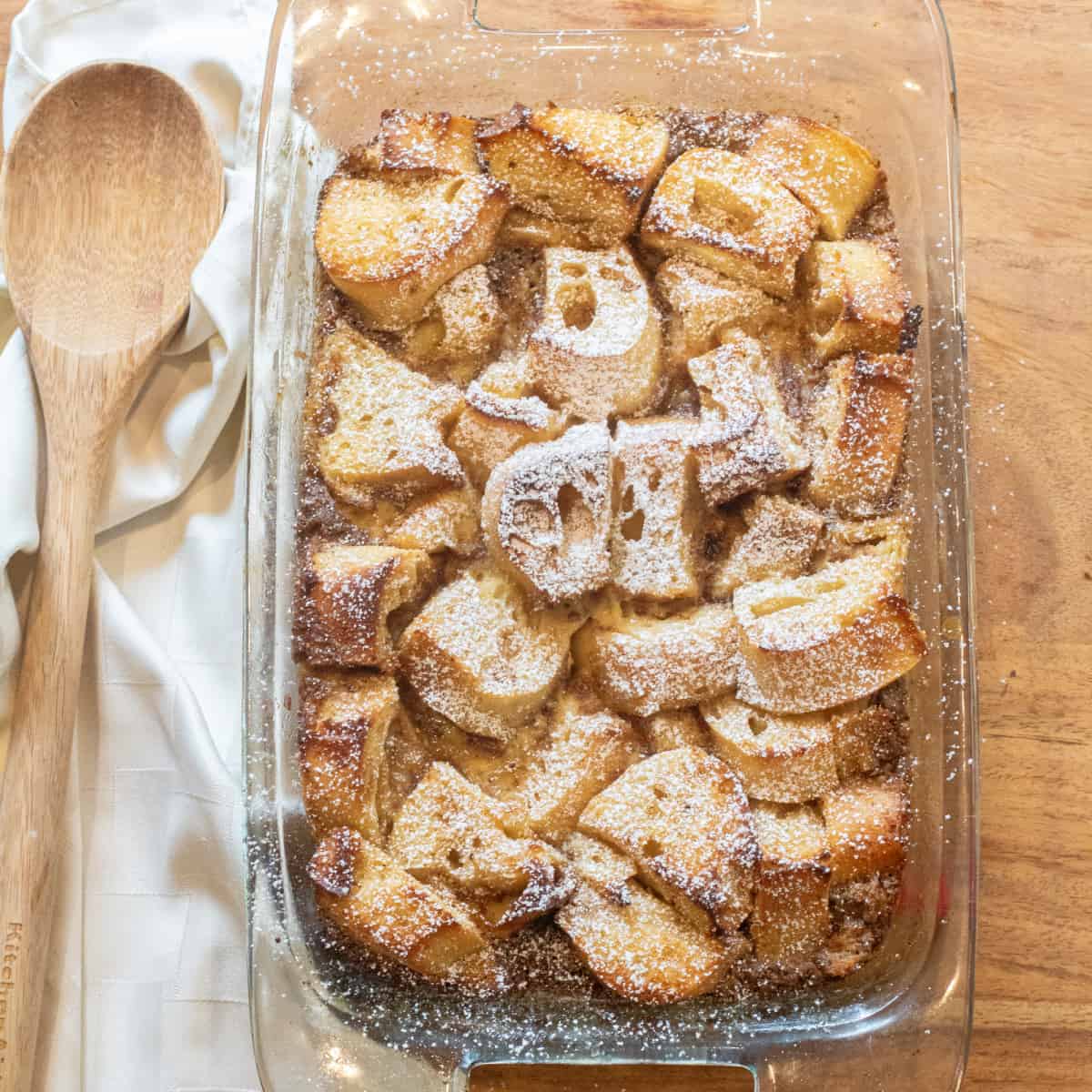 Bring on all of the fall desserts! This is one that we have been working on for a while now, and one that we have happily been recipe testing, and I am so happy to report that we have finally dialed it in! Our Chia Latte Bread Pudding is one of the few recipes here at Served From Scratch that I will say does not have a healthier twist. It does not sneak in some nutrition. There is nothing healthy or nutritious about this recipe, it is just a good old-fashioned bread pudding recipe with a modern twist that is downright delicious.
What is Bread Pudding
Bread pudding is a long-loved dessert found in many different cuisines that originated in 11th-century England as a way to use up old stale bread. Originally just made with just water, sugars, and some spices, it became known as "poor man's pudding," until later in the 13th century when bread and eggs were added and it became known as it is today, "Bread Pudding."
Bread Pudding should have the interior texture and flavor of a sweet pudding and then the top should have a delicious crunchy bread texture. Combining the best of both worlds, tender pudding and crusty bread.
Ingredients Needed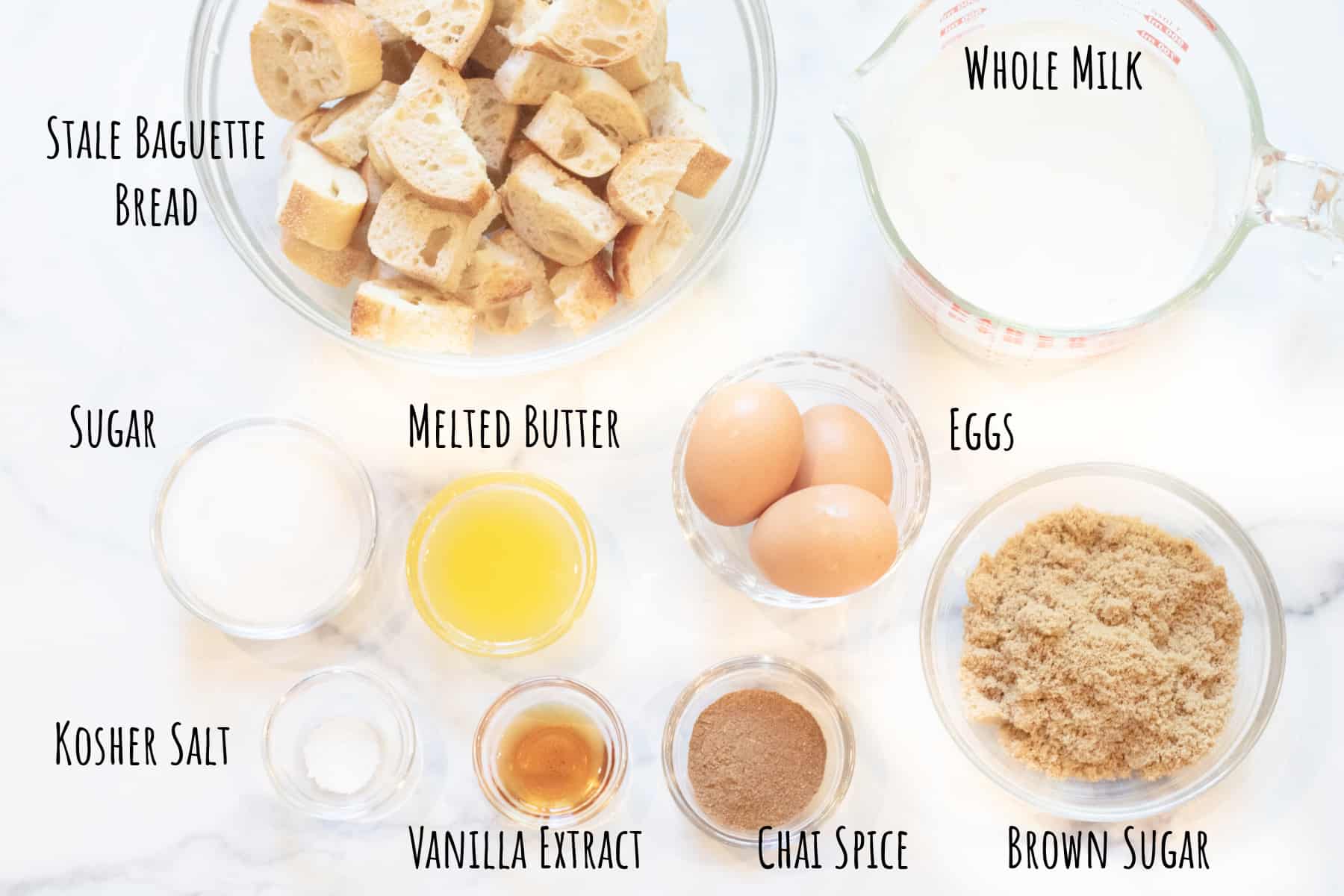 Stale Baguette Bread - This is my favorite bread for bread pudding, mainly because I just love the crunchy topping the baguette makes. But of course you can use whatever stale bread you already have around.
Whole Milk - In order to get that milky latte flavor, whole milk is best for this recipe. While still delicious with 2%, it's a little less latte-like.
Sugar - We love a mixture of white sugar and brown sugar, with a greater amount of the richer flavored brown sugar.
Eggs - Some room temperature eggs, and don't worry if your eggs are still in the fridge, see our recipe notes to bring them quickly up to room temp.
Melted Butter - Just enough to add some rich flavor.
Vanilla Extract - Have you made your own yet?
Chai Spice - What adds the chai latte in this Chai Latte Bread Pudding!
Kosher Salt - Just a little!
Simple to Make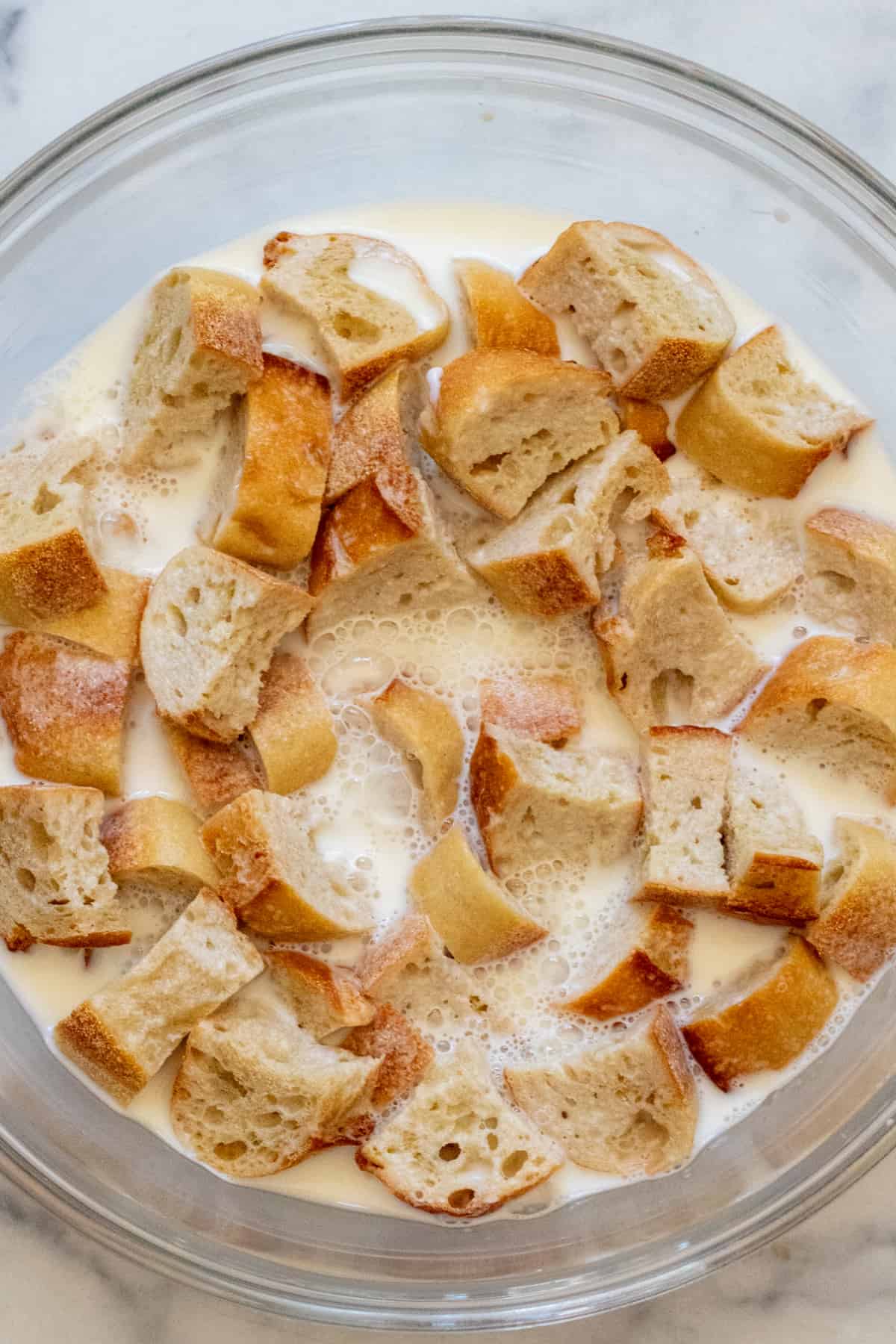 Soak Stale Bread
Key to ensuring that you have the right texture to your bread pudding is to #1 use dried out/stale bread, and #2, soak that bread in the milk for at least 1 hour. This will ensure that you have the right tender texture to your bread pudding once it has baked.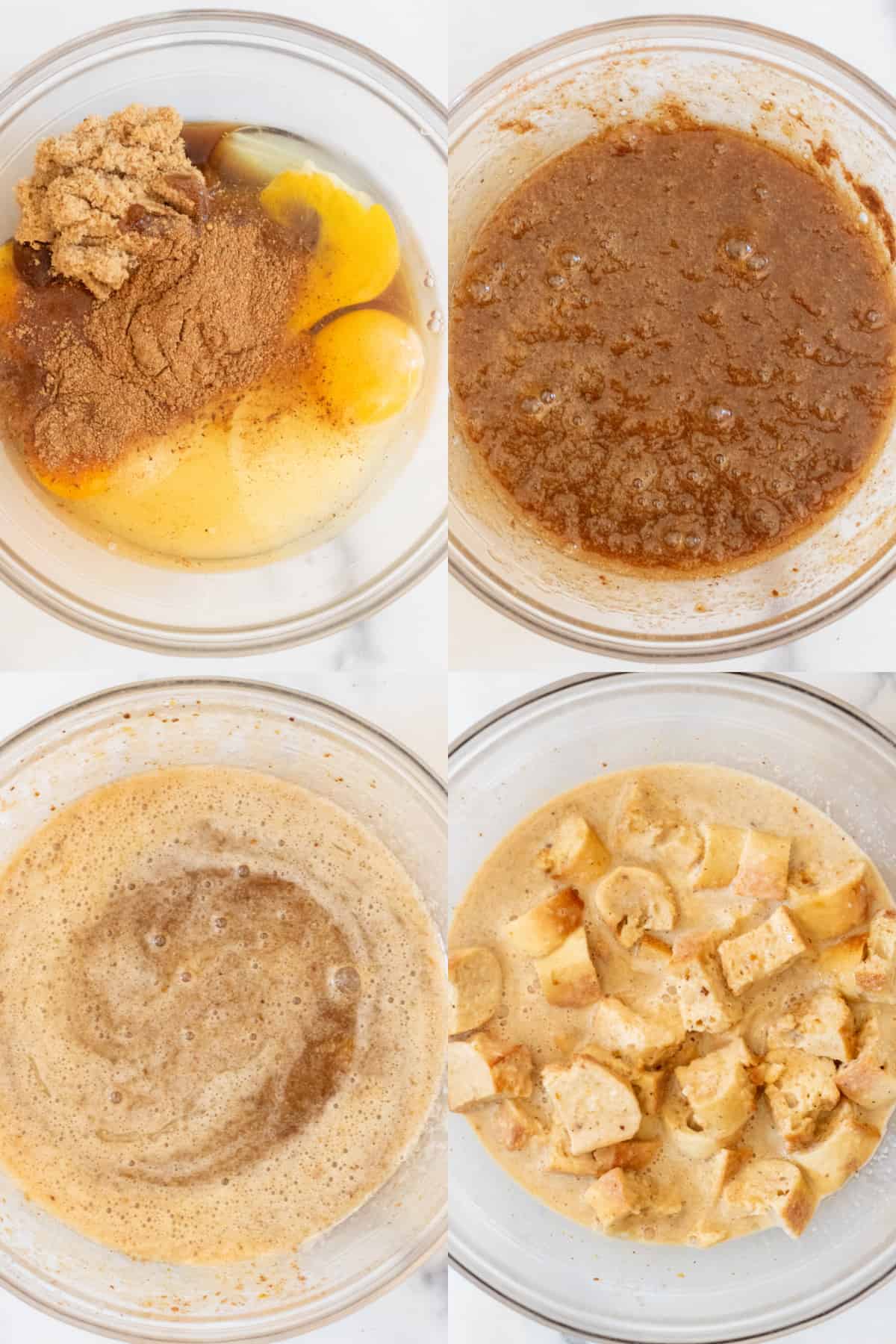 Easy Prep
Once your bread is all dried out and soaked, the rest of the prep is easy.
Add eggs, sugar, vanilla extract, butter, and chai spice and whisk together.
Add just a little bit of that milk from the soaked bread and whisk it up with the sugars. This will help loosen it a little so that it all mixes together.
Add that chai sugar mixture to the soaked bread and give it a mix!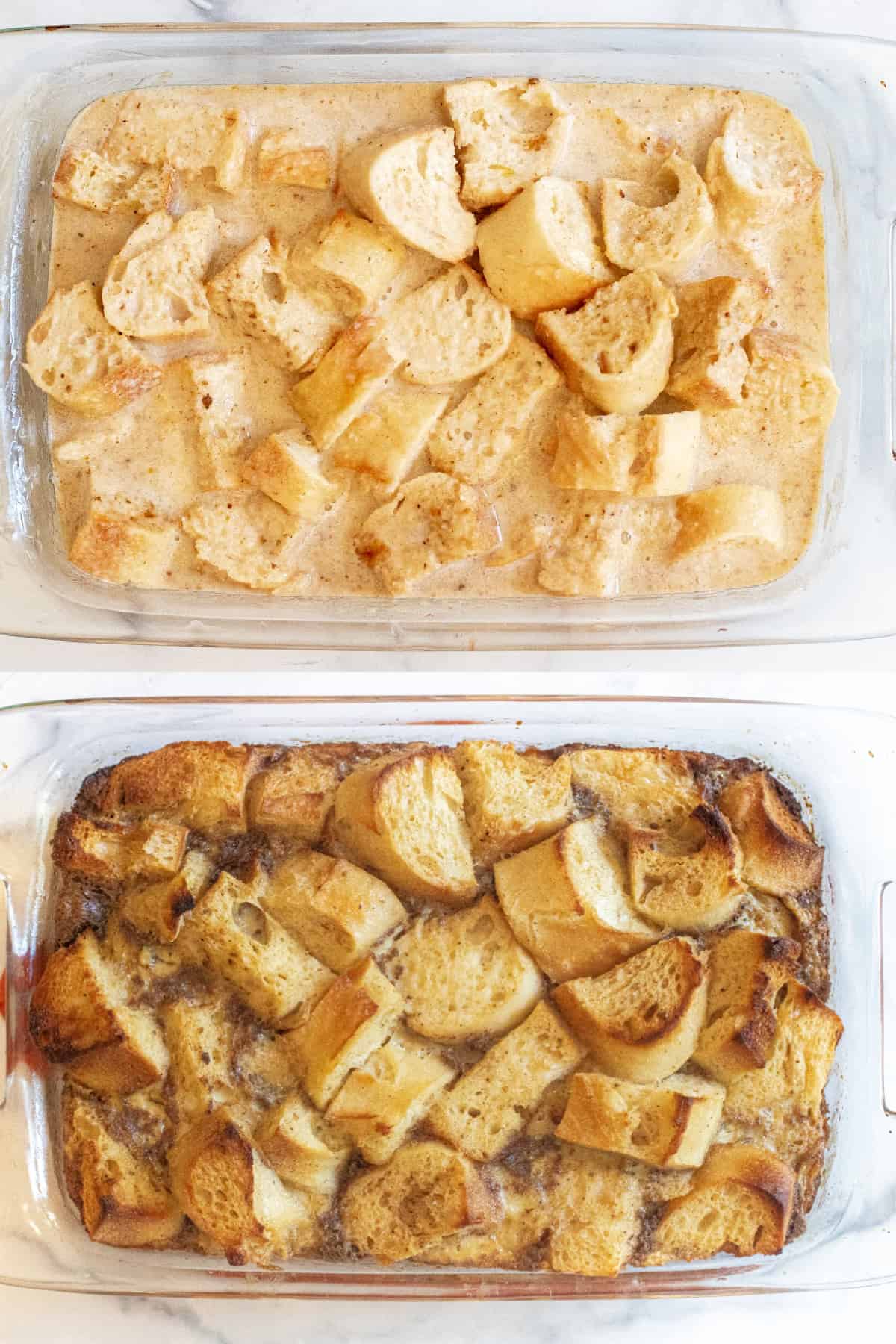 Add it all together, mix well, and bake!
Recipe Tips
Always soak the bread
This is a key step to ensuring that you have that tender texture of your bread pudding. If you don't soak the bread, then all of the milk is absorbed into the bread during the cooking process, and you're left with a mostly cooked egg-like bottom of your dessert.
Be sure to use stale bread
Because you want the bread to absorb as much of the milk as possible, that means you'll have to ensure that your bread is nice and dried out, too. You can do this by cutting up the bread and leaving it out for 24-48 hrs to dry out, or you can dry it out in the oven by popping the bread cubes in a 225-degree F oven and baking them for about 40 minutes until they're all dried out.
Quickly bring eggs to room temperature
When you don't have any room temperature eggs on hand, you can quickly bring them to room temp by adding some warm water (about 100 - 110 degrees water which is about lukewarm) to a bowl and adding the eggs. Let them sit for about 10 minutes to help warm them up!
Bake covered and the uncovered
You'll want a majority of the baking to be done covered so that you ensure the center is cooked before the top of your bread pudding is burned. However, to get that beautiful contrasting crunchy bread topping, remove that foil in the last 20 minutes of cooking.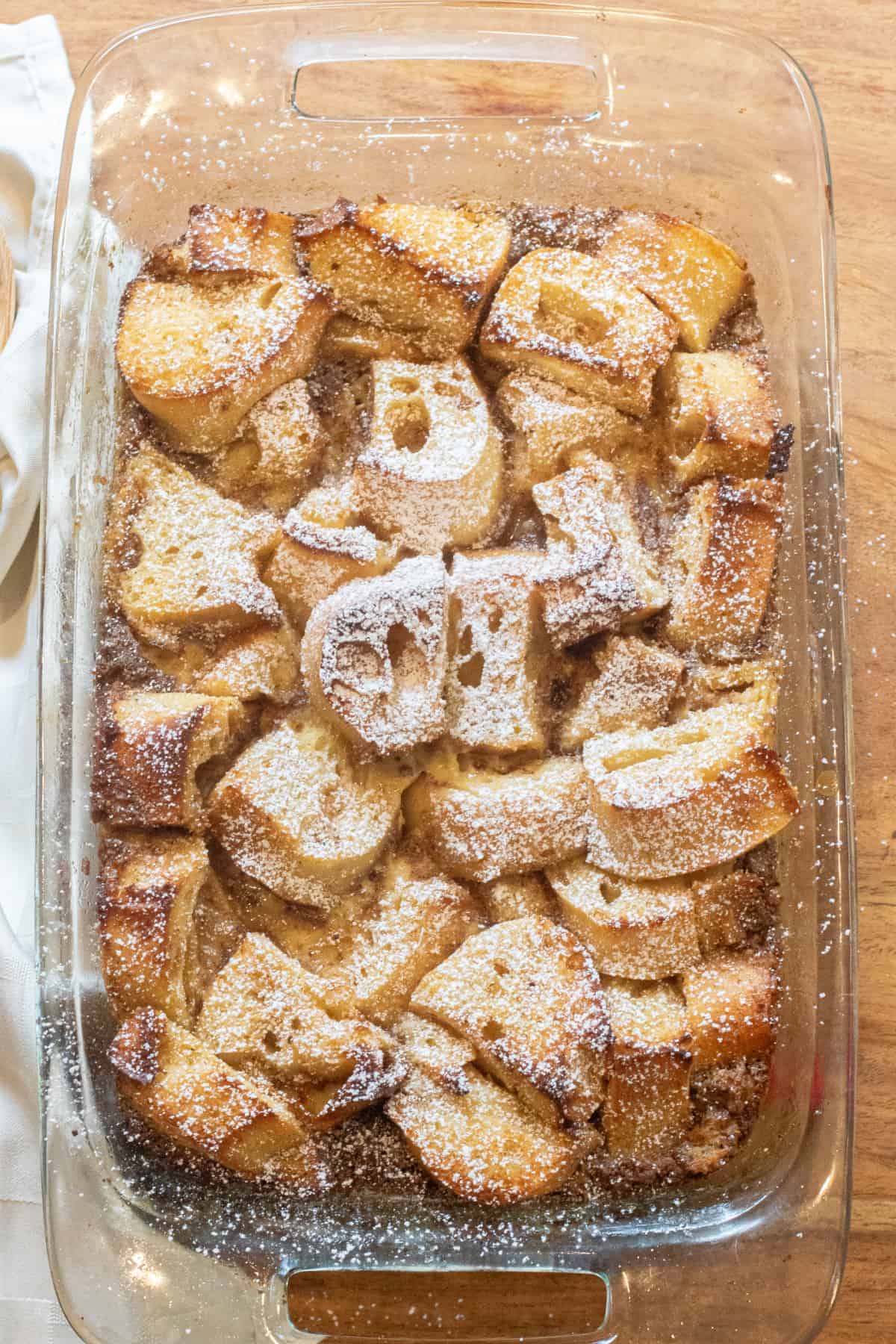 You Also Might Like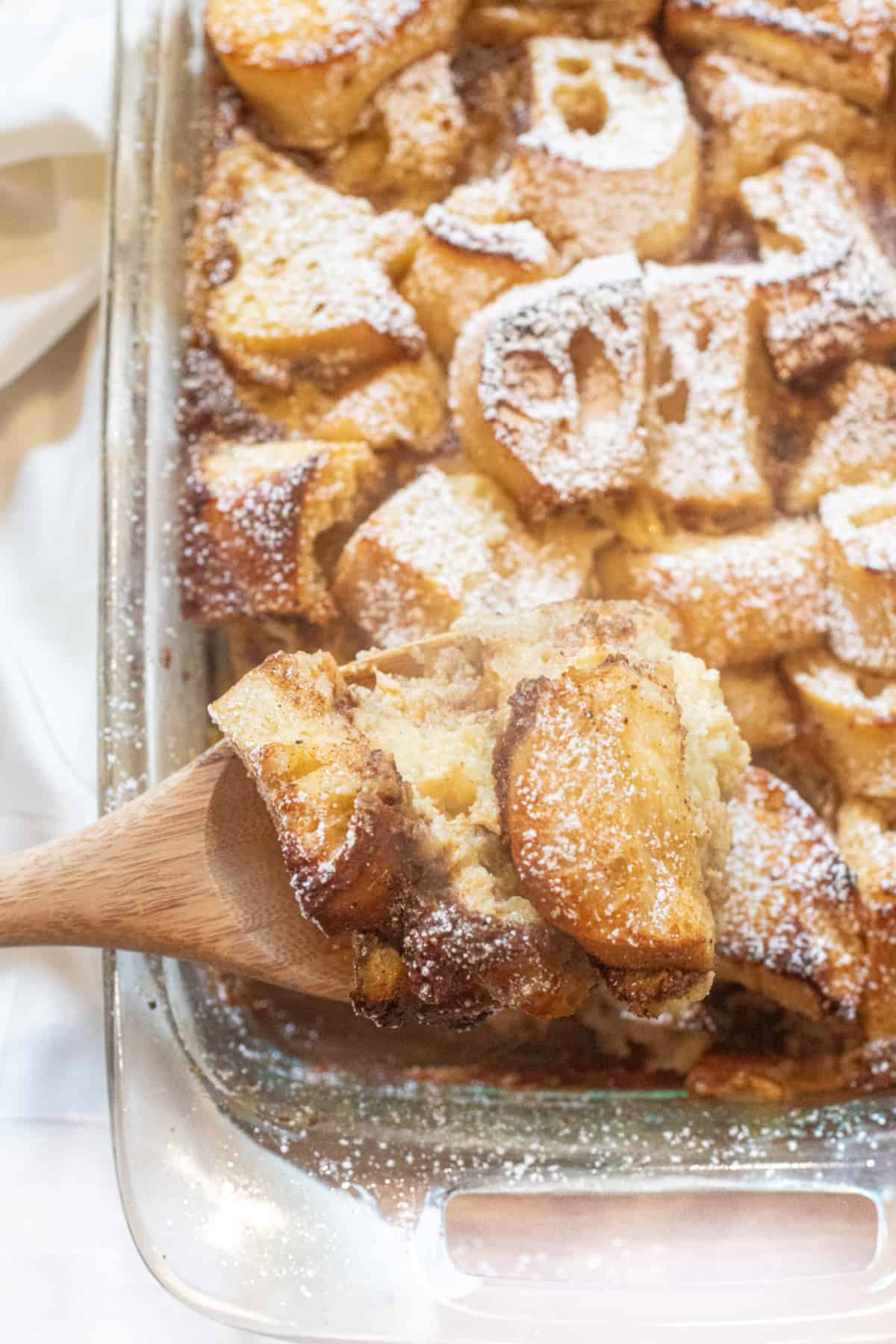 Chai Latte Bread Pudding! It's a great way to fulfill that warming latte craving with a decadent dessert or sweet brunch treat!
Enjoy! As always, if you make this recipe or any of my others, I love to hear what you think! Leave a comment below, email me, or you can find me on Facebook, Instagram, and Pinterest!
If you want to see more, be sure to sign up for my 5 Easy Ways to Start Cooking From Scratch!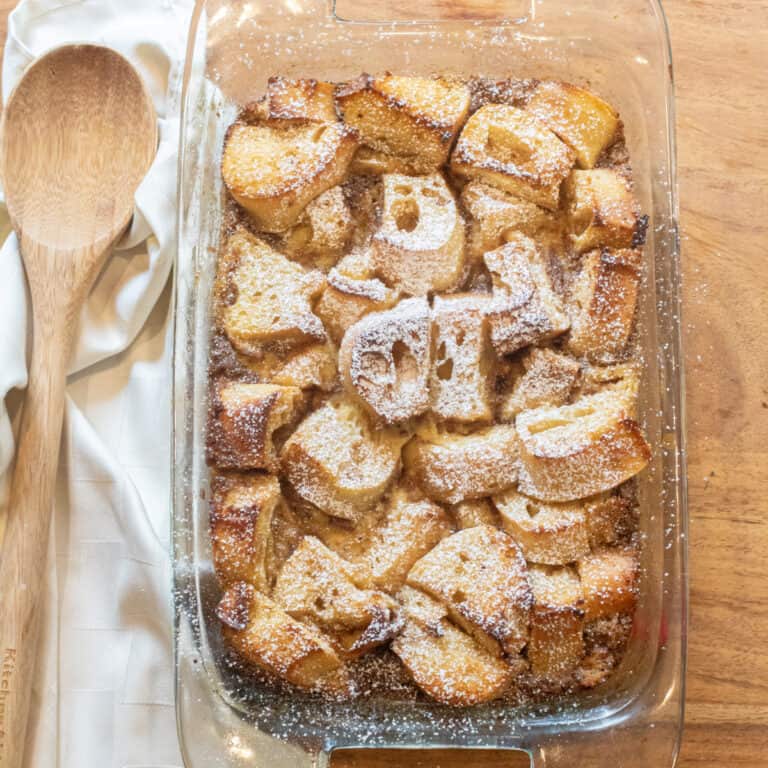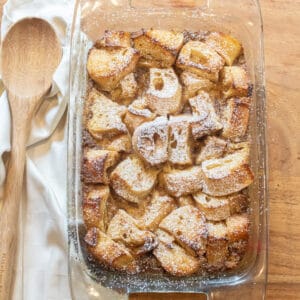 Chai Latte Bread Pudding
Everything you love about a chai latte baked into a classic bread pudding!
Print
Pin
Rate
Instructions
Soak Bread: In a large bowl, add bread cubes and milk so that most of the bread is soaking in the milk. Cover and place in the fridge for at least 1 hr and up to overnight.

If just an hour, take eggs out of the fridge (if you store them there) to come to room temperature.

Preheat Oven: Once bread has soaked, preheat the oven to 375 degrees F.

Assemble: Melt butter in a small bowl and use a pastry brush to use just a little bit of it to grease your baking dish and set aside.

In a medium-sized bowl, whisk eggs, sugar, vanilla, the rest of the melted butter, and chai spice. Gently pour some of the milk from the large bowl with the bread into the bowl with the eggs and sugar. Gently whisk. Pour that mixture into the large bowl with the bread, and gently mix with a spatula to coat all the bread with the sugar chai mixture.

Pour into the baking dish.

Bake: Add the baking dish to the oven and bake covered with foil for 45 minutes. Remove foil and finish baking for another 20 minutes until it all has set and a tester or a sharp knife pulls cleanly from the center.

Serve: Top with some powdered sugar and serve!
Notes
Storage
Fridge: Store in a fridge in an airtight container for up to 5 days.
Freezer: Store in the freezer for up to 3 months. Remove from the freezer and let it thaw in the fridge the day before you want to serve.
Substitutions
Bread: We love this with a baguette, but you can use whatever bread you have you need to repurpose! This is also great with croissants, our Hawaiian Sandwich Bread, or our Easy White Sandwich Bread. Use whatever you have (except we don't suggest a bread like our Rosemary Garlic Bread for this one!)
Milk: Use 2% to Whole Milk or even swap out some of the whole milk for some half-and-half or heavy cream if you want it to be extremely rich. We suggest not using more than 1 cup of cream.
Sugar: You can use more or less of each sugar and substitute with the other. We prefer a great brown sugar to white sugar ratio because of the richer flavor of brown sugar.
Always Use Stale Bread
In order to get the right texture, you need to soak your bread in the milk first. And for that bread to soak up that milk, it needs to be dried out. You can do this by cutting up the bread into cubes and letting it sit out for 1 -2 days, or you can cut it up and pop it in the oven at 224 degrees F and bake for 40 minutes until it's all dried out.
Make Ahead
This is a great dish to make ahead! You can make this all ahead and store covered in the fridge for up to 2 days until you're ready to bake.
Nutrition
Calories:
722
kcal
|
Carbohydrates:
121
g
|
Protein:
22
g
|
Fat:
16
g
|
Saturated Fat:
8
g
|
Polyunsaturated Fat:
3
g
|
Monounsaturated Fat:
4
g
|
Trans Fat:
0.2
g
|
Cholesterol:
123
mg
|
Sodium:
1207
mg
|
Potassium:
460
mg
|
Fiber:
3
g
|
Sugar:
51
g
|
Vitamin A:
510
IU
|
Vitamin C:
0.2
mg
|
Calcium:
361
mg
|
Iron:
6
mg