Switch up your normal brunch or breakfast and make a German Apple Pancake! Also known as a Dutch baby, it's a crepe and popover-like apple-filled sweet breakfast that requires much less work than making individual pancakes.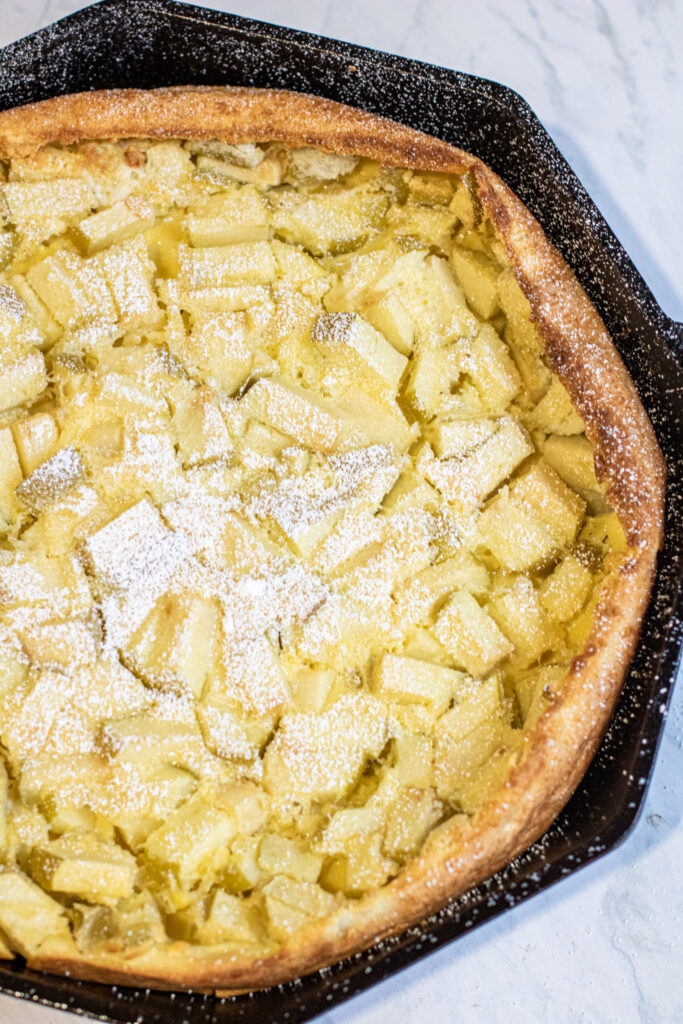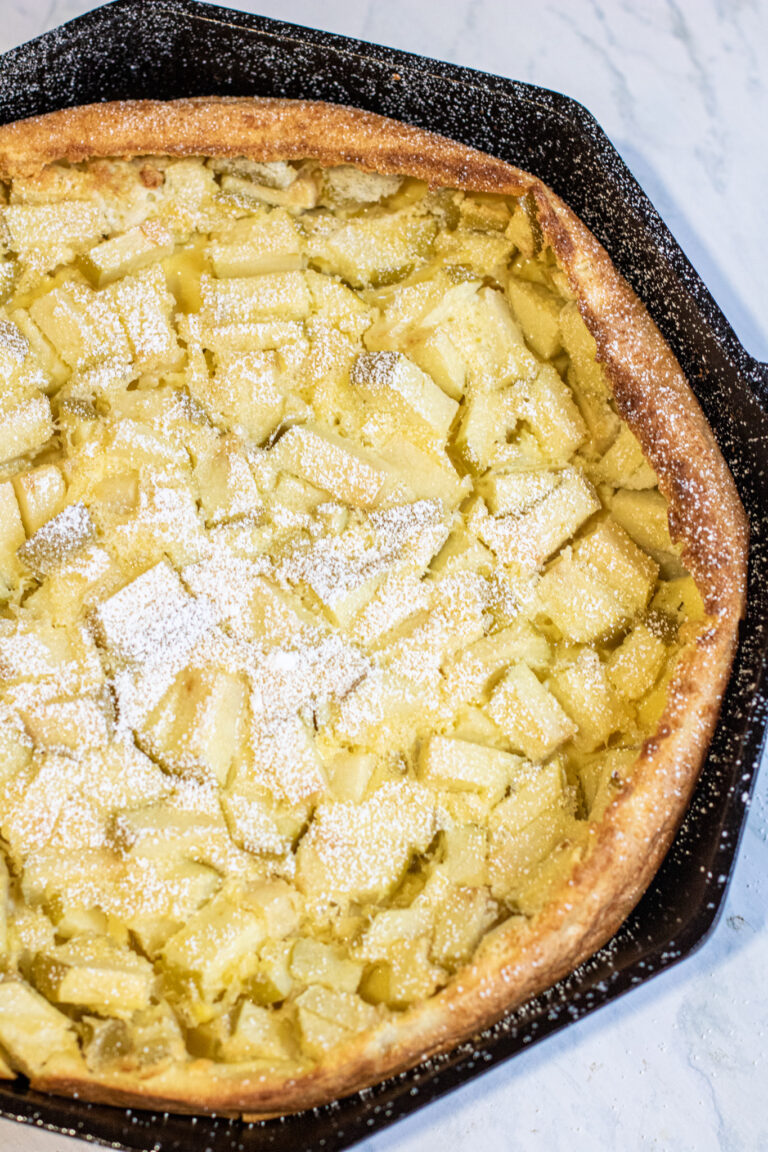 It's a long time family favorite recipe I'm sharing today, friends! This German Apple Pancake is what we've made every Christmas morning for the past decade. It's high time I shared it with you all!
When you're craving something doughy and sweet (but not too sweet) like pancakes but don't feel like standing at the stove and flipping, then this is the recipe for you. It's one big "pancake" baked in the oven so you can enjoy your morning coffee or tea in peace while it bakes!
What is a German Pancake?
Also known as a Dutch Baby a German Pancake is a large single pancake made of eggs, flour, milk, and vanilla. Instead of being cooked on the stove top, they're baked in the oven in a cast iron, Dutch oven, or other oven safe skillet.
What makes them different than regular pancakes is that there's no added leavening agent like baking powder or baking soda and it uses a lot more eggs than a traditional pancake recipe. When it cooks in the oven, it puffs up beautifully, and then will settle down a little when it cools. As a result, they're not as thick and fluffy as regular pancakes, however, instead you have a delightfully thick crepe-like center and a crispy popover-like crust of a pancake that's not too sweet and can be all served at once! Plus, there's not need to man a griddle flipping pancakes!
Ingredients Needed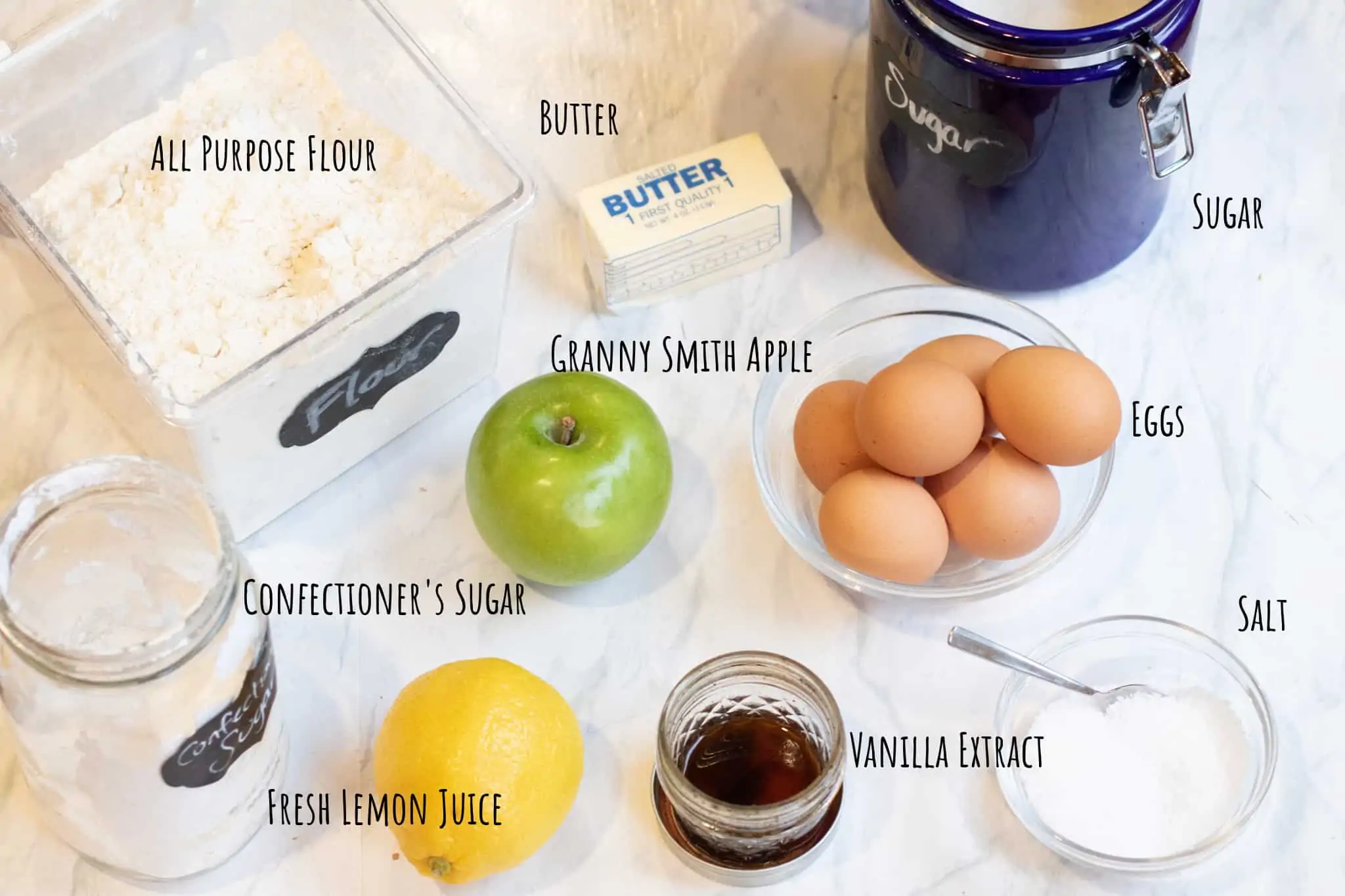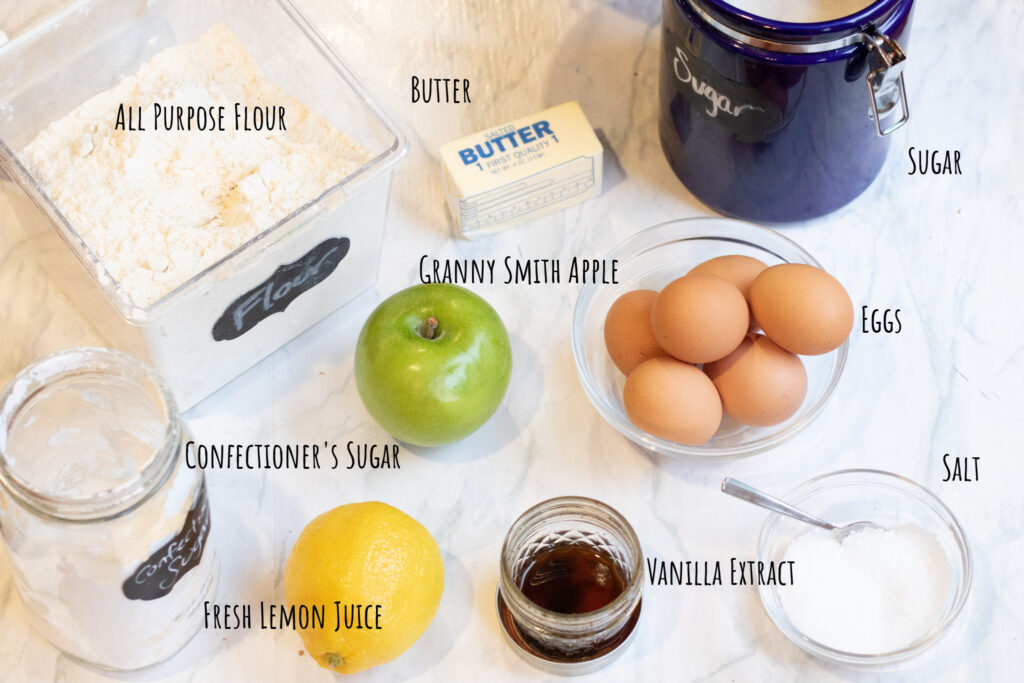 This German Apple Pancake is SO simple. I bet you already have everything you need!
Eggs - The number of eggs in this recipe gives it a richer more crepe like center.
Flour - We use all purpose but you could also use a gluten free or nut flour.
Sugar - Just a touch of granulated. This pancake is subtly sweet, one of my favorite parts of it!
Apples - We prefer tart Granny Smiths for this recipe, but another tart apple like a Pink Ladies or Braeburn are great too. Other sweet apples like Honey Crisp would work, although Red Delicious don't quite have the flavor for it.
Milk - We use 2% because that's what we always have in the house, but you could use whatever you have.
Vanilla Extract- Have you made your own, yet?
Confectioner's Sugar and Fresh Lemon Juice- To finish with!
Substitutions:
Add your own fruit! Use some raspberries, blueberries, blackberries, whatever you have! We prefer to fold them into the batter, but with a softer berry you could also top the pancake with them after it's all baked.
Make it Gluten Free! Sub in your favorite gluten free or nut flour!
Use a Sugar Substitute: Instead of using granulated sugar, you can use a sugar substitute or a natural sweetener like honey, agave, or maple syrup.
Toppings: We love the bright acidity from the lemon juice and confectioner's sugar, but you could also top it with maple syrup, nuts, cinnamon sugar, jam, or go crazy and top with some chocolate chips!
Easy to Make
One of the best parts of this recipe is that the batter comes together in minutes, and then it's just tossed in the oven and you can kick up your feet!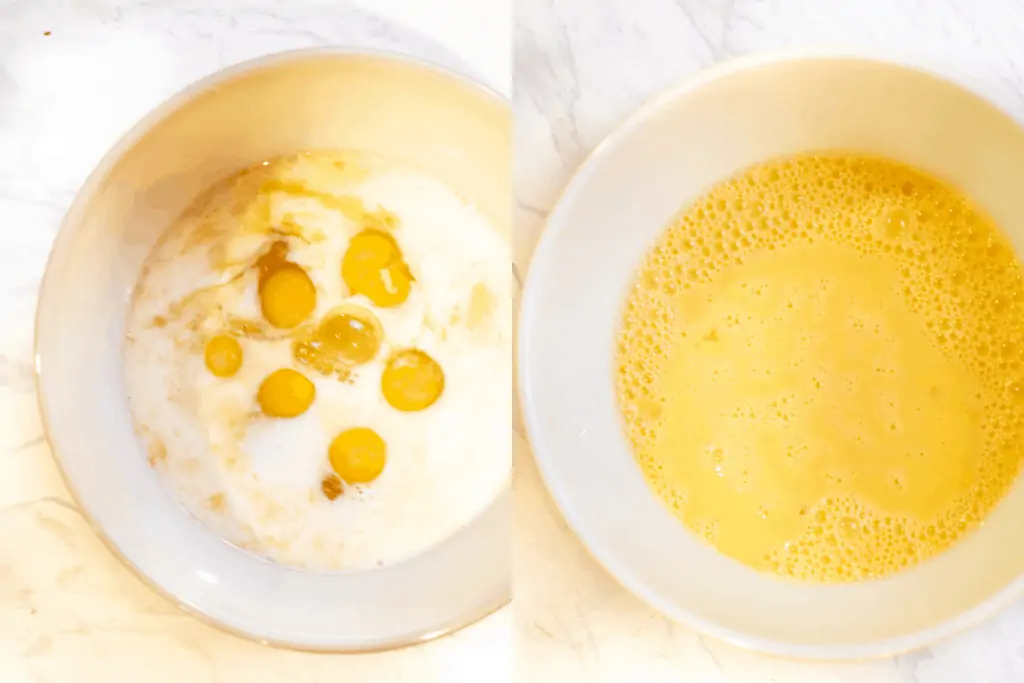 Step 1: Add eggs, milk, and vanilla to a large mixing bowl and mix well with a hand mixer.
TIP: You could also make this all in a blender or Vitamix. If whisking by hand, you need to make sure that you're vigorously whisking because you want to incorporate a lot of air into the batter.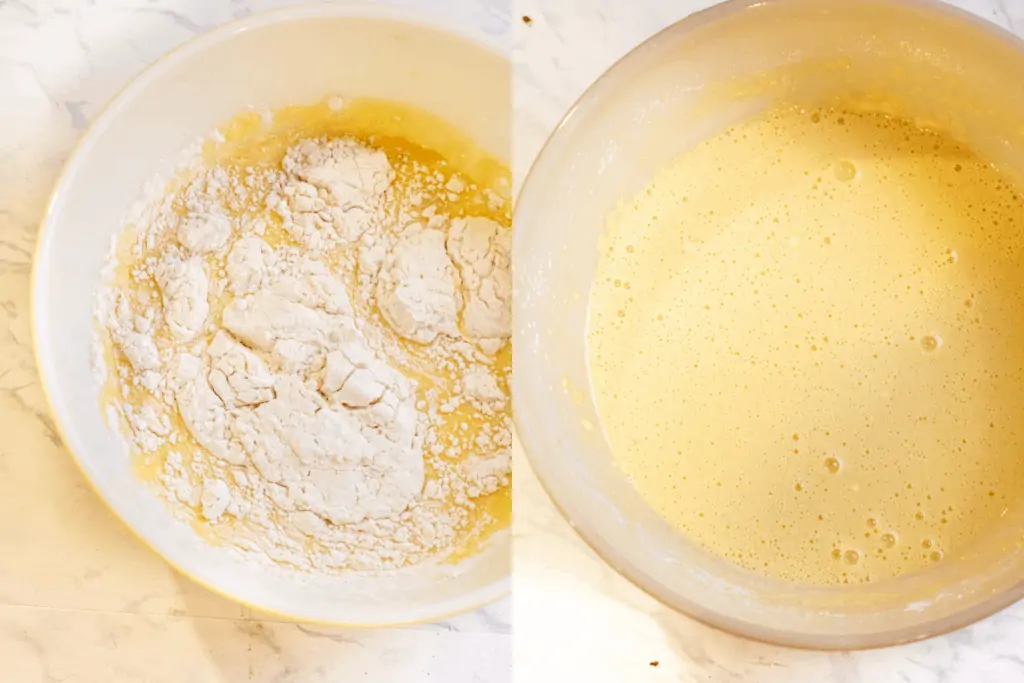 Step 2: Add the flour and mix again until it's all well incorporated.
Again, be sure to use something like a hand mixer or blender to get this batter fluffy. The fluffier the batter, the fluffier the pancake!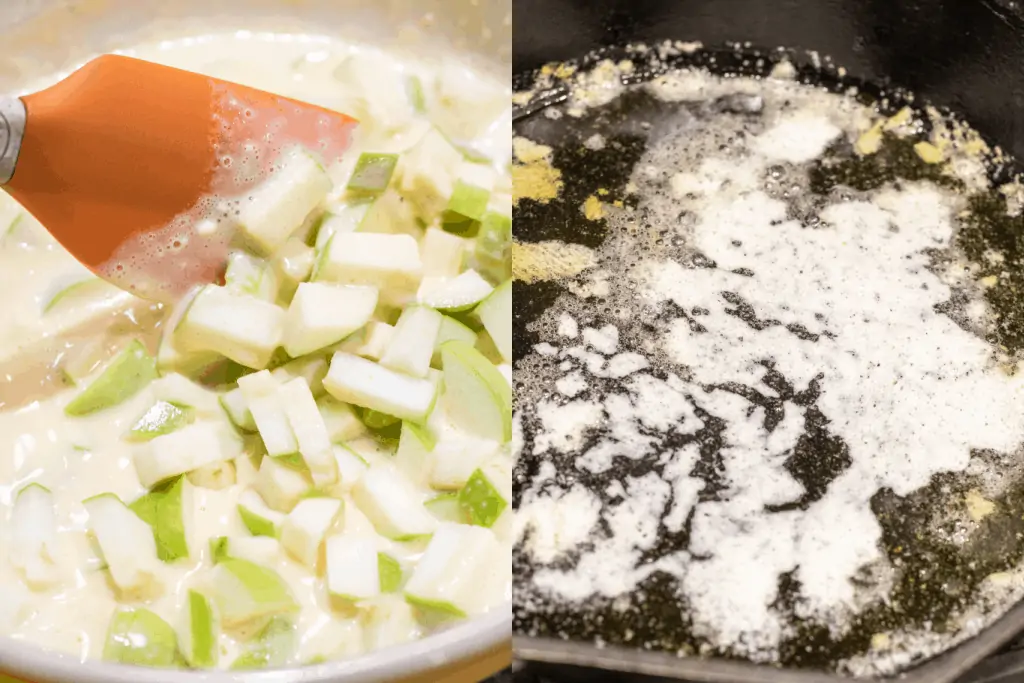 Step 3: Heat your cast iron on the stove top and then melt a generous amount of butter in it.
Step 4: Fold the diced apples into the batter.
Yes, it's a lot of butter. Yes, it's necessary! Not only to prevent sticking while it bakes, but also for flavor. A rich rich buttery decadent flavor. You can melt the butter either on the stove top or in the oven while it pre-heats. Just be sure you watch it so it doesn't burn!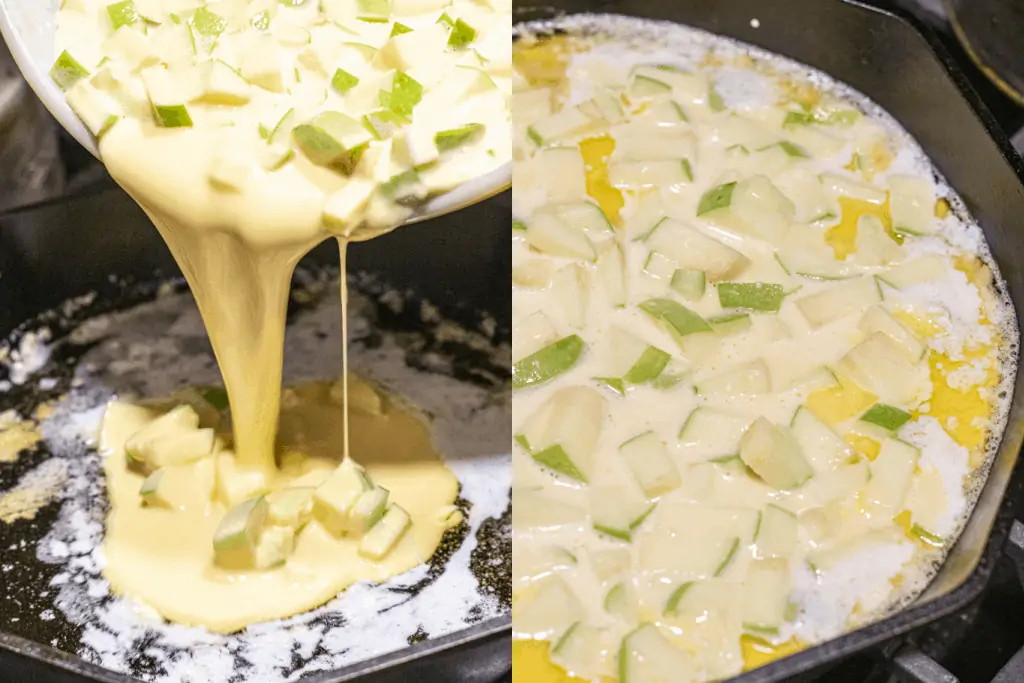 Step 5: Pour it all in the cast iron and bake!
Do I need a Cast Iron?
For this Dutch baby recipe, it's not necessary. But generally, in life, Yes. A great cast iron is something that you will use for years and years.
We adore our 12 inch skillet from a local Portland, OR company, Finex. But there are so many options out there for an amazing, affordable cast iron skillet that will last you for ages.
Intimated by the care? Totally get it. However, I bet it's a little simpler than you might think! Just check out these 7 Myths outlined by Serious Eats.
Plus, then here are some of our favorite cast iron skillet recipes: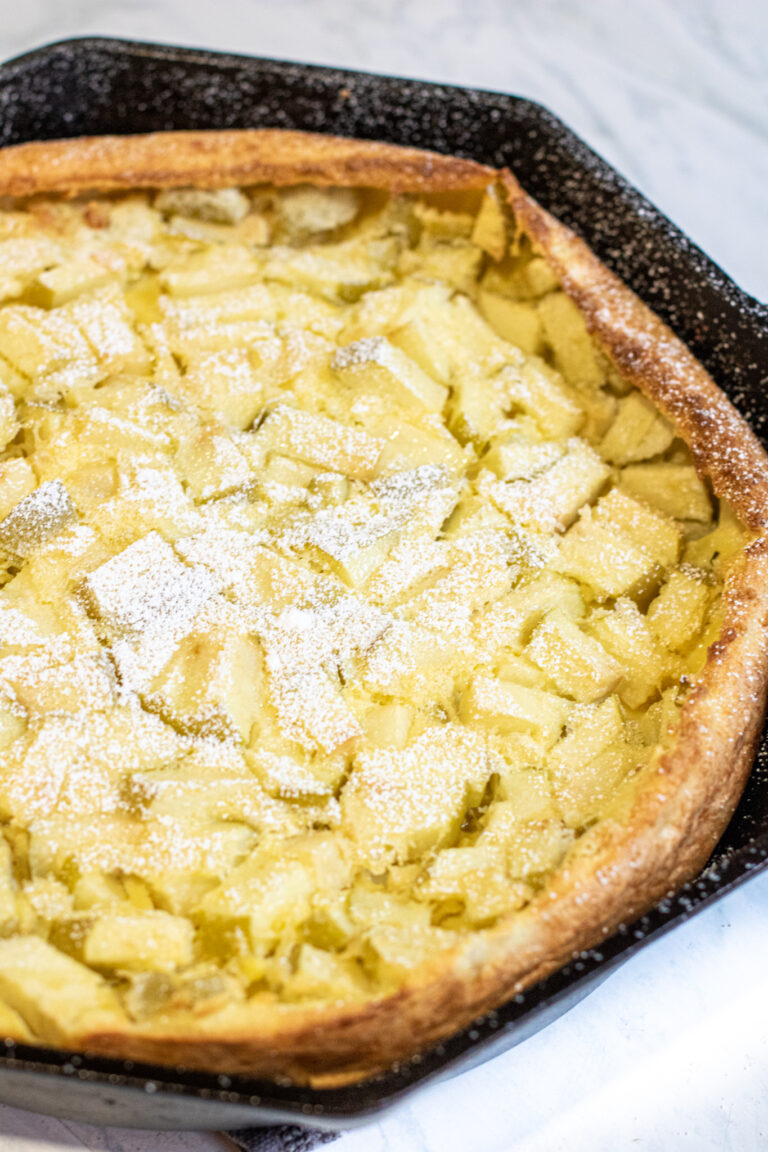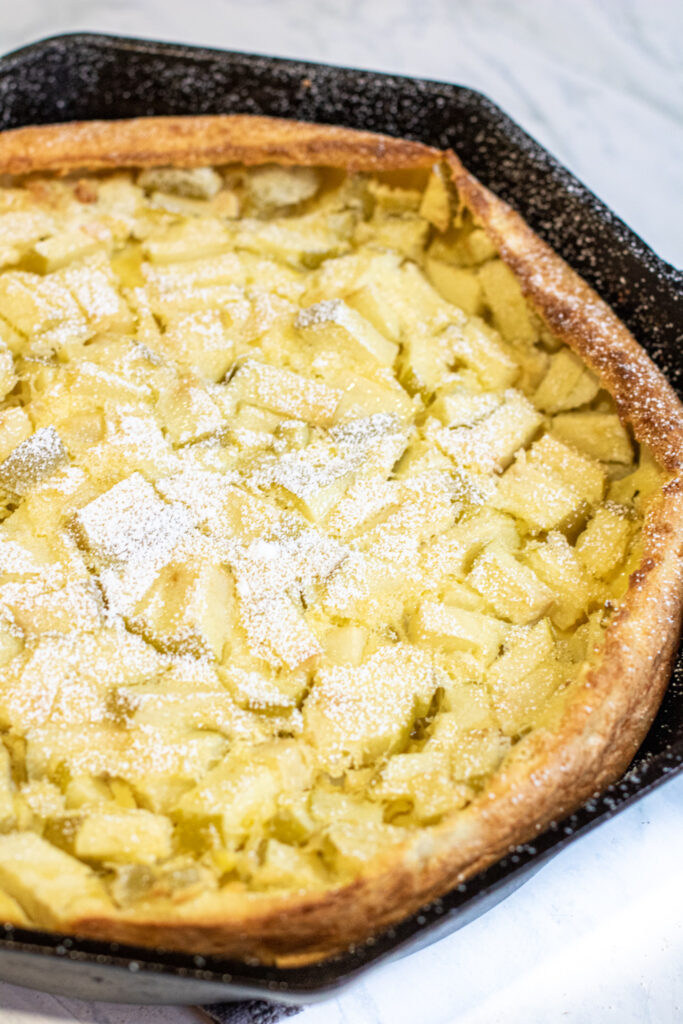 Once done, you have a gorgeous, crepe-like apple filled, popover-like crust of a pan full of delicious with this German Apple Pancake!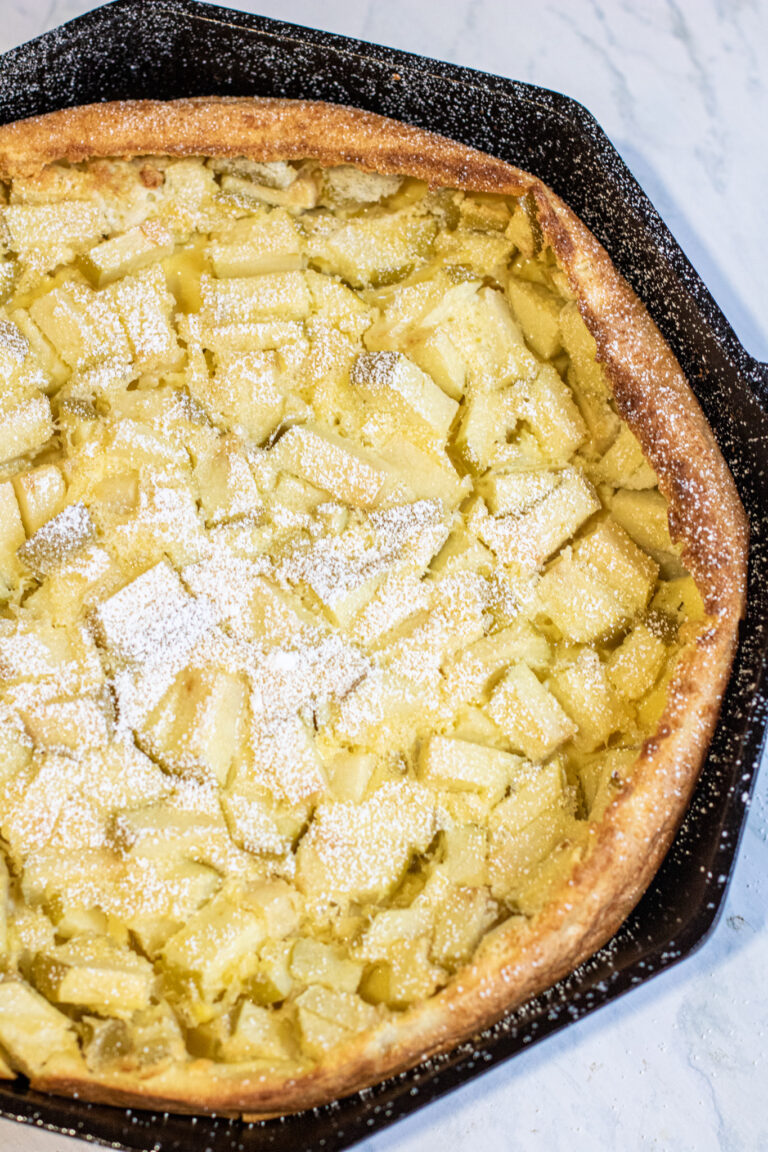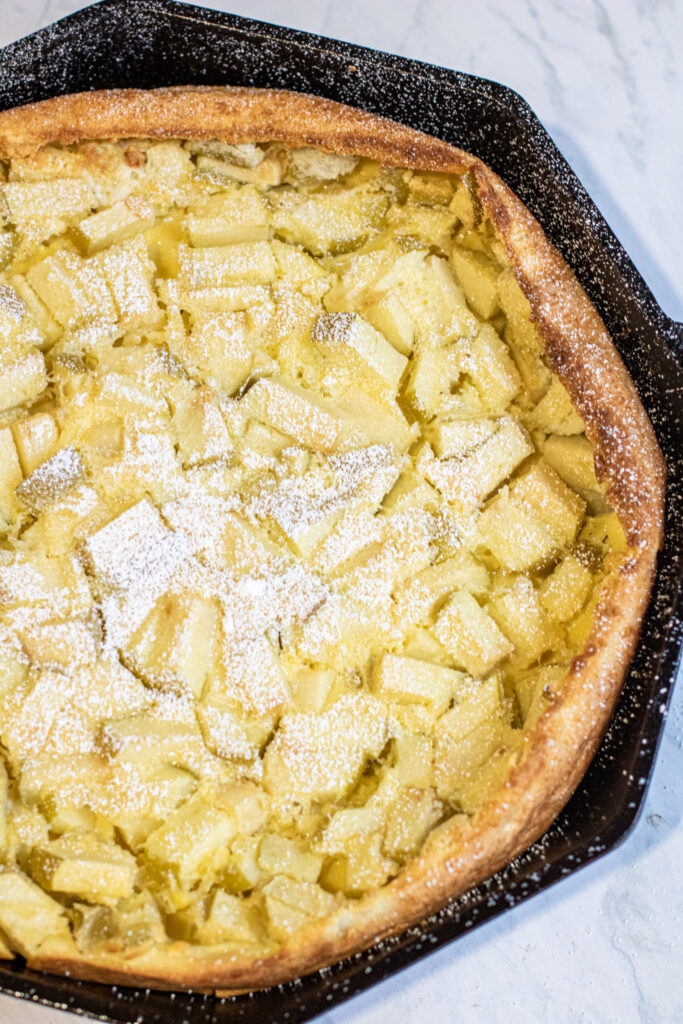 Topped with powdered sugar and just a drizzle of fresh lemon juice to bring out the tart apples and add a bright acidity to it all, and you have an incredible brunch that you didn't have to spend the morning standing at the oven for!
From our Christmas Morning breakfast to you! This Dutch baby is a family favorite recipe that we'd adore and I hope that your family does, too!
Other Sweet Breakfast Favorites
FAQs
Can I make the batter by hand?
Definitely. It is easier to use a hand mixer or blender, but you can also roll up those sleeves, give a flex, and use a whisk and vigorously whisk that batter until it's airy and fluffy. The fluffier the batter, the fluffier your pancake will be.
What else can I make this in?
Anything that's metal and oven safe! A Dutch oven, or another oven safe skillet.
Can I make it without apples?
Of course! You can make this recipe without apples, with fewer apples, or even with your other favorite fruit!
Enjoy! As always, if you make this recipe or any of my others, I love to hear what you think! Leave a comment below, email me, or you can find me on Facebook, Instagram, and Pinterest!
If you want to see more, be sure to sign up for my 5 Easy Ways to Start Cooking From Scratch!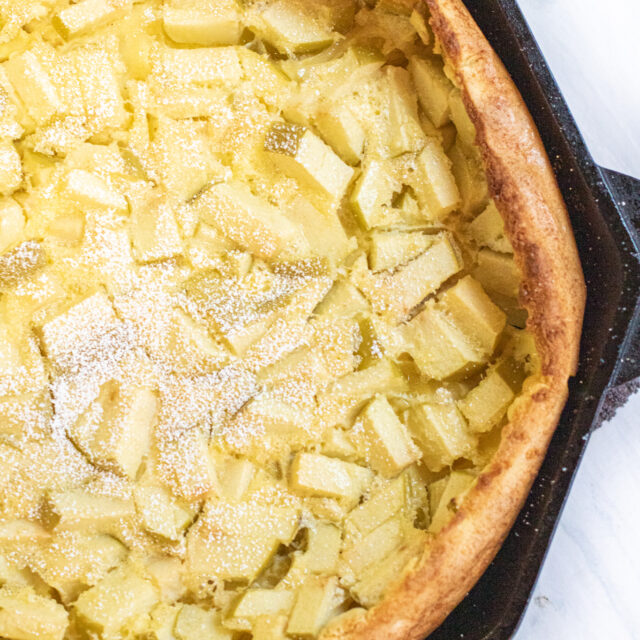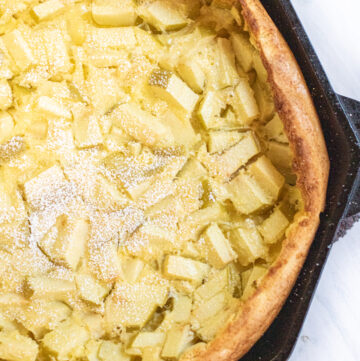 German Apple Pancake
This German Apple Pancake is a crepe and popover like apple filled sweet breakfast that requires much less work than making individual pancakes.
Print
Pin
Rate
Ingredients
6

eggs

1

cup

2% milk

1

teaspoon

granulated sugar

1/2

teaspoon

vanilla extract

1

cup

flour

1/4

teaspoon

salt

1- 1 1/2

cup

Granny Smith apples

chopped about 1 - 2 apples

6

tablespoons

salted butter

fresh squeezed lemon juice

confectioner's sugar
Instructions
Pre-heat oven to 400 degrees.

In a large bowl, add eggs, milk, vanilla, and sugar. Mix with a hand mixer on medium speed for 30-60 seconds until well combined and fluffy. Or blend in a blender.

Add flour and salt and mix again until batter is smooth.

Add butter to cast iron skillet, or other oven safe skillet or dutch oven and melt either by putting in your hot oven or on stovetop over medium heat. Just melt the butter, be sure that it does not burn.

Fold apple into batter and then pour batter into hot cast iron.

Bake for 25-30 minutes or until very puffy and edges are golden brown.

Squeeze some fresh lemon juice over the top and sprinkle with confectioner's sugar and serve!
Notes
*Make this in either a 10 or 12 inch cast iron skillet, oven safe skillet, or Dutch oven.
**Use either a hand mixer, blender, or vigorously whisk by hand. Be sure to incorporate air and make the batter fluffy.
Substitutions:
Apples: Fresh berries, reduce the apples, or even bake without fruit and top it after it's baked.
All Purpose Flour: Gluten free or other nut flours.
Sugar: Use a sugar substitute or maple syrup, honey, or agave
Lemon Juice and Confectioner's Sugar: Berries, maple syrup, chocolate chips, whipped cream, or jam!
We prefer this packed with apples so we use 1 1/2 cups but you could use as little as 1/2 cup, dependent upon your preference.
Nutrition
Calories:
279
kcal
|
Carbohydrates:
23
g
|
Protein:
9
g
|
Fat:
17
g
|
Saturated Fat:
9
g
|
Cholesterol:
197
mg
|
Sodium:
279
mg
|
Potassium:
172
mg
|
Fiber:
1
g
|
Sugar:
6
g
|
Vitamin A:
644
IU
|
Vitamin C:
1
mg
|
Calcium:
80
mg
|
Iron:
2
mg