They're so easily made at home from scratch and they taste just like your favorite donut hole from your favorite donut shop! These Copycat Glazed Chocolate Munchkins are the perfect snackable little donut hole!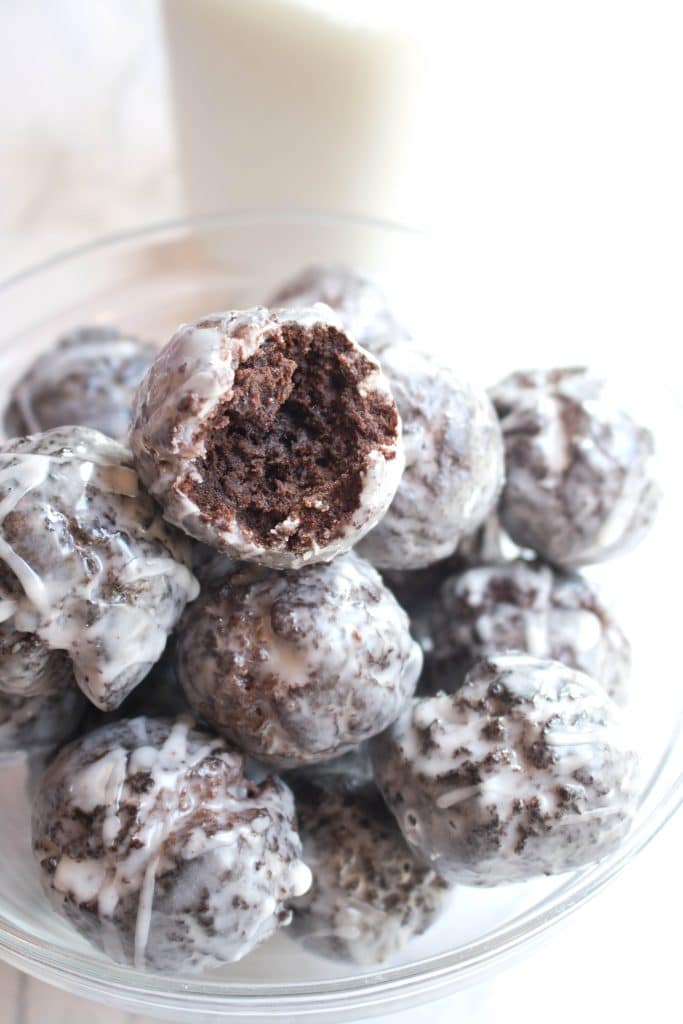 Oh, hey! You guys still with me here? If it feels like it's been forever, it has. Like 4 colds, 2 visits from out of town family, one beach trip, and a birthday party with a Pony dressed up like a unicorn, forever! So I had to come back with something good. Like Glazed Chocolate Munchkins, good!
Ingredients Needed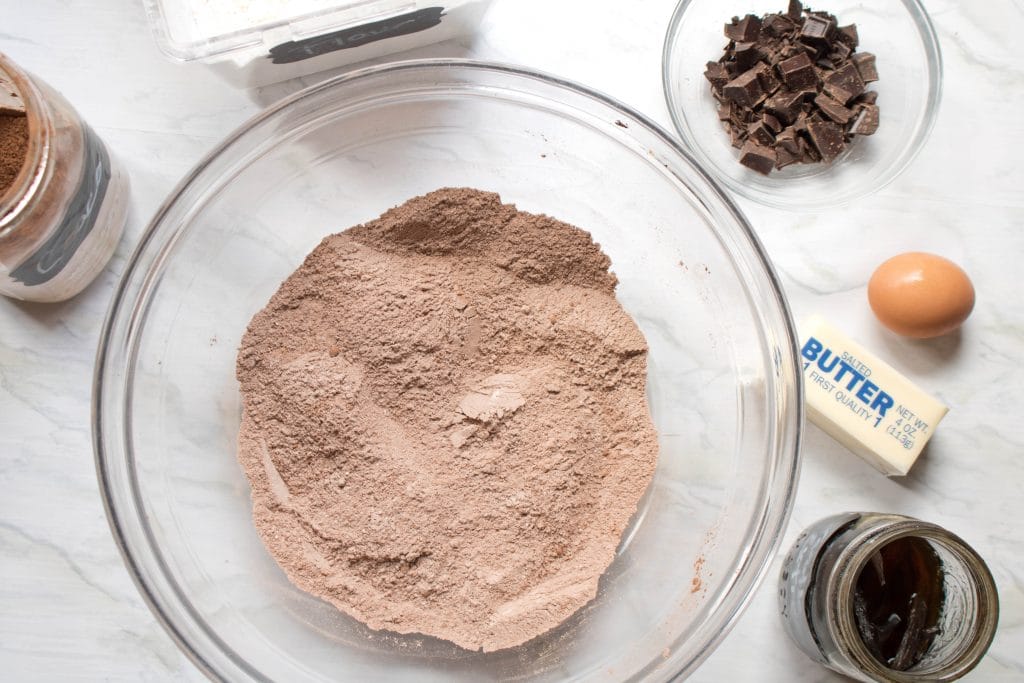 Glazed Chocolate Munchkins have a very special place in my heart because they were my after Church treat every Sunday growing up. Since going to church was definitely not my favorite thing to do, those little sweet cakey balls of sugar delight were what got me through the up, down, kneel, sit, stand, of the Catholic Church service. They were a staple of my childhood. But since moving to the West Coast, and especially Portland where people take their donuts as serious as their coffee and their craft beer, donut holes kind of fell off the radar for me. In the land of Voodoo Donuts and Blue Star Donuts, and since the Pacific NW definitely doesn't run on Dunkin', donut holes and specifically Munchkins, are markedly absent from the shops out here. Luckily for me, making your own are actually super easy!
What is a Donut Hole?
So for those who may not know, a donut hole traditionally was the hole of a classic donut. Waste not want not, obviously. But when 4 donut holes are the equivalent to one full donut, in my brain (especially my kid brain) 4 is better than 1! 😉
How to Make Them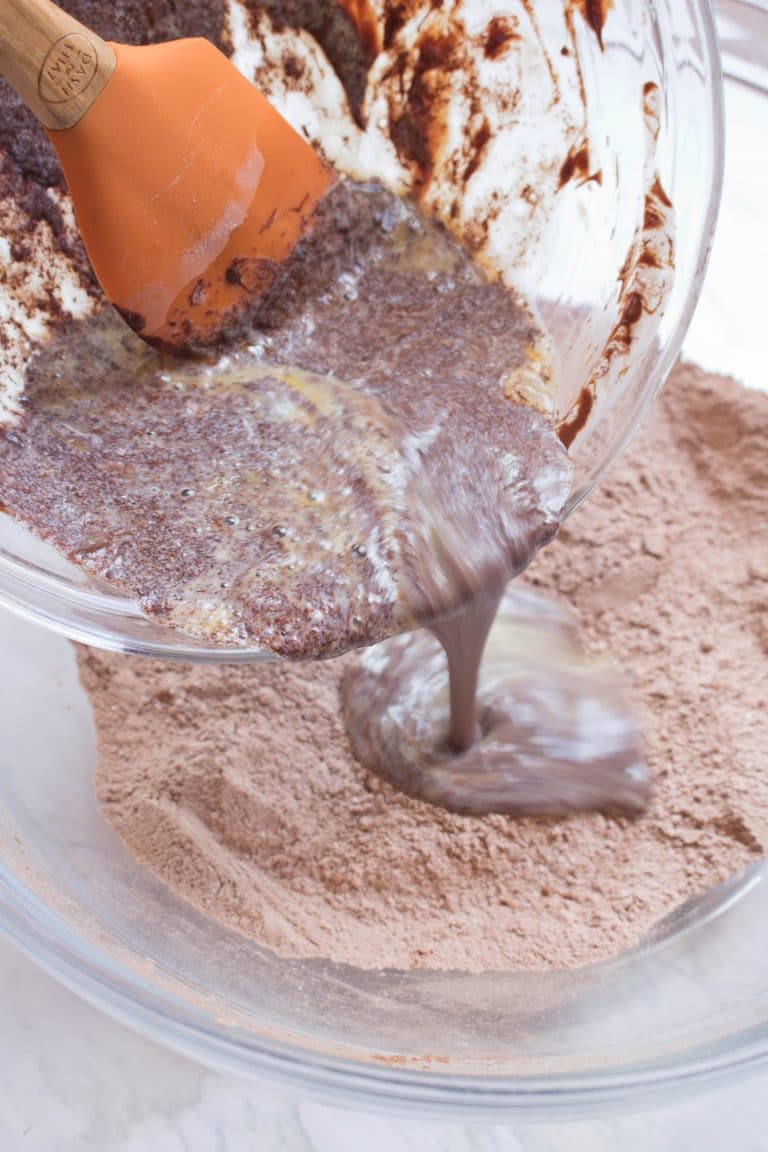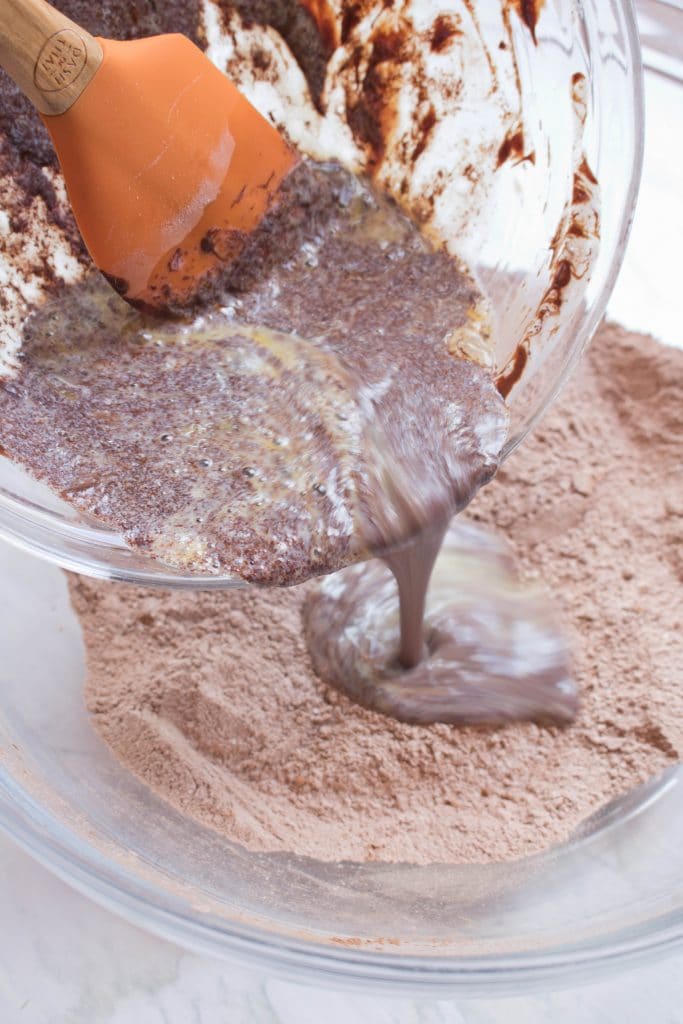 These guys are so much easier than I thought. AND I had everything I needed on hand! Oh, except buttermilk. But because I had whole milk and fresh lemons on hand, boom. That's all I needed for some buttermilk in the pinch - because you can make your own in 5 minutes instead of going to the store!
It's just a mix of the dry ingredients, a melt of some butter and bakers chocolate, then a mix together to make a dough.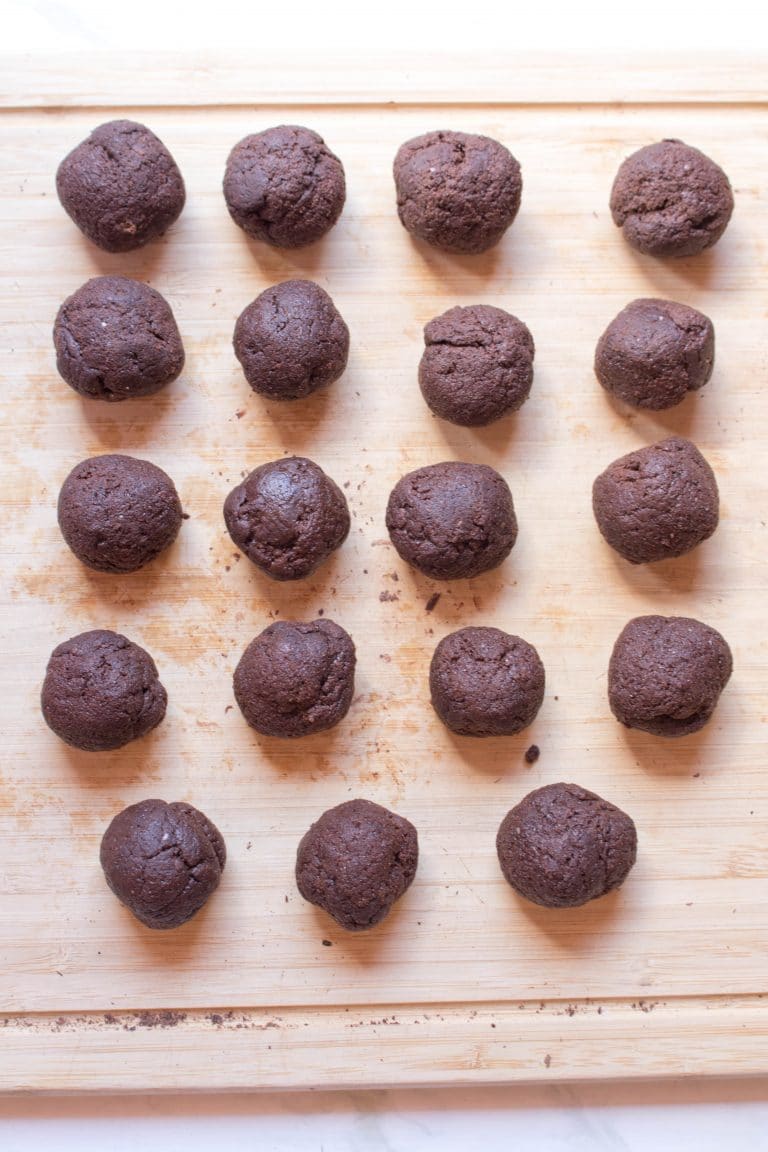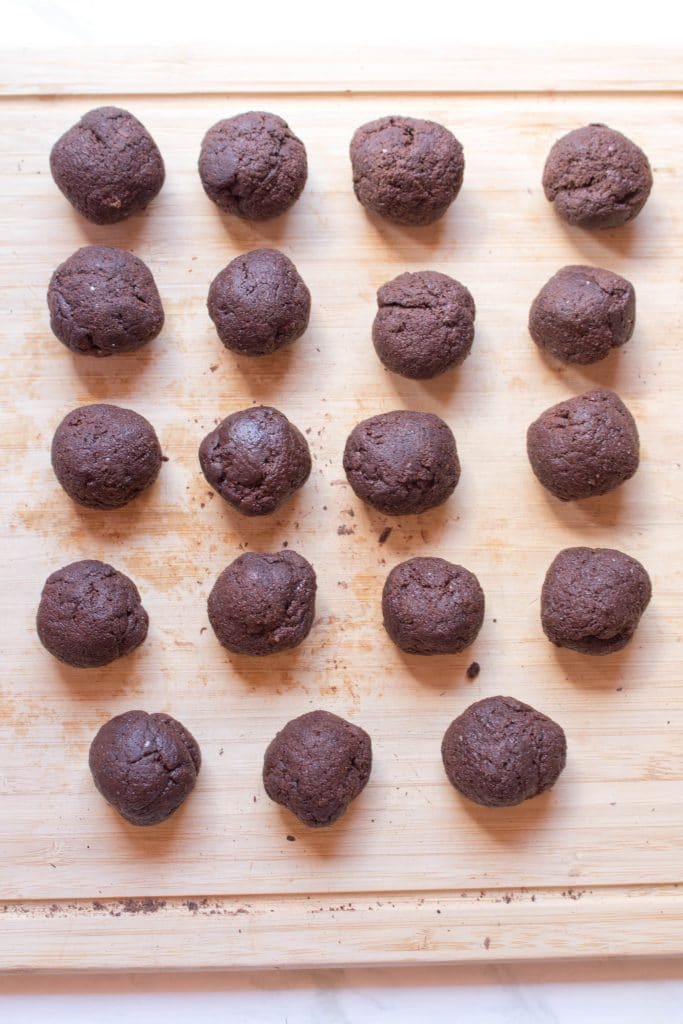 From there, it's rolling out your little "holes" before frying them in oil.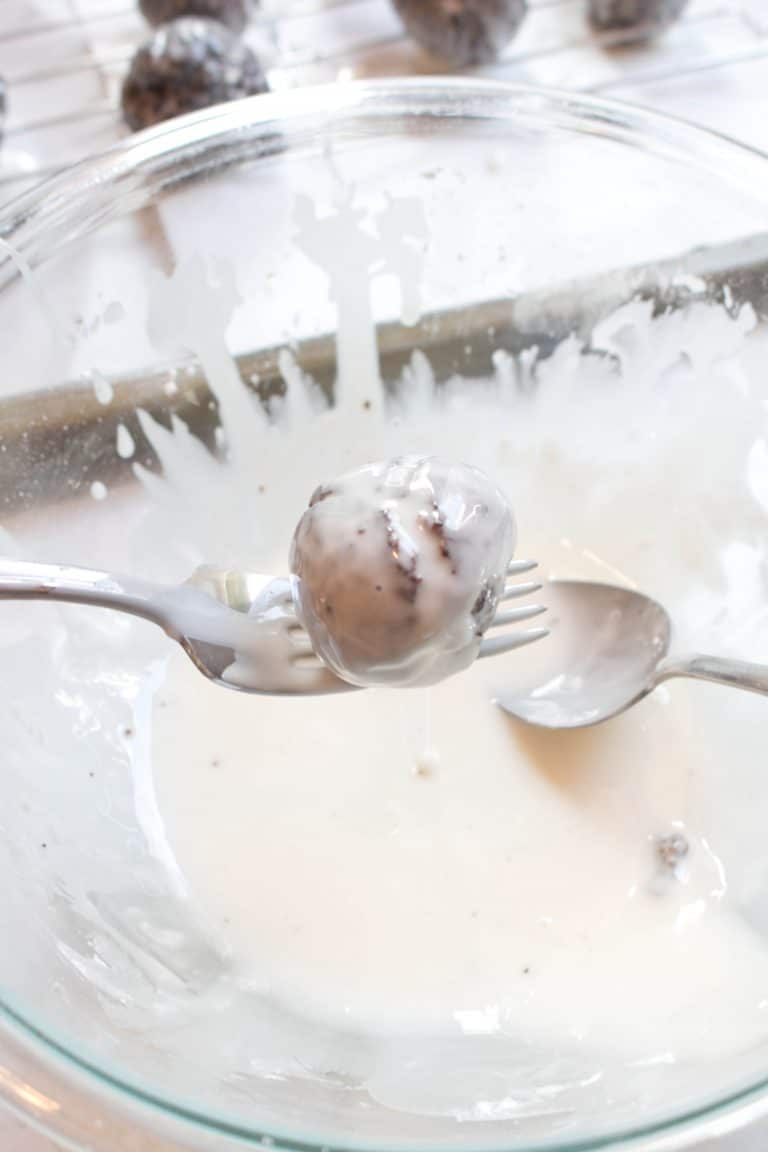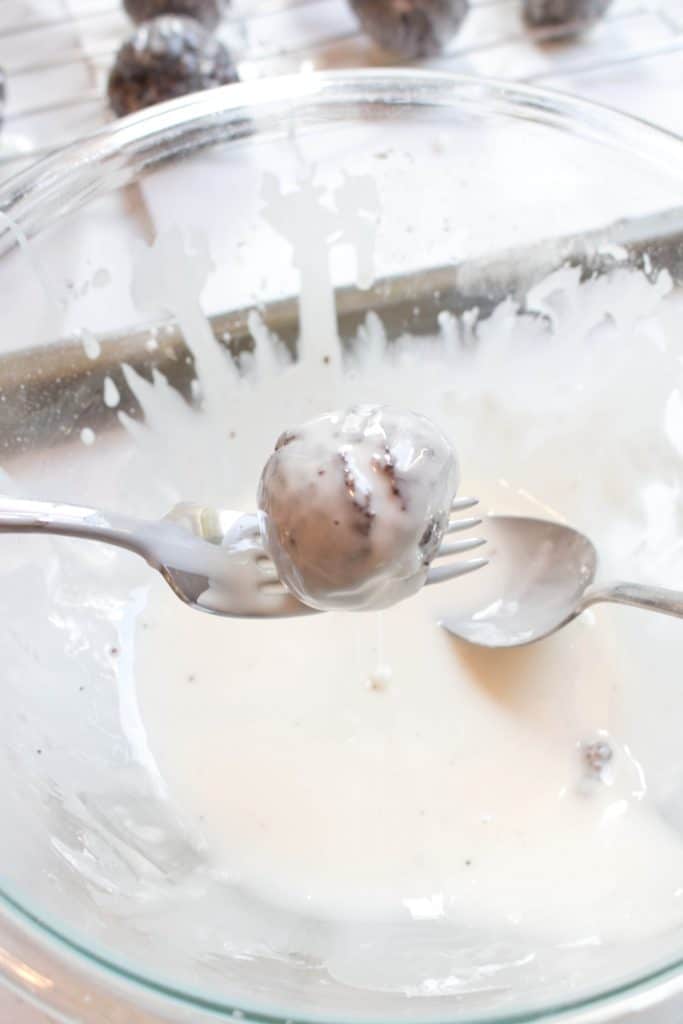 A dip in a super simple but delicious glaze,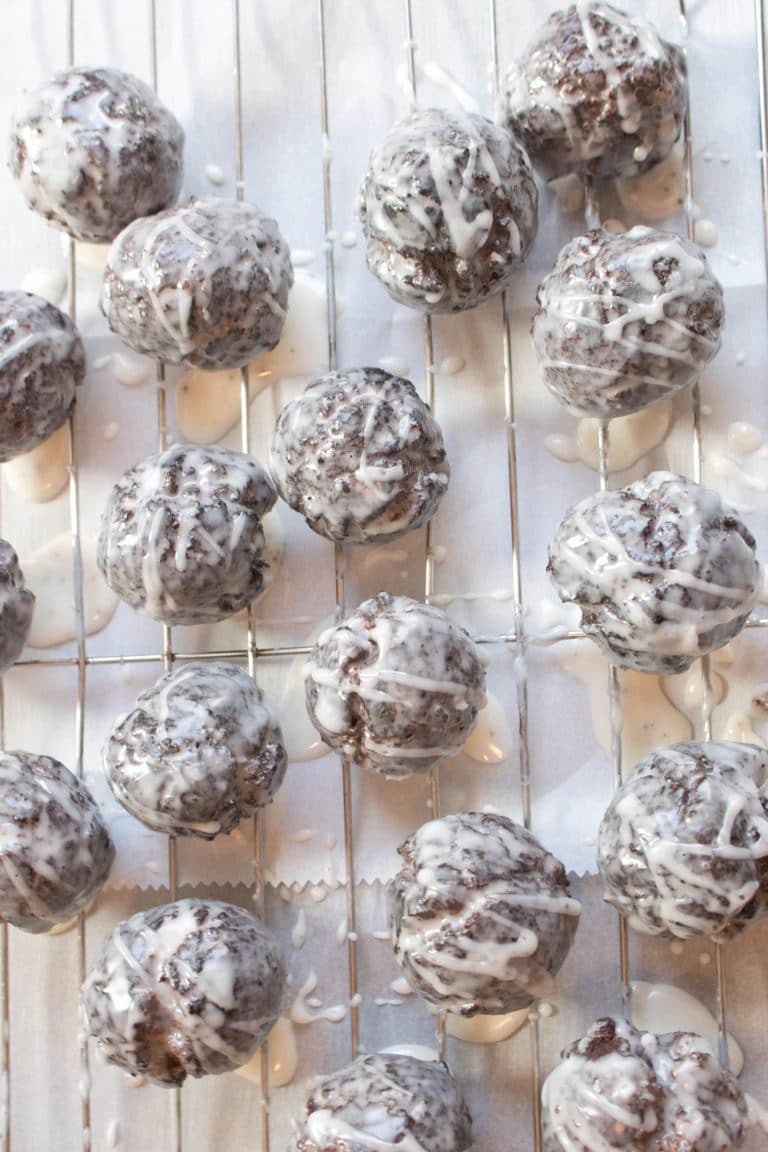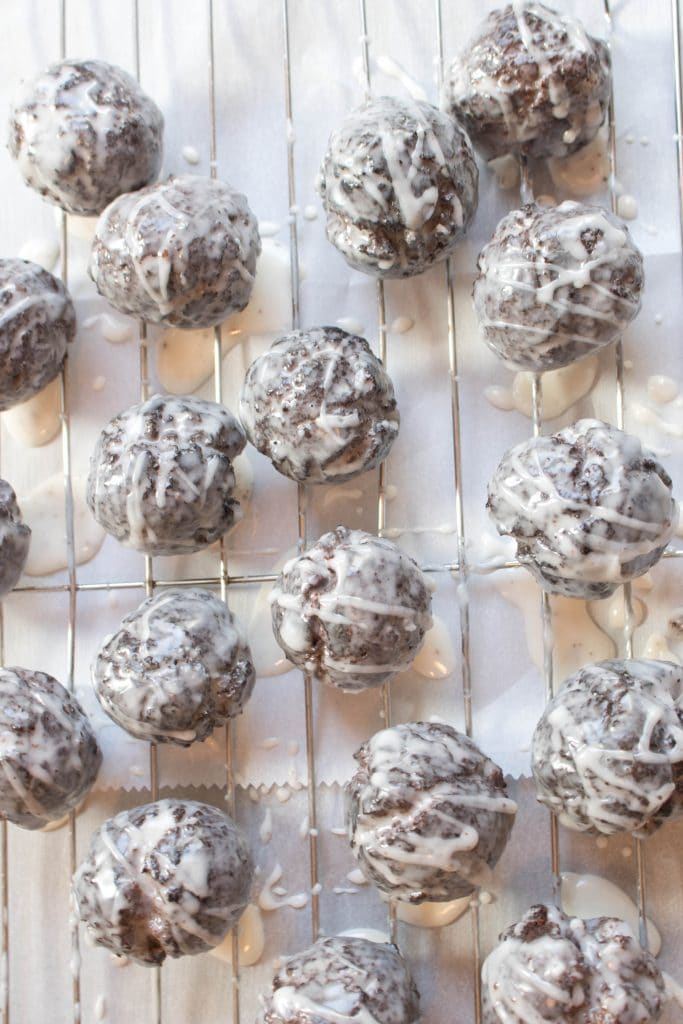 ...and a little added drizzle for good measure. 😉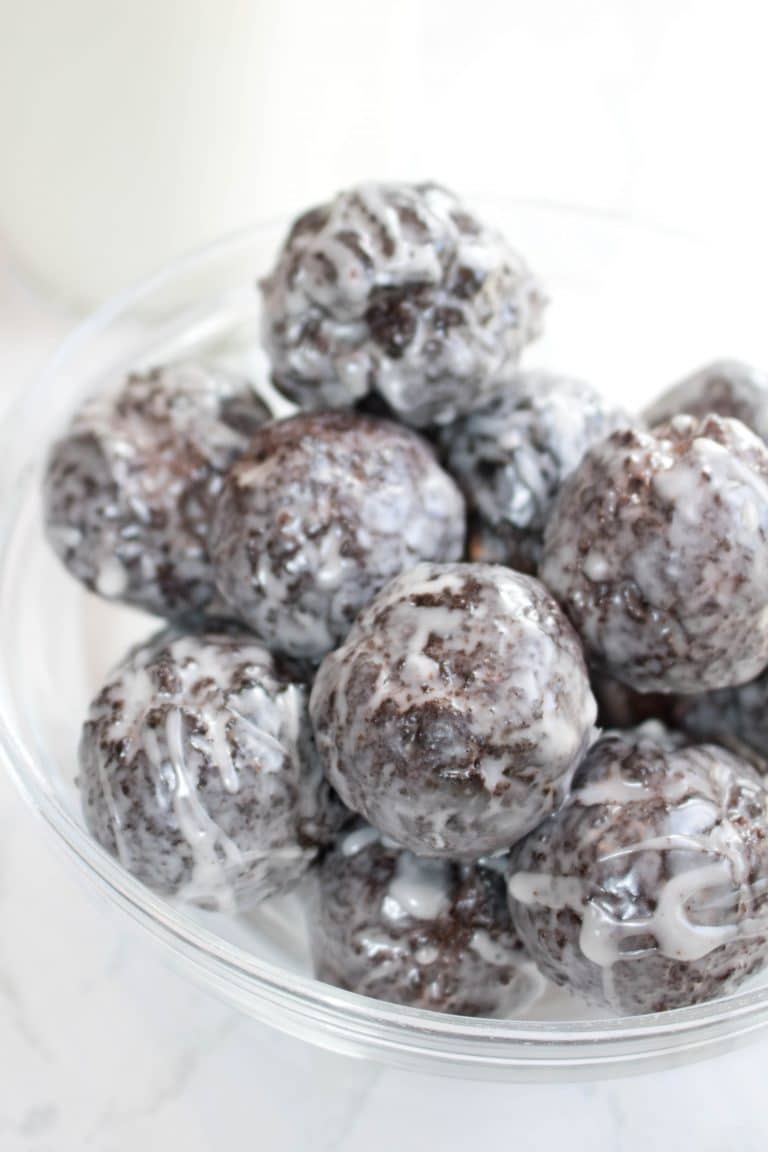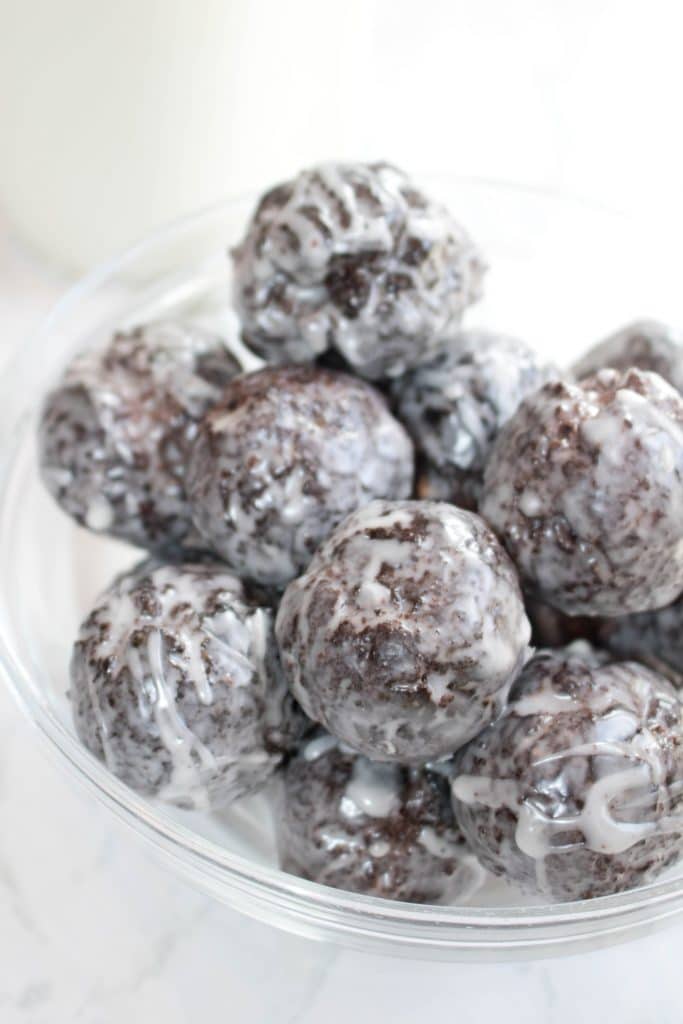 They're cakey. They're moist. They a have a slight crunch on the outside from being fried. And that glaze. That undeniable sweet glaze. These Copycat Glazed Chocolate Donut Holes brought me back to Sunday mornings with my dad and special trips to Dunkin' Donuts.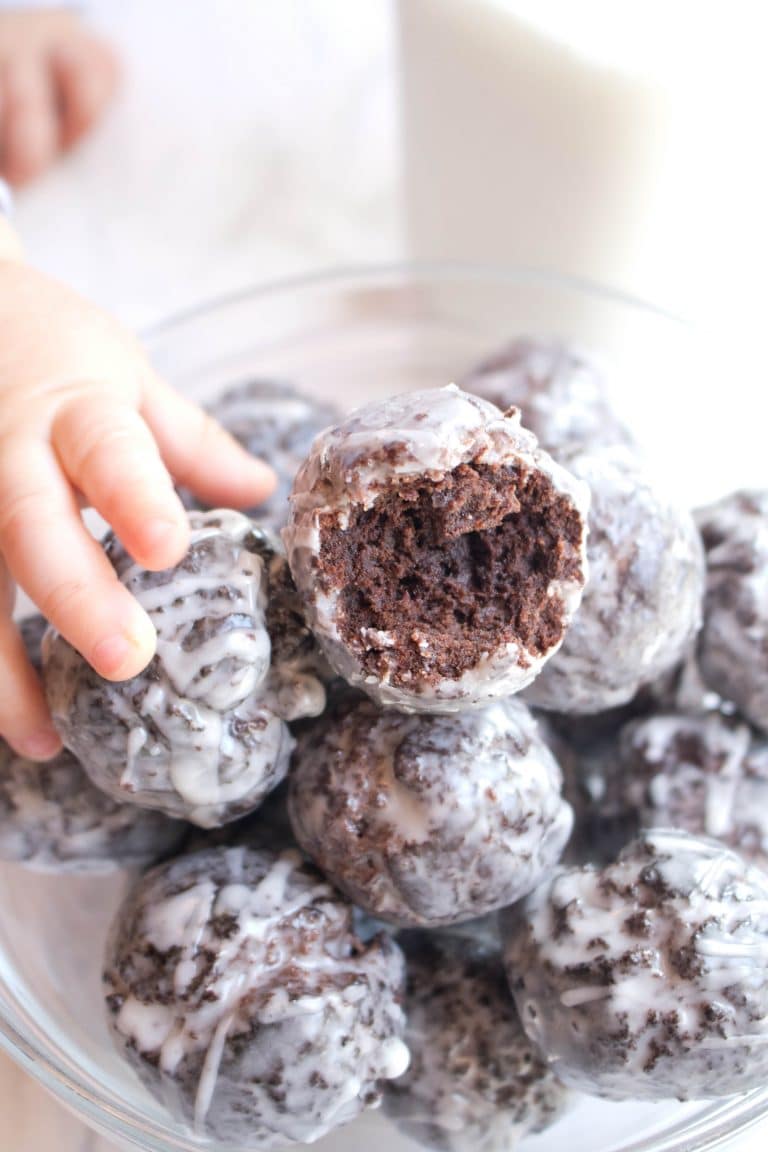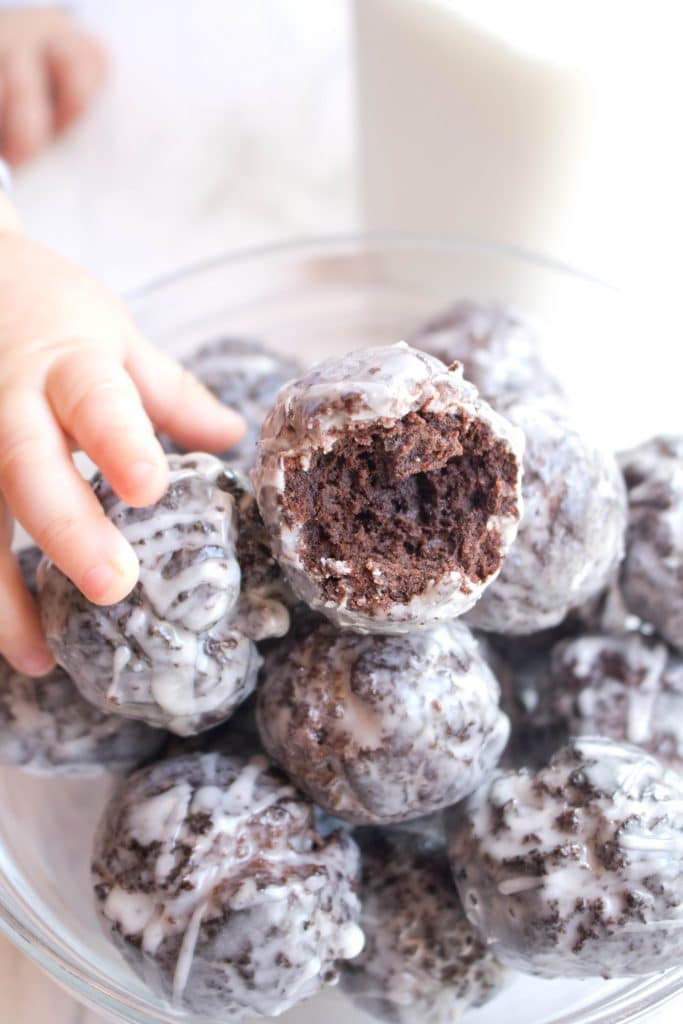 M was in the middle of a nasty cold while I made these, but her little sister C took over as project manager.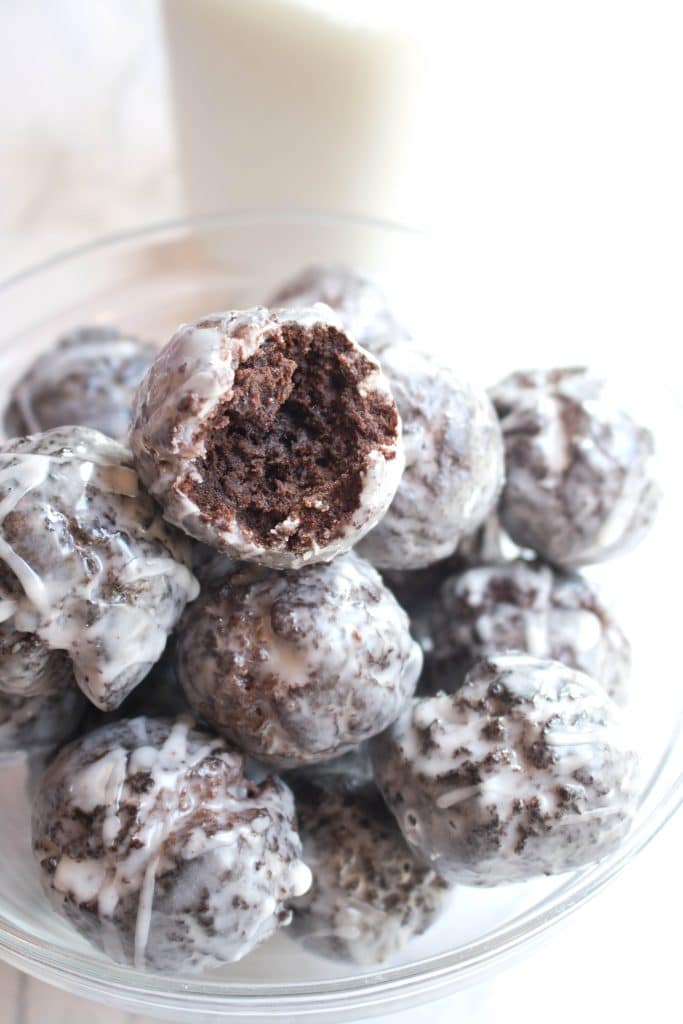 My husband tasted one of these and his immediate response was "Oh my god these are good." His second response was "These need to leave the house." Which is my test of how good a recipe really is. If it's my husband can't be left alone with them without the risk of eating them all, then I know these Glazed Chocolate Munchkins are daammmnn good copycat of the OG. 😉
Other Sweet Brunch Treats
Butterscotch Snickerdoodle Bread
Sourdough Walnut Cinnamon Rolls
Enjoy, friends! As always, if you make this or any of my other recipes? Be sure to let me know onon Facebook, Instagram, and Pinterest!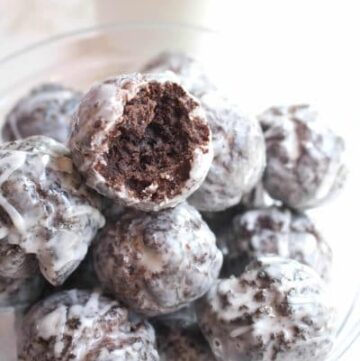 Glazed Chocolate Munchkins (Donut Holes)
Easily made at home from scratch, these Copycat Glazed Chocolate Munchkins are the perfect snackable little donut hole!
Print
Pin
Rate
Ingredients
I cup all purpose flour

1/4

cup

granulated sugar

1/4

cup

+ 2 tablespoons dutch-process cocoa powder

3/4

teaspoon

baking powder

1/4

teaspoon

baking soda

1/2

teaspoon

kosher salt

2

tablespoon

salted butter

1 1/2

oz

baker's chocolate, unsweetened

1/4

cup

buttermilk

https://www.servedfromscratch.com/5-minute-homemade-buttermilk/

1

tablespoon

vanilla extract

1

large egg

whisked
Glaze
2

cups

confectioner's sugar

2

tablespoons

milk

2

teaspoons

vanilla extract

Water if needed
Instructions
In a double boiler, melt butter and baker's chocolate. Remove from heat.

In a large bowl, whisk flour, sugar, cocoa, baking powder, baking soda, and salt.

Add buttermilk and vanilla to melted chocolate. Add whisked egg.

Add wet ingredients to dry and mix until combined. With your hands, mix until dough is all well combined and form into a ball. Wrap in plastic and cool in fridge for 30 minutes.

Once cooled, roll dough into 1 -2 tablespoon balls.

Heat a deep skillet or sauce pan with 3 inches of vegetable oil until oil reaches 350 degrees (candy thermometers or digital infrared thermometer). Add 4 - 5 balls into the oil and fry until cooked (they'll looked a little puffed), approximately 2-4 minutes. With a slotted spoon, remove from oil and place on paper towel lined plate. Finish with all balls.

Line baking sheet with parchment paper and rack.
Prepare the Glaze
In a medium sized bowl, whisk confectioner's sugar, milk and vanilla until the consistency of heavy cream. If needed, add a little water and mix to reach that consistency.

Dip each donut hole in the glaze. With a fork, remove and shake off excess glaze. Transfer donuts to rack until all donut holes are glazed. Let rest until glaze is set.

Enjoy!

Store in an airtight container for up to a week.