Make some fresh ricotta cheese and then add it to some fluffy pancakes, and you'll have a delicious new take on a classic: Ricotta Pancakes From Scratch
Phew. What a crazy couple of weeks it's been around here. Not only did I get the flu and was out of commission for a solid 5 days, we're in the middle of a whirlwind move! We found a new lovely little house to rent (as we continue to prepare ourselves to become homeowners) the night it went up online, met the owner and put a deposit down the next day, and we're set to get keys on the 15th. I repeat, phew (that's the Portland rental market for ya). So, with all of that going on, I'm finally getting to sharing these beauties I made awhile back with some of our fresh, homemade ricotta cheese: Ricotta Pancakes From Scratch.
Ricotta Pancakes From Scratch, like the Lemon Ricotta Cookies that I also made with the fresh ricotta, have been on my list to make for a long time (um cheese in a pancake? Duh), but usually when I've been in the rare mood for pancakes, we haven't had any ricotta in the house (rare 'sober' mood, I should say, since I always want pancakes when I've had a few drinks, and luckily my husband takes that as the sign that it's time to take us home and for me to drink lots of water...) At home, we rarely make pancakes, but when we do, it's usually our go to Banana Pancakes because the one thing you can be certain you'll always find in our house: bananas.
But since we had this lovely fresh ricotta, it was the perfect excuse to finally make these pancakes.
First, just a mix of the ricotta, egg yolks, milk, and vanilla in a large bowl. In a separate smaller bowl I mixed the flour, baking powder, sugar, and salt.
Then, after mixing together the wet ingredients, I incorporated the dry ingredients and mixed them all together, but not too much. Just enough to incorporate it.
Then, in a separate bowl with a hand mixer I beat the egg whites
until they formed stiff little peaks. To be honest, I probably could have beaten them a bit longer but I was getting impatient for pancakes. Plus, I'd never added beaten egg whites to pancakes before so I wasn't totally sold on whether or not it was really worth the extra time.
But I folded the beaten egg whites into the batter 'cause that's what the recipe said, but I still half heartedly expected to really notice a difference in the pancake fluff level.
But, once on the griddle, I did actually notice a difference in how they cooked. And shockingly, there wasn't even a "first" pancake! You know that first one that always seems to come out not right? Didn't happen with these guys, the first one was almost the best one! When I told my husband this, his immediate response, "I call shenanigans." I swear!
Next time, I'm totally beating the egg whites longer because even though I didn't beat mine for as long as I should have, there was a noticeable difference in fluff level.
Then, of course the key to any real pancakes, real NH maple syrup. We're still working on all of the maple syrup my mom sent us from Stuart and Johns this summer as an anniversary present, but when we're done with it we'll definitely be ordering more. 'Cause c'mon. Life's too short for fake maple syrup.
These were sooo stinking good. The ricotta kept the pancakes super moist and I am officially a 'fold-in-a-beaten-egg-white' believer. Totally worth the extra time!
Ricotta Pancakes From Scratch for the win!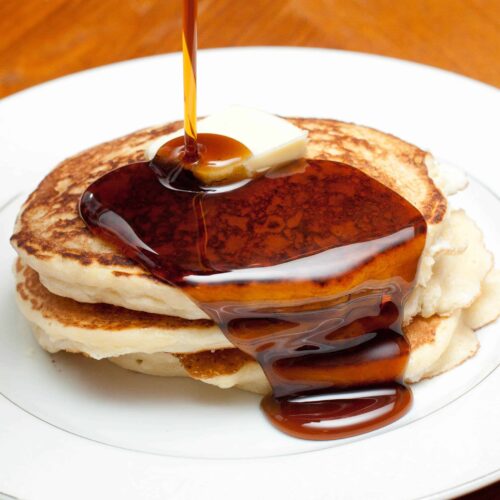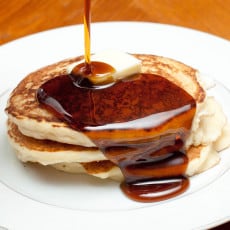 Ricotta Pancakes From Scratch
Make some fresh ricotta cheese and then add it to some fluffy pancakes, and you'll have a delicious new take on a classic: Ricotta Pancakes From Scratch
Print
Pin
Rate
Ingredients
1

cup

ricotta cheese

1

cup

flour

1/2

teaspoon

baking powder

1 1/2

tablespoons

sugar

1/8

teaspoon

salt

3/4

cup

milk

2

eggs

separated into yolks and whites

1/2

teaspoon

vanilla extract

Butter

for the pan
Instructions
If your ricotta seems to have a lot of liquid, set it in a fine mesh strainer to drain off excess liquid about 30 minutes before you start cooking. If your ricotta seems fairly dry and compact, you can skip this step - homemade ricotta wont require this step.

Whisk together flour, baking powder, sugar, and salt in a small bowl. Combine ricotta, milk, egg yolks, and vanilla in a separate, larger mixing bowl. Add the dry ingredients to the ricotta and milk mixture, stirring gently until just combined.

Beat the egg whites with a handheld electric mixer until stiff. Stir a small scoop of the egg whites into the pancake batter to lighten the batter, then fold in the remaining egg white with a spatula.

Heat a griddle over medium-high heat. Melt a small bit of butter in the pan, just enough to coat the surface. Pour batter onto the hot griddle. Cook the pancakes for about 3 or 4 minutes, until the undersides are golden and you see a few bubbles popping through the pancakes. Flip the pancakes and cook another 2 to 3 minutes, until golden. Repeat with the remaining pancakes.

Serve the pancakes immediately, with maple syrup.