This post may contain affiliate links. Read my disclosure policy.
Making your own Cream Cheese From Scratch is a lot easier than you'd think!
In honor of our homemade bagels, of course we had to try making our own cream cheese from scratch. 'Cause what's a bagel without cream cheese?
Ok, I say that now but embarrassing confession: the first time I had a bagel with cream cheese was when I was 17, a senior in high school, and the only reason I tried it then was because the girls in my AP English class were horrified when they heard I'd never eaten it before and made me eat one right then and there. And I loved it. I'd never had cream cheese on a bagel before in my life, because like my other weird (former) dislikes for salmon, mayo on sandwiches, and peanut butter and jelly (despite never having them either), I had the same feelings towards cream cheese. I just decided I didn't like it. I ate bagels plain. Sometime with butter. But mostly dry and plain. I know, such a weirdo.

Even now, I'm not a huge bagel fan which means we rarely ever have cream cheese in the house. But after our Vegas trip that sparked a hankering for bagels, it also sparked a hankering for cream cheese with said bagels. Making the bagels, no problem. We're getting pretty good at bread making, but cream cheese from scratch? I had no idea. It wasn't even on our homemade cheese hit list; it's a cheese I've never really thought about.

Turns out, it's super easy. Like making ricotta easy, which is pretty much just adding citrus to milk. The difference between a ricotta and a cream cheese is simply the fat content. So instead of using just whole milk, cream cheese from scratch requires just a quart of milk, a quart of half and half, and then 2 quarts of heavy cream. Neat. Thanks, Lynn Rossetto Kasper!
To start, I just added all the creams and milk into a large pot on medium to medium high heat.
Then added some kosher salt, and brought to a simmer. Once it came to a good simmer, I added about a 1/3 of cup of fresh lemon juice, a good stir, and I let it simmer a few more minutes before removing it from the heat. The pictures of these steps ended up just looking like white blobs in a pot. Not helpful or even really discernible in the slightest.
So here's a picture of a colander on another pot lined with a cheese cloth. BTW, if you want a great reusable cheese cloth, I highly recommend this one. I've used it so many times now and it's awesome.
Lynne Rossetto Kasper said I could then scoop out the curds… mine were not that solid for the slotted spoon I had, so I went with the longer process of pouring it all into the cheese cloth lined colander and waiting for the whey to drain…
It all didn't fit in that colander though so I used a fine sieve too for the rest. Then I left it overnight. Cause there was a lot of whey in both. After about an hour I gathered the ends of the cheese cloth and suspended it on our kitchen sink faucet for it to continue to drip. The sieve I just let over the pot.
The next morning, we had some super creamy ricotta cream cheese from scratch! Honestly, I was shocked at how creamy and smooth it was. And it actually tasted like cream cheese!
So, I toasted up one of our bagels (which clearly my bagel making skills need some work as I lost the holes in them…)
A nice creamy spread of the cream cheese,
From scratch bagels and cream cheese!
I think our bagel and cream cheese consumption levels will be changing in this house, from now on. And now I want to try some flavored cream cheeses!
Who knew cream cheese from scratch was so easy??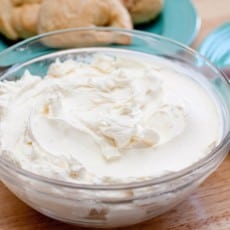 Cream Cheese From Scratch
Making your own Cream Cheese From Scratch is a lot easier than you'd think!
Print
Pin
Rate
Ingredients
1

quart

of whole milk

1

quart

of half and half

2

quarts

of heavy cream

1/3

cup

of fresh squeezed lemon juice

2

teaspoons

of salt
Instructions
Line a large colander with a layer of cheesecloth and place in the sink or over a bowl if you want to save the whey. Wet the cheesecloth to hold it firmly in place.

Over medium-high heat, bring the milk and salt to a gentle simmer in a heavy large pot. Stir in the lemon juice and continue to simmer gently until curds begin to form and float to the top, 1 to 2 minutes. They will first look like spatters of white, then gather into soft, cloud-like clumps.

When you see the liquid begin to clear of cloudiness and the curds are firming up but not hard, scoop them out with a slotted spoon or sieve. My liquid didn't really clear and my curds didn't really firm up so I just poured all of the liquid into the cheese cloth lined colander and a sieve. This seemed to work just as well, but it required draining over night. I let the sieve sit out covered with a cloth napkin and I gathered the ends of the cheese cloth and suspended it on the kitchen sink faucet to drain. My house is kept pretty cool at 55-60 degrees though so I had no problem leaving it out- if your house is pretty warm, I'd suggest suspending them in a cooler place if leaving overnight.

Let the curds drain thoroughly in the lined colander. If very soft, press gently to extract a little moisture, but take care not to dry out the cheese. Turn into a bowl, cover and chill. Store in fridge up to a week.
Notes
Will yield approximately 1 1/4- 1 1/2 lbs of cheese.
"Cook to Cook: Rinsing the pot with cold water before pouring in the milk will save you some serious cleanup! The liquid whey can go into soups, stews and curries, and be used to cook pasta and rice." -Lynne Rossetto Kasper
You can also replace the half and half and heavy cream and just use one gallon of milk. I think the cream cheese has a creamier flavor with the heavy cream, though. But using just milk makes it much more cost effective.