Making your own Ricotta Cheese from Scratch is incredibly easy, fun, and so much more affordable than buying it from the store!
Last night I was at a friend's house making dinner and drinking wine with a bunch of girlfriends. On the menu was one of my favorite chicken dishes, stuffed chicken marsala with ricotta and spinach. As I was making the ricotta cheese, I realized that I hadn't shared this ricotta recipe here! Most of the time we make ricotta it is from the whey when we make mozzarella, but that only makes a little bit. When we want a good amount of ricotta for stuffed chicken, ravioli, or a ricotta galette, we use the whole gallon of milk to get 4 cups of this delicious, crumbly, super easy to make at home cheese (all of the aforementioned recipes will also soon be shared).
Seriously, so easy. Just a gallon of whole milk, fresh lemon juice, citric acid, and some salt. Even better, if you don't have citric acid, just replace it with some apple cider vinegar!
First, the milk is heated to 200 degrees over medium heat. This takes about 40 minutes. No need to stir or do anything, it just heats up slowly.
Then, once it hits 200 degrees, the pot is removed from the heat and 2/3 cup of fresh lemon juice, 1 teaspoon of citric acid and 2 teaspoons are added to the milk that's starting to bubble and it's all given a good stir. Then it sits for 10 minutes uncovered and undisturbed.
After 10 minutes, you should have curds that separate cleanly from the whey.
Pour it all into a cheese cloth lined colander, let it drain, and you have homemade ricotta cheese! So. stinkin. easy.
I love this cheese cloth:

4 cups of from scratch ricotta cheese for the cost of a gallon of milk and made in under an hour with super simple minimal steps. Homemade cheese doesn't get much easier than that. The hardest part will be choosing how to use it all!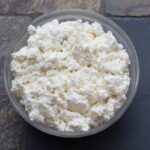 Print Recipe
Ricotta Cheese from Scratch
Homemade Ricotta!
Ingredients
1

gallon

of whole milk

2/3

cups

of fresh lemon juice

1

teaspoon

of citric acid OR 1/4 cup of apple cider vinegar

2

teaspoons

of salt
Instructions
Heat milk in a large pot over medium heat to 200 degrees.

Remove pot from heat and add lemon juice, citric acid, and salt. Stir. Let sit uncovered for 10 minutes.

After the 10 minutes, with a spoon check to see that curds have formed and that when pulled gently separate cleanly from the whey.

Pour curds and whey into a cheese cloth lined colander and let drain completely for 5-10 minutes. Gather sides of cloth and gently squeeze excess whey from cheese in cloth. Some moisture is good to keep with the cheese.

Transfer cheese from cloth into bowl and break up to use immediately or store in an airtight container for up to a week.