Are you interested in making your own cheese? Homemade Ricotta Cheese From Scratch is one of the easiest cheeses to make at home and so much better than store-bought!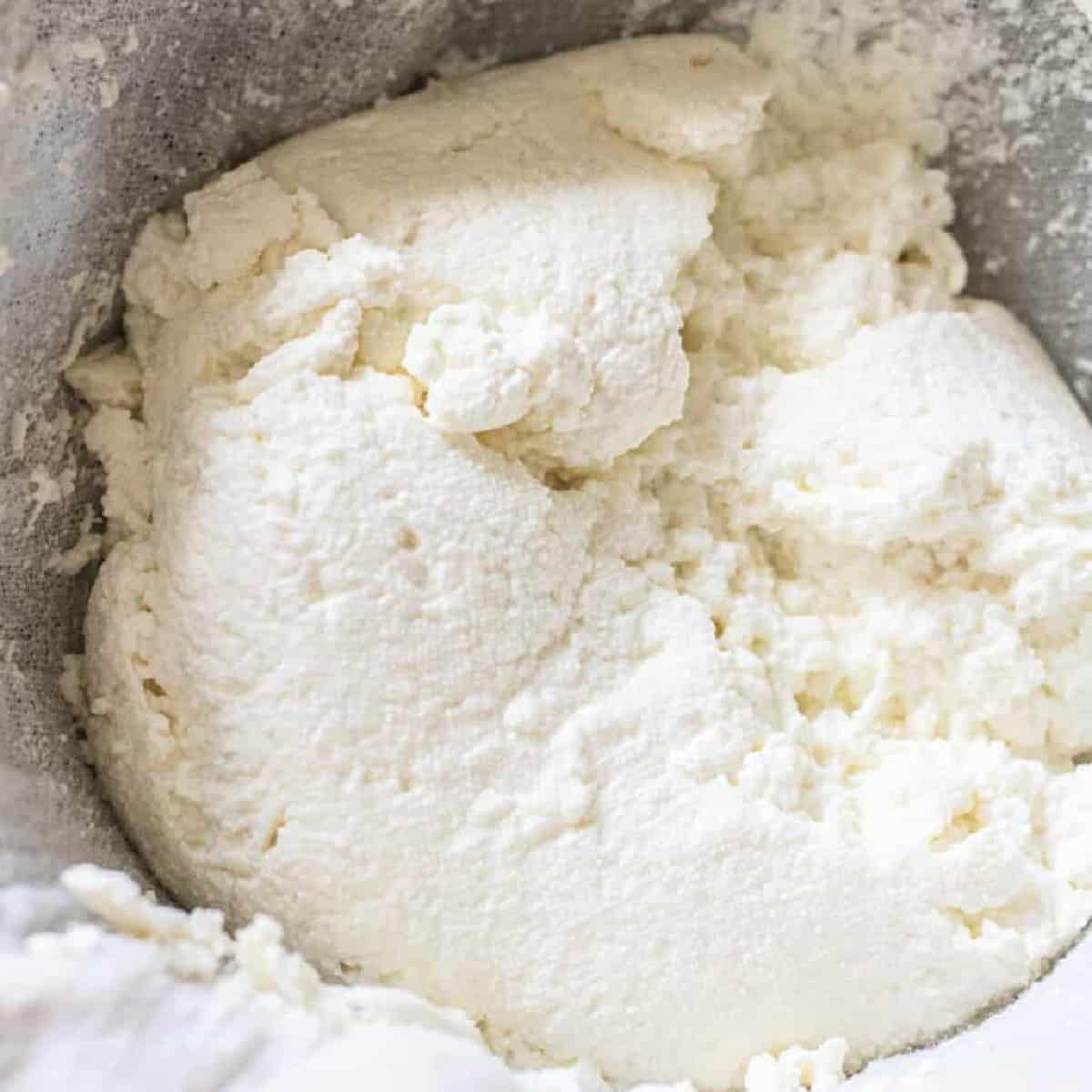 Have you been thinking that you'd like to start making some of your own cheeses, but "haven't had the time"? Well then you're in for a treat because this homemade cheese is so incredibly easy to make and it's hands down, my favorite cheese to make at home. It's easy. It's fast. It's homemade Ricotta Cheese From Scratch!
If you've been curious about making your own cheese for a little while now, homemade ricotta cheese is definitely one of the easiest to make and the perfect place to start on your homemade cheese-making journey!
Ingredients Needed: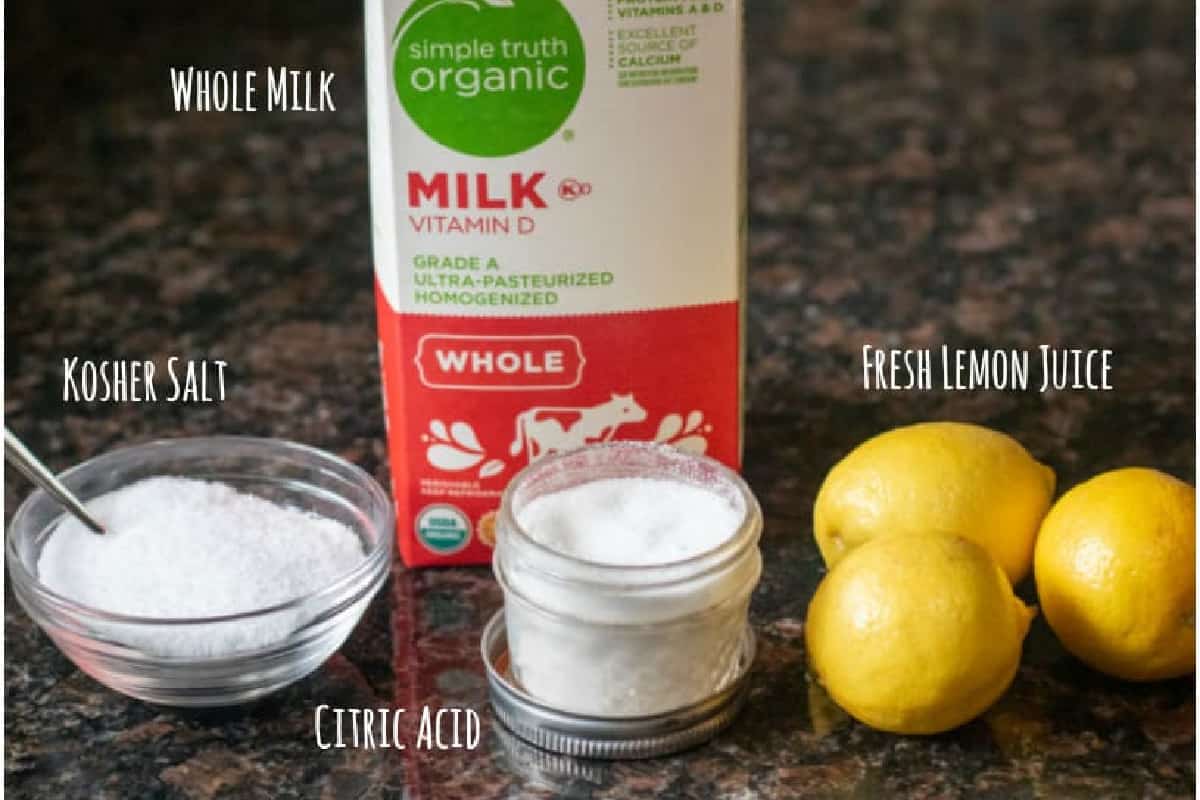 Simple ingredients you may already have!
Whole Milk - Definitely needs to be whole, full fat milk.
Fresh lemon juice - Bottled juice works fine too!
Kosher Salt - Regular table salt works, too.
Citric Acid - This is key to curdling the cheese into curds.
Ok did you just look at that list and go, Citric acid, whaaaat. Ok ok, most people don't have citric acid in their spice pantry (although you should so you can make ricotta or mozzarella anytime!). But if you DON'T have it, Apple Cider Vinegar is a great substitute!
Or, if you want to stock up on some, you can usually find it in the bulk spice section of your grocery store, or find it here on Amazon.
Equipment Needed:
As long as you have these things, this ricotta cheese from scratch is truly one of the easiest cheeses you can make at home!
How to make Homemade Ricotta Cheese:
Seriously, it's so easy.
Slowly heat the milk
Add lemon juice, citric acid, and salt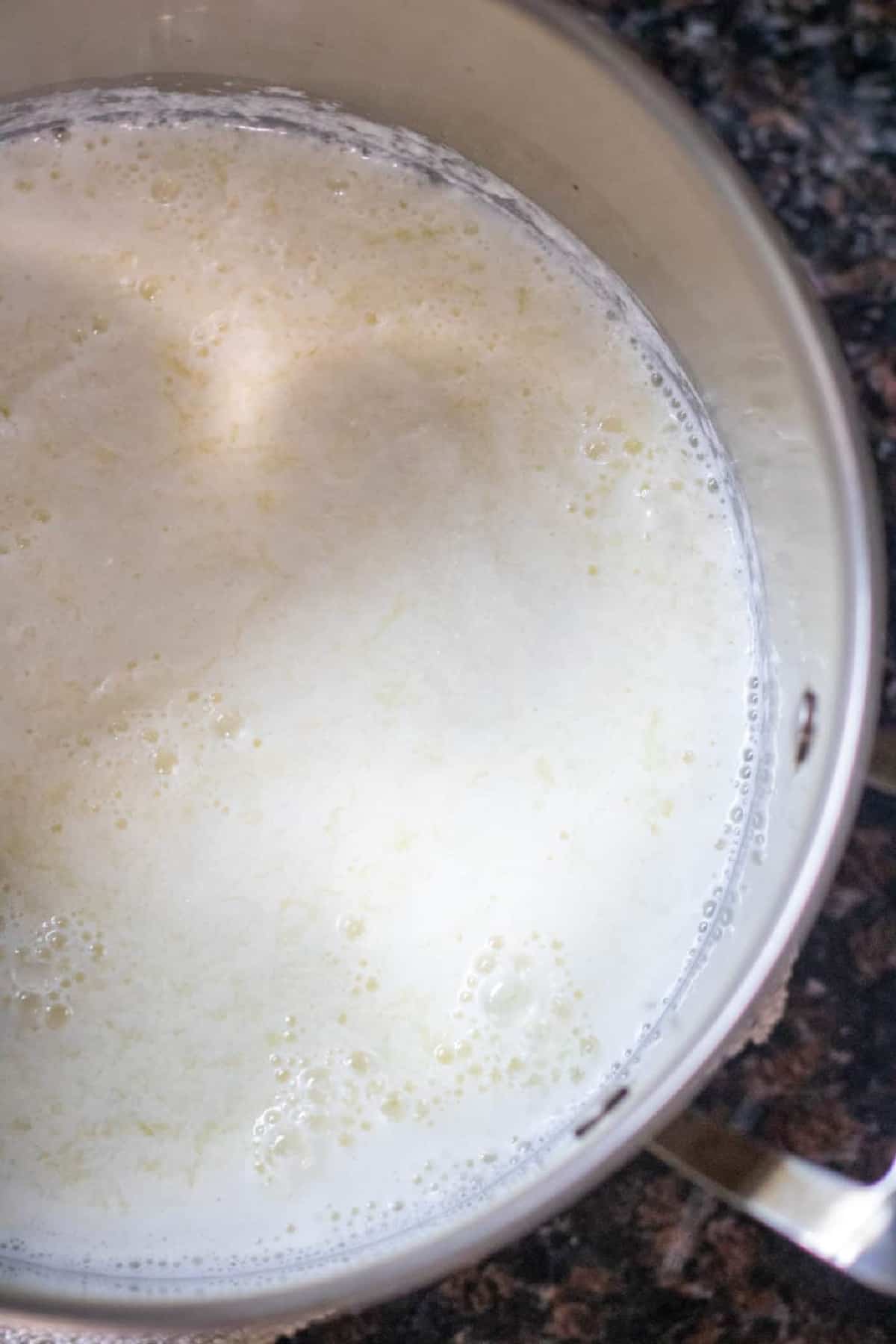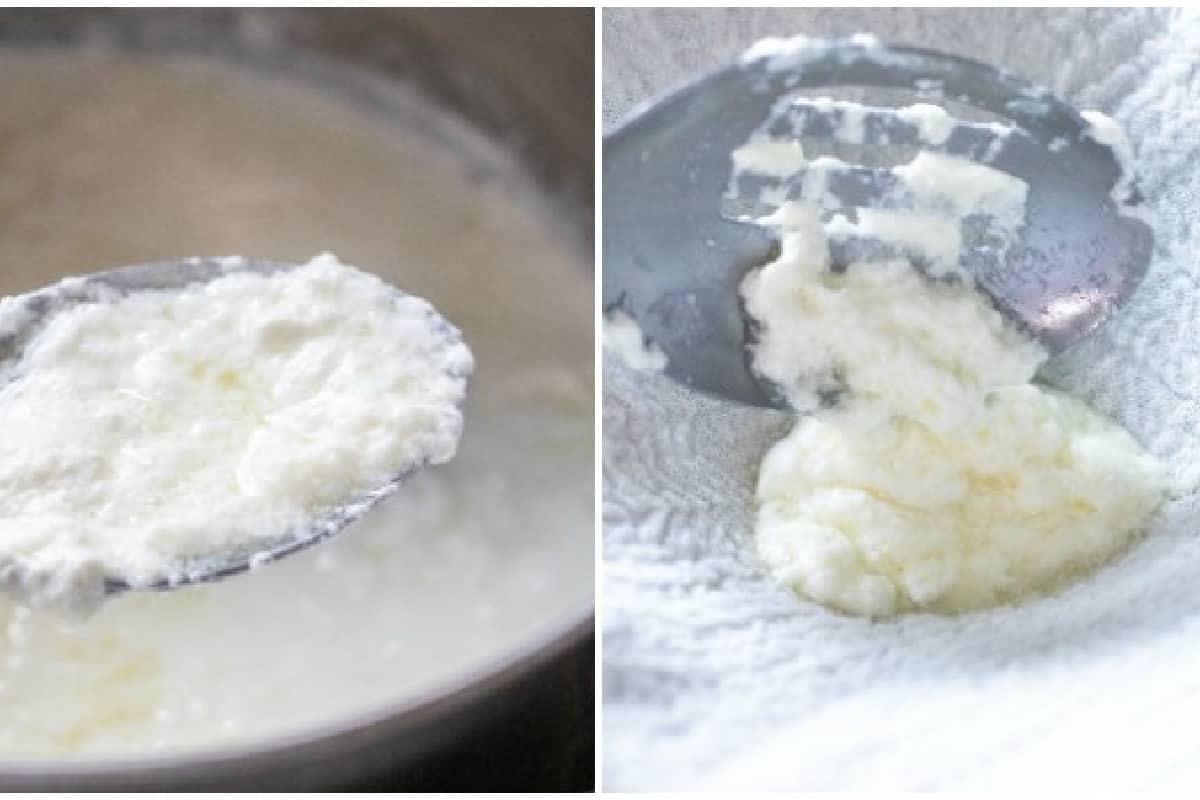 Spoon curds into cheesecloth-lined sieve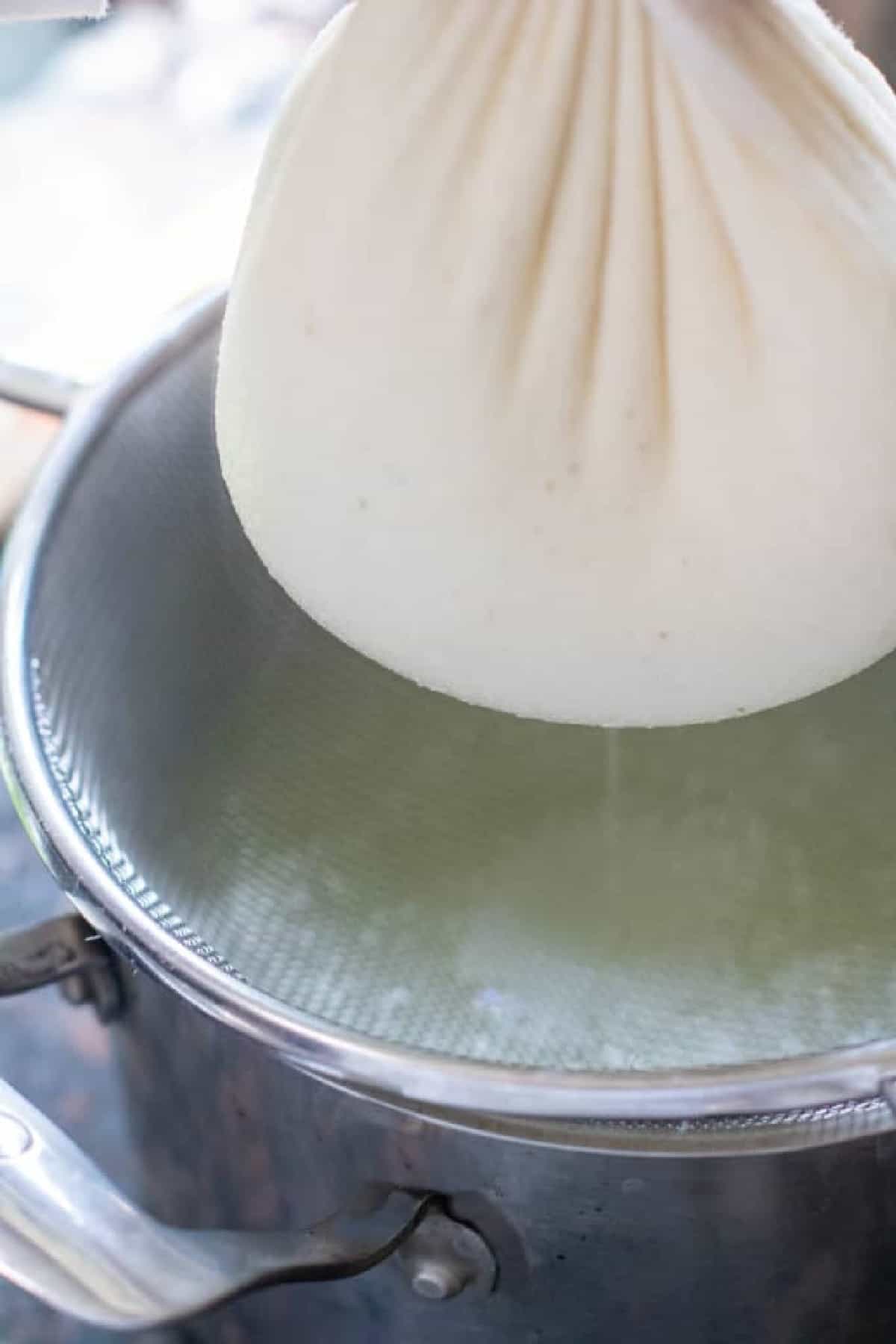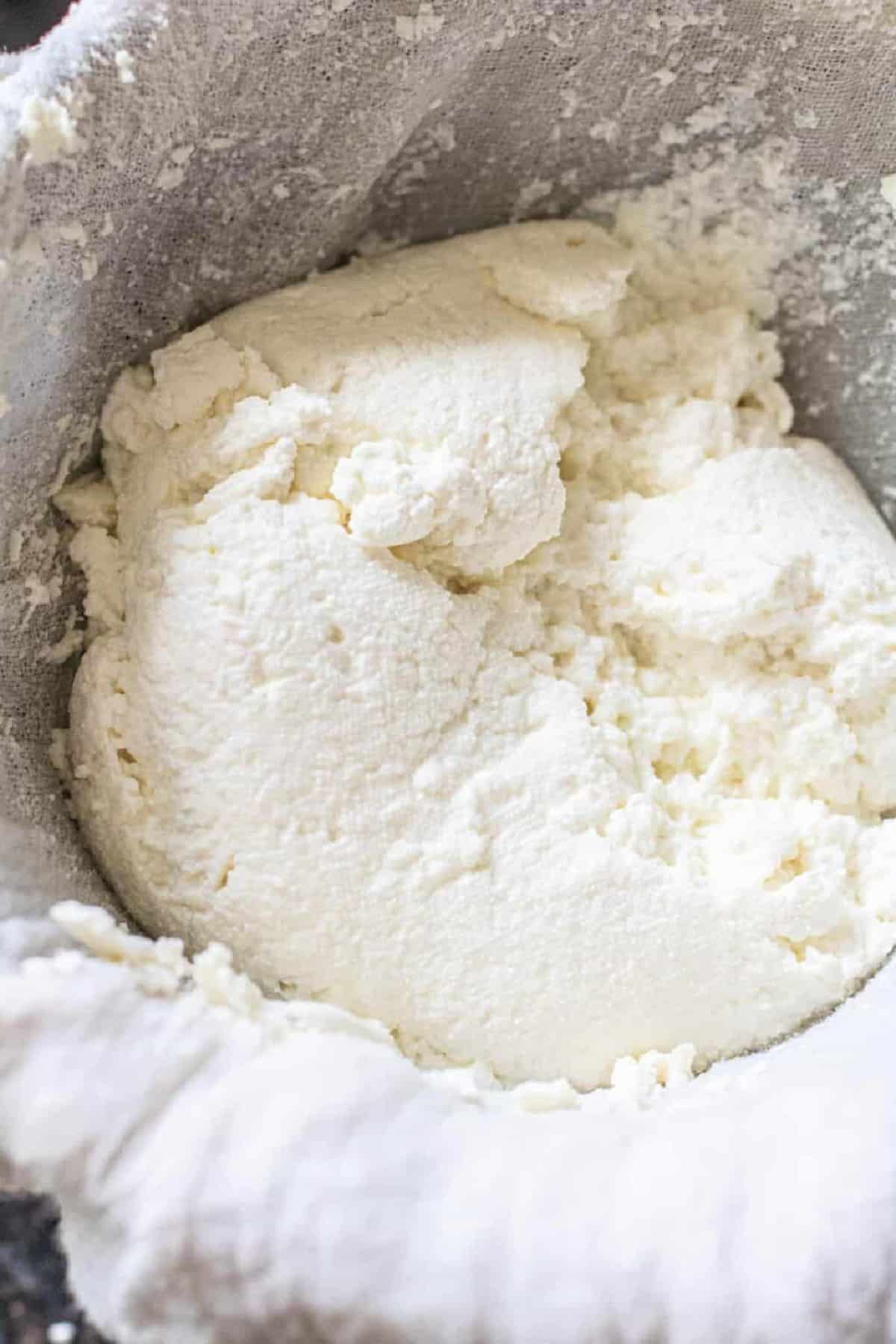 And done!!
Can it get any easier when it comes to homemade cheese?! Trust me, it doesn't. We've made a few in this household:
But truly, this homemade ricotta is the easiest of them all!
Tips for making Ricotta
Ok, yeah I say it's the easiest, although for your first time, there are definitely a few things you'll want to keep in mind!
Bring Milk to Room Temperature
Take your milk out of the fridge to warm up a little before! This way you're not trying to heat up fridge cold milk. I usually take it out about 30 minutes before I want to get my cheese makin' on.
Heat the Milk Slowly
Low and slow, you don't want that milk to burn!
Check the Milk Often
Once the milk starts to heat up, check it often because it can get to temp fast and you don't want to get it too hot.
Scoop into a Cheesecloth
Start by scooping those gentle curds into your cheesecloth and letting them drain. Once you have a majority of the larger curds out, then you can pour the rest of the curds and whey slowly into the cheesecloth to get the rest. Do this in little bits of time and let it drain before pouring more. You don't want to overload/overflow your cheesecloth.
Swirl to Drain
You can give your colander a little swirl to help the draining process along. That'll let the whey drain out of the higher edges of your cheesecloth that don't already have drain cheese.
Carefully Gather Cheesecloth Edges
Be VERY careful gathering the edge of the cheesecloth - make sure that it's all collected so you don't lose any!
Do I need a thermometer?
Yes. Ensuring proper temperatures is vital to cheesemaking. We absolutely love this Thermoworks Chef Alarm that allows us to set the temp we want and be alarmed when it meets it. But any other digital thermometer works great too! Just be sure to check the temp in the center of the pot, and don't let it touch the pot!
You can also head over to my Instagram to see my highlighted stories of some process videos!!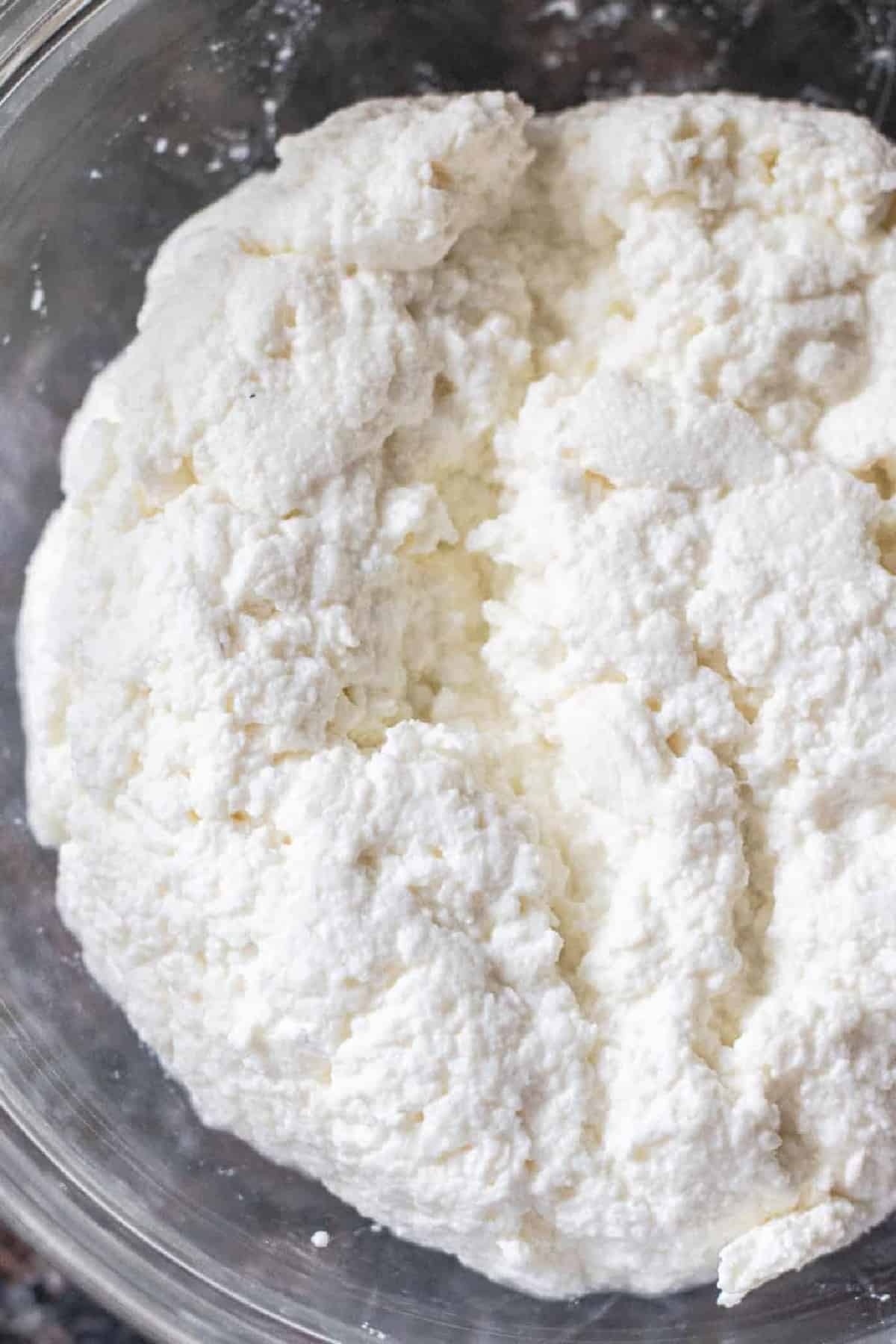 This recipe makes about 14 oz of cheese. Which is about the same size as a tub of the store-bought stuff. And it's the perfect amount for a batch of Lemon Ricotta Cookies!
Or if you double the recipe (which is what I usually do!) then you can also make:
Fresh Ricotta and Spinach Stuffed Chicken
Fresh Ricotta Ravioli From Scratch
Ricotta Tomato Pie From Scratch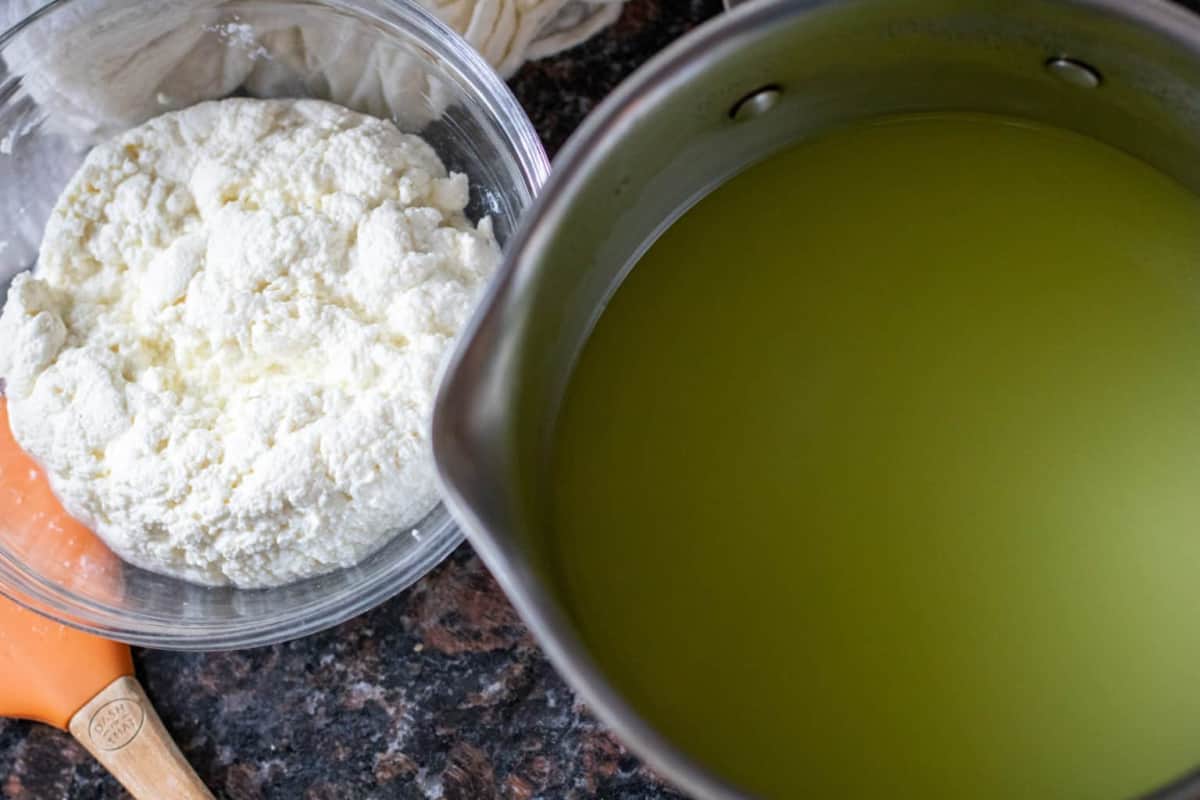 Oooh AND when you're done you're going to have all of this lovely, Whey! And just wait to see what we make with it!!
Stay safe, friends! Again, if you're home and you have some extra milk around, now's a great time to start makin' some cheeeesssee!
As always, if you do please let me know!! I love to hear about it on Facebook, Instagram, and Pinterest!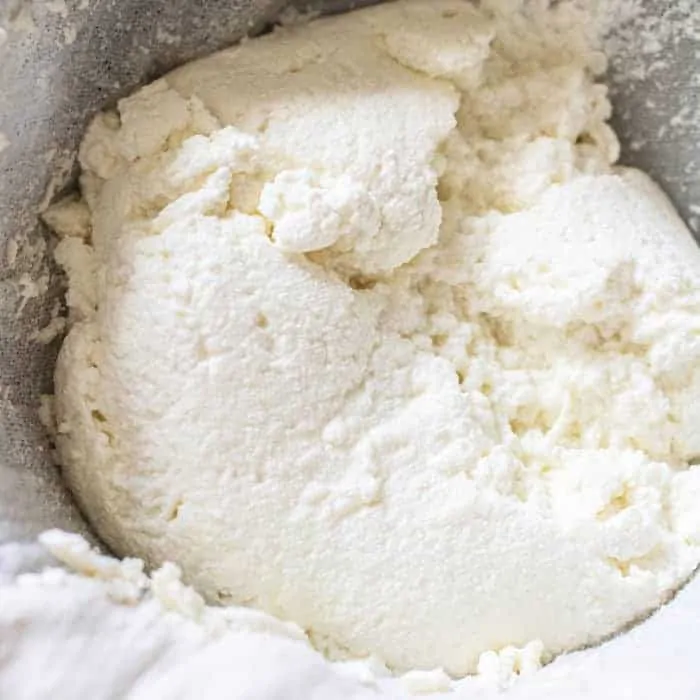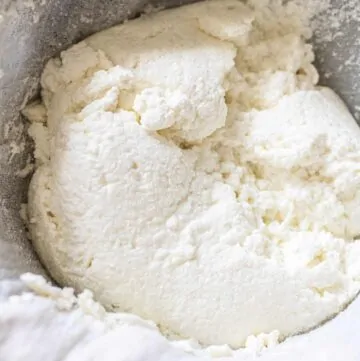 Ricotta Cheese From Scratch
Are you interested in making your own cheese? Homemade Ricotta Cheese is one of the easiest cheeses to make at home and so much better than store bought!
Print
Pin
Rate
Ingredients
1/2

gallon

whole milk

1/3

cup

fresh lemon juice

1/2

teaspoon

citric acid

OR 1/8 cup apple cider vinegar

1

teaspoon

salt
Instructions
Take milk out of the fridge and let come to room temperature.

In a large pot over medium heat, add milk to pot and heat to 200 degrees Fahrenheit. This can take about 12-15 minutes.

Remove from heat and then add lemon juice, citric acid, and salt and give a gentle stir and set aside for 10 minutes.

Line a sieve or colander with a cheese cloth and place over a tall pot. You want something that will allow all of the whey to under the bottom of the sieve / colander. Make sure the whole sieve / colander is covered so that you can easily gather it ALL up - I try to tuck the cloth between the sieve / colander and pot to secure it.

After 10 minutes use a spoon to check to see if curds have formed by gently pulling at curds to see if they separate from the whey.

With a slotted spoon, ladle curds onto cheese cloth. Go slowly. Let the whey drain. Add more. Let the whey drain. Until most of the larger curds are ladled out.

When you have most of the large curds out, slowly poor the rest into the cheese cloth. Just a little bit at a time, don't fill it all too much. Be careful to not let the cloth slip. To speed up the process you could gently turn it all so that whey can drain out the upper edges of the sieve / colander.

Once it all has been poured and drained, gently gather all of the edges of the cheese cloth and give it a gentle squeeze to get a little more out of the whey out. Not all - you want to keep some to keep a nice moist ricotta cheese!

Transfer cheese from cloth into bowl and either use immediately or cover and store in fridge for up to a week.
Notes
The nutritional value is approximately per oz of cheese.
Nutrition
Calories:
83
kcal
|
Carbohydrates:
7
g
|
Protein:
4
g
|
Fat:
4
g
|
Saturated Fat:
3
g
|
Polyunsaturated Fat:
0.1
g
|
Monounsaturated Fat:
1
g
|
Cholesterol:
16
mg
|
Sodium:
218
mg
|
Potassium:
209
mg
|
Fiber:
0.02
g
|
Sugar:
7
g
|
Vitamin A:
219
IU
|
Vitamin C:
2
mg
|
Calcium:
167
mg
|
Iron:
0.01
mg