Take your holiday classics to a whole new level by making Copycat French's Fried Onions From Scratch and never buy store bought fried onions again!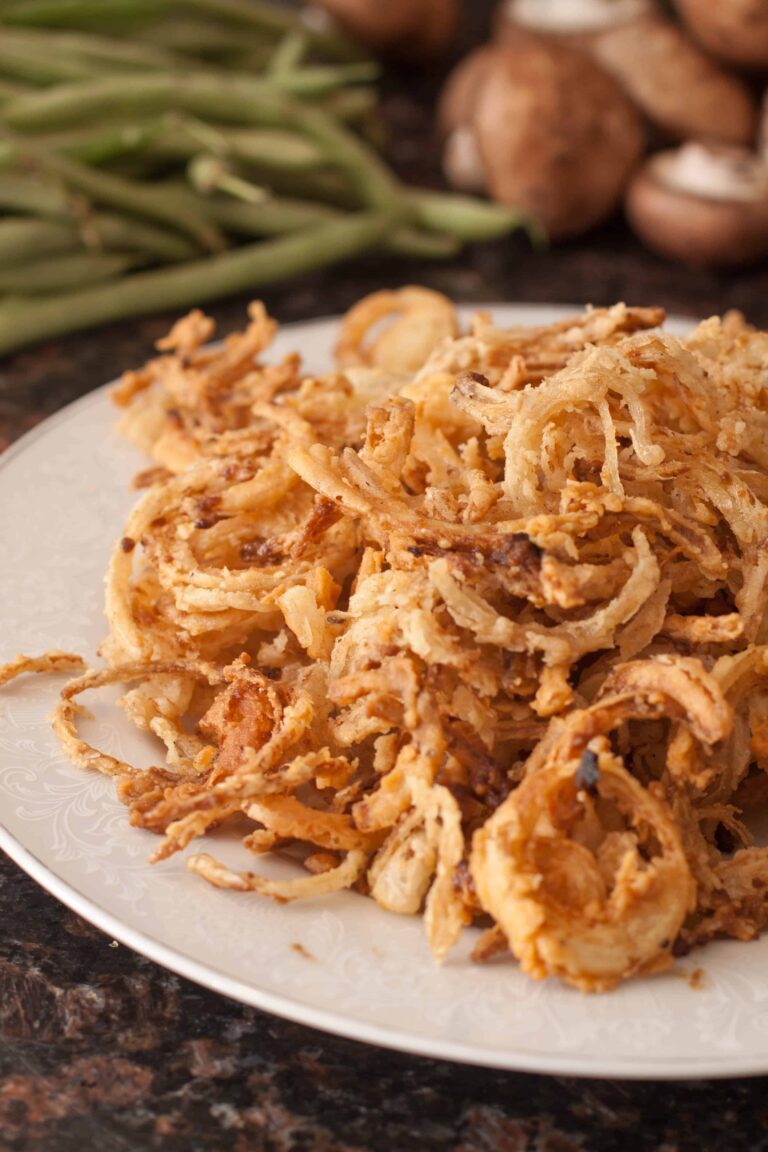 Hellooooo! Phew, sorry it's been crickets around here for a while!  If you follow me on Facebook or Instagram you know that we've been in Montana witnessing two incredible people tie the knot and exploring a lot of the outdoor beauty the gorgeous state has to offer. We're just now settling back into our normal crazy lives again.  Just in time for the holidays, which what the wha Thanksgiving is THIS WEEK?!  Wasn't it just July?!  It's cool, that just means it's also the perfect time to continue to try to make some our favorite classics from scratch, like these Copycat French's Fried Onions From Scratch!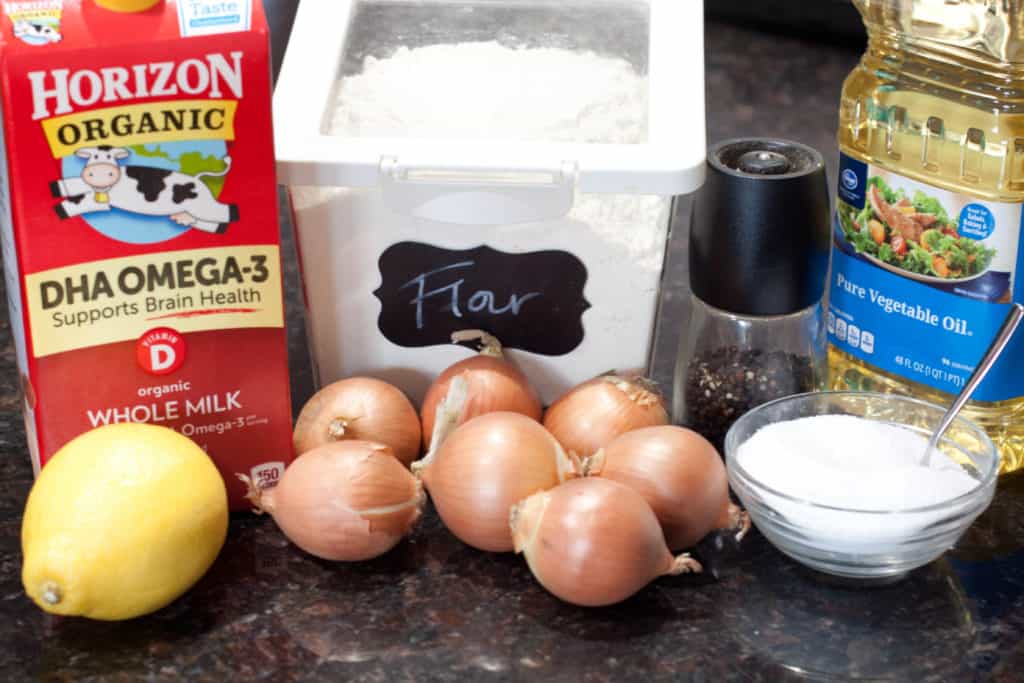 We received the cutest little organic yellow onions in our weekly Imperfect Produce box.  Anyone in the Portland, OR; The Bay Area; Los Angeles, CA; Orange County, CA; or Seattle, WA area who is interested in eating more affordable organic produce, all the while playing an important role in reducing the staggering amount of food waste in this country, definitely check them out!  We love them and they definitely aren't paying me to say that, I truly love them, their service, and the important work that they're doing.  They're growing like crazy too, coming to Chicago, IL next and hopefully to the east coast soon, too!  Anyway, back to these adorable little onions that totally aren't even that ugly but the perfect size for some Copycat French's Fried Onions from scratch!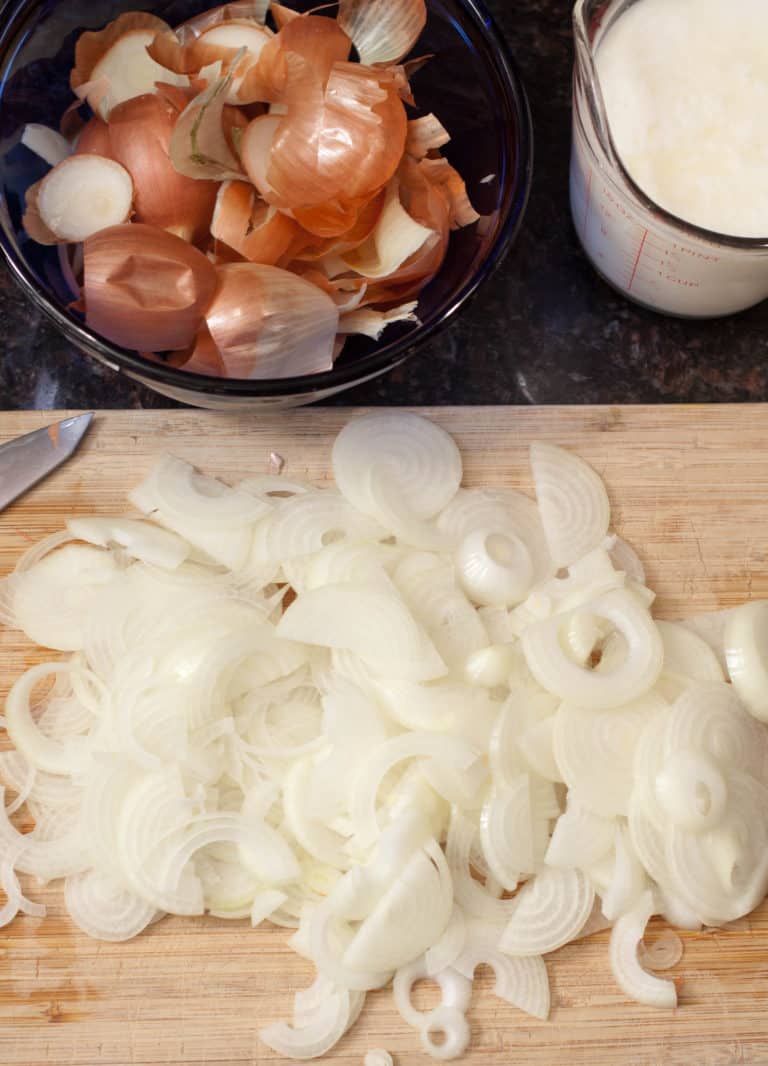 Prep on these guys is super easy.  First, since I didn't have any store bought buttermilk, I just whipped up some easy Homemade Buttermilk.  While the lemon thickens and curdles the milk, I prepped the onions.  Half of them I halved and sliced super thin and the other I left in whole rings, also sliced very thin.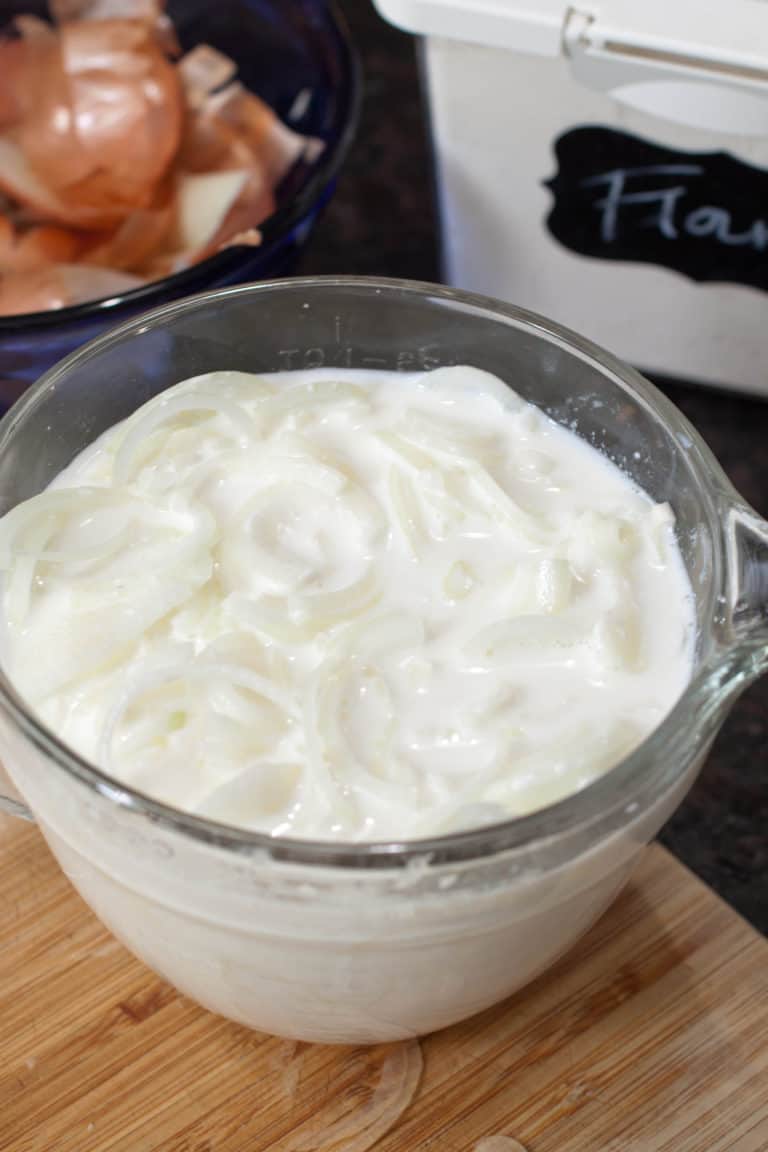 Then once the buttermilk was ready, it's just a matter of letting the adorable little onion slices soak in your homemade buttermilk,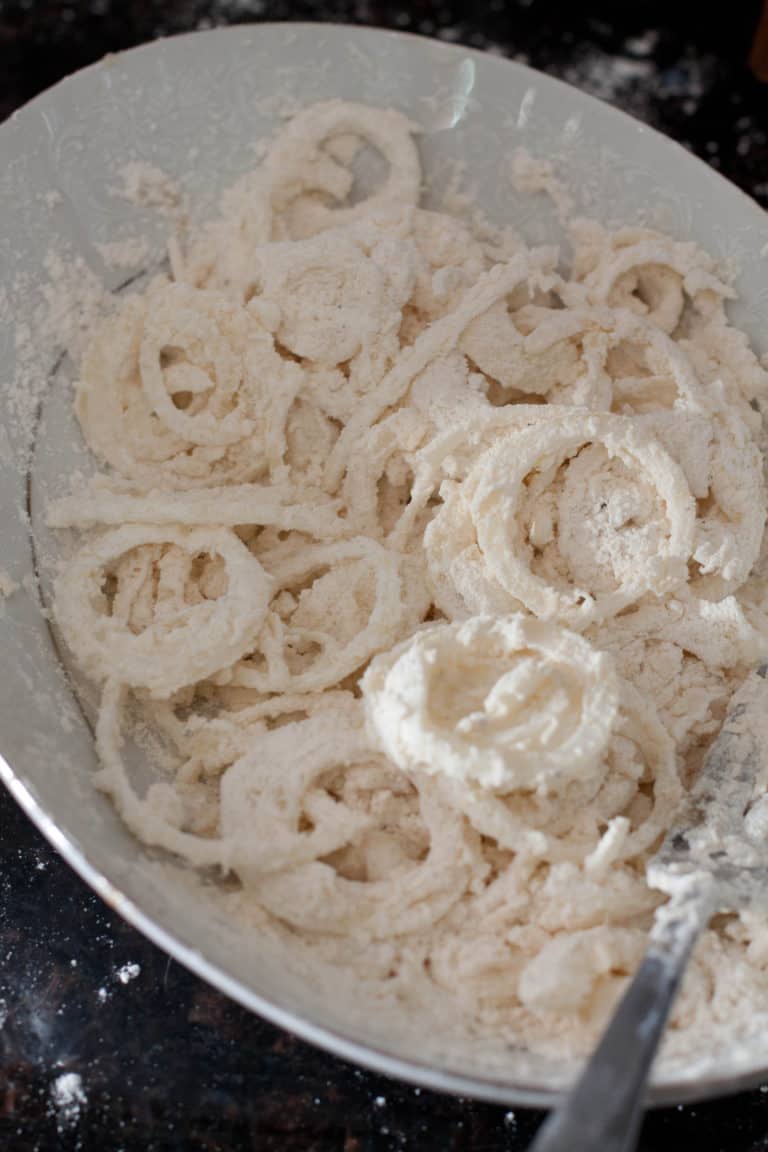 then it's just a healthy dredge in plenty of flour and into the fryer they go!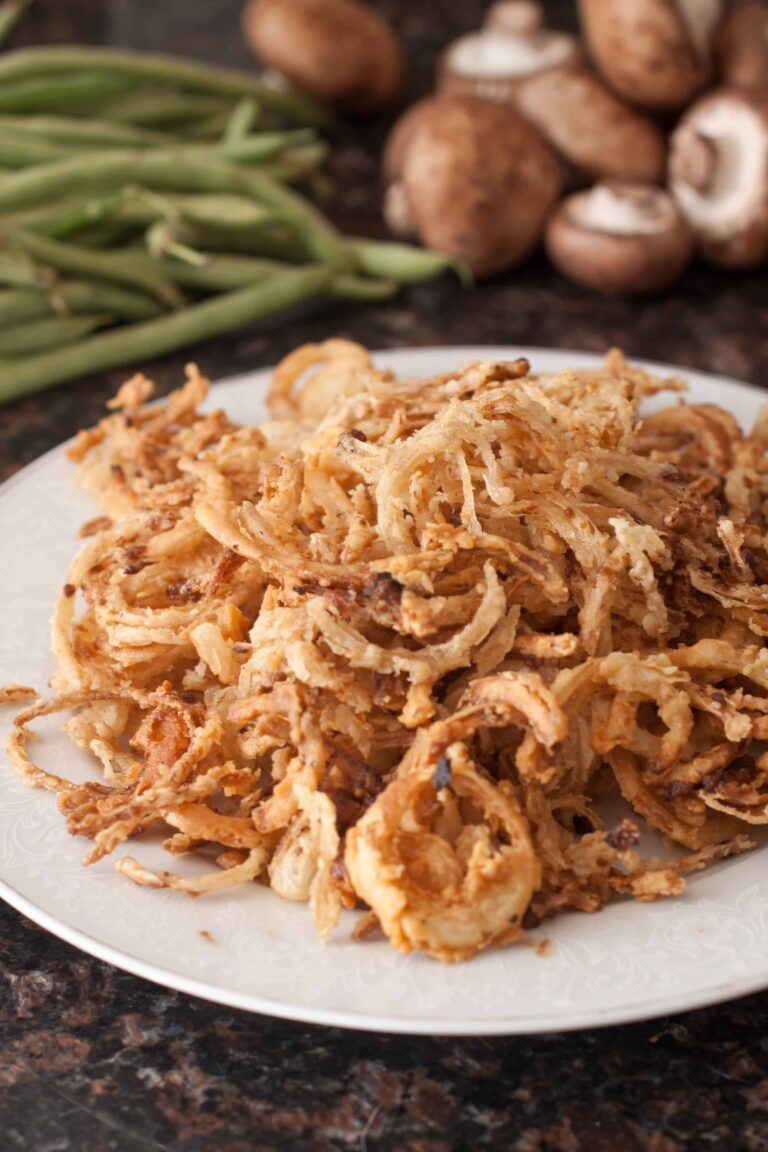 These are nearly identical to my Homemade Onion Rings but just a much smaller, perfect Copycat of French's size!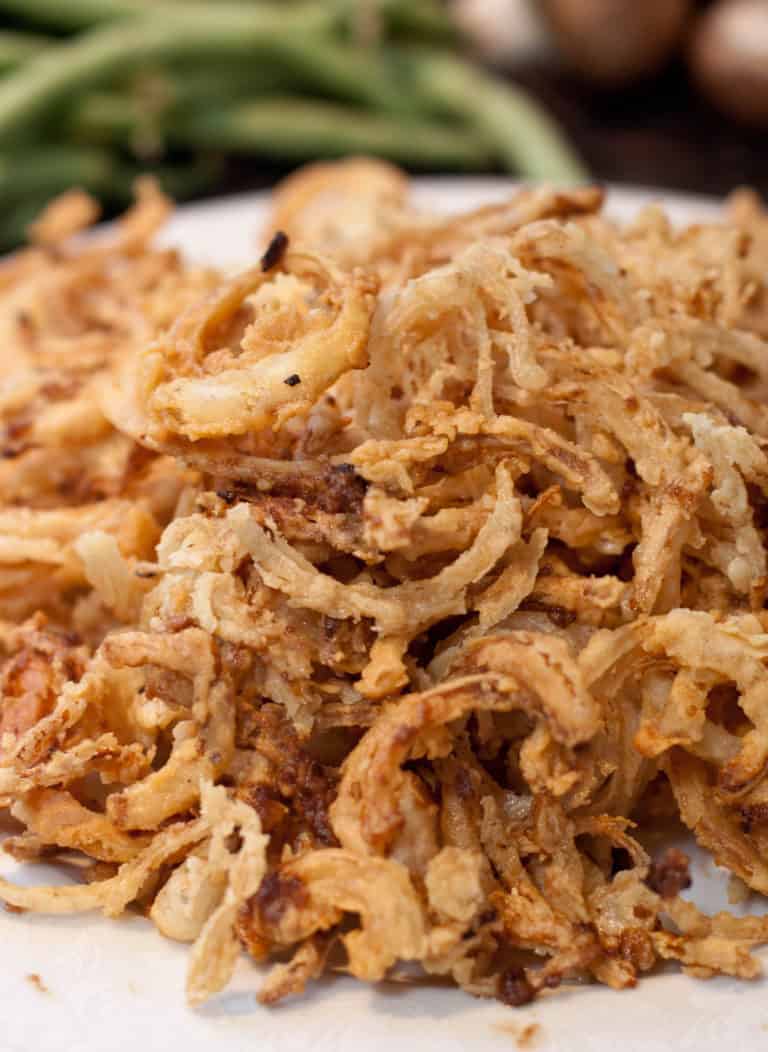 But even crispier!  And this recipe makes a whoppin' 15 oz of onions!  That's even accounting for the inevitable overcooked hot oil sacrifices.  That's more than double the amount that you get from one of the larger French's containers, but without the dextrose.  Can you tell based on the green beans and mushrooms what I'll be making with these little crispy bites of heaven?  Hint: it includes some of my Cream of Mushroom Soup From Scratch!  Stay tuned!
I hope that everyone has a wonderful Thanksgiving filled with love, food, and thanks.  I'm so thankful for all of you who visit my little site.  When growing lists of house projects and piles of laundry almost win out, your emails and feedback inspire us to keep documenting our From Scratch journey.  For that, I am very grateful; thank you! <3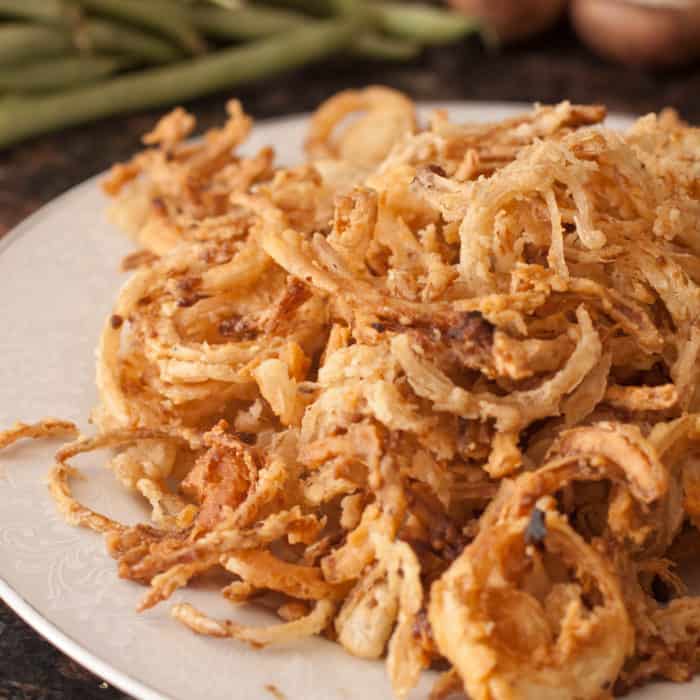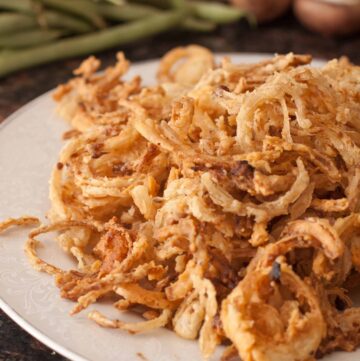 Copycat French's Fried Onions From Scratch
Take your holiday classics to a whole new level by making Copycat French's Fried Onions From Scratch and never buy store bought fried onions again!
Print
Pin
Rate
Ingredients
2.5

cups

Homemade (or store bought) Buttermilk

http://www.servedfromscratch.com/5-minute-homemade-buttermilk/

4

cups

Thinly sliced onions, halves and rings of small onions

3

cups

All purpose flour

1

tsp

Kosher salt

1/4

tsp

Fresh ground pepper

4

cups

Vegetable oil
Instructions
Soak onions in buttermilk for at least 10 minutes.

In a shallow dish add flour, salt, and pepper and mix well.

In a large pan heat vegetable oil to 375 degrees. To test to see if your oil is ready for frying, dip the handle of a wooden spoon in the oil and if it bubbles around the handle then it's ready.

Dredge buttermilk soaked onions in flour until well coated and add to oil, frying in batches until golden brown then remove form oil with a slotted spoon and drain on a paper towel lined plate. Continue with all of the onions with additional paper towel lined plates after a double layer of onions are on one.

Use immediately or store in an airtight container in a dry cool place for up to a few days.