This easy-to-make Crustless Spinach and Feta Quiche is your lighter, low-carb homemade quiche solution! It's packed full of fresh spinach and feta cheese, making it a healthy, hearty, easy to make, any time of the day meal!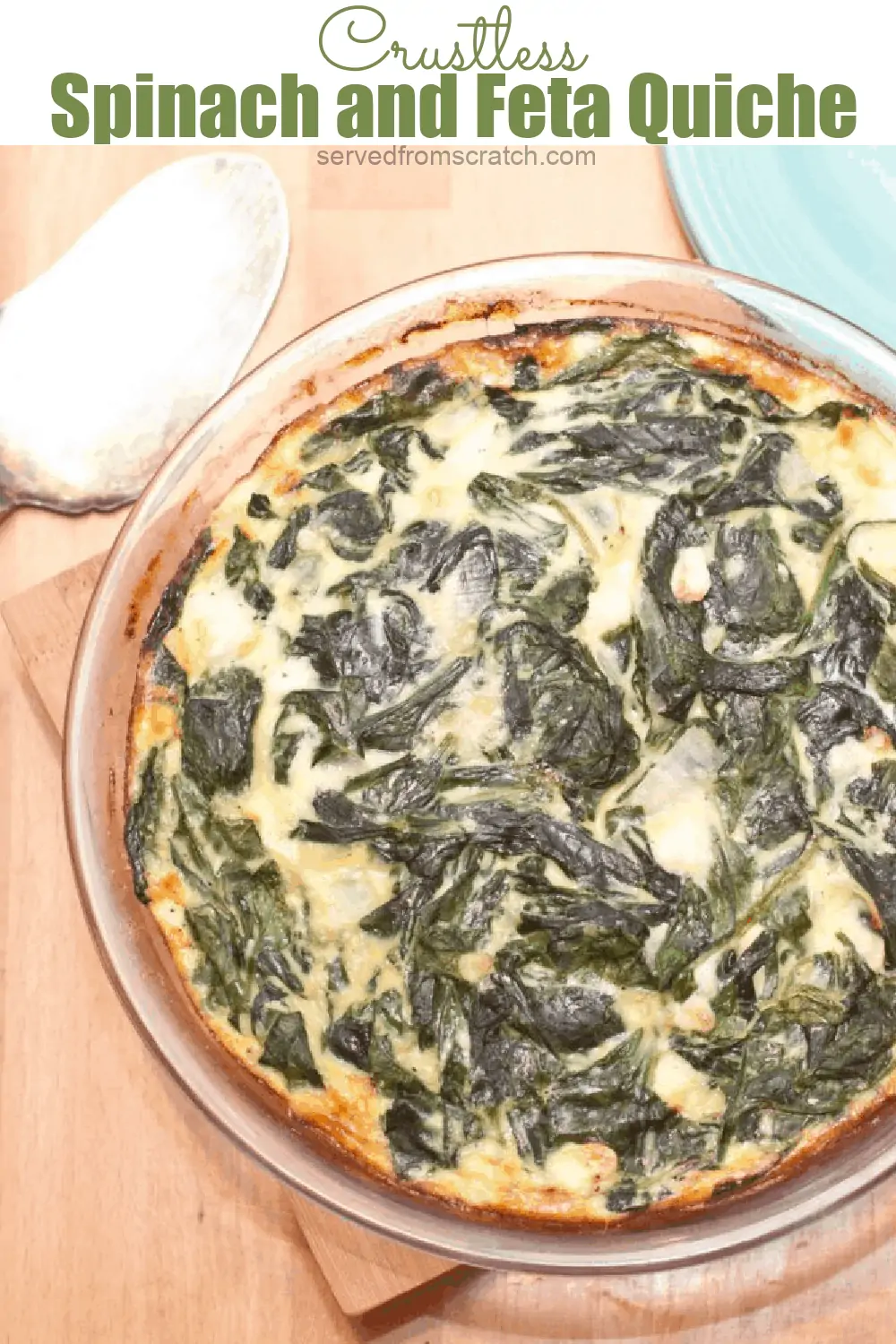 Oh, hey! It's been a while! It's for a good reason - lots of new and exciting recipes coming at ya! Including one of our latest, this crustless quiche. Last week I made it twice. Twice! That's how good it is and that's why it's made it into our regular rotation. Friends, meet our Crustless Spinach and Feta Quiche!
Ingredients Needed: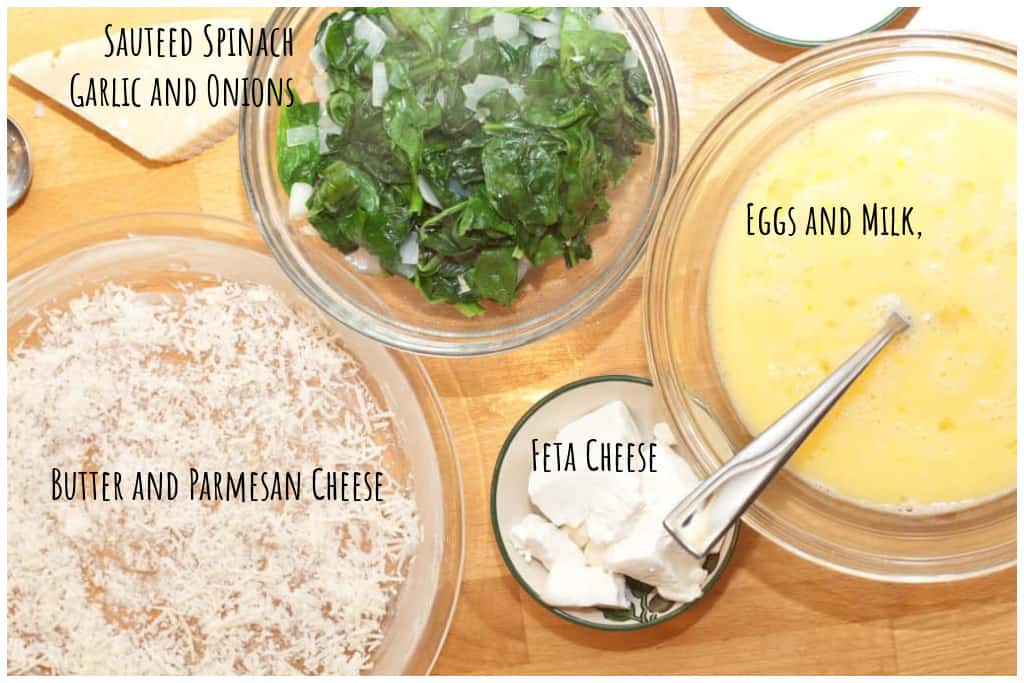 We love this quiche because it is so simple and easy to make. Nothing complicated, nothing super fancy. Just whole foods, and whole flavor.
Spinach, Onions, and Garlic - Sautéed until soft. You could also use kale, shallots, add mushrooms or other veggies!
Feta Cheese - I just love the flavor feta cheese adds. Plus, when we make our own Feta Cheese From Scratch, this is one of our favorite ways to use it!
Eggs and Milk - Whisked together! We use 2% milk because that's what we drink in the house, but you could also use 1% or Whole, even.
Butter and Parmesan Cheese - Instead of a crust, we just give a pie dish a nice butter coating and then add a little layer of cheese.
Salt and Pepper - To taste, although we find with the saltiness of the feta cheese, you don't need to add much more!
Step-by-Step Instructions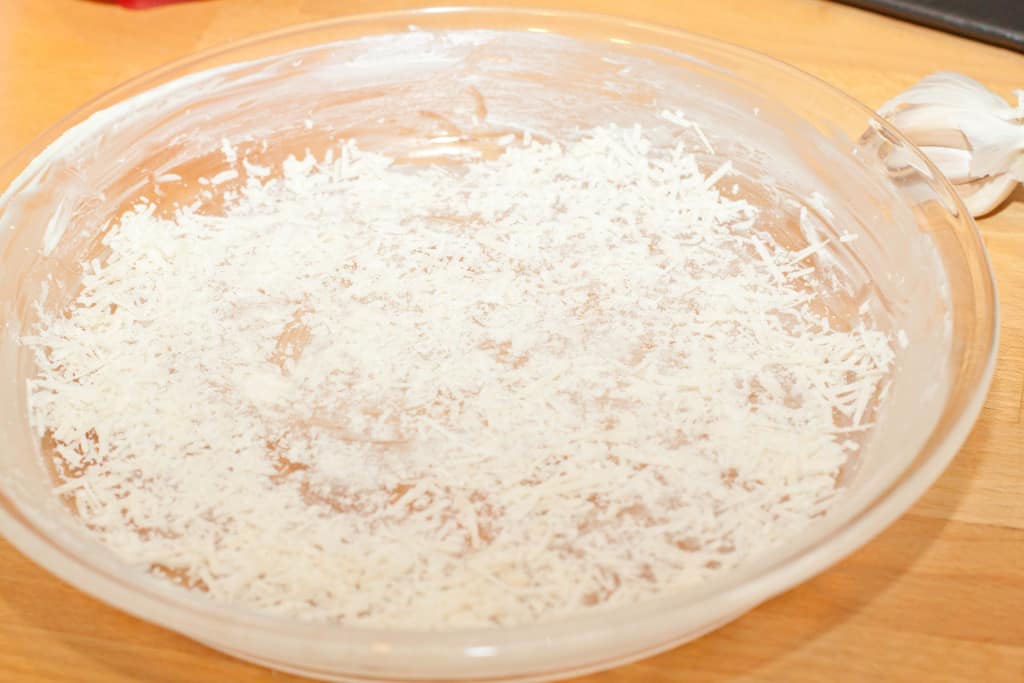 Step 1: Because it doesn't have our normal butter laden (and delicious) pie crust (like we use for our Ricotta Tomato Pie From Scratch), I greased the pie dish with some butter and Parmesan cheese. Just enough for a light layer for all the quiche-y goodness to rest on.
Tip: You can also use a 9 inch aluminum pie pan if you plan to freeze. Here's what we keep on hand to use!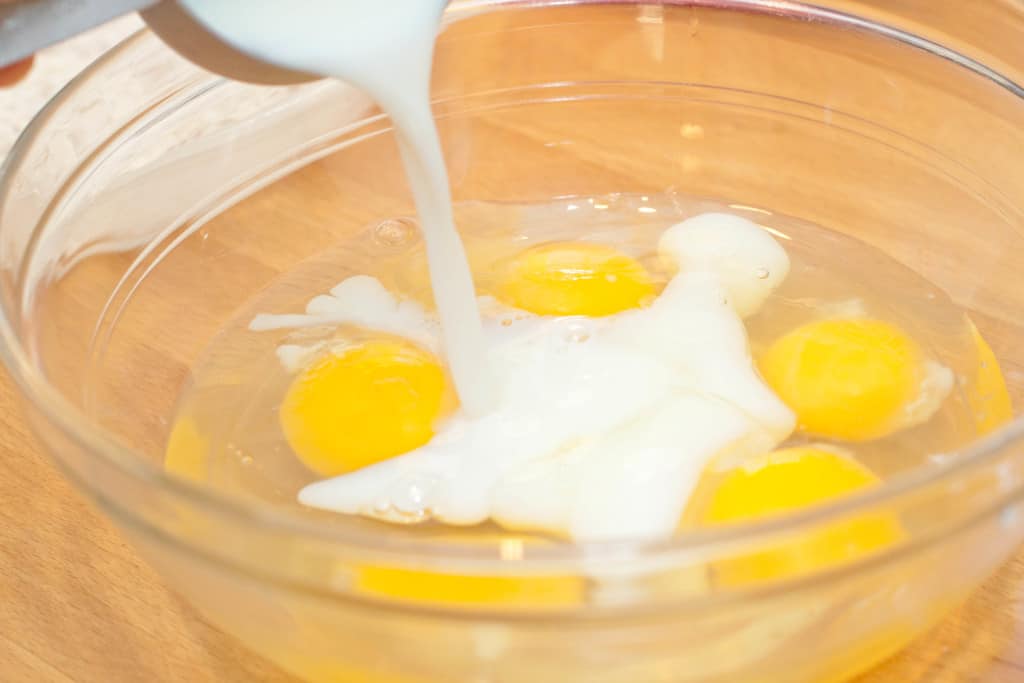 Step 2: Whisk the eggs and the milk together.
Step 3: Sauté the minced garlic and onion and added the spinach until it was wilted. With that, the parm / butter base, eggs and milk, and feta, I was ready for a super simple yet delicious quiche.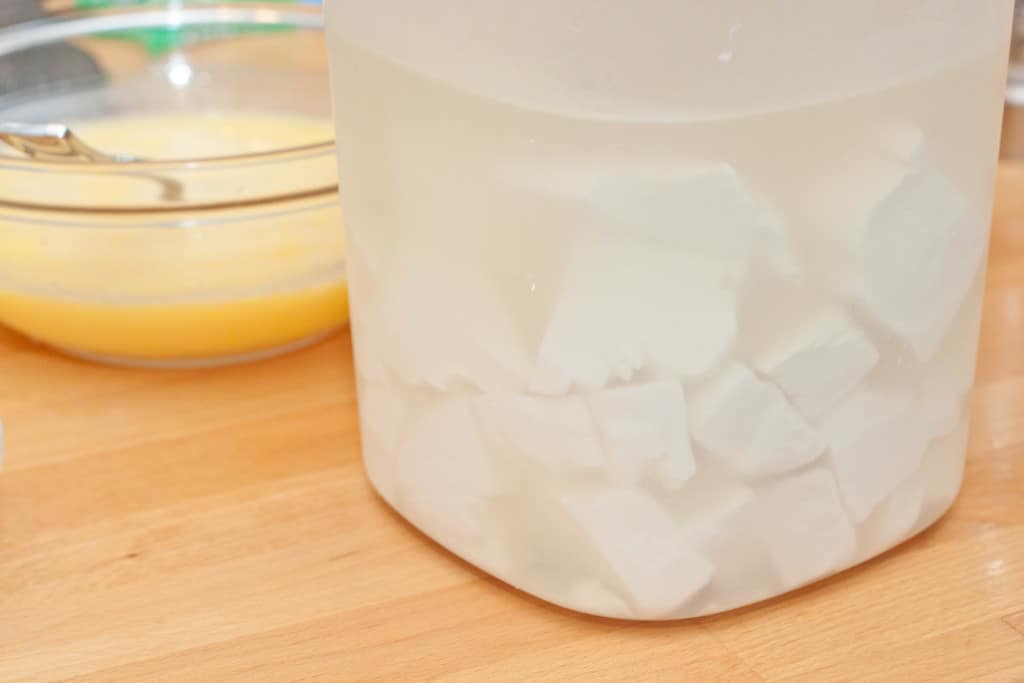 I had also just finished making some homemade feta cheese, which is truly my most favorite cheese to make. Not only is it delicious, but it lasts up to 4 weeks! This quiche was totally inspired by this feta. Ok that and because my husband has requested more spinach in our daily diets. Spinch+feta? Win.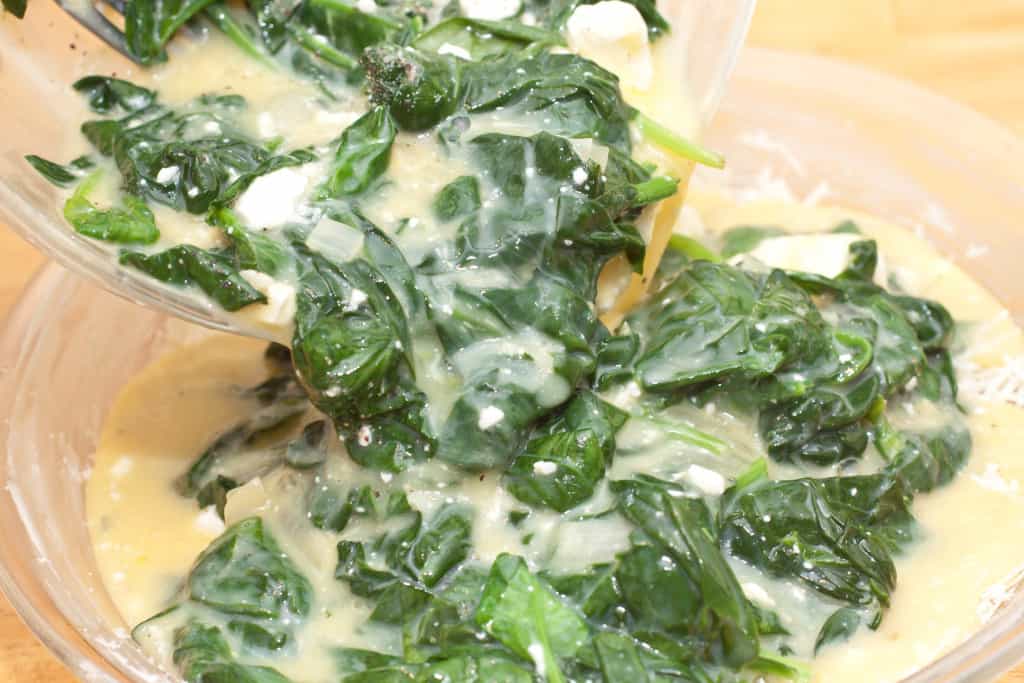 Step 5: Add the feta to the spinach, onion and garlic and then mix with the eggs and pour it all into the pie dish.
Note: We use a standard 9 inch pie dish like this one.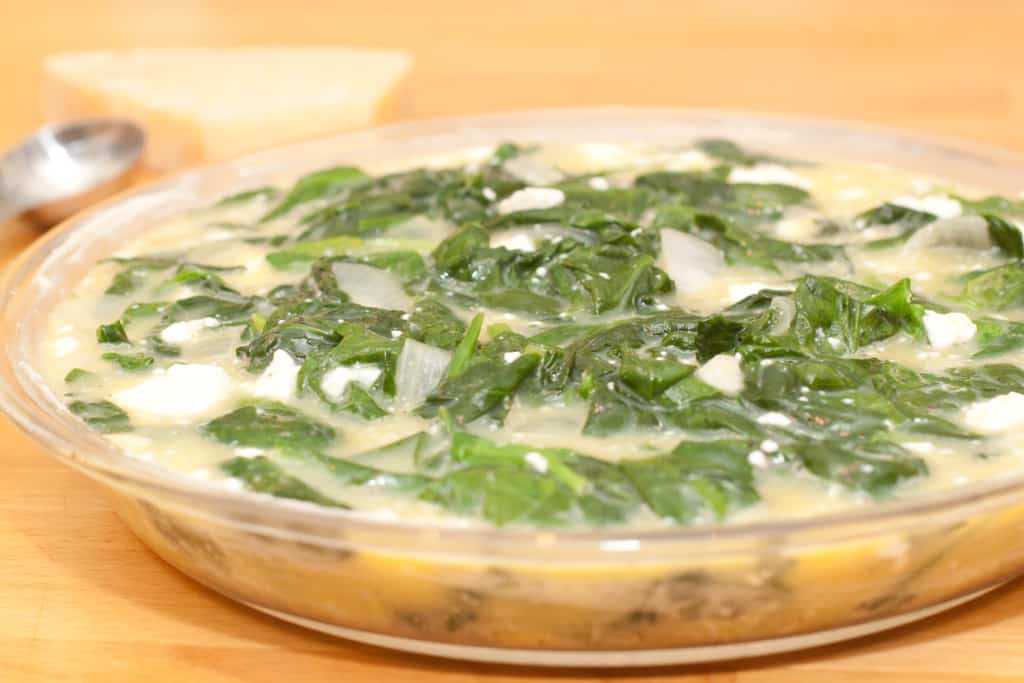 A perfect fit ready for the oven!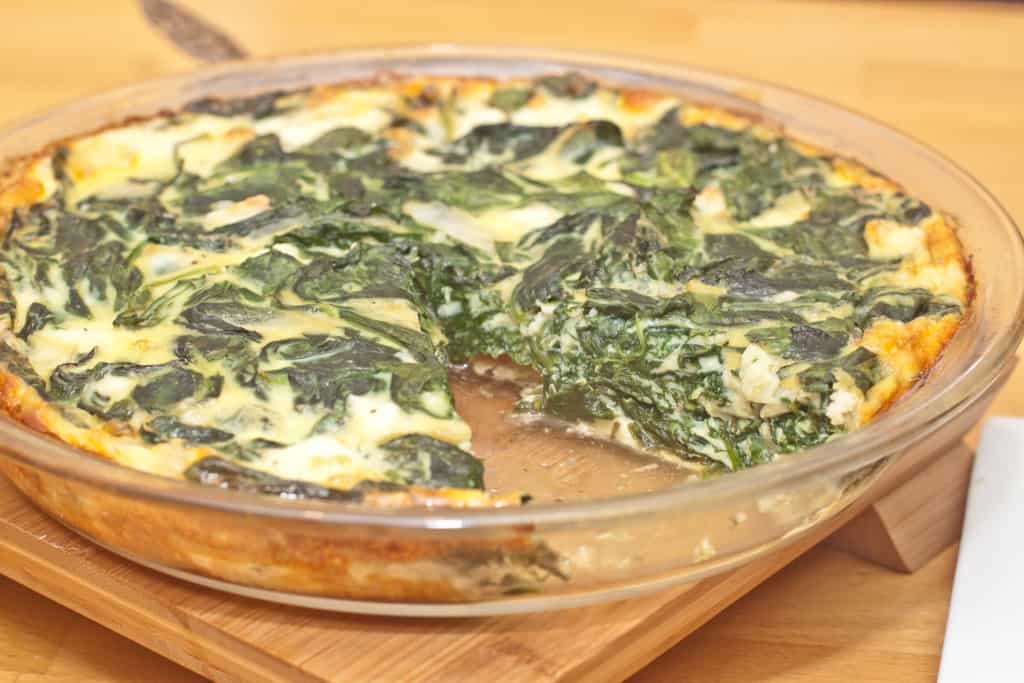 Step 6: Bake! 50 minutes later, we had a perfectly cooked quiche.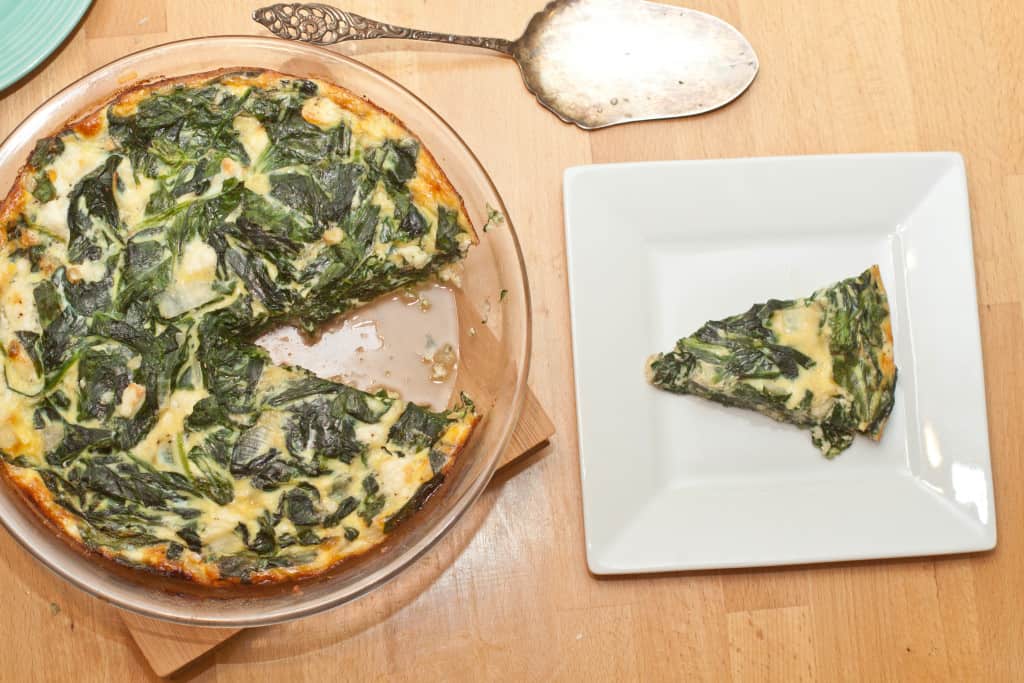 Packed with spinach! Popeye would have totally approved. My studly husband did! It made a great protein, vitamin K, etc. rich dinner for him and a healthier brunch option for the gals!
Customizable!
Although we love this recipe exactly as it is, we also use it as a base to make a huge variety of other quiches! Here are some of our favorite additions:
Mushrooms
Bacon
Cheddar cheese
Gruyere
Zucchini
Sausage
Diced ham
Peas
Make it your own! But be sure to share with me what you've added - I love hearing your substitutions/additions!
Our Other Favorite Egg Dishes
10 Minute Spinach and Feta Breakfast Quesadilla
Spinach, Ham, and Cheddar Quiche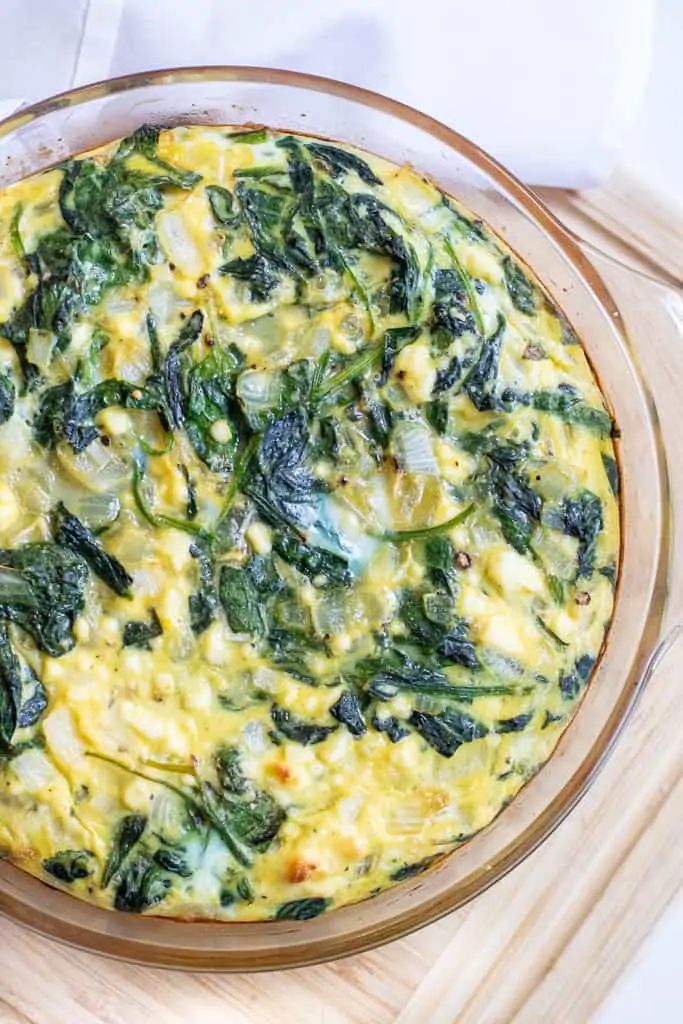 FAQs
Can I make this with a crust?
Definitely! You can make it like our Spinach, Ham, and Cheddar Quiche. You'll just want to reduce the ingredients to fit in the dish with the crust. Reduce to 4 eggs.
Can I substitute other veggies or cheese?
Definitely. It's totally customizable! Just give whatever veggies you add a quick sauté to soften.
Can you freeze it?
Yup! Cook and let it cool completely first and either freeze it whole or freeze it in slices.
Can I use frozen spinach?
Yes! Just make sure that it's thawed and drained from as much liquid as possible first before sautéing.
Can I use other kinds of milk or milk substitutes?
We prefer to use 2% milk for this but you can use skim - whole, just keep in mind it will affect the richness of the dish. You can also use a soy milk sub, although the flavor won't be as rich. We don't recommend using almond, or coconut milk because it will affect the flavor.
Enjoy! As always, if you make this recipe or any of my others, I love to hear what you think! Leave a comment below, email me, or you can find me on Facebook, Instagram, and Pinterest!
If you want to see more, be sure to sign up for my 5 Easy Ways to Start Cooking From Scratch!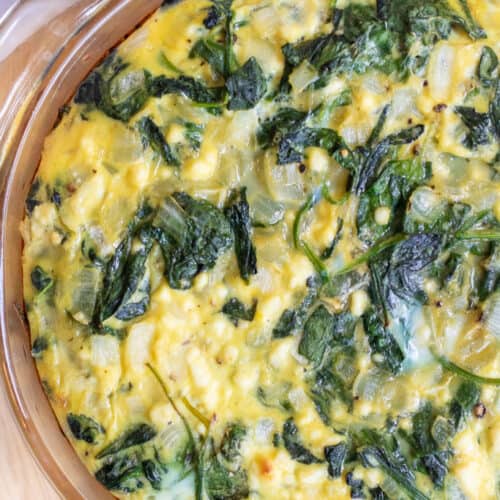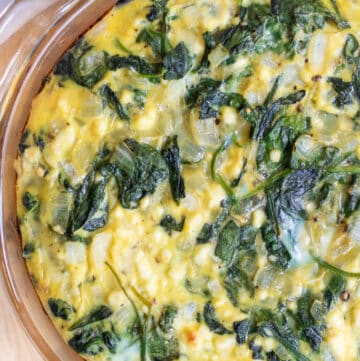 Crustless Spinach and Feta Quiche
A healthier quiche option with no crust and with homemade feta cheese!
Print
Pin
Rate
Ingredients
2

bunches

fresh spinach

washed and trimmed from stems.

3

oz

feta

3

cloves

garlic, minced

1/2 - 1

tablespoon

of olive oil

1/2

small white onion, diced

5

eggs

2/3

cups

2% milk

2

tablespoons

Parmesan cheese, shredded

1

teaspoon

kosher salt

1/2

teaspoon

fresh ground pepper

butter for greasing or non stick spray
Instructions
Pre-heat oven to 350°.

Grease a pie dish with butter. Add shredded parmesan cheese to bottom of dish and spread in a very thin layer.

In a large saute pan, heat olive oil on medium. Add garlic and onion until translucent. Add spinach and saute, mixing often until spinach is bright and wilted. Remove from pan and put in a bowl.

In a separate large bowl, add 5 eggs, 2/3 cup of milk, salt, and pepper. Whisk well.

Add crumbed feta to bowl with spinach. Add spinach mixture to large bowl with eggs. Mix well.

Pour egg and spinach mixture into pie dish so that it fills dish but doesn't overflow.

Bake for 50 minutes until egg has set.

Serve and enjoy!
Notes
Be sure to grease your pie dish well so that the quiche doesn't stick.
Prep in Advance
You can make this ahead the day before. Prepare everything and assemble it in your pie dish. Cover and store in the fridge.
Substitutions
Spinach
1 bunch of spinach = 10 oz, including stems and about 6.75 oz stems removed. 4 (packed) cups of just the leaves.
Frozen: 10 oz frozen = 1 bunch
Other Veggies: Use any others you'd like!
Cheese: You can substitute your favorite, but we prefer the combination of spinach and feta.
Kosher Salt: Use 1/2 - 3/4 teaspoon of table salt for the 1 teaspoon of kosher salt.
Storage
Fridge: Store in the fridge for up to 3-4 days.
Freezing: Bake and then let completely cool before freezing. Freeze either whole (use an aluminum freezer-friendly pie dish) or in slices.
Nutrition
Calories:
173
kcal
|
Carbohydrates:
8
g
|
Protein:
12
g
|
Fat:
11
g
|
Saturated Fat:
4
g
|
Cholesterol:
152
mg
|
Sodium:
727
mg
|
Potassium:
748
mg
|
Fiber:
3
g
|
Sugar:
3
g
|
Vitamin A:
10925
IU
|
Vitamin C:
33
mg
|
Calcium:
259
mg
|
Iron:
4
mg