These Egg-less Peanut Butter Cookies are thin, crispy, from scratch, and super fast and easy to make! 
Soo… I almost killed my best friend's husband.  I know.  I am the worst person in the world. In the whole world.  Ok, so despite the fact that Mona is now convinced I hate the amazingly sweet and adorable love of her life… I really do love her hubby. Like really. Like my hubby misses her hubby since they moved to AZ so much that any time I mention his name, I get an "Aw, I miss that guy,"  Ya, we love them. Really. For reals. Even though I tried to kill him.
So remember these adorable little Meringue Kisses I made?  Well, I sent a bunch of them to Mona and her hubby because I made a few batches and I wanted to share the love (slash not eat 4 dozen meringues…).  Totally innocent, right?  Only if I had remembered that her hubby was allergic to EGGS.  Oh yeah, the 75% egg cookie, yup I sent them to a man with a serious sweet tooth and a recently discovered allergy to eggs. Worst person in the world.
Even worse… I didn't even realize the potential chaos I caused until I got this text after posting the Meringue Kisses:
And then I had a mini-heart attack.  Luckily, it appears his allergy may be just to the yolks, and in my defense, the egg allergy is pretty new and we haven't seen him since it was discovered.  I'm still the worst person in the world and totally never living this accidental murder attempt down, which she shouldn't. It's totally deserved.
Which brings us to these little babies.  I call them my "I'm-so-sorry-that-I-almost-killed-your-husband-Cookies" Also known as Egg-less Peanut Butter Cookies; completely egg-free, guilt free, and murderous intentions free!
Even better, super easy!  All basic ingredients (plus flour that I totally forgot when I took this photo) and peanut butter which we didn't have so it gave me an excuse to make more. What's better than homemade peanut  butter cookies? Homemade peanut butter cookies with homemade peanut butter, that's what!
So, I whipped up some peanut butter.  Really, it's sooo easy to make! Don't believe me?  Watch Alton Brown's video on it and take it from him.
Even easier than making peanut butter: these cookies.  Seriously super fast.
Creamed sugars and butter mixed with a cup of the homemade PB and then the flour and baking soda mixed in…
…and we have a delicious EGG FREE peanut butter cookie dough.
Baked at 350 degrees for 15 minutes and we had these beauties.  They're flat without the structure of the egg, but that just meant we had Peanut Butter Cookie Crisps!
These little babies were sent Priority Mail to Arizona titled:
"I'm-sorry-I-almost-killed-you Egg-less Peanut Butter Cookies!"  😉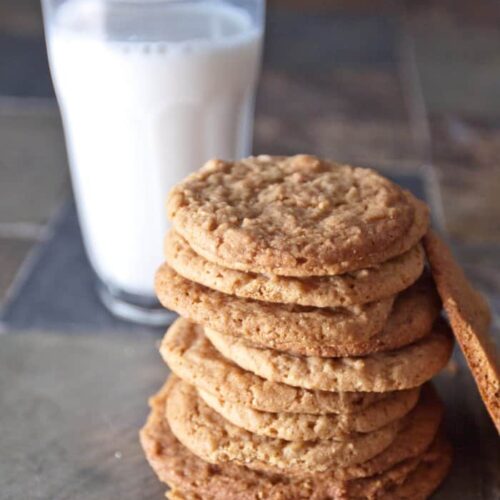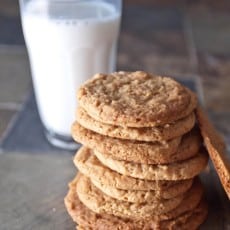 Egg-Less Peanut Butter Cookies
Thin, crispy, peanut butter cookies made from scratch and without eggs
Print
Pin
Rate
Ingredients
1

cup

of butter

1

cup

of white sugar

1

cup

of packed brown sugar

5

Tablespoons

of milk

1

teaspoon

of vanilla extract

2

cups

of flour

2

teaspoons

of baking soda
Instructions
Pre-heat oven to 350 degrees.

Thoroughly cream the sugars, butter, milk and vanilla. Stir in peanut butter.

In a separate bowl, mix flour and baking soda. Add flour mixture to the peanut butter mixture. 

On an un-greased cookie sheet drop add small spoonfuls of the batter 2 inches apart- they will spread quite a bit.

Bake for 13-15 minutes, let cool and enjoy!