Light as air, kissed with sweetness, these Meringue Kisses From Scratch are the perfect cookie to make for your Valentine!Ohhh eggs, I love you so very much. You can become so many amazing things. Aside from the obvious and amazing Benedict's or other delicious breakfast egg dishes, you can seriously make anything out of them. Egg yolks made some decadent Chocolate Raspberry Pudding, Banana Waffles, and homemade Mayo, and the leftover egg whites can turn into these amazing, airy, light, little puffs of sweet coconut goodness: Meringue Kisses.
This recipe comes from The Book. But before it was my mother-in-laws favorite cookie, it was a recipe from her Aunt Alma. In The Book, my MIL tells the story of how during the holidays while everyone else got cake, because she had some many allergies as a kid, Aunt Alma made my MIL these Meringue Kisses as her special treat. Awww. Even better, they so stinkin' simple to make: just egg whites, sugar, coconut, and vanilla extract.
First, the egg yolks are separated from the whites and then the whites need to sit out at room temperature for at least an hour so they'll beat up to a good volume. During that time, I made some chocolate pudding with the yolks 🙂
After the hour, I started beating the eggs…
…and kept beating…
…at this point I was getting bored…
…but then it started to actually get creamy…
…so now it was time to beat in the sugar. Just a tablespoon at a time. Once all the sugar was in, I folded in the vanilla and went back to beating the eggs,
until all the sugar was incorporated so it was no longer grainy, was nice and glossy, and formed stiff peaks.
Then it was ready for the coconut to be folded in. Now we're in business.
Then, after a quick google search on how to make some pretty colored meringues, I grabbed the beautiful pastry bag my gorgeous and sparkly blog fairy, Mona sent us and painted two stripes of food coloring down each side.
And then piped out these little beauties!
Oooh…
…Aaahh….
Meringue Kisses, little puffs of sweet coconut heaven. 'Nuff said.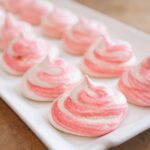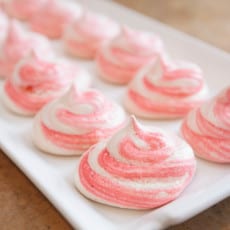 Print Recipe
Meringue Kisses
Light as air, kissed with sweetness, these Meringue Kisses From Scratch are the perfect cookie to make for your Valentine!
Ingredients
4

egg whites

1

cup

sugar

1/2

teaspoon

of vanilla extract

1

cup

of shredded coconut - without sugar

OPTIONAL
Instructions
Separate egg whites from yolks about an hour before making meringues. Leave whites in bowl at room temperature so that they beat up to a good volume.

Heat oven to 250° and cover un-greased cookie sheets with waxed paper.

Beat egg whites with a blender until stiff enough to stand in moist (not dry) peaks. Slowly beat in sugar just a tablespoon at a time then fold in vanilla. Continue to beat mixture until it is still and glossy, not grainy. Fold in coconut.

In a small bowl, squirt a little bit of food coloring of choice and with a small pastry brush, 'paint' colored stripes along pastry bag. Pipe small rounds onto cookie sheets 2 inches apart. Bake 30-35 minutes. Peaks will brown slightly.

(If you don't have food coloring or a pastry bag, meringues can be spooned onto cookie sheet in little mounds instead).

Cool and enjoy!