Learn how to make your own homemade Mayonnaise From Scratch. It takes just a couple of ingredients and only about 5 minutes!
Next try our 5 Minute Homemade Ketchup!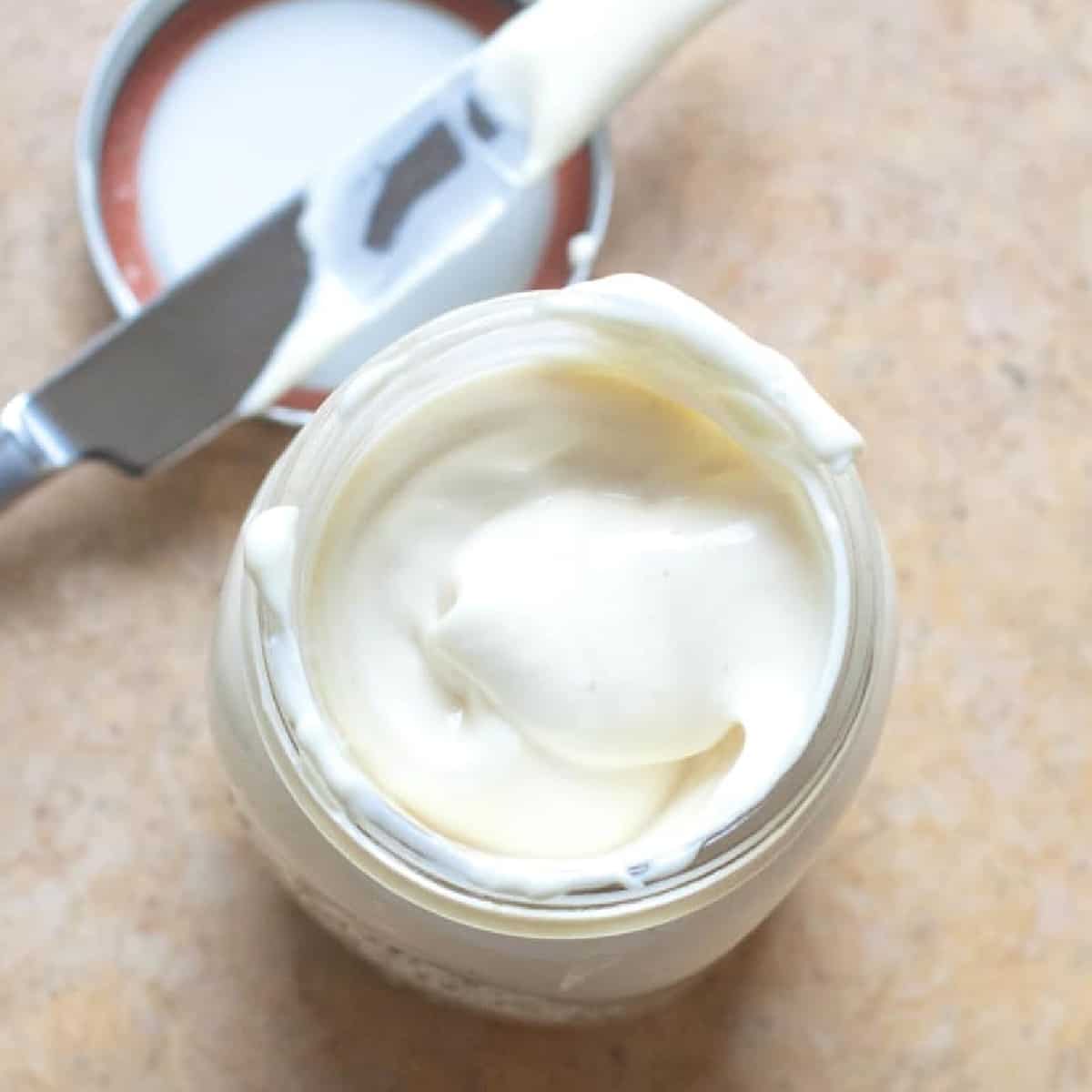 Since starting our From Scratch cooking journey we've been so pleasantly surprised at how simple so many everyday products are, especially condiments! One of the easiest, and fastest to make? Homemade Mayonnaise From Scratch! It takes all of our recipes that use mayonnaise to the next level and adds some serious from scratch flair!
Ingredients Needed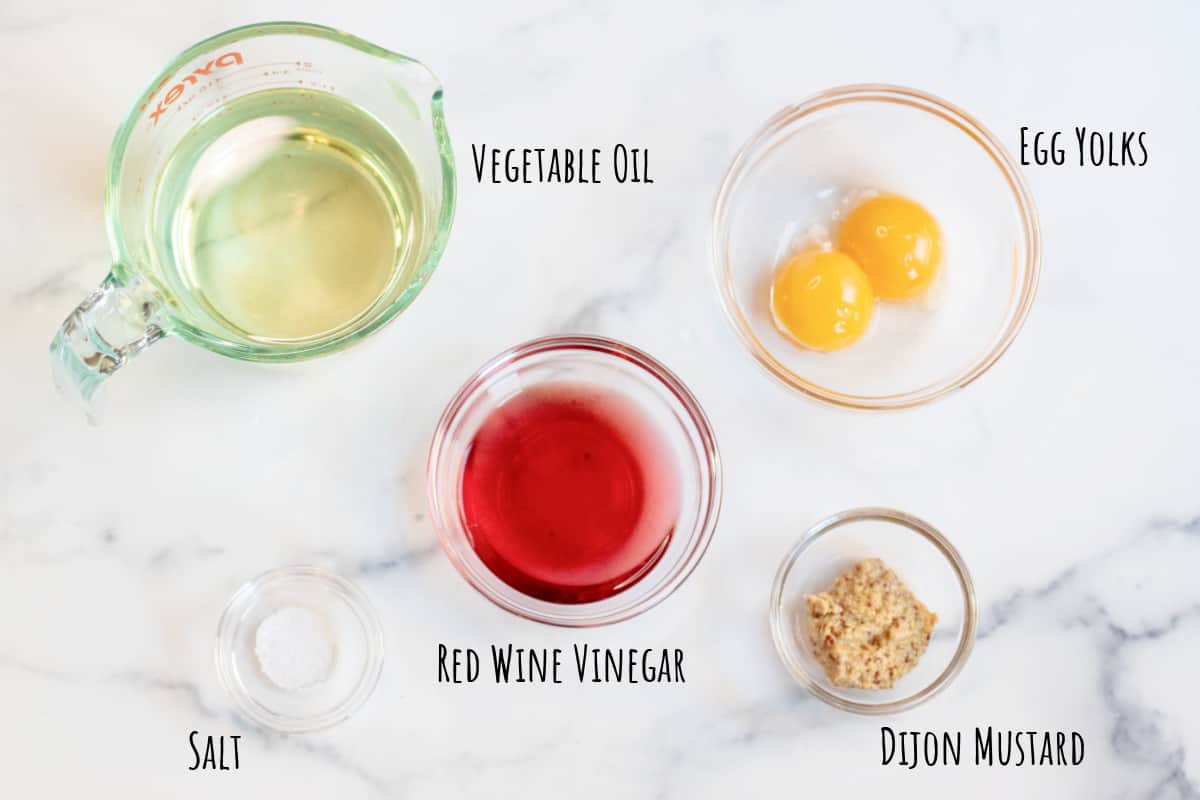 The best part - you probably have all of the ingredients you need for mayonnaise from scratch in your pantry already!
Step-by-Step Instructions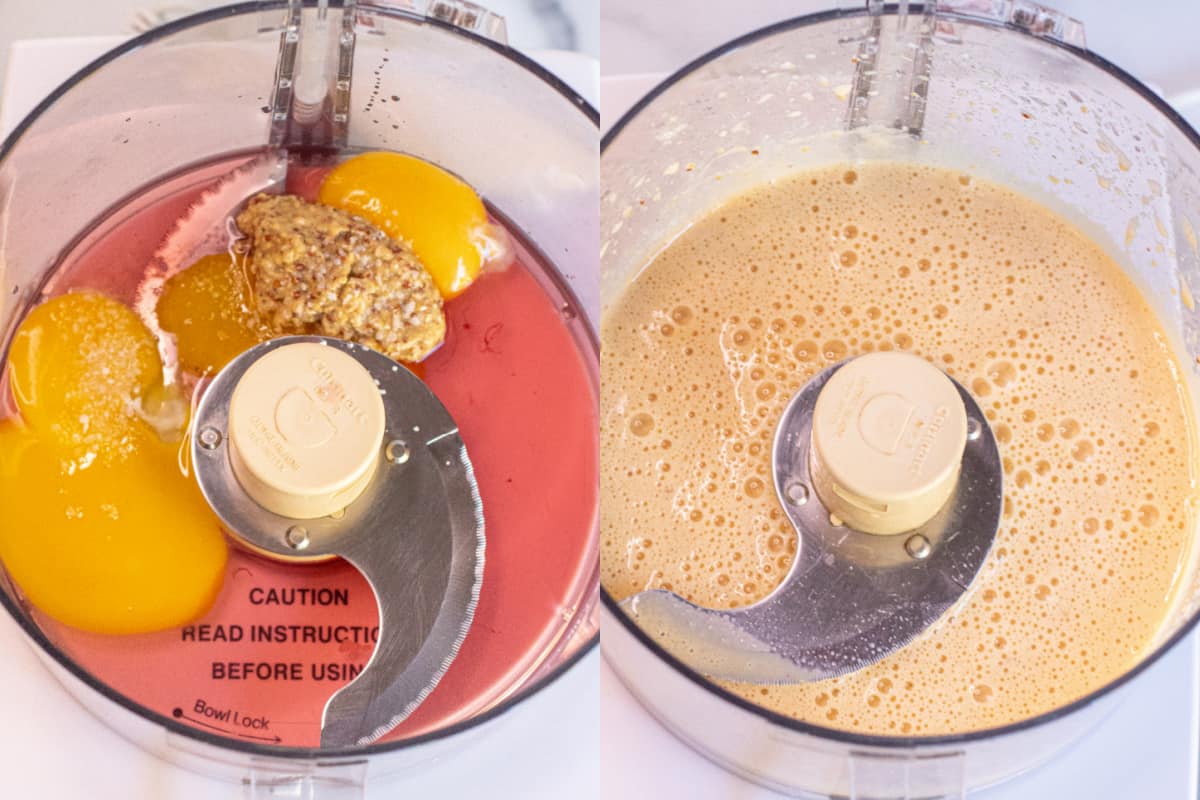 This homemade mayonnaise recipe is incredibly easy and comes together in just minutes with the help of a food processor.
First, add everything but the oil to the bowl of a food processor, then blend together.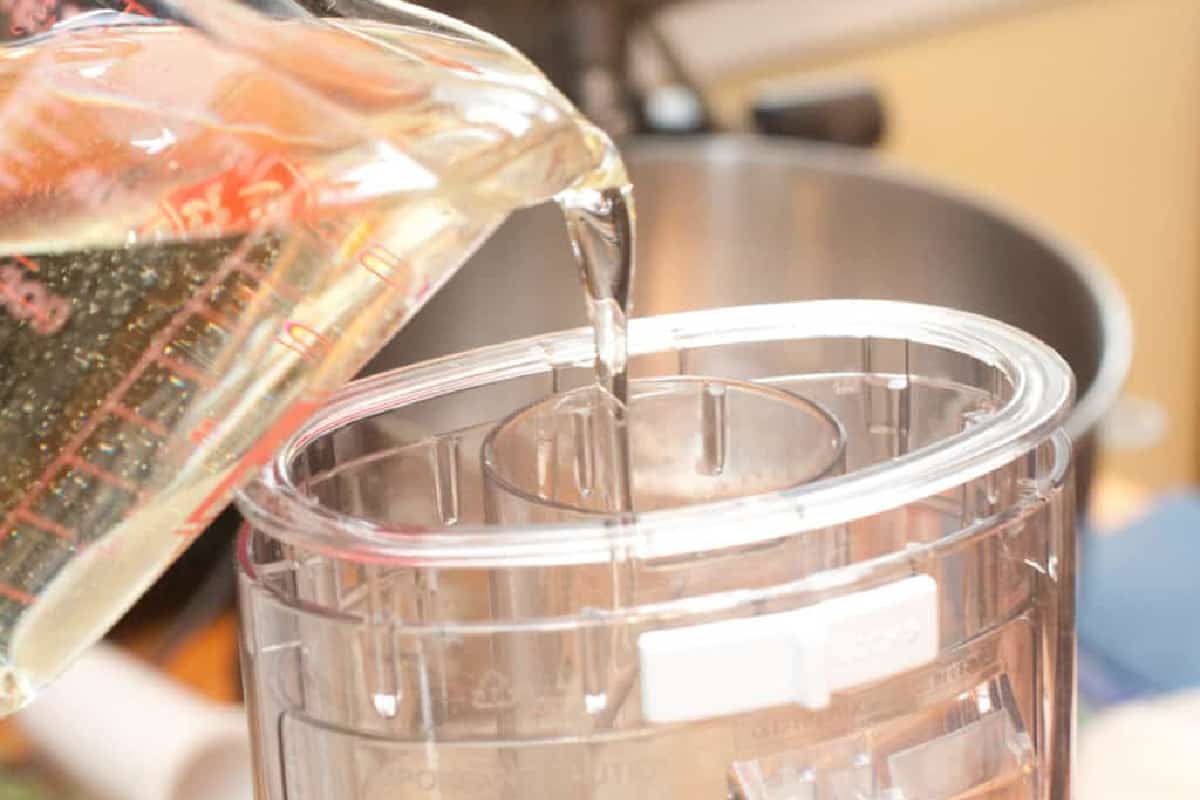 Next, add oil super slowly, just a drop at a time, and then very very slowly while it's all blending.
Tip: We love using our Pyrex with a pour spout for this so we can measure out the oil and then easily pour it slowly into the food processor.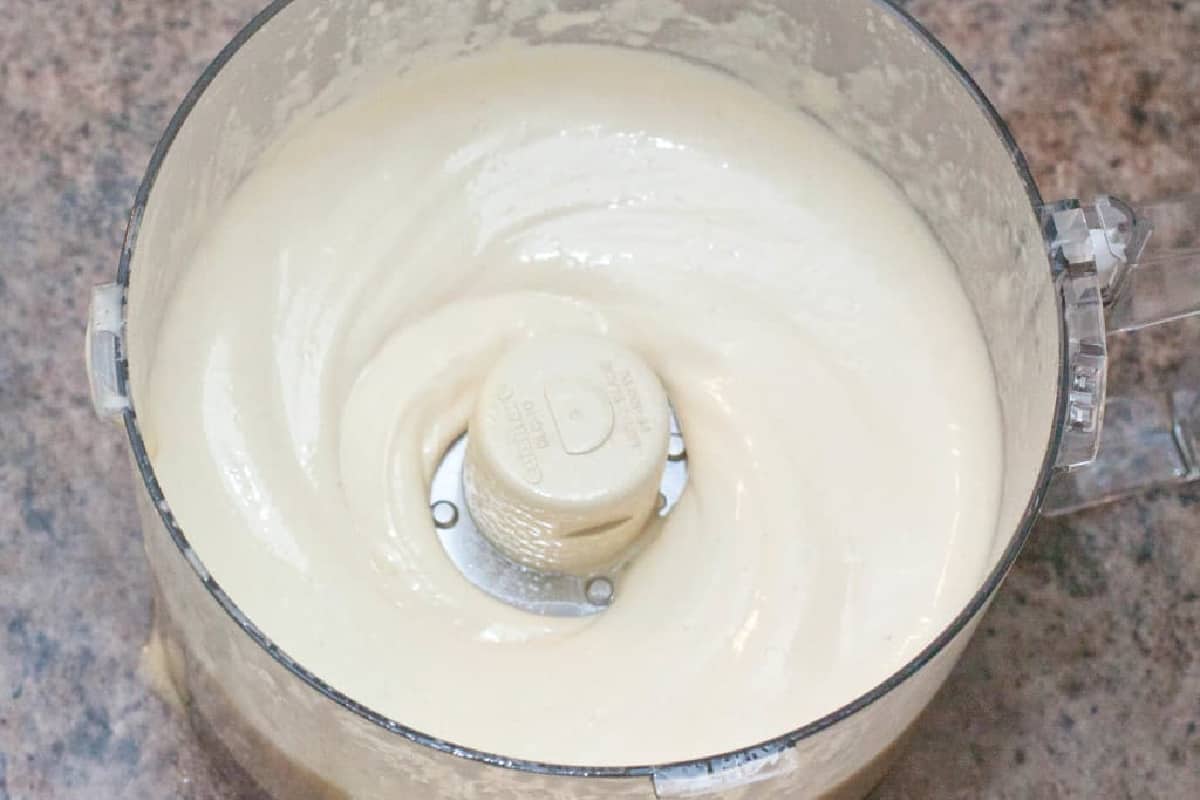 Once all of the oil is added and emulsified, you're done! Easy, right?? Now when anyone asks how to make homemade mayonnaise, you can tell them how incredibly easy it is!
Tips
The biggest thing is making sure to add the oil slowly while the food processor is running. Like super slow. First, if you can, just a drop at a time. Then a super slow small stream, then a steadier stream until it's all incorporated. This is the process of emulsion - the blending of two otherwise 'unblendable' liquids: Oil and Vinegar. The egg yolk acts as the emulsifier, the binder that keeps the two liquids together and prevents them from separating. Yay, Science!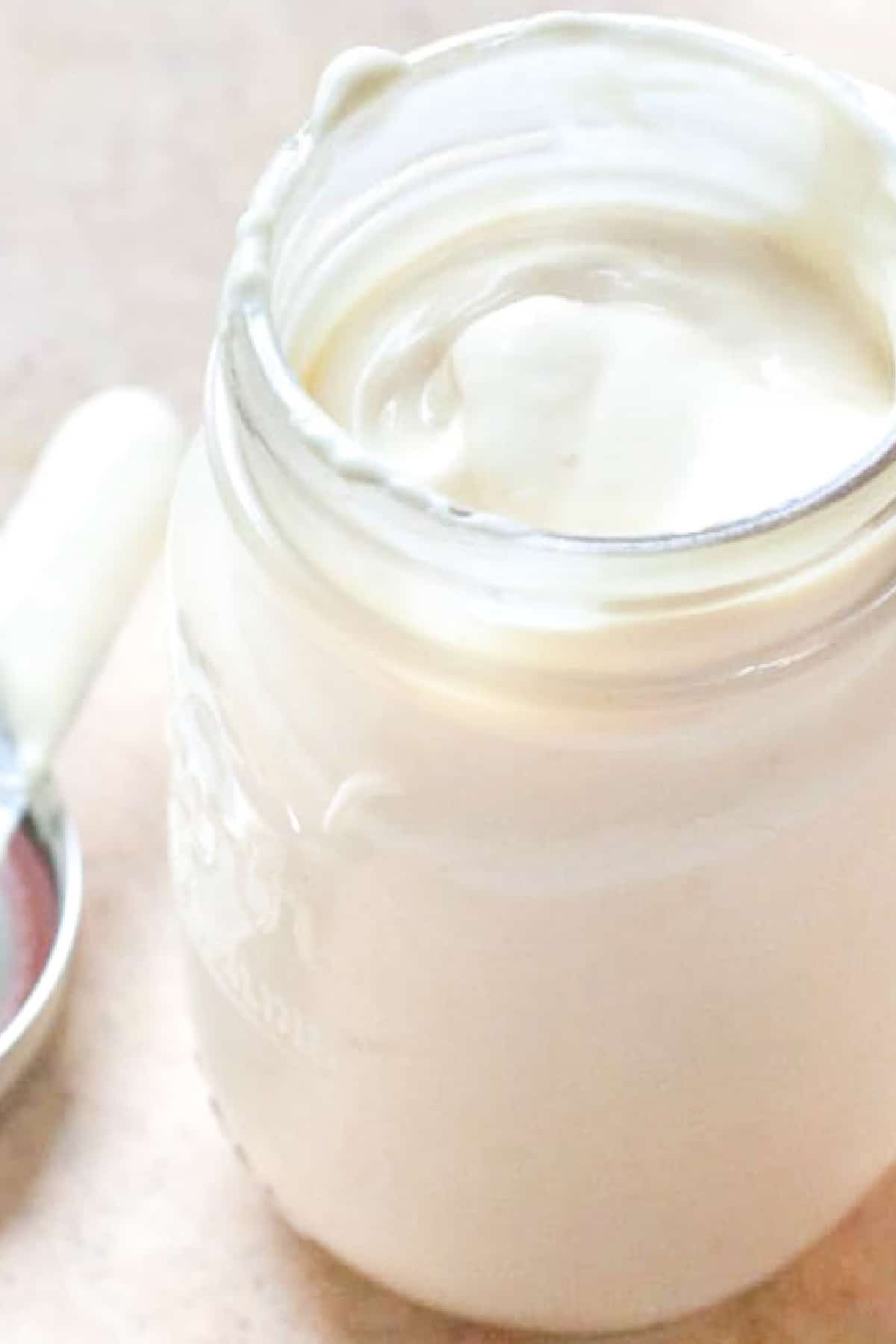 FAQs
How long will this Mayonnaise last?
Keep it stored in the fridge for up to two weeks. This is great to make when you need it for your favorite recipes that use a bunch of mayo!

Do I have to add everything sooo slow?
Yes, you need to make sure that it emulsifies. Plus it'll make it nice 'n creamy.
What if it breaks and doesn't become creamy?
Not all is lost! Just add another yolk to the mix and that will will help to re-emulsify the sauce and bring it back to creamy.
Do I have to use a food processor?
Nope! It will of course make your life much easier, but you can absolutely make this homemade mayonnaise but just whisking it all in a bowl with a fork or whisk and slooowwwllyy adding the oil. Your arm'll get a little bit more of a workout, but you'll get the same results!
So simple. So easy. And SO much better tasting than what you get in a jar. Mayonnaise from Scratch, it's one of the easiest condiments to make at home, from scratch.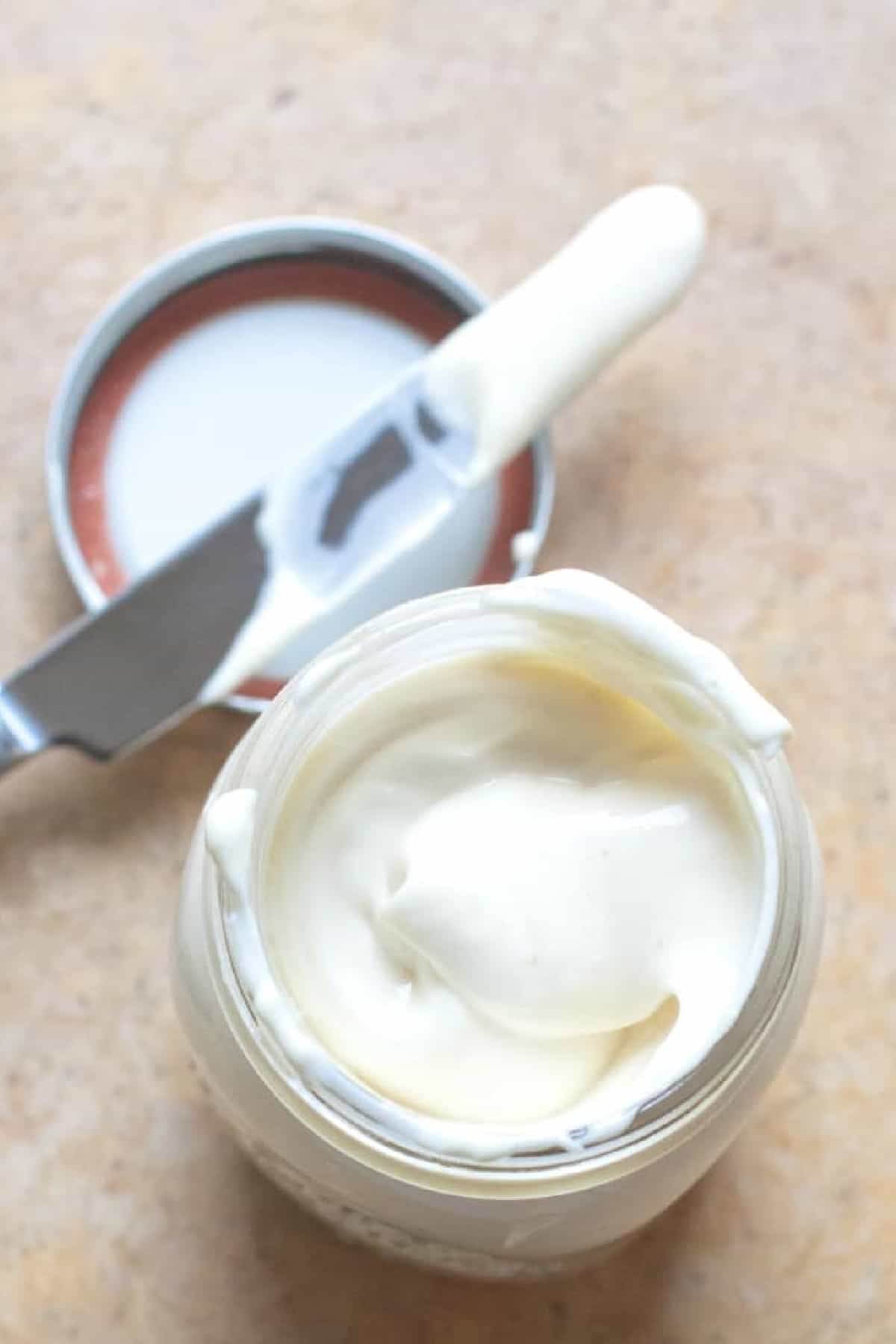 Put it to Use
Here are our favorite recipes that use fresh mayonnaise!
Other Condiments to Try
Now that you've dipped your toe in the from-scratch condiment pond, are you ready to jump in? Here are some other super easy-to-make classic condiments!
Enjoy! As always, if you make this recipe or any of my others, I love to hear what you think! Leave a comment below, email me, or you can find me on Facebook, Instagram, and Pinterest!
If you want to see more, be sure to sign up for my 5 Easy Ways to Start Cooking From Scratch!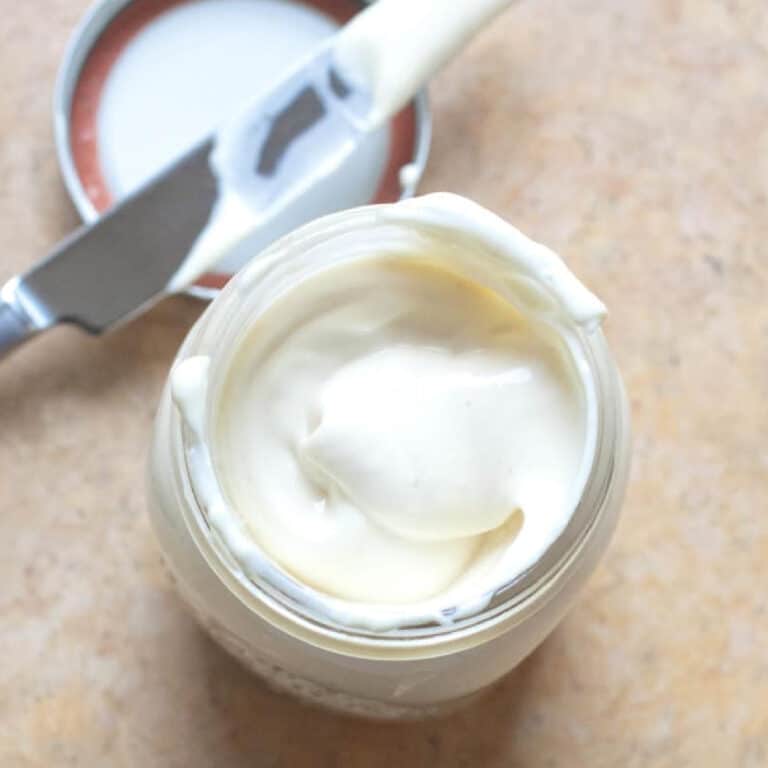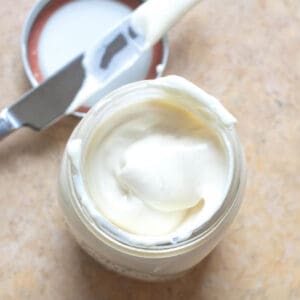 Mayonnaise from Scratch
Just a couple of ingredients and a few ingredients is all you need to make your own homemade Mayonnaise from Scratch at home!
Print
Pin
Rate
Equipment
or bowl and whisk

Spouted Pyrex
Ingredients
2

egg yolks

1/4

cup

red wine vinegar

1

Tablespoon

Dijon mustard

1 1/2

cups

Vegetable oil

pinch

Kosher salt
Instructions
Put egg yolks, red wine vinegar, and Dijon mustard in food processor and pulse a few times until the egg yolks are all blended.

Turn on low and then slowly drip a drop at a time the oil in while blending until it takes on the consistency of mayo. Then slowly add a stream of the oil while blending until it all is incorporated.

Transfer to mason jar and refrigerate immediately.

The time that the mayo will last depends on the freshness of your eggs. For standard store bought eggs, at least a week - two weeks. Farm fresh eggs may allow it to last longer.
Notes
Storage
This homemade mayo will last in the fridge for up to two weeks.
Substitutions
Vegetable Oil: You can also use canola oil, olive oil or even avocado oil!
Red Wine Vinegar: You can also use white wine vinegar.
Eggs: Necessary for this recipe. And be sure to use the freshest eggs possible for this recipe as this recipe does use raw eggs.
Thickness
If the mayonnaise is too thick add a few drops of water or if it is not thick enough, with the machine running, add a little more oil.
No Food Processor, No Problem
You can also use a bowl and a whisk! But be sure to add that oil slowly as your whisk.
Slow and Steady!
Make sure to add the oil very very slowly to emulsify it. If the mayonnaise breaks, add another yolk to the food processor. It will help to re-emulsify it.
Nutrition
Serving:
2
tablespoons
|
Calories:
26
kcal
|
Carbohydrates:
1
g
|
Protein:
1
g
|
Fat:
3
g
|
Saturated Fat:
2
g
|
Cholesterol:
24
mg
|
Sodium:
12
mg
|
Potassium:
2
mg
|
Fiber:
1
g
|
Sugar:
1
g
|
Vitamin A:
32
IU
|
Calcium:
3
mg
|
Iron:
1
mg