This is one of our favorite ways to add some extra nutrition to our lunches. This Spinach Tuna Melt recipe is everything you love about a tuna melt except with the added nutrition of spinach that even kids will love!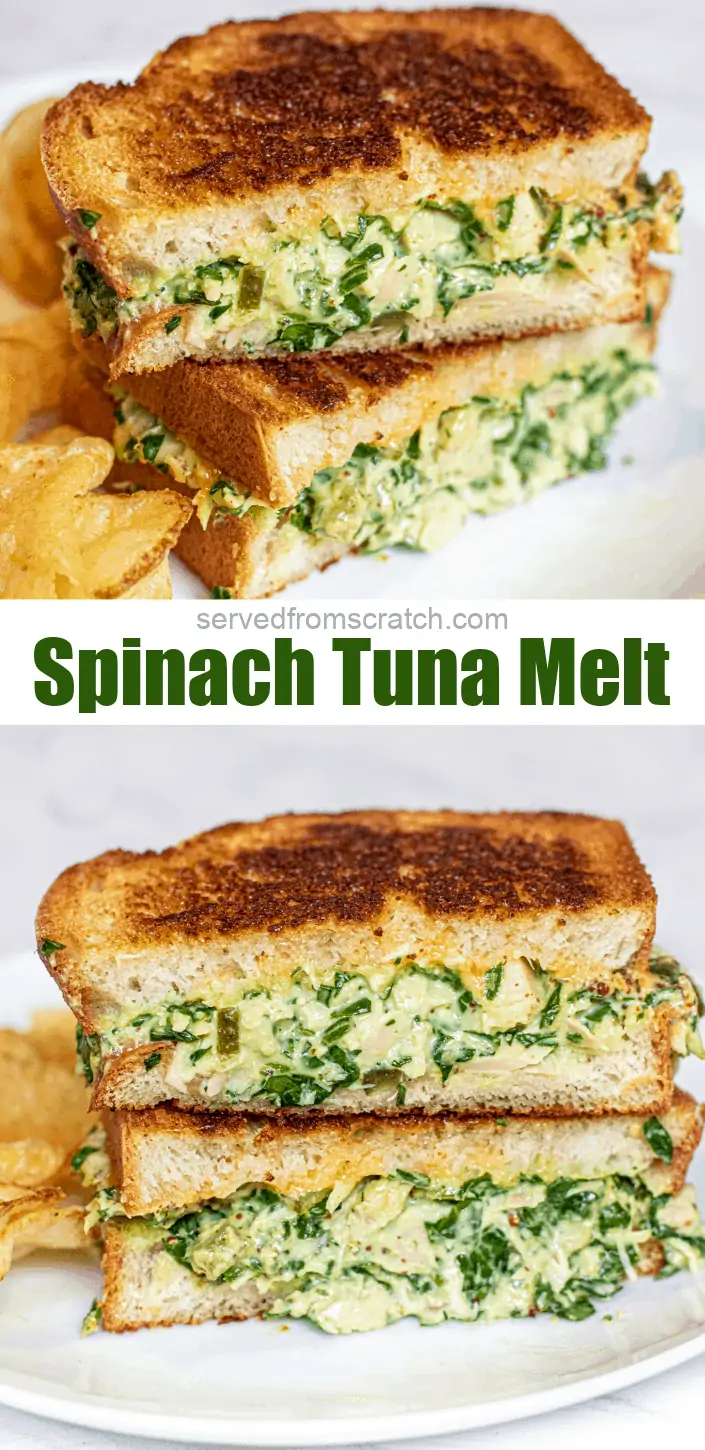 You guys. I have been wanting to share this bad boy for a while now and it's finally here! My husband actually said it's the best tuna melt he's ever had. Given the number of them that he's has had in his life, that means a lot. This Spinach Tuna Melt recipe not only has everything you want in a tuna melt, (melty cheese on tuna between crispy and buttery bread) but also it's packed full of healthy spinach (that aside from the color), you'd never notice was there. It is a must if you're trying to add a little extra nutrition into your daily diet!
Even better, this tuna melt recipe is kid-friendly! My 2 1/2-year-old gobbled it up and trust me, she's my harshest critic!
Ingredients Needed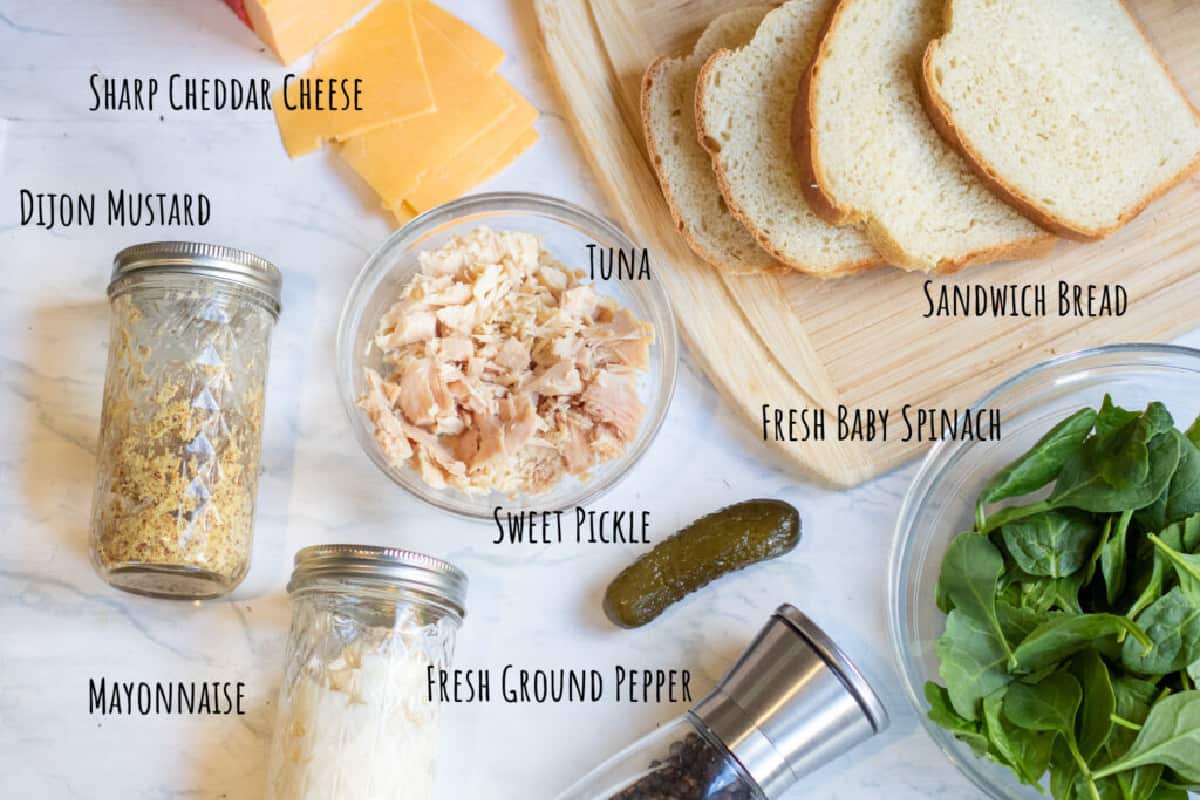 Tuna - Canned Albacore is our preferred, but this works great with any kind.
Bread - Our favorite is thick slices of our

Easy White Sandwich Bread

, but we've also made it with Dan's Como Bread too which is also delicious! See below my notes about the kind of bread that works best.
Fresh Spinach - Fresh is key here, frozen just isn't the same here.
Cheese - Key to any good tuna melt, and our preferred is a sharp cheddar like Tillamook's Sharp Cheddar!
Dijon Mustard - Another great way to use some of that Dijon Mustard From Scratch you just recently whipped up, right?
Mayonnaise - Speaking of homemade condiments, have you made any of your own

Mayonnaise From Scratch

, yet?
Sweet Pickle - The crunch and sweet touch of the pickle is perfect for this! You could also use your own homemade Bread and Butter Pickles or Dill Pickle for less of a sweet and more of a dill flavor.
Fresh Ground Pepper to taste and Butter for the bread.
Step-by-Step Instructions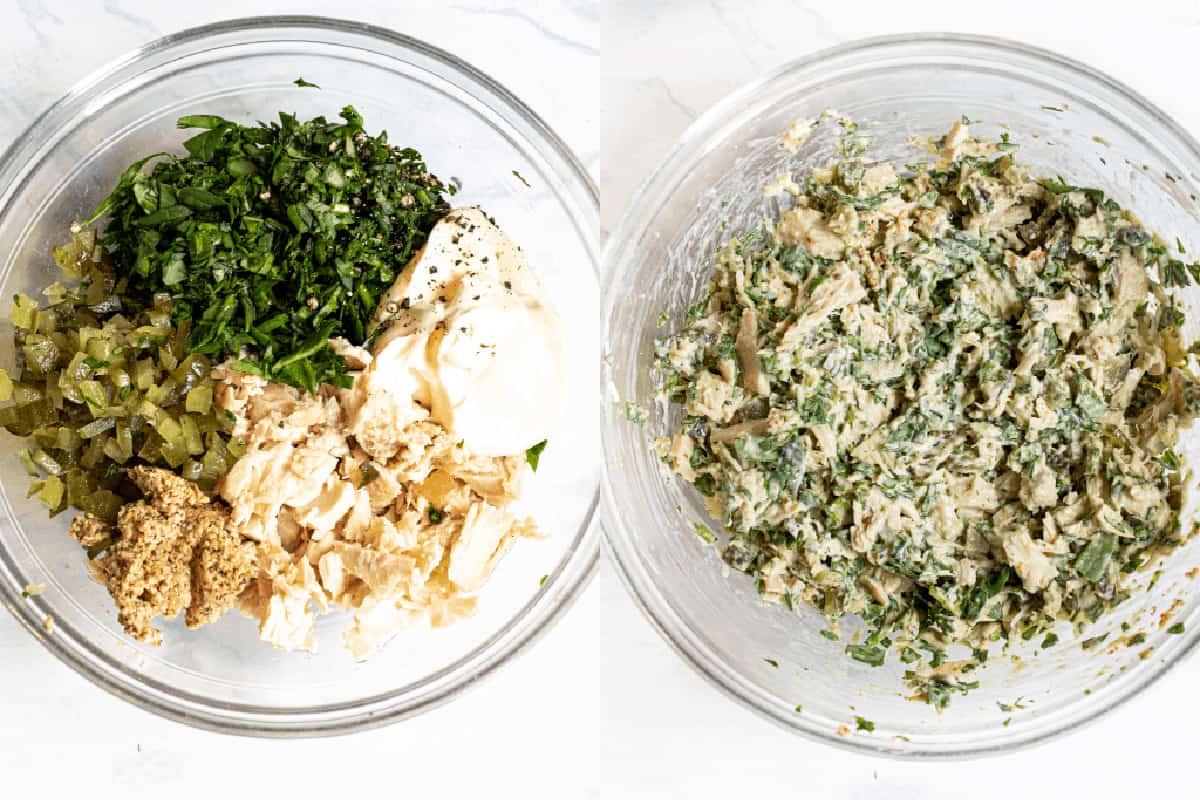 This tuna melt recipe is fast and easy in addition to being delicious - what all perfect lunches need to be!
Step 1: Add the tuna, mayo, mustard, pickle, spinach, and pepper to a bowl and then mix well.
Tip: Be sure to dice and chop fine. Keep those pickle pieces nice and small so you don't get one big bite of pickle that could throw off the whole flavor balance. Also, be sure to chop up that spinach nice to small, too.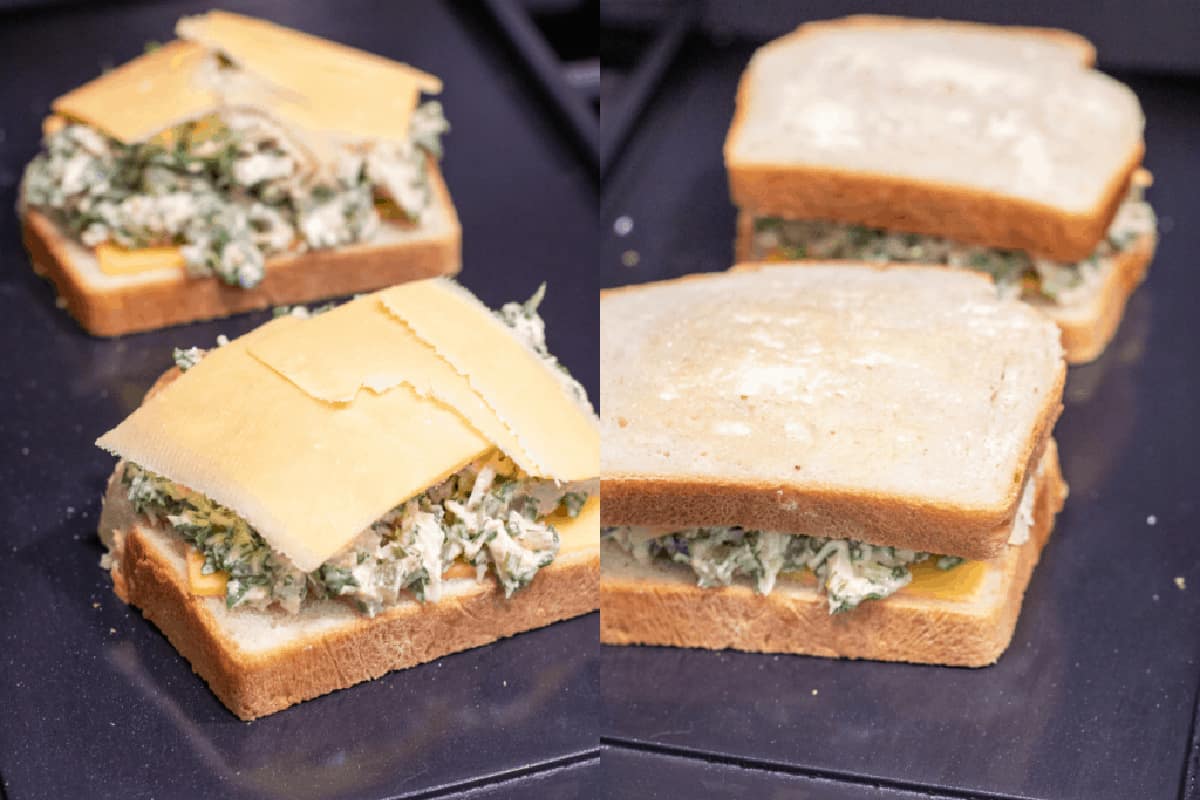 Step 2: Generously butter bread, add cheese, add the tuna mixture, top with cheese, and then cook on a griddle or in a large frying pan.
Grate or Slice the Cheese? We use a really good cheese knife to slice the cheese as thin as possible, but you could also use a cheese grater, shred the cheese. Grated cheese will melt faster - so that's of course always a plus!
Buttering the Bread is a crucial part of any great griddle sandwich. Instead of adding butter to the pan, generously spread soft butter to your bread slices on one side, the side that will be on the griddle. This will ensure perfect crisp, golden exterior!
Thick or Thin Bread?
What do you prefer? We love a thicker slice of bread for a hearty sandwich like this, or our Croque Monsieur. Plus, if you're going to really stuff your sandwich (like we do!) then you need a hearty bread slice that's going to hold up to it. However, also keep in mind the thicker your bread is, the longer it will take for the cheese to melt.
A thinner slice of course is still delicious, just make sure you're using a denser bread. For instance, our No Knead Rosemary Garlic Bread or an artisan bread that has a beautiful open crumb (a bread with more air pockets in the dough and bread) like a sourdough, is not a good choice for this sandwich.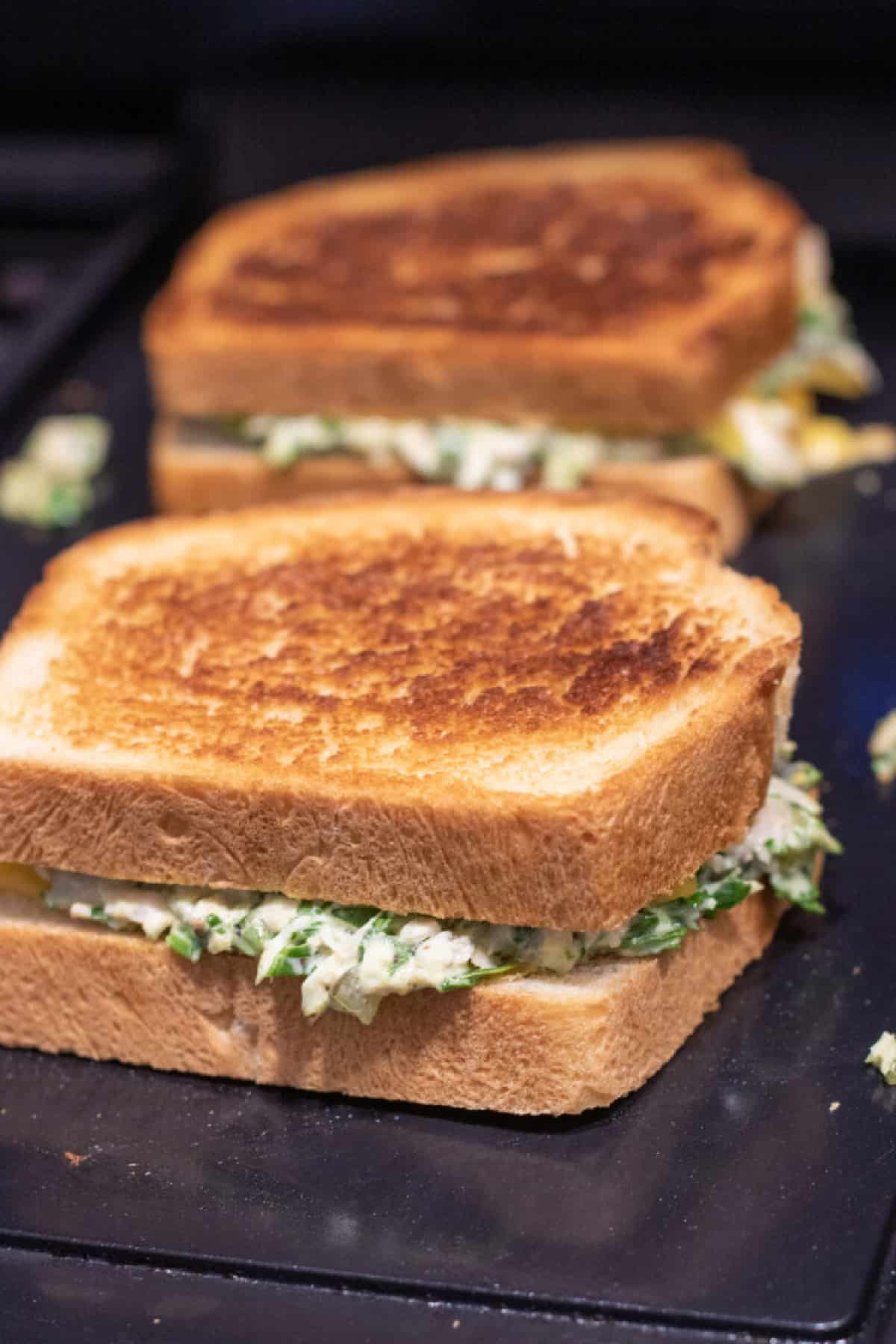 Step 3: Flip the sandwich and let all of that cheese melt!
We love the griddle attachment for our oven for sandwiches like this, but you could also just use a big frying pan or a cast iron skillet.
Tips: The most important thing about hot tuna melts sandwiches like this is that crust! Nothing's worse than a grilled sandwich that has poorly toasted bread or burnt bread. Keep your griddle or pan at about medium and cook each side for about 3-4 minutes, until you bread is nice and golden brown and the cheese has melted.
Again, sliced vs. grated cheese and the thickness of your bread will make a difference in cooking times.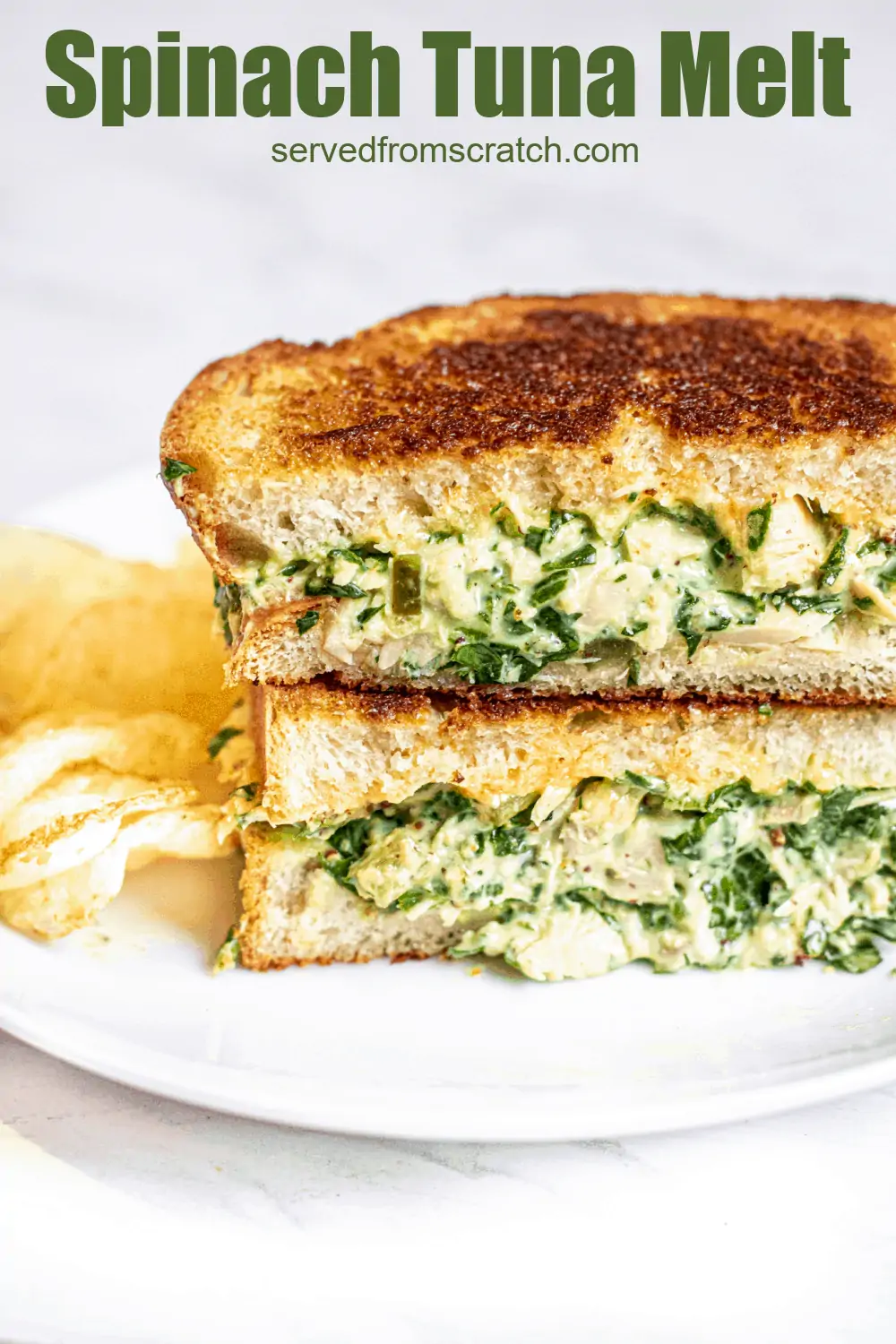 Spinach Tuna Melt done! So much flavor thanks to the salty tuna, tangy Dijon mustard, and touch of sweet from that diced pickle! Look at how perfectly golden that crust is. Plus in addition to the low fat, high in omega-3s tuna, welcome to the party, magnesium, iron, calcium, and potassium packed spinach!
This tuna sandwich is your answer for the perfect grilled sandwich that's full of nutrition, too!
Looking for a gluten-free tuna salad? Try out our Dill Tuna Salad Cucumber Boats!
Serve It With
We love this with chips - any kind!
Other Favorite Sandwiches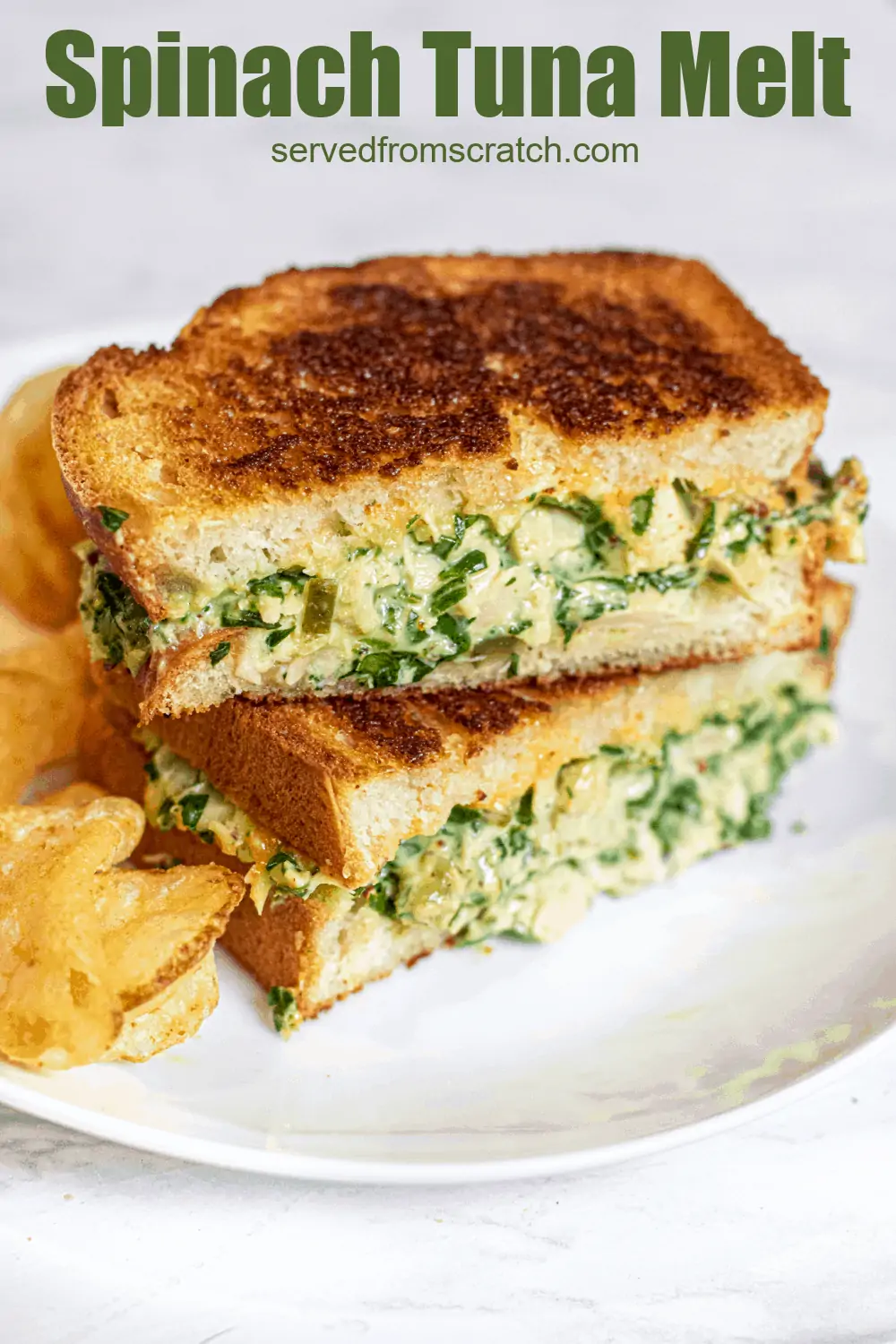 FAQs
Should I butter the pan, too?
Not necessary if you've generously buttered your bread. Putting butter in the pan vs. on the bread is something that has been debated, but I find that in order to truly get the best, even distribution of butter and perfect crust is to butter the bread directly.
What kind of pickle do I use?
I love sweet pickles like these Sweet Petites because they add a nice crunch and sweetness but you could also cut up some bread and butter pickles (have you made your own yet?) or use a dill pickle for less of a sweet flavor. We've also use pepperoncini, for a little kick, too!
How long do I cook it all for?
About 3-5 minutes on each side. It'll depend on how thick your bread is and whether you used sliced or grated cheese. See recipe notes.
If I don't use homemade bread, what kind of bread should I use?
Something hearty. Especially if you're going to pack your sandwich full like this recipe does. You want a bread that's going to be able to hold up to a full sandwich.
Can I make this as a sub?
Absolutely! Use your favorite sub or hoagie roll and add the cheese on top. Set the oven to broil and then place sub on a baking sheet 2 rows down and broil for about 3 minutes until the cheese is melted - checking to make sure it doesn't burn!
Enjoy! As always, if you make this recipe or any of my others, I love to hear what you think! Leave a comment below, email me, or you can find me on Facebook, Instagram, and Pinterest!
If you want to see more, be sure to sign up for my 5 Easy Ways to Start Cooking From Scratch!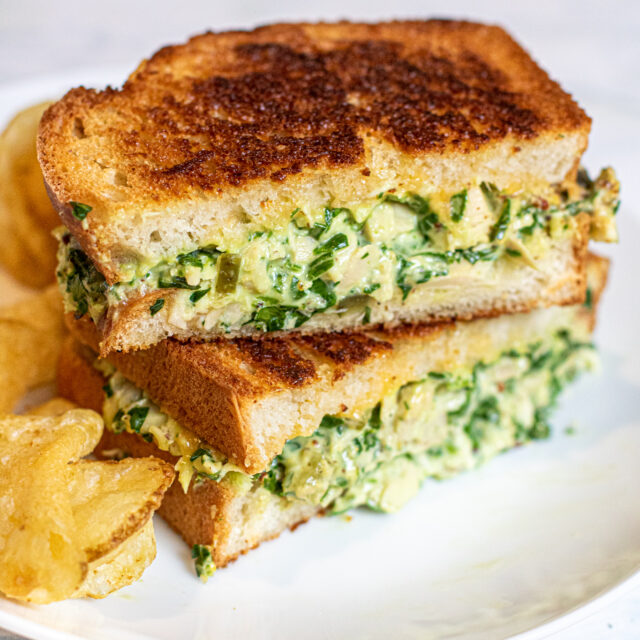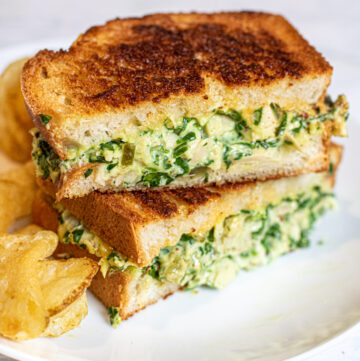 Spinach Tuna Melt
This Spinach Tuna Melt is everything you love about a tuna melt, just with the added nutrition of added spinach
Print
Pin
Rate
Equipment
Griddle or Large Frying Pan
Ingredients
1

5.4 oz can

Albacore Tuna

4-6

slices

Easy White Sandwich Bread

1

cup

fresh baby spinach, packed and diced

3

tablespoons

Mayonnaise

1

tablespoon

Dijon Mustard

2

tablespoons

sweet pickle, diced

about 1 small pickle

2

tablespoons

butter

8

slices

very thin sharp cheddar cheese

or about 1/2 - 3/4 cup shredded
Instructions
In a medium bowl, add tuna, mayo, mustard, spinach, and pickle and mix well.

Heat a griddle or large frying pan to medium.

Generously butter one of bread slices. Place two bread slices butter side down on griddle, add 2 thin slices of cheese to eat slice of bread (or about 1/4 of the total shredded cheese). Top with generous amount of tuna mixture and then with remaining cheese. Place bread on top with buttered side up. (If using smaller frying pan, cook one sandwich at a time)

Cook for 3-4 minutes or until buttered down side of bread is golden brown and bottom layer of cheese is melted.

With a large spatula, carefully flip your sandwich, careful not to spill it's contents, and cook on other side for another 3-4 minutes or until cheese is melted and bread is golden brown.
Notes
This recipe makes about 2 sandwiches that are packed full. You could definitely get 3 sandwiches out of the amount of filling, if your sandwiches are less full. Cheese: You can also use shredded cheese, 1/2 - 3/4 cup of shredded cheese. Cook Time: This will depend on how thick your bread is and how your cheese melts - which depends on how thinly it's sliced or if it's grated. Thinner bread and grated cheese will melt faster. Cook until bread is golden brown and cheese is melted. Substitutions: Use bread and butter or dill pickles, or pepperoncinis. Add diced celery or diced red onion, if desired. Make it a sub! Use your favorite hoagie roll and make it a sub! Melt the cheese in the broiler for about 3-5 minutes.
Nutrition
Calories:
448
kcal
|
Carbohydrates:
20
g
|
Protein:
15
g
|
Fat:
34
g
|
Saturated Fat:
16
g
|
Cholesterol:
74
mg
|
Sodium:
712
mg
|
Potassium:
139
mg
|
Fiber:
1
g
|
Sugar:
4
g
|
Vitamin A:
1700
IU
|
Vitamin C:
3
mg
|
Calcium:
429
mg
|
Iron:
2
mg