Pita Bread and Pita Chips from scratch may take some extra time and effort but they are the ultimate from scratch snack and totally worth the effort!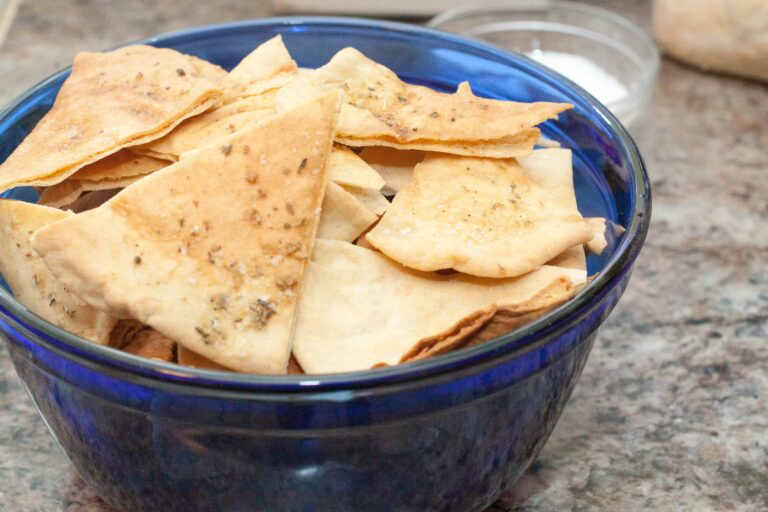 About 7 or 8 years ago my best friend Holly baked some homemade Pita Chips that just blew my mind. At the time I wasn't too far from my burning rice in a microwave days so the idea of making your own pita chips was like whoa. And lately, I've been thinking about those chips and how we've made so many of our own in the past year: Cheddar and Sour Cream, Salt and Vinegar, Flour Tortilla chips, Corn Tortilla chips, a couple of different Kale Chips, and even Sweet Potato chips for Nigel. But no pita chips! Until now...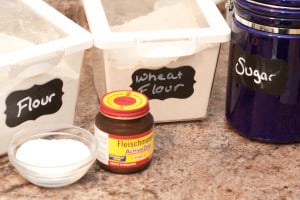 Ok, so the main thing that's been holding back the pita chips has been, well, the obvious: Pita bread. Holly made her pita chips from pita bread that she bought, but in this household, 99% of the time, since learning how to our own breads, we make it vs. buying it. So first, I was on a mission to make pita bread from scratch. Which, I'll be honest, I'd been putting off because I was worried about how hard it would be. Psh. It turned out to be pretty darn easy with standard ingredients,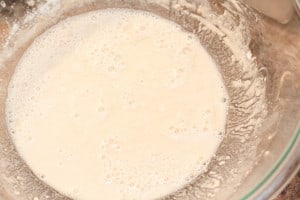 and then just creating a sponge,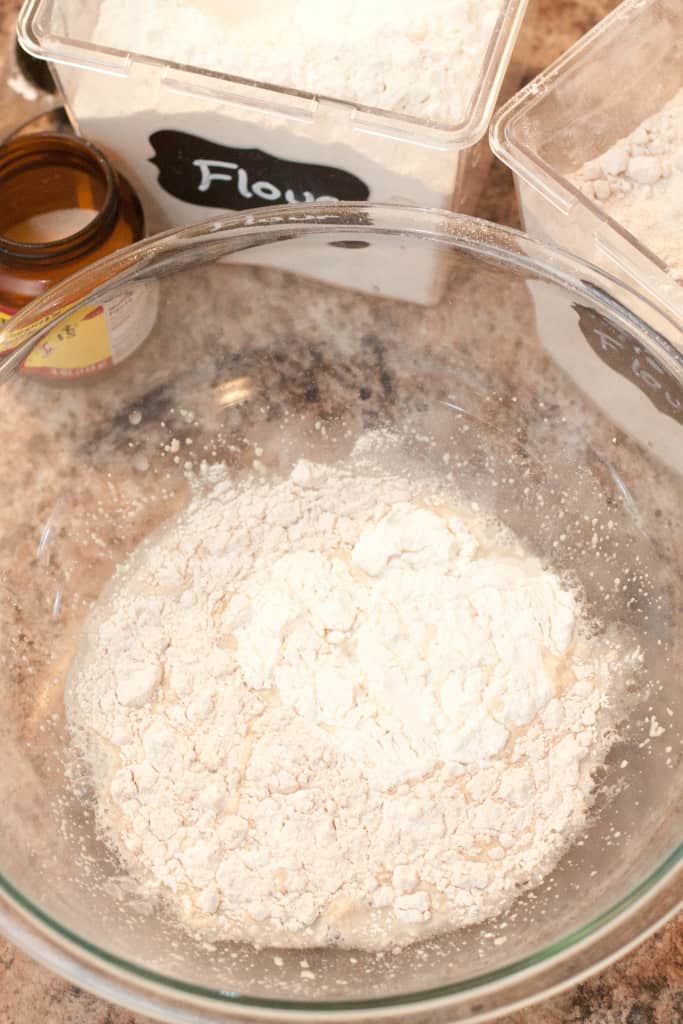 then adding the rest of the ingredients and mixing well.
Then it's just a little bit of kneading, thank goodness. Because when it comes to kneading bread, I have very limited patience. That's why the hubby's in charge of our more labor intensive breads like the Como Bread and Sourdough. 'Cause my sense of time becomes totally warped while kneading. I'll think I've just spent 10 minutes kneading when in reality it's only been about 45 seconds and then I spend the next 9 minute and 15 seconds complaining about how much I dislike kneading bread. This dough I only had to suffer through about 4 minutes, which was broken up by 10 minutes of rest after the first 2. That's my kind of kneading.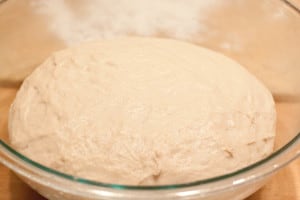 Once kneaded, I let the dough rest and rise for about an hour until it doubled,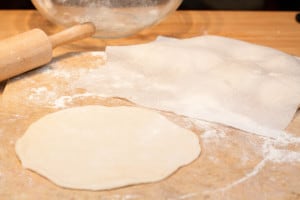 and then broke it into 8 little rounds and rolled them out one by one.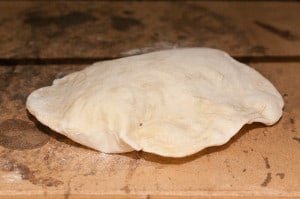 Meanwhile, our baking stone was in an oven set at 475 degrees to act as the little dough rounds baking surface for them to puff up on. Neat! (Please divert your attention for our 'well used' baking stone!) Just a quick 2 minutes on one side to puff up and then another 30 seconds on the other so that then when they come out they're nice and soft.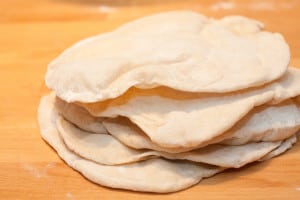 Now I should have saved a couple of these guys to make my girl The Cozy Cook's Falafel Pita Wrap which has been on my loonng list of Must Makes, but I totally had pita chips on the brain...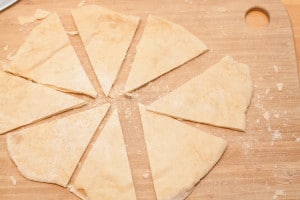 ...and I took each pita and cut them into about 8 triangles not realizing that I'd just sliced them all up. Oops. But not, because it meant just that many more chips!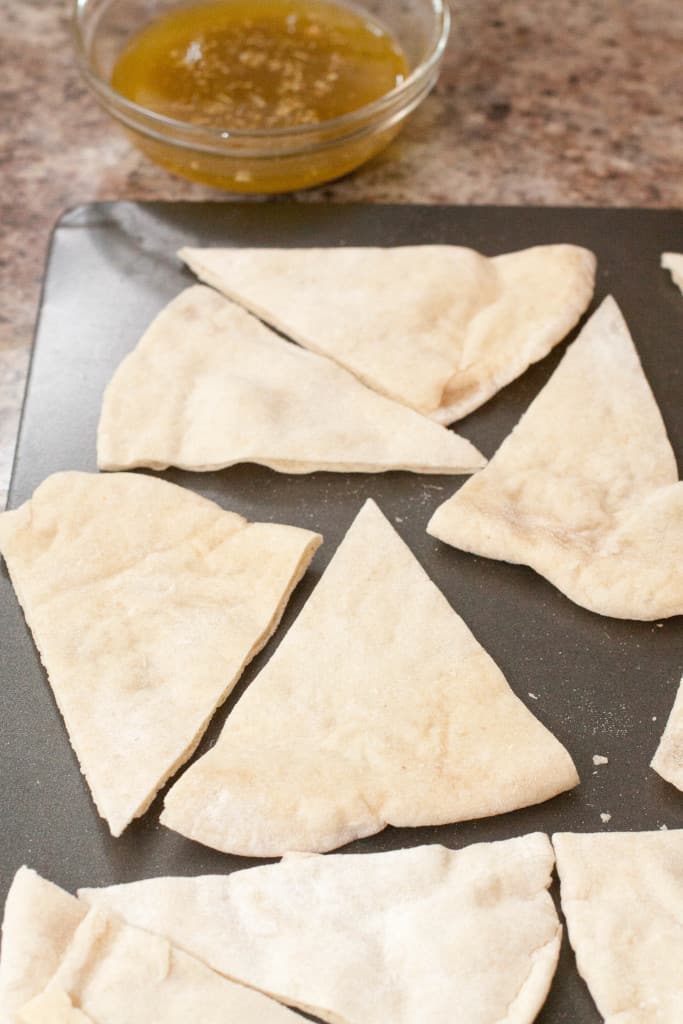 Then, I whipped up a quick olive oil blend of oregano, pepper, garlic powder, and onion powder,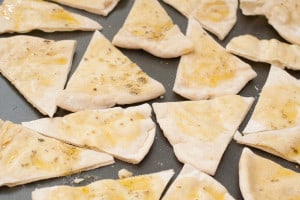 and brushed the little triangles with them.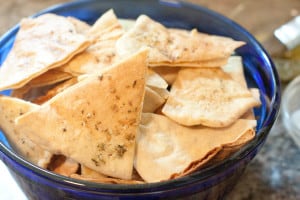 Then baked in the oven for 10 - 12 minutes and homemaaaddeee pita chips!!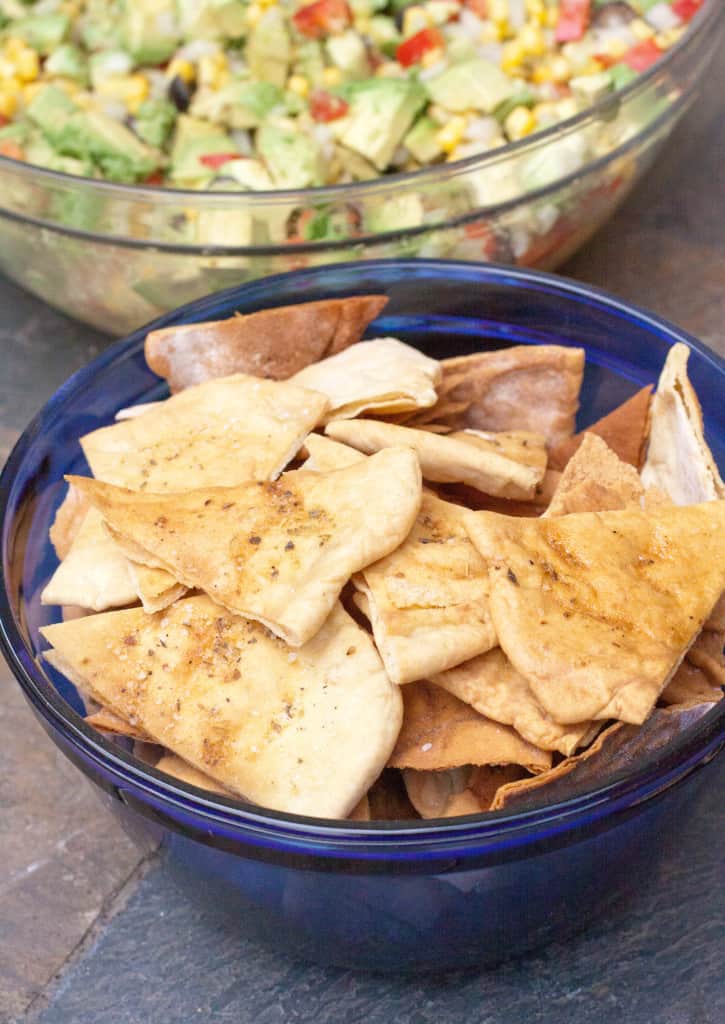 I sprinkled them with a healthy dose of salt (we're kind of salt-a-holics), and then they were ready for their debut at a BBQ as a vehicle for dips and salsas. My husband was very sad when there weren't any leftovers. Guess that means I'll just have to make more... darn. 😉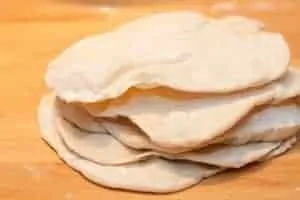 Ingredients
2

teaspoons

active dry yeast

½

teaspoon

sugar

1/4

cup

whole-wheat flour

2 1/2

cups

unbleached all-purposed flour

1

teaspoon

kosher salt

2

tablespoons

olive oil
Instructions
Put 1 cup lukewarm water in a large mixing bowl. Add yeast and sugar. Stir to dissolve. Add the whole-wheat flour and 1/4 cup all-purpose flour and whisk together. Put bowl in a warm (not hot) place, uncovered, until mixture is frothy and bubbling, about 15 minutes.

Add salt, olive oil and nearly all remaining all-purpose flour (reserve 1/2 cup). With a wooden spoon or a pair of chopsticks, stir until mixture forms a shaggy mass. Dust with a little reserved flour, then knead in bowl for 1 minute, incorporating any stray bits of dry dough.

Turn dough onto work surface. Knead lightly for 2 minutes, until smooth. Cover and let rest 10 minutes, then knead again for 2 minutes. Try not to add too much reserved flour; the dough should be soft and a bit moist. (At this point, dough may refrigerated in a large zippered plastic bag for several hours or overnight. Bring dough back to room temperature, knead into a ball and proceed with recipe.)

Clean the mixing bowl and put dough back in it. Cover bowl tightly with plastic wrap, then cover with a towel. Put bowl in a warm (not hot) place. Leave until dough has doubled in size, about 1 hour.

Heat oven to 475 degrees. On bottom shelf of oven, place a heavy-duty baking sheet, large cast-iron pan or ceramic baking tile. Punch down dough and divide into 8 pieces of equal size. Form each piece into a little ball. Place dough balls on work surface, cover with a damp towel and leave for 10 minutes.

Remove 1 ball (keeping others covered) and press into a flat diskc with rolling pin. Roll to a 6-inch circle, then to an 8-inch diameter, about 1/8 inch thick, dusting with flour if necessary. (The dough will shrink a bit while baking.)

Carefully lift the dough circle and place quickly on hot baking sheet. After 2 minutes the dough should be nicely puffed. Turn over with tongs or spatula and bake 1 minute more. The pita should be pale, with only a few brown speckles. Transfer warm pita to a napkin-lined basket and cover so bread stays soft. Repeat with the rest of the dough balls.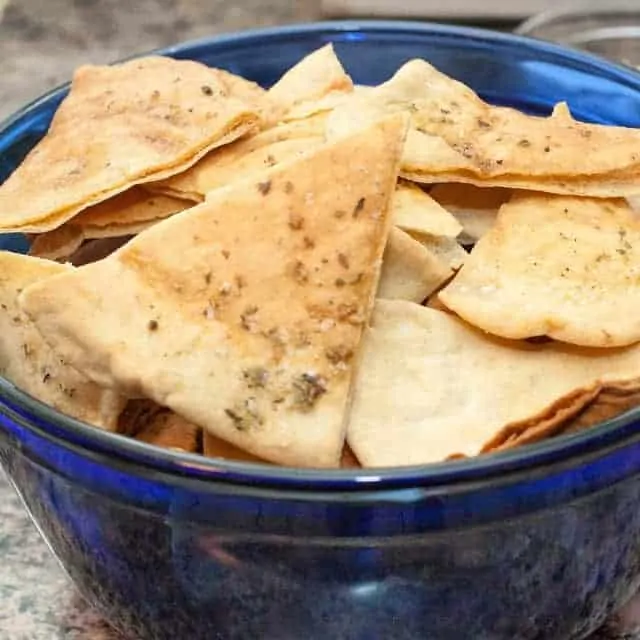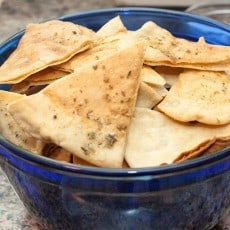 Ingredients
8

pitas- cut into 8 triangles

1/4

cup

of olive oil

1/2

teaspoon

of oregano

1/2

teaspoon

of garlic powder

1/2

teaspoon

of onion powder

1/2

teaspoon

of black pepper

1/2

teaspoon

of kosher salt
Instructions
Pre-heat oven to 375 degrees.

Mix olive oil, oregano, garlic powder, onion powder, and pepper together in a small bowl.

Line baking sheets with pita triangles and brush each triangle with olive oil mixture and sprinkle with kosher salt.

Bake for 10-12 minutes until pita chips are browned.

Serve with your favorite dip or salsa or on their own!

Notes

The olive oil blend can be spiced up any way you want! Add some thyme or sage for more savory chips. Add some paprika or cayenne for some spicy chips. Or add some nutritional yeast for some faux cheesy chips!