Everything you love about a soft fluffy dinner roll, but stuffed with cheese and topped with homemade pesto! Our Cheesy Pesto Pull Apart Rolls can be made into a festive Christmas tree, wreath, or just in a pan for the most delicious savory side or appetizer!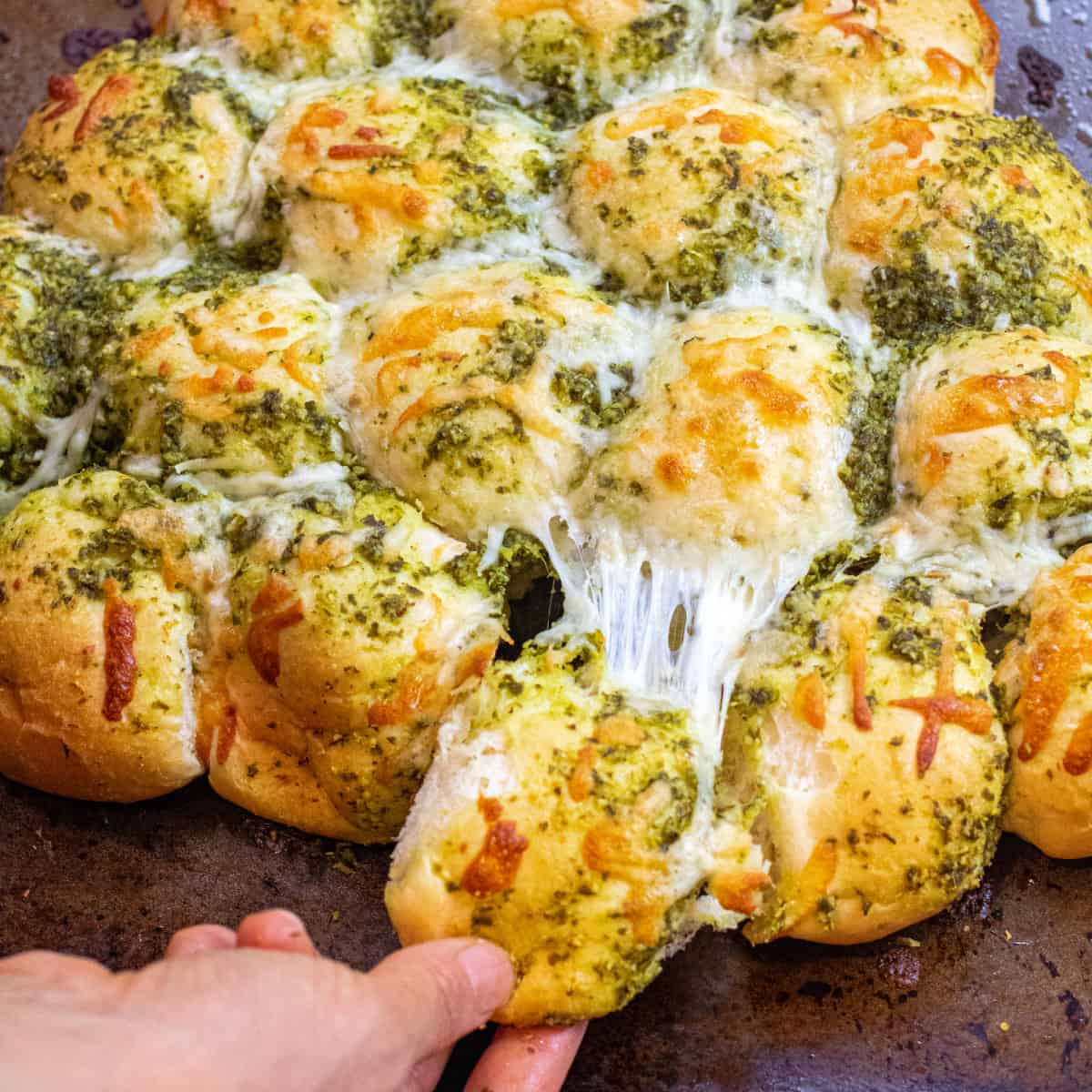 Squeezing one last holiday recipe this year with one I've been dreaming about for a while. These Cheesy Pesto Pull-Apart Rolls are like our regular dinner rolls but kicked up a few delicious notches! Stuffed with mozzarella cheese and topped with an easy delicious homemade pesto, these rolls are a fun addition to any holiday table or can be made in a regular dish to enjoy any time of the year!
Ingredients Needed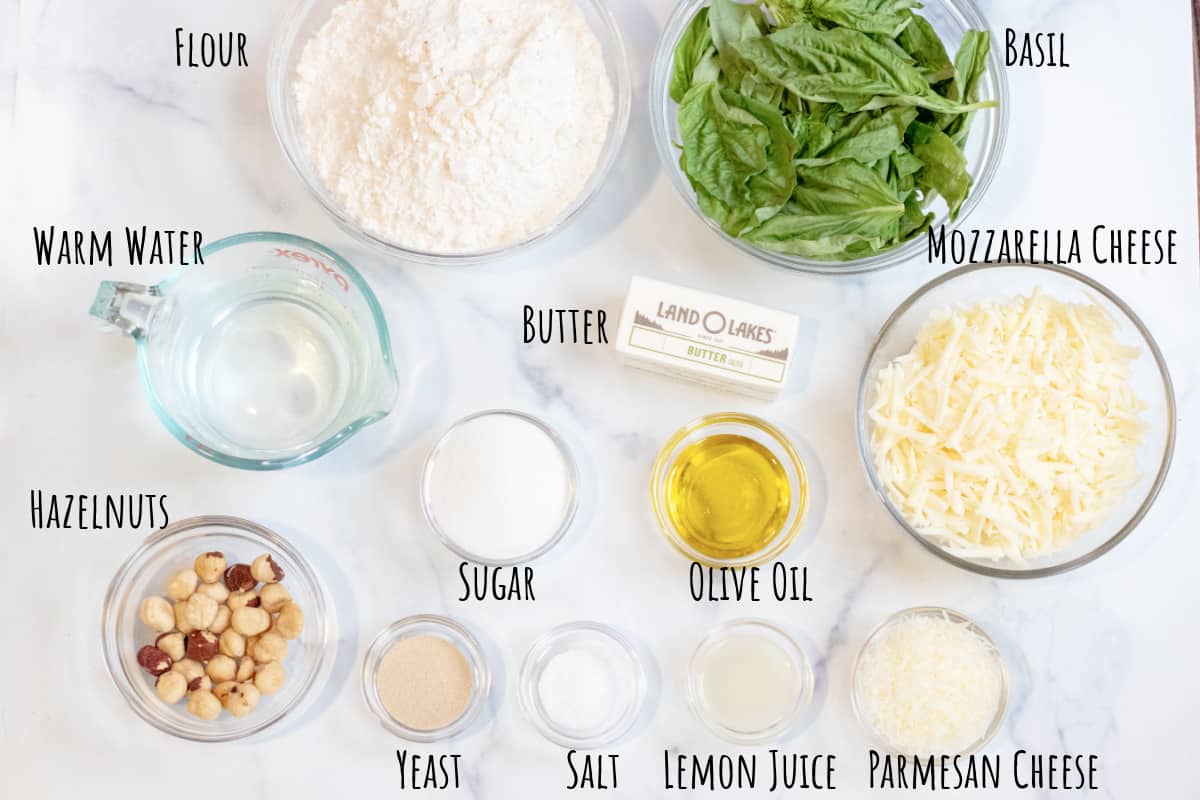 All-Purpose Flour - You could also use bread flour or whole wheat flour, any of these will work just fine.
Sugar - White granulated is best for this recipe.
Yeast - We use active yeast but you could also use instant and cut down on the activation time.
Water - Warm is best, about 90 degrees, or just a few seconds in the microwave.
Butter - I use salted for this recipe but you could also use unsalted and just add a pinch more salt.
Salt - Just enough for flavor.
Mozzarella Cheese - A little bit in each roll, between the rolls, and to top with to provide ultimate cheesiness!
Next, the Pesto! Of course, you could also use your favorite store-bought pesto, too. But if you're here, I'm sure that means you're interested in a homemade recipe, too!
Fresh Basil - Fresh only! But if you're unable to get a hold of any fresh basil, you could also make this a parsley pesto, which is also delicious!
Garlic - Fresh is our preferred, but you can use jarred minced or even powder. See recipe notes for conversion.
Extra Virgin Olive Oil - Just like for vinaigrettes or bruschetta, this is when you bust out the good stuff!
Hazelnuts - My absolutely favorite nut and what I love to use in pesto. But of course, you could go more traditional and use (the more expensive) pine nuts, or almonds and walnuts work great, too.
Parmesan Cheese - Just a touch!
Lemon Juice - Just the right amount of acidity.
Salt - Just enough to bring it all together.
Step-by-Step Instructions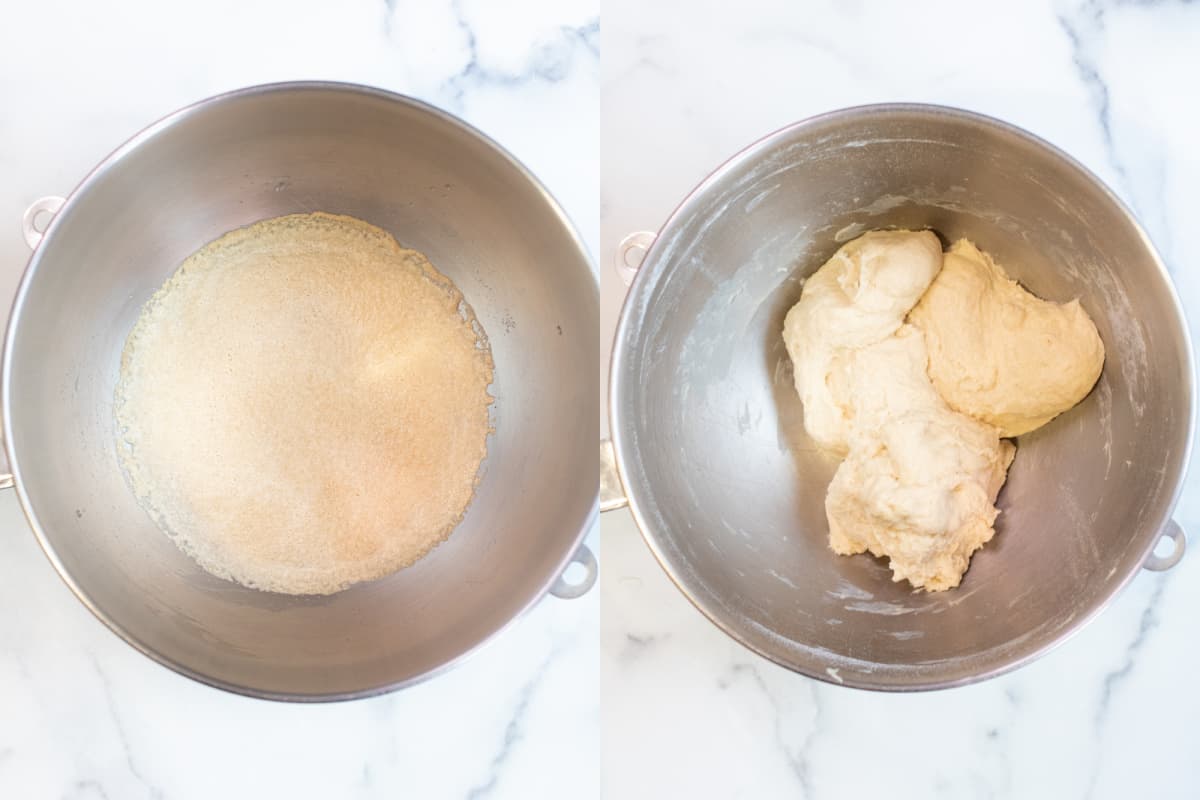 Make Roll Dough
The first step is to prepare your roll dough. Just like you would for our regular dinner rolls or our Homemade Hawaiian Rolls. Activate the yeast with sugar and water. Add butter and flour to create a slightly sticky dough.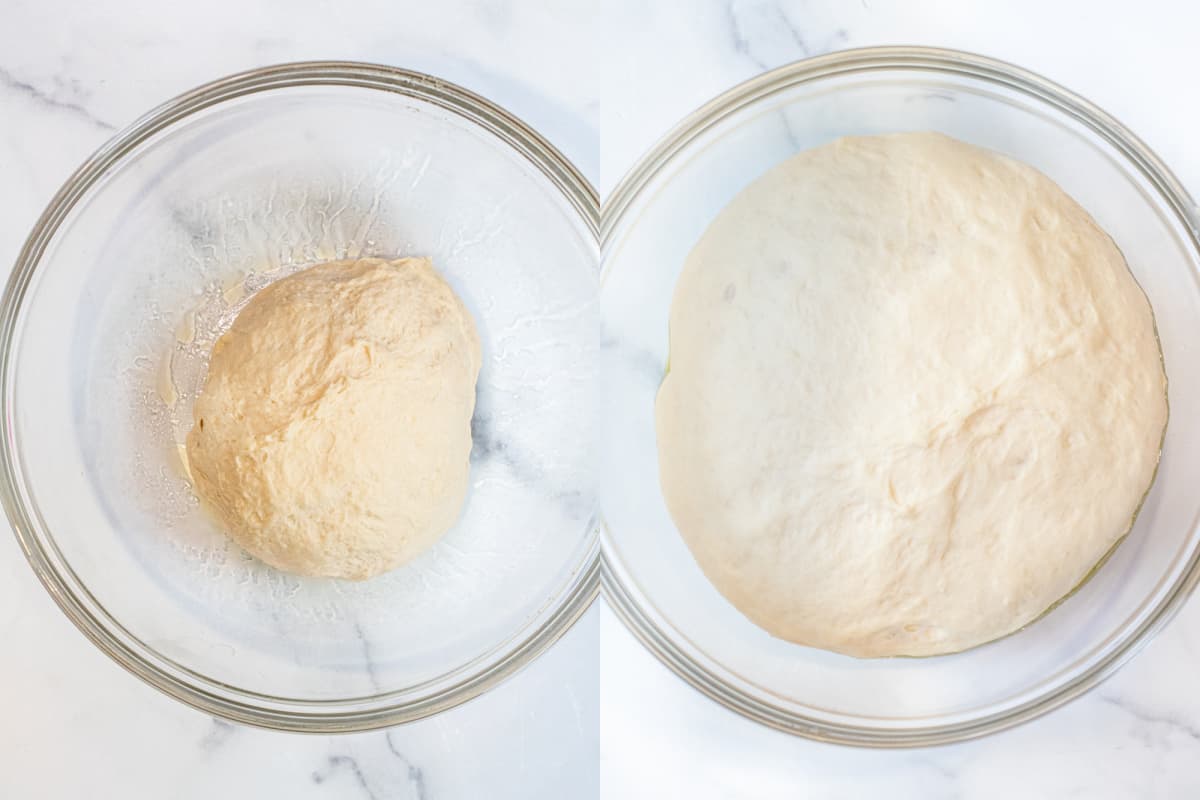 Rise
Let that lovely little dough rise until it's doubled in size. You'll have a nice soft, slightly sticky dough.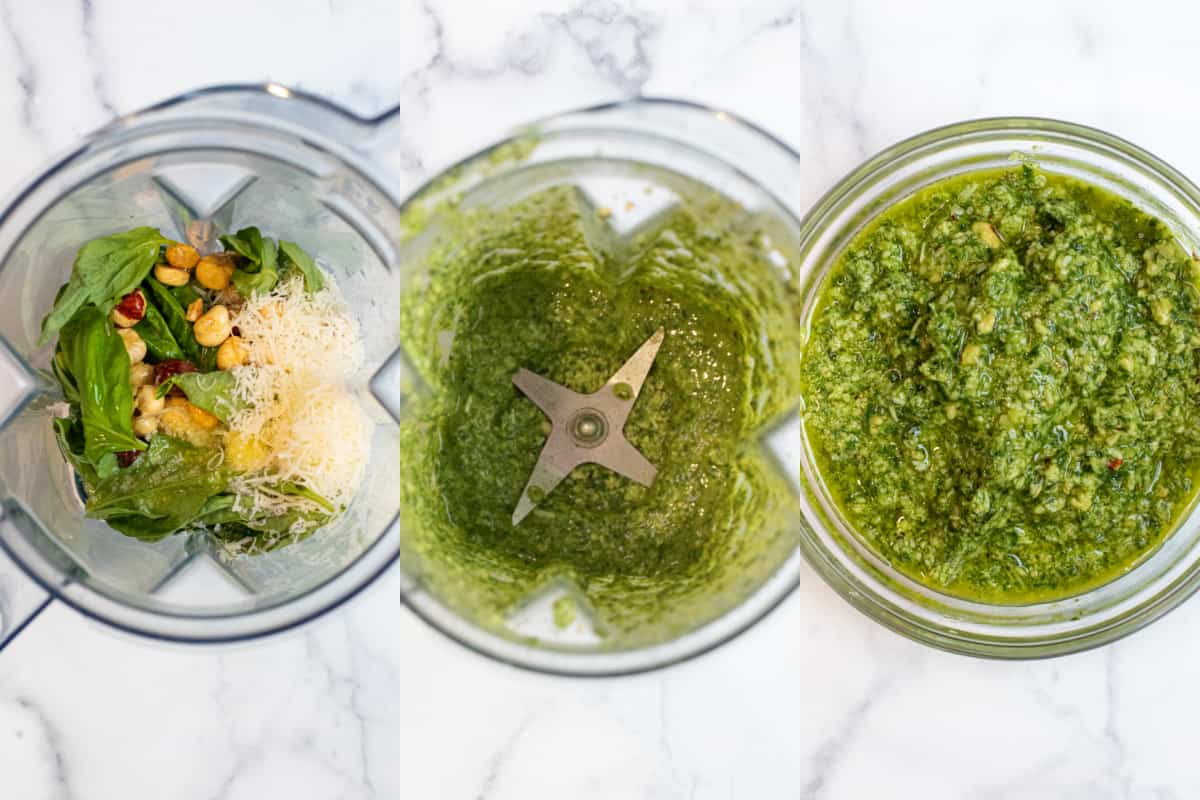 Make Pesto
While your little beauty is rising, whip up your pesto by adding all of the ingredients to a blender or food processor and blending until it's reached the consistency you'd like.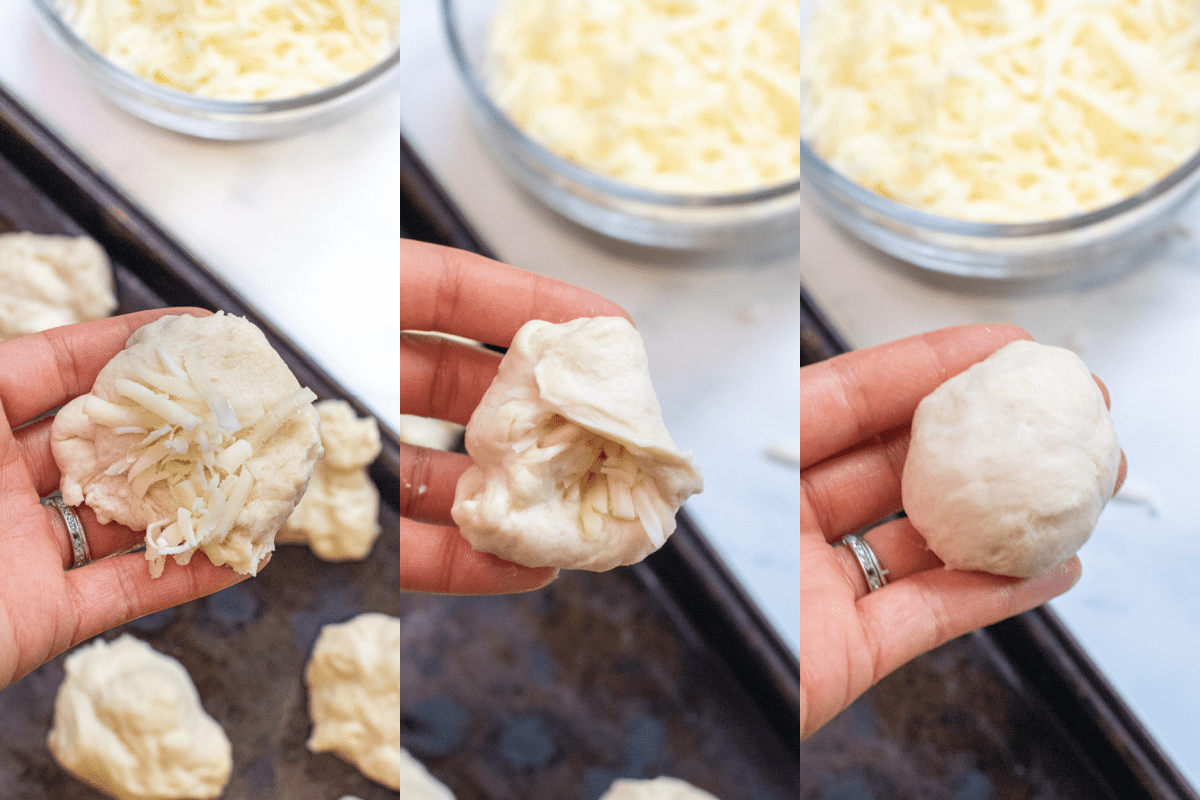 Add Cheese and Shape Dough
Now, this is the fun part! Separate your dough into 21 equal pieces (this is when your kitchen scale is really helpful!) and fill each piece with some cheese and wrap the dough around it.
This is where you can either go all festive and shape them into a big beautiful Christmas tree or into a pan for something for the rest of the year.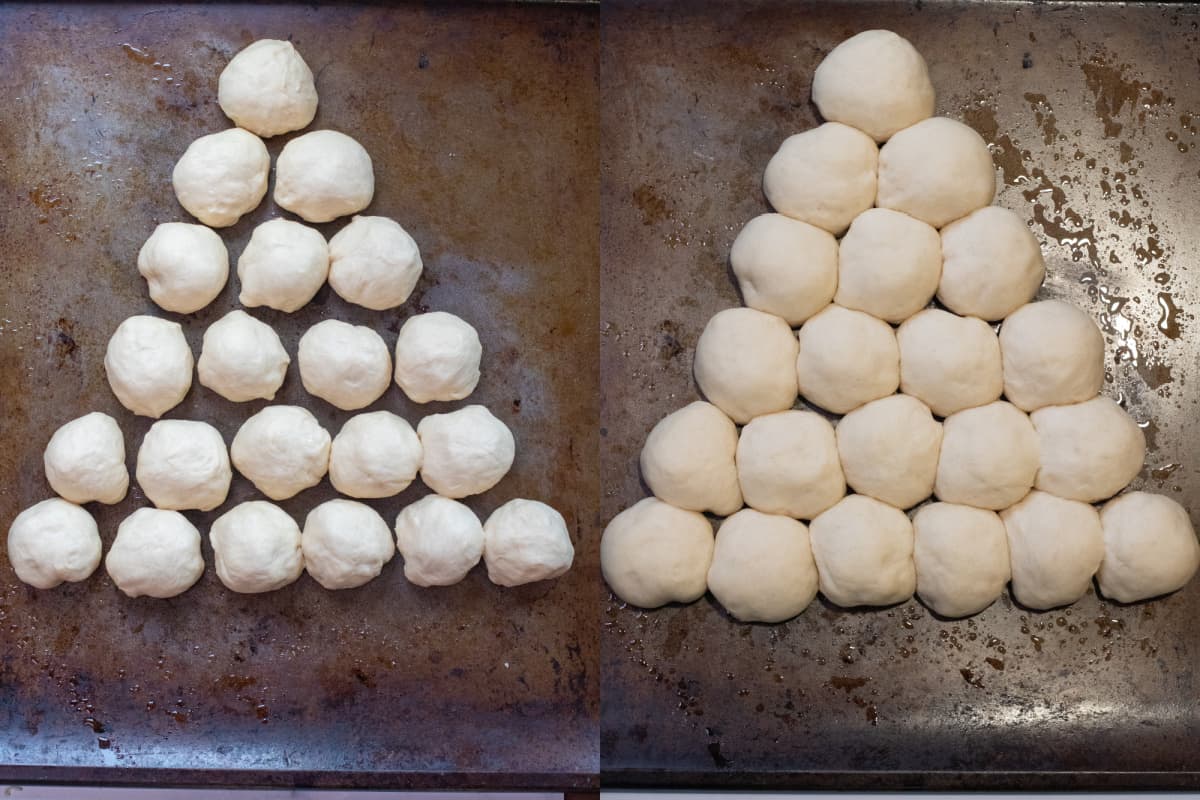 Let Rise Again
Let those little balls rise again until you have a nice filled-out tree (or whatever shape you decide to make!)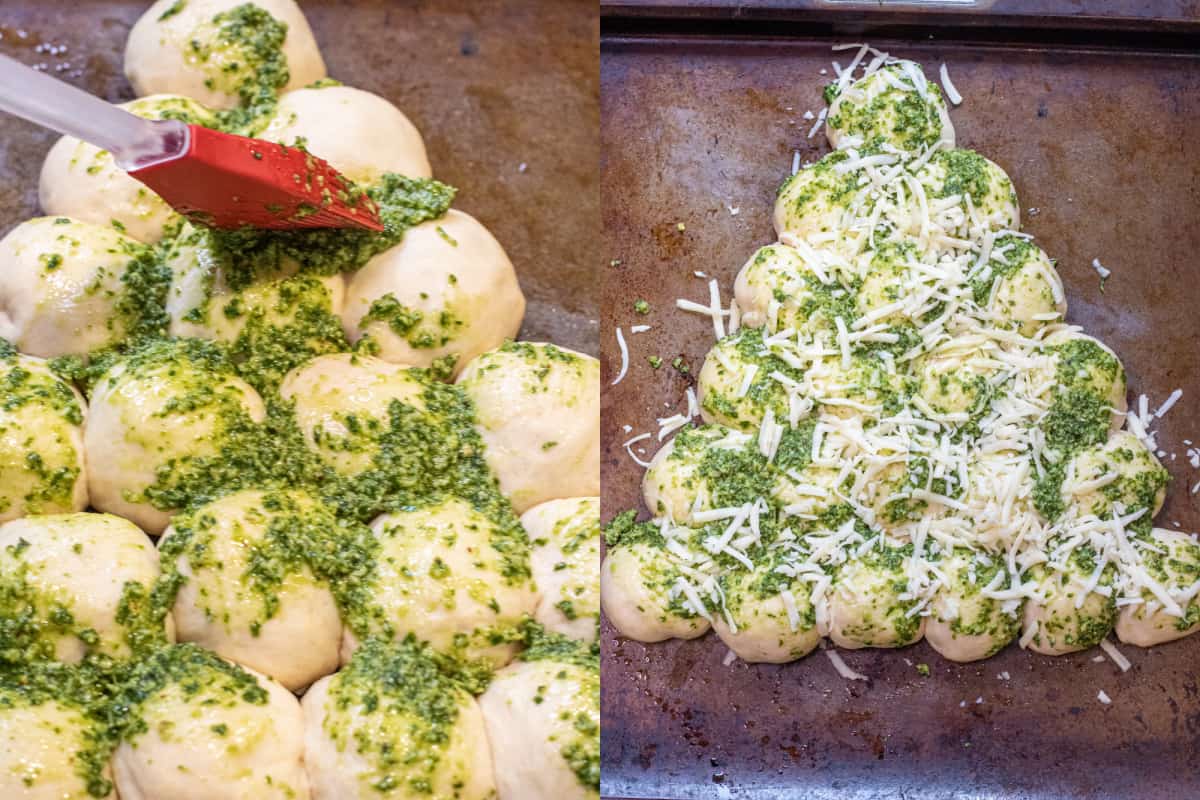 Add Pesto and More Cheese
Brush your rolls with a little egg wash, then it's time to add the pesto and cheese! Sprinkle the cheese between the rolls for ultimate cheesiness when pulled apart and top it all with the pesto.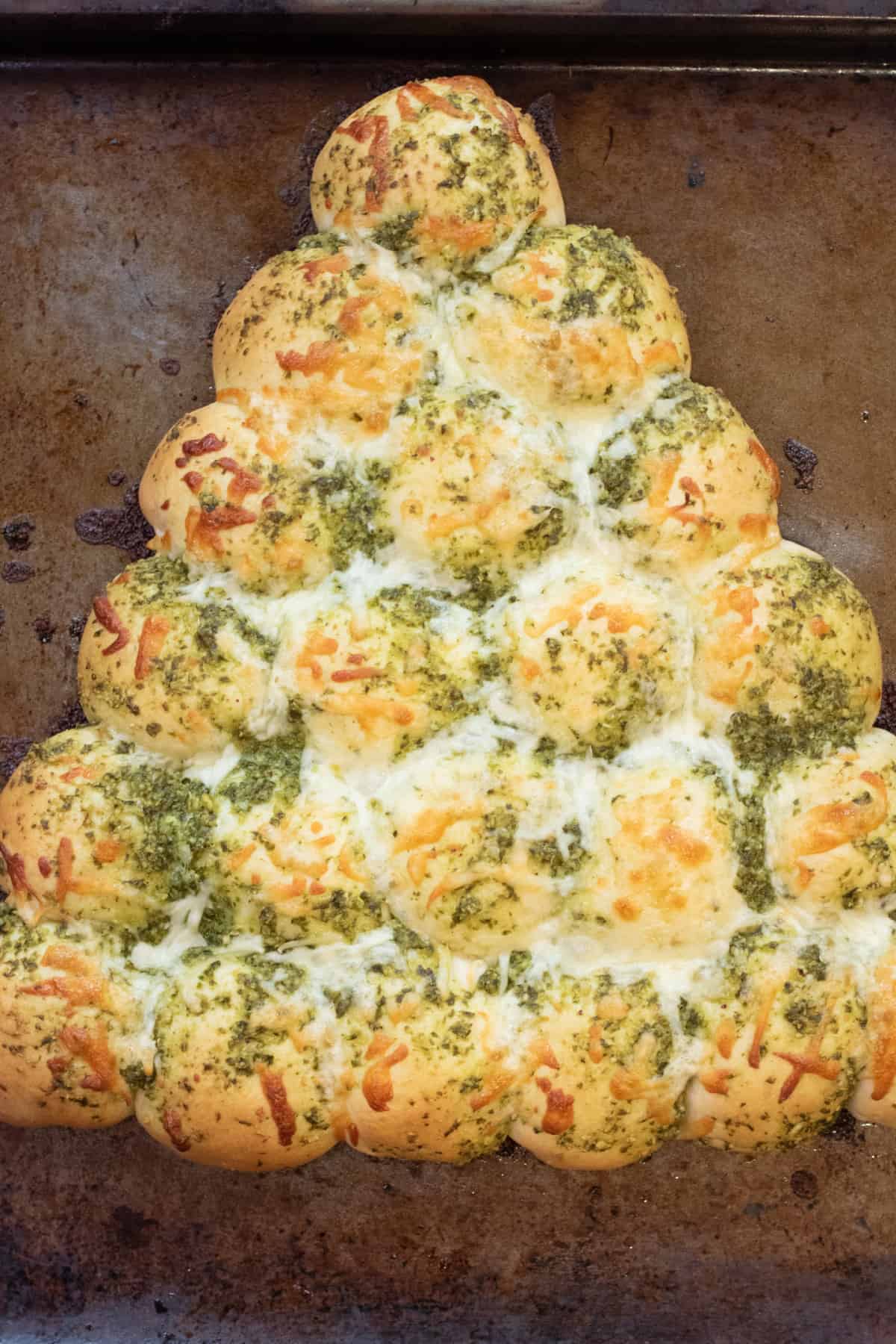 Baked to melty cheesy perfection!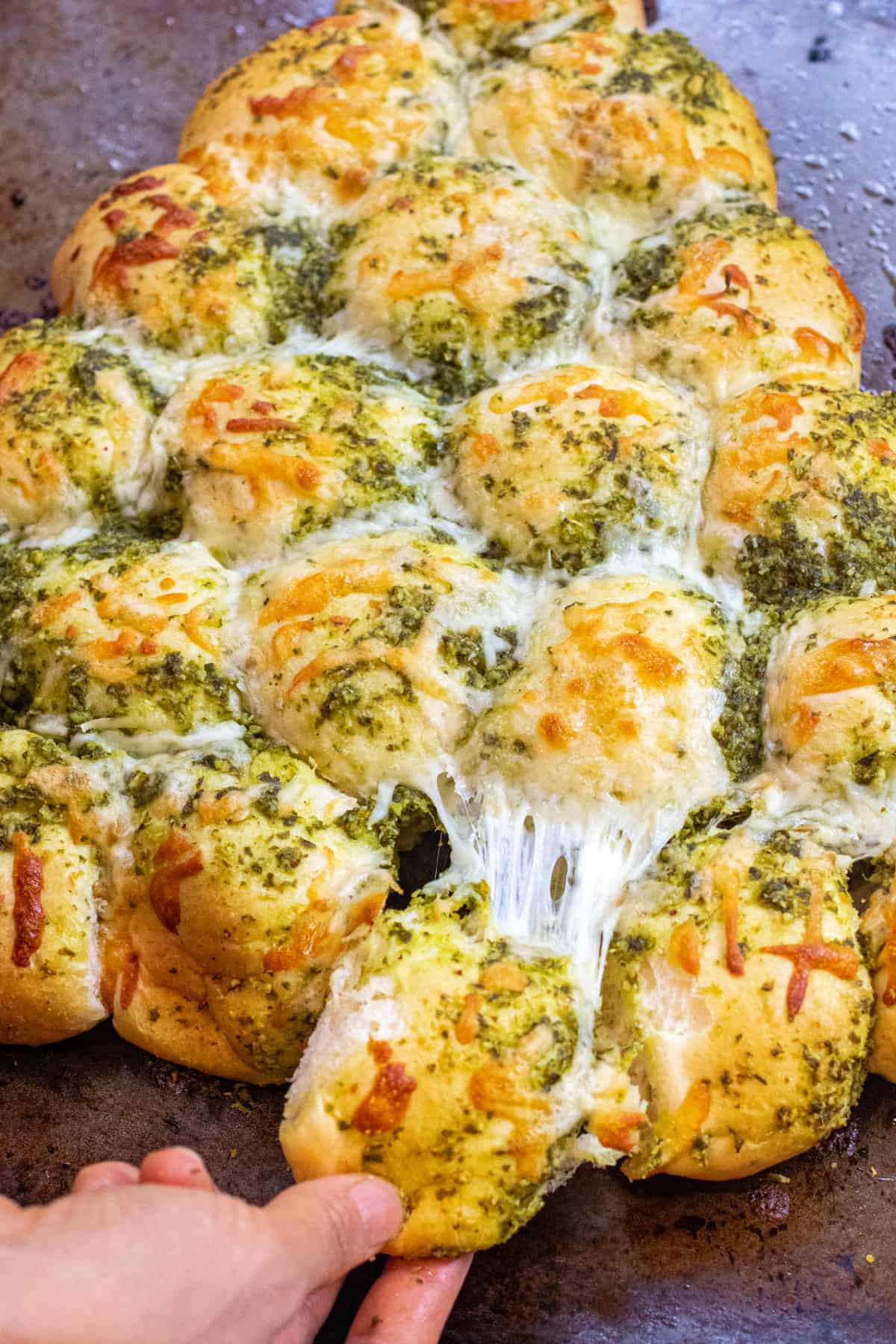 Recipe Tips
Do I need a Stand Mixer?
Short answer, nope! For this recipe you can totally mix everything by hand, it's just much easier to do it with a kitchen aid or other stand mixer. Plus, in general, to make your baking world a better place, yes. You need a good stand mixer. It's one of those kitchen investments that you won't regret!
Weigh Your Ingredients
When baking, weighing your ingredients is the best way to ensure accurate and consistent results every time. Because there are so many factors that can affect how much flour you're actually getting in 1 cup, the best way to get the most accurate results for a recipe is to go by weights. That's why we love our little kitchen scale. A really affordable little kitchen tool that'll help with all of your baking!
Weigh the Dough Balls
Speaking of weighing, the best way to ensure that you'll have nice even dough balls is to also weigh each little ball. You'll want each dough roll to be about 1.2 oz (before the cheese!) to make 21 dough balls, which is perfect for this tree shape.
Other Shapes
While we think the tree shape is the most festive for this time of year, you can make these all year long in many different shapes!
Wreath: 21 dough balls 1.2-1.4 oz each, 11 on an outer ring and 9 in the center.
Baking Dish: 15 dough balls, about 2.2-2.4 oz each.

Always Shred Your Own Cheese
The biggest tip for whenever you want the meltiest, cheese-pulliest result, is always shred your own cheese! That's because store-bought pre-shredded cheese have anti-clumping agents added, which prevents the cheese from melting as nicely as when it's grated right off of a block.
Add Cheese Between Dough Balls
For the ultimate cheesy pull, sprinkle that cheese between the dough balls. You can do this before you add pesto, after, or both!
Prepare in Advance
There are a couple of ways you can prep this dough in advance!
Overnight 1st Rise: You can prepare the dough and then cover the bowl and pop it in the fridge overnight. The next day, take the bowl out and let the dough rise, although it'll likely take closer to 2 hours, maybe more to fully double.
Overnight 2nd Rise: Prepare the dough balls and then cover them and pop them in the fridge. Give yourself at least 3 hours before you need them, and then take them out of the fridge for the 2nd rise, about 1-2 hours, before baking.
Freeze: Shape the dough balls and then flash freeze them on a parchment-lined baking sheet. Once frozen, store in an airtight freezer bag/container. When you're ready for them, take out the frozen dough balls and line them in your greased baking pan and let them thaw and rise for about 4-5 hours before baking.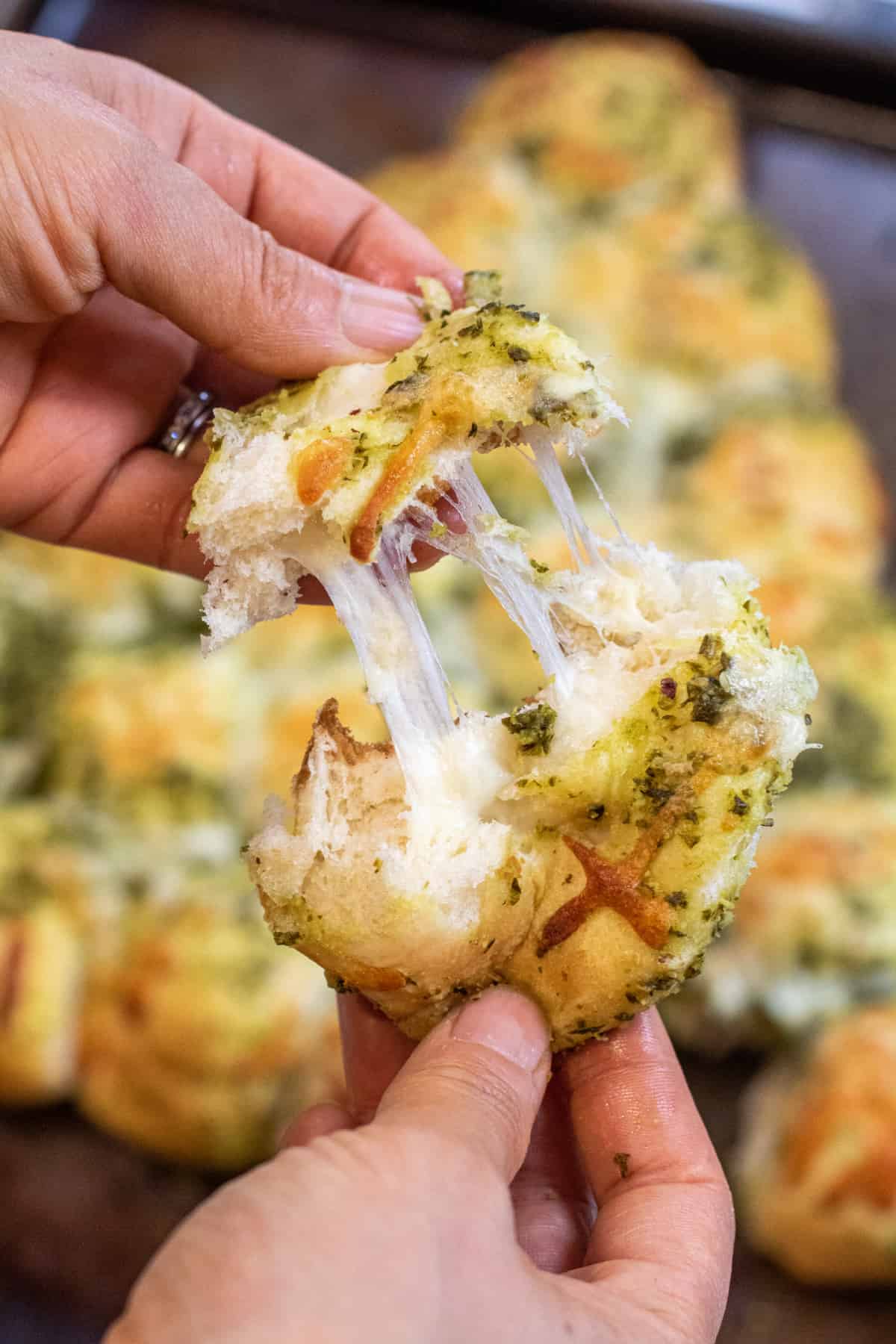 Cheesy Pesto Pull-Apart Bread for the win. The ultimate appetizer or side, for any time of the year!
You Also Might Like
Enjoy! As always, if you make this recipe or any of my others, I love to hear what you think! Leave a comment below, email me, or you can find me on Facebook, Instagram, and Pinterest!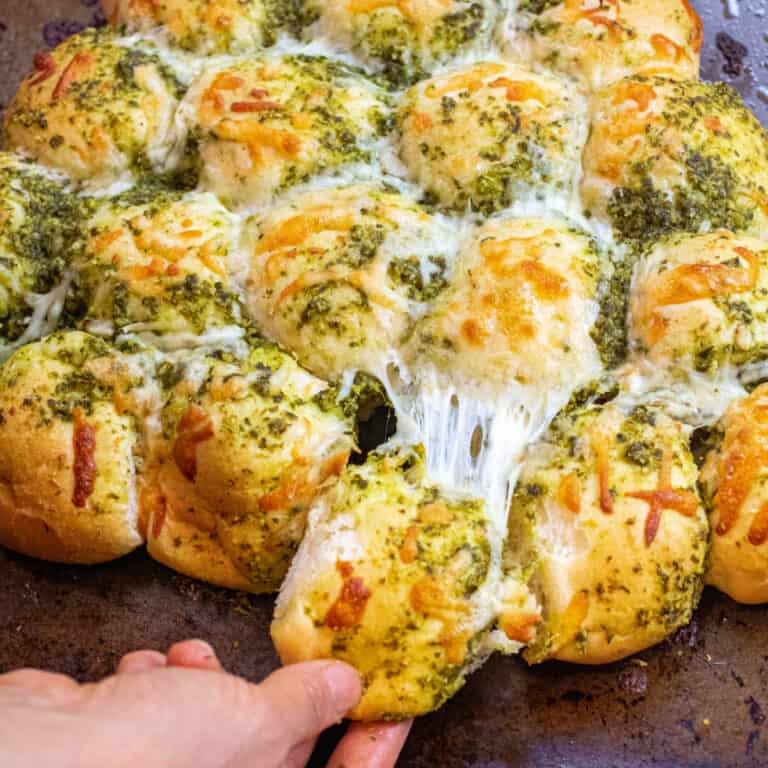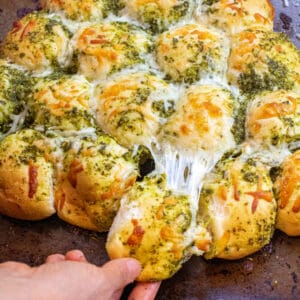 Cheesy Pesto Pull-Apart Bread
Cheese stuffed rolls baked with a savory pesto topping!
Print
Pin
Rate
Equipment
Large baking sheet

or 9X13 baking dish
Ingredients
Rolls
2 1/4

teaspoons

instant yeast

10 g

1

cup

warm water

3 1/4

cup

all purpose flour

415 g

2

teaspoons

white sugar

2

tablespoons

salted butter softened

1 1/2

teaspoons

kosher salt

2

cups

mozzarella cheese

6.5 oz, freshly shredded
Pesto
2

cups

fresh basil (without stems)

1.5 oz, about a 3 oz package

1/4

cup

Parmesan cheese

.5 oz

1/2

cup

extra virgin olive oil

1

tablespoon

lemon juice

1/3

cup

hazelnuts

lightly toasted, 40 g or 1.4 oz

1

teaspoon

salt
Instructions
In the bowl of a stand mixer add warm water and sugar and mix. Sprinkle yeast on top and let activate for about 10 minutes, until bubbly.

Add butter and mix with the dough hook on low. Add flour, one cup at a time continuing to mix until all is combined and a soft sticky dough forms.

Lightly flour a clean surface and transfer dough to it. Dough will be slightly sticky. Knead a couple of times and shape into a ball.

Transfer the ball into an oiled large bowl (we love our misto to oil the bowl) and cover it with plastic wrap. Let rise until doubled - approximately an hour.

Meanwhile, make the pesto by adding all pesto ingredients to a blender or a food processor. Blend until creamy. Add a tablespoon of water if you would like a looser consistency.

Grease a large baking pan or a 9X13 baking dish (if not making it into a tree or wreath shape). Set aside.

Use a kitchen scale and break off 21 equal sized pieces of dough that are about 1.2 - 1.4 oz each. This is to make a tree or wreath shape, if baking in a baking dish, see recipe notes.

Take each piece of dough and gently spread it open in your palm. Use your other hand and grab a pinch of cheese and add to the center of the dough. Gently fold up the sides of the dough around the cheese and pinch it shut. Add to pan or dish seam side down and spaced about 1/2 inch apart for room to rise. Repeat for all dough balls. (See pictures in post for reference)

Gently cover with a clean kitchen towel or linen and let rise again for about 30 minutes.

Preheat oven to 350 degrees.

Once the dough balls have risen again, sprinkle some mozzarella cheese in the corners of the dough balls. Use a silicone brush to generously brush on pesto over the tops of rolls and in the corners. Use as much pesto as you would like, at least 1/2 cup and up to 1 cup.

Finish with the remaining mozzarella cheese.

Bake for 20 minutes until cheese is melty and browned.

Serve and enjoy!
Notes
The nutritional value is approximately per roll.
Shred your own cheese for the best melty cheese!
Shaping
Christmas Tree: For this shape, 21 dough balls will make a good sized tree. You can also use 21 to create a double-layered circular wreath.
Baking Dish: If you want to make these without a festive shape, just bake them in your favorite 9X13 baking dish like you would regular rolls and increase the size to about 2 - 2.4 oz per ball to make about 15 rolls.
Substitutions
Flour: Bread flour will also work for this recipe.
Butter: You can use unsalted, too. Just add a pinch more salt to the dough.
Sugar: You can use 2 teaspoons of honey, too.
Pesto: If you have a premade pesto in your freezer or you have a store-bought favorite, you can use that, too. Use about 1/2 - 1 cup.
Hazelnuts: You can also use pine nuts or walnuts.
Mozzarella Cheese: This is our favorite in this recipe, but you can use cheddar, but mozzarella provides the best cheesy pull.
Nutrition
Calories:
180
kcal
|
Carbohydrates:
16
g
|
Protein:
6
g
|
Fat:
10
g
|
Saturated Fat:
3
g
|
Polyunsaturated Fat:
1
g
|
Monounsaturated Fat:
6
g
|
Trans Fat:
0.04
g
|
Cholesterol:
12
mg
|
Sodium:
373
mg
|
Potassium:
63
mg
|
Fiber:
1
g
|
Sugar:
1
g
|
Vitamin A:
236
IU
|
Vitamin C:
1
mg
|
Calcium:
78
mg
|
Iron:
1
mg