Extra parsley in your fridge? Not sure what to make for a healthy, gluten and meat-free meal? These Parsley Pesto Green Beans are so easy to prepare and are a great way to use up the parsley while eating a healthy, unique meal!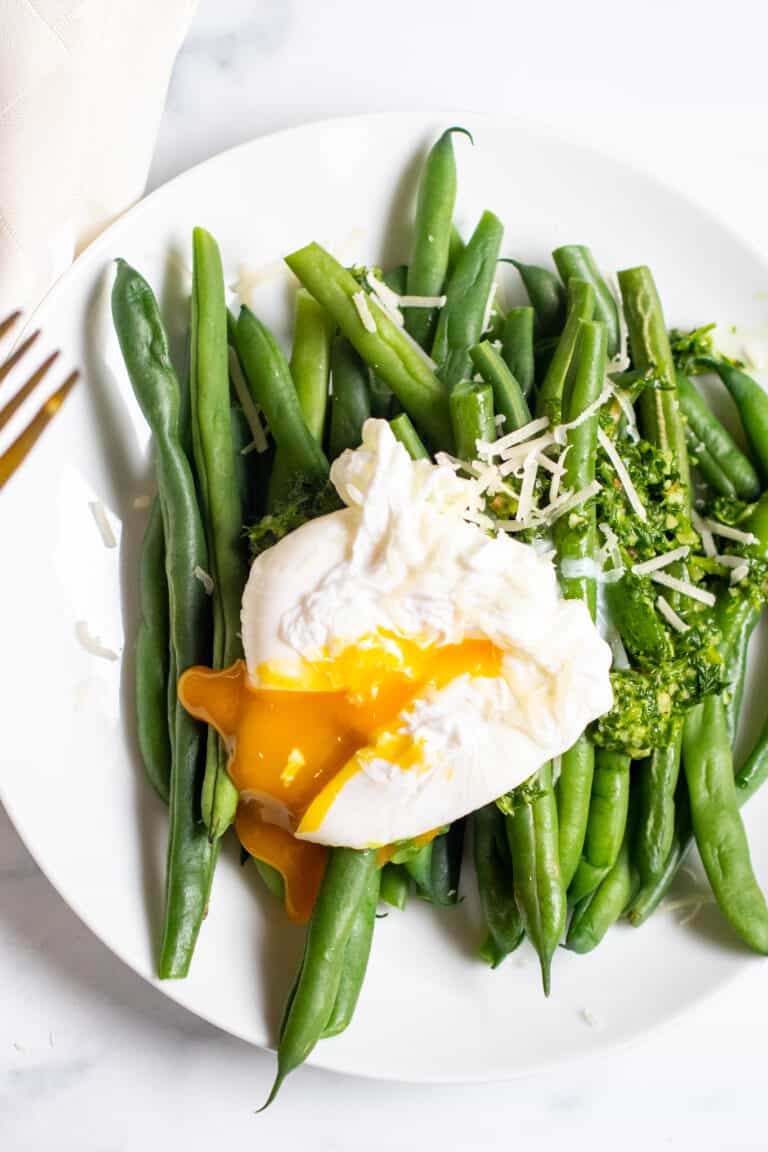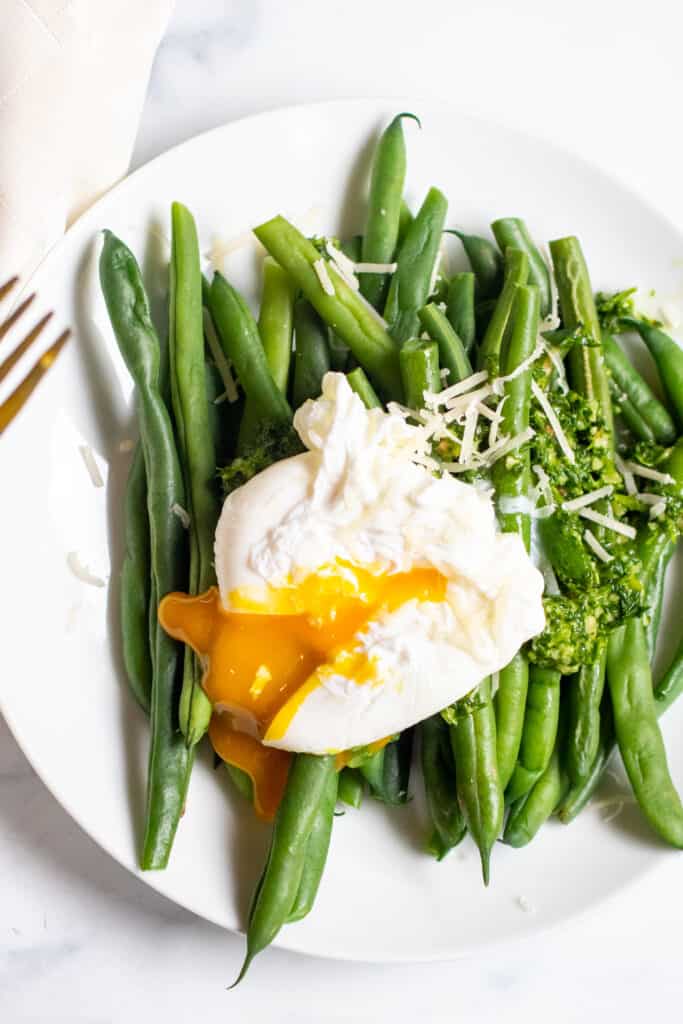 This is a blast from the past, friends! This is a dish that we first made back in 2014 and have making and loving since. It's healthy. It's gluten-free. It's meat-less. And it's so so so easy, delicious, and a great way to switch up a normal lunch or light dinner!
Ingredients Needed
Green Beans - This is one of my favorite ways to use up some of those fresh garden green beans - or if you've made a green bean dish but still have some stragglers left. You could totally just use half or even less needed in the recipe.
Parsley - While we love a great classic pesto from basil, I also absolutely love a pesto from another green (like fennel fronds), or parsley - especially when we buy parsley for something else but then have a ton leftover!
Almonds - The nut for the pesto. White a traditional pesto uses pine nuts, um ho expensive are pine nuts?! So we love to use other nuts - almonds, walnuts, and hazelnuts are some of our pesto favorites.
Extra Virgin Olive Oil - Like if you're making a vinaigrette, using a high-quality olive oil is so important for any time you're using the oil raw - or not cooking it. We love this Italian olive oil.
Garlic - Fresh of course is our preferred, but you could also use garlic powder if that's all you have.
Lemon Juice - Fresh again is best, but bottled works just as well to add a little acidity to your pesto.
Parmesan Cheese - Just a touch to add to the pesto and to top to finish. But if you're looking to keep this vegan, you could omit it.
Salt - Of course.
Eggs - Topped with a perfectly poached egg and it makes it a meal!
Step-by-Step Instructions
Step 1: Make your pesto.
We love our little mini food processor for a small batch pesto like this. You could also use a regular sized food processor or blender, but for small batches like this, we love this mini - which I totally snagged from my mom's house.
How to Blanch Green Beans
Step 2: An important one (2nd to the poaching of the eggs) is blanching your green beans.
Blanching is a cooking process is when the food (usually a vegetable or fruit) is cooked in boiling water for just a few minutes and then placed under cold running water (or given a ice bath) to halt the cooking process.
The result is a bright green, cooked green bean that's still perfectly crunchy and delightful.
Here's another way we love to use some fresh blanched green beans!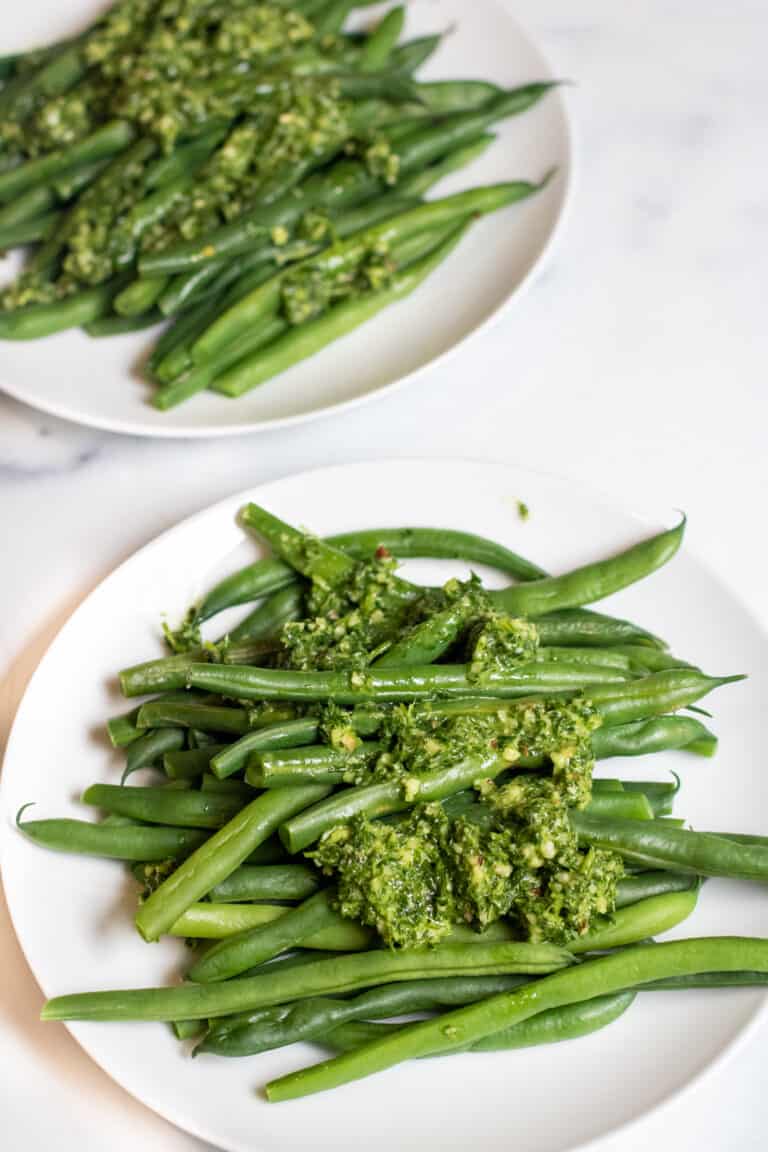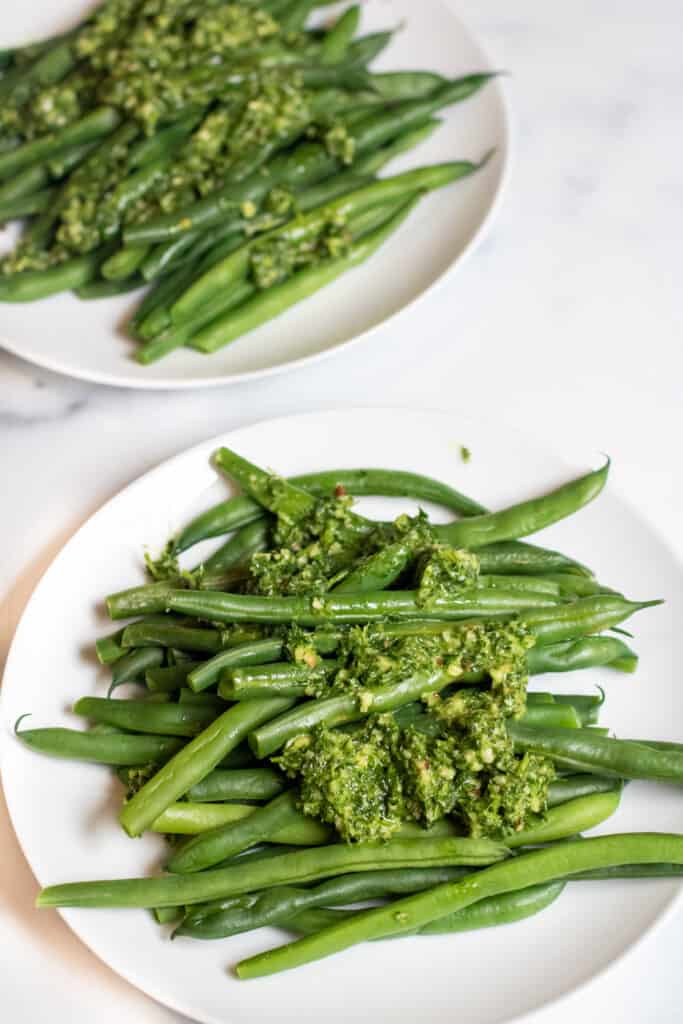 Step 3: Take those perfectly blanched green beans and top them with some of the pesto.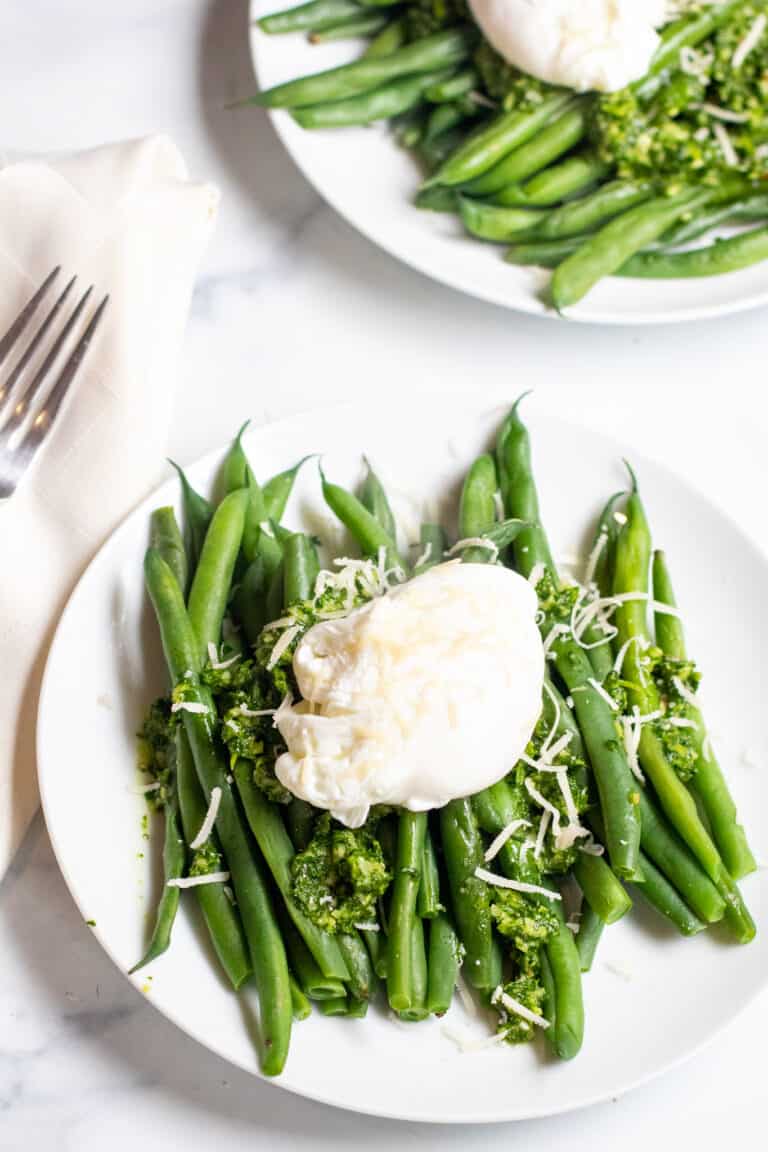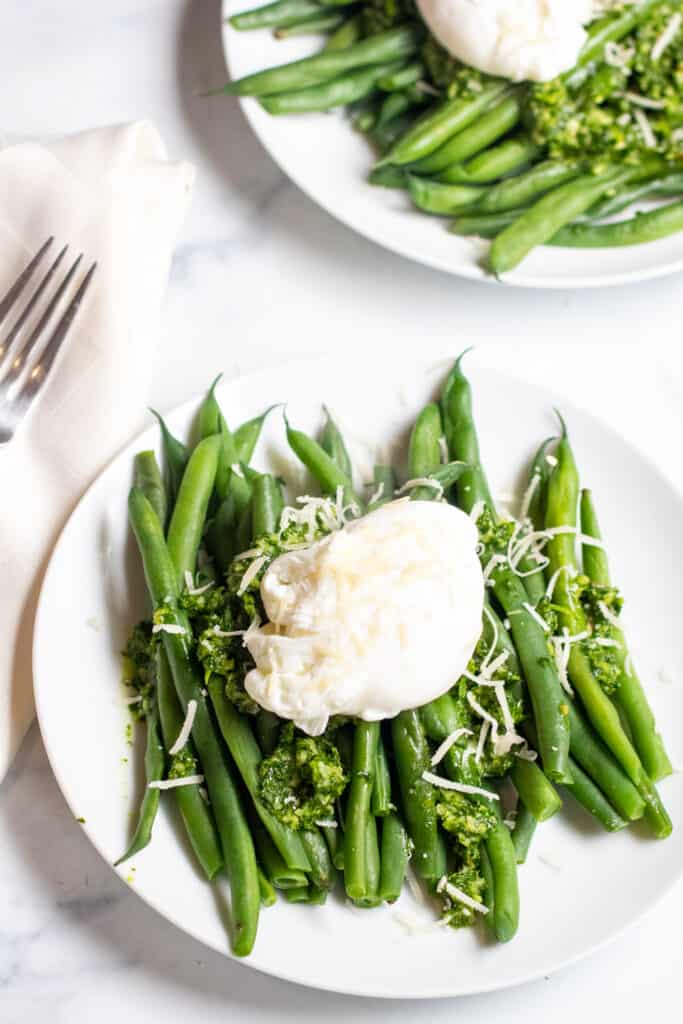 Step 4: Poach an egg and top it on your green beans.
There is so much about poaching eggs. I am the worst at it and always have my husband do it. Check out our Sausage Hash n' Eggs to learn more about our thoughts and techniques about poaching eggs.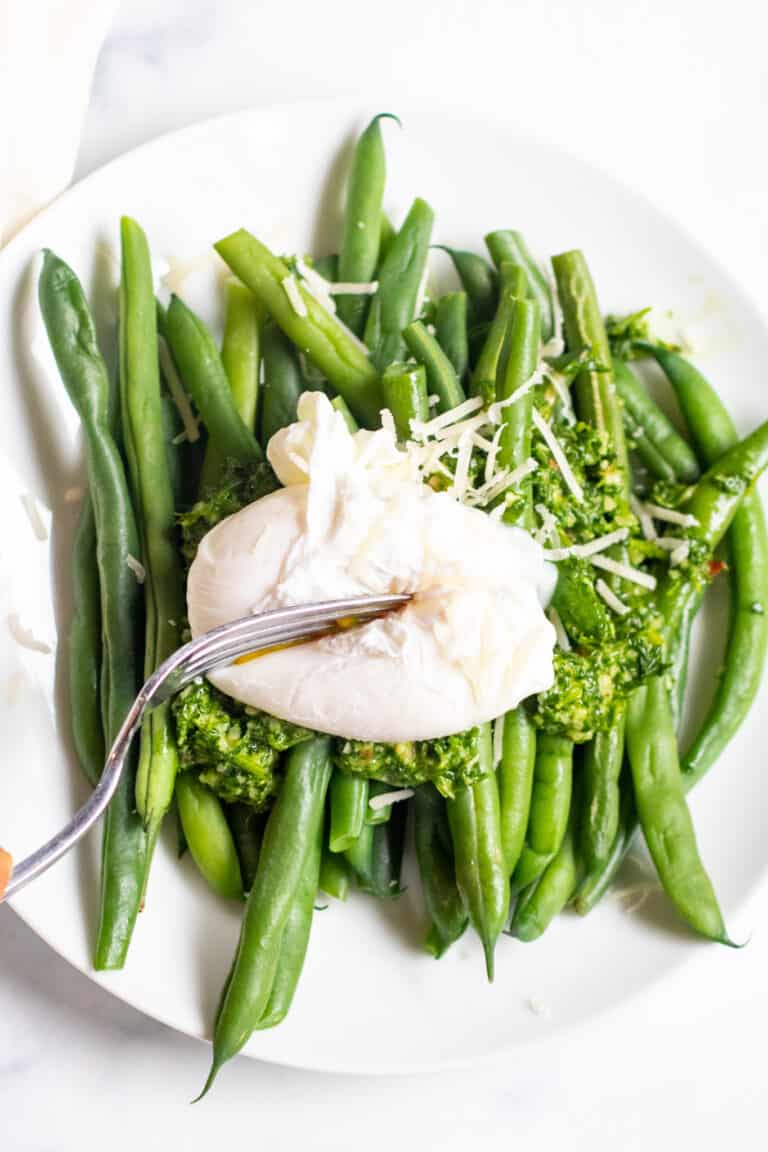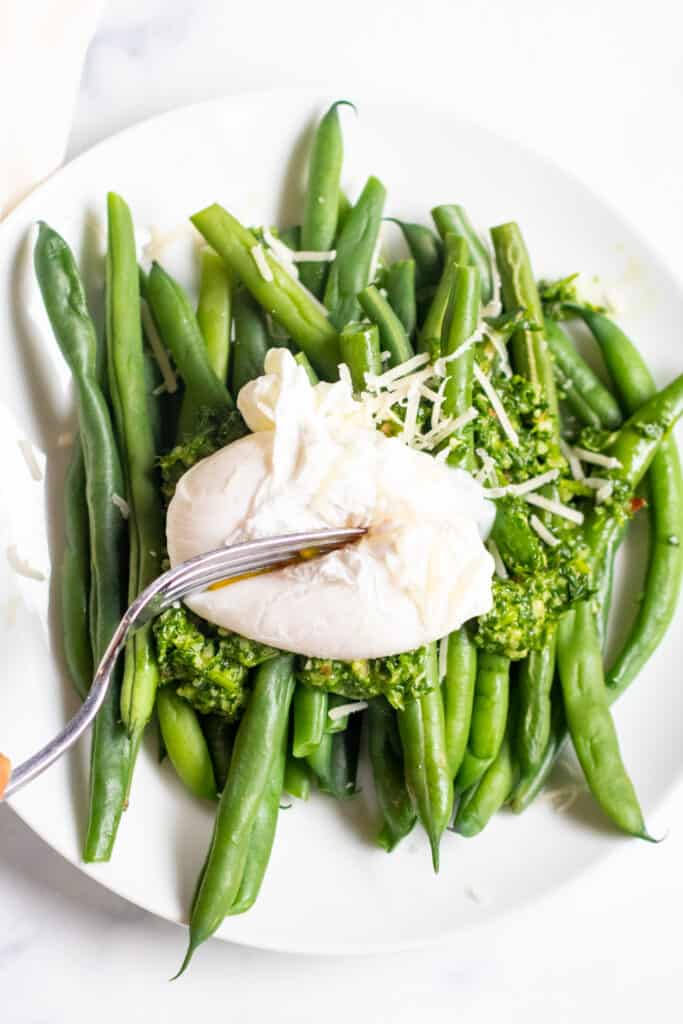 But once you have your delightfully poached egg, top that beauty on your eggs...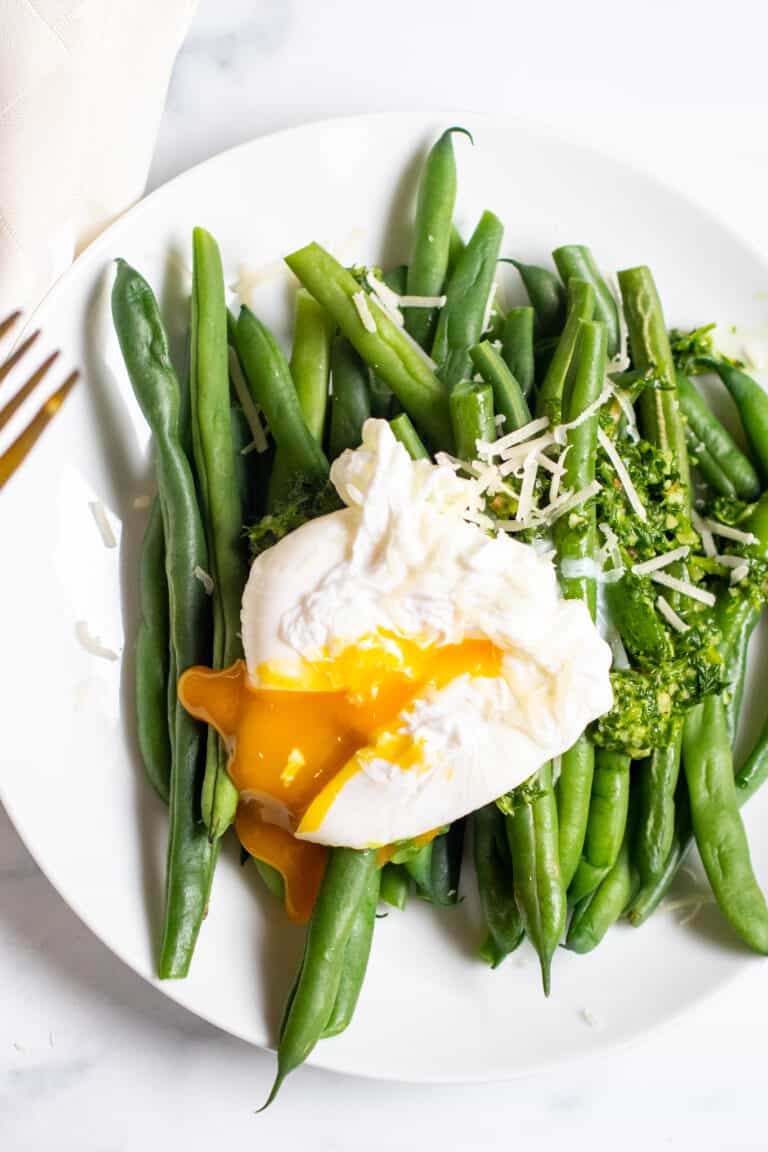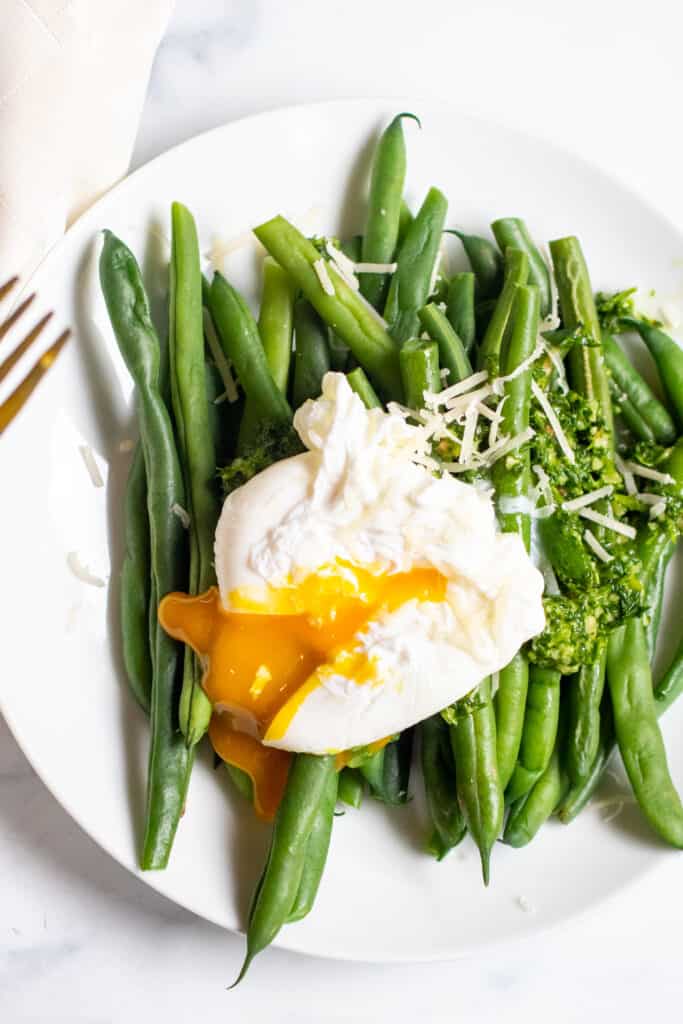 ...and your meal is served!
It's the perfect easy, healthy, gluten-free meal. We absolutely love this dish and it's one of my husband's favorites.
Our Other Favorite Healthy Egg Dishes
Enjoy! As always, if you make this recipe or any of my others, I love to hear what you think! Leave a comment below, email me, or you can find me on Facebook, Instagram, and Pinterest!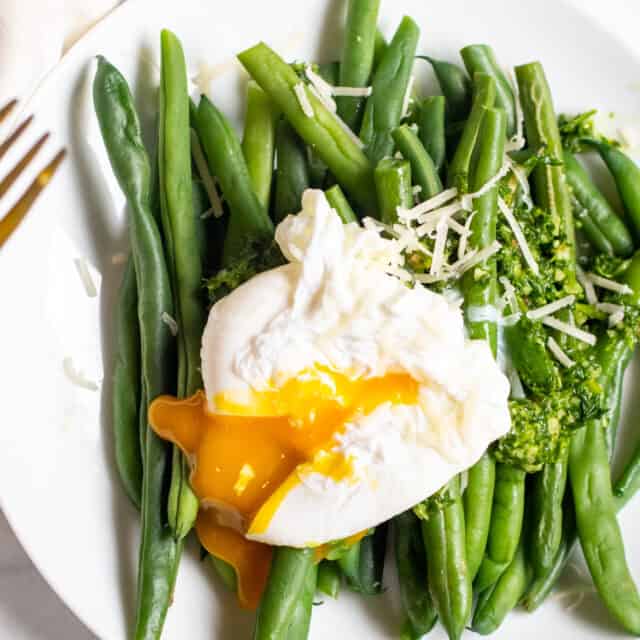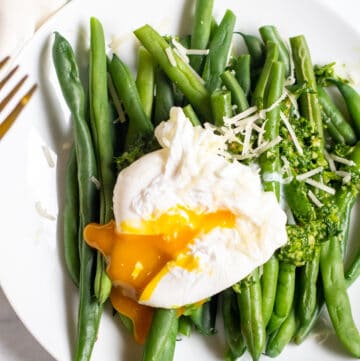 Parsley Pesto Green Beans and Egg
These Parsley Pesto Green Beans make a delicious meal that's gluten free, vegetarian, easy to prepare and different than your normal egg dish!

Print
Pin
Rate
Ingredients
1

lb

Fresh green beans - a handful or 12-15 beans

2

eggs

Parmesan cheese

splash

white vinegar
Parsley Pesto
1

cup

fresh parsley

packed

2

small garlic cloves

2

tablespoons

extra virgin olive oil

1

tablespoon

parmesan cheese

1

tablespoon

sliced almonds

or pine nuts, hazelnuts, walnuts

1

teaspoon

lemon juice

1/4

teaspoon

salt

1

tablespoon

water
Instructions
Add parsley, garlic, almonds, parm, lemon juice, salt, water, and oil to a mini prep processor and blend (or double and make in normal food processor to store and use later). Add additional oil if looser consistency is desired.

Clean and trim beans and blanch for 2-3 minutes. Remove from pot with tongs, shaking excess water off and put on a plate.

Stir the same pot of hot water and add splash of white vinegar. When water has returned to a boil, stir water again and add egg in the middle of the spinning water (it will help prevent the white from 'feathering' out) and remove from heat. Cover and let sit for 4- 5 minutes.

Add pesto to beans and mix so the beans are all coated. Add more shredded parm cheese if desired.

When eggs are done, gently place on top of beans and enjoy!
Nutrition
Calories:
325
kcal
|
Carbohydrates:
21
g
|
Protein:
13
g
|
Fat:
23
g
|
Saturated Fat:
4
g
|
Trans Fat:
1
g
|
Cholesterol:
165
mg
|
Sodium:
425
mg
|
Potassium:
775
mg
|
Fiber:
8
g
|
Sugar:
8
g
|
Vitamin A:
4350
IU
|
Vitamin C:
69
mg
|
Calcium:
205
mg
|
Iron:
5
mg