Do you love fennel but never know what to do with the fronds? No problem! Don't let it go to waste, make them into Fennel Frond Pesto!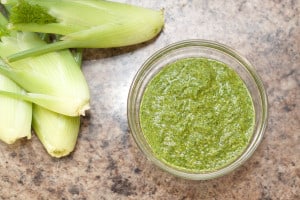 I might have planted a TON of fennel this year. And by a ton, I mean about 12 plants. I love fennel. However, it also means that my garden beds are exploding with not just the little growing fennel bulbs, but also their huge fronds (greens). It's a little out of control. My husband says our garden beds look like they have afros. "Delicious sweet anise afros!" Was my response. So since I'd never grown fennel before, I wasn't 100% sure when to harvest them. I totally thought they were a root veggie and that most of the bulb was actually underground, but in harvesting these guys, I quickly realized that my little fennel bulbs were definitely not ready. But I still had the beautiful fronds that had that wonderful fennel anise aroma.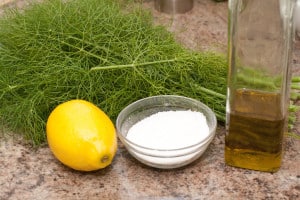 The best part of pesto? You can pretty much make it out of any greens! Basil, of course, but also parsley, and in my case, the gazillion fennel fronds I have in my garden!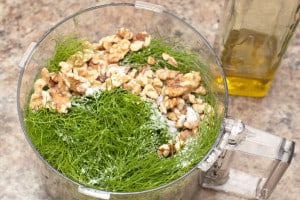 The second best thing about pesto? It's so easy. Just toss your greens, a toasted nut (pine nuts is a standard, but I've used almonds, hazelnuts, and in this case, walnuts because it's all we had on hand), fresh lemon juice, salt, and olive oil.
Blended up until it's the consistency you want. Want an oily-er, loose pesto? Add more oil! Want a more concentrated pesto? Less oil. Totally customize-able.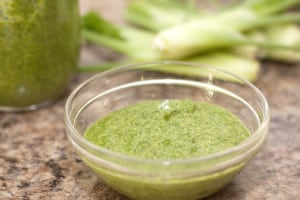 I just love this pesto. It has a wonderful sweet anise flavor to it! Mix it with some simple pasta, as a condiment on a sandwich, or use it on some green beans and poached egg. Hooray for not letting these big gorgeous fronds go to waste!
Pesto also freezes beautifully! When I make a lot, I use an Ice Tray and fill each tray with some pesto, top it with a touch more olive oil, cover with plastic wrap and then freeze. When they're set, pop the little cubes out, store them in little baggies, and you can have fresh From Scratch Pesto on hand anytime you want!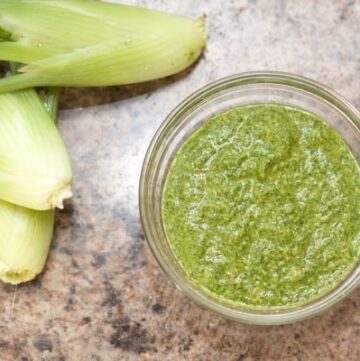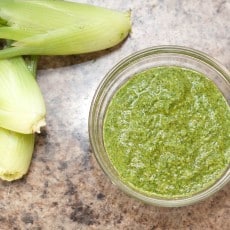 Ingredients
1

bunch of fennel fronds

Juice of 1 lemon

1

tsp

of salt

1/4

cup

of olive oil

3/4

cup

toasted walnuts
Instructions
Toast the walnuts over medium heat stirring constantly for 3-5 minutes or until they begin to brown.

Add fennel fronds, lemon juice, salt, half of the olive oil, and nuts to a food processor and blend. Stop and scrape down sides. Continue blending and slowly add remaining olive oil until desired consistency is reached.

Store in an airtight container in fridge and add to pasta, sandwiches, or anywhere else you'd use a normal pesto!