Four Ingredients and a little time and love is all your need to make your own Gnocchi From Scratch!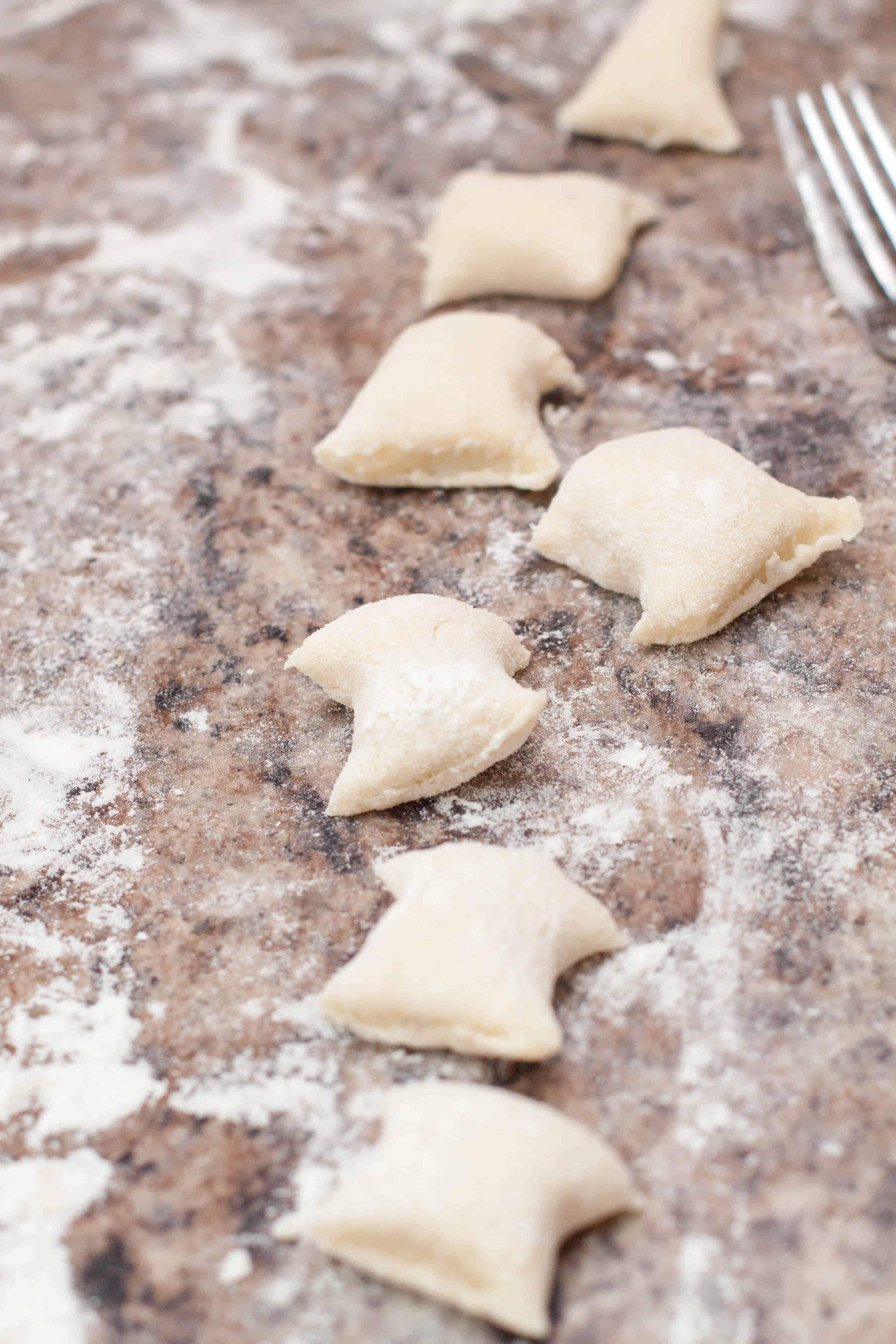 Ok, I have an embarrassing confession to make: I had no idea what gnocchi was until I was 24 years old. I know. I missed out on a whole 24 years of gnocchi! It's a tragedy. But before you go feeling too badly for me, I discovered gnocchi in a tiny town in the NW Piedmont region of Italy where I was living. I had taken a little sabbatical from the real world and decided to go volunteer with the organization W.W.O.O.F (World Wide Opportunities on Organic Farms) and explore my love for all things Italian and especially Italian wine. One of the 6 farms I lived on while there was Cascina Piola in Capriglio.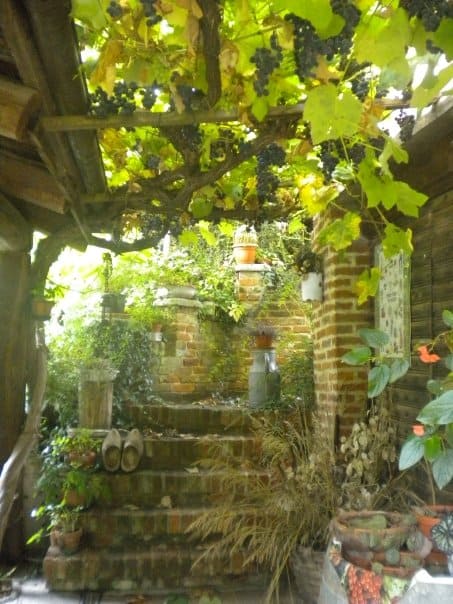 I lived with another volunteer, an Israeli woman Mika, who was also taking a little life sabbatical from her graphic design job in Tel Aviv. One of the first nights there we went on a bike ride through town and came across a bulletin board that advertised the Capriglio Gnocchi Festival. Mika then lost her mind in excitement and I responded with a, "What's gnocchi?"
She then lost her mind again and exclaimed, "OH MY GOD! LITTLE PUFFS OF POTATO BLISS FROM HEAVEN!!"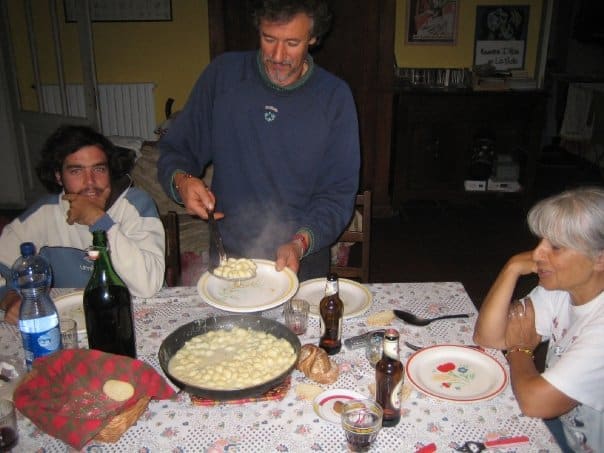 We didn't end up going to the festival in town, but we did have our own little gnocchi festival at the farm. These little guys were cooked in butter and gorgonzola cheese and my life was forever changed for the better. From that moment on, I knew I didn't want to live a life without gnocchi.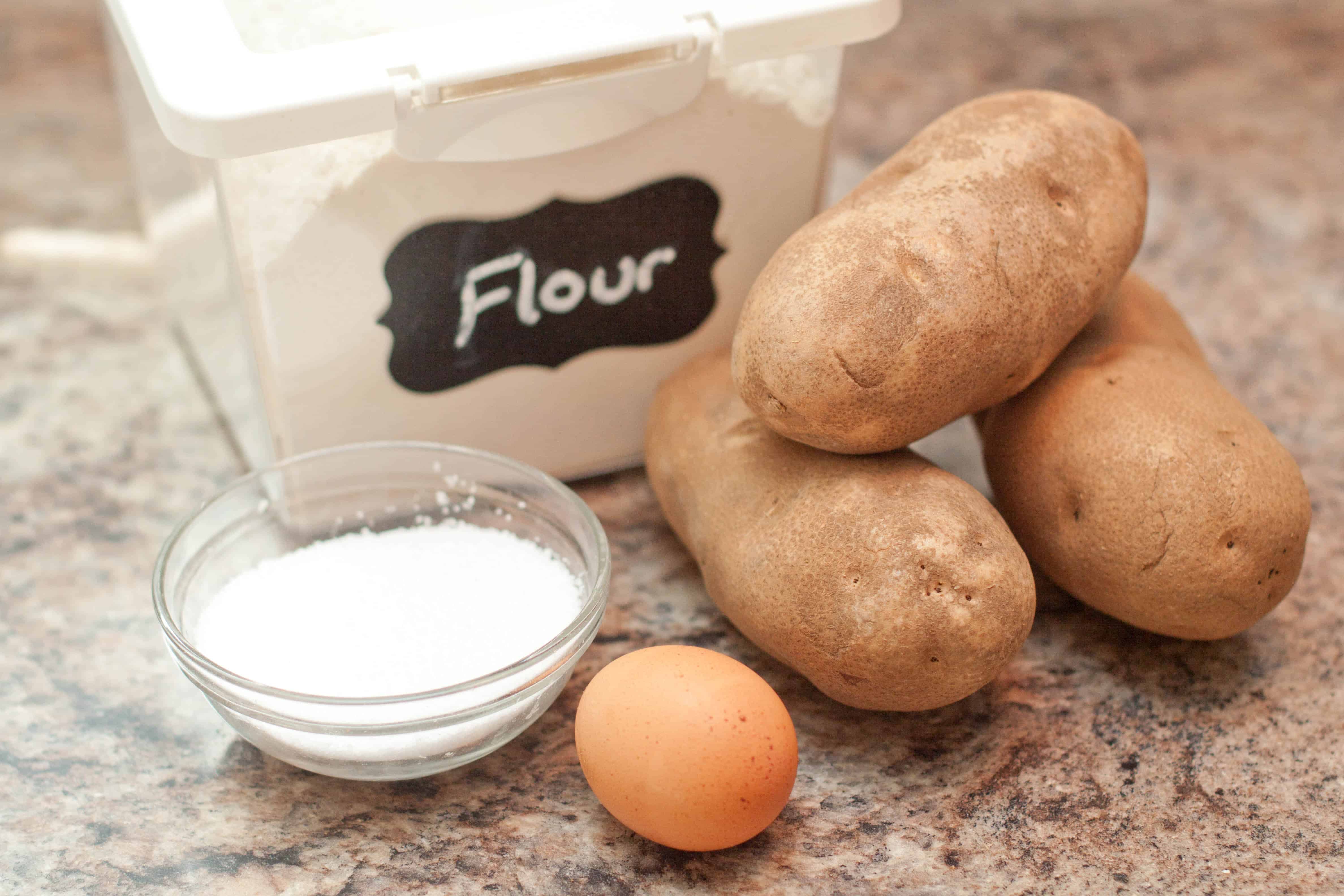 Flash forward about 7 (eek!) years, and gnocchi is now one of my favorite things to make. Mainly because they are as amazingly simple as they are delicious. It's taken me so long to share a recipe on this blog because, well, I didn't have one. I just winged it every time going by feel and texture of the dough. But now I've finally nailed down a recipe that I love and am ready to share! Best part about it- it's only 4 ingredients and all things that we always have in the house.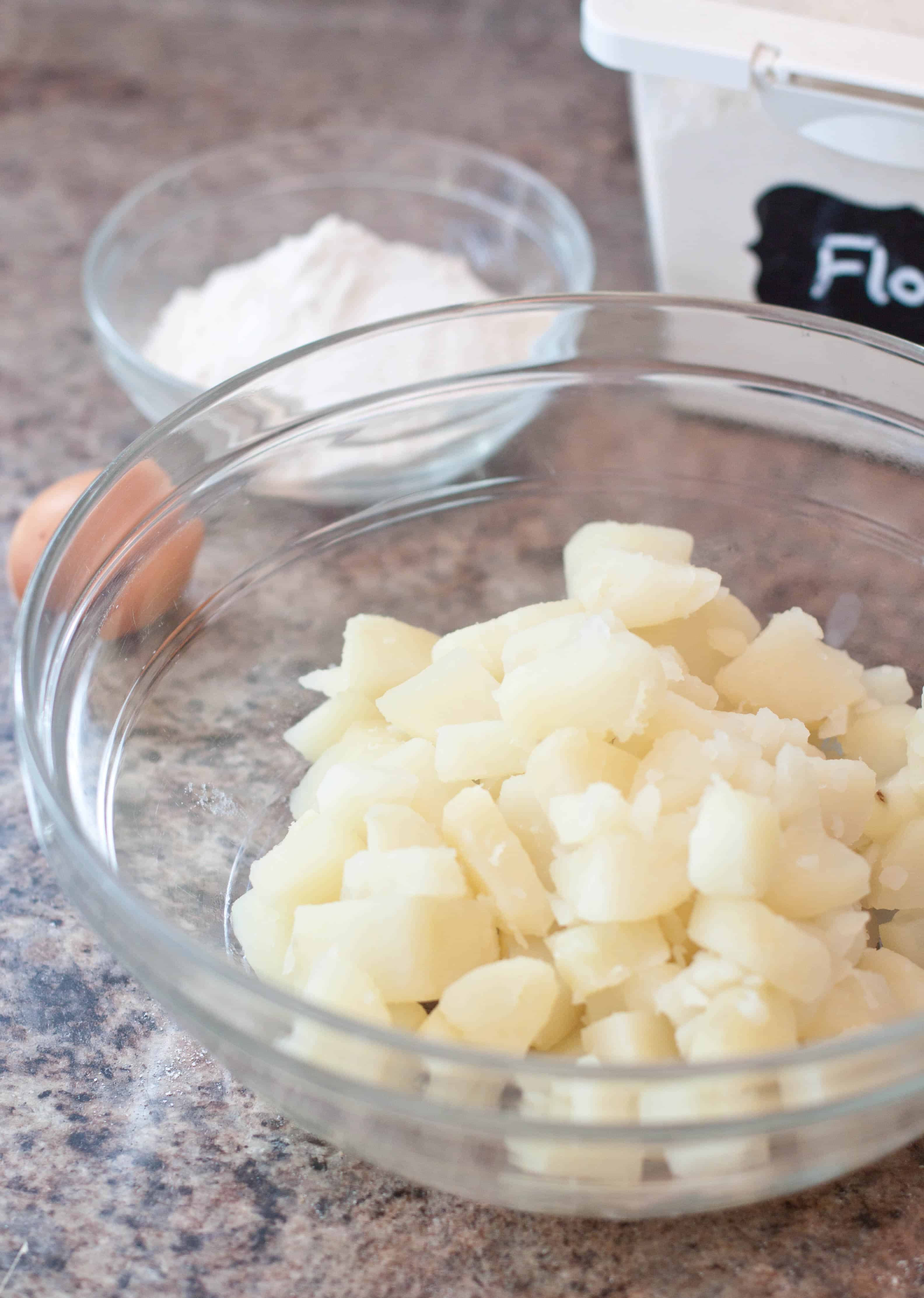 First, it's just a peel and a boil of the potatoes until they're really well done and mash-able. Let them cool completely though,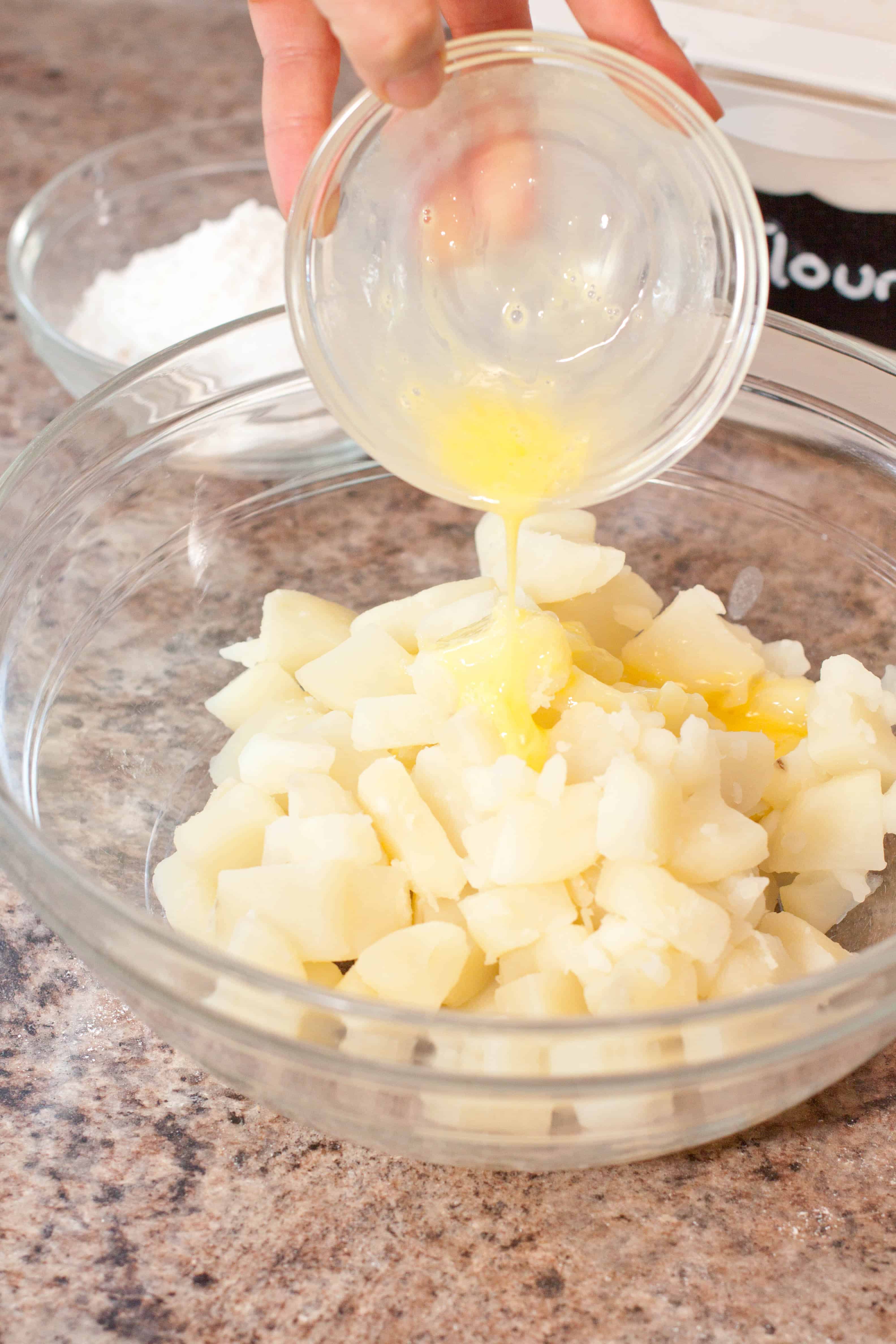 because when you add the egg you don't want it to cook.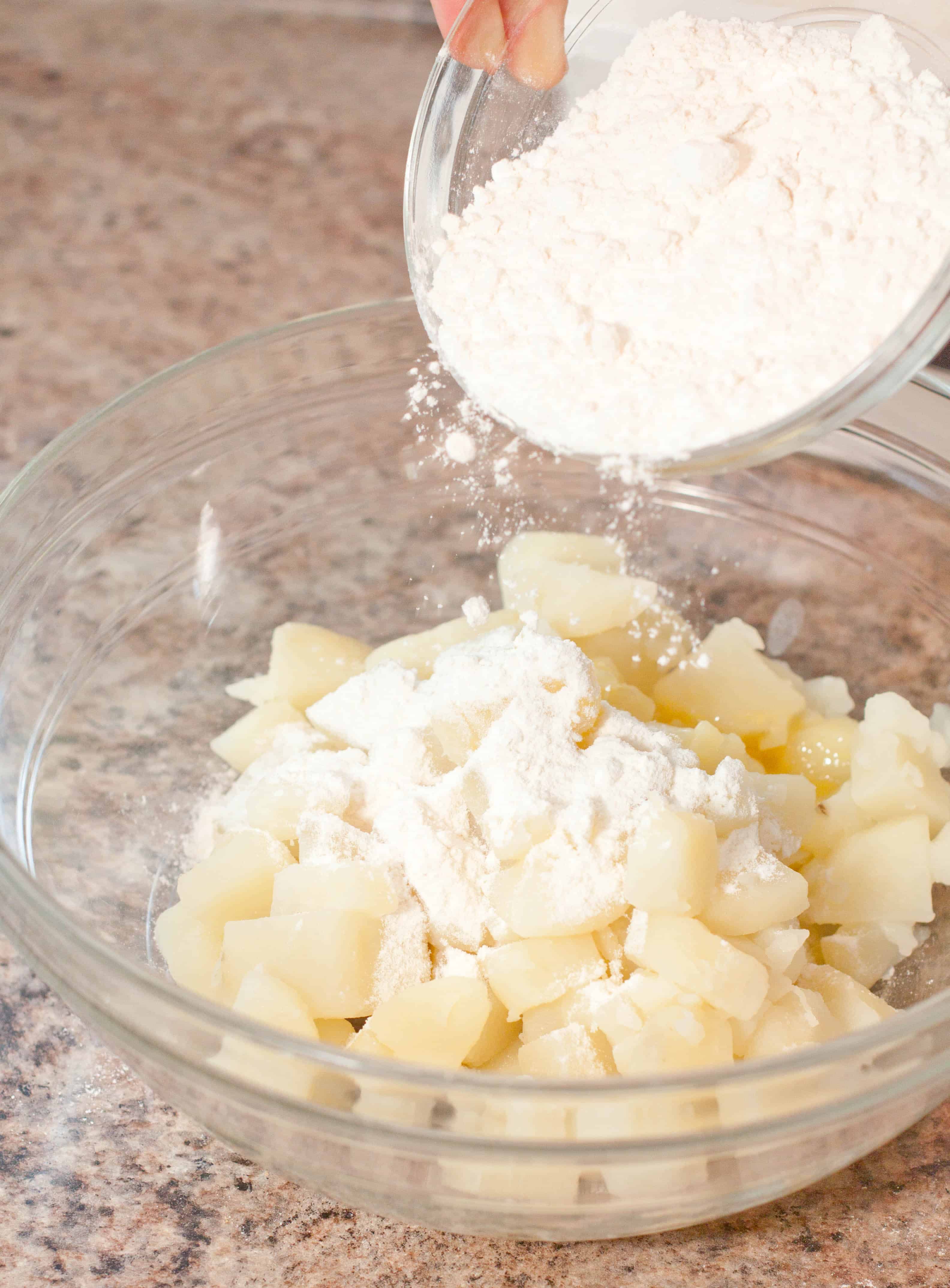 Then add your salt and then the flour. I usually add about 3/4 of the cup first,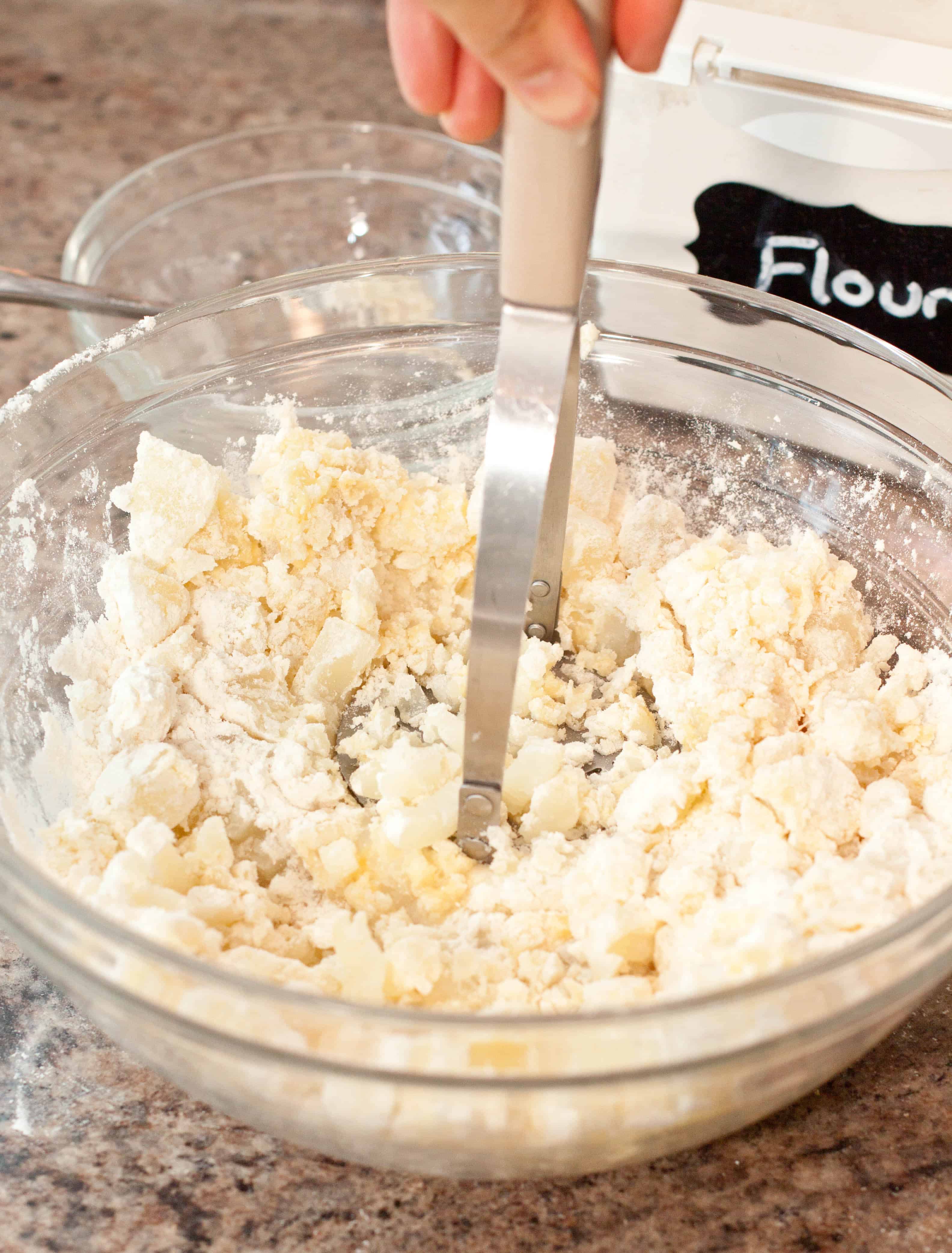 then mash the egg and flour in with the potatoes being sure to mash the potatoes really well so they're nice and smooth.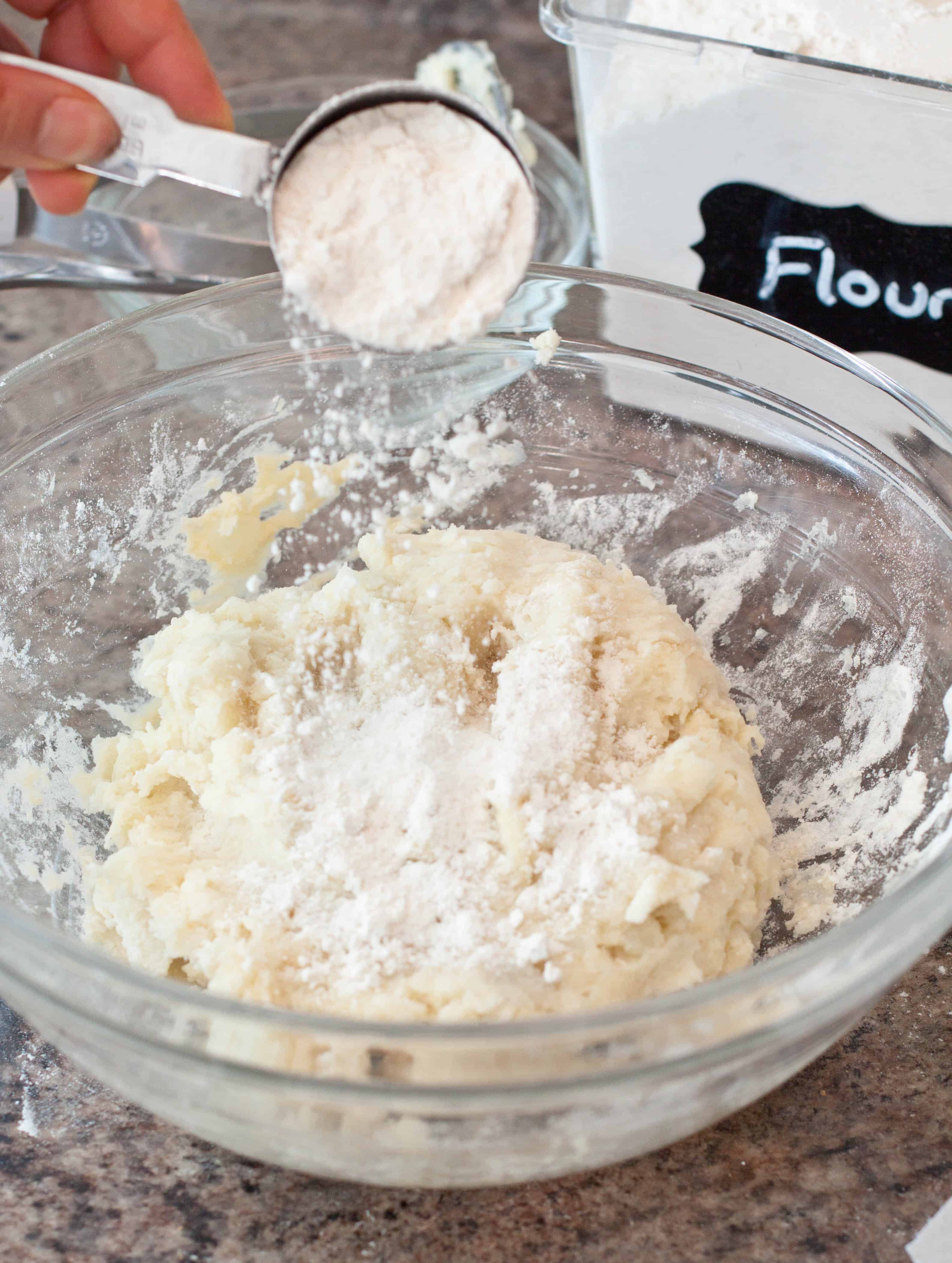 Once it's all comes together it'll still be pretty sticky so that's when I add the remaining 1/4 cup + of flour. Sometimes it'll still take a little more flour. You're looking for a 'dough' but one that's still a tad sticky.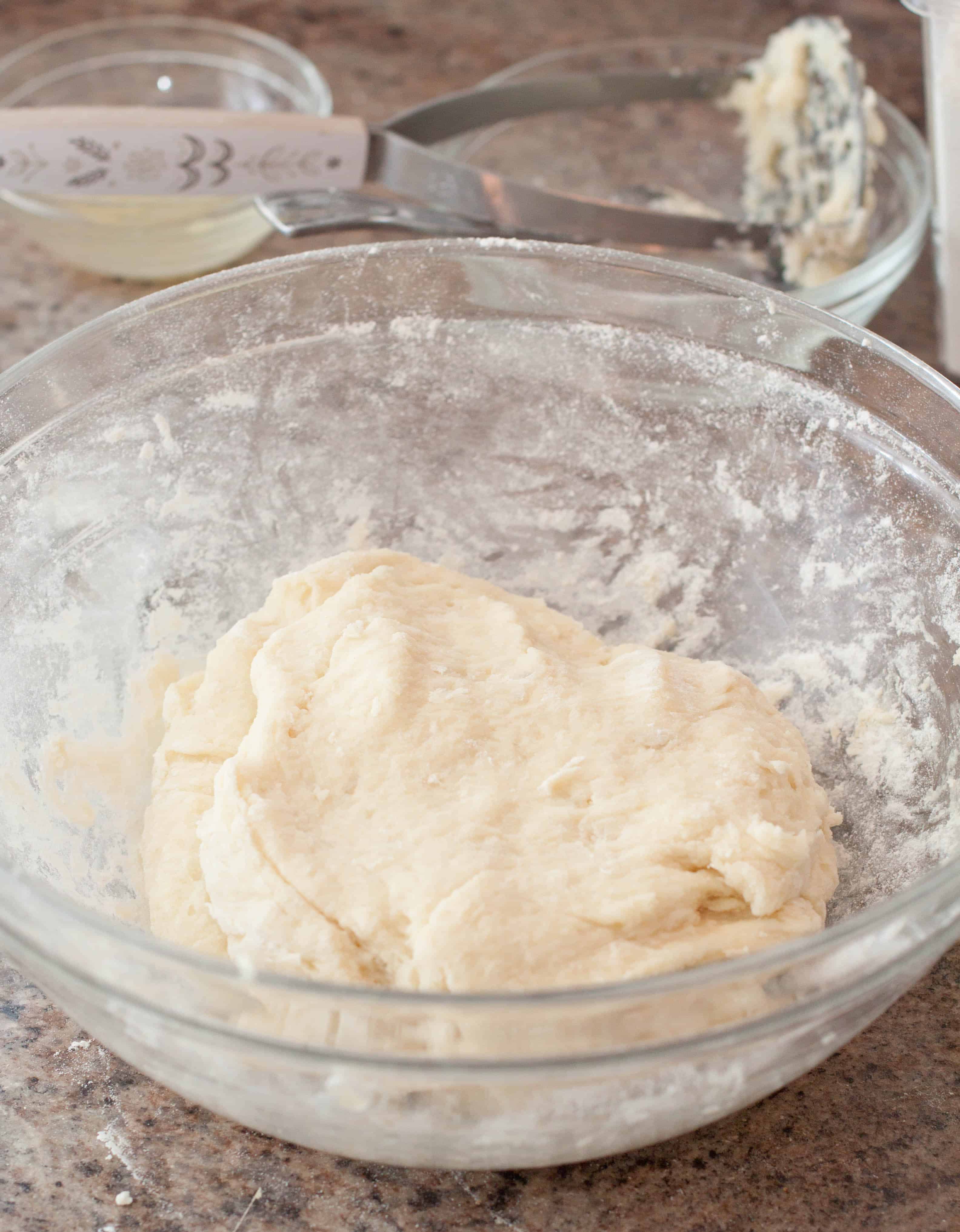 It'll be soft (and shouldn't be clumpy at all), but again just a little sticky. You don't want to make the dough too dense with flour because that'll make your gnocchi more dumpling-like rather than little-puffs-of-potato-bliss-from-heaven-like.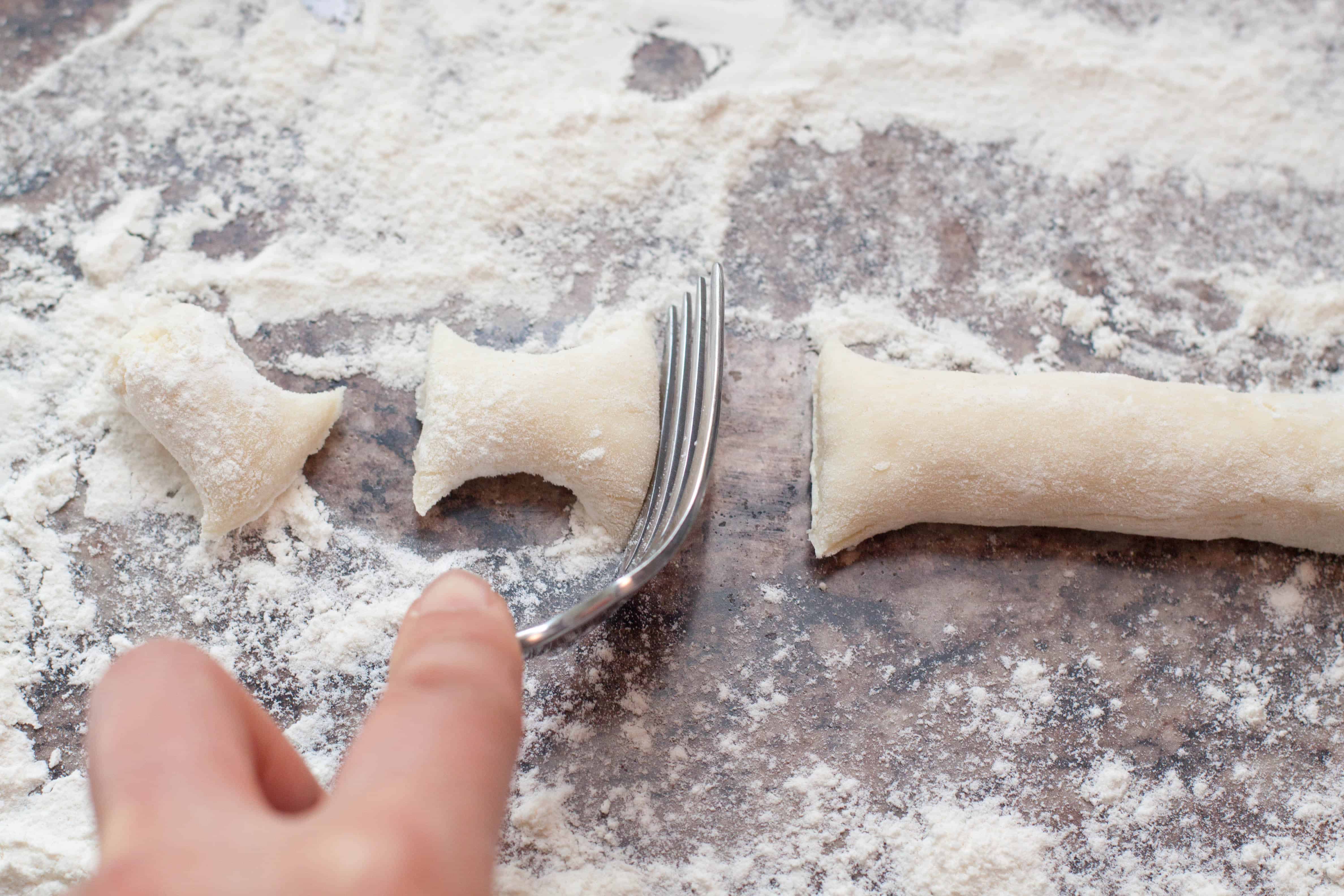 Once you have your dough, you can take a small ball at a time and roll it into a long long about 3/4 to 1 inch thick. You'll need lots of flour for this because the dough should be a little sticky still. Then, using a flour fork, you can cut off your little gnocchi bites!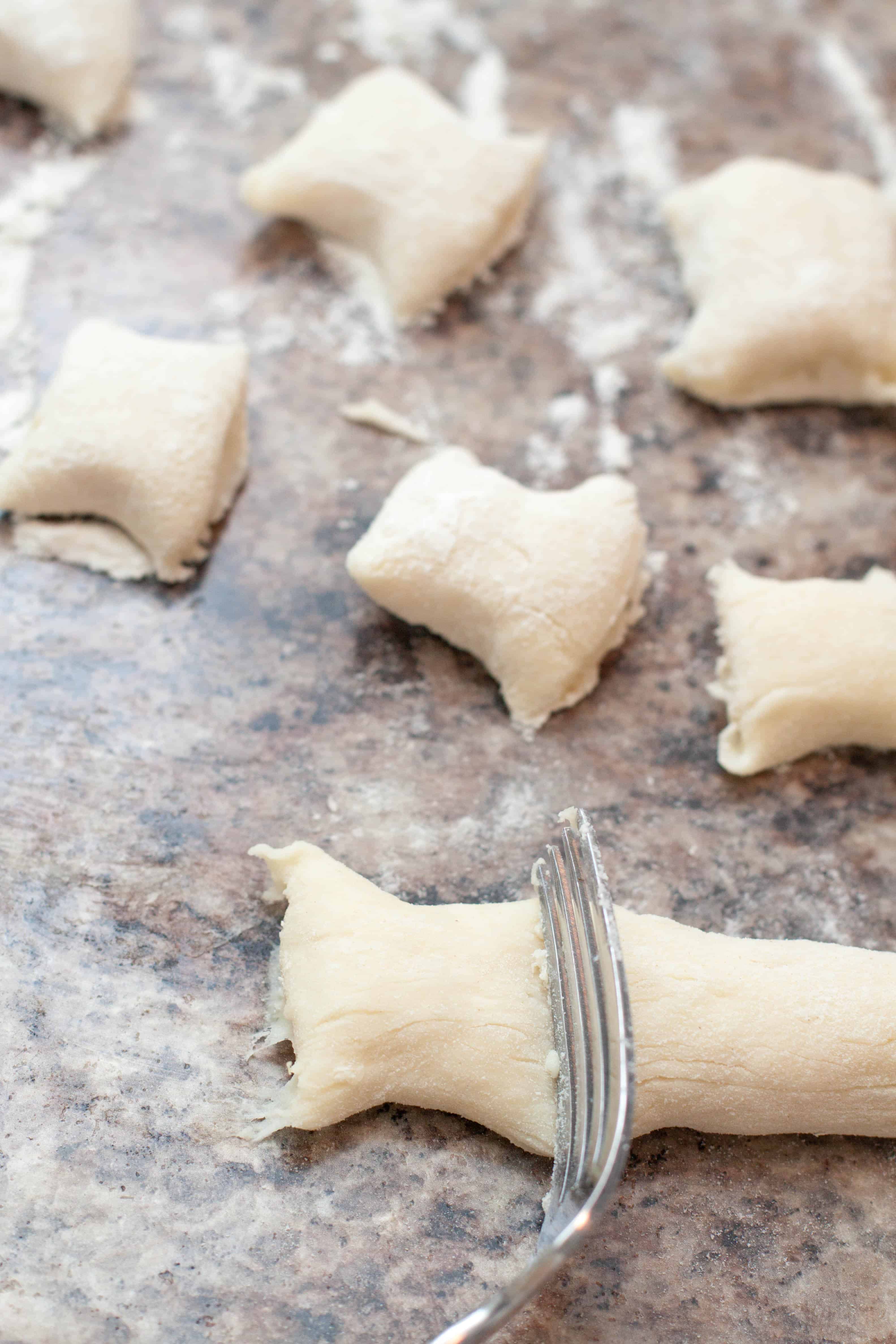 So these gnocchi don't necessarily look exactly like those that you can buy pre-made in the store. If you want that more round ridged look there are gnocchi boards out there to roll the little potato puffs on to get the ridges. In my opinion though... $16 for the ridges is not worth it. A fork works just fine!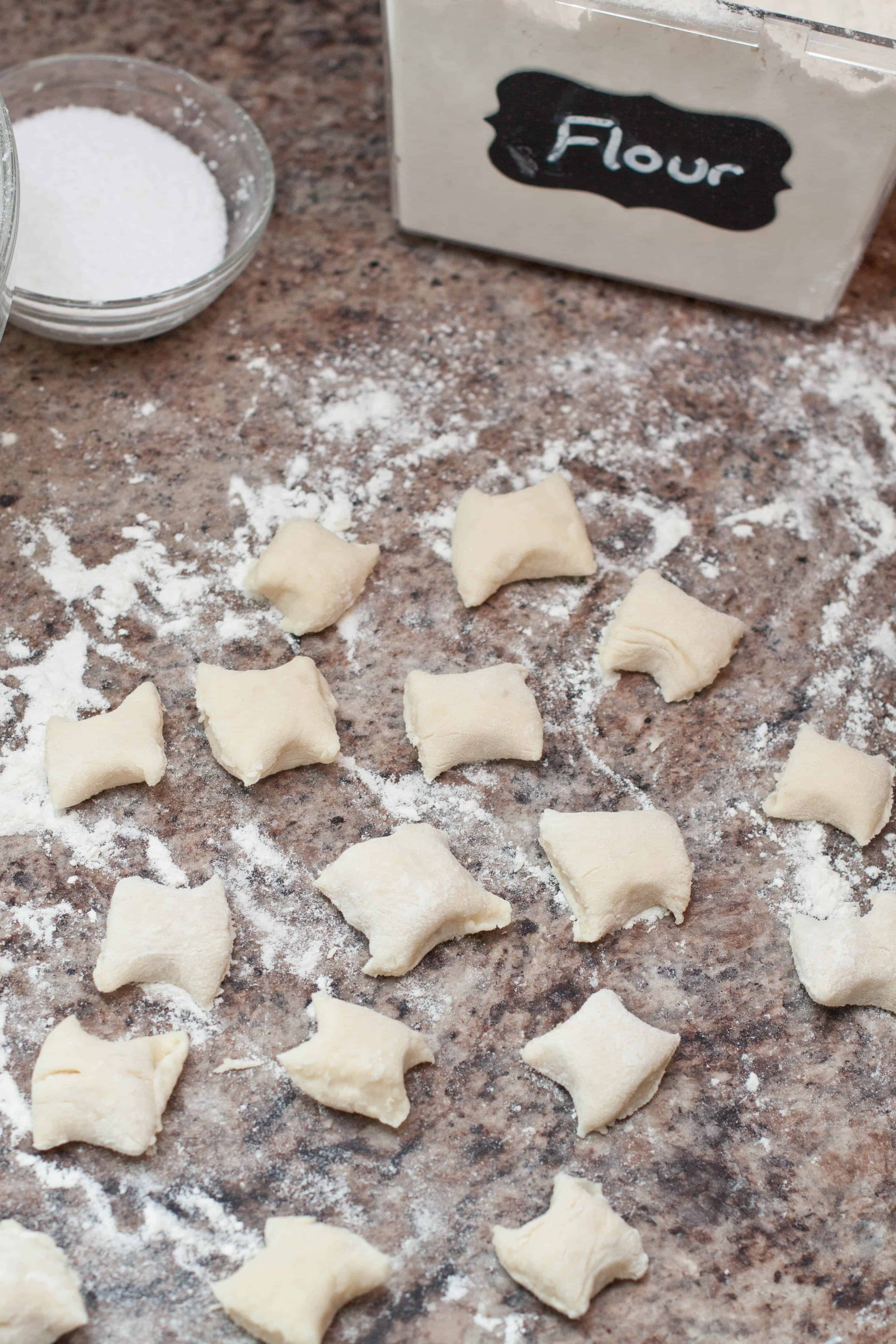 And they're still super cute!

Mine aren't that round shape that you'd get with the added ridging, but again, bah. Why add another step between you and gnocchi eating?!
These guys are ready to be cooked as is or they can be put on a (well floured) baking sheet and frozen until you're ready to cook them! To cook, just bring a large pot of salted water to a boil, add about 8-10 gnocchi in at a time and let them cook for about 60-90 seconds (usually 90 if they're coming straight from the freezer). I usually add them to a hot saute pan too with whatever sauce I'm making for them, so I do a little less on the pot cooking because they'll keep cooking in the pan.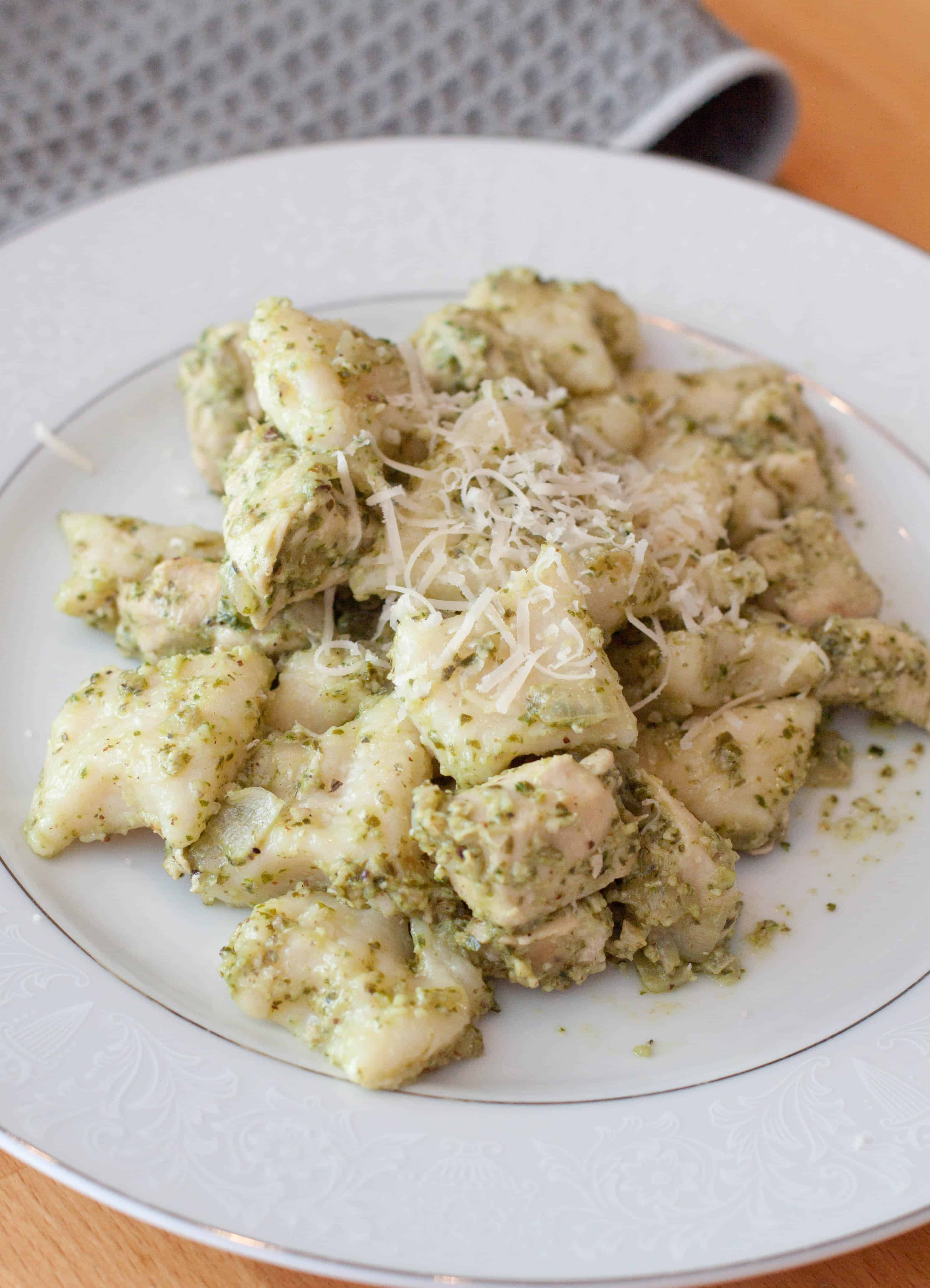 This particular batch made it into a pan with some sauteed garlic, chicken, and homemade basil pesto. I'd share the that recipe, but, like my gnocchi recipe, my basil pesto recipe is one I still haven't written down... It changes every time I make it - one of these days I'll get it down! In the meantime, you could always make some Fennel Frond Pesto! Oooh that would be soo tasty with gnocchi, too! Whatever you mix them with, trust me, you need some homemade puffs of potato bliss from heaven in your life!
Happy Gnocchi making! 😀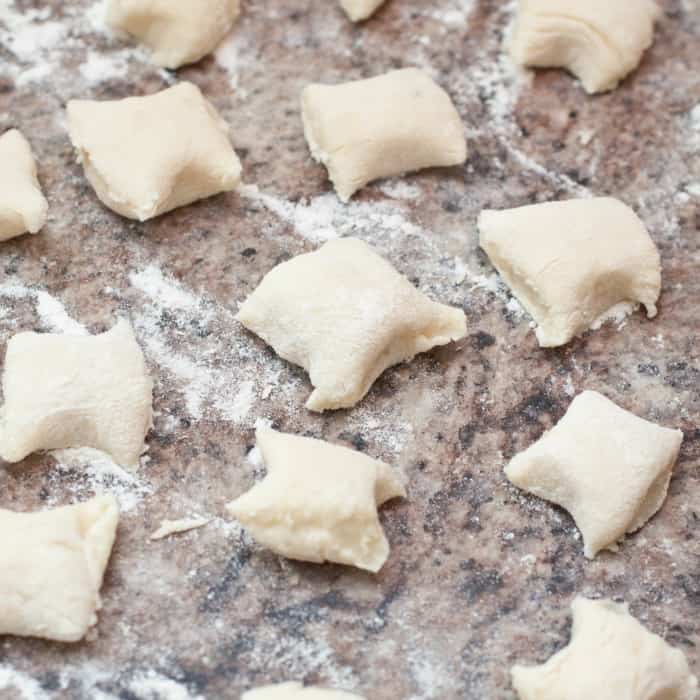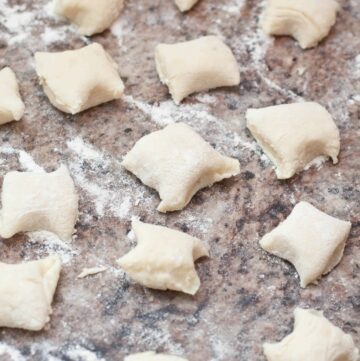 Ingredients
2

lbs

of russet potatoes

1

large egg

1

teaspoon

of kosher salt

3/4

cup

+ 1/4 cup

possibly another 1/4 cup of flour + more for dusting
Instructions
Peel russet potatoes, cut into about 1 inch pieces and cook in boiling water for 10-15 minutes until they are very soft with the touch of a fork.

Drain potatoes in a colander and let them completely cool while they drain all the excess liquid. This is important so that they egg does not cook when it is added.

When cool, transfer to a large bowl and add the salt, egg, and 3/4 cup of the flour and mash it all together until the potatoes are smooth and there are no chunks.

Add the additional 1/4 cup and with your hands mix until a dough forms. It should be a soft dough but still a little bit sticky. Add more flour a little bit at a time if the dough completely sticks to your hands while you knead.

Flour a surface suitable for rolling and cutting gnocchi and take a palm sized ball from the dough and roll it into a long 1 inch log.

With a floured fork, cut 1 - 1 1/4 inch long pieces off of the log and place them on a well floured baking sheet.

Repeat for the rest of the dough. The dough will become stickier as you near the end of it, just add a little flour as needed to make it workable to roll into a log.

Cook immediately or store in freezer. Gnocchi can be frozen for up to 4-6 weeks*

To cook, bring a large pot of salted water to a boil. Add 8-10 gnocchi at a time and cook for 60 seconds or until they rise to the top. If adding sauce to cooked gnocchi, cook for another 30-60 seconds, but if adding to saute pan, remove after the 60 seconds or float with a slotted spoon.
Notes
*To freeze, place baking sheet with gnocchi on them for at least an hour. After an hour gnocchi can be transferred to zip lock bags.