So, I call this Vegan 2 Mushroom / 3 stores Tapenade. It's made of two different mushrooms, but it took me 3 stores to get everything (for the meal) I needed. Since moving to our new neighborhood, we've been going through grocery store withdrawal. Before, we had our big grocery store that had everything, we knew where to find it all, and was close. Then, just 2 blocks down the road we had a wonderful little local shop that we could get specialty products or that last minute thing we forgot when we were at the bigger store. In our new house we have a couple of big stores nearby, but they aren't that great... I went to the closest store, a Safeway, with the plan that I just didn't want to go far and figured I could get everything I needed there, instead of fighting the terrible parking at the larger store that was a tad farther away... My first mistake. I couldn't find shiitake mushrooms, snow peas, or quinoa there.
I found everything else though, olives, cremini mushrooms, garlic, capers, parsley, white wine, and thyme. So that was ok, I knew there was a cute little local market, Green Zebra, a little farther away that I would definitely have what I needed (I was also making a vegan curry dish over quinoa that I needed snow peas for).
There, I found these gorgeous shiitake mushrooms grown locally. I also found some beautiful quinoa. What did I not find? Snow peas. And because it's such an adorable local community store, the produce guy was right there ready to answer my question, "where are your snow peas?" His answer was that he's never been able to sell them, so they don't have any... Omg. So, despite my efforts to stay away from this one store that I knew had everything I needed... I ended up there anyway. JUST for snow peas. >facepalm<

Once I finished my super long shopping mission, I was ready to get everything ready for dinner with our favorite vegans, Charles and Alicia. First course, this mushroom tapenade. Which just needed a chop of garlic and thyme,
then a saute of mushrooms with garlic and wine.

Once the mushrooms were done and cooled, I tossed them into the food processor with the olives, parsley, capers, and olive oil.
Blended until mixed well but not too smooth.
and we had a deliciously earthy, flavorful tapenade! I served it with some rice crackers. Had it not taken me soooo long shopping, I would have made some of our spelt crackers, >grumble grumble< In any case, this is a wonderfully easy and delicious appetizer for you vegan/vegetarian/gluten free guests! We devoured most of it while we waited for dinner.
My only warning, if you're planning on drinking 3 bottles of wine... have another heartier appetizer ready too. Monday morning will thank you. Just sayin'... 😉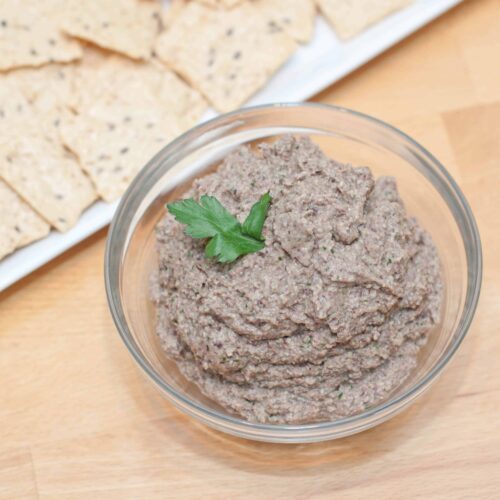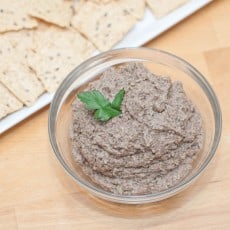 Ingredients
2

tbsp

extra-virgin olive oil

3

cloves

garlic

minced

1

tbsp

chopped fresh thyme

or 1 tsp dried

¼

tsp

each salt & pepper

3

cups

quartered cremini mushrooms

about 8 oz.

2

cups

quartered shitake mushrooms

about 3 oz.

¼

cup

dry white wine

⅓

cup

pitted oil-cured black olives

1

tbsp

drained capers

rinsed

1

tbsp

chopped fresh parsley
Instructions
In large skillet, heat half of the oil over medium-high heat; cook garlic, thyme, salt and pepper for 4 minutes, stirring often.

Add mushrooms and stir occasionally, cooking until softened, about 4 minutes.

Add wine and cook until absorbed.

Transfer to food processor. Add olives, capers, parsley, and remaining oil. Pulse until blended but still chunky.

Serve cool or at room temperature, refrigerate up to 4 days.