Make your favorite sweet and salty peanut snack at home with this recipe for your own Homemade Honey Roasted Peanuts!
Back in the day, I used to be a manager at a hotel in Vail, CO. I had a front desk agent, Hassan, who I will never forget. He used to call out to be from behind the desk back to my office, "Tray-CEE!" It used to drive me crazy, but he was so sweet and so endearing so even if I was super annoyed, when I'd see him, I'd be over it. Plus, he always had honey roasted peanuts stashed behind the desk for snacking. When I found out that he passed away, I knew the snack from scratch I had to make: Homemade Honey Roasted Peanuts, in honor of Hassan!
Ingredients Needed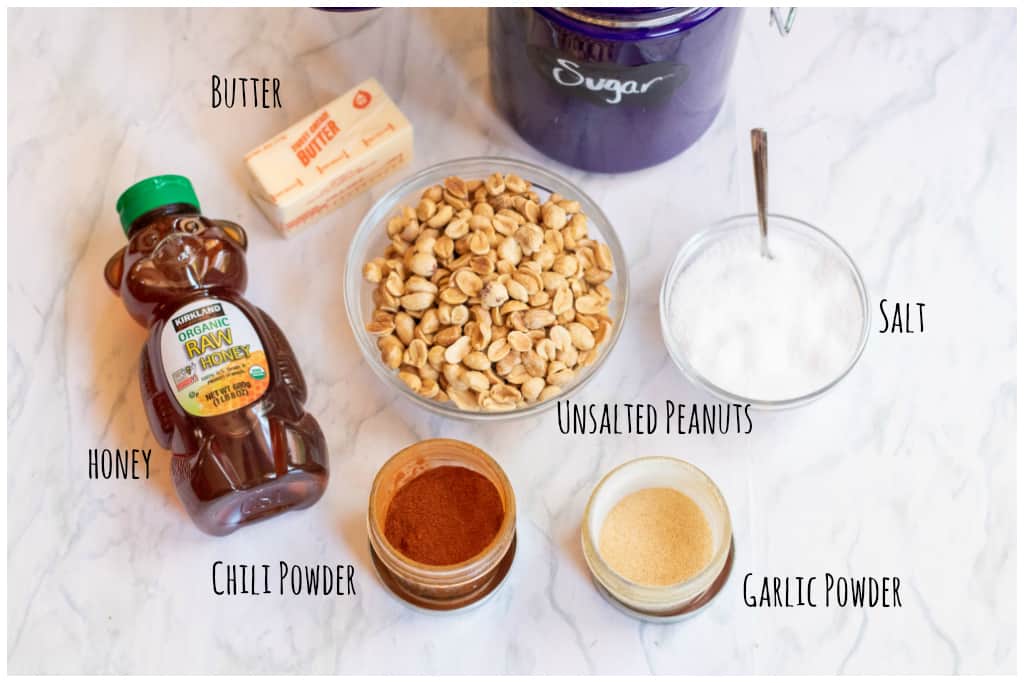 If you have the peanuts, then you most likely have everything else you need!
Unsalted Peanuts - If you use salted, then cut out the salt entirely and be sure to use unsalted butter.
Honey - Raw is always best!
Butter - Unsalted is preferred, but if you only have salted, no problem, just add a 3/4 teaspoon of salt.
Chili powder - I usually like to add a little more for more flavor, but for a more traditional honey roasted peanuts flavor, just a 1/2 teaspoon.
Sugar
Garlic powder
Step-by-Step Instructions
Step 1: Pre-heat oven to 350 degrees and then melt butter, honey, and salt in a sauce pan.
Step 2: Add peanuts and stir to combine.
Step 3: Roast the butter, honey coated peanuts.
Step 4: Meanwhile, mix sugar, chili powder, and garlic powder.
Step 5: Once the peanuts are well roasted, add the sugar mixture, and done!
The first time I made these peanuts, I let the peanuts roast a little bit longer and didn't stir them every 5 minutes so they were a little darker, which I kind of liked.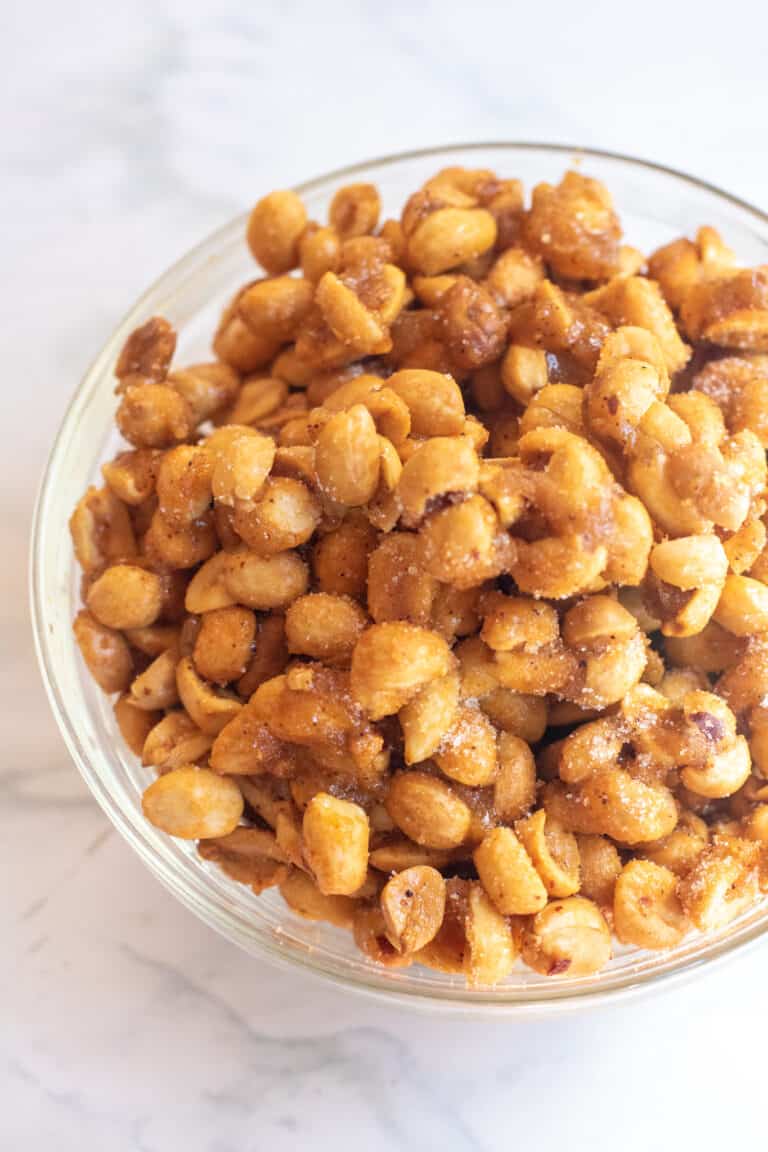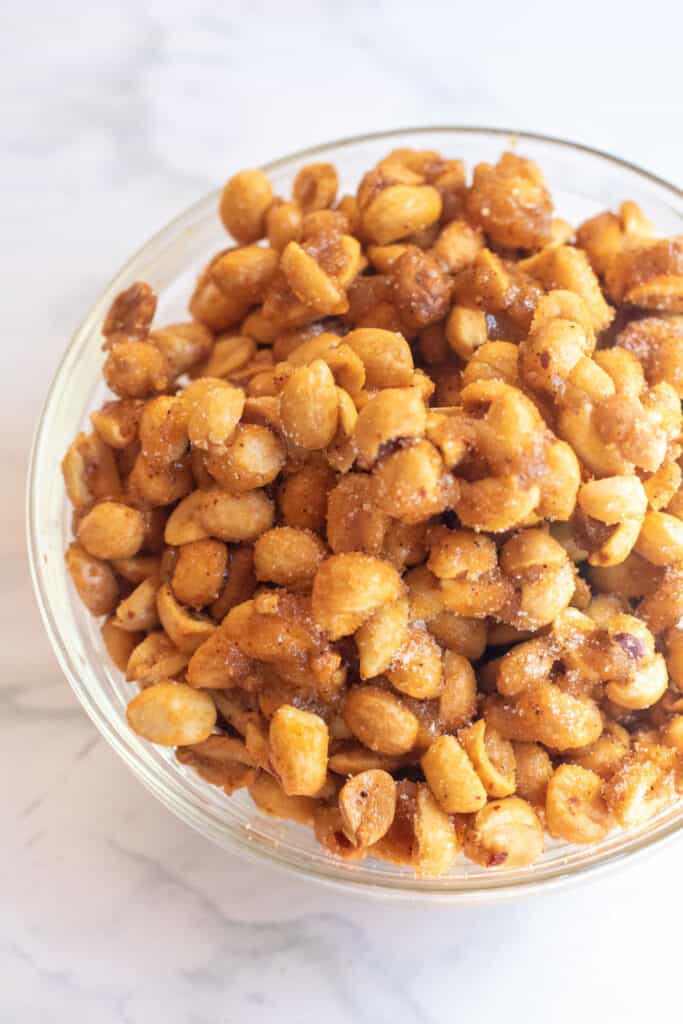 But I've made them many times since, and when I actually stir them while they are roasting, they don't get too dark.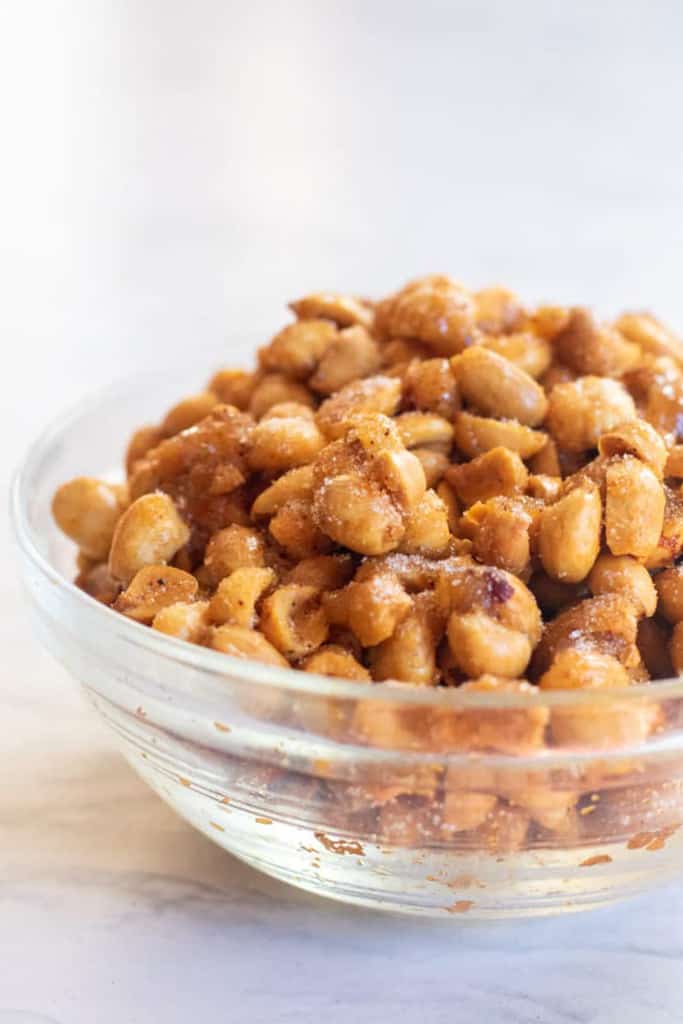 Homemade Honey Roasted Peanuts, basically candied peanuts and I mean, can you go wrong with candied anything? Hello, our Guinness Candied Bacon!
Our Other Favorite Snacks
Crispy Tater Tots From Scratch
I love these peanuts. They are SO addicting. AND so much cheaper than buying them at the store. Hassan, my frugal and peanut-loving friend would have totally approved.
Enjoy! As always, if you make this recipe or any of my others, I love to hear what you think! Leave a comment below, email me, or you can find me on Facebook, Instagram, and Pinterest!