Make your favorite sweet and salty peanut snack at home with this recipe for your own Homemade Honey Roasted Peanuts!
The other night I made a last minute run to the grocery store and as I rushed out the door I asked my husband if there was anything he needed. "Just almonds," was his response (they're a work snack for him). Ok, no problem, so I promised him I'd return with almonds. But then, when I got to the store, the bulk almond bins were empty. Both! So I went to the peanut aisle to see what they had for pre-packaged almonds, then immediately realized why we buy almonds in bulk. I was dreading having to make another stop at another store on my 'quick trip' until I saw the honey roasted peanuts, which reminded me of a former co-worker. Hassan was one of the front desk agents at the hotel I worked at who used to keep a jar of honey roasted peanuts stashed behind the desk with a tie that he'd take off everyday at the end of his day and leave with the peanuts until his next shift started. He was an ultimate ski bum living the life in CO until he passed away suddenly a few years after I left the hotel. He was such a nice guy, and when we worked together, no matter where I was, if he ever needed anything he'd call my name, "Tray-Cee!" from behind the front desk. It used to drive me nuts at the time (no pun intended), but I miss it nonetheless. So, I bought the peanuts.
And now they're Dan's snack stash at work. But then, in true "cooking from scratch" form, Dan said to me, "I wonder how easy it would be to make these ourselves…" He's so studly. And, it turns out, super easy. All it takes is some raw peanuts, butter, sugar, salt, honey, a touch of chili powder, garlic powder, and about 25 minutes.
First, a melt of the butter, honey, and salt.
Then, when the butter is nice and bubbly, I added the raw, unsalted peanuts and gave it a good mix. Once they were well coated in the buttery honey goodness, I transferred them into a 9 X 13 baking dish and in the oven at 350º.
While the peanuts roasted, I mixed the sugar, chili powder, and garlic powder.
After about 20 minutes roasting in the oven (I should have stirred them more, they got a touch browner than I would have liked), I transferred the peanuts to a metal mixing bowl and added the seasoning. Just a little at a time, then a stir, and then a little more, and another stir. Until all the peanuts were nicely coated with the sugary goodness.
Yum!
Super easy. The perfect party, or Fiesta Friday snack!
And so much cheaper than buying them at the store. Hassan, my frugal and peanut loving friend would have totally approved.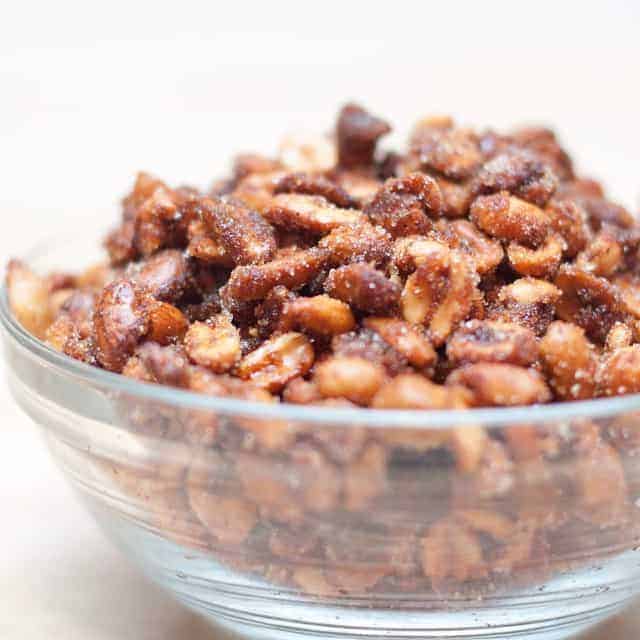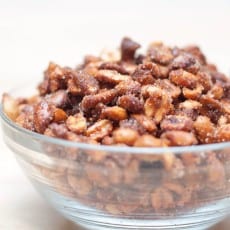 Ingredients
2

cups

of raw

unsalted peanuts

1/3

cup

of white sugar

2

tablespoons

of butter

2

tablespoons

of honey

1

teaspoon

of chili powder

1/4

teaspoon

of garlic powder

1

teaspoon

of kosher salt
Instructions
Pre-heat oven to 350º.

In a large sauce pan over medium heat, stir together the butter, honey, and salt.  Heat until butter is melted and bubbly.  Add the peanuts and stir until they are well coated.

In a 9 X 13 baking dish, add peanuts in an even layer.  Place in oven checking every 5 and stirring to prevent burning. Remove peanuts whenever they've evenly browned, about 20 minutes.

While peanuts are roasting, mix together the chili powder, garlic powder, and sugar.

When peanuts are done, remove from oven and transfer to a metal mixing bowl.  Slowly add the sugar mixture, a little bit at a time, mixing well each time.  Continue to add sugar until well coated to your liking (all the mixture may not be necessary).

Continue mixing as peanuts cool to prevent sticking.

Serve and enjoy!