What's better than bacon? Bacon candied with beer! This Guinness Candied Bacon is the perfect addition to your weekend brunch or Bloody Mary!
Ahhh bacon. (Ok, my vegans and vegetarians may want to bow out of this one) Is there anything better than biting into a crispy, smokey, salty, piece of bacon? Only when it's been candied with beer for this Guinness Candied Bacon!

My studly husband was the best man at a wedding recently and he wanted to bring a Bloody Mary Bar but knew he had to have bacon, too. Enter, Guinness Candied Bacon. What better to go in a Bloody Mary?!
It's so easy. And it's dangerously delicious. You can also use any other dark stout beer you may happen to have on hand, but since my husband rides for the Guinness Cycling Team, we're kind of obligated to use Guinness 😉 Brown sugar + Guinness, basted onto some nice thick cut bacon, that's it.
No brown sugar? No problem! Did you know you can make your own?!?
I just whisked the brown sugar and Guinness into a nice frothy mixture, put some bacon on a baking rack for the oven, then basted it and flipped it every 10 minutes while it cooked away in a 400 degree oven.
Once cooled, we had some thick, crunchy, sweet candied bacon!!
The PERFECT accompaniment to a delicious, hearty Bloody Mary!
And for us, a Bloody Mary is far from just vodka, tomato juice, and celery. Oh no. I like a pickled salad in mine.
This bacon makes me salivate.
Nigel was very intently keeping watch.
THIS is how we'll be doing our Bloodys from now on! A really good vodka like Monopolowa (one of our favs), the very BEST Bloody Mary seasoning mix, Demitri's (seriously this stuff is amazing, it's pricey but SO worth it if you're a Bloody Mary drinker), a slew of pickled veggies (we keep onions, asparagus, green beans, peperoncinis, and olives on hand), the classic celery stalk, and a slice of this Guinness Candied Bacon- the boys said it was a delicious way to start a beautiful wedding day!!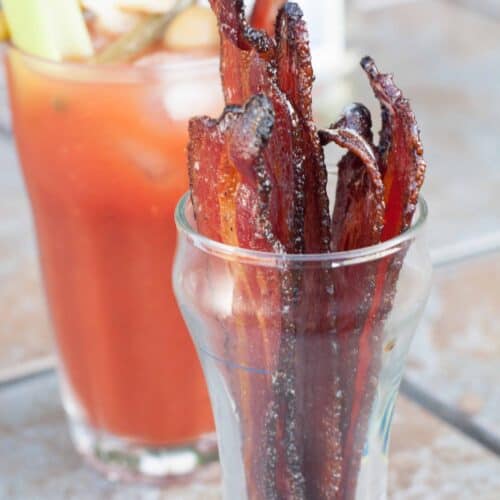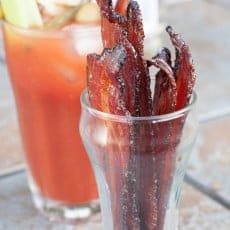 Ingredients
1

lb

of thick cut bacon

1/2

cup

of brown sugar

1/4

cup

of Guinness
Instructions
Pre-heat oven to 400°

Whisk brown sugar and Guinness together until frothy. Line a baking sheet with aluminum foil, place baking rack on top, and line rack with bacon. Bake for 10 minutes, then flip bacon and generously brush with Guinness and brown sugar mixture. Bake another 10 minutes then flip bacon again and brush with Guinness and brown sugar. Bake another 10 minutes and baste again. Continue until desired crispiness.

Let cool completely, at least 30 minutes - 1 hour.

Serve with a Bloody Mary or just as a snack!