No need for a box. With just some stale bread and a few spices and you can make your own Copycat Boxed Stuffing Mix From Scratch!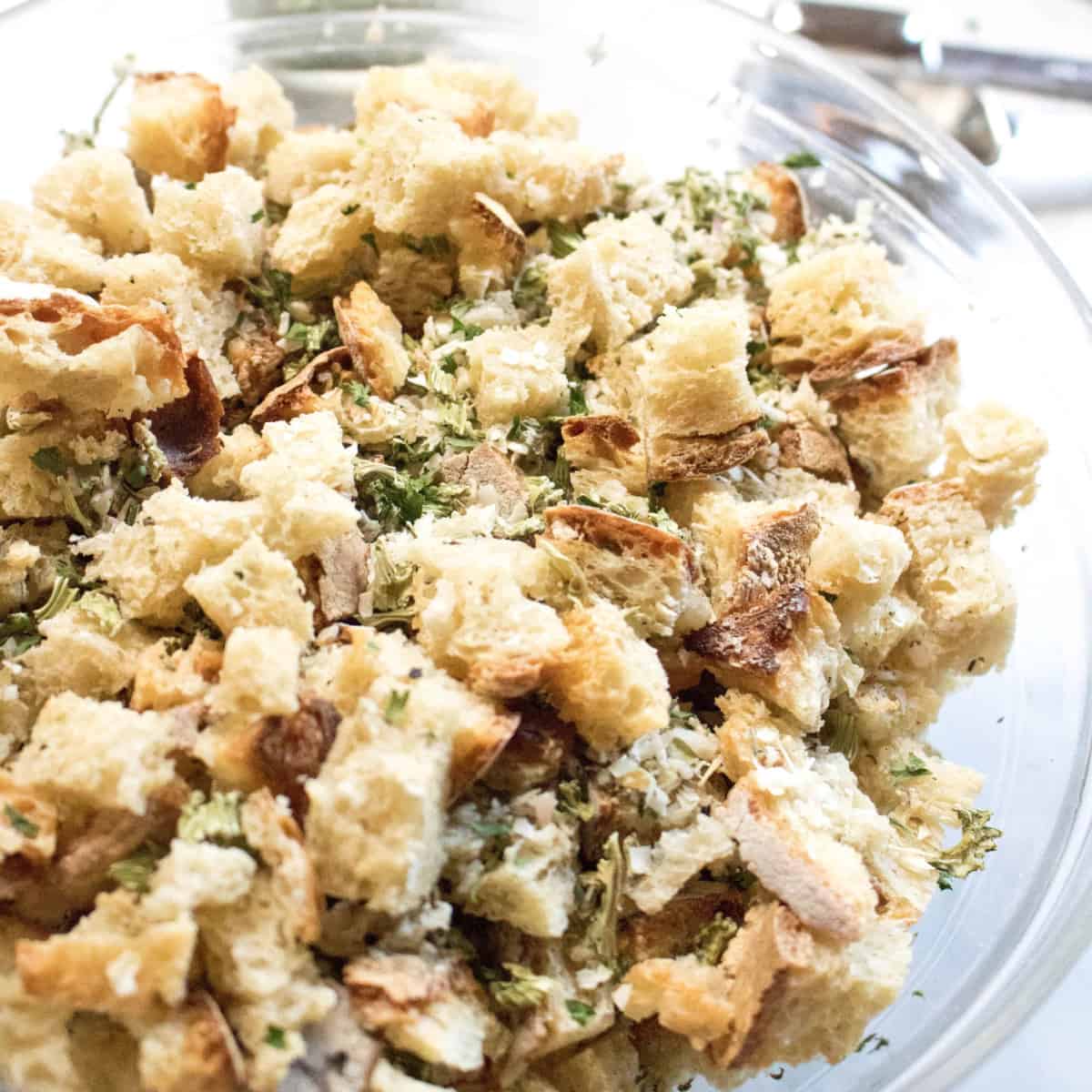 In honor of Turkey Day coming this week (um how did that happen?!) I have this goodie for you guys. Ahh the good ol' box stuffing mix made on the stove. You all know the classic red box I'm talking about. A staple in our house growing up. Stuffing made in minutes - what could be better? Well, how about a stuffing mix that can be made in advance so you can still have stuffing in just minutes- but from scratch?! Guys... I know. This Copycat Boxed Stuffing Mix From Scratch has just changed my stuffing world because it has all the same convenience with all of the homemade love.
Ingredients Needed: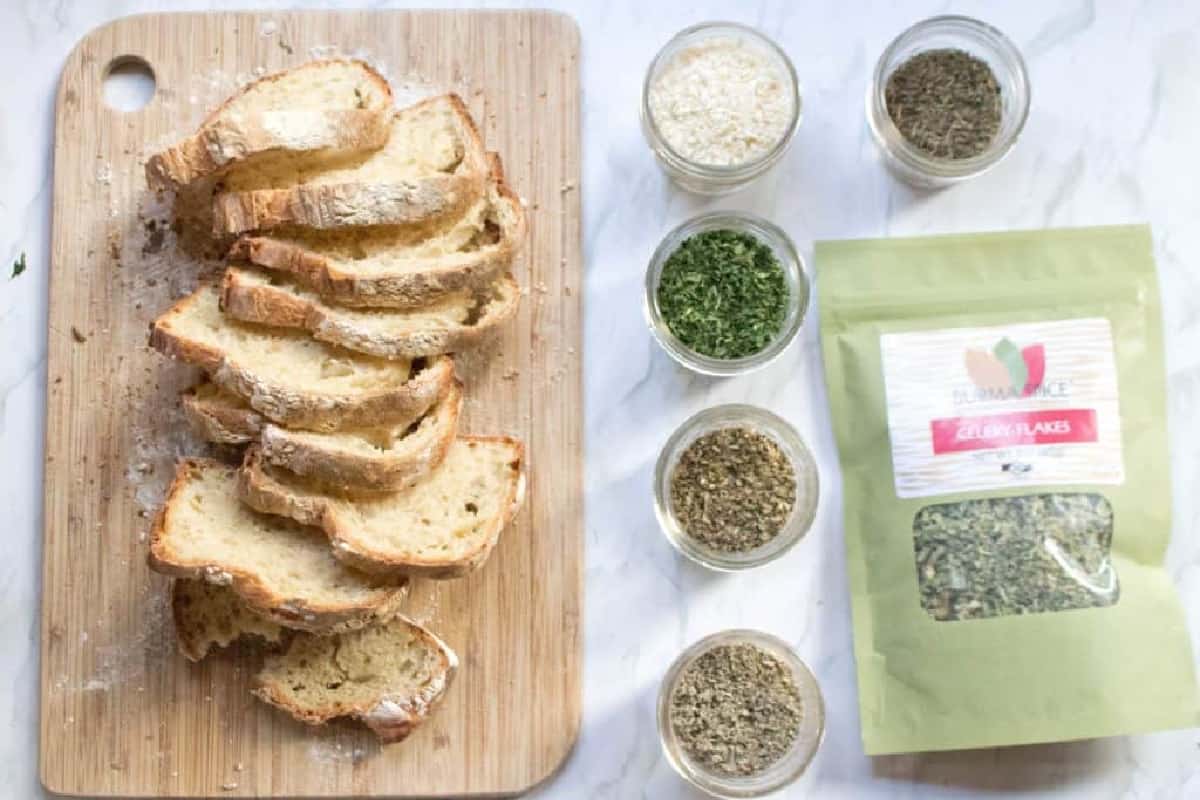 Stale bread - A simple white bread works best for this recipe. If it has something you wouldn't want in your stuffing (like nuts or seeds) then I wouldn't use it. We also love to use our Easy White Sandwich Bread!
Dried herbs - parsley, sage, thyme, oregano.
Dried minced onion - do you have a dehydrator? You can totally make your own as we do for our own onion soup mix!
Dried celery flakes - This can be a hard one to find in your local grocery store, so we buy ours on Amazon.
Truth be told, I made this loaf of bread (but omitted the garlic and rosemary) just for this stuffing. Because really, homemade bread doesn't stay around in our house long enough to get stale.
Step-by-Step Instructions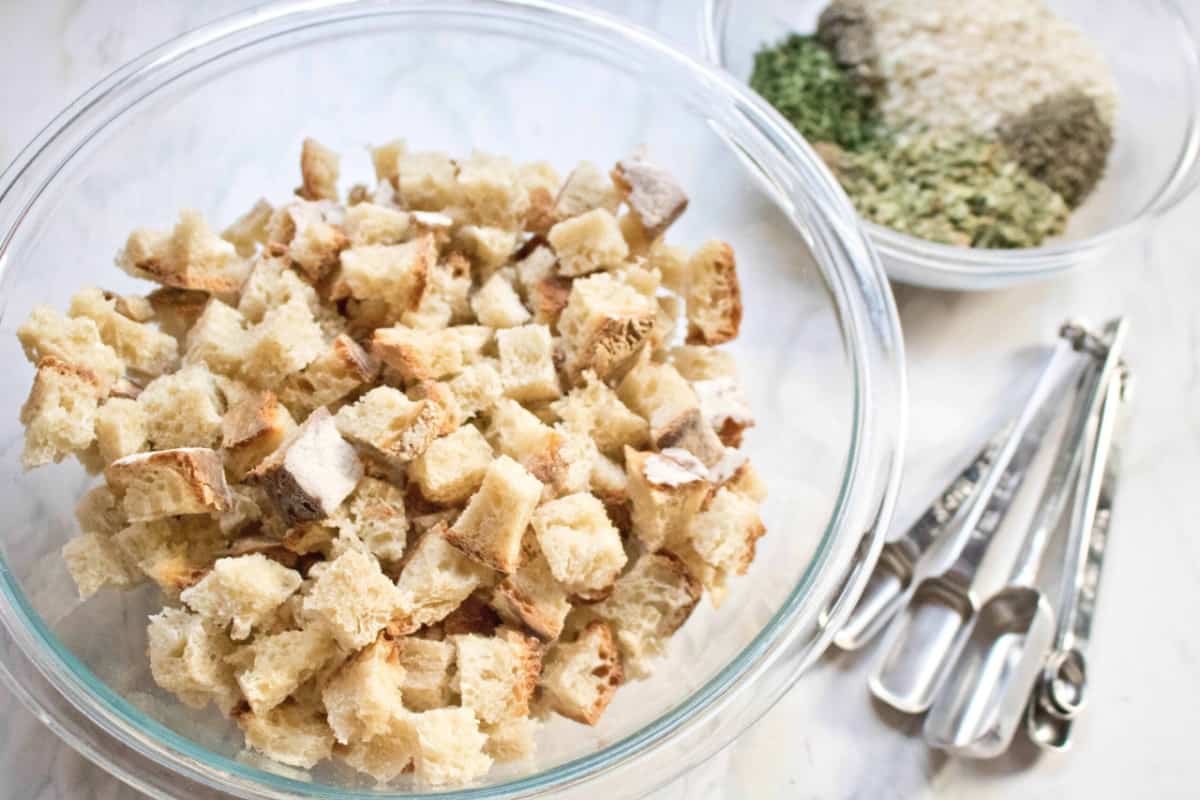 It's almost as easy as opening a box!
Step 1: Cube stale bread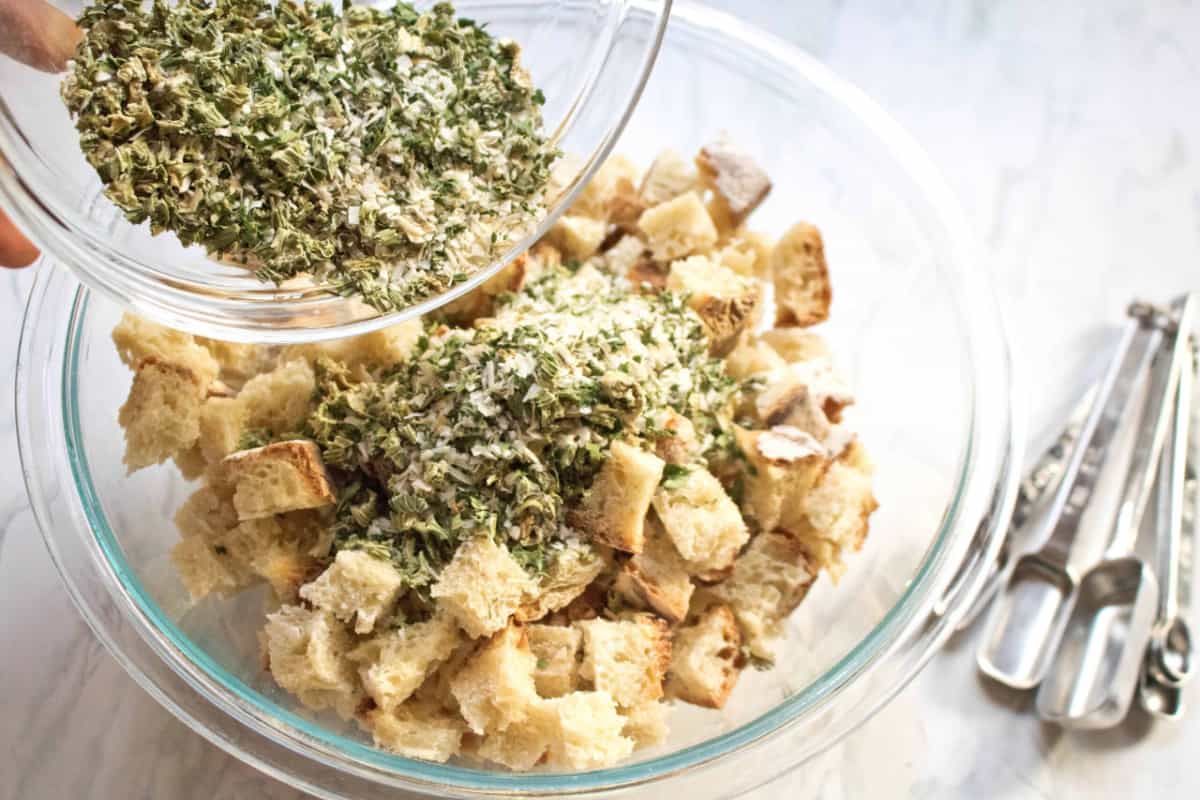 Step 2: Add herbs and seasonings and mix well.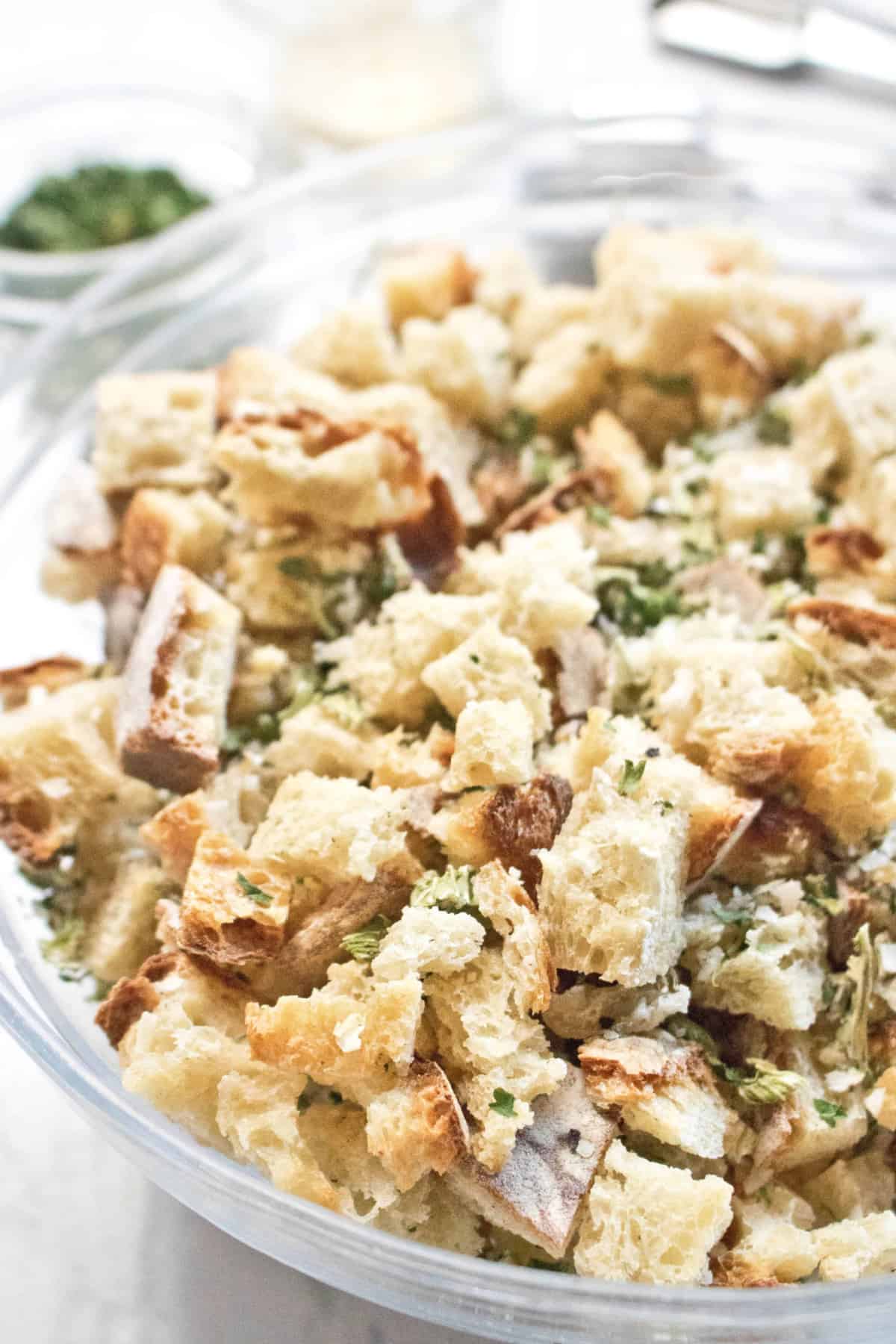 Done!
Now you have the equivalent of two of those red boxes! Store it in an airtight container in the pantry for a week or in the freezer for up to 6 months!
To Make the Stuffing
It's just like making it from a box! Add broth or water, butter, and cook on the stove top and give it a nice fluff!
We love this with our Chicken Stock From Scratch, but you can also make it vegetarian by using Vegetable Stock From Scratch.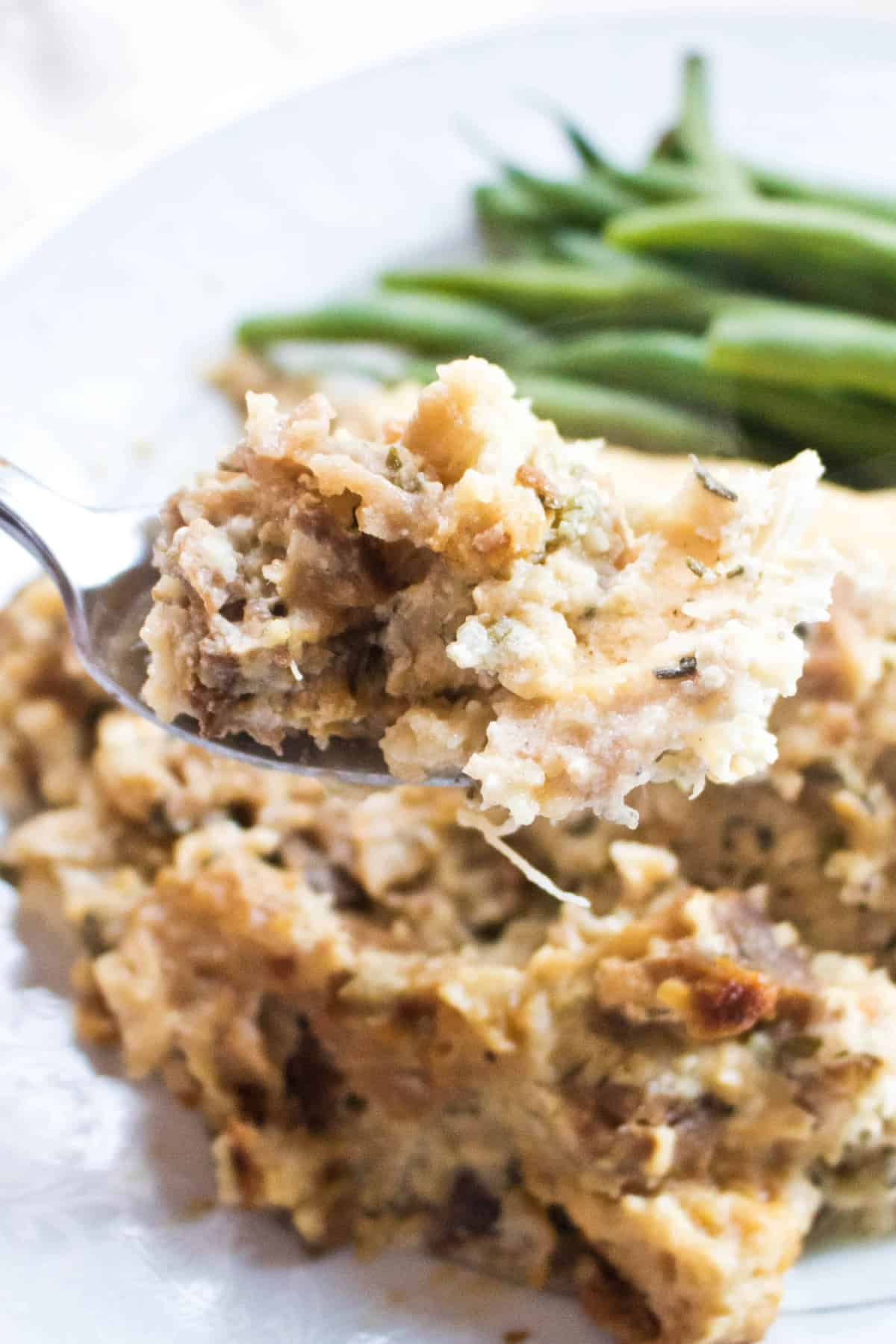 Make It A Meal!
Our favorite way to use this stuffing mix is in our Crock Pot Chicken and Stuffing From Scratch (with our Homemade Condensed Cream of Chicken Soup). Or it makes a delicious side for some of our other favorites:
Fresh Ricotta and Spinach Stuffed Chicken
15 Minute Garlic Butter Chicken
Leftover Turkey Pot Pie From Scratch
Or if it's going to round out your Thanksgiving table, keep that From Scratch train going with your own Copycat French's Fried Onions for our Fresh Green Bean Casserole From Scratch!
Happy Thanksgiving, friends! May your day be filled with lots of delicious food, loved ones, and hearts full of thanks. I'm sooo incredibly thankful for you all that come and read and share and ultimately encourage us to keep on keeping on with our Served From Scratch journey. Thank you! <3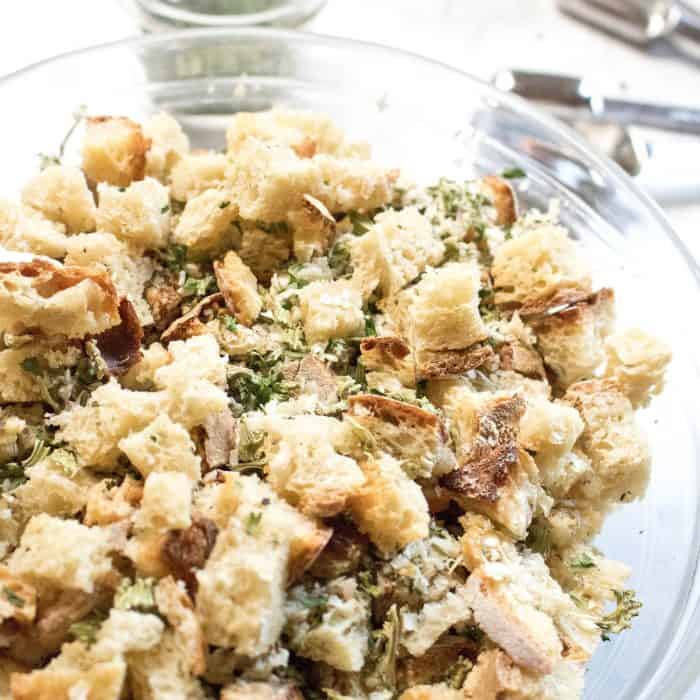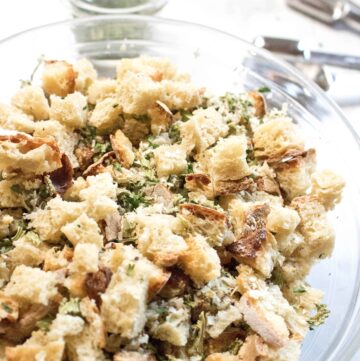 Copycat Boxed Stuffing Mix From Scratch
No need for a box. Put that stale bread to use and make your own Copycat Boxed Stuffing Mix From Scratch!

Print
Pin
Rate
Ingredients
6

cups

cubed day stale bread

2

tablespoons

dried parsley

1/3

cup

minced dried onion

1/3

cup

dried celery flakes

1

teaspoon

dried thyme

1

teaspoon

fresh ground black pepper

1/2

teaspoon

dried sage

1

teaspoon

dried oregano

1

teaspoon

kosher salt
To Make the Stuffing from the mix
1 1/4

cup

water or broth

2

tablespoons

butter

salt to taste
Instructions
Pre-heat oven to 350 degrees.

Spread out cubed bread evenly on a large baking sheet (or two if needed) and bake for approximately 10 minutes until dry.

Meanwhile, in a large ziplock plastic bag, mix all the dried seasonings and shake.

When cubed bread is done, add to ziplock bag and shake to combine well.

Split mixture in half and store in an airtight container for up to 1 week in pantry or 6 months in the freezer. Each mixture is equivalent to 2 6 oz boxed stuffing mixes.
To Make Stuffing
In a medium sauce pan, bring water and butter to a boil. Add one container of mix (about 3 cups) and stir well. Remove from heat and let sit for 5 minutes. Fluff with fork and serve. Salt as needed / desired.
Notes
Dried Celery Flakes: This one can be hard to find in the store. You can of course dehydrate your own celery, but also you can do the following:
Fresh Celery - Substitute 3/4 cup of minced fresh celery. This just means that it's not shelf-stable and I would just add to the mix before cooking. Note that the size of the fresh celery will affect how quickly it softens. It will most likely still be a bit crunchy as the stuffing is an instant style stuffing with just hot water being added.
Celery Salt - Add 1 teaspoon of celery salt in place of dried celery flakes. Note that this will affect the salt level of the stuffing.
Not a huge fan of celery anyway? You can absolutely omit it.
Make your own bread! Here are all of our bread recipes.
Make your own dried onions!
Nutrition
Calories:
364
kcal
|
Carbohydrates:
64
g
|
Protein:
13
g
|
Fat:
6
g
|
Saturated Fat:
2
g
|
Polyunsaturated Fat:
2
g
|
Monounsaturated Fat:
1
g
|
Trans Fat:
1
g
|
Cholesterol:
5
mg
|
Sodium:
726
mg
|
Potassium:
541
mg
|
Fiber:
7
g
|
Sugar:
10
g
|
Vitamin A:
202
IU
|
Vitamin C:
7
mg
|
Calcium:
214
mg
|
Iron:
5
mg