It's an Italian classic for the garlic lover. This homemade Garlic Chicken Piccata is easy enough to make on a weeknight but fancy enough for company!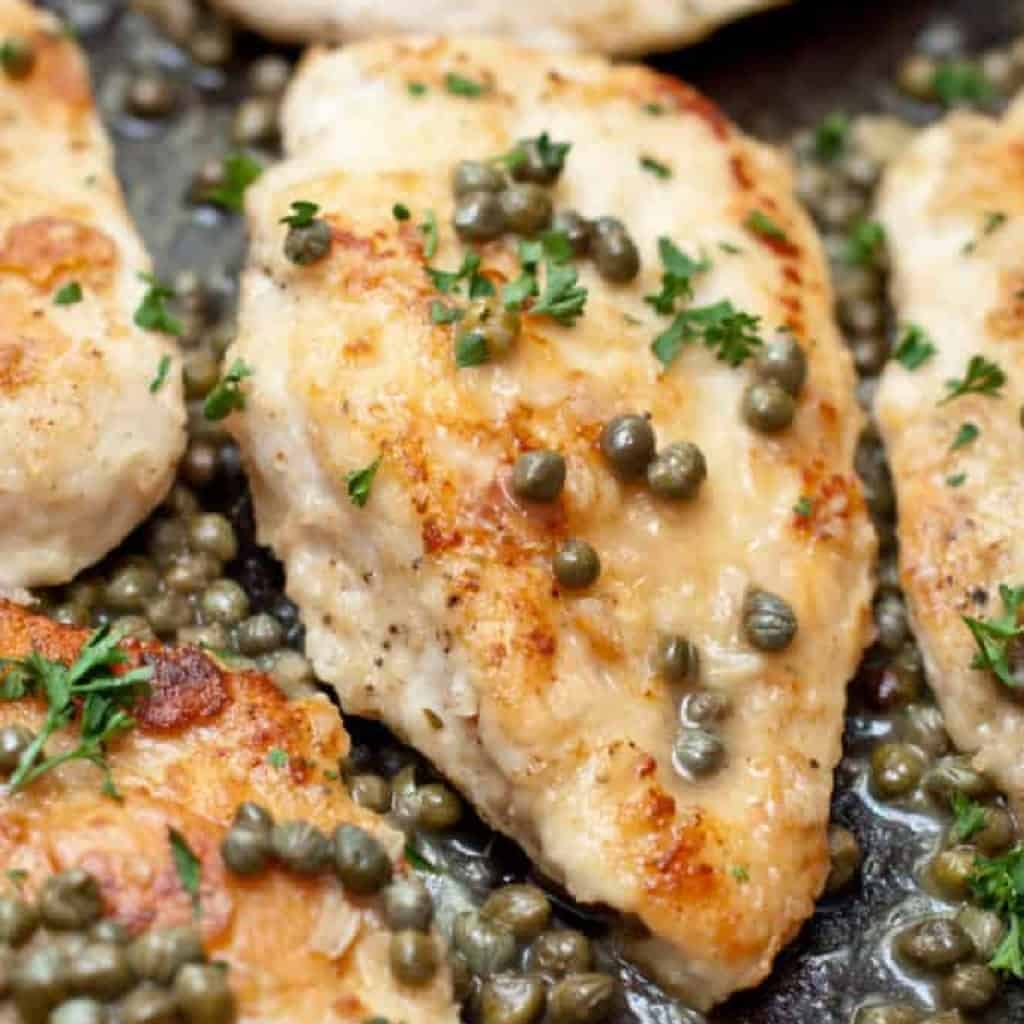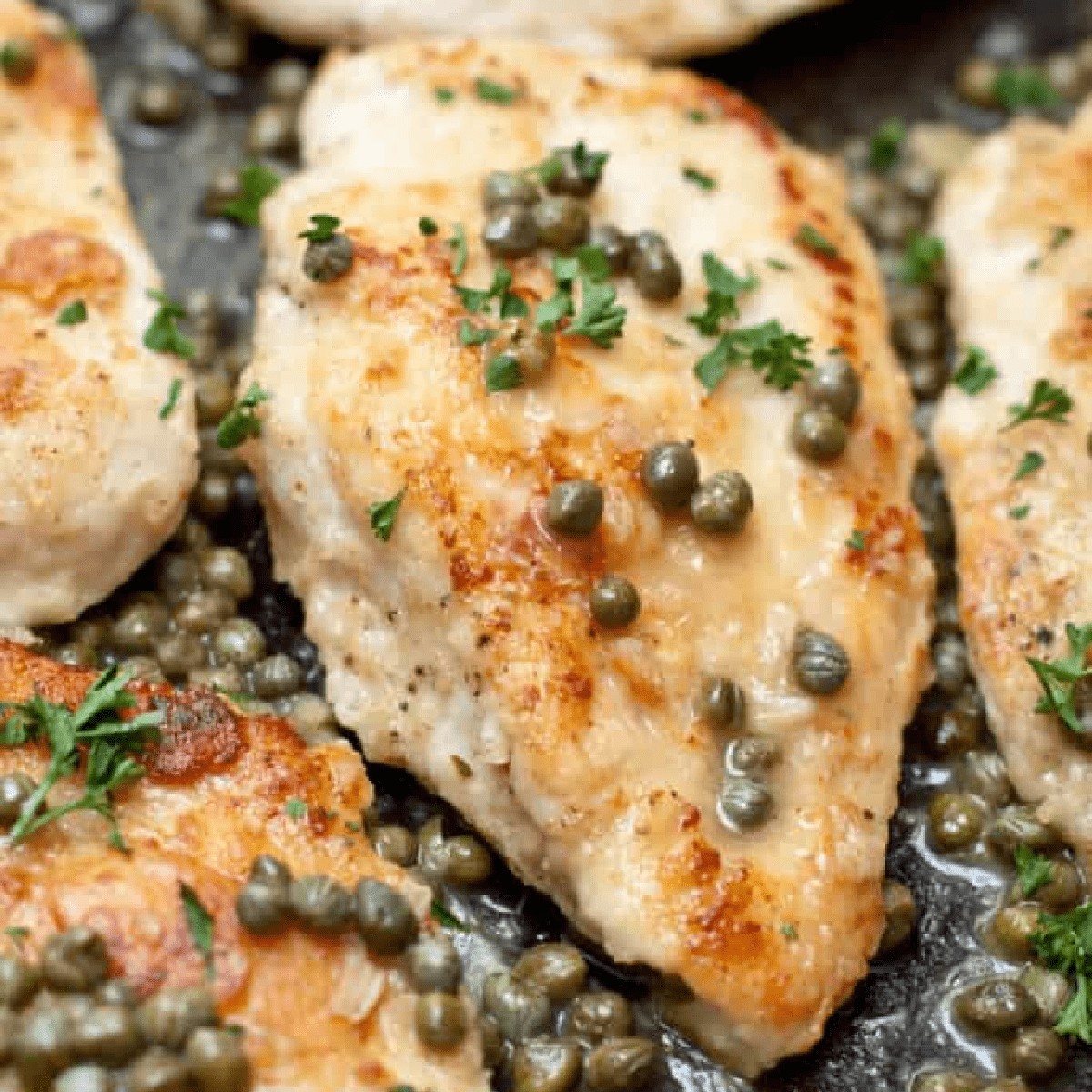 Oh, hello! It's been a little while, but for very good reason. We welcomed our little girl Matilda to the world last week and, so say the least, we've been a wee bit busy. But even as I type this (at 3:30 am attached to a pump), I'm excited to share this recipe for Garlic Chicken Piccata with you, because it's so easy that even new sleep deprived parents can make!
You read that right. We just welcome a new baby, the love of our lives, and yes, we are still cooking from scratch when we can. Because as I've said before, from scratch doesn't mean it has to be hard. Let me also say though, this is not meant to shame any new parents who are living off of frozen pizzas (we had some of those, too) and can't even imagine the thought of making something. I get you. Get that sleep first!
What is Chicken Piccata?
Chicken Piccata is a classic in Italian cooking. And while it is a name of a dish, the word "piccata" in Italian means "to be pounded flat" or as a cooking method, which means "sliced, sautéed, and served in a sauce containing lemon, butter and spices." Which is why you also have veal piccata and shrimp piccata - shrimp of course emphasis on the sautéed and the lemon and butter sauce.
The dish originated in Italy and is traditionally made with veal, but has become a breakout Italian American dish primarily with the (more affordable and accessible) chicken.
While we serve piccata as a main dish, as the Italians really know how to eat and eat dinner is courses, the secondi is the meat or seafood dish that's actually the fourth plate of the glorious Italian meal.
Apertivo: Bubbles and a very light appetizer like a bruschetta.
Antipasti: The "starter" that's a little heavier like a charcuterie platter.
Primi: A meatless dish like a pasta or soup

Secondi

: Your meat or seafood dependent upon your region - this is where you'd find the piccata!
Contorini: This is usually served with the secondi, and basically like a side dish to the meat and mostly vegetable based.
Insalata: The salad served usually only if leafy veggies aren't in the contorini.
Formaggi e Fruti: The fruit and cheese. An entire course dedicated to fruit and cheese... this is why I love Italian culture so much!
Dolce: The sweet dessert. Hello Tiramisu!
Caffe and Digestivo: The espresso or the final alcoholic drink like limoncello, amaro, or grappa to help digest that huge meal!
Ahhh don't the Italians know how a meal should be? I lived there for about 6 months in my 20s and these long, incredible meals late into the night are what I miss most (and the reason none of my clothes fit when I came home!).
Ingredients Needed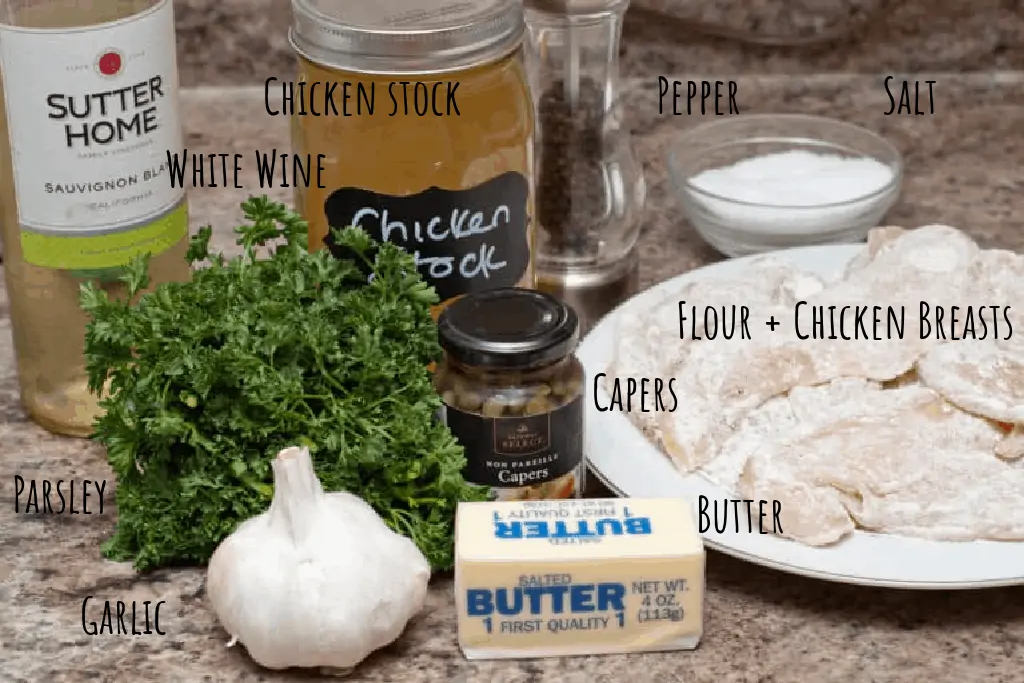 Chicken Breast - Halved is best because this will ensure faster cooking. You could also use chicken tenderloins or even boneless thighs, but the white breast meat is the best for classic chicken piccata.
Flour - Just a little to give the chicken a little coating.
Garlic - Already a staple of our cooking, but this recipe takes it to the next level with a whole roasted bulb!
Capers - Because what is chicken piccata without these salty, briny, pops of flavor?
White Wine - Something dry. We usually cook with sauvignon blanc, but really the most important thing is that it is not a sweet wine.

Chicken Stock

- Have you

made your own

, yet? It's so easy and a great way to use up kitchen scraps you're just going to throw away!
Butter - Salted to unsalted, whatever you have but if you use unsalted, just adjust your added salt accordingly.
Lemon Juice - Fresh is always our favorite, but bottled if of course great, too!
Salt, and Pepper - To season the chicken.
Fresh Parsley - For a final garnish and punch of freshness!
As usual, fresh and simple is key!
Easy to Make
Although it technically takes awhile to cook, the actual attention time it needs is pretty minimal. A majority of the time required is roasting the garlic, but that's hands off time that I was able to change at least 2 diapers and pump a bottle of milk during.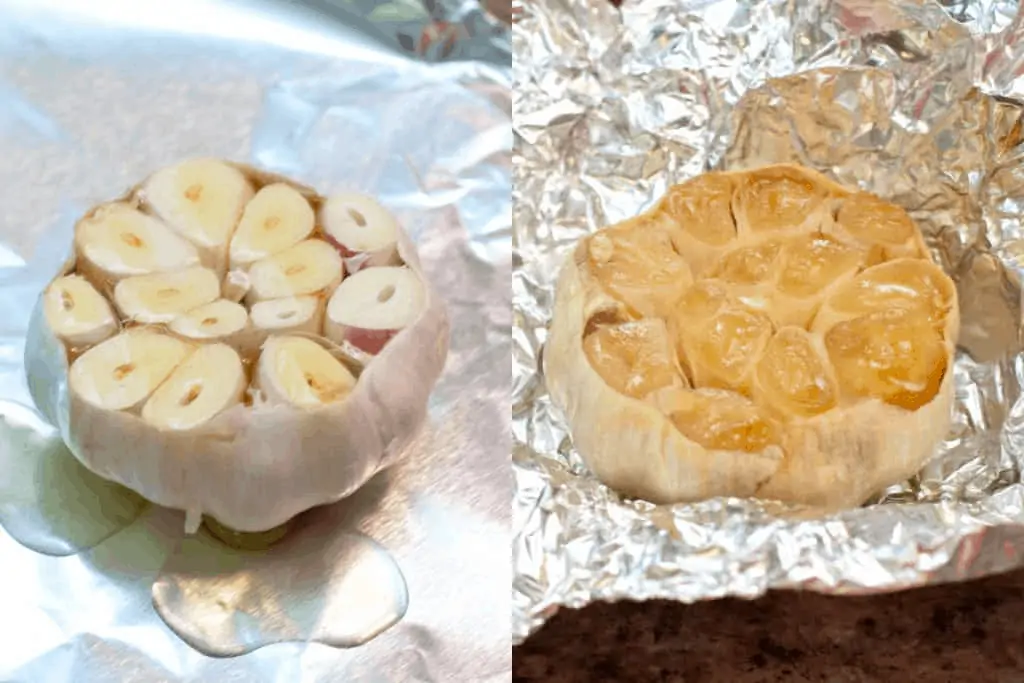 Step 1: Roast the garlic.
You can skip this step if you'd like to save time and you cook the garlic in the pan, but honestly, roasting it adds so much more flavor and sweetens it a bit.
Step 2: Slice the chicken breasts in half and then dredge them in flour.
Piccata purists will say that you have to pound the chicken. And while we have sometimes pounded the chicken thigh halves to even thickness, this recipe does not require it. Slicing them in half is sufficient.
What is required, dredging them in flour.
Step 3: Cook chicken in a pan with butter and then set aside.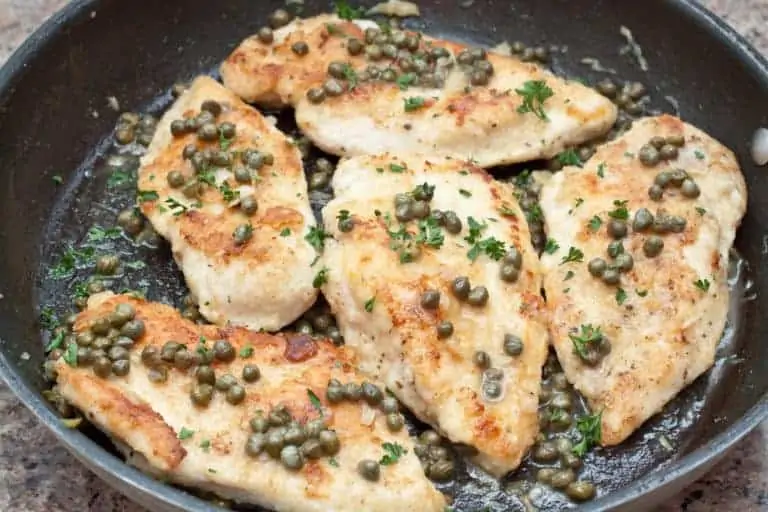 Step 4: Add the roasted garlic and create the rest of the sauce before adding the chicken back to the pan and coat with the sauce.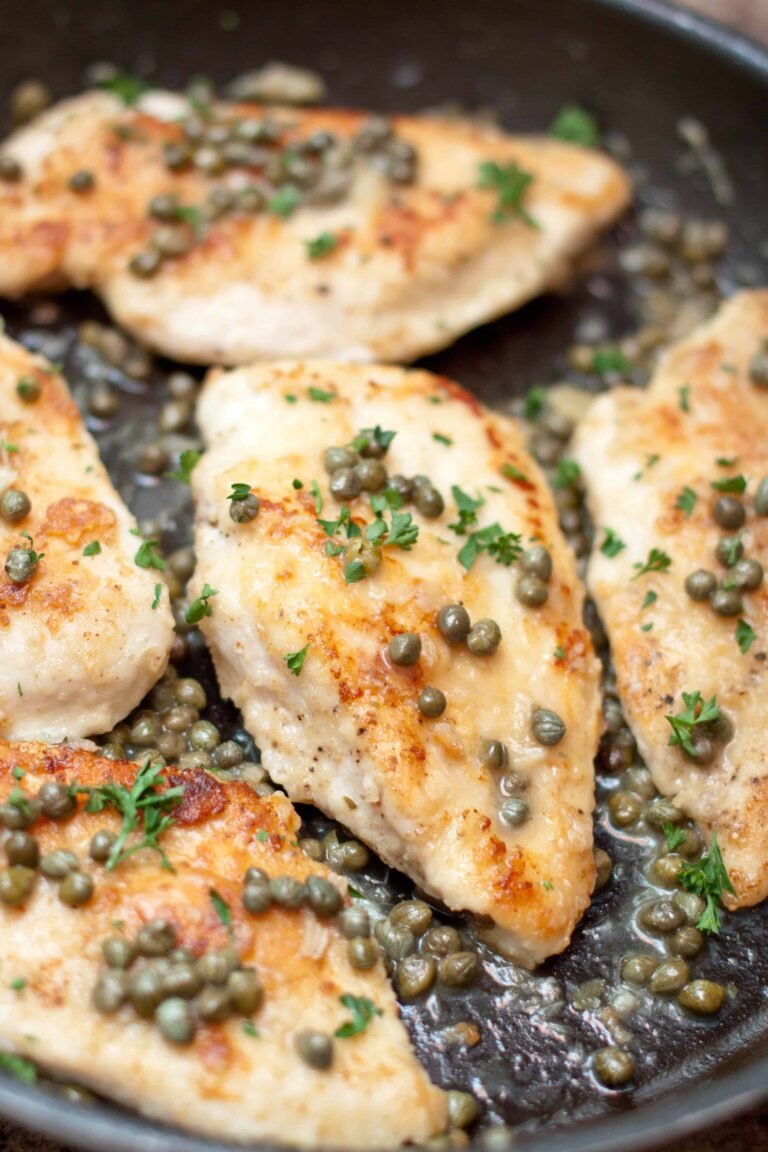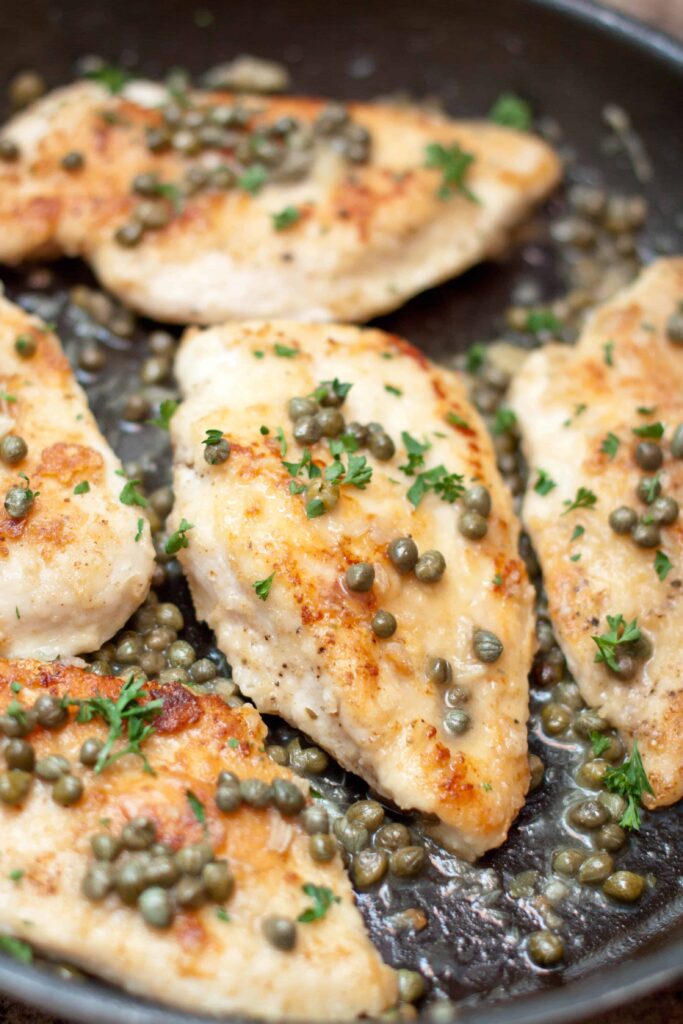 One pan to delicious!!
We served this with some leftover (remember, new baby) mashed potatoes and an easy green salad. But this would also be amazing with pasta or rice.
More Italian Inspired Dishes
FAQs
Do I need to roast the garlic?
No. You don't have to, but roasting the garlic brings out its sweetness which I think really elevates this dish. But you can definitely just cook it in the pan, see recipe notes.
Do I have to pound the halves?
Nope. I prefer this recipe with just chicken breast halves, but you could absolutely halve and pound thin, too for quicker cooking. But I think that's just another step that's not totally necessary.
How do I know the chicken is done?
This is when pounding the chicken helps because if you pound it thin then will help to ensure even cooking, but you could also use a thermometer and then you can measure when the chicken is done when it reaches 165 degrees F.
Enjoy, Friends! If you make this recipe tell me what you think! I love to hear from you on Facebook, Pinterest, and Instagram! Whatever you serve it with, it'll be an easy, deliciously garlicky weeknight dinner that even newborn parents can make 😉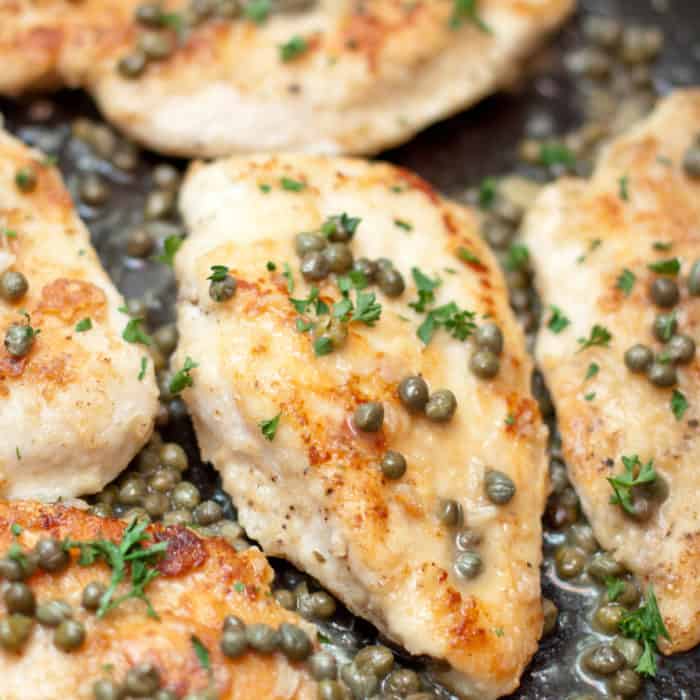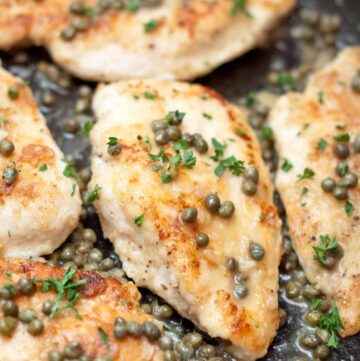 Garlic Chicken Piccata
A deliciously garlicky, easy Chicken Piccata perfect for dinner!
Print
Pin
Rate
Ingredients
3

chicken breasts

halved

1/3

cup

flour

2

tablespoon

butter

1

head of garlic

roasted

1/2

cup

capers

drained from juice

2/3

cup

wine

2/3

cup

chicken stock

2

tablespoon

lemon

salt and pepper to taste

fresh parsley

minced
Instructions
Pre-heat oven to 400 degrees. Slice garlic bulb off at the top. Wrap bulb in aluminum foil and drizzle oil oil over the top of it. Wrap and roast in oven for 40 minutes.

Slice chicken breasts in half and then generously season them with salt and pepper.

Add flour to a shallow bowl and dredge the chicken breast halves in the flour and set aside.

About 5 minutes before garlic is done, melt the butter in a large sauté pan on medium high and add the chicken. Cook 3-4 minutes and then flip and cook another 3-4 minutes. Remove chicken from pan and set aside.

Remove garlic from oven and open foil.

With a fork, pull roasted garlic cloves out of bulb and add to the hot pan. Add the stock and wine and let cook for 5 minutes. Add capers and lemon juice and cook for another 3 minutes. Return chicken to the pan and pan baste the chicken with the sauce.

Add parsley and serve over pasta, rice, mashed potatoes, or steamed vegetables.
Notes
Slice chicken breasts in half or use a mallet and pound them thin. Ensure chicken if fully cooked by checking to ensure that it's reached an internal temperature of 165 degrees.
If you're going to skip the roasting of the garlic, then mince at least 6 garlic cloves and then add to hot pan after you've removed the chicken and sauté for about 30-60 seconds, before adding the stock and wine.
Nutrition
Calories:
347
kcal
|
Carbohydrates:
15
g
|
Protein:
39
g
|
Fat:
11
g
|
Saturated Fat:
5
g
|
Trans Fat:
1
g
|
Cholesterol:
125
mg
|
Sodium:
913
mg
|
Potassium:
769
mg
|
Fiber:
1
g
|
Sugar:
1
g
|
Vitamin A:
259
IU
|
Vitamin C:
9
mg
|
Calcium:
39
mg
|
Iron:
2
mg