This Danish Puff Pastry is a cherished family recipe that my husband has been perfecting for decades! Made with an easy shortcrust, airy choux, and topped with a sweet thick frosting, almonds, and cherries, this puff pastry recipe is an instant hit wherever we bring it!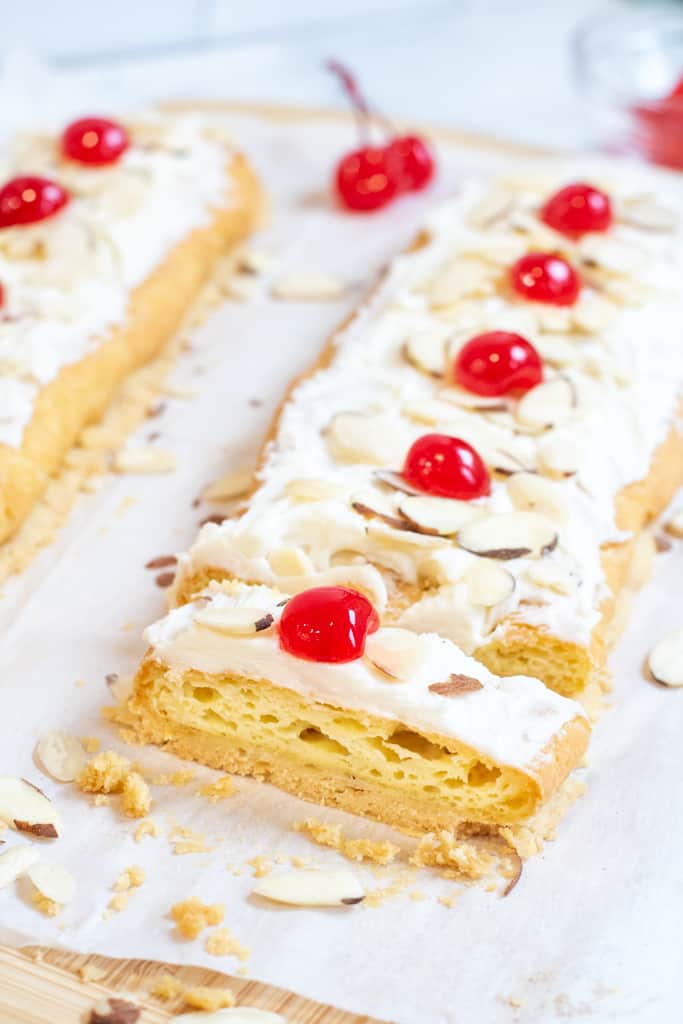 Eeeee! This recipe, this cherished family recipe that my husband has said for over 8 years of SFS that he previously did not want me to share, IS. HERE. It is my Christmas present to you all, friends. I give you my husband's go-to, show off, bring something different, simple yet elegant, almond kissed, flaky, buttery, just the right amount of sweetness, THE Danish Puff Pastry!
This puff pastry is a dessert that is different than most things you'll find on a typical holiday dessert table, and I think that's why it has such a fond place in our hearts. Because at first glance, before it's cut, you really don't know what it is. But then, oh then when you take a slice and see that airy choux pastry, that buttery shortcrust, and then taste of that almond frosting with the crunch of the sliced almonds, you know you have just taken a bite of a dessert that was not only made with years of practice but also one that has been with so much love and full of memories.
What is a Danish Puff?
Danish Puffs, or also just a "Danish," are typically layered laminated pastries that are often filled with different fruits or nuts, like a Danish Kringle. This pastry, however, is much more of a puff pastry, which does not use the traditional Danish pastry viennoiserie tradition that requires yeast (think croissant). Instead, this Danish Puff Pastry uses a choux (pronounced "shoe") pastry dough - more on that below.
So why is this called a Danish puff? No idea. My husband had no idea what the origin is as he is not Danish, all he remembers is that he has been eating this pastry since he was the age of our young kids. And really, aren't those memories some of the most important when it comes to a good recipe?
Ingredients Needed
Now on to components of this layered Danish pastry: The Shortcrust and the Choux. Both of which use incredibly simple ingredients.
All Purpose Flour - This is really the best. Gluten-free, a nut flour, or even a bread flour just doesn't produce the same results.
Butter - Lots and lots o' butta! While I know more baker purists say that unsalted butter is the best to bake with, but we like to make things as easy as possible (especially when it comes to baking), and so we use a salted butter because it means not having to add any salt.
Eggs - Just for the Choux dough.
Almond Extract - Our go to always Simply Organic (if we're not making our own!)
Water - This is the only water added in any of the components of the recipe.
The Frosting is the sole source of the sweetness of the entire pastry. But truly, it's all you need.
Confectioner's Sugar - The only added sweetness added to this pastry, but it's the exact amount that you need!
Butter - Yes, more. This recipe is NOT, I repeat NOT one for the faint of butter heart. And again, we prefer to use a salted butter for this, to not have to add any additional salt.
Almond Extract - More almond flavor to add to what's added to the choux pastry.
Sliced Almonds - The perfect crunch and flavor.
Maraschino Cherries - A little pop of color and sweetness. Yes, yes, not a typical ingredient around here, but it's all part of the nostalgia when it comes to this recipe!
What is a Choux?
A choux (pronounced "shoe"), also known as pâte à choux is a French-style delicately delightful little pastry dough. It's what's behind the amazing airy texture of some of your favorite desserts like cream puffs, profiteroles, and eclairs to churros, and French cruller donuts. It's made of just water, butter, and eggs, which are the source of its puffed-up power. It's airy and soft on the inside, thanks to the leavening power of the high moisture content which creates steam while baking, and ultimately the perfect airy layers inside.
Step-by-Step Instructions
While this danish puff pastry is a little more involved than most desserts, trust me, the work is worth it. Plus, we have all of our tips and tricks to make it successful for you! But basically, it's broken down into these steps.
Make the shortcrust
Make the choux
Assemble
Bake
Frost!
Make the Shortcrust
The shortcrust is basically a super simple pie crust. Just two ingredients, butter, and flour cut together well before shaping.
Tips for making the shortcrust:
Use a cool butter. Take it out of the fridge to warm a little, but it shouldn't be room temp. You should be able to cut it with a knife into cubes.
Use a pastry cutter to help with cutting in the butter and the flour.
Cut butter in WELL. This is probably the most important tip. You want to make sure that the butter and flour are very well incorporated, because otherwise, you'll have a crust that doesn't shape well and (even worse) when it's baked, it'll end up tasting floury, instead of like a crumbly butter crust.
Shape the Shortcrust.
Once your dough is ready, split the dough in half and add to a parchment-lined baking sheet to shape them into flat 12 inch long, 3 inch wide strips.
Tips to Shaping
Shape right on the parchment paper, and to keep that parchment paper on your baking sheet without shaking, use a little dab of butter or a little spritz of cooking oil under each corner of your parchmemt paper. This will help keep it in place while you shape. See more about that here!
Your dough should shape nicely and feel well together and slightly moist. If it doesn't, and it's too crumbly to shape, then your dough is too dry. Before shaping, return it to the bowl and then add a tablespoon of water to bring up the moisture.
No need for a rolling pin. Just use your hands to shape them out into long flat strips, no thicker than 1/4 an inch.
Make the Choux
Making the choux is the most technical part of making this danish puff pastry and it is one that you have to make sure you get just right. If not, you need to start again because if the choux isn't right, it will ruin the whole pastry. But have no fear! See all of our tips and tricks below!
Bring the water and butter to a boil. Once all of the butter has melted, then it's time to add your flour and whisk until a dough is formed.
Once a dough is formed from whisking in the flour, then it's time to add the almond extract and then the eggs, one at a time, whisking not just quickly, but VIGOROUSLY. This step is crucial to ensuring that your choux has the right velvety texture.
Choux Making Tips
Have everything you need ready, or mise en place, which is a French term for having it all ready. When you put your water and butter on to boil, have that flour and the eggs ready next to you.
Don't let the water boil over. Keep the heat for the water and butter at about medium, maybe a touch higher, but then you really need to keep an eagle eye on it. If the water boils over, then you need to start again, because you need all of that water!
Use a FORK. We do not recommend using a whisk when making a choux because the dough can get stuck in the whisk and bind up the dough. Using just a good ol' fork is what we've found to work best.
Whisk VIGOROUSLY when adding the eggs! And that 1st egg is the most crucial. You're adding it to the hot dough, and you don't want it to cook (think scambled eggs), so to prevent that you need to whisk fast.
Keep whisking VIGOROUSLY. Can you tell how important this step is now? Basically, think of how you whisk fast now, and take that up a notch. If the choux is whisked too slowly, then it will become clumpy, burned, and/or scrambled eggy dough.
Assemble
You're almost there! Let that choux cool a little (otherwise, it'll melt the butter in the shortcrust!) and then layer it onto the shortcrust and flatten.
Tips to Assembling
Scoop out the choux evenly onto the shortcrust, one scoop at time alternating between the two. This way you can be sure you're evenly distributing it.
Use a spatula or your fingers to flatten and shape the choux into a nice thick layer on top of the shortcrust.
Flatten it so that it's flush with the edge of the shortcrust.
Bake!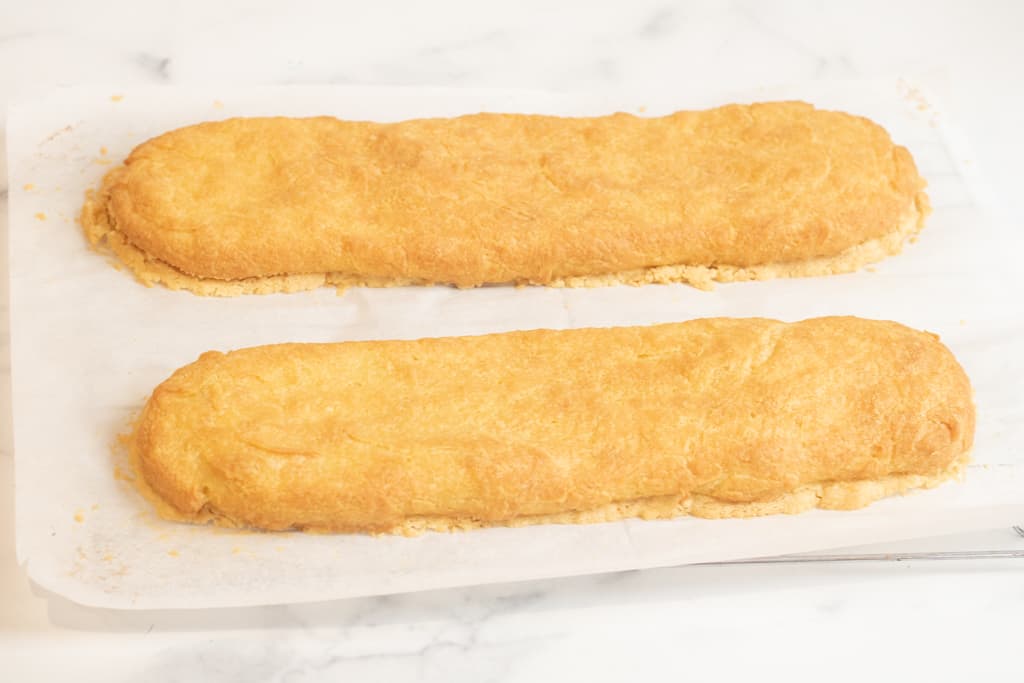 An hour later, you'll have these beauties!
IMPORTANT: Be sure to remove them from the oven gently, slide them onto a cooling rack and let them cool in a draft-free spot in your kitchen so that the choux doesn't fall/sink.
Meanwhile, make your frosting! This frosting is so so easy and made with just butter and sugar.
Tips to Frosting Making
Cream your butter first with your electric blender. Then slowly add the sugar. While you can just cream them all together, this will make it easier to keep the sugar in the bowl while the mixer is going.
Don't add liquid! You want this frosting to be nice and thick so that it spreads nicely.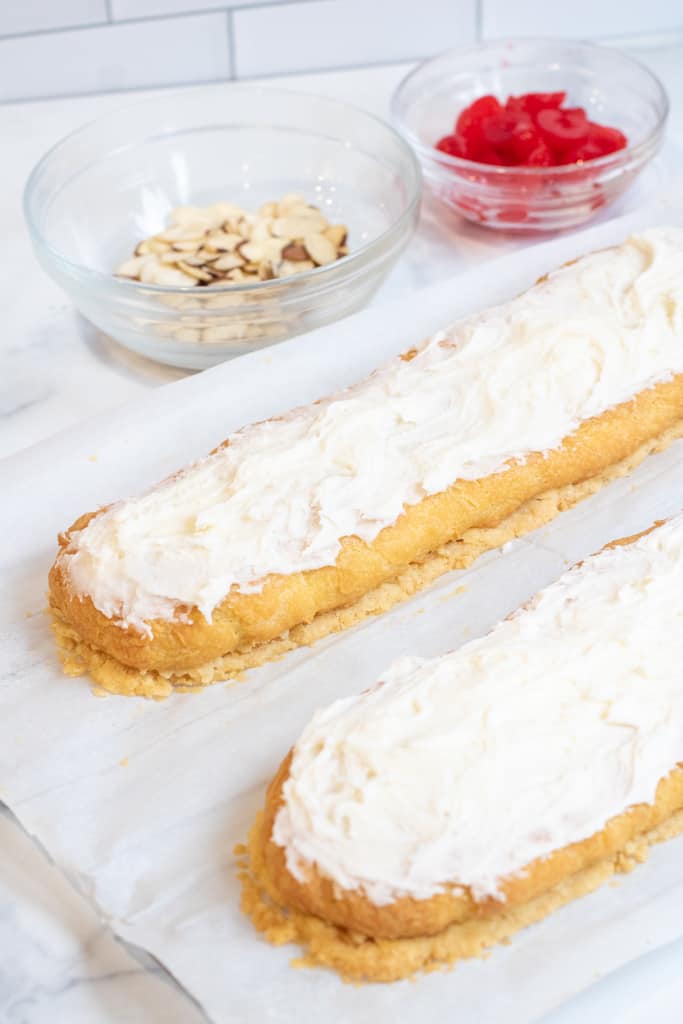 Once your pastries have cooled after baking, frost with a nice thick layer of the frosting. Remember, this is the sole source of sweetness for this pastry. The shortcrust and the choux themselves have no added sugar, so this is where you control the level of sweet for this pastry. Go nuts, or just add a little - totally up to you!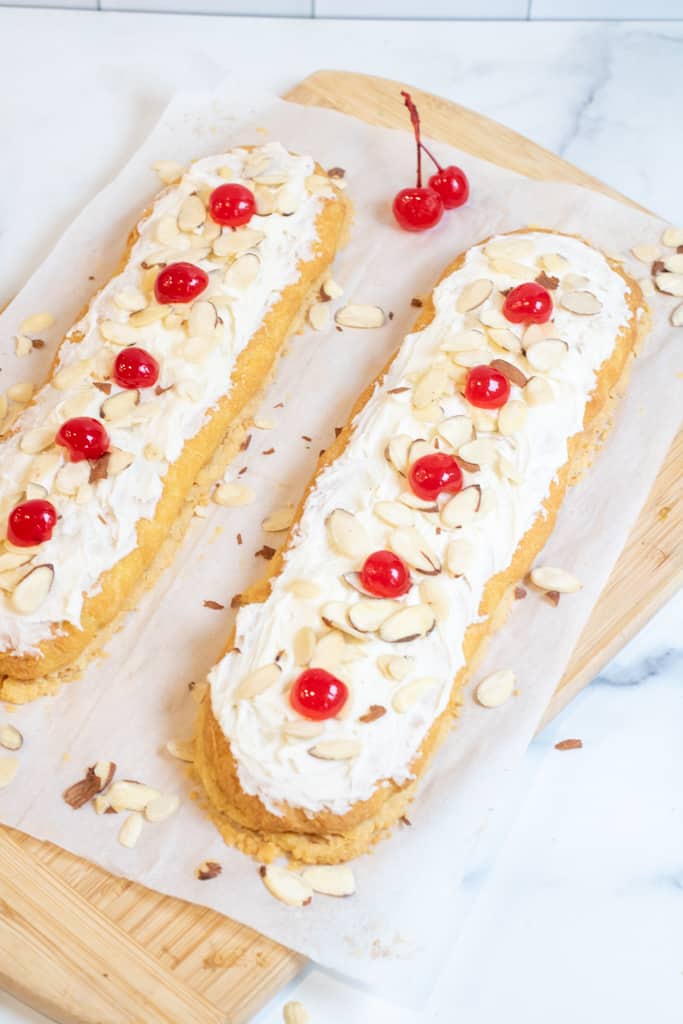 Garnish! Classics in our house are sliced almonds and maraschino cherries!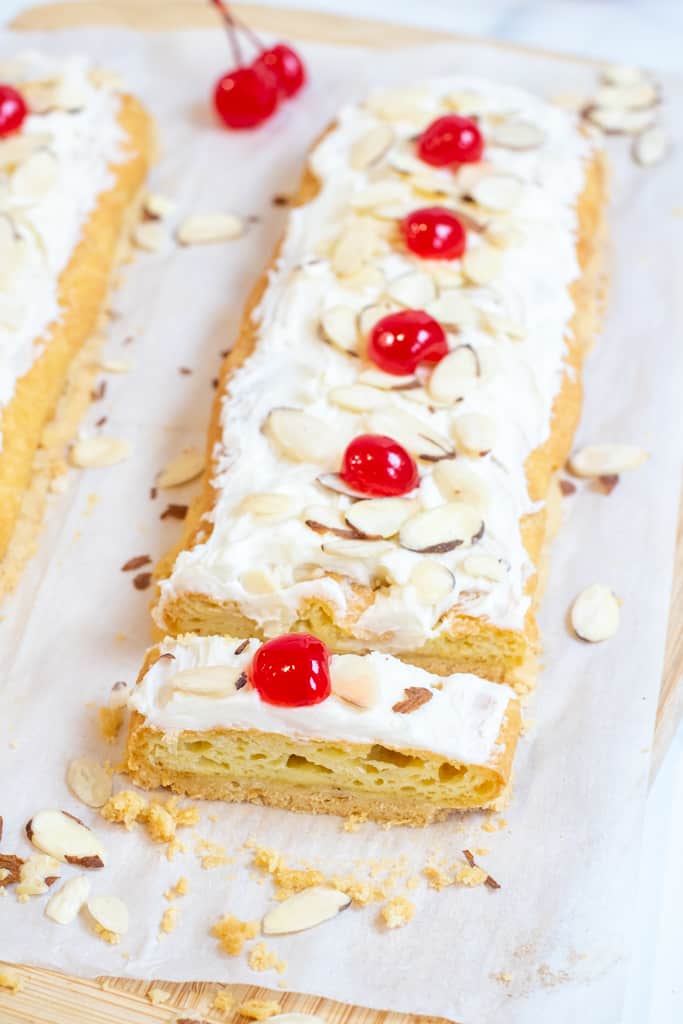 Might not seem all that impressive at first glance, but then when you slice into this Danish Puff Pastry, that's where the magic is! See how that beautiful choux is puffed up in soft luscious layers? It's heaven.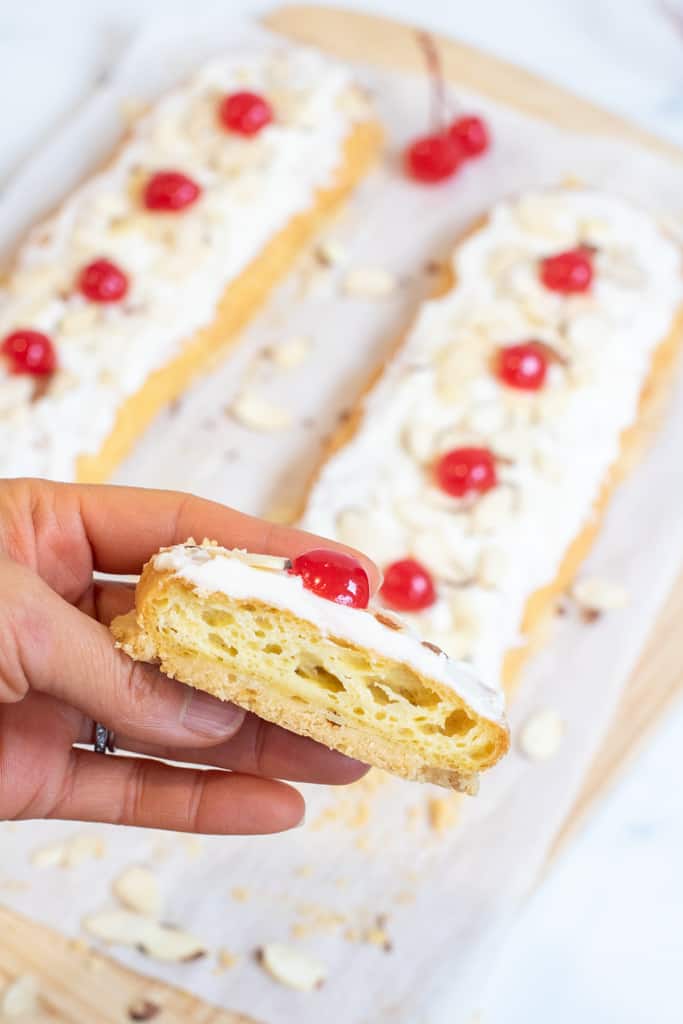 Merry Christmas and Happy Holidays, friends! May you have a safe holiday full of delicious food and traditions (and food traditions!). Our Danish Puff Pastry is certainly one of ours that I hope our girls have just as many fond memories of it as my husband does.
Other Holiday Favorites
FAQs
Can I use unsalted butter?
Definitely. Just add 1/4 teaspoon of salt to the flour of the shortcrust and 1/4 teaspoon to the flour of the choux.
My shortcrust is too crumbly.
The quality of your butter can play a role in this. Unfortunately, not all butter is created equal, and using high-quality butter is best. But if you've cut the butter in and it's still very crumbly, then you can add just a tablespoon of water to the water and flour to help bring up the moisture and bind the dough.
How do I know when to add the eggs to the choux?
When you've whisked in your flour and a dough forms that starts to pull away from the edge of the pot, that's when you know it's time for the eggs.
My egg was cooked when I added it to the choux.
Unfortunately, that means you didn't whisk it vigorously enough and you will need to start over.
My choux is grainy and burned.
This too means that you didn't whisk the egg in fast enough and you need to start over.
Do I have to keep the size to 12 inches long by 3 inches wide?
We've found that these are the best dimensions to ensure that your choux doesn't fall after cooking. You can make them a little shorter and wider, but the risk of the choux falling after baking increases.
My pastry fell/sunk.
This could be because of a few things. First, it wasn't cooked long enough. The full hour, and maybe a little more, is really needed for baking. Second, when you took it out, it was subject to a draft in your house (like an open window or door). Make sure your bake looks golden and dry before it comes out of the oven.
Can I use vanilla extract instead?
Of course. The almond extract gives this pastry a nice almond flavor, but you can absolutely sub in vanilla extract instead for either the choux pastry or the frosting.
Enjoy! As always, if you make this recipe or any of my others, I love to hear what you think! Leave a comment below, email me, or you can find me on Facebook, Instagram, and Pinterest!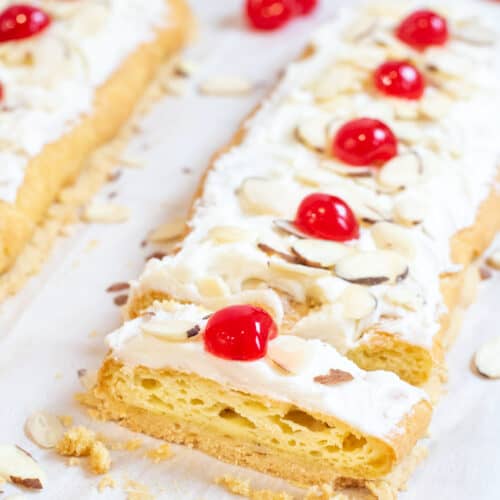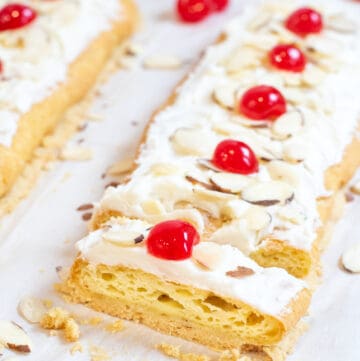 Danish Puff Pastry
A layered puff pastry topped with a sweet frosting, almonds, and cherries!
Print
Pin
Rate
Servings:
12
1 inch pieces
Ingredients
Shortcrust Base
1

stick

salted butter

chilled

1

cup

all purpose flour

spooned and leveled
Choux
1

cup

all purpose flour

1

stick

salted butter

1

cup

water

1

teaspoon

almond extract

3

eggs
Frosting
1

stick

salted butter

softened

2

cups

confectioner's sugar

see notes

1

teaspoons

almond extract

or vanilla extract
Topping
sliced almonds

marachino cherries

destemed and sliced in half
Instructions
Make the short crust base
Pre-heat oven to 350 degrees or 325 degrees convection.

Line a baking sheet with parchment paper. Tip: Use a little bit of butter or cooking spray to keep the sheet in place.

Add flour to a medium sized bowl.

Cube butter and add to bowl with flour. With a pastry cutter or fork, cut butter into flour until all of the butter is well combined. You'll know it's cut in well when you can easily form 2 evenly sized rough balls of dough and it all sticks together.

Add each dough ball to the cookie sheet. Use your hands to form each pile of dough into a long flat strip approximately 12 inches long and 3 inches wide. Set aside.
Make Choux
Add water and butter to a small to medium sized saucepan and heat on medium and bring water to a boil while the butter melts. Be sure to watch the water so that it does not boil over. If it does, you will need to start again.

Once boiling, add the 1 cup of flour and almond extract to the pan and turn down heat to low. Use a fork to vigorously stir in flour until a ball of dough forms and beings to pull away from the side of the pan. Approximately 1 minute.

Remove pan from heat. Add 1 egg to the pan and with your fork beat it very very fast into the dough. Be sure that you do this quickly so that the egg does not scramble. Repeat with all eggs, continuing to beat vigorously, until you have a smooth velvety dough. Set aside to cool for about 10-15 minutes.
Make Frosting
While choux cools, in a medium sized bowl add softened butter and almond extract. Use a hand mixer to cream butter. Slowly add 3/4 cup of powdered sugar and beat together until the butter and sugar is a soft and creamy frosting. Set aside.
Assembling
Once choux has cooled, scoop it out onto the shortcrust. Do this one even sized scoop at a time, alternating between each crust to assure an even split.

Use a spoon, spatula, or your hands to smooth the layer of choux on each shortcrust into a flat layer that covers the top of the crust.

Add to oven and bake for 1 hr.

After 1 hr the pastry should be golden brown and dry.

Remove pastries from oven and gently transfer to a cooling rack and store in a draft free space of your kitchen for at least 30 minutes. If there is a draft, your pastry will sink.
Final Assembly
Once pastry is cool, split frosting in two and frost the top of each in an even layer.

Top with sliced almonds and halved maraceino cherries, if desired.

Slice into strips and serve!
Notes
Storage: Fridge: Cover and store in a fridge for up to 1 week. Freezer: You can store the cooked danish puff, unfrosted, in the freezer for up to 1 month. Let thaw completely and then frost before serving. Substitutions: Butter: Use unsalted butter and add 1/4 teaspoon of fine ground salt to your shortcrust flour and another 1/4 teaspoon to your choux flour. Give each a quick mix before continuing with the recipe. Extract: You can use vanilla extract in place of the almond flavor in the choux and/or the frosting. Shortcrust Tips: See the Step-by-Step Instructions section in the above post. Choux Tips: See the Step-by-Step Instructions section in the above post.
Nutrition
Calories:
297
kcal
|
Carbohydrates:
37
g
|
Protein:
4
g
|
Fat:
24
g
|
Saturated Fat:
15
g
|
Polyunsaturated Fat:
1
g
|
Monounsaturated Fat:
6
g
|
Trans Fat:
1
g
|
Cholesterol:
102
mg
|
Sodium:
219
mg
|
Potassium:
47
mg
|
Fiber:
1
g
|
Sugar:
1
g
|
Vitamin A:
765
IU
|
Calcium:
18
mg
|
Iron:
1
mg