Take your favorite party appetizer and make it festive! This Candy Cane Charcuterie Board is our new favorite holiday grazing board that's packed full of holiday colors and flavors but with everything you love from a classic charcuterie board!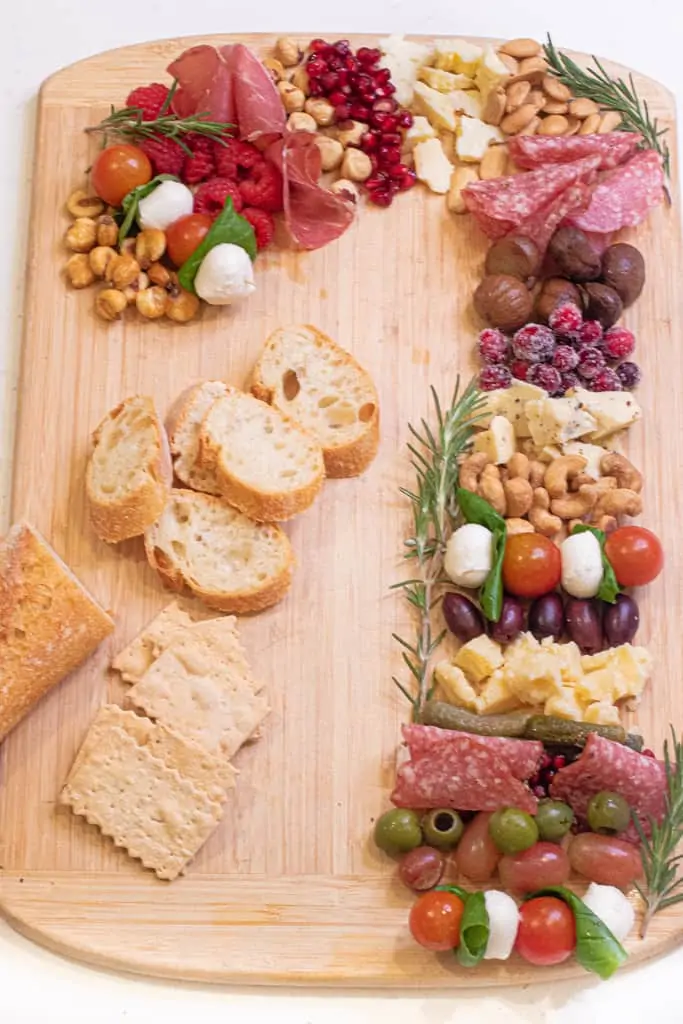 Ahhh is there anything more inviting than a charcuterie board? It's something that my girlfriends and I know well. Oooh so well when it comes to wine tasting weekends, and for the most recent getaway, this delightfully festive Candy Cane Charcuterie Board was born! Just in time for the holidays!
What Makes it a Holiday Board?
Aside from it there are a few other key components that make this Candy Cane Charcuterie Board a little different from a standard one.
Festive Shape! Since Candy Canes really only come out once a year, there's nothing quite like Christmas more than them! But you could also make this Holiday Charcuterie Board into a Christmas Tree, Santa Hat, or Wreath!
Color Scheme. The possibilities are quite literally endless when it comes to a grazing board, and so to make it a holiday board, pick a color scheme and stick to it. For our candy cane charcuterie board, I chose the colors red, green, and white. Perfect Christmas colors, perfect Caprese colors, as well as so many other options.
Seasonal Ingredients. While some ingredients are of course standard, a holiday board is the perfect time to add in some seasonal favorites. Ours include chestnuts, pomegranate seeds, and our newest holiday obsession, Candied Cranberries!
Ingredients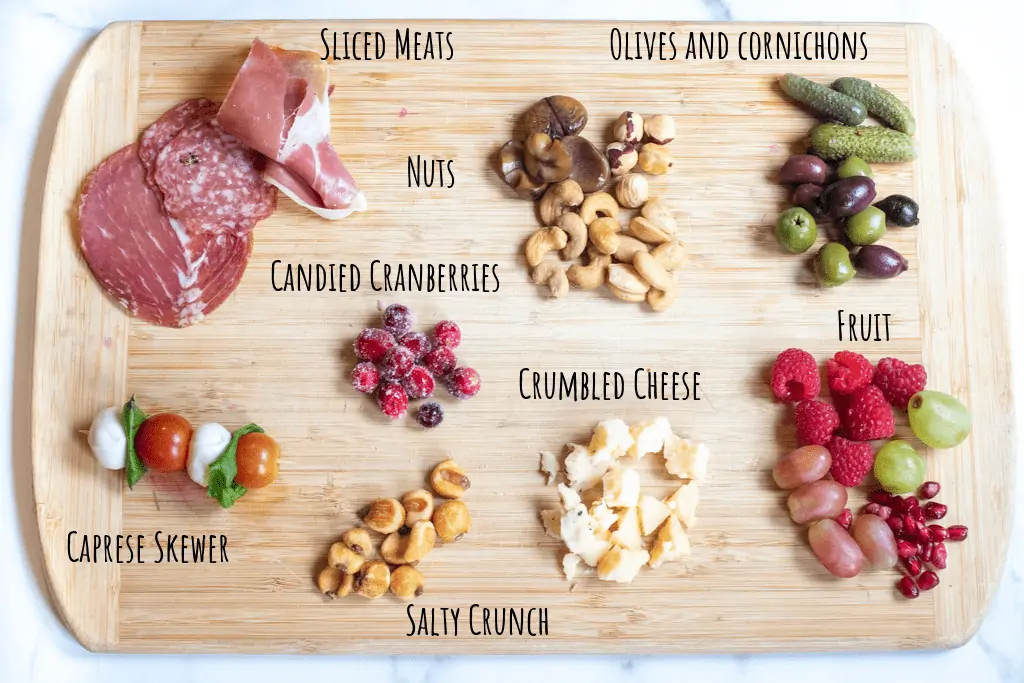 Meats: Our standard favorites are prosciutto, some salami, and/or some uncured sopressata. Some Spanish chorizo or pork rillettes would also be absolutely delightful.
Nuts: Our favorites include almonds, cashews, hazelnuts, and the oh so festive chestnuts! If you can find some whole roasted and peeled chestnuts, they're so delightful and all the work is already done!
Fruits: Raspberries, fresh pomegranates, and some red and green grapes. Such festive colors!
Candied Cranberries - Did you see my latest post about how to make these adorably festive little "snow-covered" fresh cranberries? They're so much fun on this board.
Briny Goodness - Add some salty briny olives and cornichons! We love to use pitted kalamative and castelvetrano olives because it just makes it all easier.
Caprese Skewer: This is one of my favorite parts of this holiday charcuterie, these little "skewers" (toothpicks) of fresh mozzarella balls, fresh basil, and cherry tomatoes. We use two little toothpicks per skewer because using just one isn't typically long enough.
Pro Tip: Make your own Fresh Mozzarella and shape it into your own little mozzarella balls!
Cheeses: For this particular board, we like to use cheeses that have a medium-hard texture because we want them to be pre-crumbled for assembly. While we love a super soft brie, best to keep those on a separate plate or board. For this holiday grazing board, we used a gouda (a truffle gouda is incredible if you can find it), mahón (a hard, buttery salty Spanish cheese), and nice Gryuère.
Salty Crunch: Some kind of salty crunch is a must on my boards like some crunchy salted toated quicos or corn nuts.
Fresh Herbs - For a little festive garnish! We have a huge rosemary bush in our yard so we love to add some fresh rosemary to all of our holiday platters.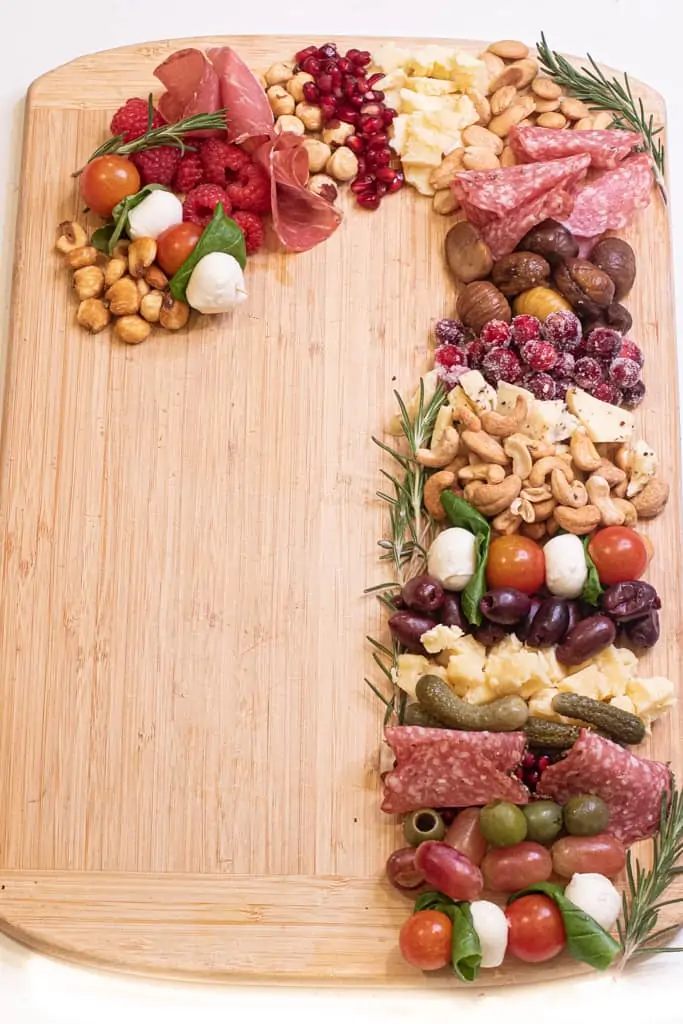 Once you have all of your ingredients, then it's time to assemble!
Tips for Assembling
Pre-Cut Meats and Cheeses. While a normal charcuterie board will have whole blocks of beautiful cheeses or logs of salami or other meats to cut when it comes to a holiday board, it's not only about keeping a shape and a scene, but it's also about the grab n' go. Keep it easy to take a place on a plate.
Have Refills Ready. This is of course optional, but if you want maximum life out of the shape of your holiday board, have some refills ready in the fridge to backfill and keep that festive shape longer! Keep small containers of the pre-crumbled cheese and Caprese skewers ready to go whenever they're needed.
Customize it! Probably the best part of a charcuterie board, you know that no matter what's on it, if it has meat, cheese, and some crunch with a carb on the side as a vessel, it'll be loved. And devoured.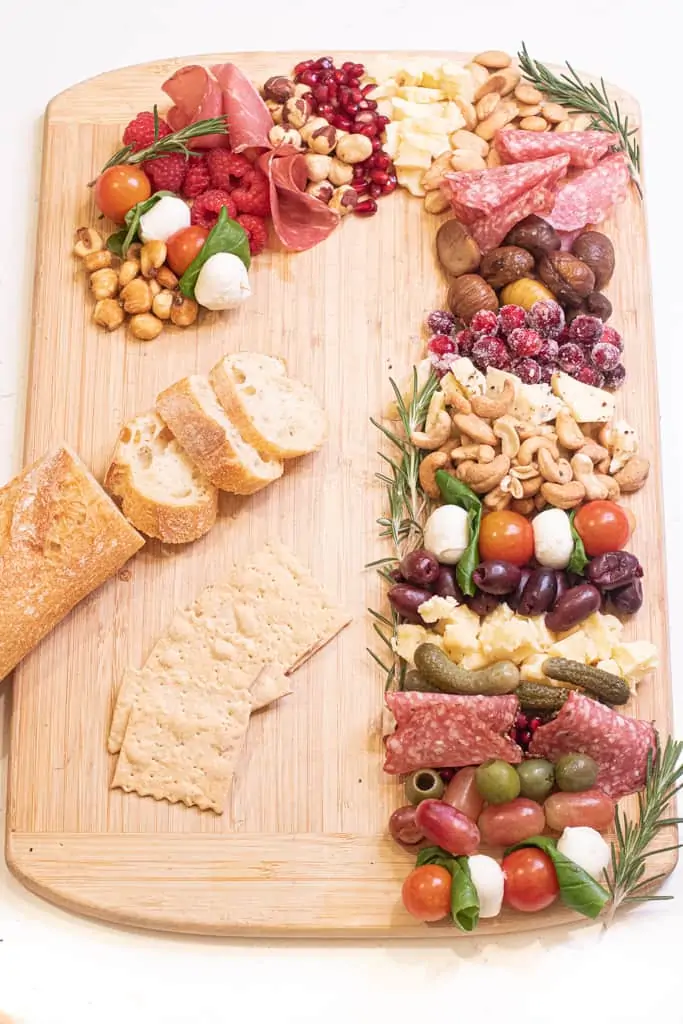 Serve it With
Baguette. Like our Easy Crusty French Baguette!
Crackers. Go the extra mile by making some of our Ritz Crackers From Scratch, Saltines From Scratch, Healthy Homemade Wheat Thins, or my new favorite, Everything Bagel Rye Crackers!
Any other assortment of your favorite breads or crackers, or keep it gluten-free by just enjoying the board as it is!
Happy Holidays, everyone! May your gatherings be safe, merry, and full of the people you love and delicious food!
Enjoy! As always, if you make this recipe or any of my others, I love to hear what you think! Leave a comment below, email me, or you can find me on Facebook, Instagram, and Pinterest!
If you want to see more, be sure to sign up for my 5 Easy Ways to Start Cooking From Scratch!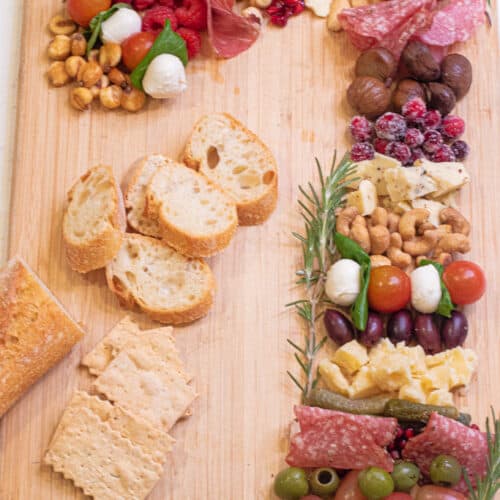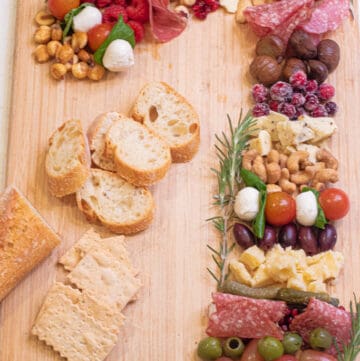 Candy Cane Charcuterie Board
Make your favorite meat and cheese board festive!
Print
Pin
Rate
Equipment
large cutting board or serving platter
Ingredients
6-10

cherry tomatoes

6-10

small

mozzarella balls

6-10

leaves

fresh basil

1/2-1

cup

quicos

or con nuts

1/2-1

cup

hazelnuts

roasted and salted or raw

1/2-1

cup

roasted shelled chestnuts

1/2-1

cup

almonds

we love valencia or truffle almonds

1/2-1

cup

salted cashews

1

pint

fresh raspberries

1/2-1

cup

crumbled gouda cheese

we love a truffle gouda for this!

1/2-1

cup

crumbled gruyère

1/2-1

cup

crumbed mahon

or any other medium-hard cheese of choice!

1/2-1

cup

pitted kalamative olives

1/2-1

cup

pitted castelvetrano olvies

1

cup

red grapes

1

cup

green grapes

1/2

cup

candied cranberries

2-4

oz

Prosciutto

2-4

oz

mixed salami

2-4

oz

sopressata

1/2

cup

cornichons

or gerkins

fresh rosemary to garnish

breads or crackers of choice
Instructions
Make your Caprese Skewers by taking two tooth picks and sticking each about halfway into a cherry or grape tomato on each side. Add a mozzarella ball on one side and a folded fresh basil leaf on the other. Add basil to mozzarella side and then end with another cherry tomato on one side and a mozzarella ball on the other, to create tomato, basil, mozzarella repeated on one skewer.

Crumbled the cheeses into bite sized pieces.

Assmele board by layering each ingredient into a candy cane shape.

Store extras in the fridge to easily refill any holes.

Garnish with fresh rosemary.

Serve with your favorite baguette and crackers if desired.
Notes
Customizable
Use your favorite cheeses, fewer nuts, fewer olives, different cheeses, all Caprese skewers, more meat - it's all totally up to you!
Different Shape
Make it into a wreath or Christmas tree! Or forget the shape altogether and just add it all to a large board.
Keep it Gluten-Free
Omit the bread and crackers or serve it with your favorite gluten-free option.