These homemade Sugared Cranberries are fast and easy to make and are so incredibly festive! They're a great gluten-free and vegan way to add a little holiday cheer to any holiday board or dessert!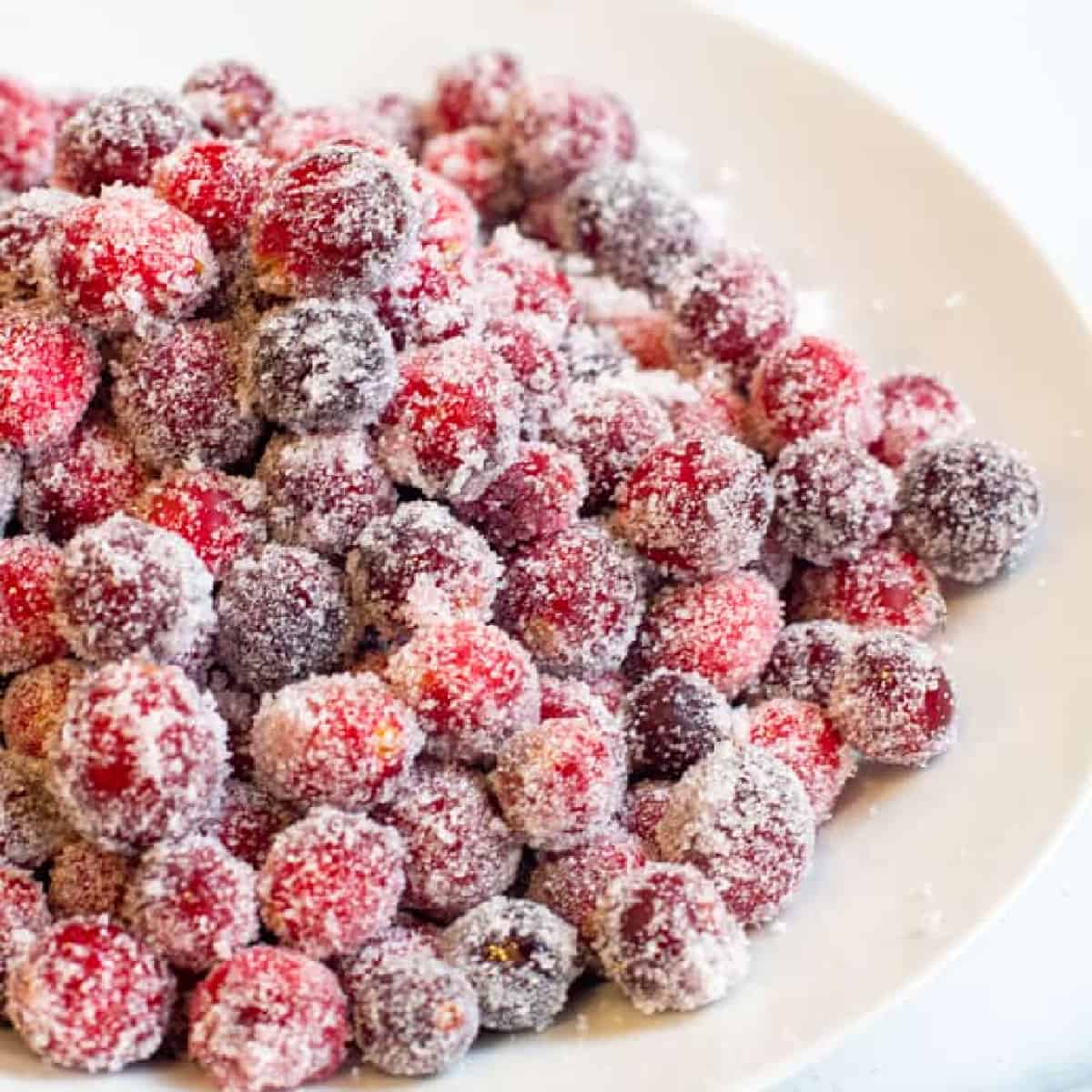 Here's a quickie for you all, just in time for all of your holiday gatherings! These homemade Sugarged Cranberries are the perfect way to add a little festive kick to a cookie tray, grazing board, or on top of a beautiful cake. Just wait and see how we use them...!
What are Sugared Cranberries?
Well, basically just sugar-coated fresh cranberries. So they maintain all the fresh sour tartness of fresh cranberry, but they're covered in a simple syrup and then rolled in sugar.
This gives them a delightful balance of sweet and sour as the sour cranberry pops you have the syrupy sugar-coated sugar to balance it.
Ingredients Needed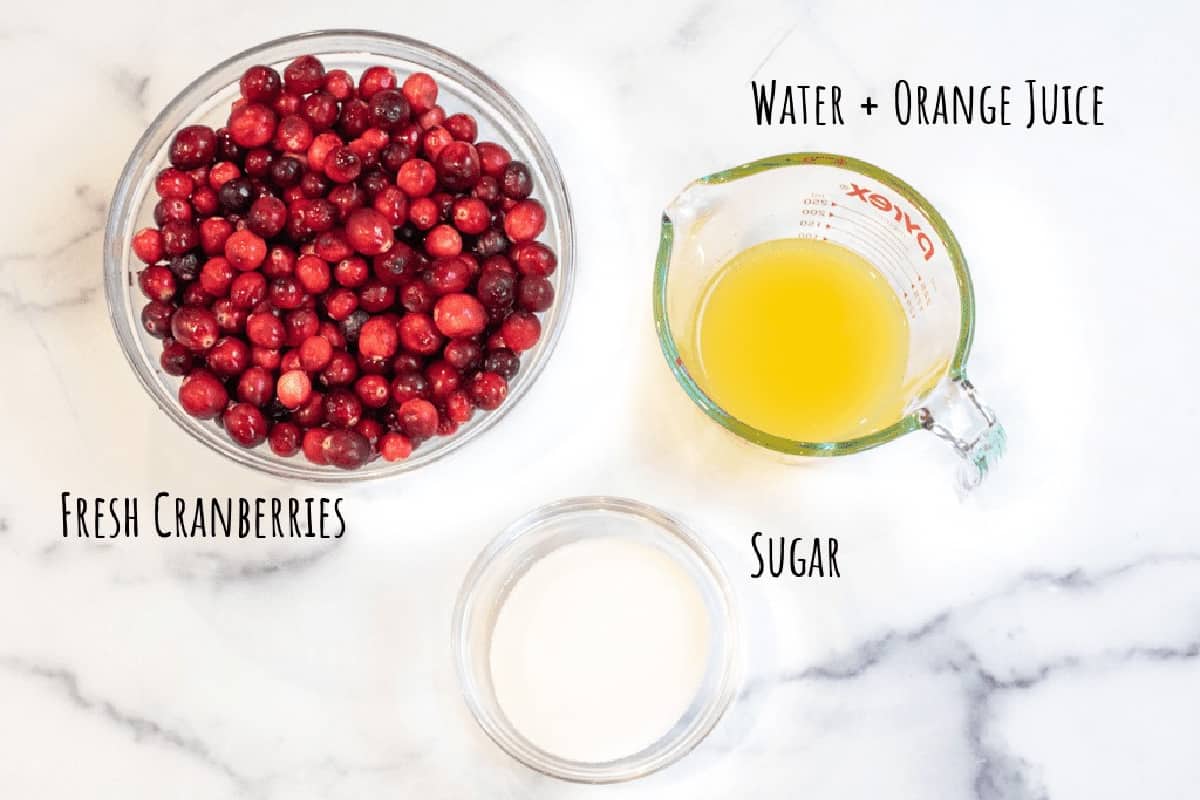 So so simple and fresh!
Fresh Cranberries. They're in abundance, right now! You can also use frozen cranberries that are fully thawed.
Sugar. I prefer a simple granulated sugar for this recipe because I think it makes these sugared cranberries looks the most like they're little snow covered berries, but a cane sugar would also be great.
Orange Juice and Water. This is for the simple syrup to coat the berries with before rolling them in sugar.
How to Make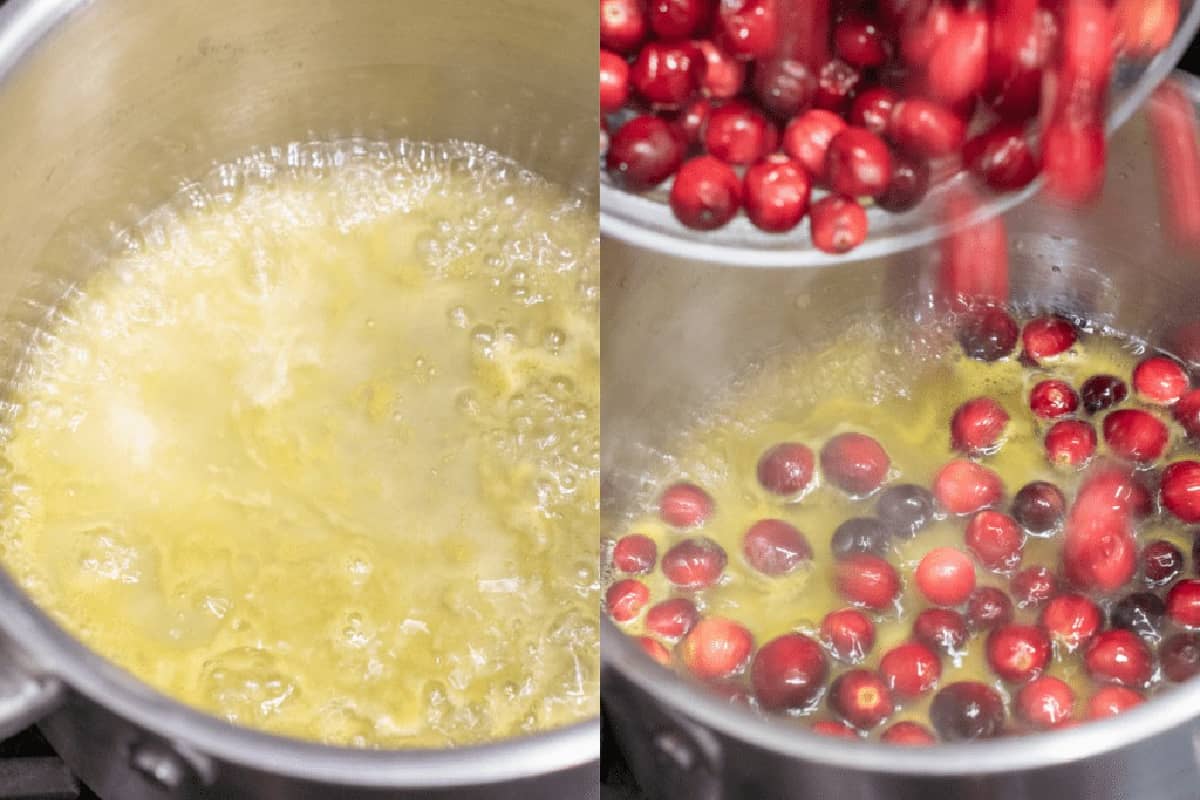 Make Simple Syrup. This is basically a liquid sweetener that will coat your cranberries so that the sugar will coat them. I love to make mine with water and orange juice.
Add the Cranberries. But just for a hot minute! Unlike our Homemade Cranberry Sauce, you're not cooking the cranberries, because that's when they're burst. You want to make sure that your berries stay intact, so they're really just taking a nice hot soak in the syrup.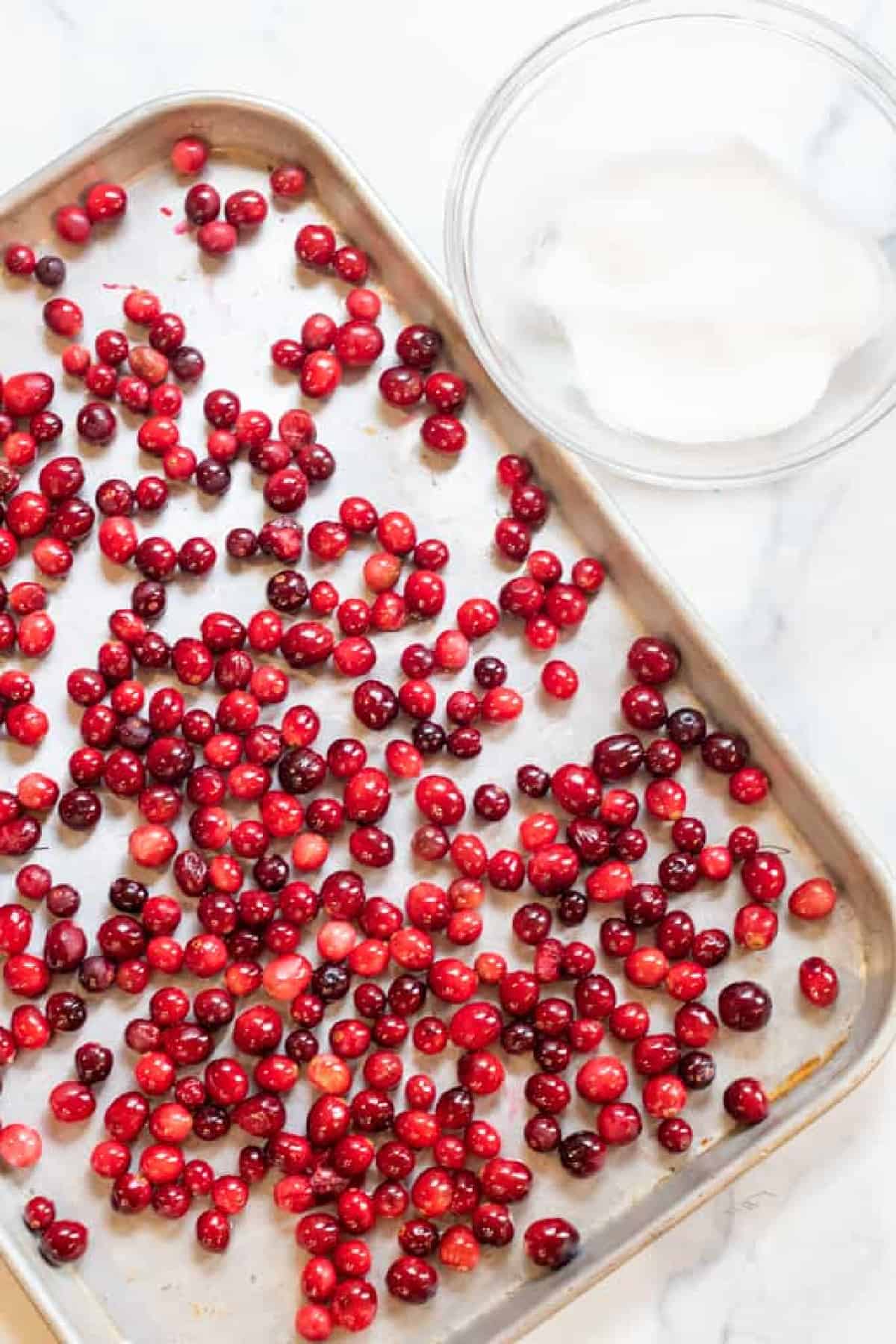 Let the Cranberries Cool. About 45 minutes they're ready to go. Just line them out on a baking sheet to cool enough to handle and so that the sugar won't melt when it hits the berries. Or do it in 60 minutes or 75. You'll still be able to coat them after about an hour and fifteen or so, so go about your life and get back to the berries when you're ready.
TIP: Don't do what I did for these pictures and use parchment paper! They'll stick to your tray so parchment will help when you're ready to roll. Also, a parchment paper-lined wire rack is great, too.
Roll in Sugar. Give them a nice sugary coat. Go thin. Go thick. Go clumpy. Do a mix of whatever you want!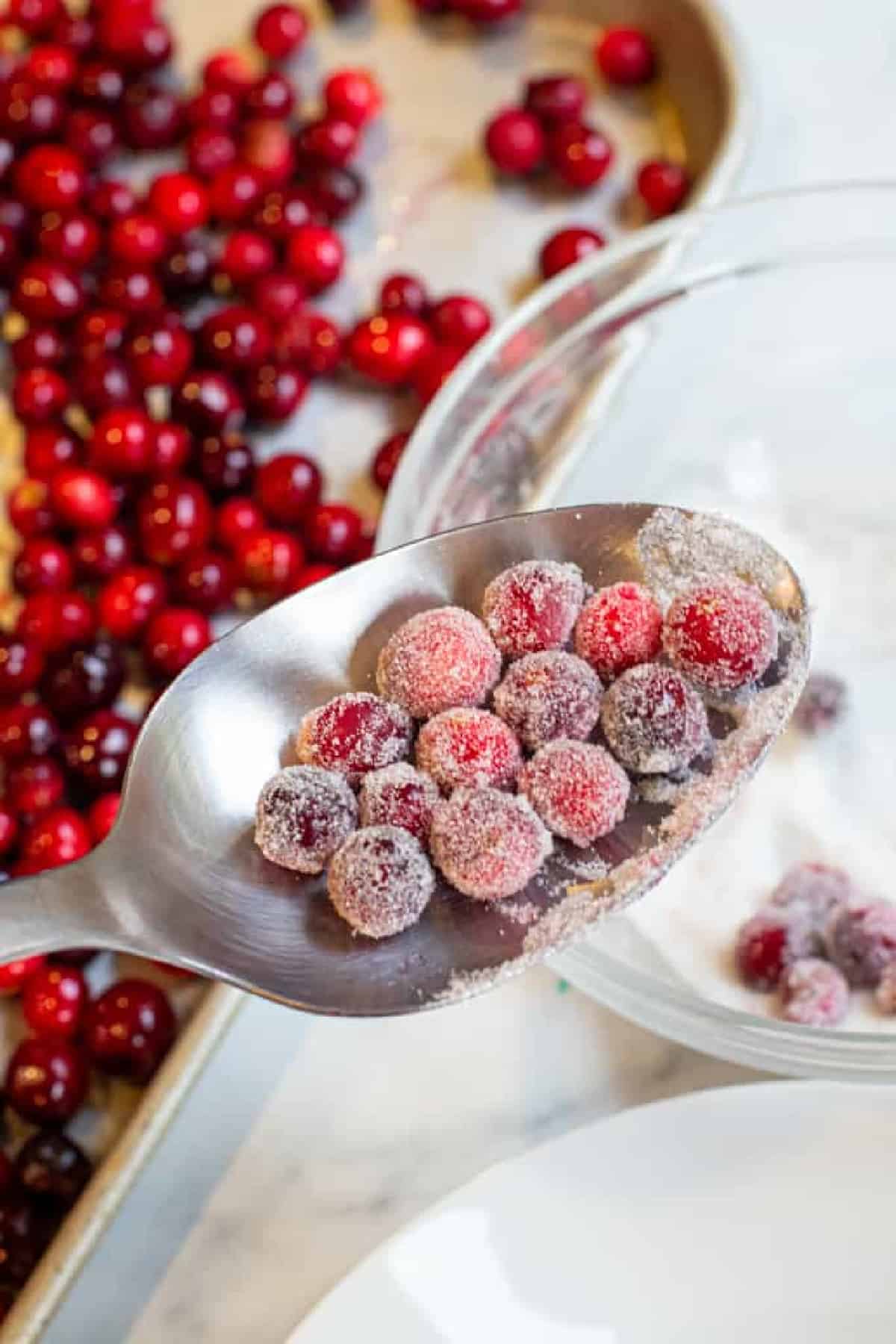 My first are always so nicely evenly coated in sugar. Then you start to see when I start to think about all of the other things on my to-do list for the day, and then even coat becomes much less even and far more - rustic? Rustic, that's what I'm going with!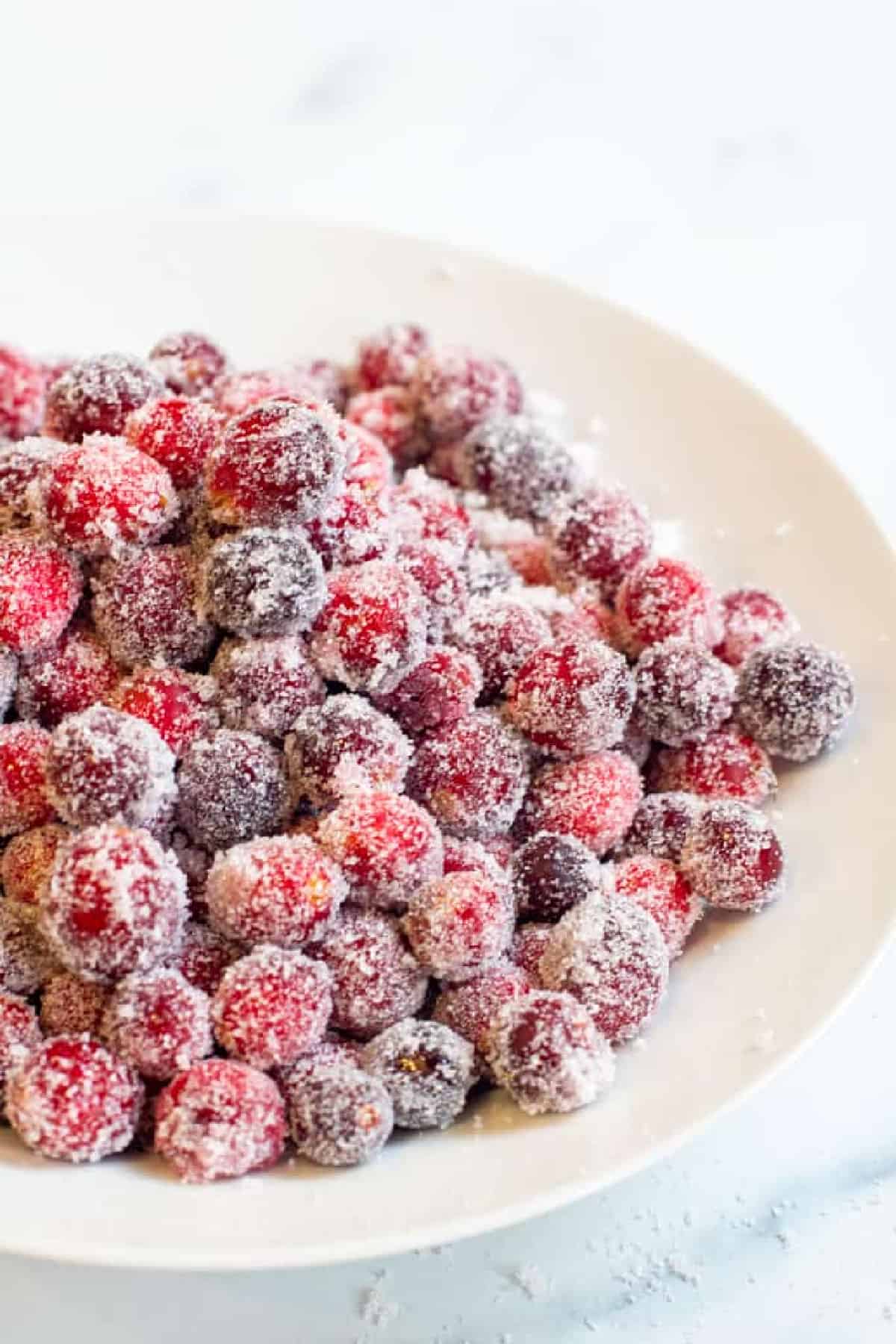 But that adds to the charm, doesn't it? These Sugared Cranberries are like little frosty snow-covered berries!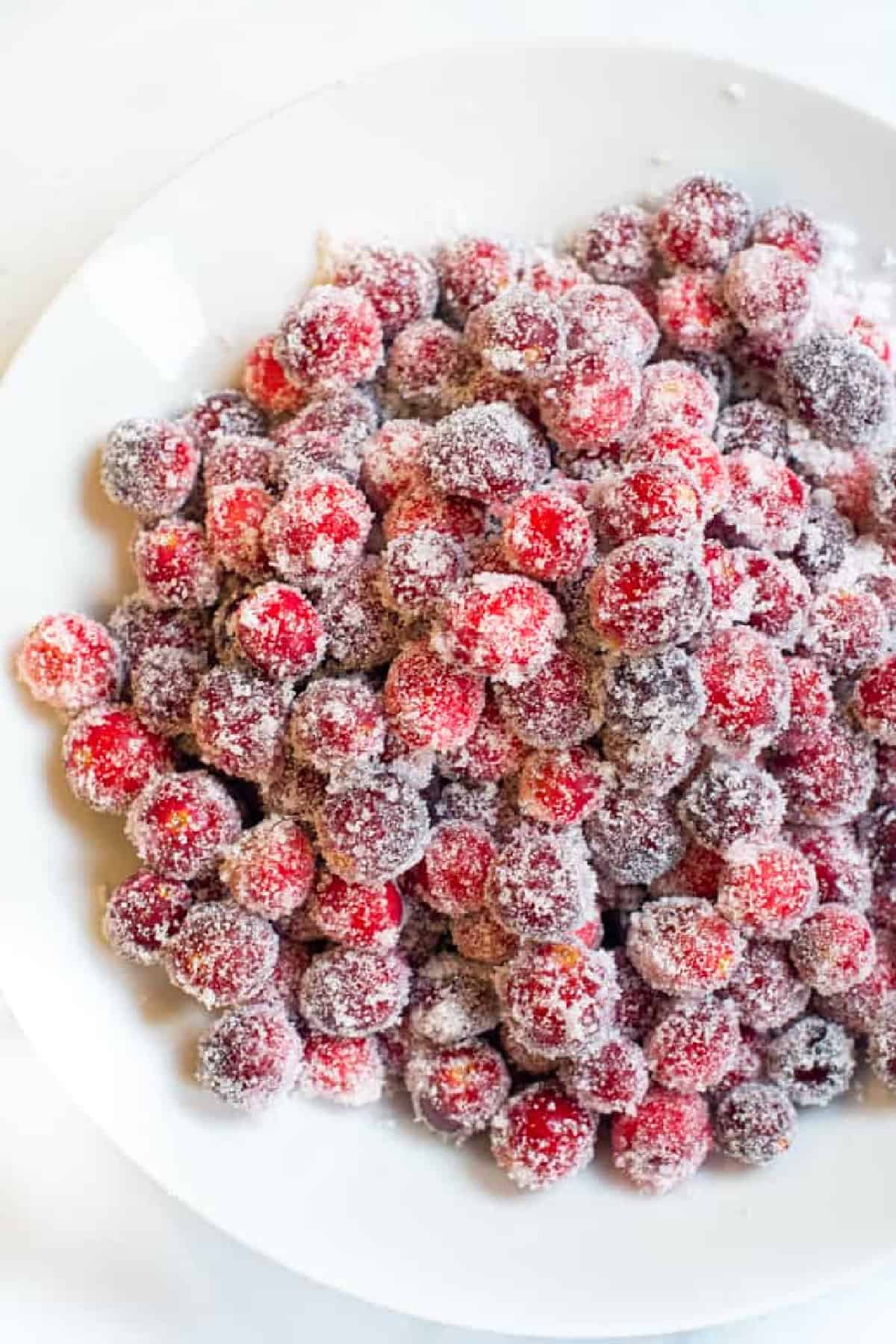 They add an easy, low-maintenance, festive pop of color for any holiday tray or on top of a holiday cake! Plus, they're gluten-free and vegan!
We're in the final weeks! Enjoy all that this holiday season has to offer, including these fresh berries and all of the different ways to use them, and all of the delicious holiday treats! Plus, stay tuned for our favorite way to use these little sugared beauties!
Enjoy! As always, if you make this recipe or any of my others, I love to hear what you think! Leave a comment below, email me, or you can find me on Facebook, Instagram, and Pinterest!
If you want to see more, be sure to sign up for my 5 Easy Ways to Start Cooking From Scratch!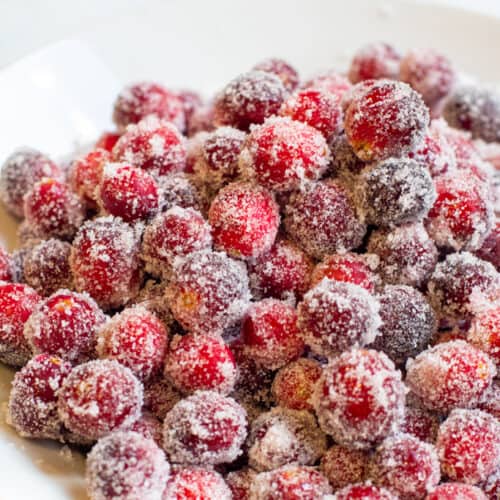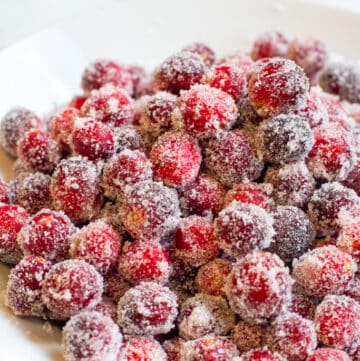 Sugared Cranberries
Add a little festive pop of color with these sugar coated cranberries!
Print
Pin
Rate
Ingredients
12

oz

fresh cranberries

1/4

cup

orange juice

1/4

cup

water

1/2

cup

sugar

divided
Instructions
In a small saucepan, add water, orange juice, and 1/4 cup of the sugar. Whisk and heat on medium to bring to a gentle simmer. Let cook for 2-3 minutes, whisking to combine so that all of the sugar is dissolved.

Remove pan from heat and gently add cranberries. Stir to coat all berries for about 1-2 minutes.

With a slotted spoon, remove berries from syrup, gently shaking off excess, and line them in a single layer on a parchment paper lined wire rack or baking sheet.

Let berries cool for 45 minutes.

Meanwhile, add the remaining 1/4 cup of sugar to a small bowl. Once berries have cooled, in batches, add berries to bowl and coat in sugar. Remove and shake off excess and add coated berries to a bowl. Repeat with all berries.

Store in fridge for up to 4 days.
Notes
Nutritional Value is approximately for 1 cup of berries - and assuming all of the remaining 1/4 cup of sugar is used for coating.
Storage:
Fridge: For up to 4 days.
Freezer: Not recommended.
Use:
Eat like a sweet and sour candy!
As a garnish on a plate.
Top on your waffles, pancakes, cakes, or cookies!
Serve on a grazing board or party platter.
Nutrition
Calories:
190
kcal
|
Carbohydrates:
49
g
|
Protein:
1
g
|
Fat:
1
g
|
Saturated Fat:
1
g
|
Polyunsaturated Fat:
1
g
|
Monounsaturated Fat:
1
g
|
Sodium:
4
mg
|
Potassium:
138
mg
|
Fiber:
5
g
|
Sugar:
40
g
|
Vitamin A:
109
IU
|
Vitamin C:
25
mg
|
Calcium:
12
mg
|
Iron:
1
mg