This Easy Homemade Cranberry Sauce is made with fresh cranberries and ready in just 20 minutes! It's a classic holiday dish and the perfect make-ahead gluten-free, vegan Thanksgiving side!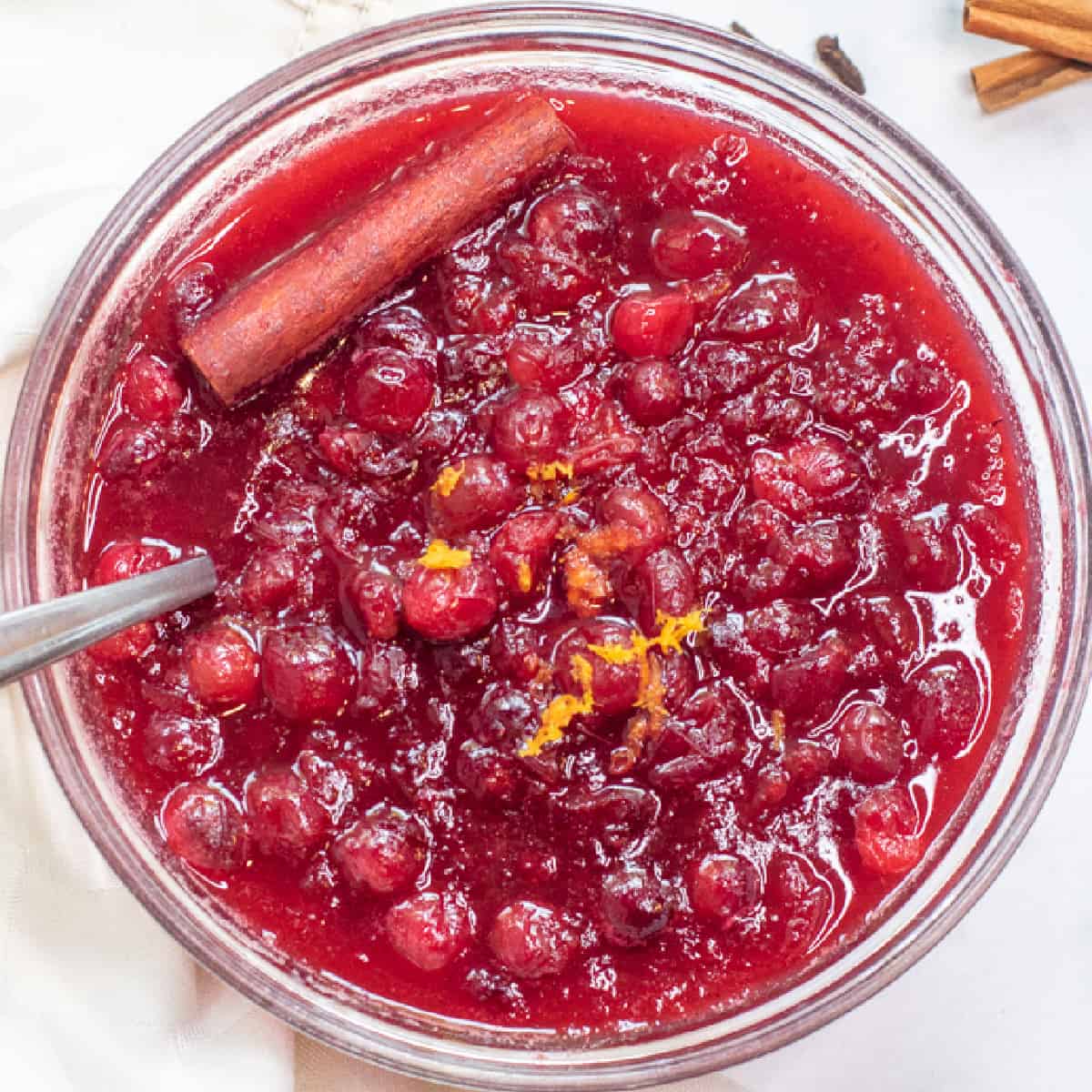 It's a Thanksgiving classic! But if you're like me, the actual classic growing up came out of a can with perfectly marked lines to slice the big thick rounds. It wasn't until I was out of the house when I discovered the joy of what real fresh cranberry sauce was - and how easy it is! This Easy Homemade Cranberry Sauce is made in just 20 minutes using fresh whole cranberries and it's perfect (and actually best) to make ahead!
What I love most about this homemade cranberry sauce is that it's fairly low in processed sugar, relying mostly on the natural sugar (with the benefit of delicious added flavor) from pure maple syrup. It's also not cloyingly sweet, allowing the natural tartness of the cranberry to be present but just oh so subtly.
Ingredients Needed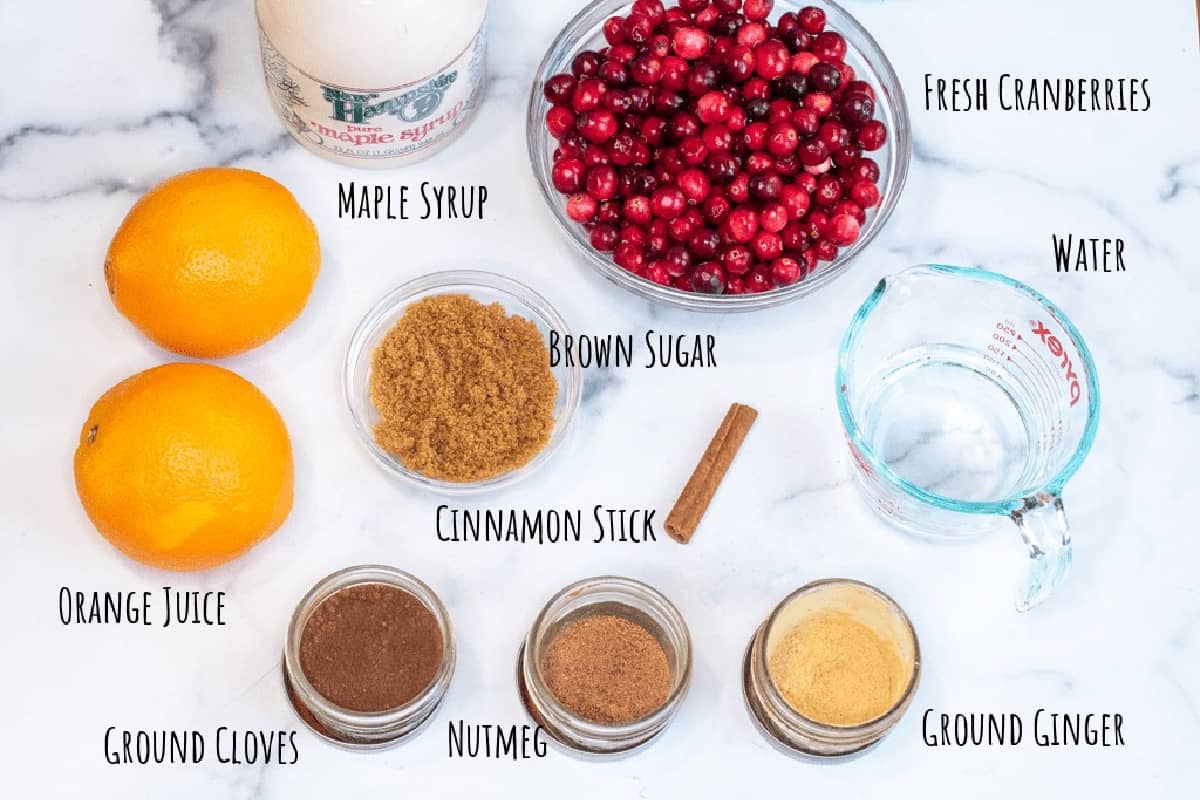 Simple and fresh, which is standard around here.
Fresh Cranberries - Easy to find around the stores around the holidays, but a little harder out of season. But fresh cranberries freeze so wonderfully, too, that you can absolutely stock up when they're in season so you can make this sauce any time of the year!
Orange Juice - I love fresh squeezed juice for this, but you could also use your favorite store bought OJ, too. Just be sure that it's the closest to 100% pure OJ as possible!
Maple Syrup - This is my absolutely favorite go-to natural sweetener, and the maple flavor is lovely with the cranberries, as well!
Brown Sugar - Just a little less than the maple syrup to add more sweetness, but also a great molasses flavor, as well! We use dark brown, but light is also delicious. No brown sugar in the house? You can whip up your own!
Cinnamon, Nutmeg, Ground Cloves, and Ground Ginger - These are our favorites for a lovely flavorful cranberry sauce, but you can omit, add, and adjust to your own taste.
Water - This is optional and adjustable. We love a cranberry sauce that's a little saucier than thick, so we add just about 1/4 cup of water. See the recipe notes about the thickness of the sauce and the added liquid.
Easy to Make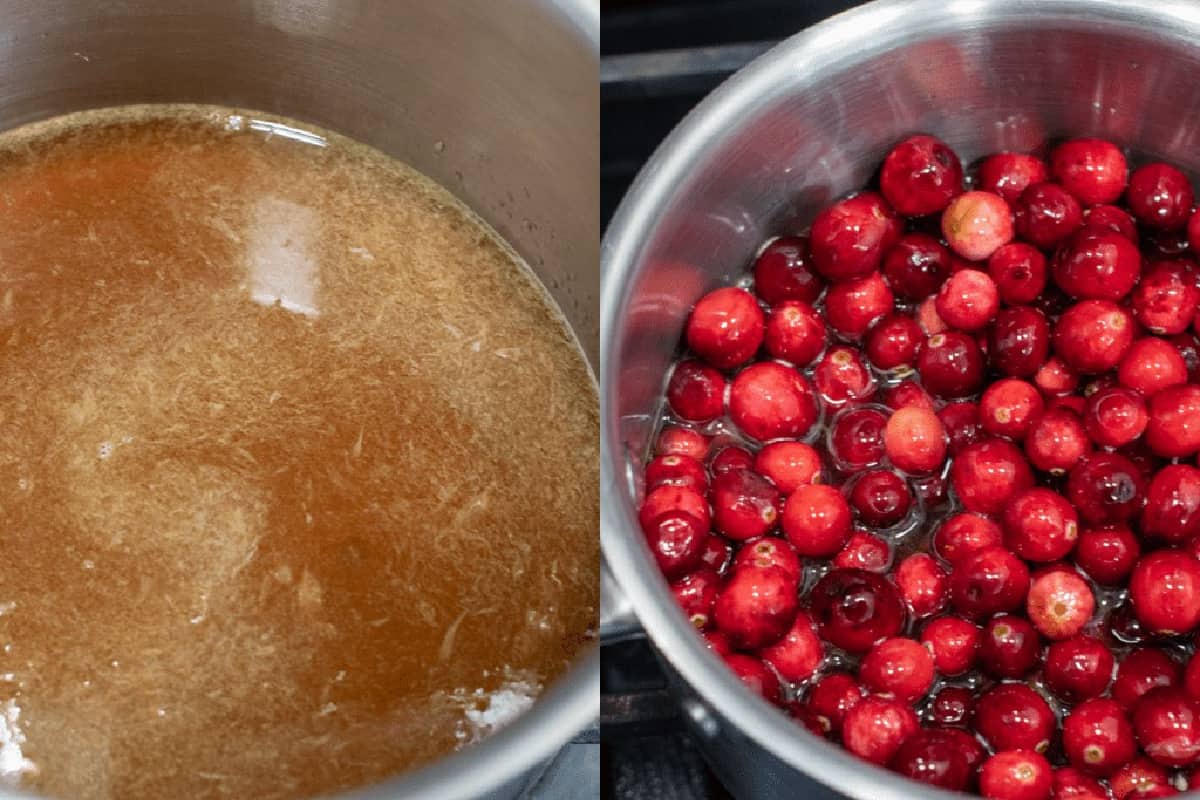 Heat liquids and then add cranberries. Just a couple of minutes of heating the liquid and dissolving the sugar before adding the cranberries.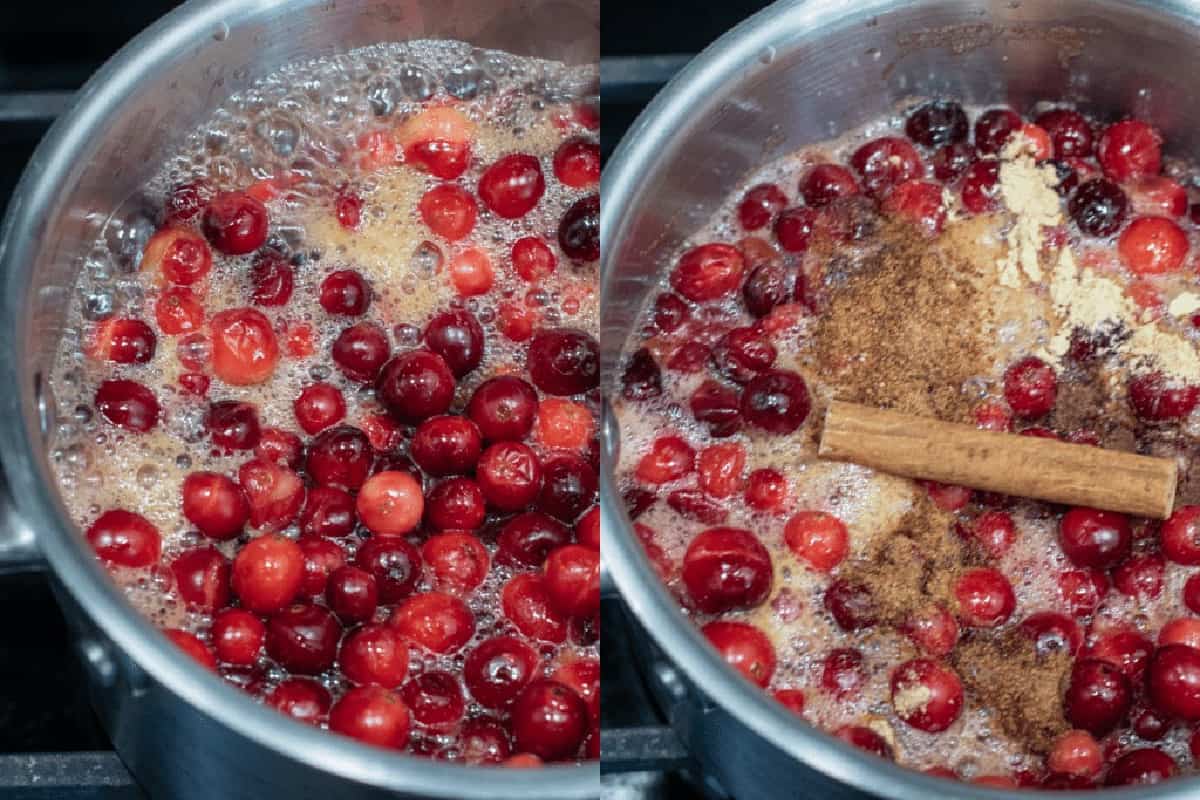 Bring to a boil then add spices. Now it's just letting it all cook!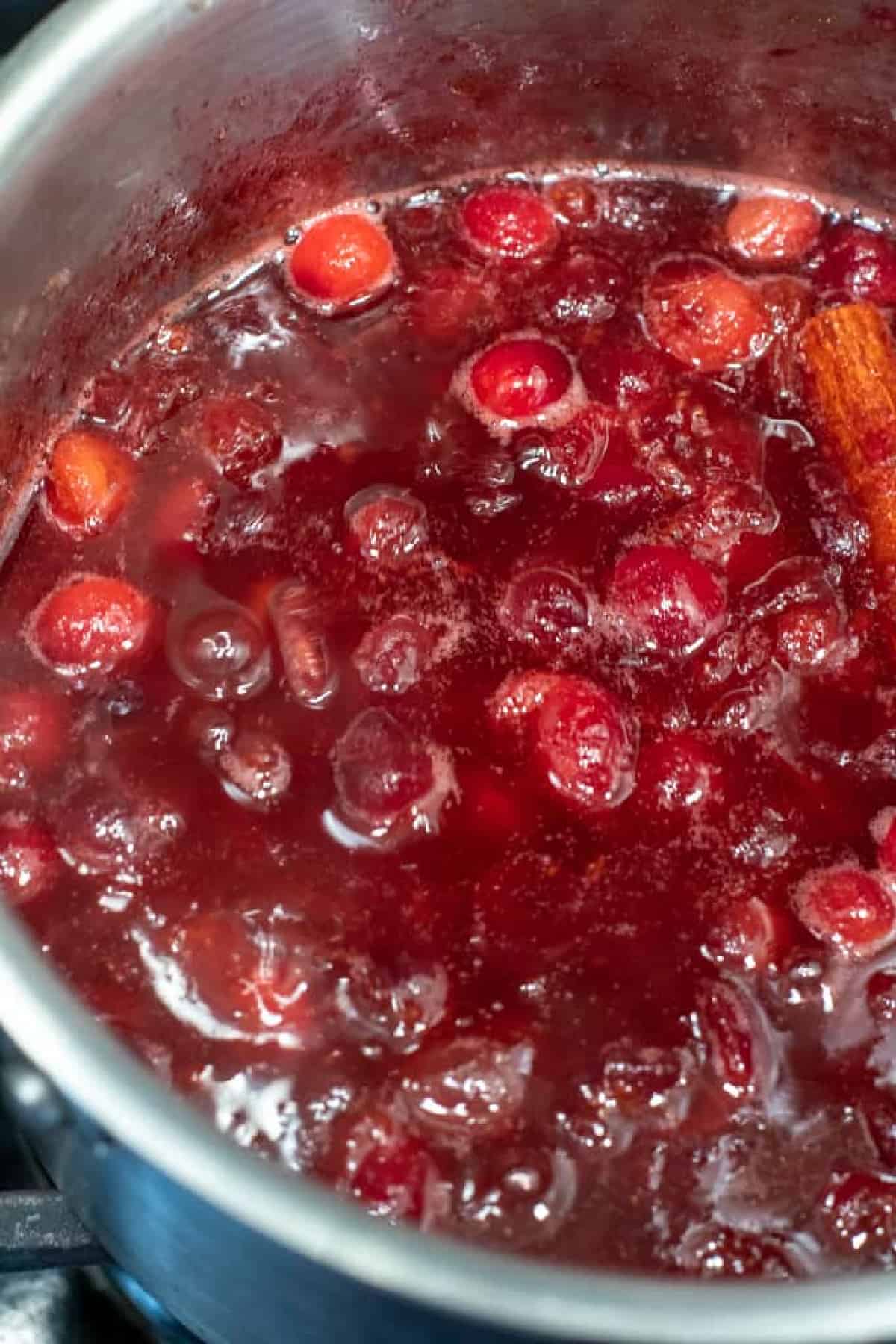 Let simmer to reduce and flavors to meld. That's it! So easy, right?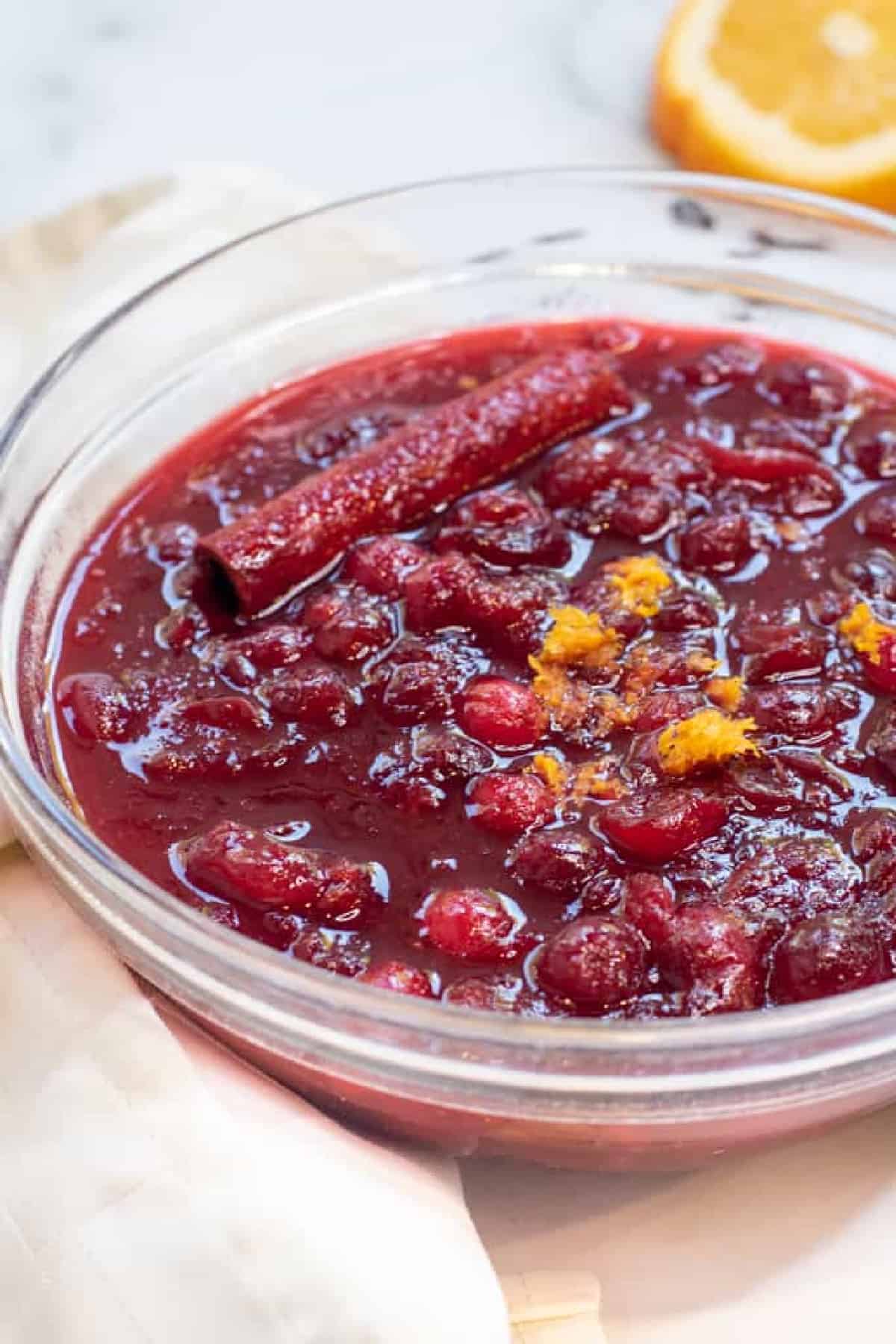 Add a little orange zest, if you want, and then let it all completely cool before serving, or before storing in the fridge. Because one of the best parts of this Easy Homemade Cranberry Sauce is that you can totally make it in advance and just pull it out of the fridge when you're ready!
Homemade Cranberry Sauce Tips
Rinse your Cranberries. This will also allow you to then look through them and discard any that are bruised or rotton.
Adjust the Sweetness / Citris. While we tend to err on the less sweet side for most of our recipes, keeping the sugar levels down on most of our recipes, this cranberry sauce is no exception. But we've found that the 3/8 of a cup of sugar is really the least amount you'd want in order to balance the sour bitterness of the cranberries.
Sauce Thickness. We prefer a sauce that has a nice level of thickness, but still loose enough to be able to be poured over whatever you'd like on your holiday plate. Let it simmer longer to thicken it more, use a masher to mash up some of the whole cranberries that haven't burst while simmering, or you could reduce the OJ and water a little as well (see recipe notes). It will also thicken as it cools.
Spices / Add-Ins. This is a great recipe to make your own by adding in a variety of different spices/additions like raisins, currents, pecans, allspice, or added cinnamon.
Make it in Advance. One of the best parts of a good homemade cranberry sauce is that you can make it up to a week in advance! Perfect for holiday meal planning.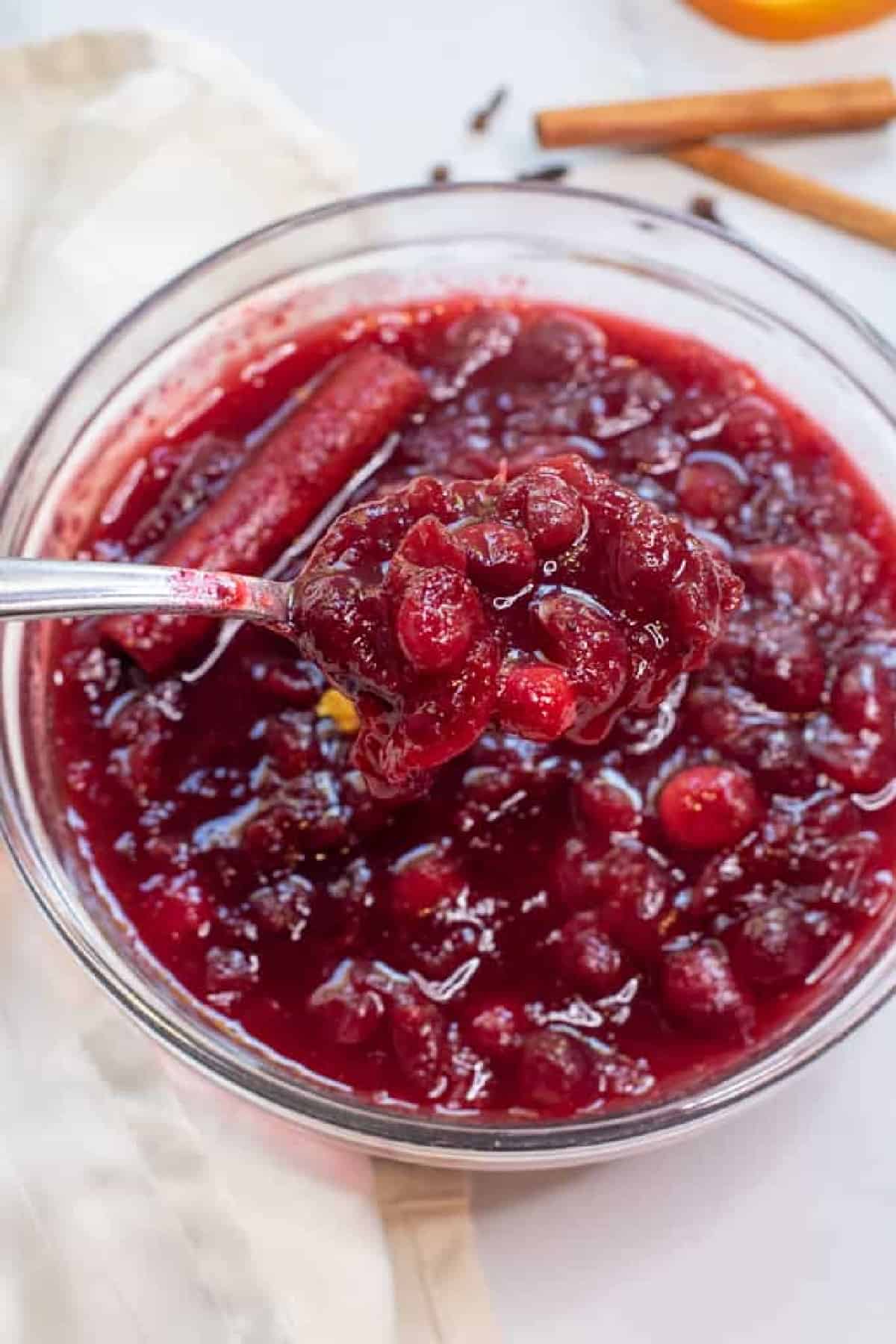 Happy Holiday cooking, everyone! Here are some of our other holiday table favorites: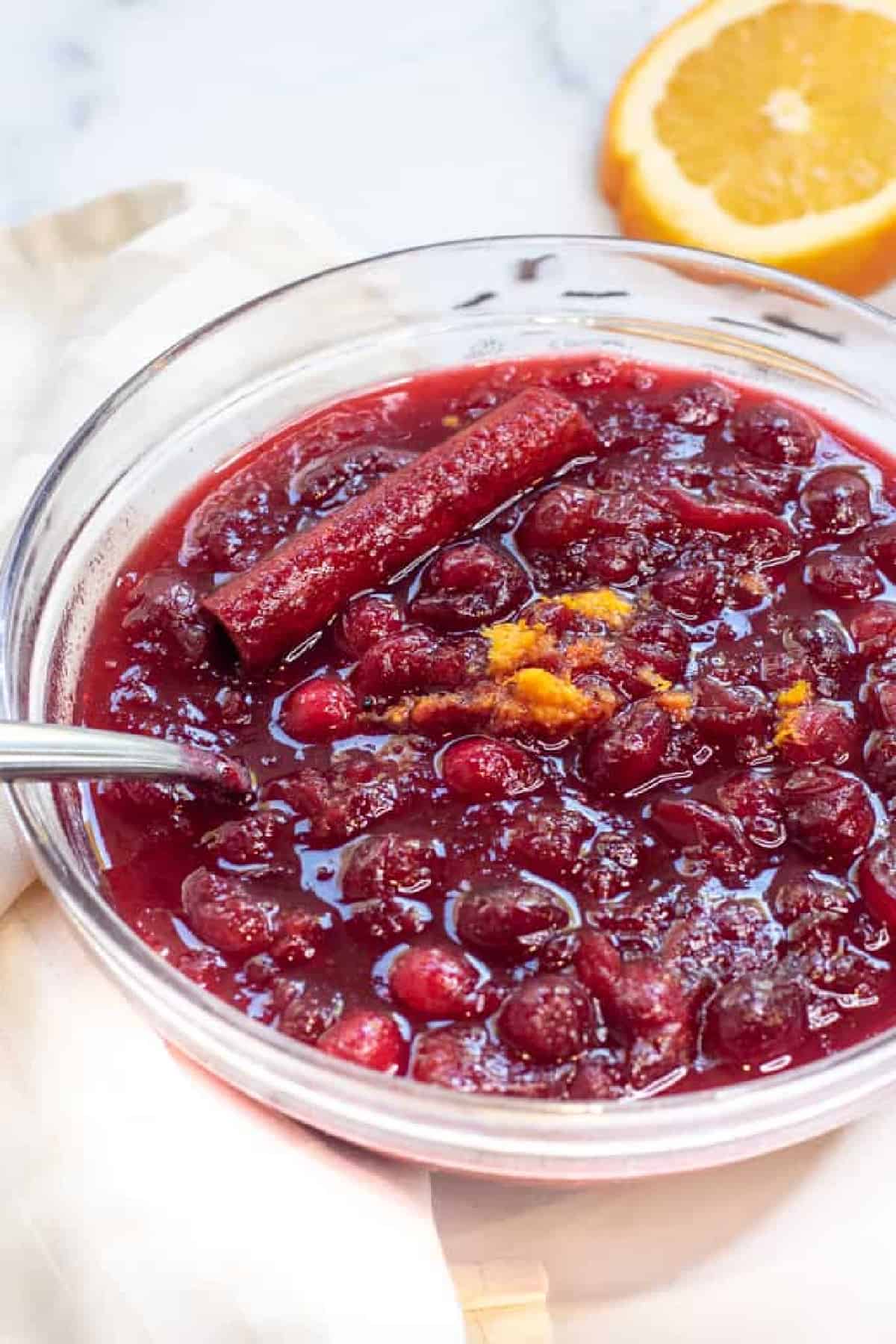 Enjoy! As always, if you make this recipe or any of my others, I love to hear what you think! Leave a comment below, email me, or you can find me on Facebook, Instagram, and Pinterest!
If you want to see more, be sure to sign up for my 5 Easy Ways to Start Cooking From Scratch!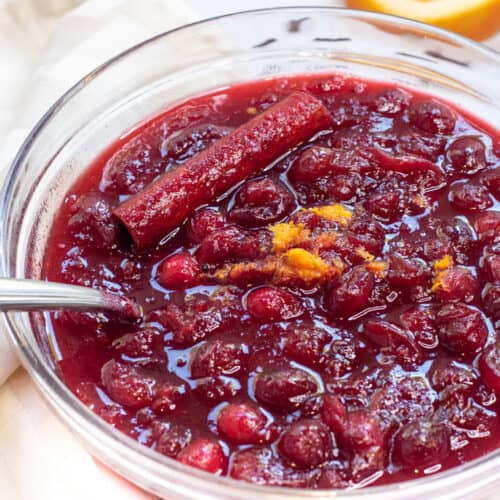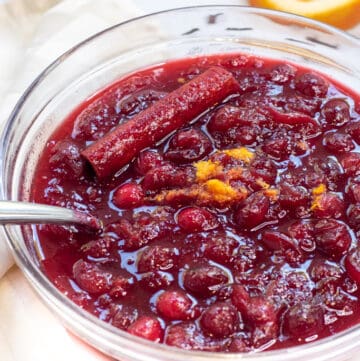 Easy Homemade Cranberry Sauce
A holiday classic, made from scratch with fresh cranberries!
Print
Pin
Rate
Ingredients
12

oz

fresh cranberries

approximately 4 cups

1/3

cup

maple syrup

3/8

cup

brown sugar

1/2

cup

orange juice

1/4

cup

water

1

cinnamon stick

1/4

teaspoon

ground ginger

1/8

teaspoon

ground cloves

1/4

teaspoon

ground nutmeg
Instructions
Add water, orange juice, maple syrup, and sugar, to sauce pan and heat over medium. Whisk to dissolve the sugar.

Rinse cranberries in a colander. Remove any that are bruised, and then shake off excess water.

Add cranberries to the sauce pan and stir. Bring everything up to a boil, then reduce heat to medium low to bring it to a simmer.

Add cinnamon stick, ginger, ground cloves, nutmeg to sauce pan and stir.

Let simmer for 10-15 minutes, stirring occassionally.

Many of the cranberries will burst but some will remain intact. Mash slightly with a fork if desired.

Discard cinnamon stick and transfer sauce to a bowl and let cool.

Serve or store in fridge for up to a week before serving.
Notes
The serving Size is for approximately 1 cup of sauce.
Make
it in Advance
You can make it up to a week in advance!
Storage:
Store in an airtight container in the fridge for up to a week. Freeze for up to 2 months.
Substitutions
Frozen Cranberries: Just give them a little water bath before adding to the pot, but they do not need to be fully thawed.
Sugar: Dark brown sugar is our favorite for this because of the rich molasses flavor it adds, but you could also use light or even white sugar.
Maple Syrup: While we love the added maple flavor this brings, you can also use your other favorite natural sweetener, like honey.
Cinnamon: If you don't have a whole cinnamon stick to add, use 1/2 teaspoon of ground.
Thicken: There are a couple of ways to make this homemade cranberry sauce thicker. Although, if you think it's too "saucy" after it's first made, remember, it will thicken some while it cools, too.
Let simmer longer: This will allow more time for the liquid to reduce.
Reduce liquid: We find that the best ratio of orange juice to water is 2:1. So if you want to reduce the liquid, you can use as little as 1/4 cup of orange juice and 1/8 cup of water for a much thicker sauce, but be more mindful while it simmers to make sure it doesn't reduce too much and start burning your pan.
Additional Spices / Add-ins: Add some crunch with some pecans or walnuts, additional texture with raisins or currants, and additional flavors with a pinch of ground all spice or additional cinnamon or ginger.
Nutrition
Calories:
415
kcal
|
Carbohydrates:
106
g
|
Protein:
1
g
|
Fat:
1
g
|
Saturated Fat:
1
g
|
Polyunsaturated Fat:
1
g
|
Monounsaturated Fat:
1
g
|
Sodium:
23
mg
|
Potassium:
457
mg
|
Fiber:
9
g
|
Sugar:
84
g
|
Vitamin A:
232
IU
|
Vitamin C:
54
mg
|
Calcium:
133
mg
|
Iron:
1
mg