Take your kale chips to the next level by adding a little texture and loads of flavor with these Sun-Dried Tomato Cashew Kale Chips!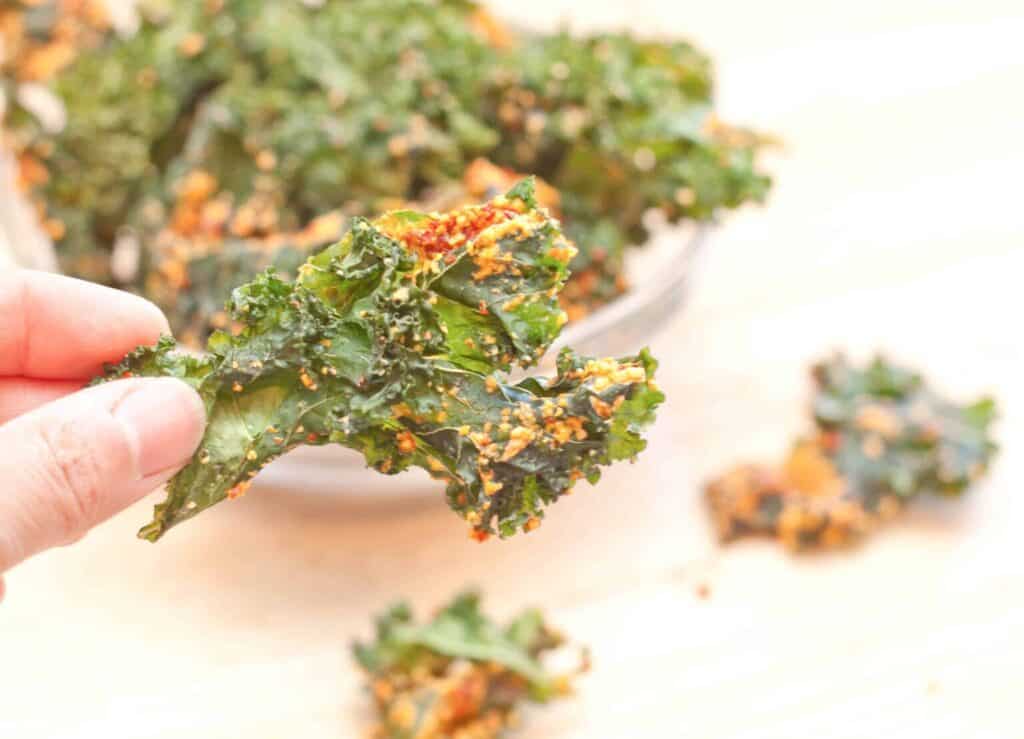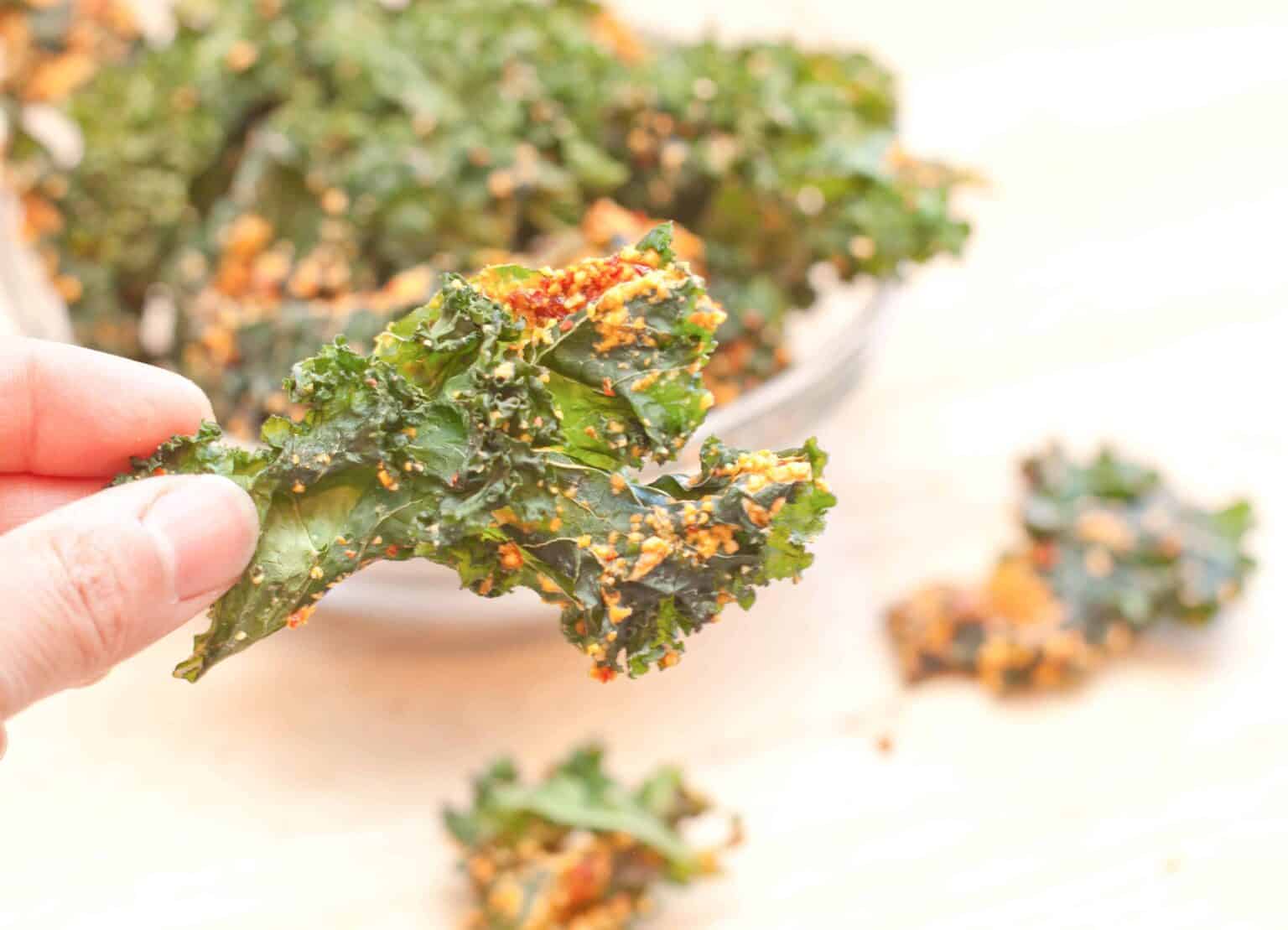 I am so obsessed with kale chips right now. Like really obsessed. They're just sooooo good. They're like little green potassium-packed crunchy vehicles for anything you want to put on them and my girl Alicia just recently introduced me to these incredible Sun-Dried Tomato Cashew Kale Chips which are now a new favorite!
Easy to Make
Even better, these chips have the already amazing crunch of the dehydrated kale, but also the added texture of the cashews and sun-dried tomatoes. PLUS the "cheesy" flavor from nutritional yeast!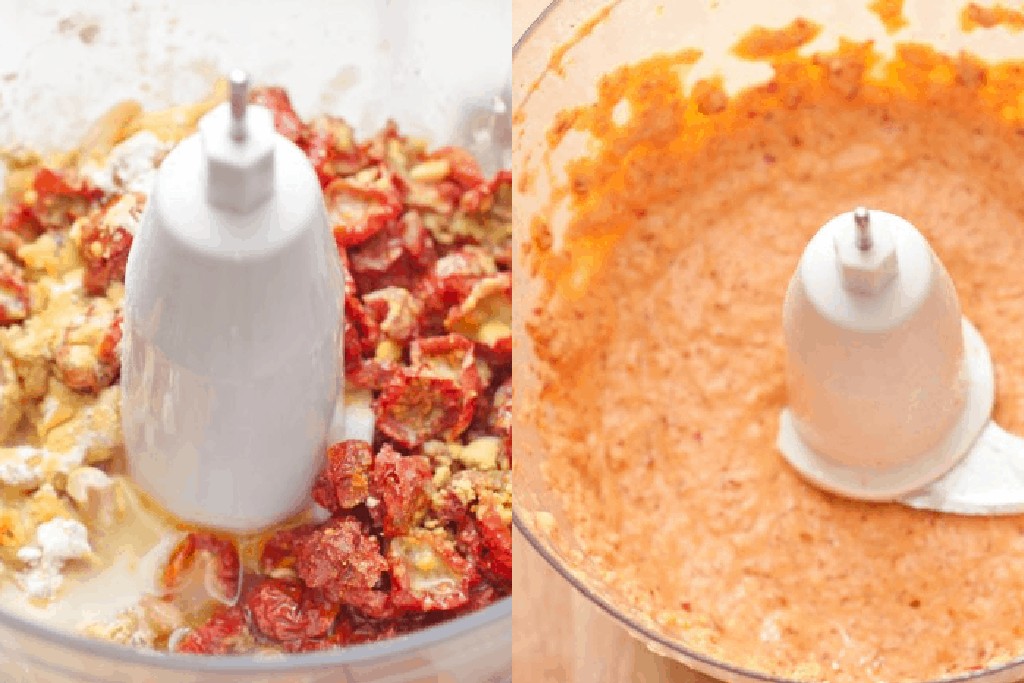 Step 1: Add everything (except the kale) to a food processor or blender to create a chunky paste.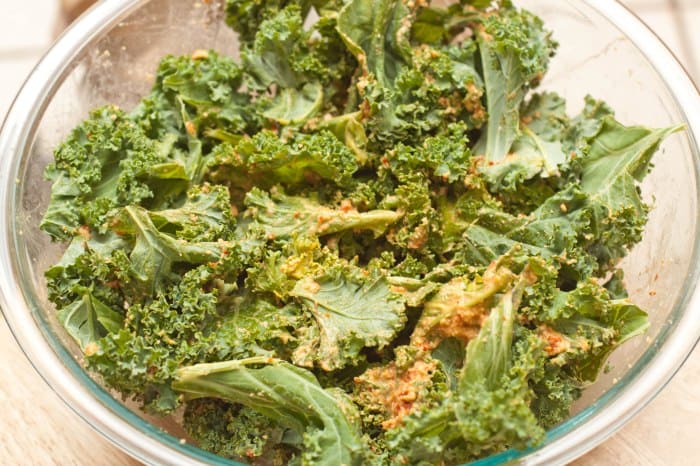 Step 2: Rip kale off of stems into medium-large pieces and mix the paste with the kale as evenly as possible.
Step 3: Add kale pieces to dehydrator trays and dehydrate for 8-12 hours.
Normally, on their own, kale chips take just a couple of hours in the dehydrator, but because of all of the tomato-cashew goodness on them, I gave it a lot longer - 8 hours.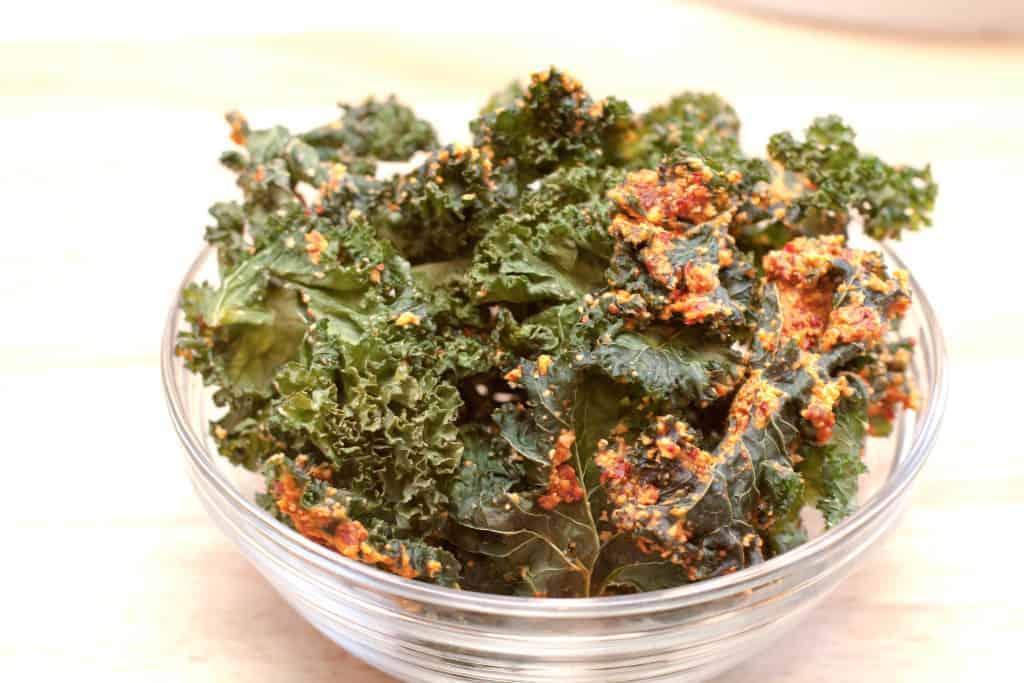 And done! Kale chips but kicked up a notch and coated with cashews and sun-dried tomatoes!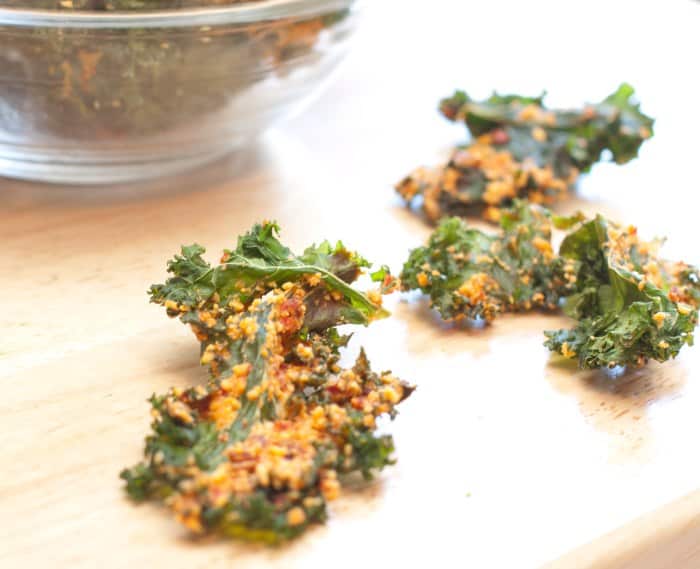 The kale chips that you know and love but with the added hearty, filling, and nutrition from cashews! Little crunchy healthy flavor trains. Sun dried tomatoes, cashews, a fake 'cheesy' flavor, and garlic. Yum!
Tools Needed
(Amazon affiliate links) - Here are some of the helpful kitchen tools for this recipe.
Dehydrator: This is the dehydrator that we started with and loved, and then we upgraded to this bad boy.
While you can also use your oven at a very low setting (or a dehydrate setting if you have it), if you want to get into the world of dehydrating, a dehydrator is an investment that you will no regret making!
Other Dehydrated Snacks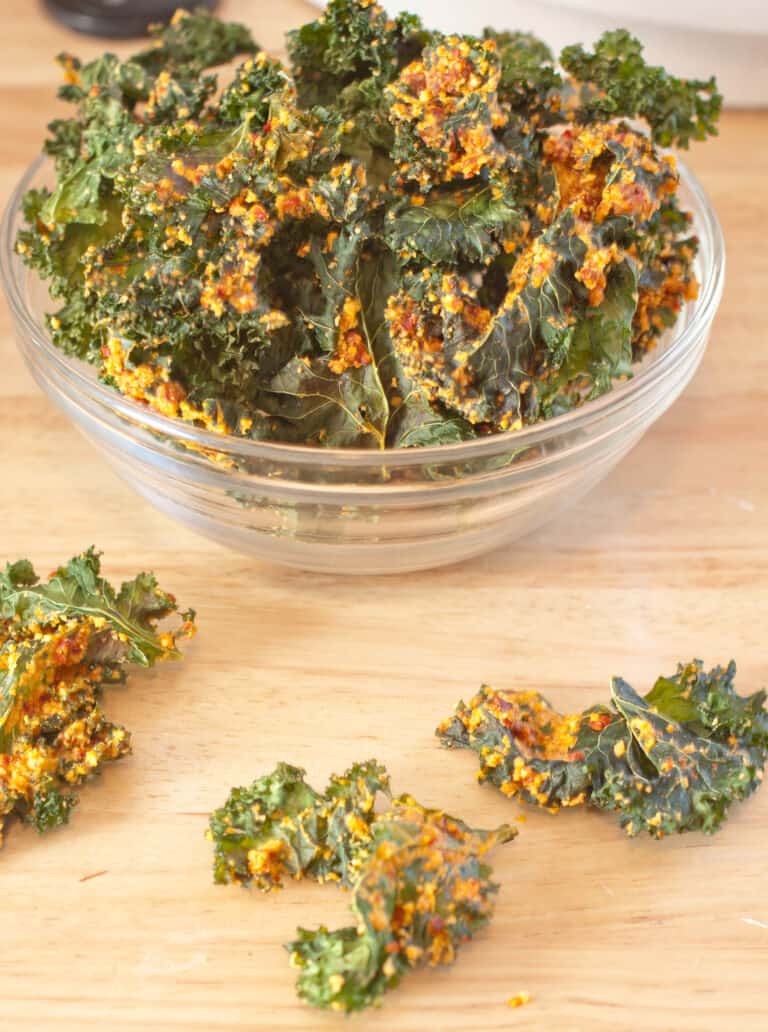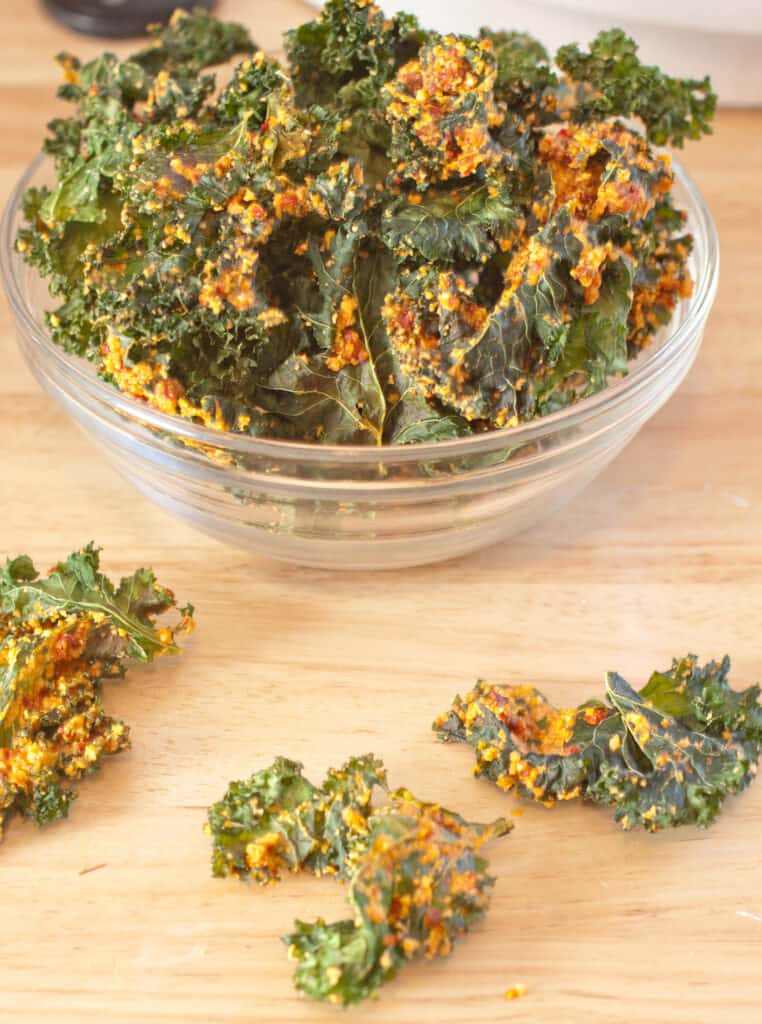 Coated, hearty, healthy, and delicious! Sun-Dried Tomato Cashew Kale Chips for the win!
Enjoy! As always, if you make this recipe or any of my others, I love to hear what you think! Leave a comment below, email me, or you can find me on Facebook, Instagram, and Pinterest!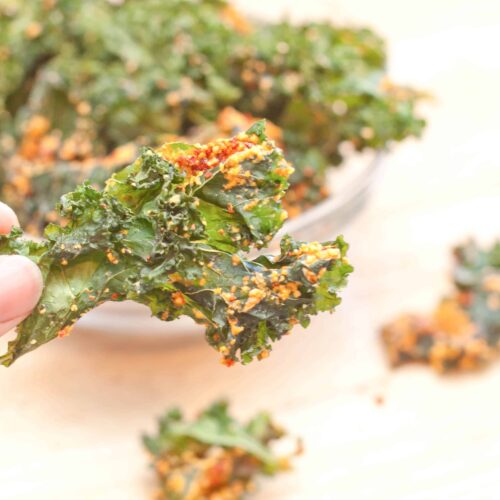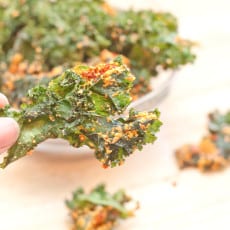 Ingredients
1

large

bunch Kale

ripped into medium-large sized pieces

1.5

oz

sun dried tomatoes packed in oil

1/2

cup

raw cashews

2

teaspoons

garlic powder

1

tablespoon

fresh lemon juice

1

tablespoon

nutritional yeast

1/4

teaspoon

salt

1-2

tablespoons

water
Instructions
Soak cashews in water for 1 hour.

Wash kale, rip into bit sized pieces (exclude stems) and set to dry in a large bowl (or dry in a salad spinner if you have one)

Add sun dried tomatoes (removed from oil) garlic powder, lemon juice, nutritional yeast, salt, and cashews (removed from water) to a food processor or blender. Blend. If too dry / chunky and not loose enough to spread / coat on kale, add a tablespoon or two of water, one at a time.

Make sure kale is mostly dry then add tomato cashew mixture to the bowl. Mix very well ensuring that all of the kale is coated.

Add kale to dehydrator trays and set dehydrator to 145 degrees for 8 hours. Put them in before you leave for work and when you get home they'll be done!

Store in an airtight container at room temperature - good luck storing them longer than a day!
Notes
Make kale chips without a dehydrator:
Heat oven to 300 degrees. Arrange kale in a very thin layer on a greased baking sheet and add to oven. Turn temp down to 220 degrees. Cook for 40-60 minutes. Check after first 30 minutes and pull out any that seem crispy and done. Ones that aren't dried yet, flip and add back to oven to finish. Let cool to crisp up.