Make your own Strawberry Fruit Roll Ups with just a couple of ingredients and no added sugar! It's the perfect fun from scratch treat for the kids!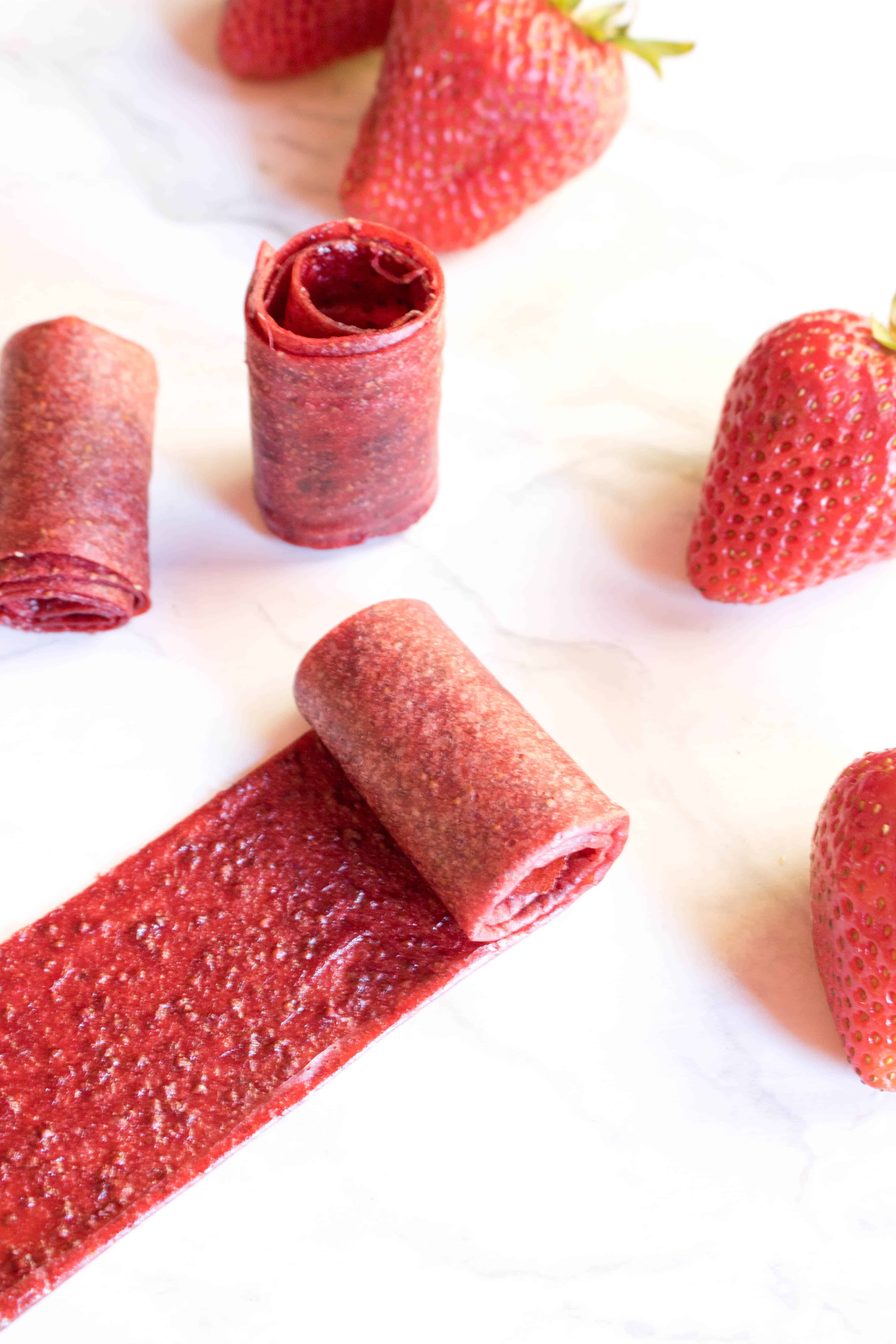 Oh hey!  I'm coming to you from a household of 5 now!  Our little K2 made her grand appearance a couple of weeks ago!  I've been sooo incredibly blessed to have fast, easy, safe births and even more blessed to now have two very healthy baby girls.  Since Baby Clara was a surprise gender, I'm still wrapping my mind around being a mom of two girls; especially two girls who are so close in age.  My husband may still be in a little bit of denial since this is our last baby, but we're all doing extremely well.  We even went out to dinner as a family the other night – Baby C's 9th day outside the womb and we got ourselves together to go out to dinner.  Life is good, to say the least.  Even better, M is an incredible big sister.  She hasn't shown an ounce of jealousy. All she wants to do is help. Help hold the baby, help feed the baby, and anytime the baby cries, she comes running to say, "It's ok baby!" and stroke her arm.  She's been a dream.  But we're still making sure that she knows how special she is, which means lots of extra love, attention, and of course, treats!  And this is one I've been wanting to make for her for awhile and thought that now was the perfect time to show my big girl how proud we are of her for being such a great big sister.  Her super special treat?  Strawberry Fruit Roll Ups from scratch without any added sugar!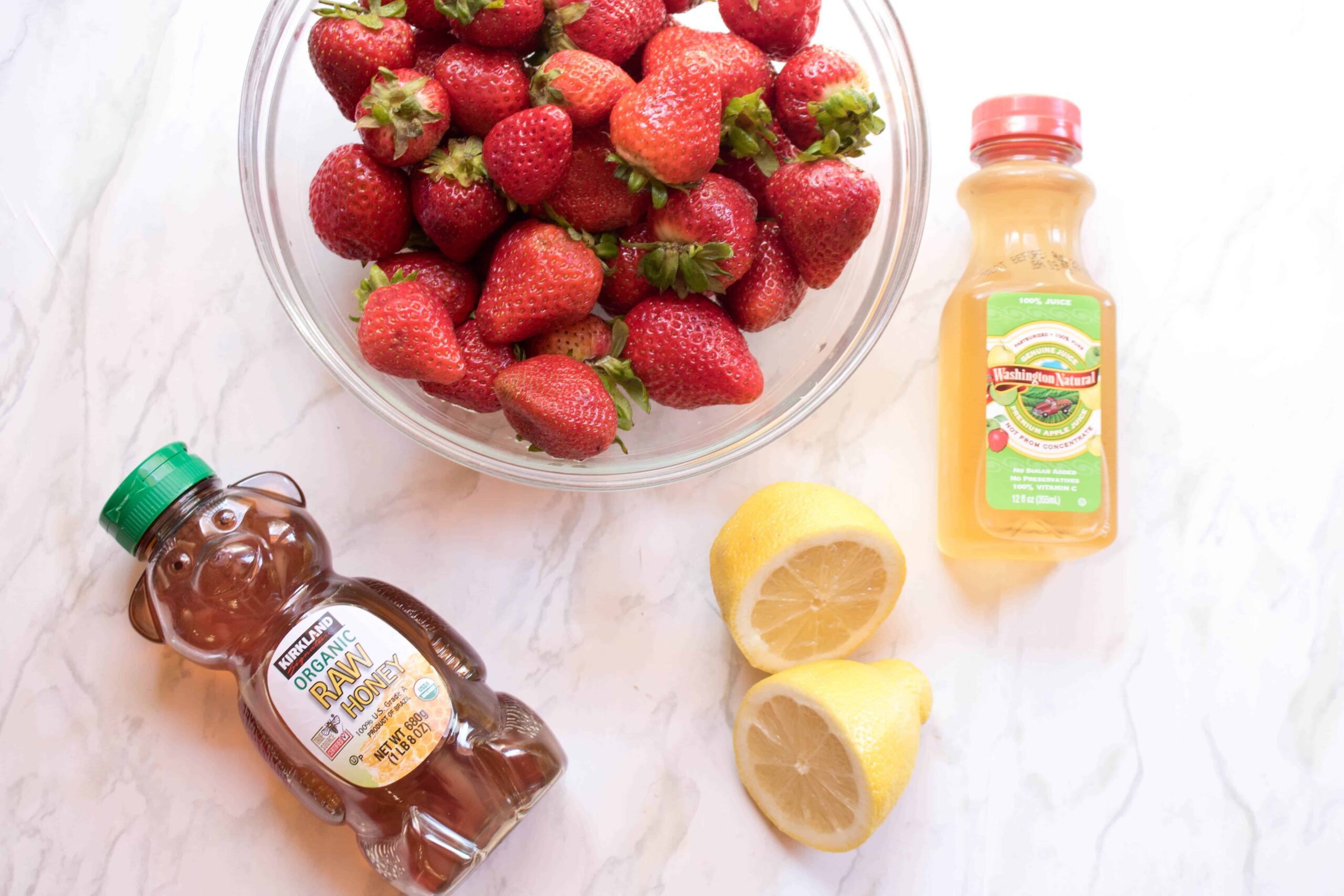 You guys know we don't eat a ton of sugar in this house and we stay pretty far away from most processed foods.  So anytime we can make a sweet treat that doesn't have any added sugar (like our Chocolate Crunch Bars and Inside Out Peanut Butter Cups), the better!  This classic kid snack is made with just 4 ingredients:  fresh strawberries, honey, fresh lemon juice, and just a little bit of apple juice.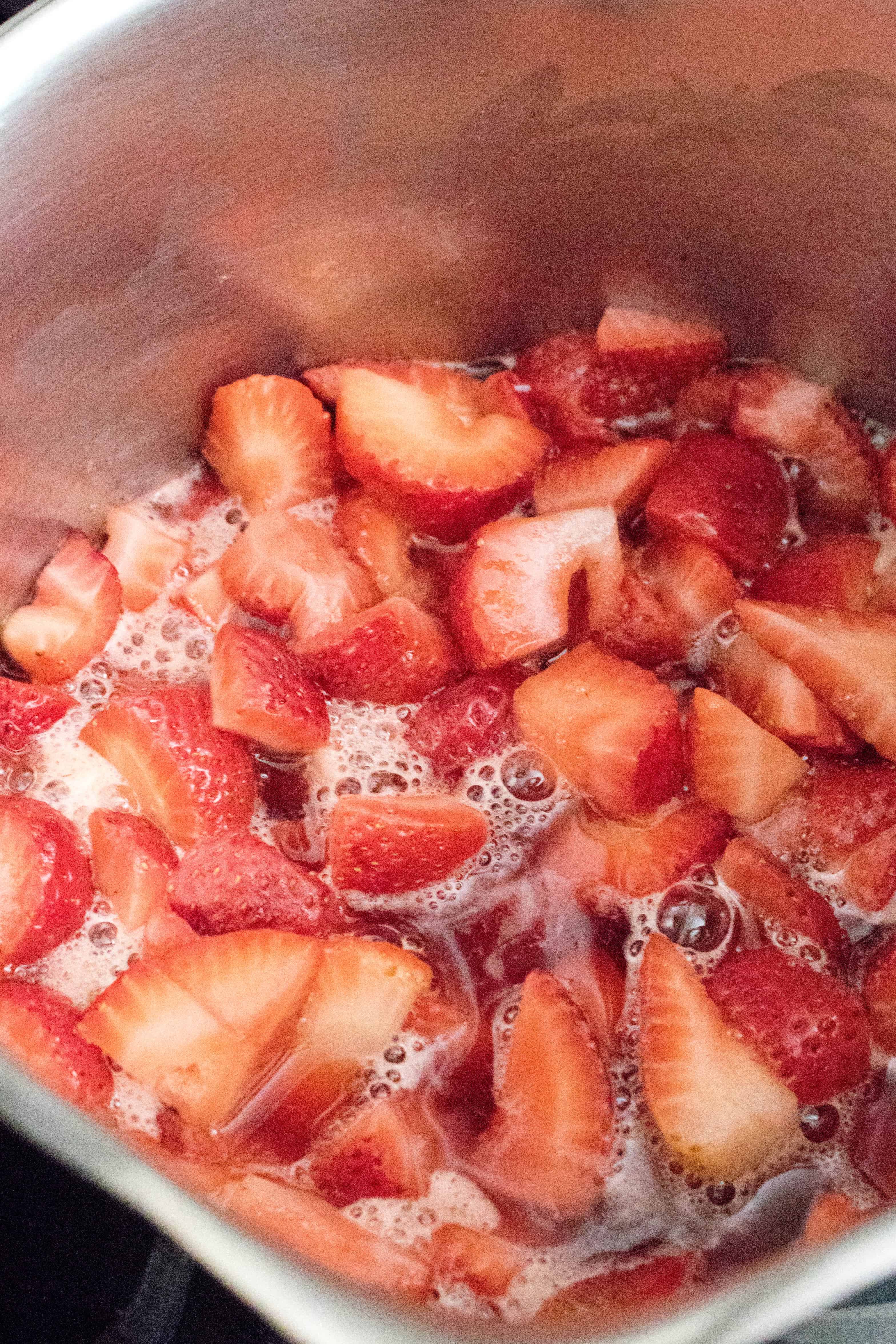 This recipe is sooo easy.  It just takes a little bit of time.  All you need to do is toss it all into a pan to simmer for about 20 minutes,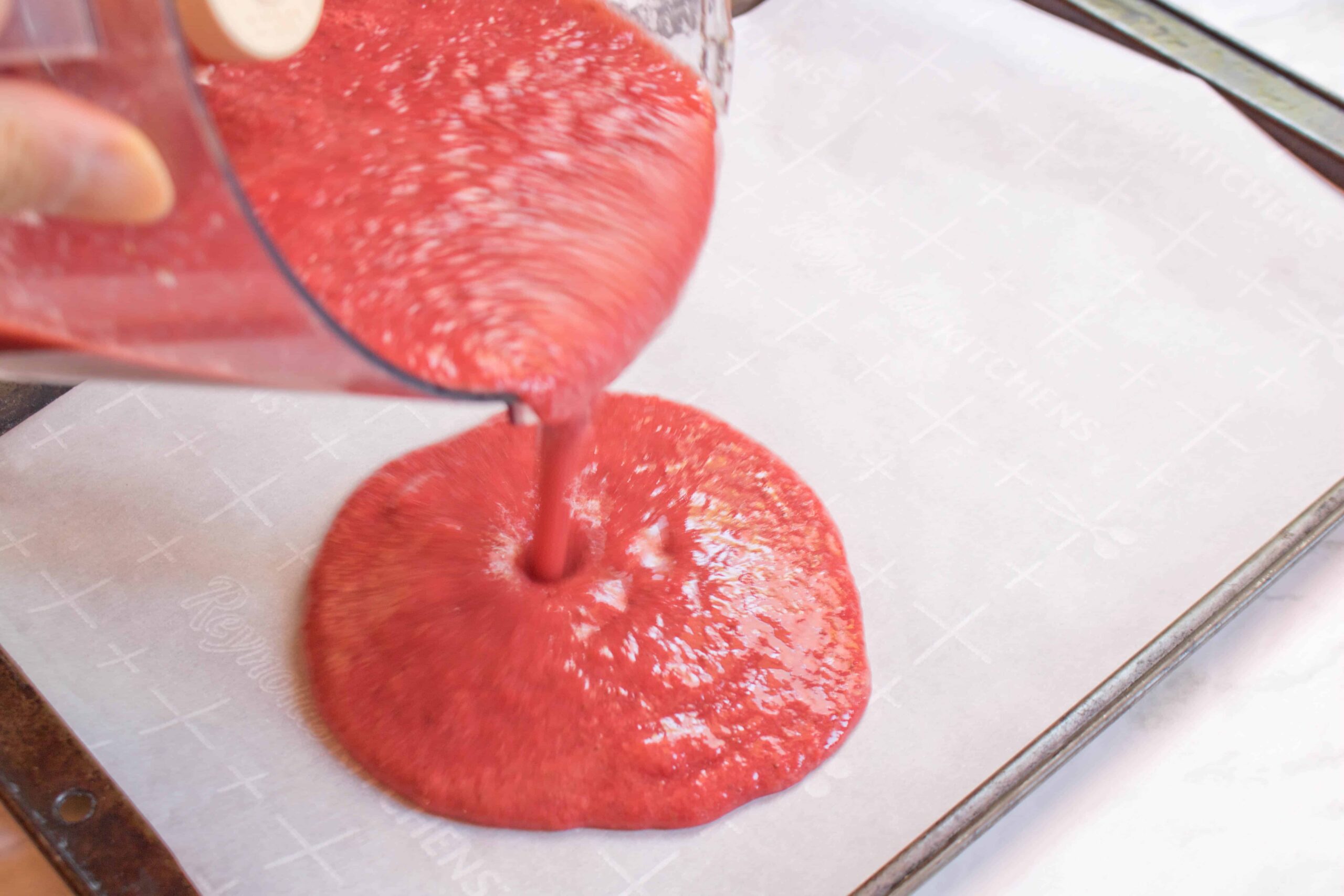 then blend in a food processor and poured onto a large parchment paper lined rimmed baking sheet.  Now there are a few ways you can dehydrate.  The first is to use a food dehydrator.  We recently upgraded ours to this bad boy, the Excalibur 9-Tray Electric Food Dehydrator (which is sooo amazing).  But a smaller one like Nesco should work too, but you want to only use the top tray or two – the closest ones to the fan.  Otherwise, you can use your oven at the lowest setting. Ours has a nifty dehydrate setting on it which set it at 150 degrees, but if yours goes down to 200, that should be fine too.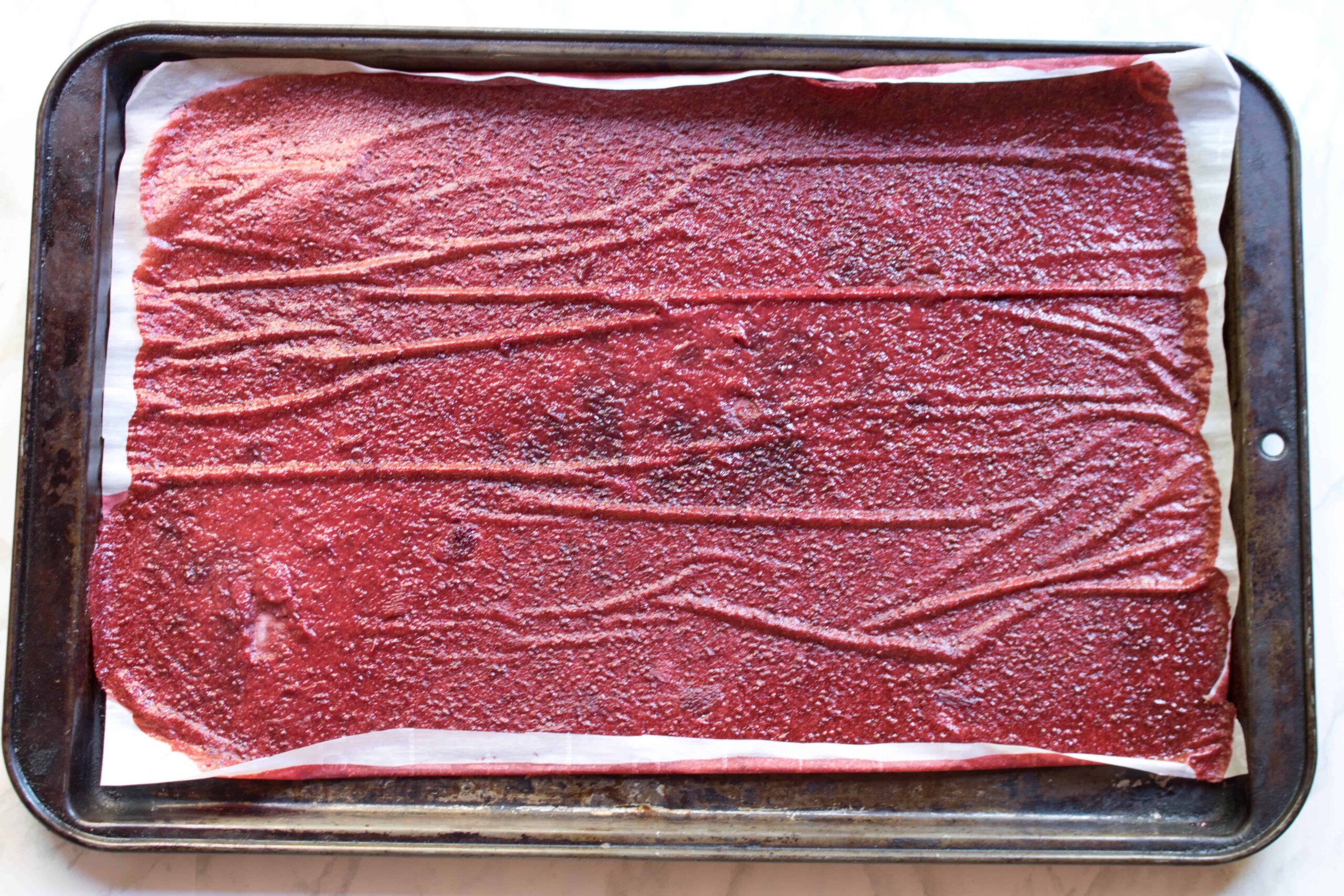 On our dehydrate setting in the oven it took about 3 1/2 hours to be dried and no longer sticky. At 200 degrees, 3 hrs should do the trick, but be sure to check it often at the 3 hr mark to make sure. 
Once it was done and no longer sticky to the touch, with one of our sharpest knives I sliced it into 6 long strips, or you could half it and then have 12 little Strawberry Fruit Roll Ups!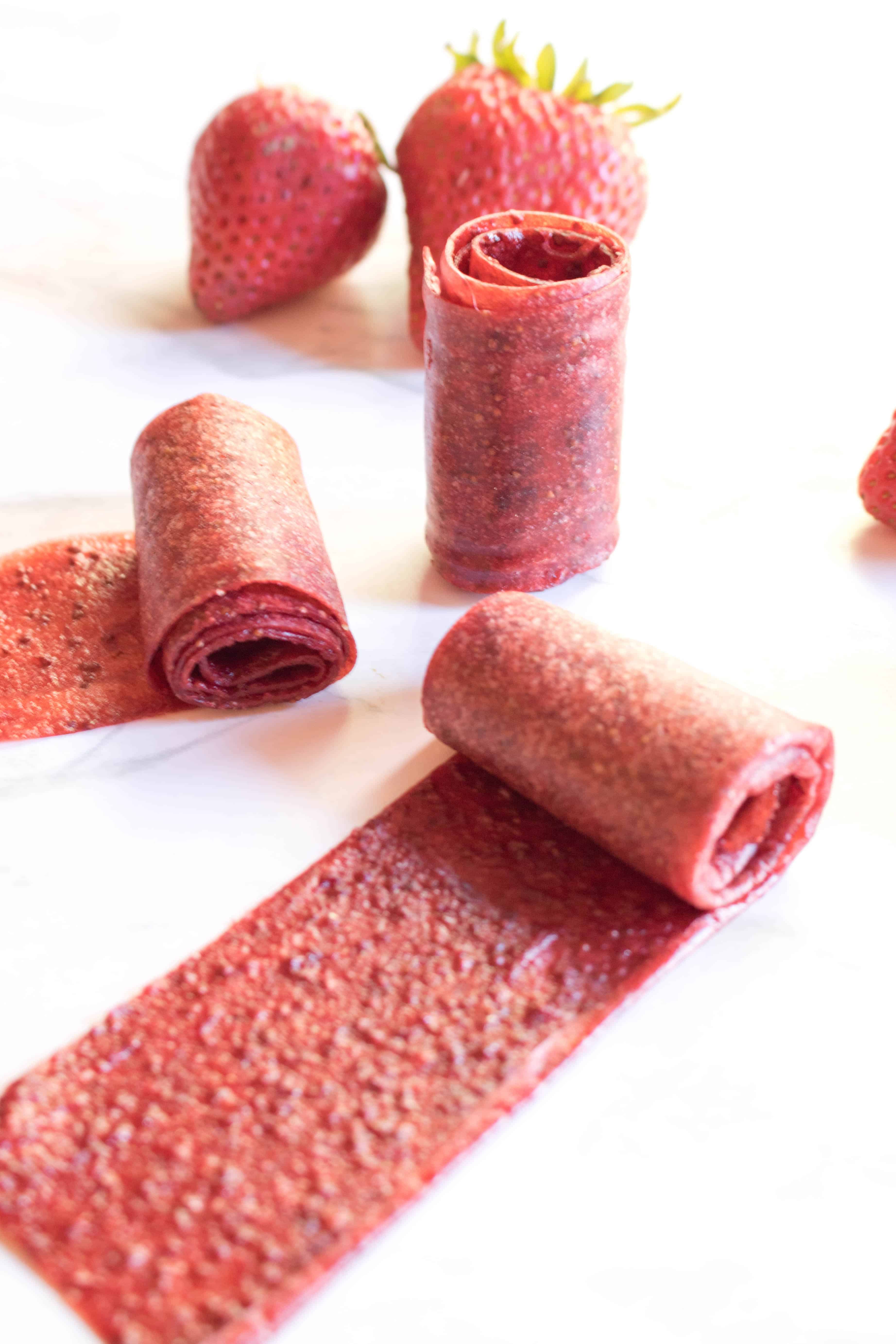 I decided to keep mine nice and long; more to roll!   Wheee Strawberry Fruit Roll Ups!  A snack that I was soooo envious of in the school lunchroom since my parents never bought them for us. I'd try to trade my peanut butter crackers for them, and of course fail.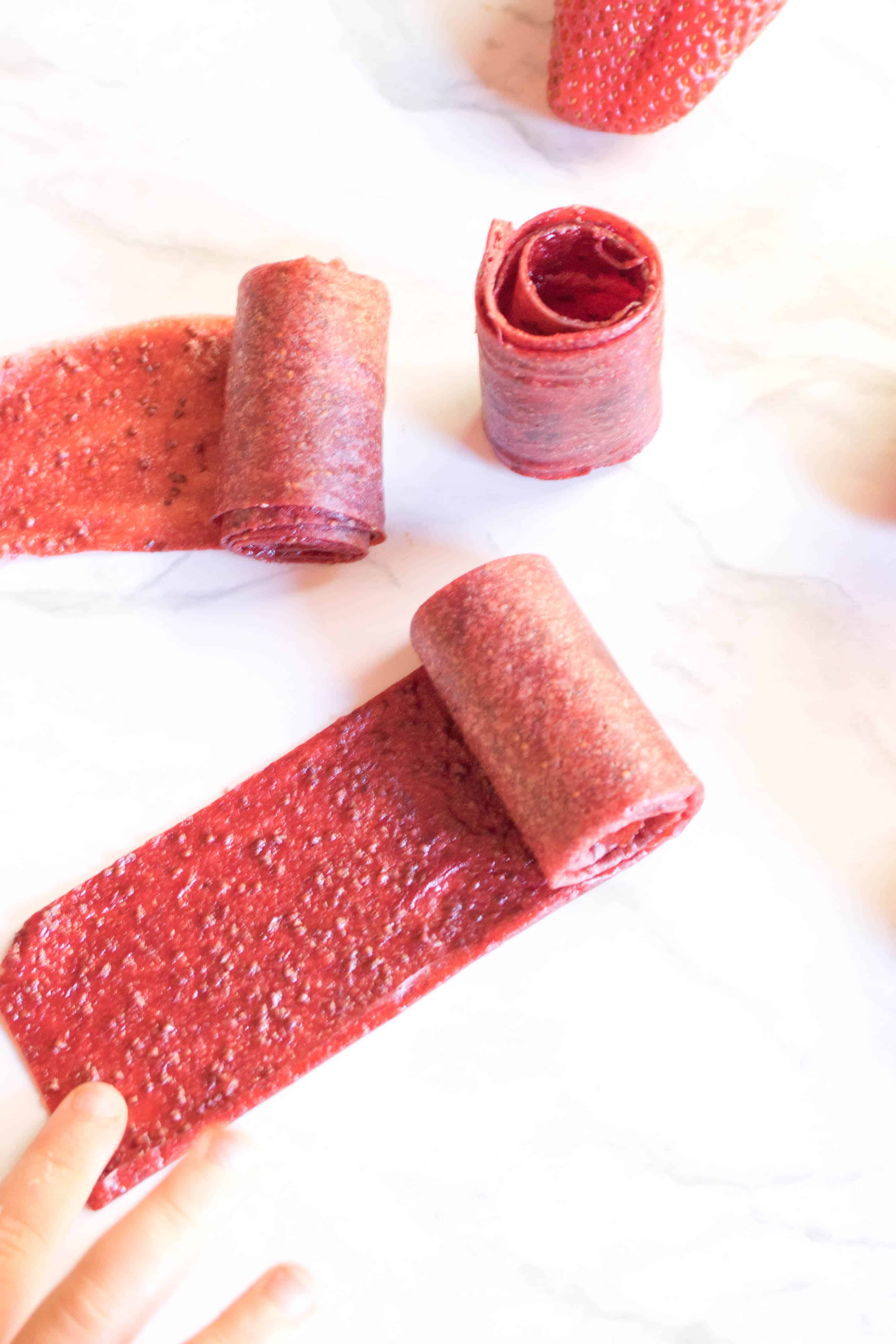 And I get it. The 'real' fruit roll ups are full of sugar.  A lot of recipes I found online too had added granulated sugar to them, too.  But these?  These Strawberry Fruit Roll Ups have no added sugar, just the natural sugars in the strawberries and the sugar in the little bit of apple juice.  And you could totally just use water instead of juice, or an unsweetened juice, too.  Any way, this mom totally approves them as being a special treat for my big girl who's being such an amazing big sister.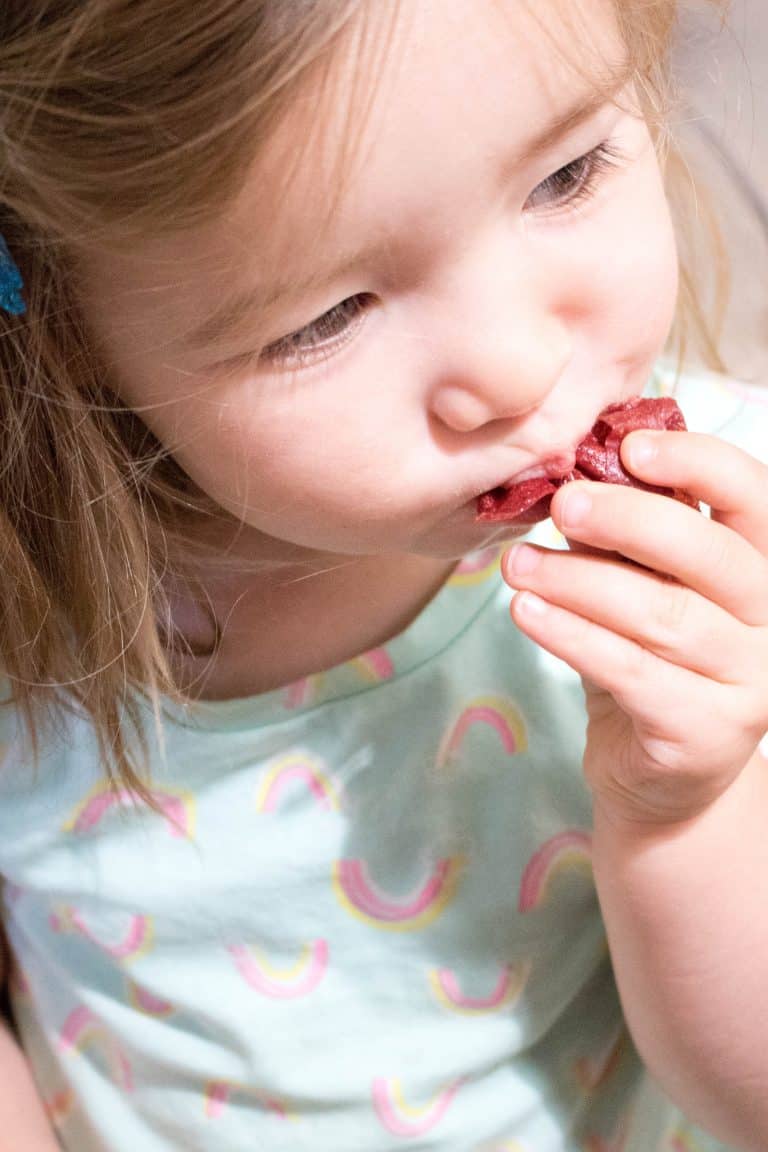 She's still learning that one of the best parts of the roll up is the unraveling it as you eat!  My girl just happily shoved the whole thing in her mouth.  You do you, boo.  😉
We'll be adding this to our list of go-to toddler snacks with our Banana Oat Muffins, Chewy Banana Quinoa Bars, and Broccoli Cheddar Quinoa Bars!  
Enjoy!  And remember to let me know on Facebook, Instagram, or Pinterest if you try any of my recipes!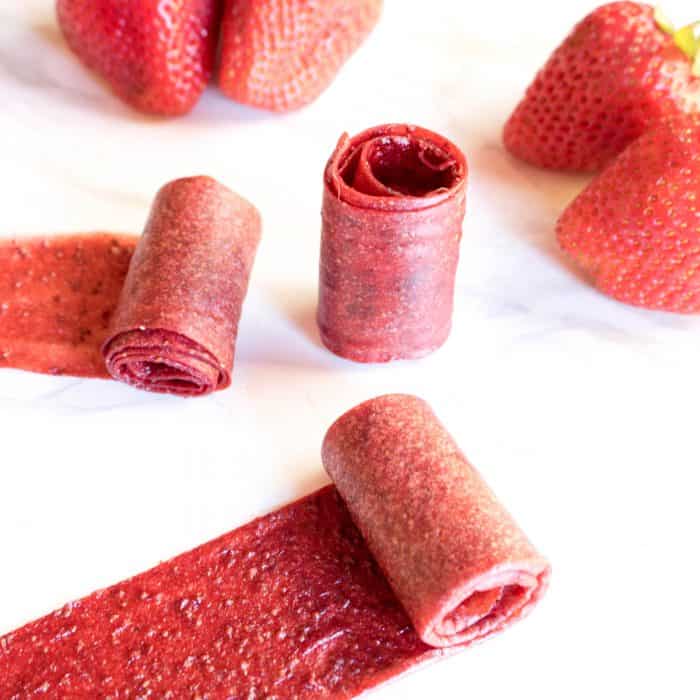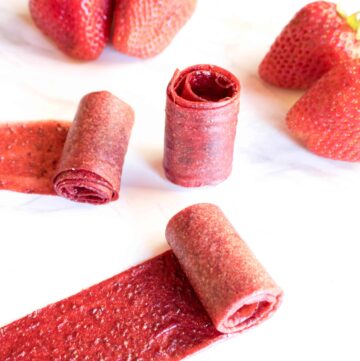 Strawberry Fruit Rolls Ups - No Added Sugar!
Make your own Strawberry Fruit Roll Ups with just a couple of ingredients and no added sugar! It's the perfect fun from scratch treat for the kids!

Print
Pin
Rate
Ingredients
4

cups

fresh strawberries, trimmed and quartered

2

teaspoon

fresh squeezed lemon juice

1/2

cup

apple juice

or water

1

tablespoon

honey
Instructions
Add all ingredients to a medium saucepan and cook on medium high heat, until it comes to a simmer. Lower heat slightly and let simmer for 20 minutes.

Transfer to a food processor and blend until smooth.

At this point you can strain with a fine mesh sieve to get out the seeds / chunks. I chose not to because I don't mind the seeds.




Pre-heat oven to lowest setting - 150 or 200 degrees. Line a large rimmed baking sheet with parchment paper or a silicone baking mat.

Or line dehydrator trays with silicone sheets.




Pour blended strawberry mixture on sheet(s). Dependent upon how big the tray is, you may need a second - for a 12 X 17 sheet, just one. With a spatula, smooth the mixture to an even approximate 1/8 inch layer.

Put in oven and bake for 3 - 4 hrs.

Set dehydrator to 150 degrees. With large dehydrator with a fan in the back, it will take approximately 3 hrs. A smaller one will take 8-10 hrs.




It will be done and set when it is no longer sticky if you gently touch it with your finger. If the edges seem really dry / brittle, just brush with some water to re-hydrate a little.

With a sharp knife or kitchen shears, cut into long strips while still on the parchment paper. Then slowly remove from paper and roll up!

Store in an airtight container for up to a week and enjoy!