Make your own Strawberry Fruit Roll-Ups with just a couple of ingredients and no added sugar! It's the perfect fun from scratch treat for the kids!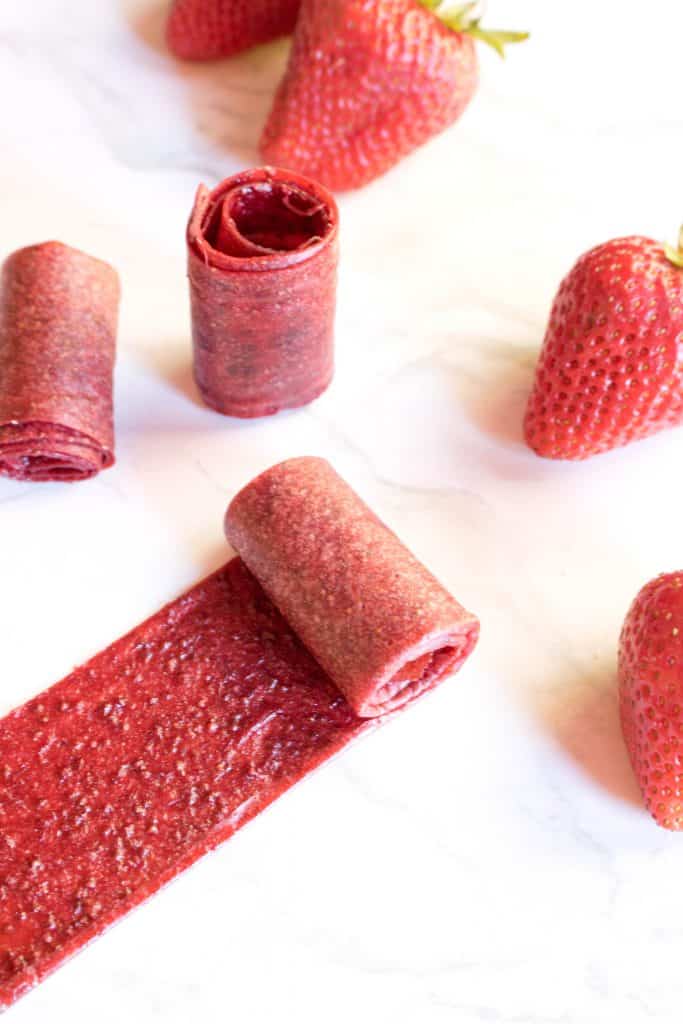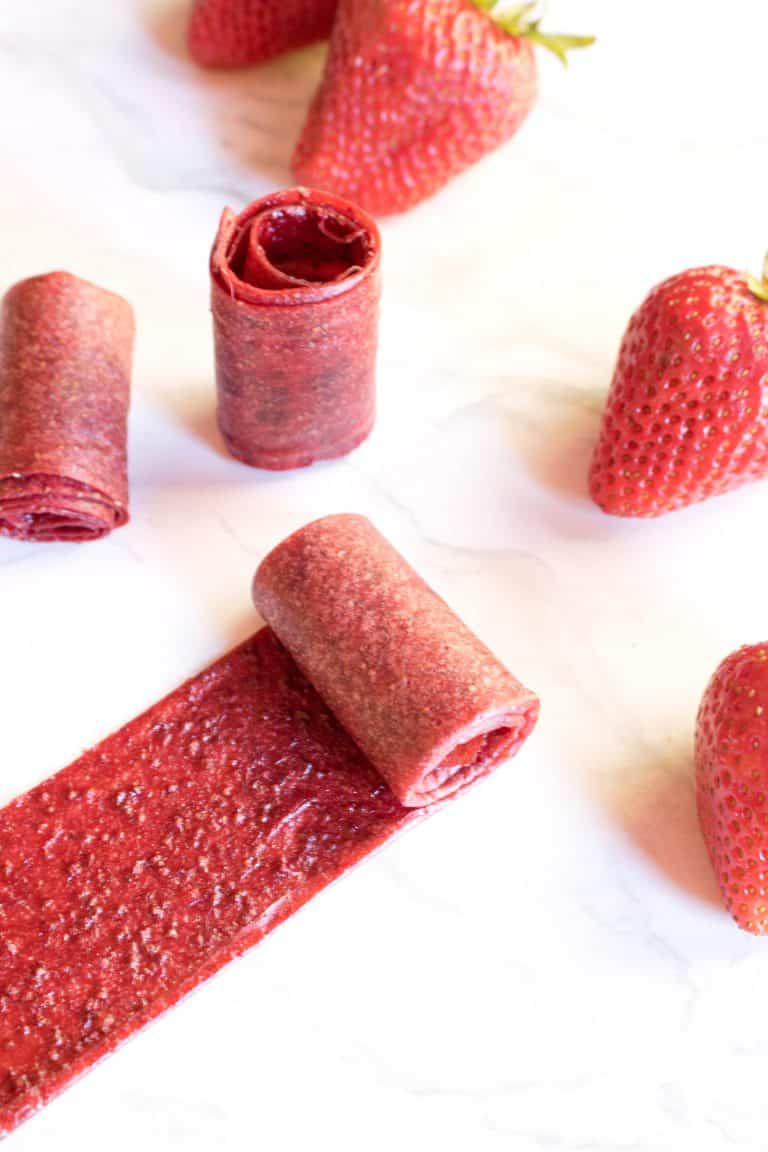 Oh hey! I'm coming to you from a household of 5 now! Our little K2 made her grand appearance a couple of weeks ago! We're all doing extremely well and M has been an incredible big sister. All the more reason to finally make something I've been wanting to make for her for awhile. And now seemed like the perfect time to show my big girl how proud we are of her for being such a great big sister. Her super special treat? Strawberry Fruit Roll Ups from scratch without any added white sugar!
Ingredients Needed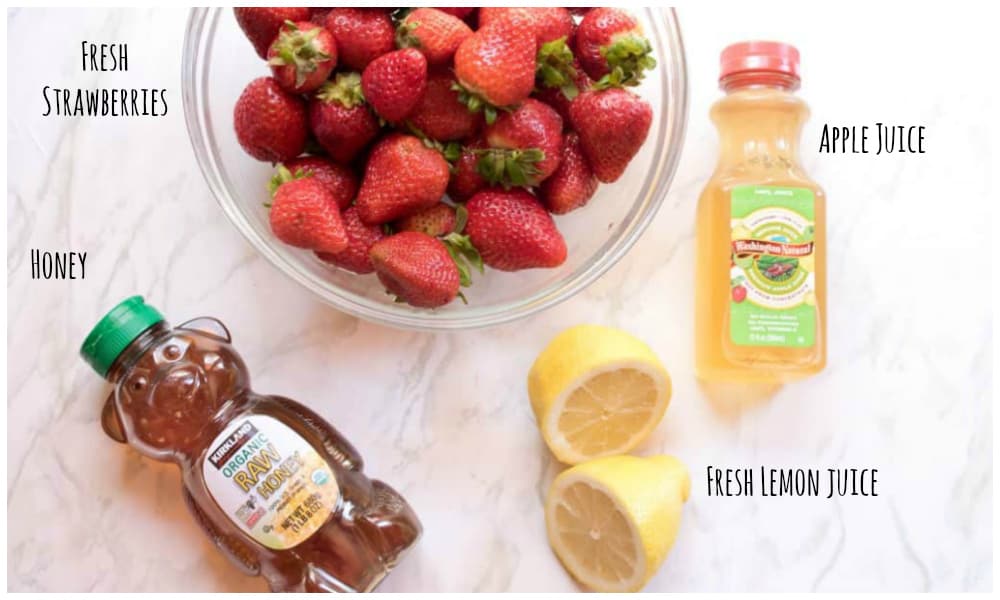 I just love that this recipe is so. easy.
Fresh Strawberries
Honey
Fresh Lemon Juice
Apple Juice - ok, ok yes there's processed sugar in apple juice. You can totally replace it with water, too! I just prefer the subtle added taste from the apple juice.
Step-by-Step Instructions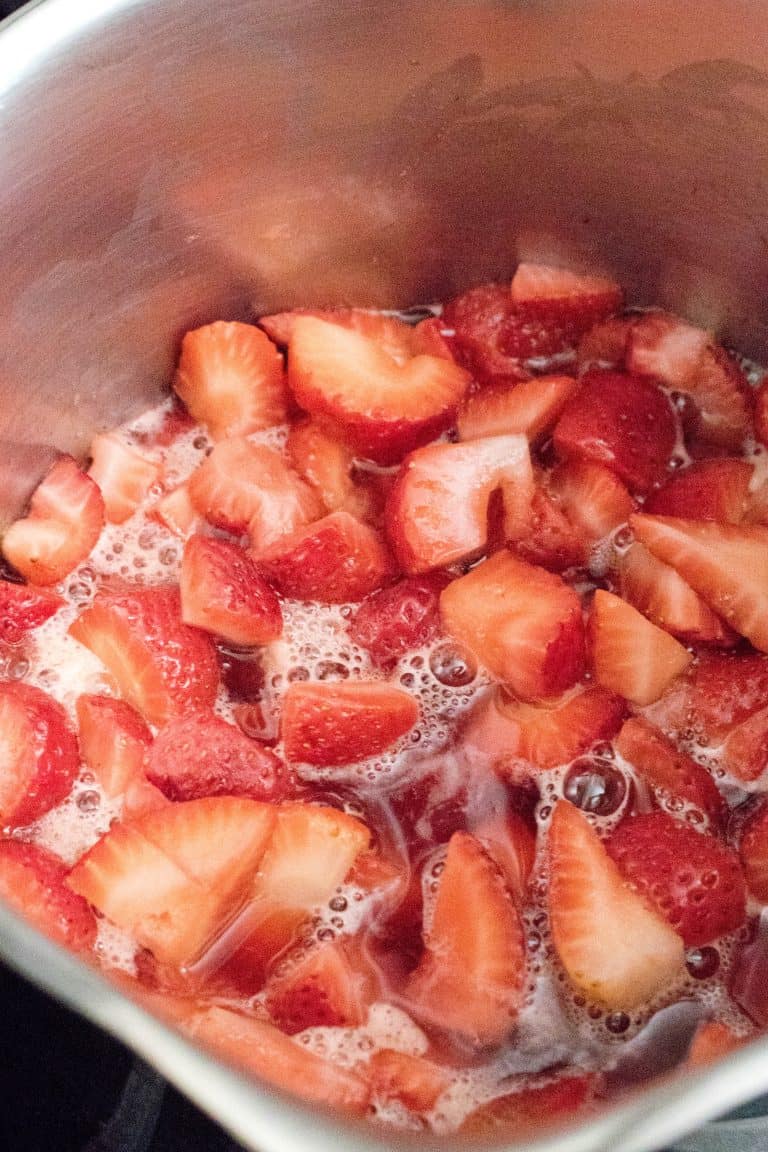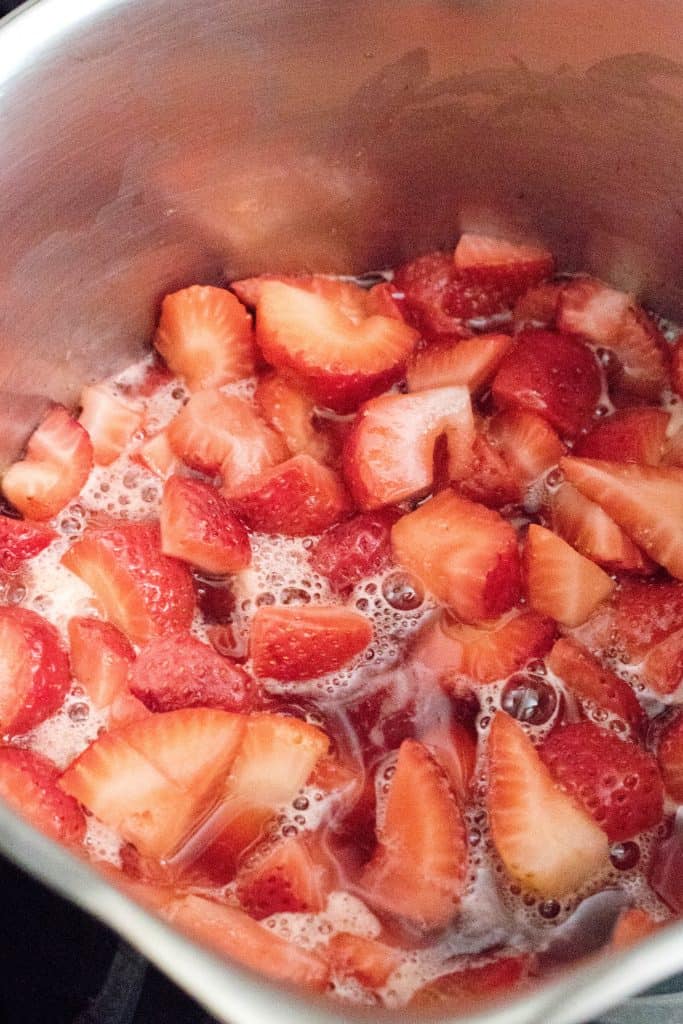 At first glance, it seems like it might be complicated. And yes, there are a lot of steps. But honestly, it's a super fun summer project. Especially if you have littles at home right now... Yup, welcome to our world!
First step: Add everything to a saucepan and cook.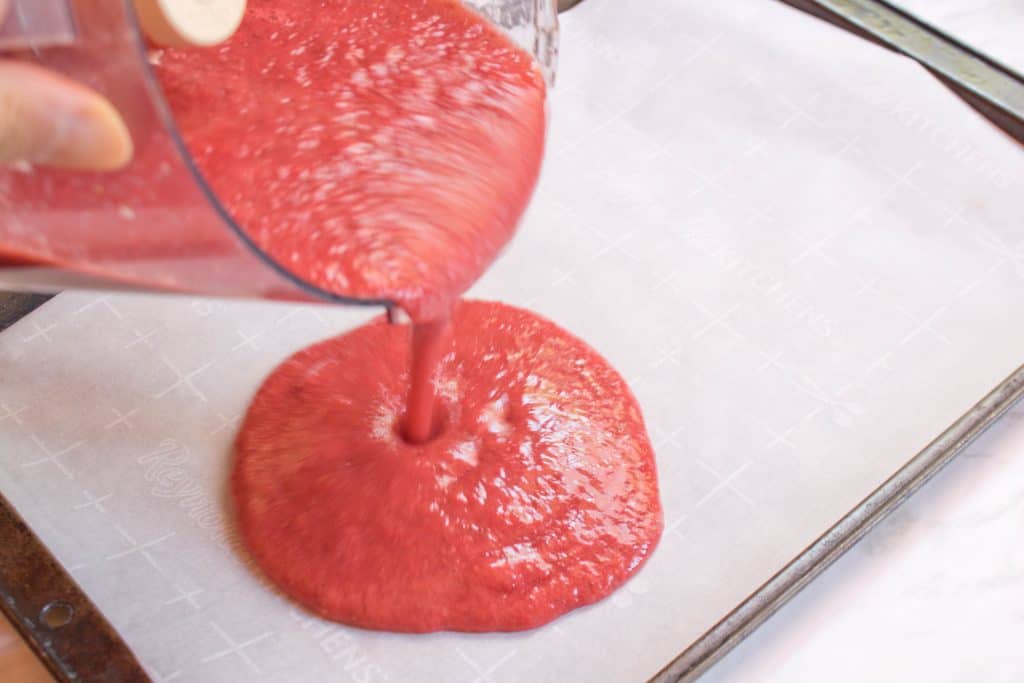 Second Step: Add everything to a food processor (This is the one we love!) or blender.
Third Step: Pour strawberry sauce on parchment paper (or silicone lined mats). Or onto parchment lined dehydrator trays.
Fourth Step: Bake / Dehydrate!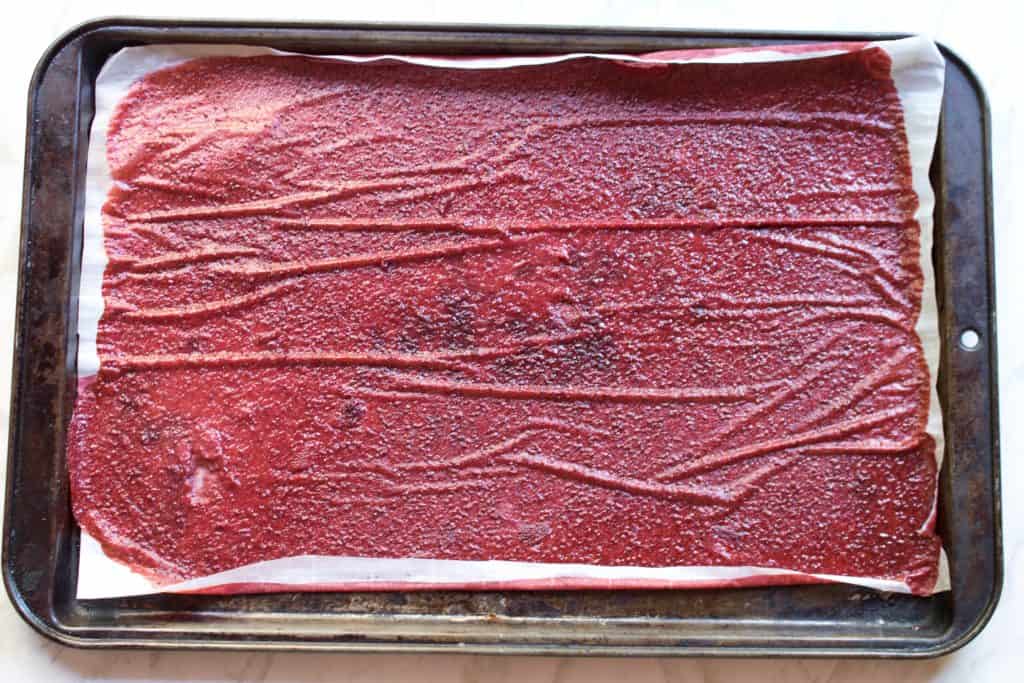 Firth Step: Slice into your classic fruit roll ups and enjoy!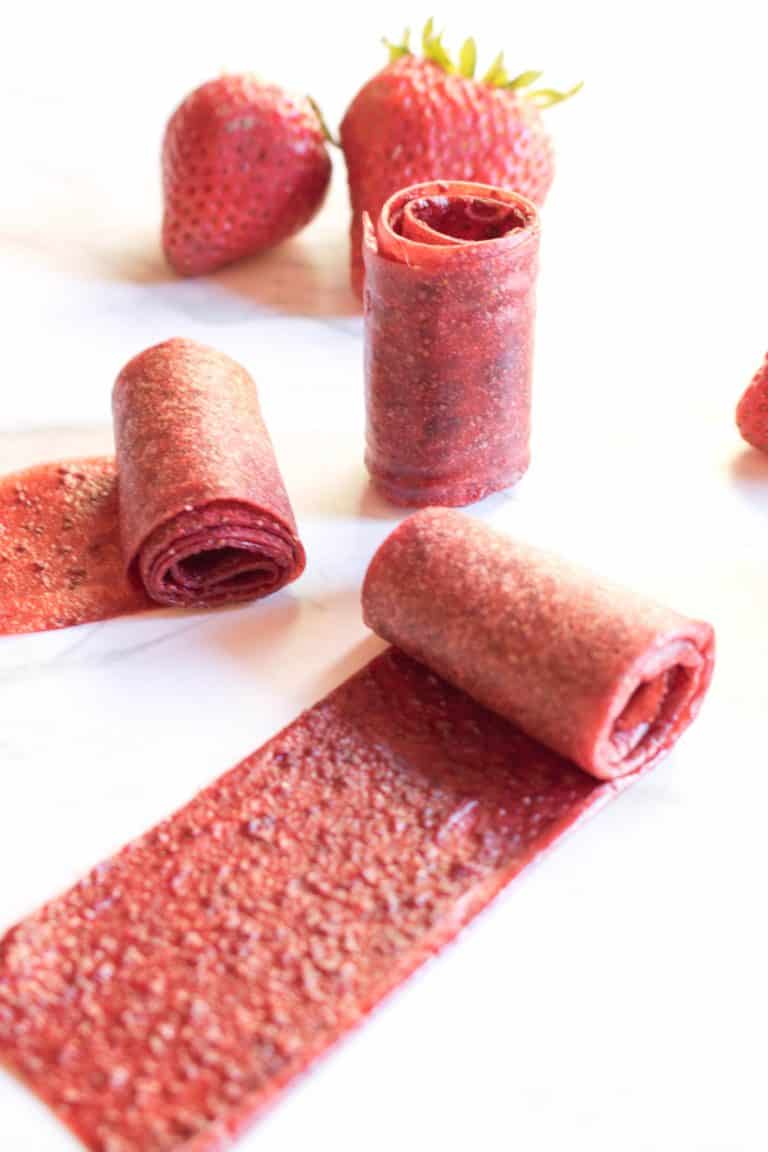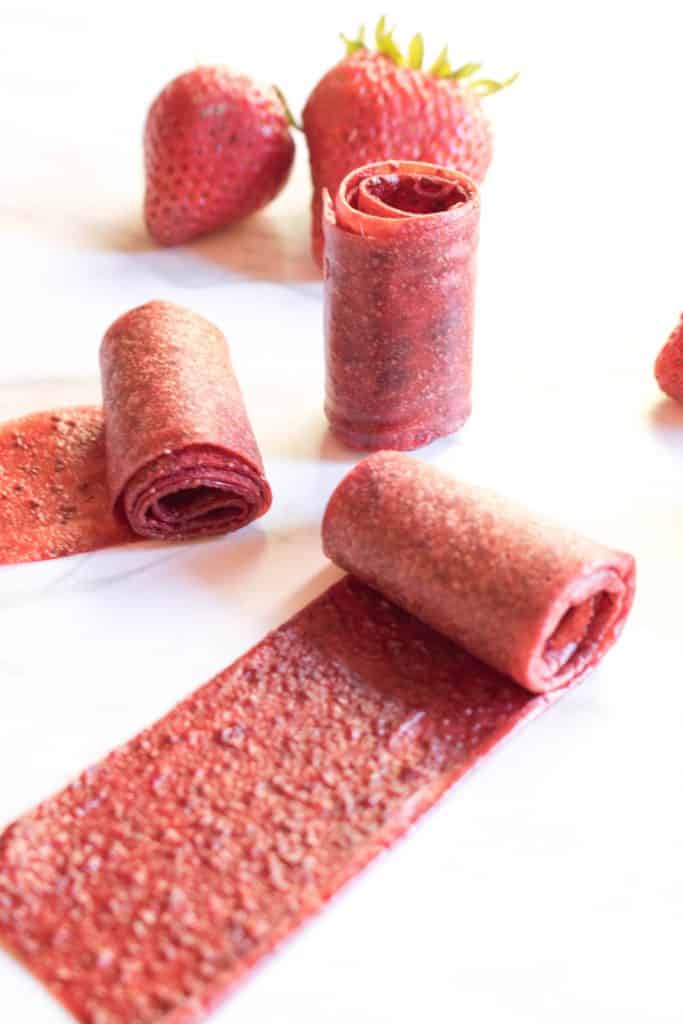 Dehydrate or Bake?
Either. Honestly, I know everyone doesn't have a dehydrator so you can totally use your oven!
However, if you do want to do some dehydrating, We recently upgraded ours to this bad boy, the Excalibur 9-Tray Electric Food Dehydrator (which is sooo amazing). But a smaller one like Nesco should work too, but you want to only use the top tray or two - the closest ones to the fan.
If you do get a dehydrator, that means you can also make these dehydrator favorites:
Baking Tips
Some ovens have a dehydrate setting, which is what we used.
150 degrees, but if yours goes down to 200 degrees, that should be fine too. On our dehydrate setting in the oven it took about 3 1/2 hours to be dried and no longer sticky - that's the key! At 200 degrees, 3 hrs should do the trick, but be sure to check it often at the 3 hr mark to make sure.
Once it was done and no longer sticky to the touch, with one of our sharpest knives I sliced it into 6 long strips, or you could half it and then have 12 little Strawberry Fruit Roll Ups!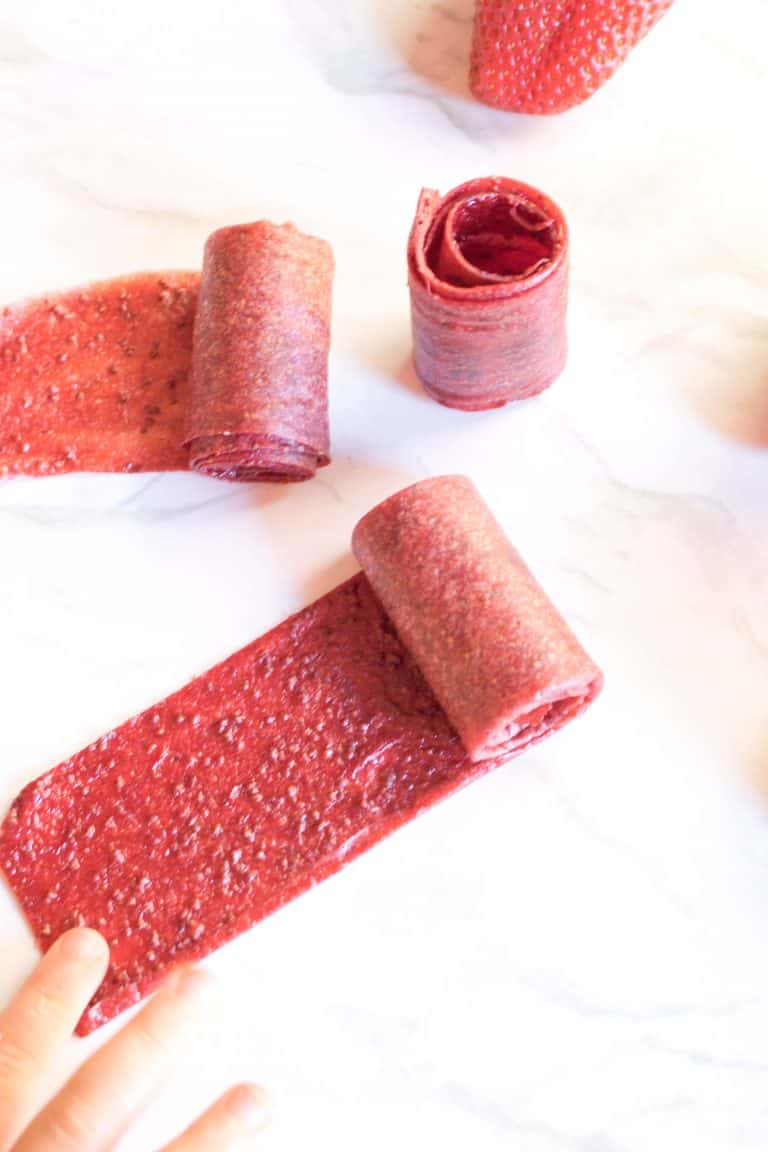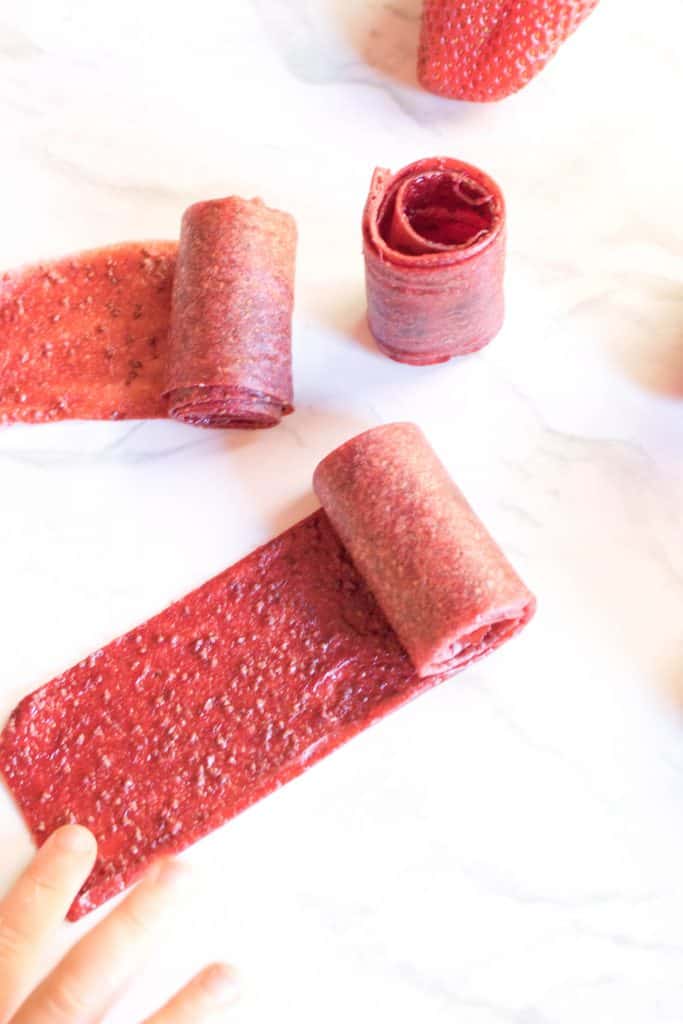 FAQs
Do I have to use apple juice?
Nope! Swap that out for some water!
My puree seems really watery.
Add a few more strawberries!
It looks too seedy.
No problem! You can totally sieve out the seeds after you puree it all.
Should I bake it in the oven or Dehydrate?
Use whatever you have! See recipe notes for using a dehydrator.
Can I use other fruits?
Of COURSE. And try a mixture of different fruits! Go crazy!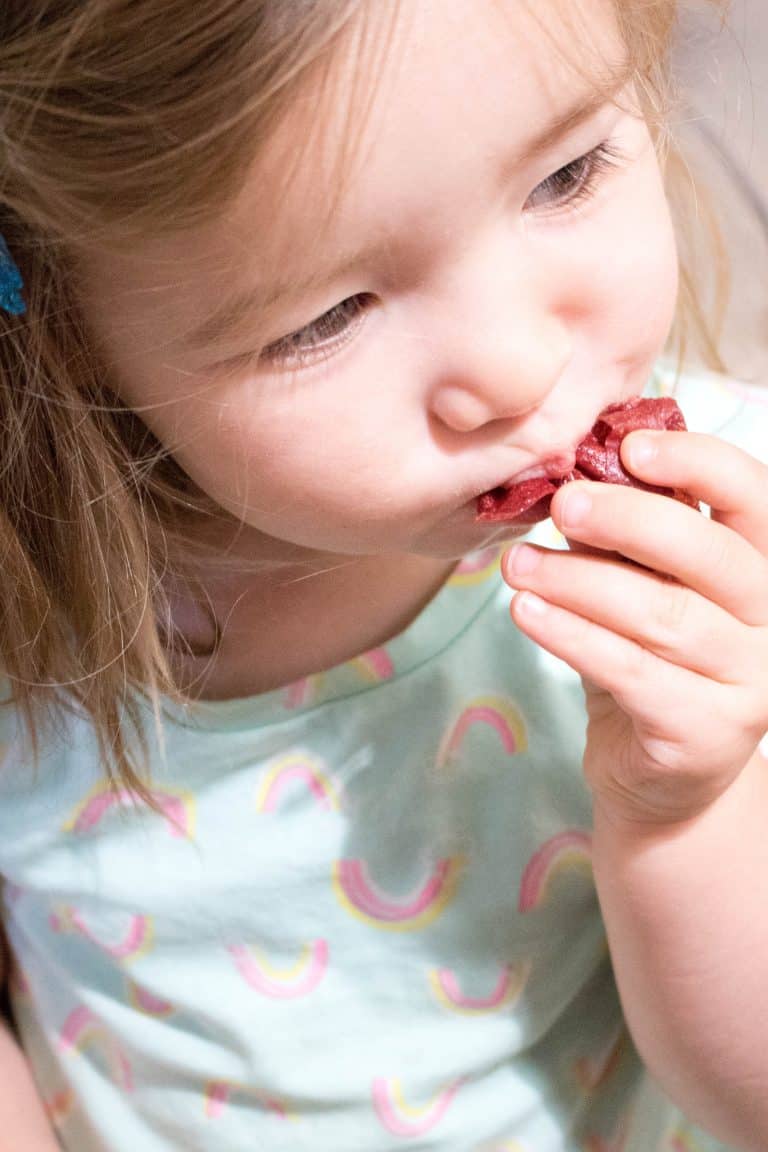 She's still learning that one of the best parts of the roll up is the unraveling it as you eat, but my girl just happily shoved the whole thing in her mouth. You do you, boo. 😉
Other Healthy Toddler Friendly Snacks
Healthy Toddler Banana Oat Muffins
Healthy Raspberry Chocolate Chip Muffins
Oatmeal Quinoa Chocolate Chip Cookies
Strawberry Chia Seed Popsicles
Enjoy! And remember to let me know on Facebook, Instagram, or Pinterest if you try any of my recipes!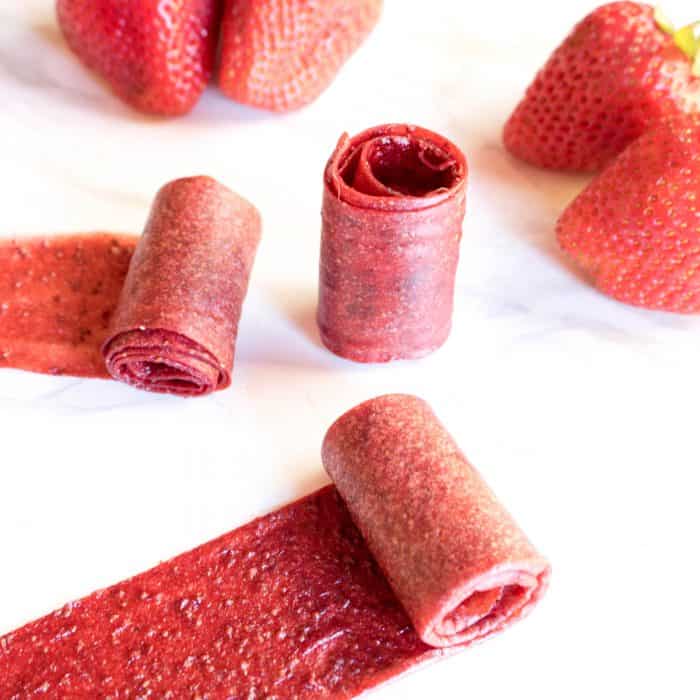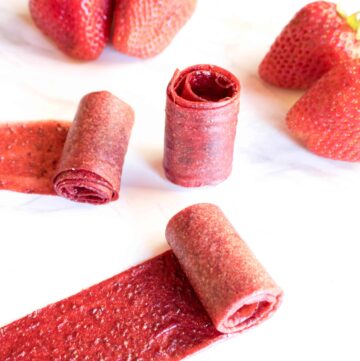 Strawberry Fruit Rolls Ups - No Added Sugar!
Make your own Strawberry Fruit Roll Ups with just a couple of ingredients and no added sugar! It's the perfect fun from scratch treat for the kids!

Print
Pin
Rate
Ingredients
4

cups

fresh strawberries, trimmed and quartered

2

teaspoon

fresh squeezed lemon juice

1/2

cup

apple juice

or water

1

tablespoon

honey
Instructions
Add all ingredients to a medium saucepan and cook on medium high heat, until it comes to a simmer. Lower heat slightly and let simmer for 20 minutes.

Transfer to a food processor and blend until smooth.

At this point you can strain with a fine mesh sieve to get out the seeds / chunks. I chose not to because I don't mind the seeds.

Pre-heat oven to lowest setting - 150 or 200 degrees. Line a large rimmed baking sheet with parchment paper or a silicone baking mat.

Or line dehydrator trays with silicone sheets.

Pour blended strawberry mixture on sheet(s). Dependent upon how big the tray is, you may need a second - for a 12 X 17 sheet, just one. With a spatula, smooth the mixture to an even approximate 1/8 inch layer.

Put in oven and bake for 3 - 4 hrs.

Or set dehydrator to 150 degrees. With large dehydrator with a fan in the back, it will take approximately 3 hrs. A smaller one will take 8-10 hrs.

It will be done and set when it is no longer sticky if you gently touch it with your finger. If the edges seem really dry / brittle, just brush with some water to re-hydrate a little.

With a sharp knife or kitchen shears, cut into long strips while still on the parchment paper and then roll up as they will become even stickier over night. If you used a silicone mat, remove from mat and then cut and cut a strip of parchment paper to roll up with.

Store in an airtight container for up to a week and enjoy!
Notes
6-12 roll ups dependent upon the length of the roll up.
To remove seeds, you can strain with a fine mesh sieve.
You can use a dehydrator or the oven at the lowest setting.
Nutrition
Serving:
12
g
|
Calories:
26
kcal
|
Carbohydrates:
6
g
|
Protein:
1
g
|
Fat:
1
g
|
Saturated Fat:
1
g
|
Sodium:
1
mg
|
Potassium:
84
mg
|
Fiber:
1
g
|
Sugar:
5
g
|
Vitamin A:
6
IU
|
Vitamin C:
29
mg
|
Calcium:
8
mg
|
Iron:
1
mg