Jerky fan?   Make Beef Jerky from scratch with this easy and trusted recipe!  Alton Brown's Beef Jerky is the only way you'll eat jerky again!
Oh Alton Brown, he knows no wrong. Between his peanut butter and sauerkraut, he's always come through. Last month I made jerky with the awesome jerky gun with it that Mona got for us as a wedding anniversary present (I know, she's so freakin' sweet).  At that time I used the seasonings it came with, but in true 'from scratch' fashion, it's time to make our own. So of course I turned to the culinary Obi-wan, Alton Brown and his Beef Jerky from scratch recipe!
Although making beef jerky from scratch out of ground beef is awesome and affordable, I also wanted to try it out with a nice cut of sirloin steak. I grabbed a steak and the mixings for Alton's seasoning; liquid smoke, Worcestershire sauce, soy sauce, onion powder, black pepper, honey, and not pictured, red pepper flakes to make some super delicious jerky.
With one of my husband's super sharp Shun knives (can I just say how hot it is that my husband knows great knives and is willing to spend the money on them?), I sliced the steak as thin as I could.  Now Mr. Brown said to stick the steak in the freezer so that it would be easier to cut… I did not have the time and so I didn't… but I wish I had because as usual, Alton knows all. It definitely would have been easier that way.
But I still got some pretty good super thin cuts and so I threw it all into a ziplock bag, poured in the brine.  At first I called it a marinade but realized that a marinade is mostly oil or acid based and a brine is mostly salt based, like this (and by 'realized' I mean I actually read the recipe completely and Alton called it a brine and so then I had to look up what the difference between a brine and a marinade was because admittedly, I had no idea, but it sounded like I did, right?). So once it was all sealed up, into the fridge it went for about 3-6 hours.
….And a 'few hours' ended up becoming overnight because I got busy / distracted, most likely distracted. Which is fine, it just meant I had to leave the little guys in the dehydrator longer because they were super saturated in the marinade briney goodness. This ended up taking about 24 hours at 165º.
When it was finally done…Mmmmm Beef Jerky from scratch!
This jerky was sooo much more flavorful than the last.  And the quality of the meat was much better too.
We were pretty excited about it; although now I understand why really good jerky is expensive, just like why a really good steak is expensive. Both, totally worth the money, although now we can make expensive tasting jerky totally affordably! Yum.  Buh-bye store bought jerky; I can't wait for our next hiking trip so we can bring some of our own jerky to snack on!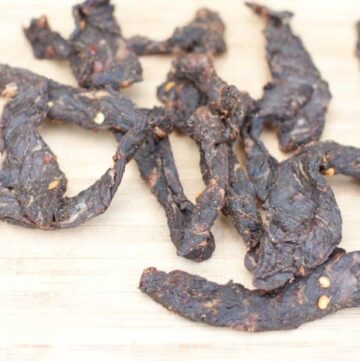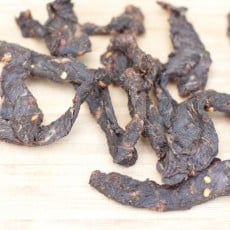 Ingredients
1 to 2

pounds

sirloin or flank steak

2/3

cup

Worcestershire sauce

2/3

cup

soy sauce

1

tablespoon

honey

2

teaspoons

freshly ground black pepper

2

teaspoons

onion powder

1

teaspoon

liquid smoke

1

teaspoon

red pepper flakes
Instructions
Trim the steak of any excess fat, place in a zip-top bag, and place it in the freezer for 1 to 2 hours in order to firm up.

Remove the steak from the freezer and thinly slice the meat with the grain, into long strips.

Place the strips of meat along with all of the remaining ingredients into a large, 1-gallon plastic zip-top bag and move around to evenly distribute all of the ingredients. Place the bag into the refrigerator for 3 to 6 hours.

Place strips on to food dehydrator trays and dehydrate for 18 – 24 hours. Test after 12 or so to see how 'dry' it is- time will depend on marinading time.

Or, if you don't have a dehydrator:

Remove the meat from the brine and pat dry. Evenly distribute the strips of meat onto 3 of the air filters, laying them in the grooves and then stacking the filters on top of one another. Top these with 1 empty filter. Next, lay the box fan on its side and lay the filters on top of it. Strap the filters to the fan with 2 bungee cords. Stand the fan upright, plug in and set to medium. Allow the meat dry for 8 to 12 hours. If using a commercial dehydrator, follow the manufacturer's directions.

Once dry, store in a cool dry place, in an airtight container for 2 to 3 months.
Notes
Special Equipment: Dehydrator, OR 1 box fan, 4 paper air-conditioning filters, and 2 bungee cords