Jerky fan? Make Beef Jerky from scratch with this easy and trusted recipe! Alton Brown's Beef Jerky is the only way you'll eat jerky again!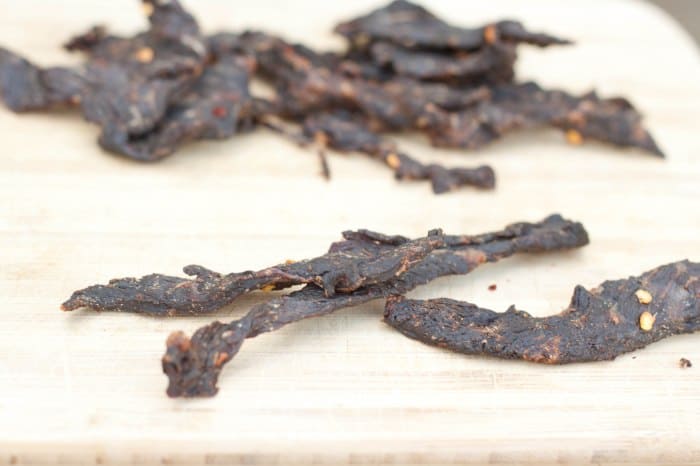 Oh Alton Brown, he knows no wrong. Between his peanut butter and sauerkraut, he's always come through. Last month I made jerky with the awesome jerky gun with it that Mona got for us as a wedding anniversary present (I know, she's so freakin' sweet). At that time I used the seasonings it came with, but in true 'from scratch' fashion, it's time to make our own. So of course I turned to the culinary Obi-wan, Alton Brown and his Beef Jerky from scratch recipe!
Ingredients Needed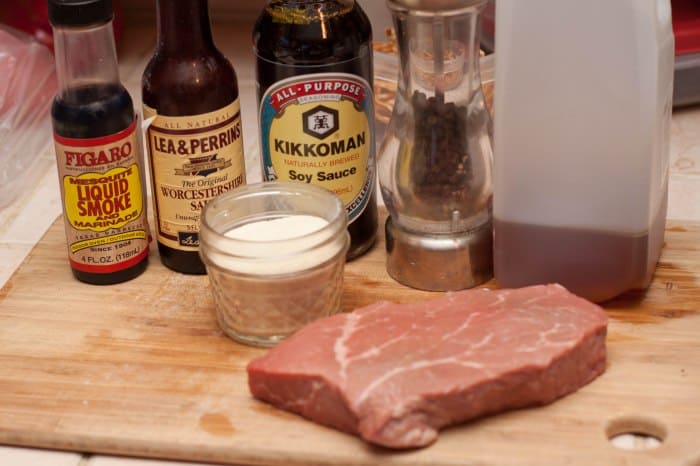 Although making beef jerky from scratch out of ground beef is awesome and affordable, I also wanted to try it out with a nice cut of sirloin steak. I grabbed a steak and the ingredients for Alton's seasoning:
Liquid smoke
Worcestershire sauce
Soy sauce
Onion powder
Black pepper
Honey
Red Pepper Flakes
Sirloin or Flank Steak
Instructions
With a super sharp knife (like our favorite, Shun knives), I sliced the steak as thin as I could. Now Mr. Brown said to stick the steak in the freezer so that it would be easier to cut... I did not have the time and so I didn't... but I wish I had because as usual, Alton knows all. It definitely would have been easier that way.
Next step: throw it all into a ziplock bag for about 3-6 hours. As with most marinades, the longer the better!
And because I got busy / distracted (most likely distracted), which is fine, it just meant I had to leave the little guys in the dehydrator longer because they were super saturated. We dehydrated them for about 24 hrs in our dehydrator. If you marinate for about 3 hrs you could probably get away with only 8-12 hrs.
Here is the dehydrator that we used for this recipe, but we've since upgraded to this bad boy.
No Dehydrator? No Problem!
See the recipe instructions for Alton Brown's notes on how to make it without one!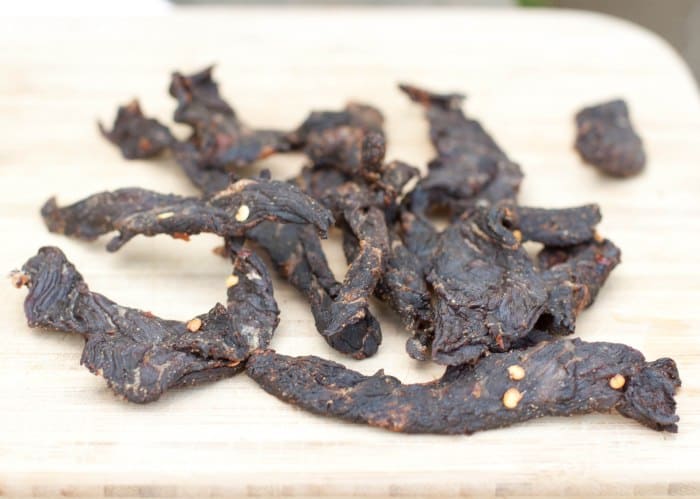 When it was finally done...Mmmmm Beef Jerky From Scratch!
This jerky is SO incredibly flavorful. It is is our go-to for road trip snack and our go-to road trip gift! Have a friend who's moving cross country? THIS is a gift they will LOVE.
We were pretty excited about it; although now I understand why really good jerky is expensive, just like why a really good steak is expensive. Both are totally worth the money. So inline with that, the better the steak, the better the jerky.
Other Dehydrator Snacks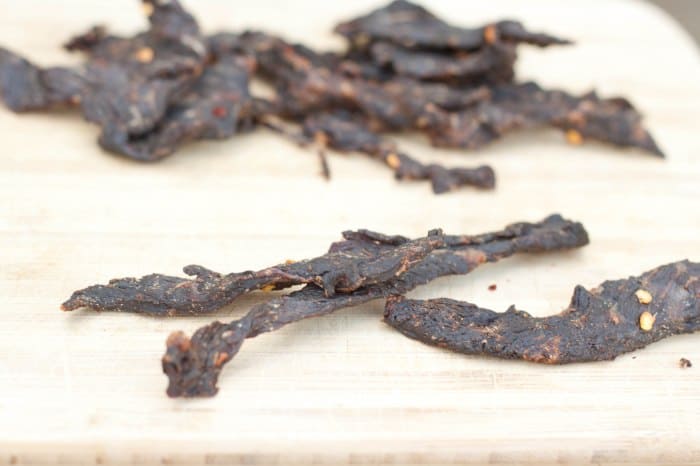 Enjoy! As always, if you make this recipe or any of my others, I love to hear what you think! Leave a comment below, email me, or you can find me on Facebook, Instagram, and Pinterest!