Ready to start making your own bread? Then this No Knead Rosemary Garlic Bread is the perfect, easy, no kneading required bread to start with!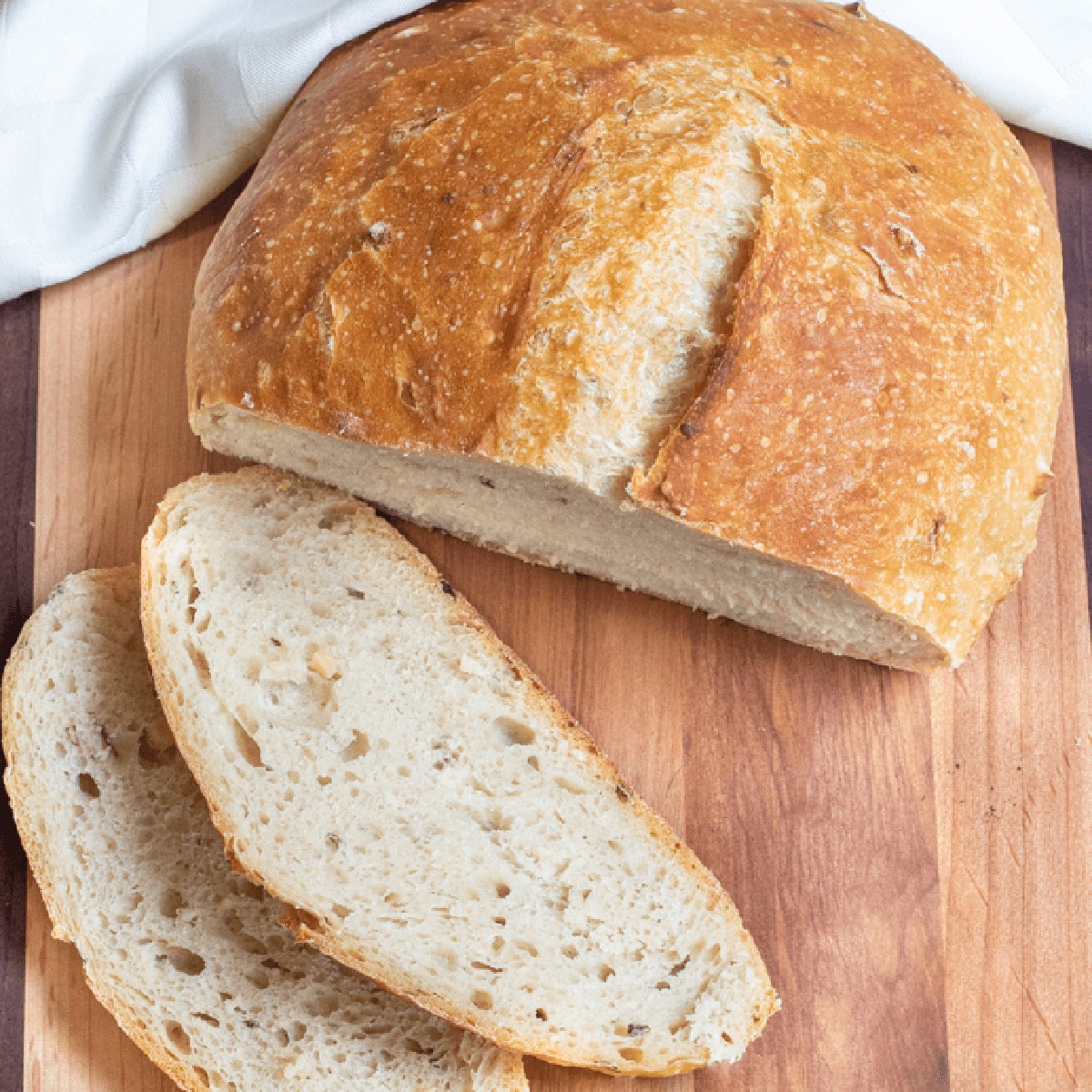 Is there anything more comforting than the smell of fresh baked bread? How about some No Knead Rosemary Garlic Bread fresh baked that requires not a single bit of dough kneading? Nope. There isn't.
That's why this recipe is incredibly easy. It's the perfect intro to bread making and so delicious!
Recipe Video
Ingredients Needed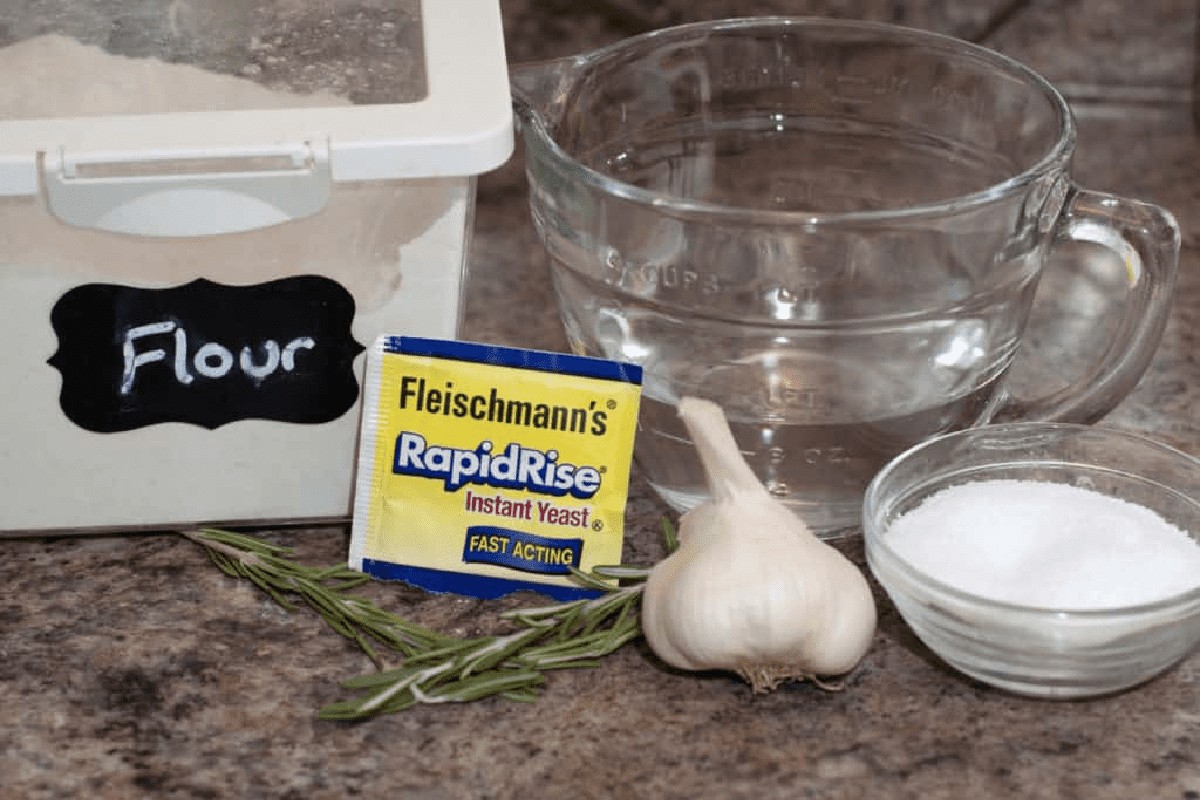 First, just some super simple ingredients.
Flour - All purpose for this recipe is best. Bread flour will work, but it has more gluten-forming protein which makes a thicker crust and wont create the same open holed crumb that the all purpose makes.
Yeast - You can also use just regular active yeast or instant yeast, because there will be plenty of time for it to activate and proof, so use what you have!
Garlic - Fresh, of course! You can leave it whole, mince it, or our favorite is thinly sliced.
Rosemary - Fresh again is best. But you can totally use dried, see recipe notes.
Salt - A fine salt like table is best because it will incorporate the best within the dough. You could use a fancy salt like a pink Himalayan, too. Just as long as it's a fine ground salt.
Water - Warm. At least a little bit and definitely not cold. Remember, yeast is alive! It needs a little warmth to activate, but don't burn it! The best is 90 - 105 degrees, if you have an

instant read thermometer

it'll take all the guess work out. But basically just lukewarm, that's all your need.
So Easy to Make!
Seriously, this is why it is the perfect introduction to bread making recipe. It is SO incredible easy.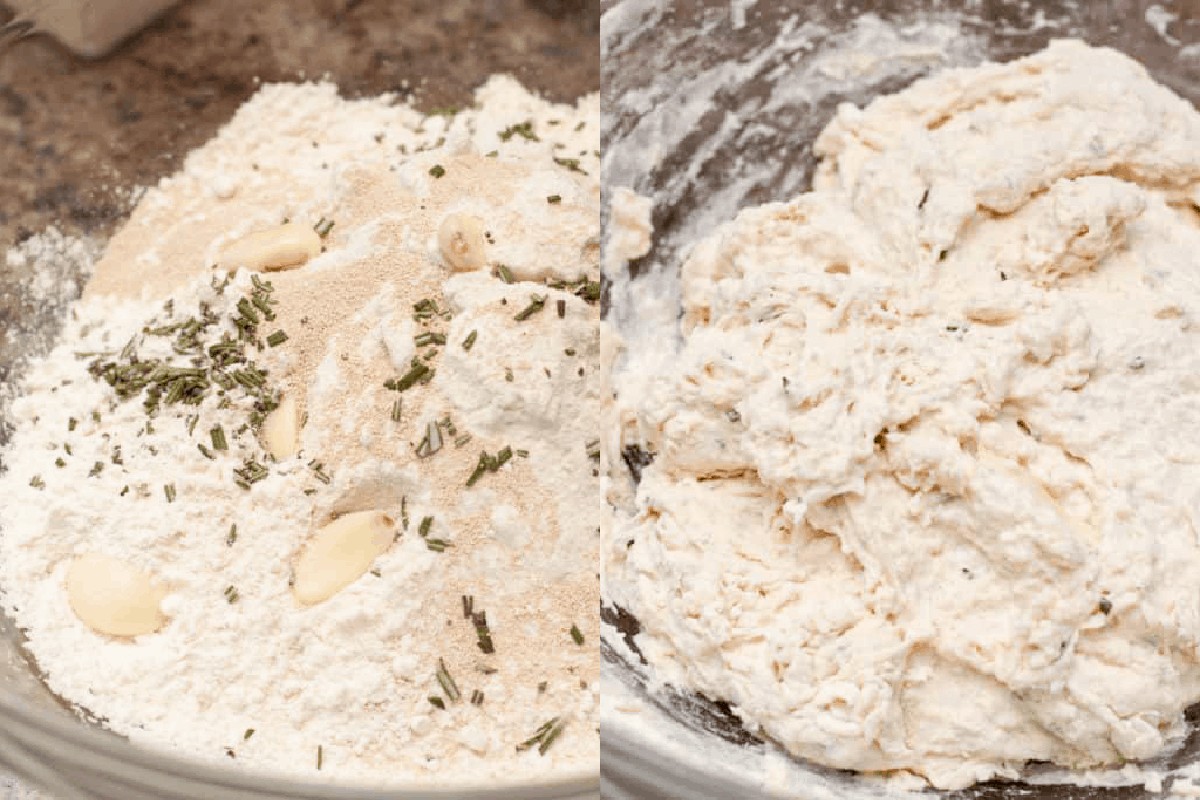 Step 1: Mix everything except water in a large bowl.
Step 2: Add water and mix until you have a very sticky, rough dough.
Tip: Don't worry - it's supposed to be very sticky! And don't overmix it, just mix it until everything is combined.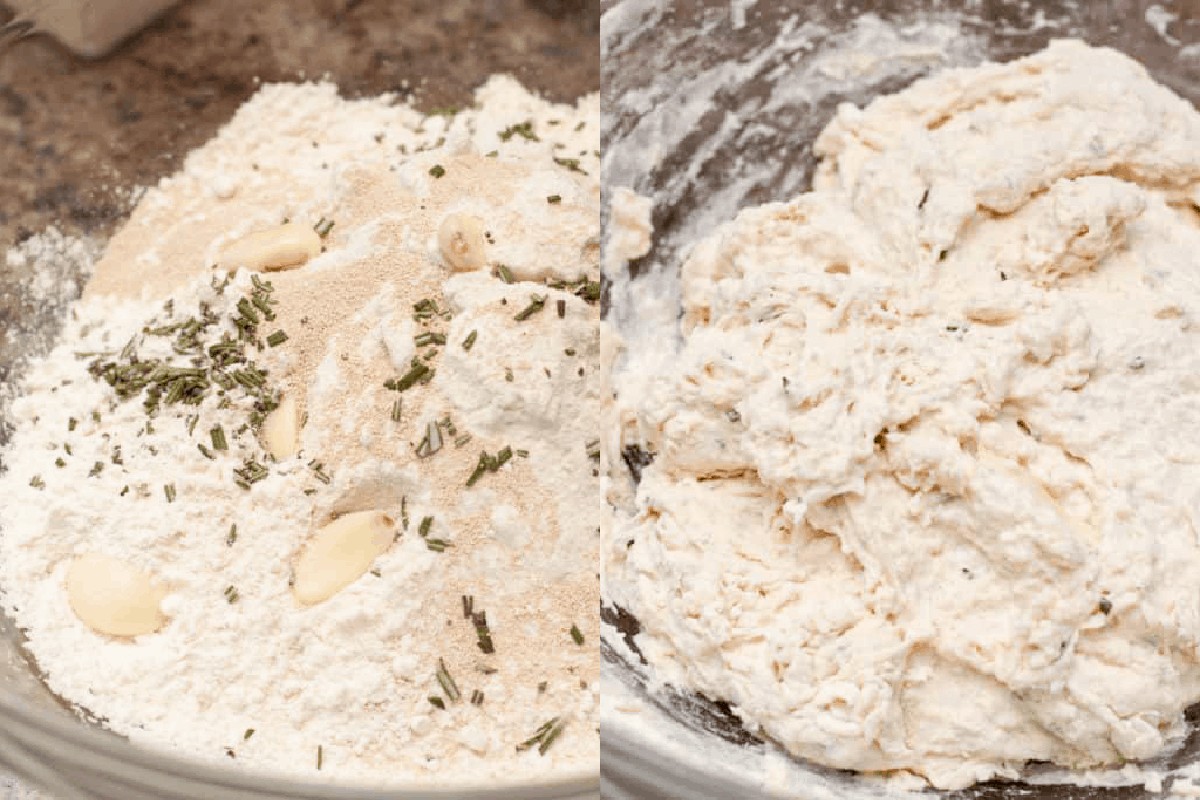 Step 3: Give it a long rise. Cover it with plastic wrap and then let it sit for at least 6 and up to 12 hrs. This is where the magic happens!
Bake in a boule or sandwich loaf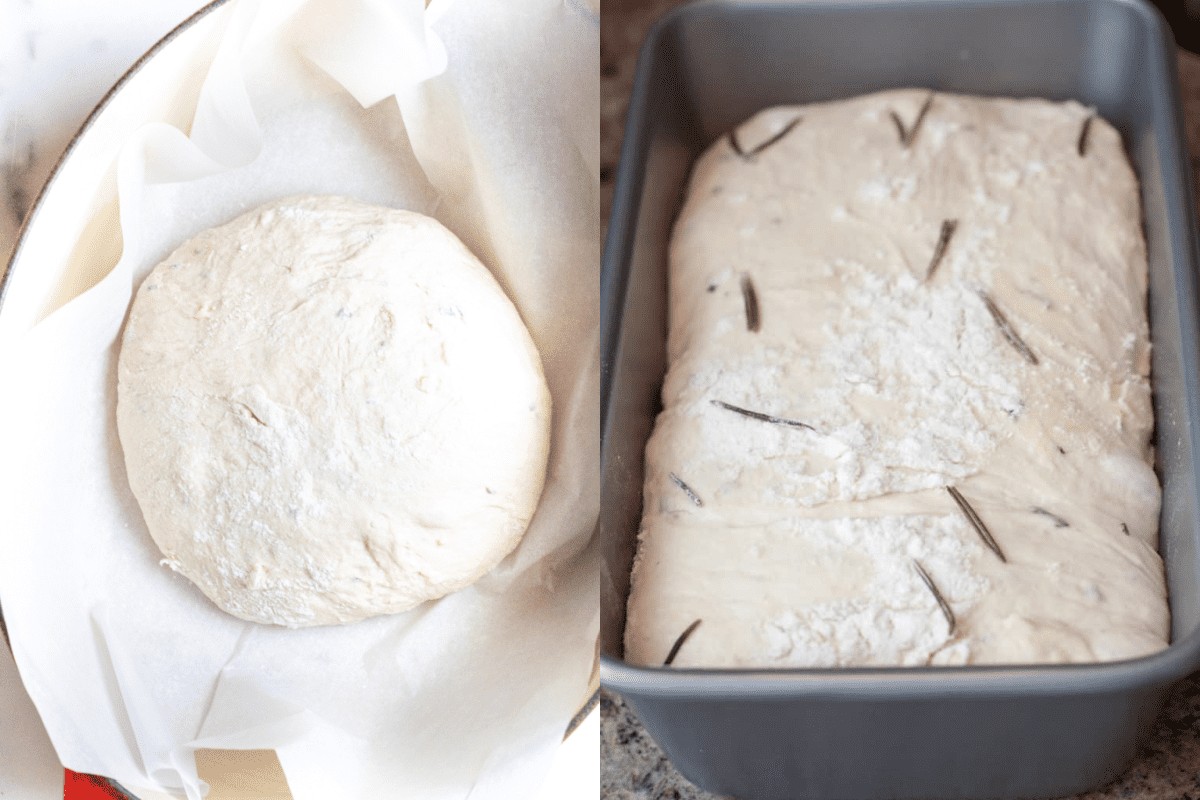 Step 4: Add that dough to either a (greased) loaf pan or a parchment paper-lined Dutch oven to rise again.
Tip: Sprinkle the edges of this wet dough with some flour. This will help you pull it out of the bowl and shape it.
Step 5: Let rise again and add a little more fresh rosemary (if you'd like) on top of your bread and then score it with a bread lame or super sharp knife.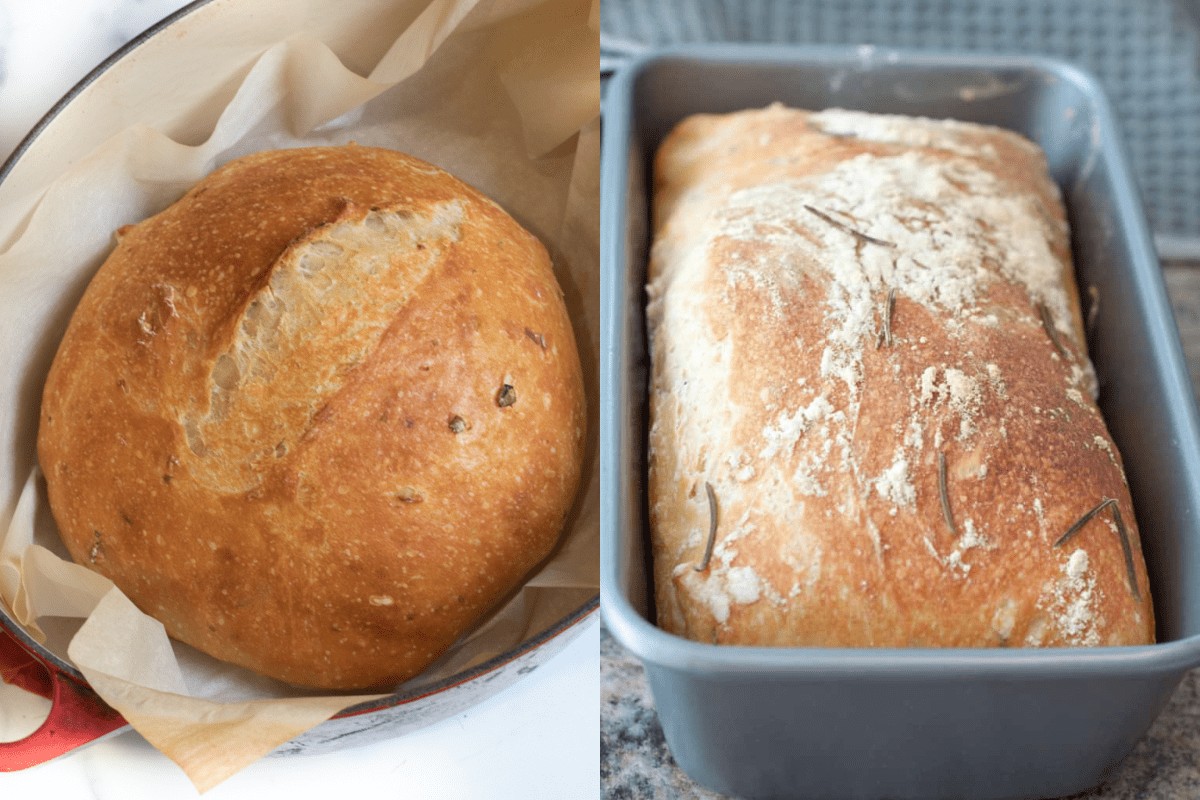 Step 6: Bake! In either a loaf pan or a Dutch oven!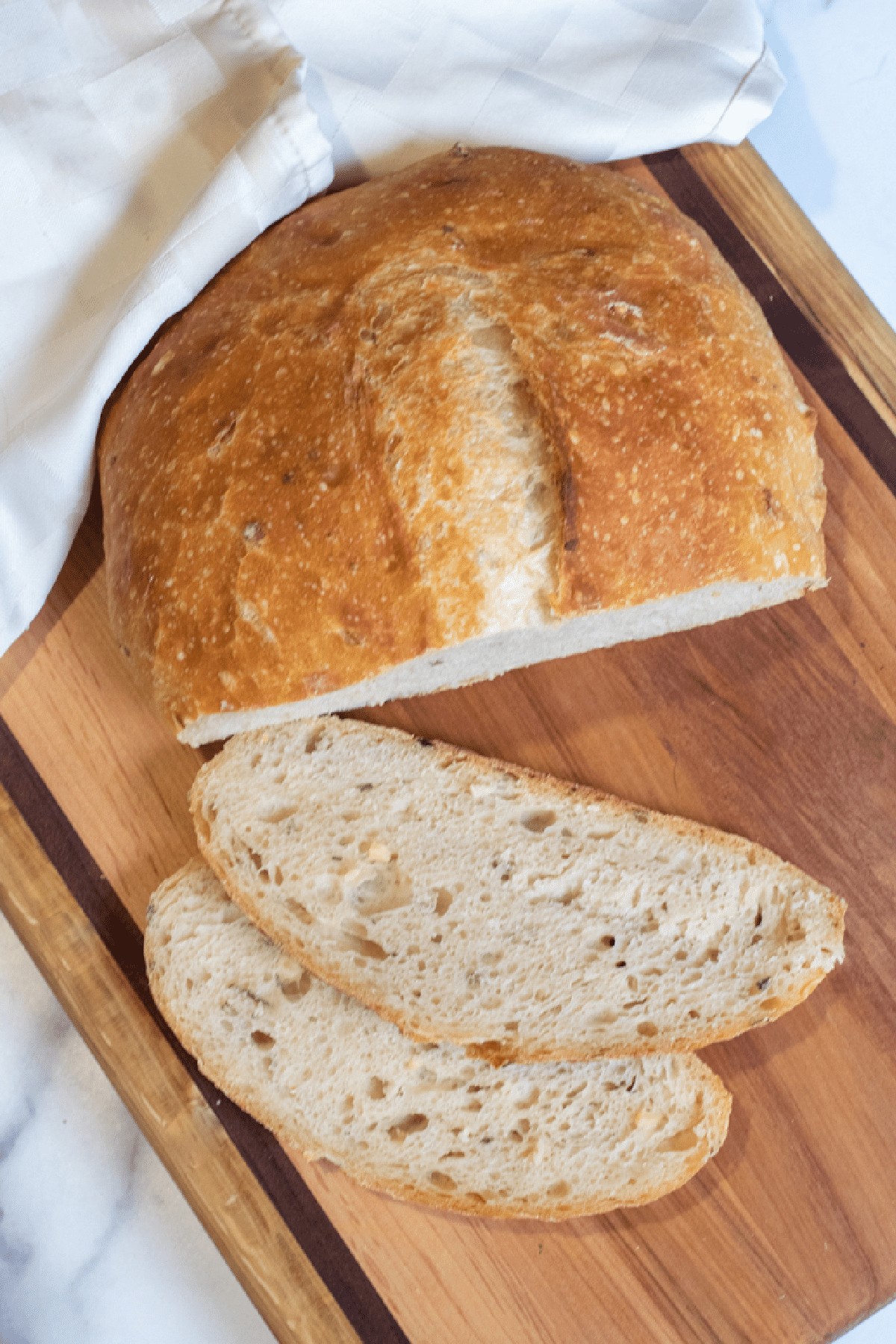 Who doesn't love a good Dutch Oven bread? When you want bread that looks artisan, pull out that Dutch oven!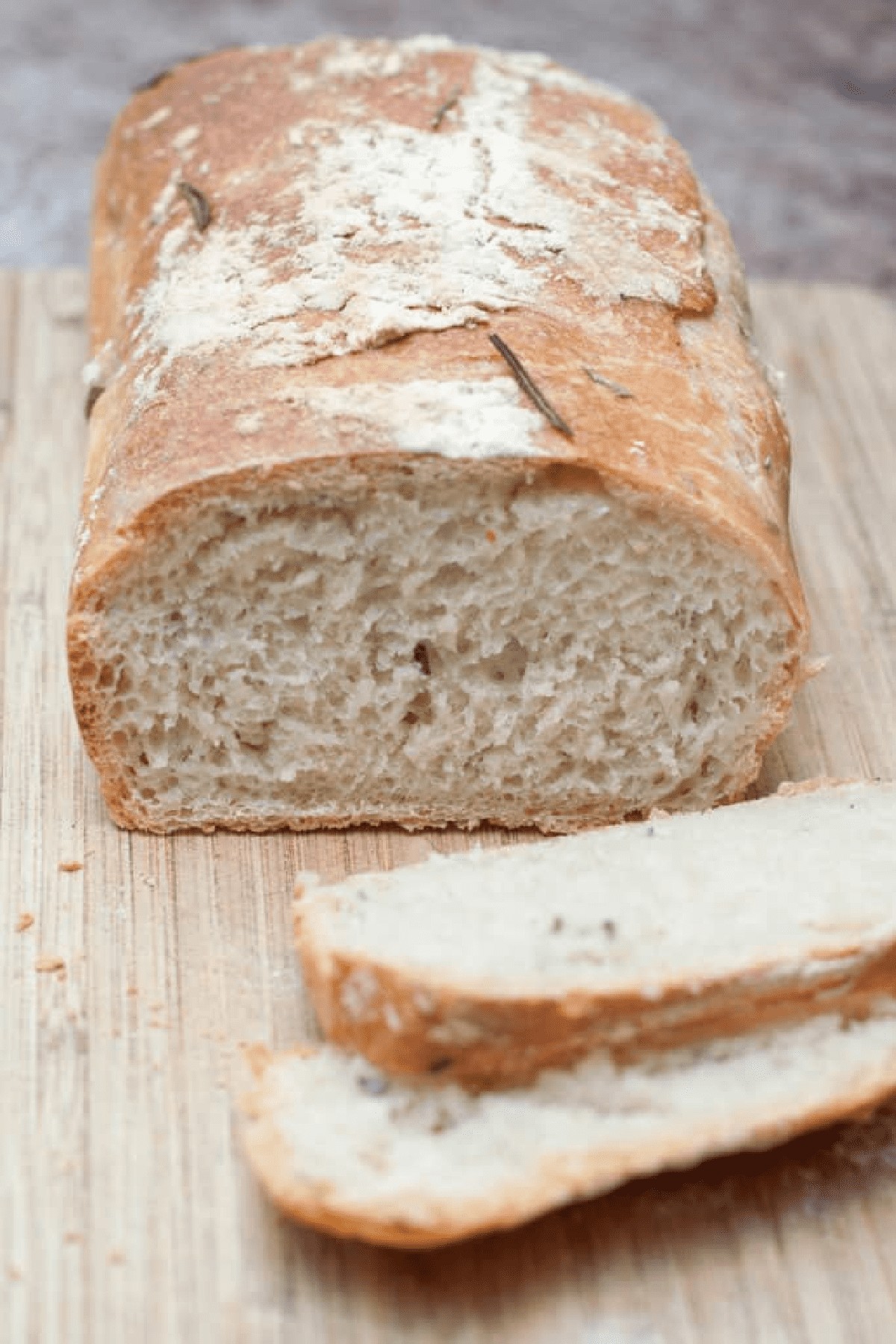 My favorite thing about this bread is how wonderfully crispy the crust is while the center is perfectly soft a chewy. Then of course the rosemary and garlic flavors? Amazing - and they are not subtle. It is an in-your-face rosemary and garlic bread!
We make this bread All. Of. The. Time. It is our go-to. The hardest part of it? Remembering to prep it! Which makes this bread is absolutely the perfect "gateway" homemade bread!
Other Homemade Breads
Enjoy! As always, if you make this recipe or any of my others, I love to hear what you think! Leave a comment below, email me, or you can find me on Facebook, Instagram, and Pinterest!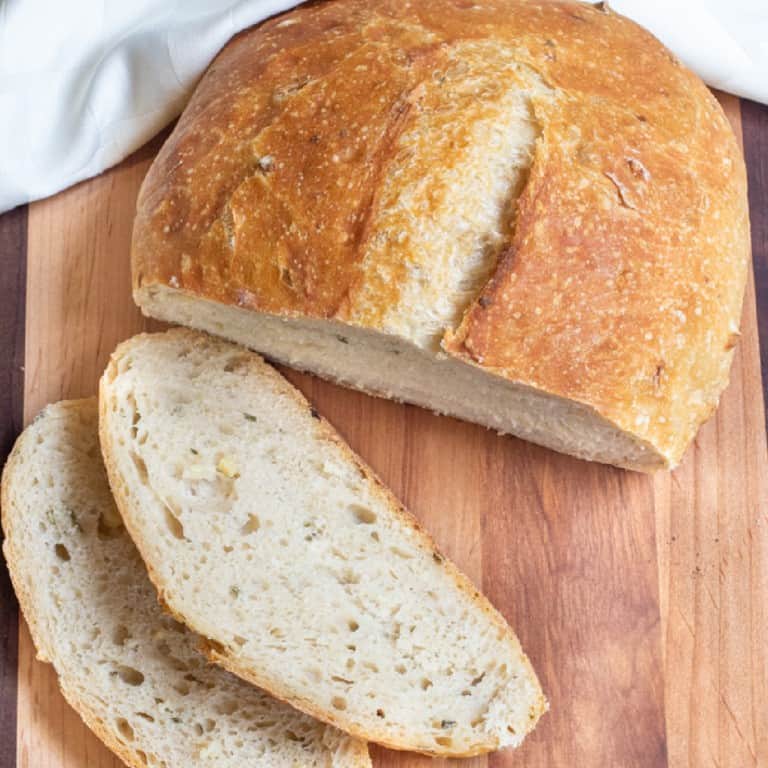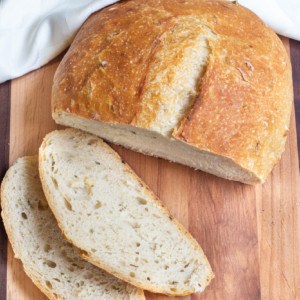 No Knead Rosemary Garlic Bread
Crispy crust, soft chewy center, No Knead Rosemary Garlic Bread
Print
Pin
Rate
Ingredients
3

cups

all purpose flour

384 grams

1 1/3

cups

warm water

307 grams

2 1/4

teaspoon

instant yeast

12 grams

1 1/2

teaspoon

kosher salt

10 grams

2

teaspoons

fresh rosemary

minced

5-6

garlic cloves

whole, sliced, or minced
Instructions
In a large bowl, add all ingredients except water and give a mix.

Then add water and mix until everything is incorporated - but don't mix too much.

Cover with plastic wrap and let rest/rise for at least 6 hrs and up to 12-14 hrs.

In the morning, generously grease a loaf pan. Then lightly flour the edges of the bowl and then turn dough onto a floured surface and shape into a loaf shape and add to the loaf pan. Or just "pour" into the pan. Add additional fresh rosemary on top, if desired. Cover with towel and let rise for at least another 2 hrs.

If using a Dutch oven, lined Dutch oven with parchment paper and then lightly flour the edges of the bowl and then turn dough onto a floured surface and shape into a boule or ball shape. Cover and let rise for another 2 hrs.

Meanwhile, pre-heat oven to 450 degrees.

After 2 hours and loaf has risen again, use a super sharp knife or bread lame and score top of bread with three slashes, or however you'd like.

Loaf Pan: Bake for 35-40 minutes until edges are browned and bread sounds hallow to a tap to the bottom.

Dutch Oven: Bake covered for 40 minutes. Remove lid and then bake another 15 minutes.

Let cool for at least 1 hour. Slice and enjoy! If sliced too early, it can cause a gummy center.
Notes
Adjust Rosemary and Garlic: This recipe has a lovely, prominent amount of rosemary and garlic. If you'd like a more subtle flavor, reduce to 1 tablespoon fresh rosemary and 3-4 garlic cloves.
Substitute: Use a 1/2 teaspoon of dried rosemary and 3/4 teaspoon of garlic powder for the fresh.
Nutrition
Calories:
140
kcal
|
Carbohydrates:
29
g
|
Protein:
4
g
|
Fat:
1
g
|
Saturated Fat:
1
g
|
Sodium:
352
mg
|
Potassium:
49
mg
|
Fiber:
1
g
|
Sugar:
1
g
|
Vitamin A:
1
IU
|
Vitamin C:
1
mg
|
Calcium:
10
mg
|
Iron:
2
mg