It's easier than you might think to make your own Homemade Flour Tortillas! With just a few simple ingredients that you probably already have in your pantry, you can make your own soft, delicious tortillas!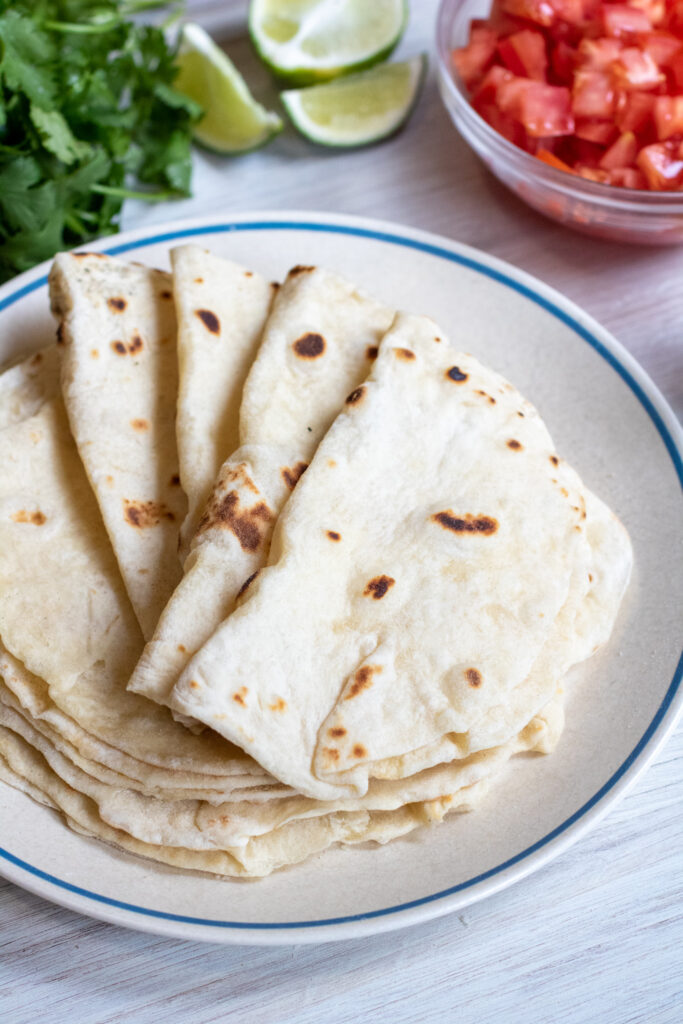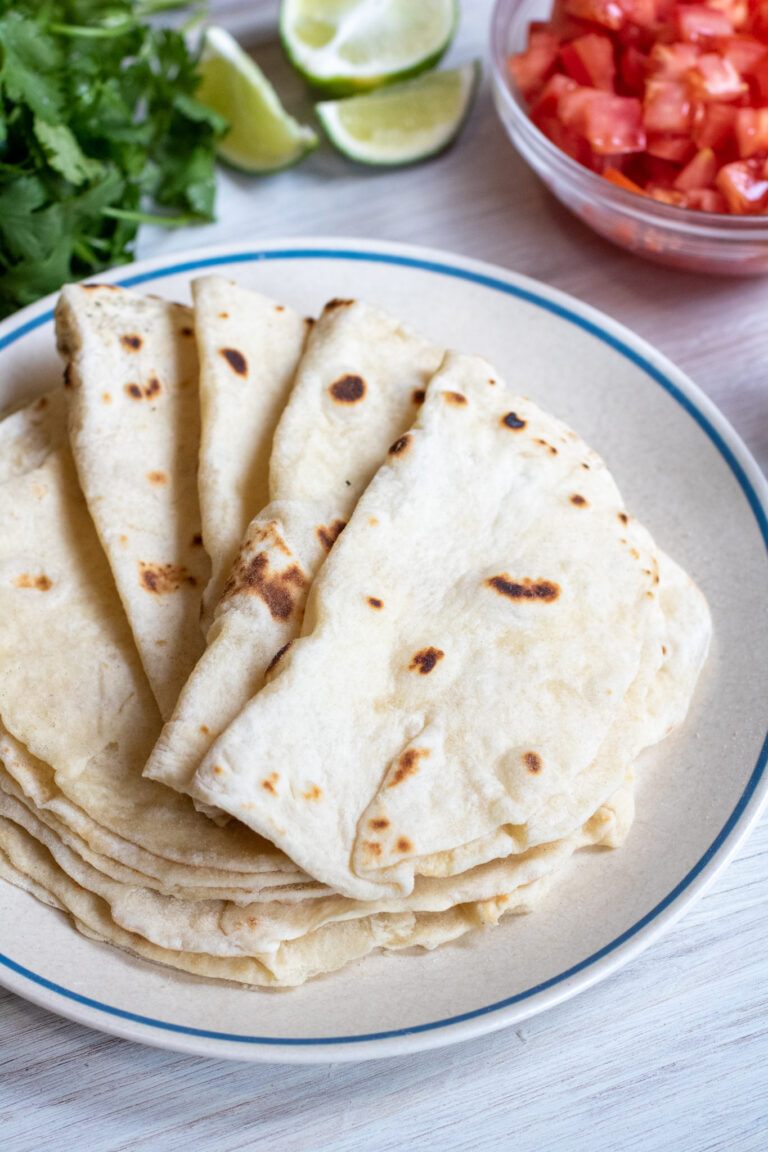 Is there anything better than a homemade taco or burrito? Only a taco or burrito made with a fresh, soft, Homemade Flour Tortilla!
Not only are these flour tortillas from scratch made with simple ingredients, but they're easy to make. Plus, they will take any of your favorite tacos or burritos to the next level and add some amazing from scratch flair! Make a big batch, store them in the freezer, and then have your own homemade tortillas whenever you want!
Ingredients Needed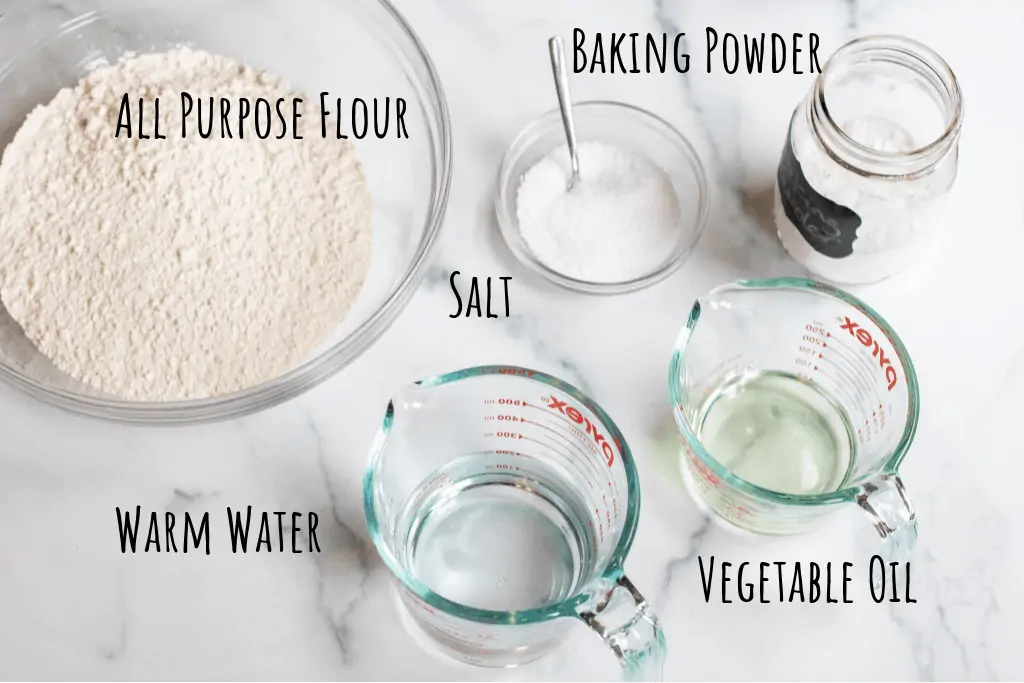 All Purpose Flour - You can also use a gluten free flour in this recipe.
Vegetable Oil - Or another neutral flavored oil like canola oil.
Baking Powder - This leavening agent is optional, you could absolutely make these tortillas without it, but we prefer them with just a touch.
Warm Water and Salt
Easy, right? I bet you already have everything on hand!
Step-by-Step Instructions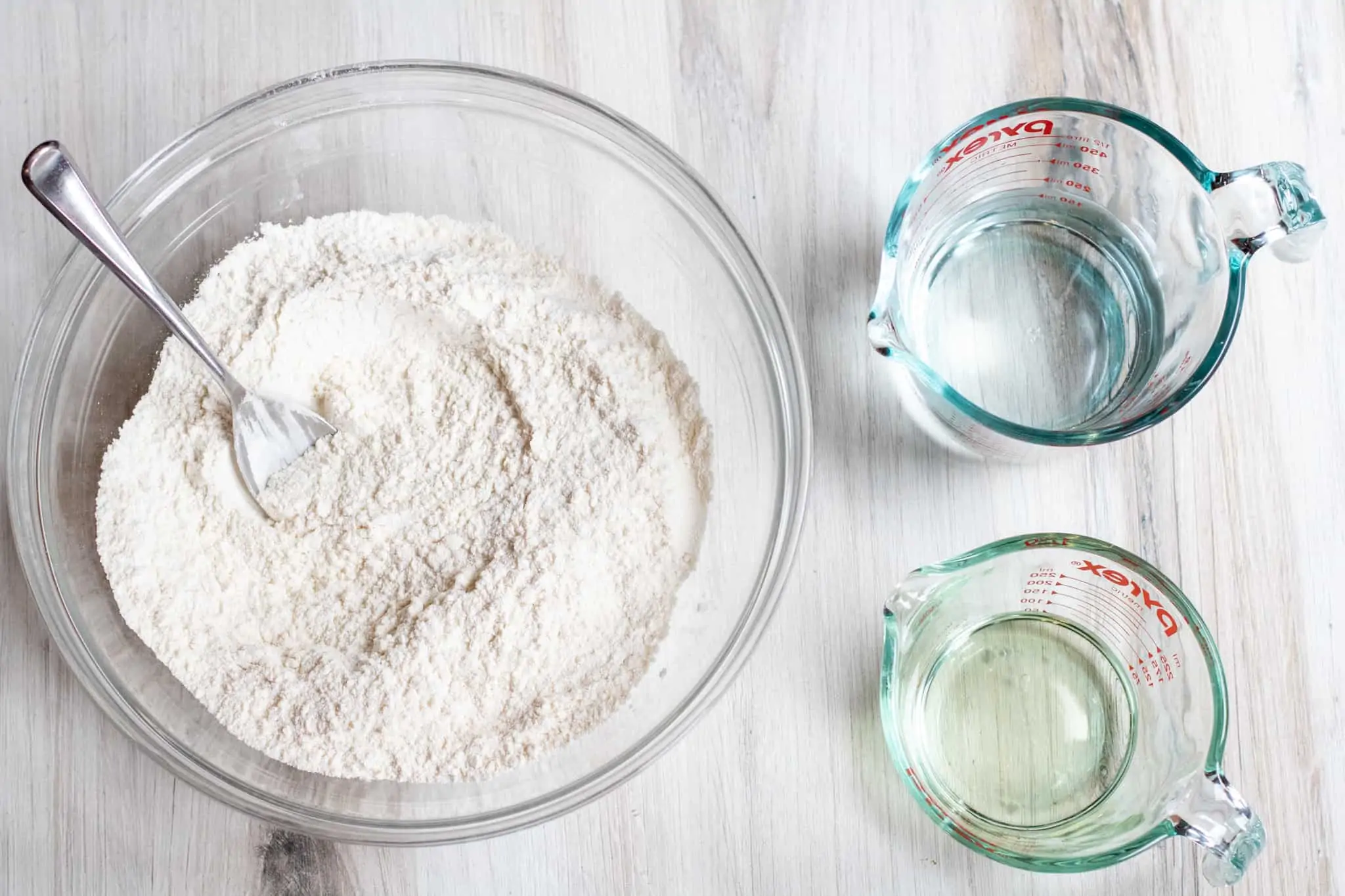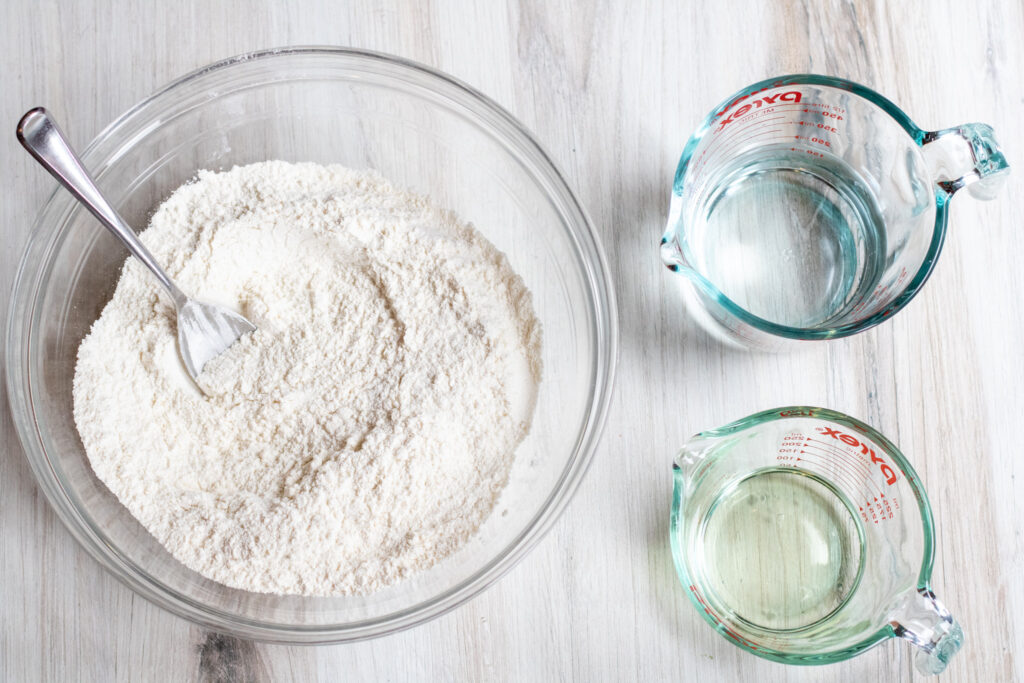 Step 1: Mix flour, salt, and baking powder in a large bowl.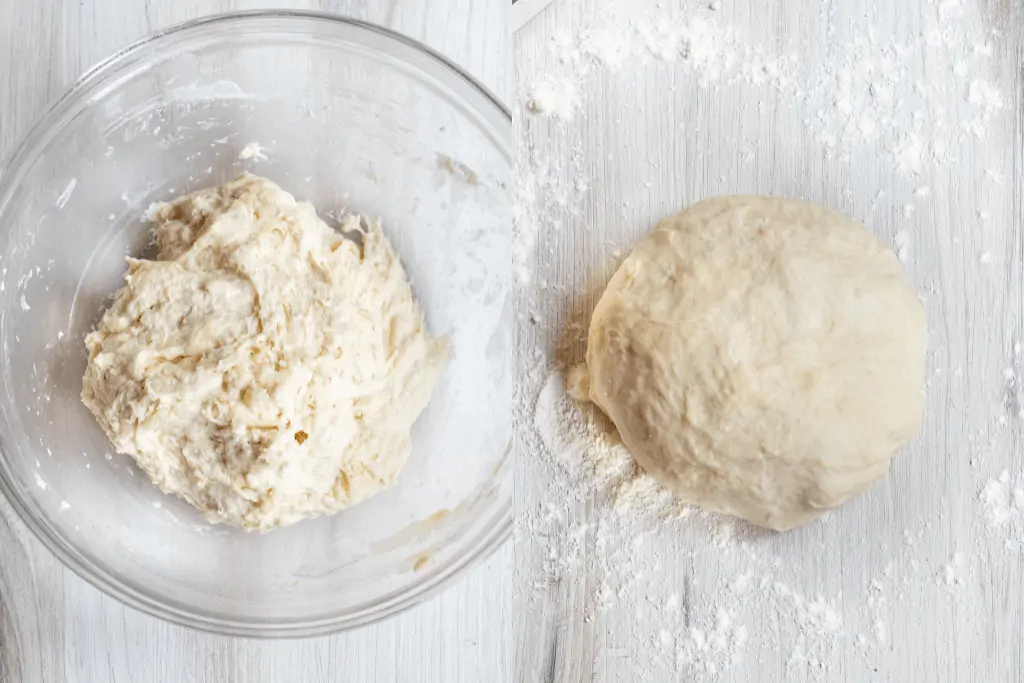 Step 2: Slowly add the water and oil mixing as you go, until a rough dough is formed.
Step 3: Flour a clean surface and gently knead your dough a few times until you have a nice smooth ball of dough.
Tip: You can also do all of this in the stand mixer. I've made them doing both, and while using a stand mixer makes a smoother dough, both methods make delicious homemade flour tortillas!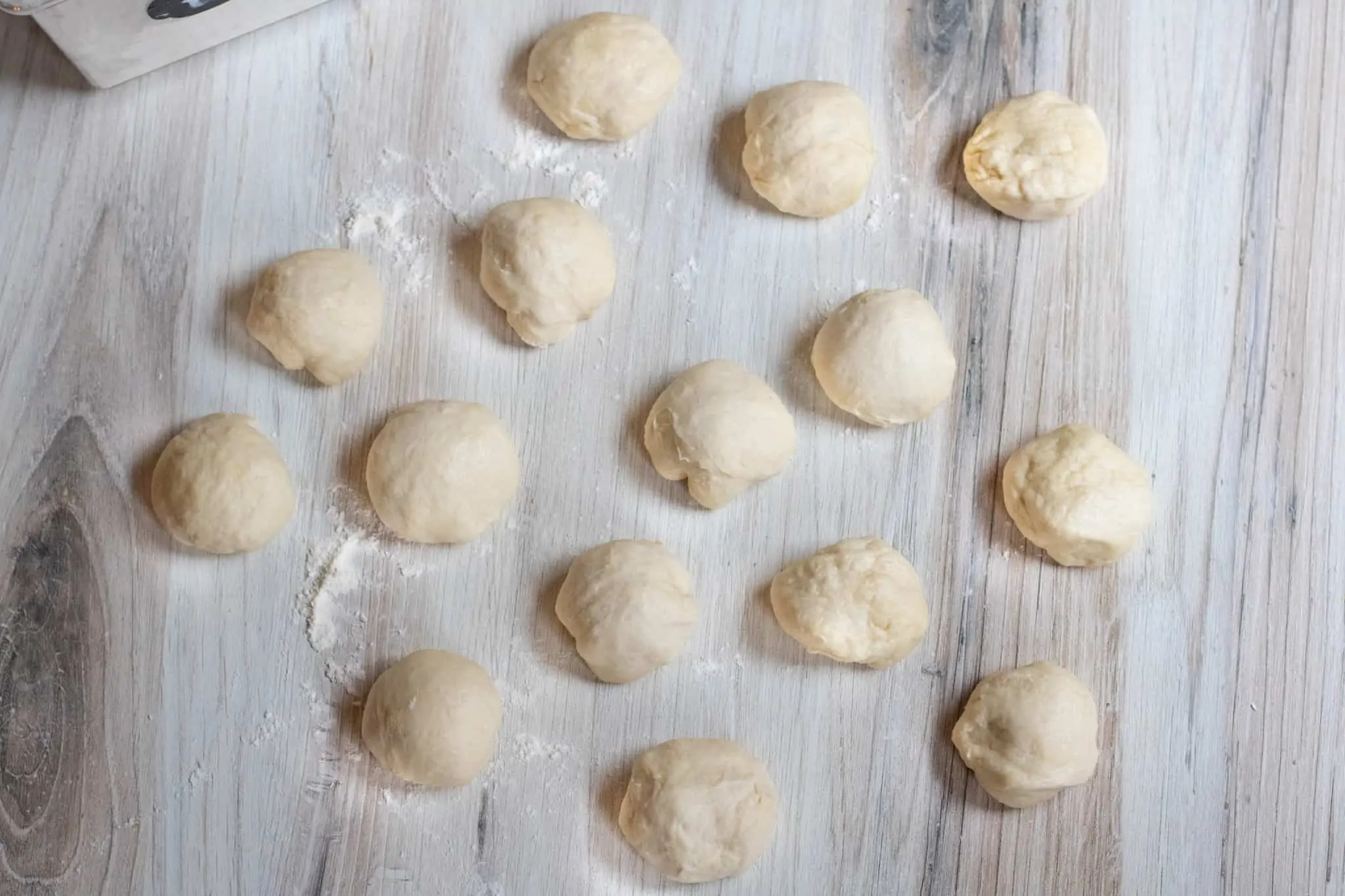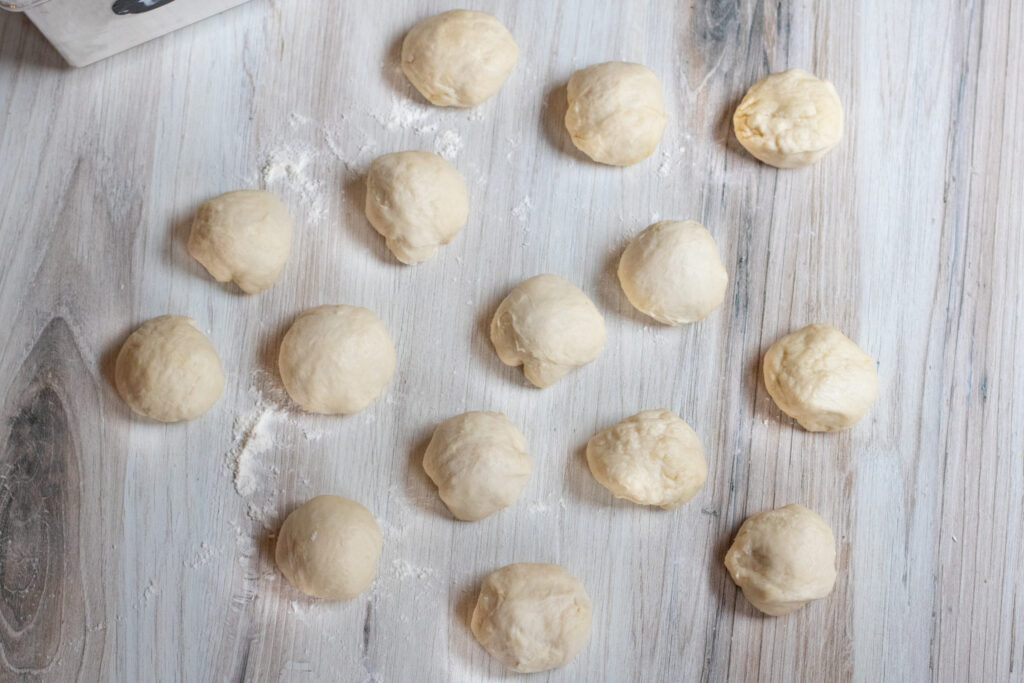 Step 4: Separate your dough in half. Then halve those halves. And halve those halves of halves. Continue until you have 16 evenly sized balls of dough.
Tip: Lose count? Halves not matching up? Yeah, same. So we also measure them out with our trusty kitchen scale. For 16 doughs they'll be about 1.5 - 1.6 oz.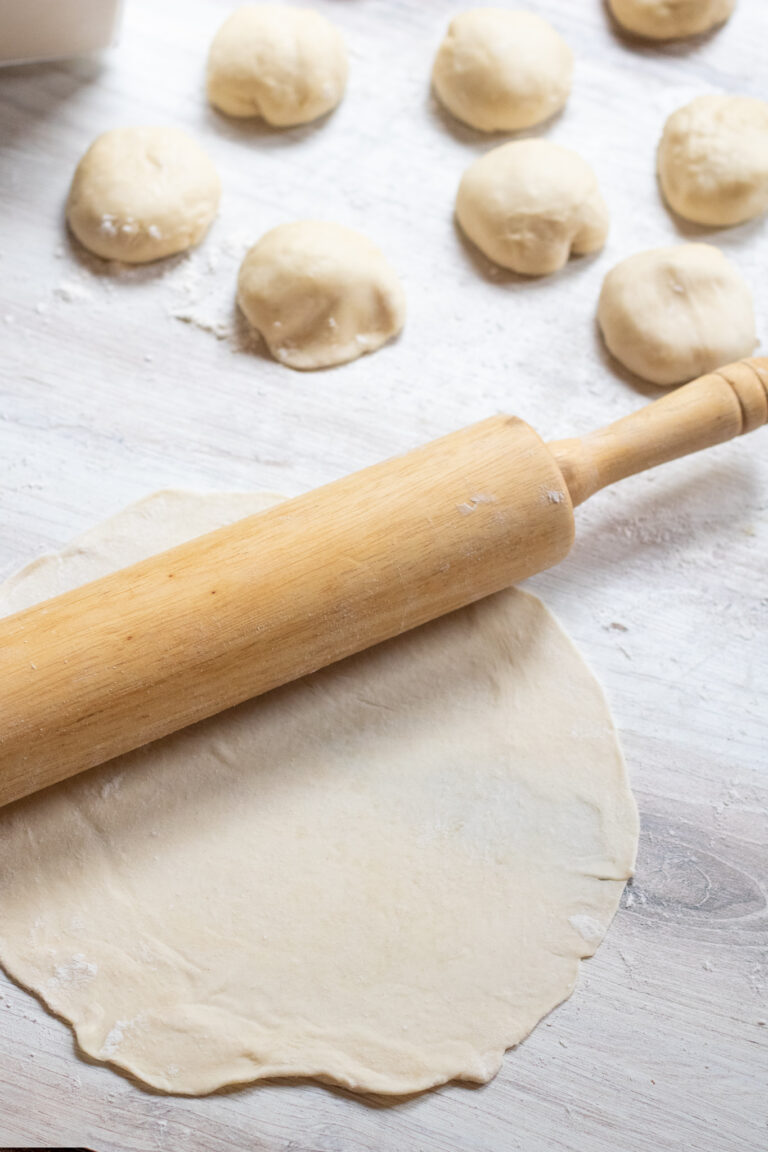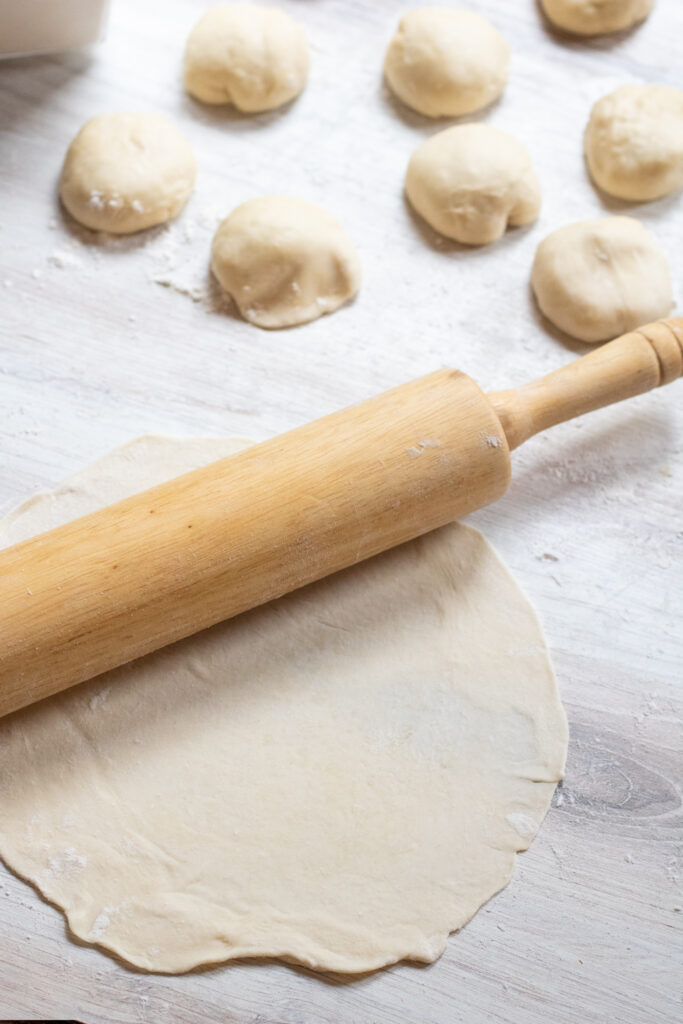 Step 5: On a floured surface, roll out the doughs while your large pan or griddle is heating up on medium-high.
Step 6: Add those doughs one by one to your pan / griddle and cook for just about 30 seconds on the first side and another 30-45 seconds on the second.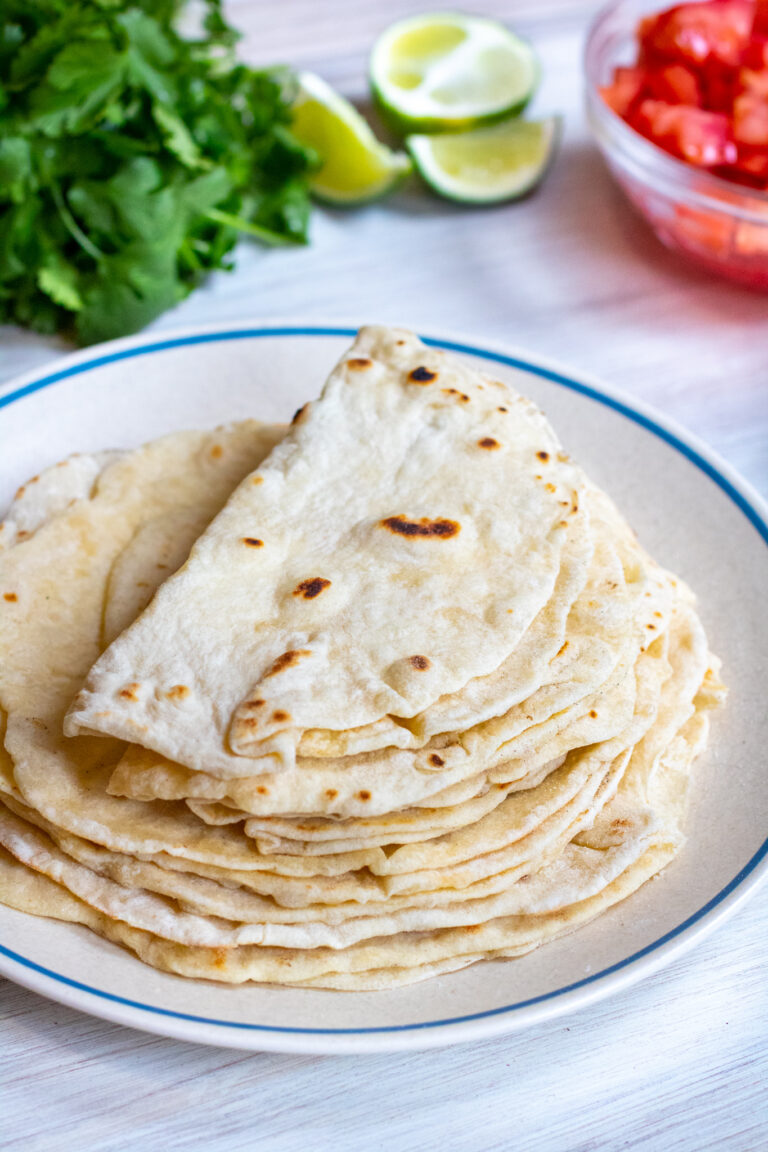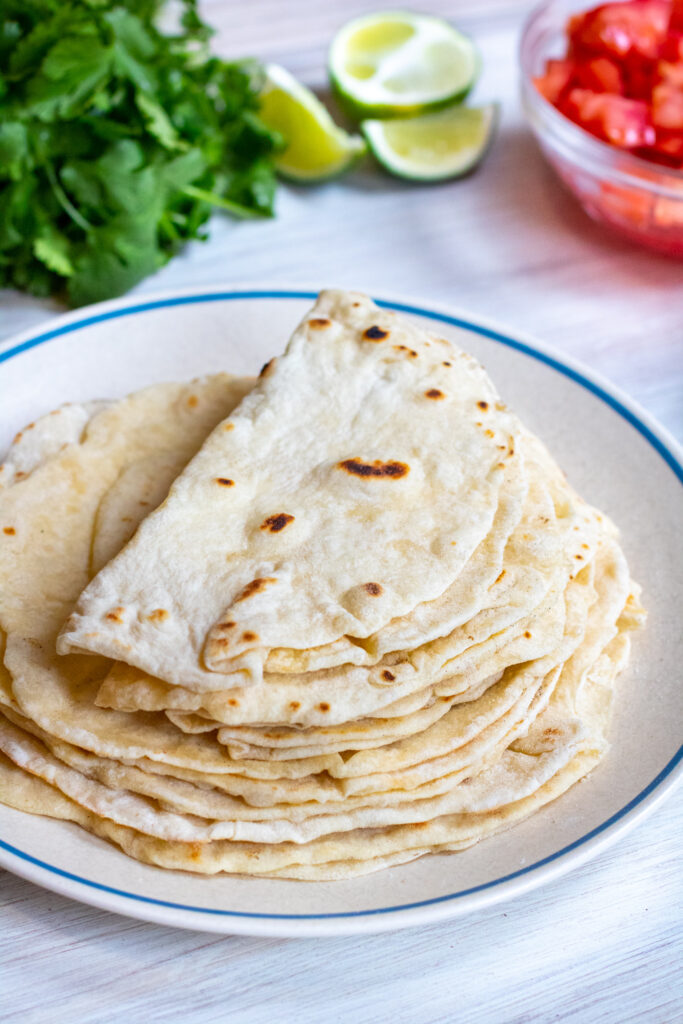 Repeat until done!
Use Them For
Don't Forget the Sides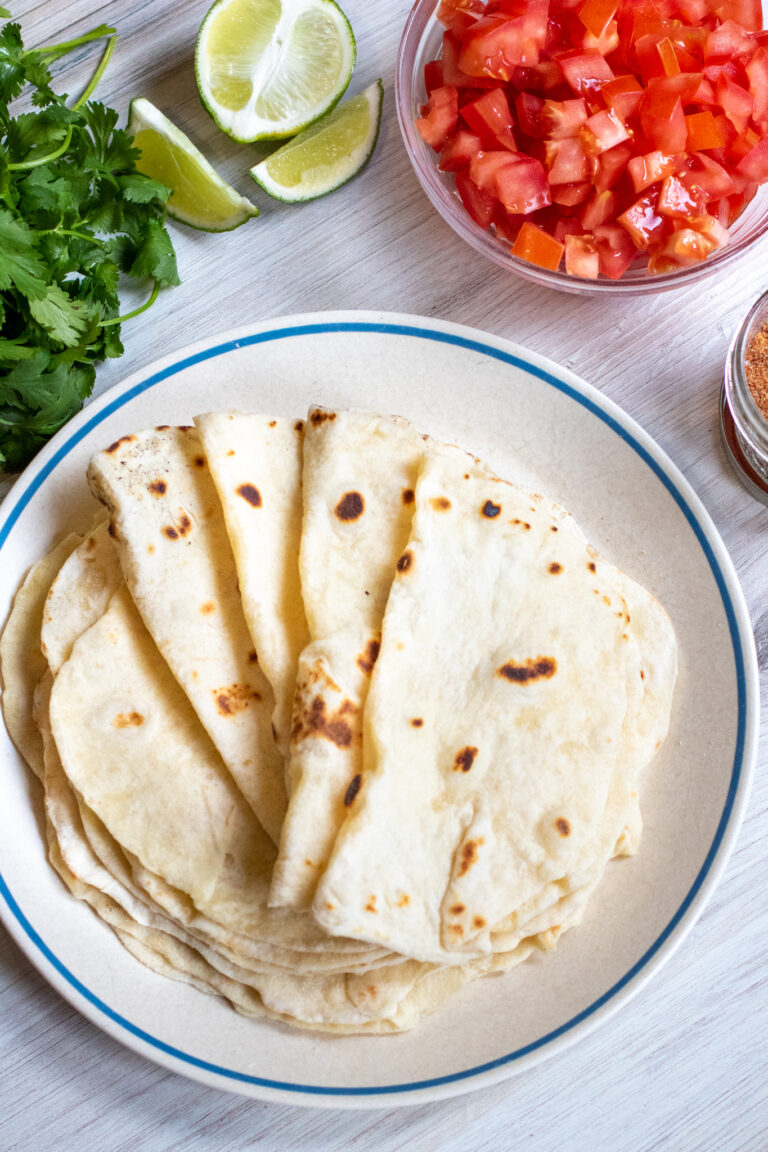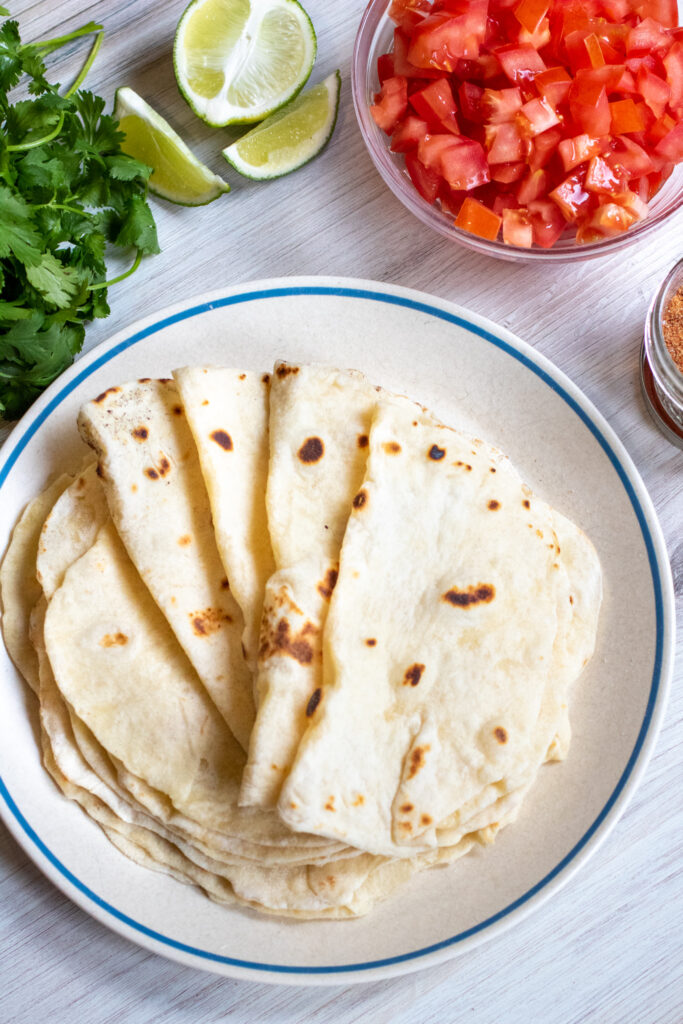 Soft, fresh, and so perfect for all of your favorite Mexican dishes.
FAQs
What size tortillas do these make?
This recipe makes 16 tortillas that are about 6-7 inches in diameter.
Can I make these smaller or bigger?
Of course! Make them street taco size by making them only 1 oz each or 2 oz.
How thin do I roll them?
As thin as possible! But sure to flour your rolling pin and counter.
How do I store them?
Store them in an airtight container at room temperature for 2-3 days and in the fridge for up to a week. Freeze for up to 6-8 months.
How do I re-heat them?
You can use a microwave and cover them with a damp towel and cook for 30 seconds. Or heat an oven to 350 degrees and wrap up to 5 in aluminum foil and heat for 15-20 minutes.
Enjoy! As always, if you make this recipe or any of my others, I love to hear what you think! Leave a comment below, email me, or you can find me on Facebook, Instagram, and Pinterest!
If you want to see more, be sure to sign up for my 5 Easy Ways to Start Cooking From Scratch!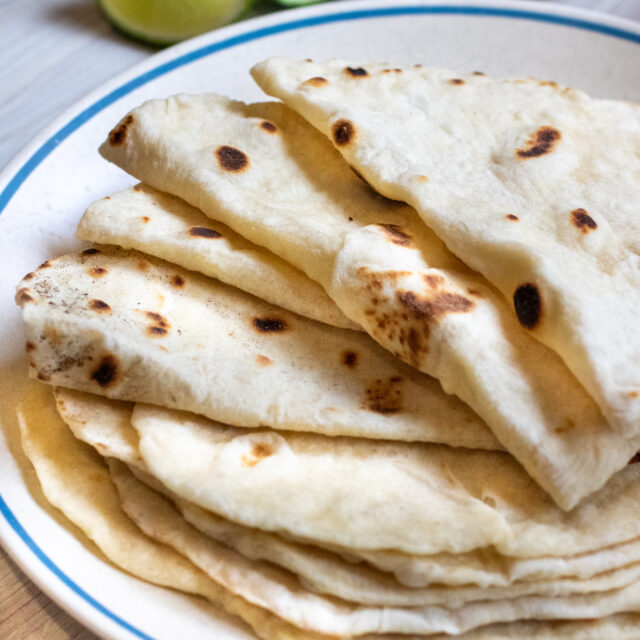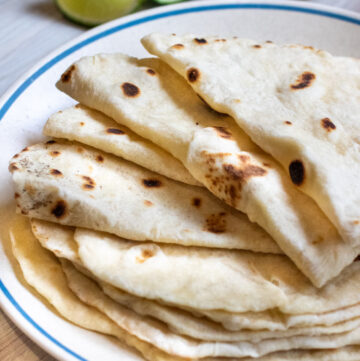 Ingredients
3

cups

All purpose flour

1

teaspoon

salt

1

teaspoon

baking powder

1/3

cup

vegetable oil

or canola oil

1

cup

warm water
Instructions
In a large bowl, combine flour, salt, and baking powder. Mix well. This can also be done in a stand mixer - see recipe notes.

Slowly add water and oil and mix well, incorporating flour slowly until a rough dough forms.

Pour dough onto a floured surface and knead a couple of times until a smooth dough forms.

Diving dough in half, then in half again. Continue until you have 16 euqal sized balls of dough that measure about 1.5 - 1.6 oz. Form each dough into a small ball and then cover them all with a linen kitchen towel. Let rest for 15 minutes.

Heat a large pan or griddle to medium high heat. Flour a clean surface and with a floured rolling pin, roll out doughs one by one. Add one to the hot pan and begin rolling the next.

Don't stack uncooked tortillas on top of each other beacuse they will stick together.

After rest period, heat a large pan over medium-high heat. Roll. Flour your work surface and rolling pin and roll out each dough piece into a rough circle, about 6-7 inches in diameter.

Cook each tortilla for about 30-45 seconds until the bottom surface begins to lightly brown. If the tortilla starts to brown to fast or bubble up, reduce the heat a bit. But if 30-45 seconds isn't enough to brown the bottom a little, then increase the heat a bit.

Flip the tortilla to the other side and cook for another 30-45 seconds.

Remove from pan with tongs and stack on a plate until all of the tortillas are cooked.

Use immediately or let cool completely before storing in an airtight container.
Nutrition
Calories:
125
kcal
|
Carbohydrates:
18
g
|
Protein:
2
g
|
Fat:
5
g
|
Saturated Fat:
4
g
|
Sodium:
173
mg
|
Potassium:
25
mg
|
Fiber:
1
g
|
Sugar:
1
g
|
Calcium:
19
mg
|
Iron:
1
mg