This post may contain affiliate links. Read my disclosure policy.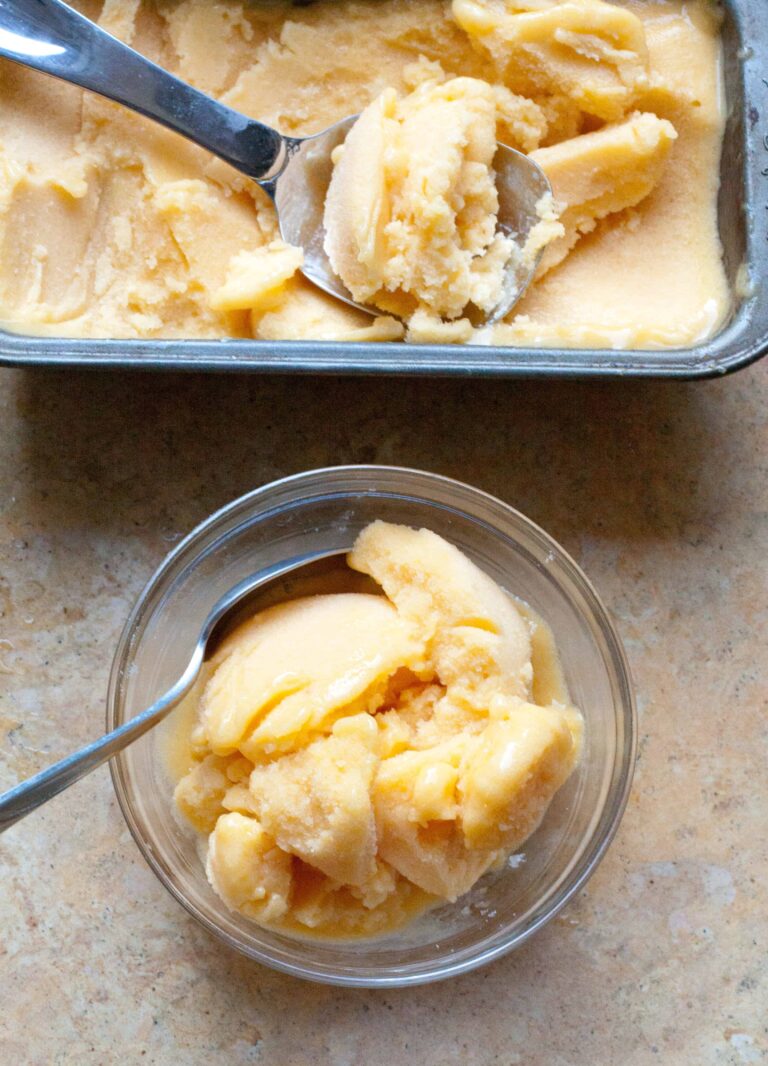 You guys. If you make anything, anything from my site, it's gotta be this Peach Sorbet. For real. Right now, go get some beautiful fresh peaches and make this sorbet. I promise you, promise you, you wont be disappointed. It's amazing. And easy. It's the perfect light, fresh, fruity, not too sweet dessert that is exactly what I want when it's super hot out.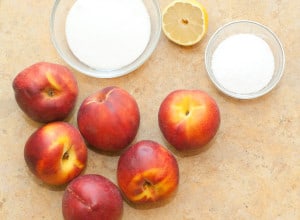 We're entering a heat wave here in this weekend. Apparently Portland did not get the memo that it's only June. And that it's Portland. Triple digit temps do not belong in either. Since it's so hot, I've started dreaming of fresh fruit sorbets. What's fresh right now? Peaches.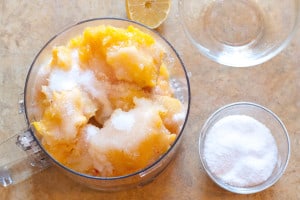 So I grabbed 6 fresh peaches, peeled them, sliced them, and put them in a container in the freezer overnight. This was not a clean or fast process. I made quite the mess. If anyone has any tricks to peeling and slicing fresh juicy peaches, let me know, 'cause I'll need it for the 21582 more batches of this sorbet I'll be making this peach season.
The next day, the peaches were nice and frozen. So I just tossed them in the best food processor ever with 1/2 cup of sugar, the juice of half a lemon, and a good pinch of kosher salt and blended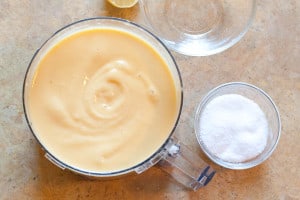 until wonderfully smooth.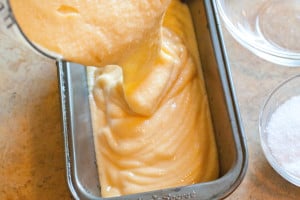 At this point you can totally eat it soft serve style. It took great restraint for me not to. I also had to weight the cost vs. benefit of licking the food processor blade clean. I didn't… but I had to really weigh the risks, this stuff is that good.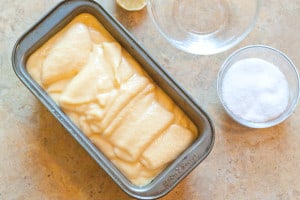 Once in the pan, I just stuck it in the freezer to set. You can let it freeze up to 3 days like this. Ha ha… 3 days. Yeah, good luck with that one. I was checking it every hour to see if it was ready.
I ended up having to leave the kitchen because I was catching myself staring at the freezer trying to will the sorbet to freeze faster with my mind. It did not work. Shocking, I know. I ended up making a deal with myself to leave it until morning in exchange for allowing myself to eat sorbet for breakfast. Hey, it's just peaches, right? Totally acceptable!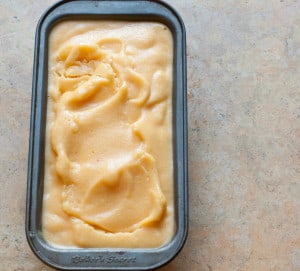 The next day, I woke up to this.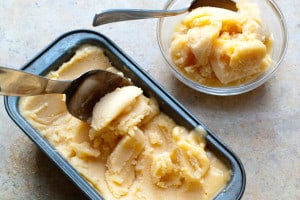 And I totally ate it for breakfast.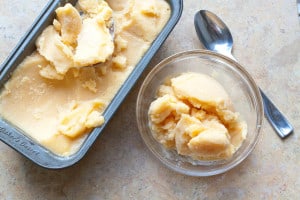 And licked the bowl. And also realized somehow we do not have an ice cream scooper. No matter, I managed.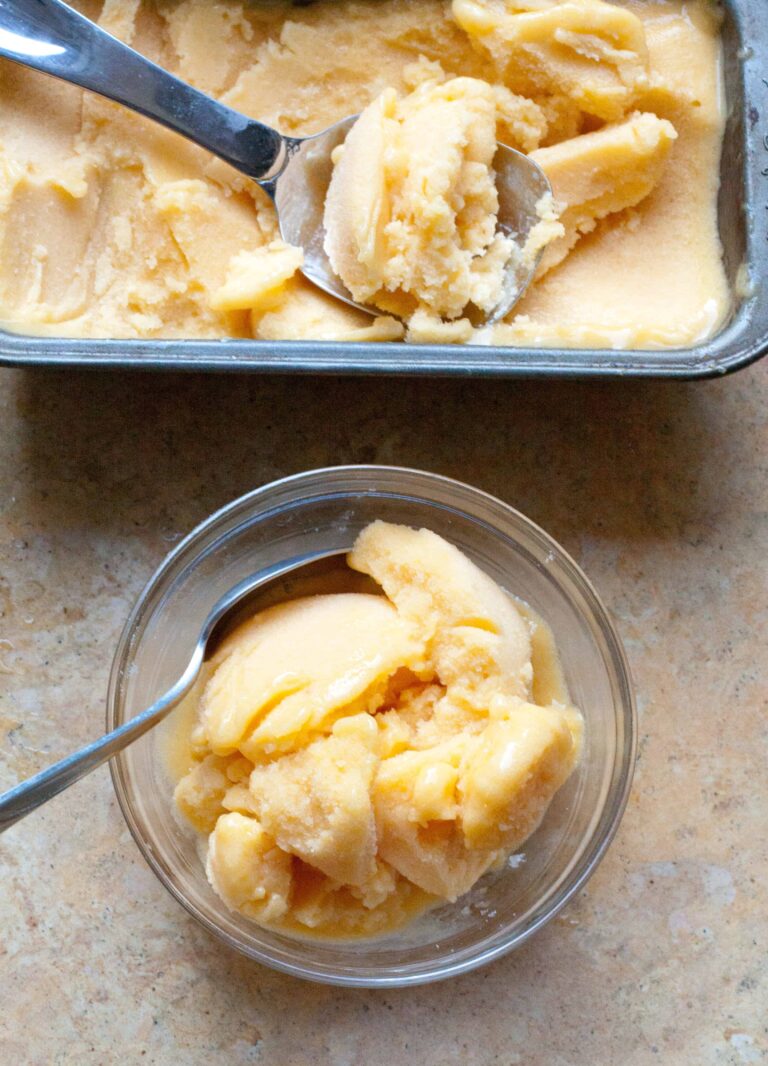 Go get yourself some peaches, stat!
Even better? Make this sorbet into delicious little Popsicles by using these super easy molds!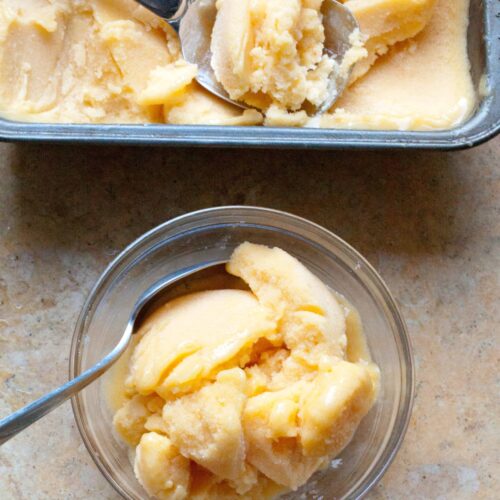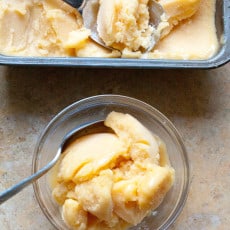 4 Ingredient Peach Sorbet
A super light, fresh, cooling fresh fruit sorbet, perfect for summer and Vegan friendly!
Print
Pin
Rate
Ingredients
6

fresh peaches

1/2

cup

of sugar

Juice from half a lemon

Healthy pinch of salt
Instructions
Peel and slice the peaches. Freeze until they are firm.

In a food processor, add frozen peaches, sugar, salt, and lemon juice and blend until creamy.

Serve immediately as soft serve or transfer to a loaf pan and freeze (up to three days).

Notes

I prefer this sorbet as soft serve as the sweetness is more apparent. Frozen, the sweet peach is a little more subtle so serve to whichever taste you prefer!
I'm sharing this with Fiesta Friday and Friday Favorites this week!