These Easy Homemade Peach Fritters are the perfect sweet breakfast treat. Packed full of fresh peaches and topped with an almond glaze, these sweet crispy fruit fritters are a new brunch favorite and are ready in just 30 minutes!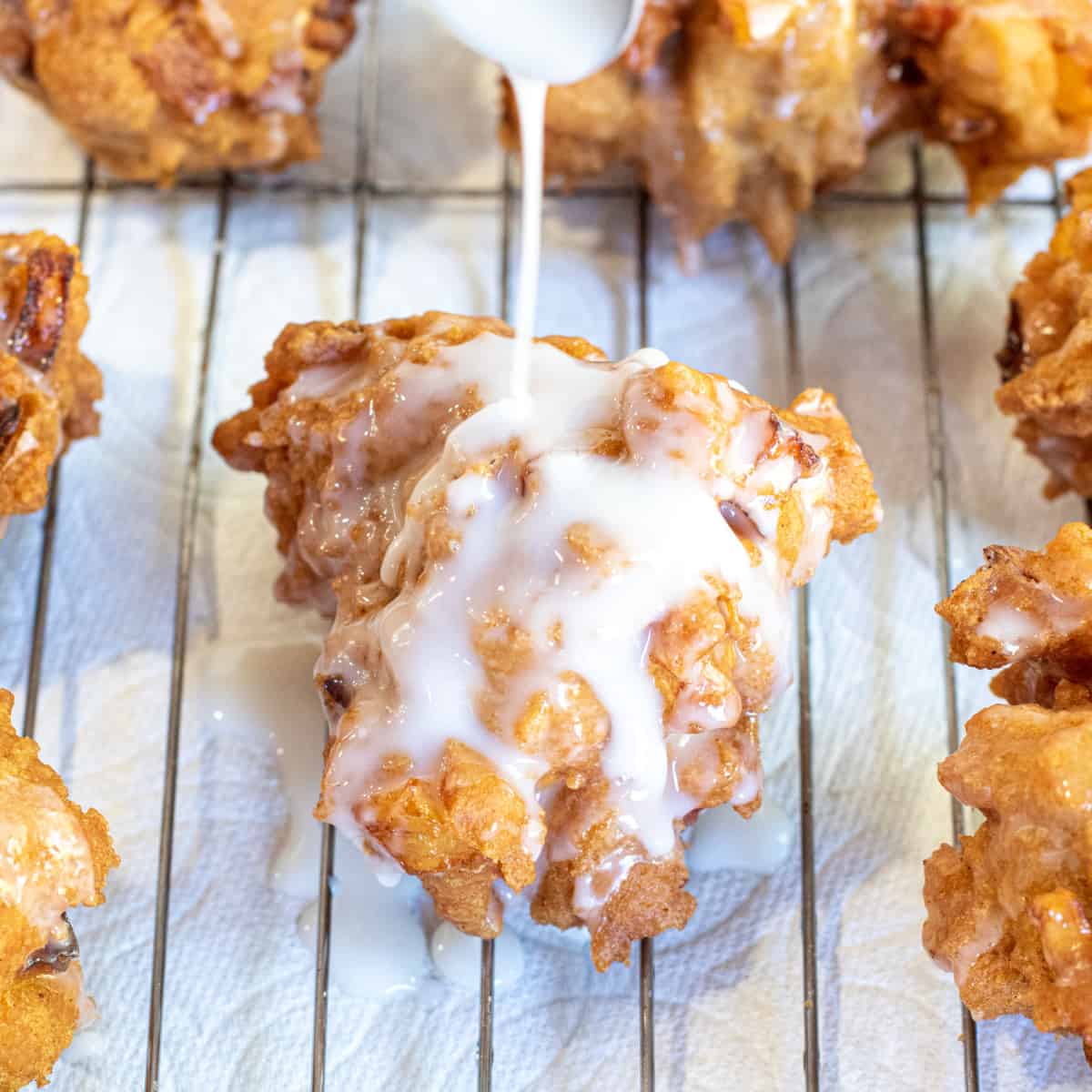 Friends, this is one that I am so excited to share with you all! You know how much we love our Homemade Apple Fritters, but I have to say, these Easy Homemade Peach Fritters might just knock those out of the top sweet brunch treat, fruit fritter spot!
These peach fritters are just as easy as the apple ones, are just as packed with fresh fruit, and have the most amazing touch of almond flavor in the fritter itself and in the glaze which is the perfect complement to the amazing peaches. Trust me, this is one you want to grab some of those end-of-the-summer peaches for!
Ingredients Needed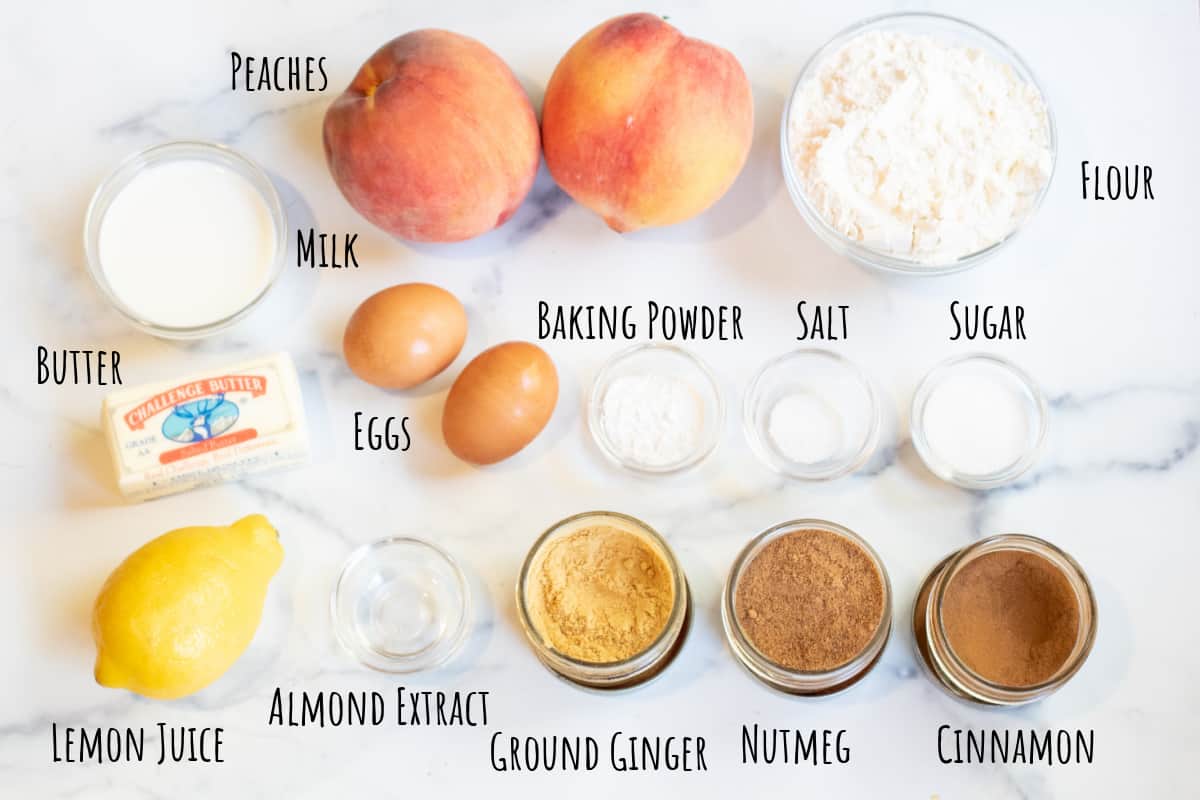 Fresh Peaches - While fresh is of course our favorite, you can also make these out of peach season with frozen or canned. See recipe notes.
Flour - All purpose is what we use, but a gluten-free 1:1 would also work!
Milk, Eggs, Butter, and Baking Soda - Key parts of the batter. Although a non-dairy milk like almond milk will work great too!
Sugar - Just a touch. And if using canned peaches can be omitted.
Almond Extract - This is a key to the amazing and complimentary almond flavor infused in these fruit fritters.
Cinnamon, Ground Ginger, Nutmeg, and Salt - The final spices for ultimate flavor!
Confectioner's Sugar, Milk, and Almond Extract - For the sweet almond-flavored glaze!
What are Fritters?
Fritters, very simply, are fried (deep or pan) bits of dough with (or without) veggies, fruits, and even meats. Fruit fritters are more closely related to donuts, while meat fritters are much more patty-like with their primary ingredient being meat with just a little breading as a binding.
Apple Fritters are a fall favorite, Zucchini Fritters a summer favorite, and now these Easy Homemade Peach Fritters will fill the fritter void in between!
Ready in 30 Minutes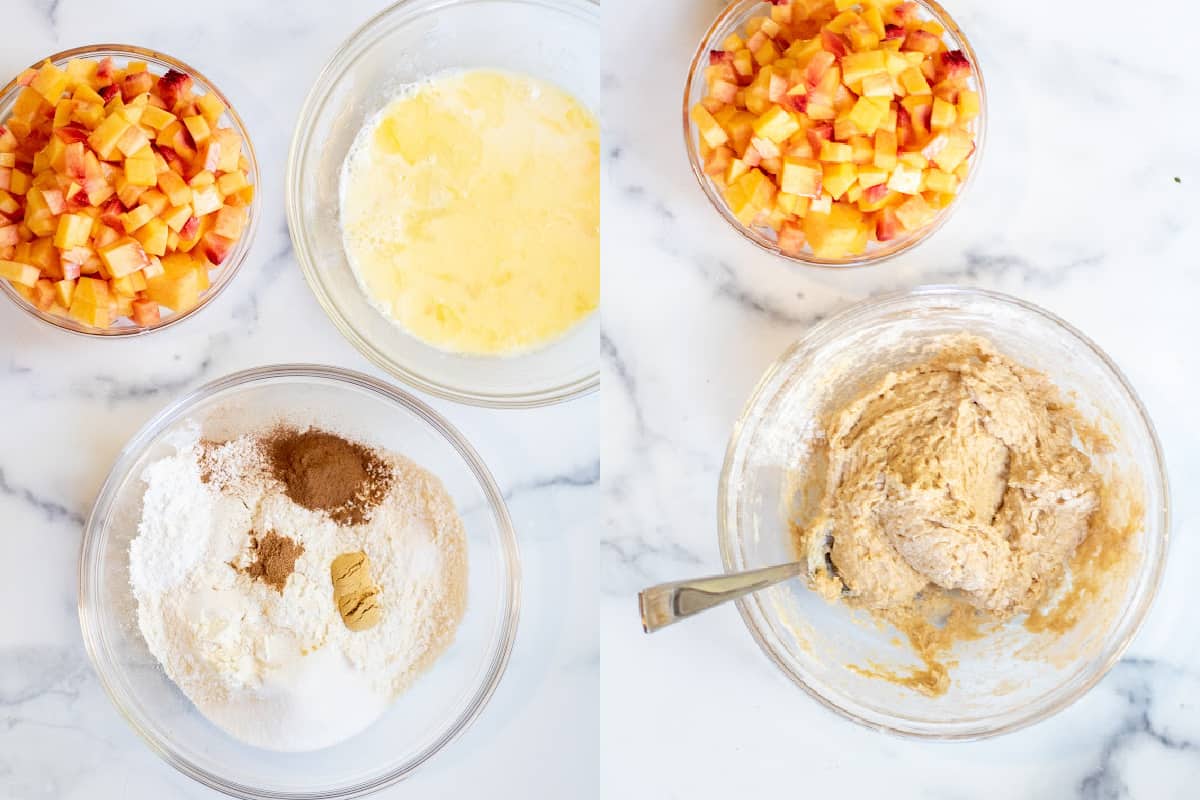 In addition to being incredibly delicious, these peach fritters are also ready fast, which makes brunch even better!
Chop Peaches - Give those fresh (or canned or frozen) peaches a quick chop into small even pieces.
Mix Wet Ingredients - Give those eggs, milk, butter, and almond extract a good whisk. Be sure to let the butter cool a bit, first so you don't cook your eggs!
Whisk Dry Ingredients - Toss it all together and give it a good mix.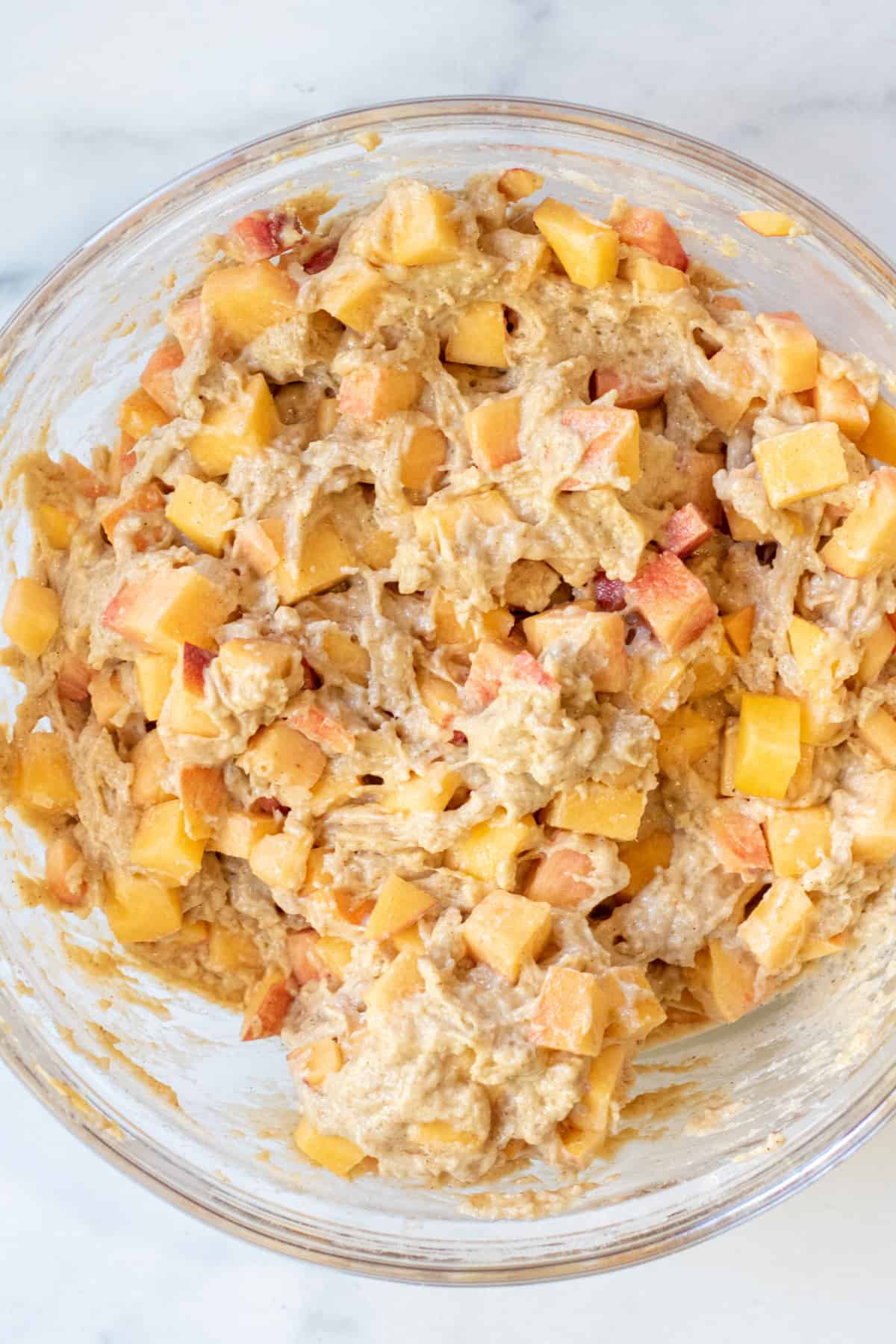 Fold in Peaches - Once a dough is formed, then gently fold in the chopped peaches. The dough should be thick and sticky.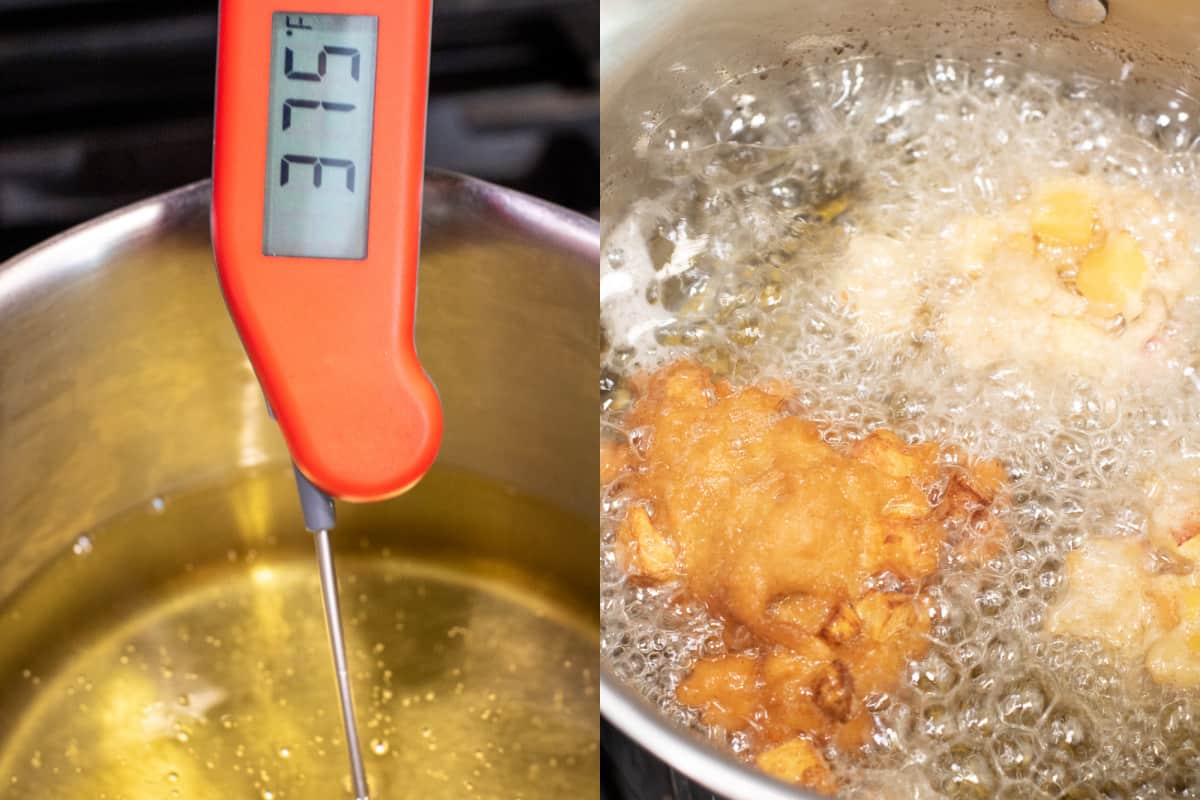 Fry - Bring your oil up to 375 degrees and then it's ready for your fritters! Using an instant-read thermometer will make this the easiest and ensure your oil is at the right temp. But you can also use the wooden spoon test, too (see recipe notes).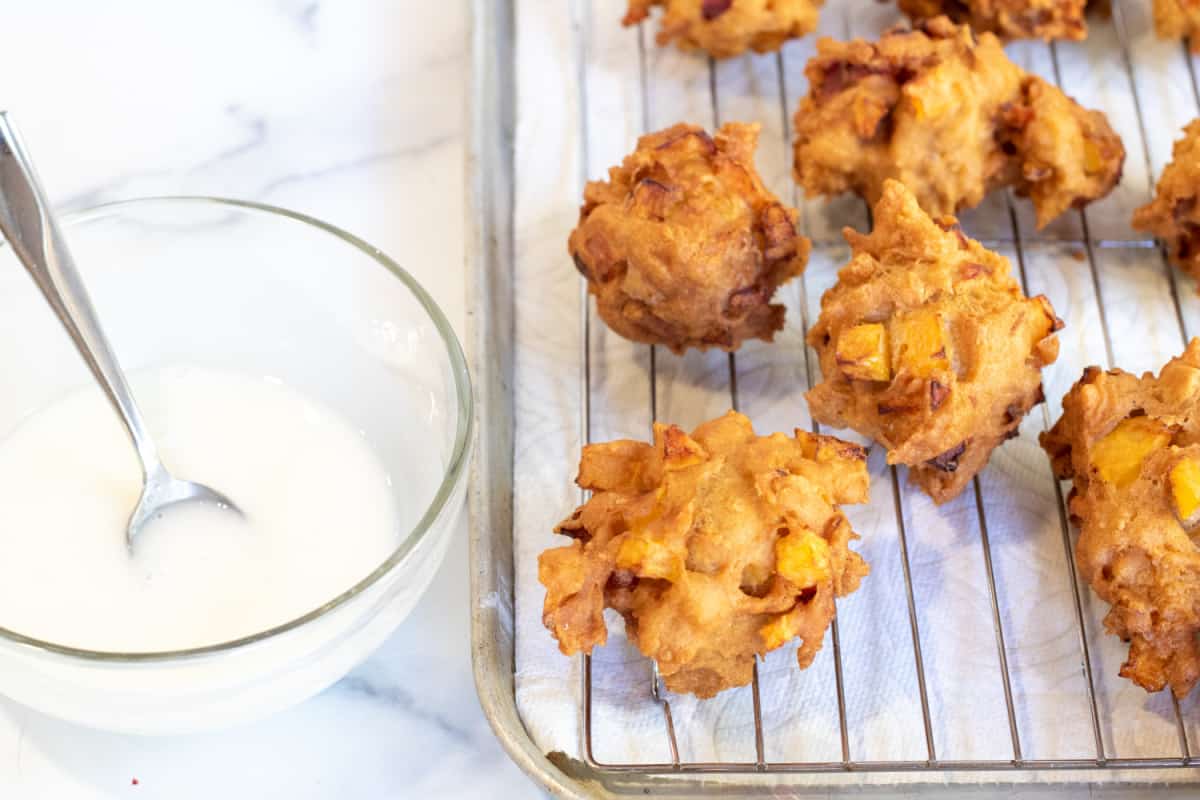 Glaze! Once fried, these crispy peach fritters are ready for their final touch of sweet almond deliciousness!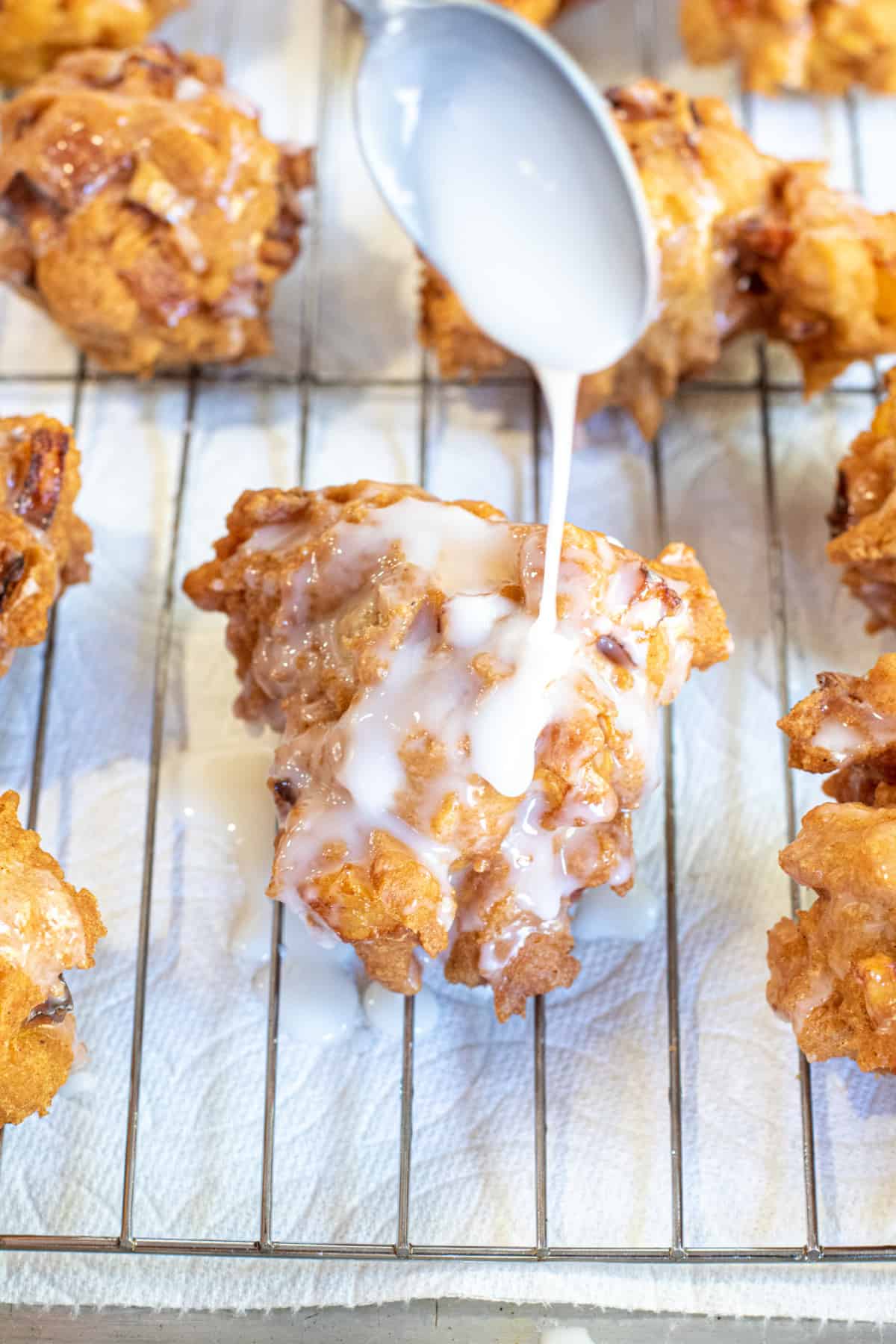 Easy Homemade Peach Fritters! Crispy on the outside, soft and full of peach pieces on the inside, and coated in a sweet almond glaze. So sooooo delicious.
Tips for Making Peach Fritters
Peaches
While we love fresh peaches for this recipe, obviously they're not available all year so for this summer like brunch treat any time of the year, you can use canned or frozen peaches, too. Just see the recipe notes for the adjustments.
Frying
We use a 1/4 cup measuring cup to portion out the fritters. Since the dough is thicker and sticky, you may need a spoon to be able to get it all out of your measuring cup. Do your best to keep the size of the peach fritters uniform so that they are all cook at an even rate.
Oil Temperature
This is really important to successful fritters! Your oil needs to be 375 degrees so that the outside gets crispy and the inside fully cooked, without the outside burning. An instant-read thermometer is the best, but you can also use a wooden spoon and put the end (as long as it doesn't have any metal pieces coating the end) into the oil. If the oil gently bubbles around the spoon, it's ready. But if it vigorously bubbles around it, then it's too hot and you'll want to turn the heat down and let it cool just a bit before frying.
Glaze
The sweet almond glaze that we use for these fritters compliments the peaches perfectly, without being too overpowering. But you can use your favorite simple sugar glaze or a maple glaze like what we use for our Banana Maple Munchkins!
Storage
These are best (and most likely!) eaten fresh. However, if you happen to have any leftover, you can store them on the counter for 1-2 days or in the fridge for up to a week. Unfortunately, they do not freeze well.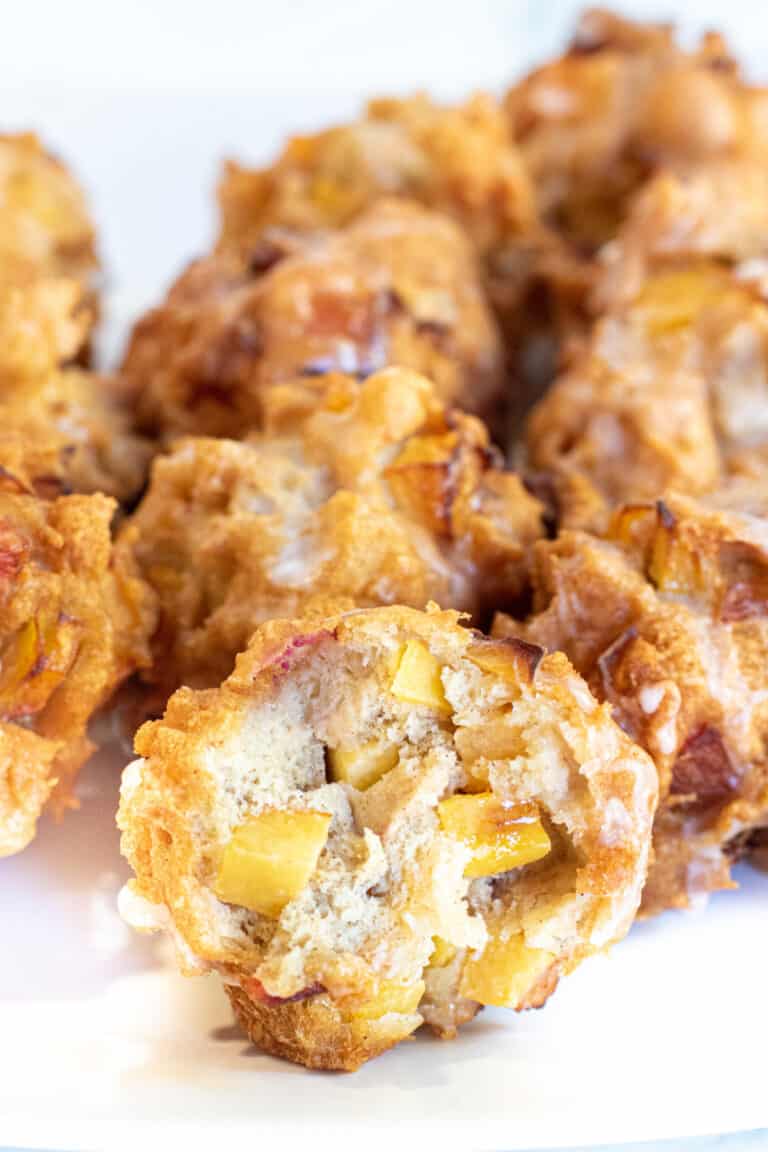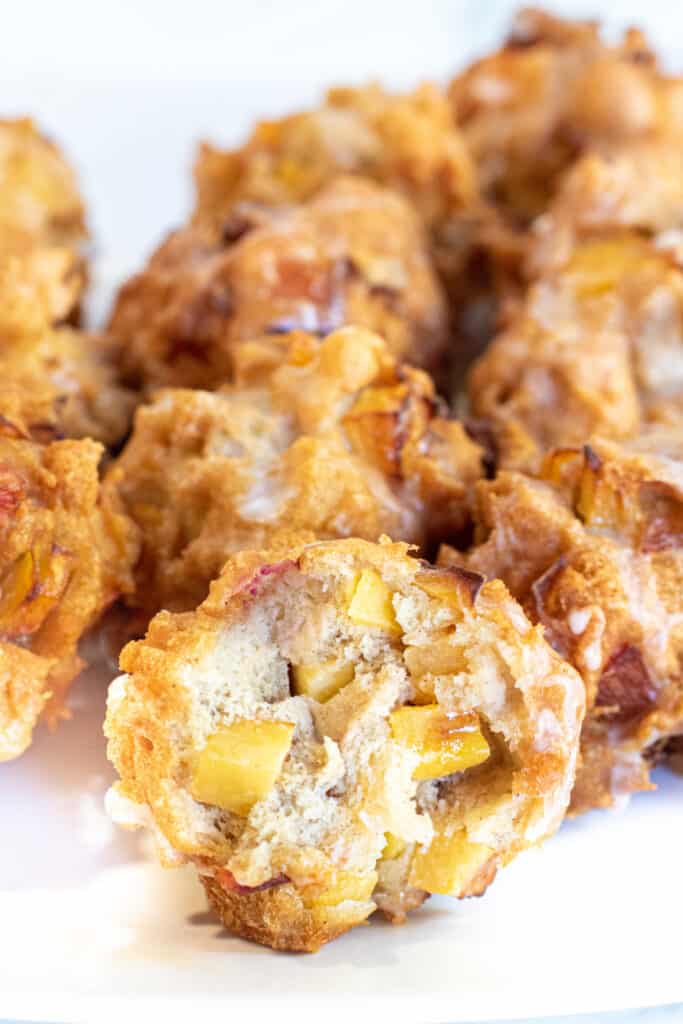 Packed full of peaches and so much flavor enjoy these Easy Homemade Peach Fritters all year long with canned or frozen peaches, too!
Enjoy! As always, if you make this recipe or any of my others, I love to hear what you think! Leave a comment below, email me, or you can find me on Facebook, Instagram, and Pinterest!
If you want to see more, be sure to sign up for my 5 Easy Ways to Start Cooking From Scratch!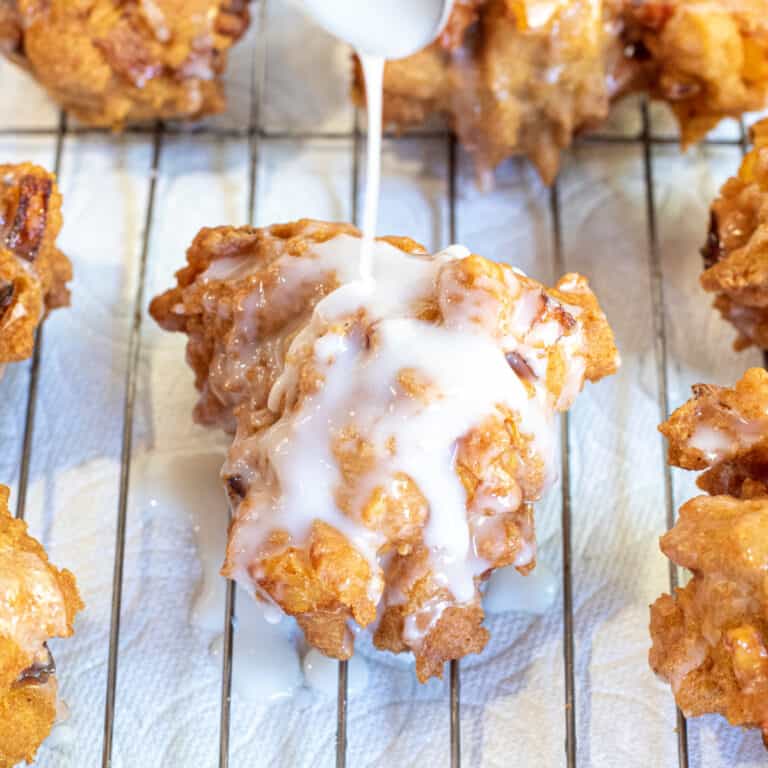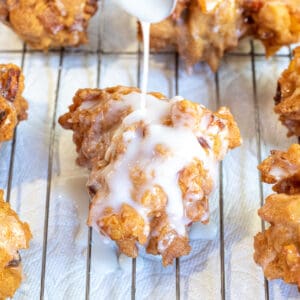 Easy Homemade Peach Fritters
Peach and almond flavored crispy, sweet fritters!
Print
Pin
Rate
Ingredients
2 1/2

cups

diced peaches

1 1/4

cup

flour

spooned and leveled

1

teaspoon

ground cinnamon

3/4

teaspoon

ground ginger

pinch

nutmeg

2

teaspoons

baking powder

1/4

teaspoon

kosher salt

1

tablespoon

sugar

2

large

eggs

1/3

cup

milk

1

teaspoon

almond extract

t

tablespoon

melted butter

1

tablespoon

lemon juice

4-5

cups

vegetable oil
Almond Glaze
1

cup

confectioner's sugar

1

teaspoon

almond extract

2

tablespoons

milk

or water
Instructions
Add diced peaches to a medium bowl and add lemon juice and mix. Set aside.

Add all flour, sugar, baking powder, cinnamon, ginger, and kosher salt to a medium-sized bowl whisk, and set aside. Add eggs, melted (cooled) butter, milk, almond extract, to a large bowl and whisk and set aside.

Add vegetable oil to a large saucepan and heat over medium-high heat.

Add whisked dry ingredients to the wet ingredients and gently mix together until well combined, but don't over mix. Gently fold in the diced peaches.

When oil reaches 375 degrees, measured by either a thermometer or the wooden spoon test (see recipe notes), use a 1/4 cup measuring cup to add 2-3 fritters into the hot oil at a time.

Fry for about 2-4 minutes on each side, flipping in the oil until both sides are golden brown. You'll know they're done if you insert a small knife into the center and it comes clean. If not, fry a little longer so that the center is fully cooked. This time will depend on the size of your fritter and the temperature of your oil.

Use a slotted spoon to remove from oil, shake off any excess, and place on a baking sheet lined with paper towels and a cooling rack. Repeat with the rest of the dough.
Glaze
Add confectioner's sugar, almond extract, and milk to a small bowl and whisk until smooth.
Notes
Storage
These are best eaten fresh but will last 1-2 days on the counter in an airtight container, or in the fridge for up to 1 week. To reheat, you can pop 'em in the oven set at 350 degrees for about 8 minutes.
Substitutions
Frozen Peaches: Fully thaw frozen peaches and then dice them into even-sized pieces.
Canned Peaches: Drain well before using and then dice before folding them into the batter.
Salt: If using regular table salt, just a pinch.
Almond Extract: You could use vanilla, but trust me, the almond and peach flavors together are what make these fritters!
Milk: We always use 2% but you can use another % or even non-dairy milk.
Glaze: Use your favorite go-to! Although the almond in this glaze really is so delightful. Also, you can substitute water for the milk in this glaze.
Frying Tips
The size of your fritter will alter the cooking time. Whatever size cup you use, keep the size of the fritters consistent, at least the ones that are in the pan together to ensure even cooking.
Be sure that your oil doesn't get too hot. This will burn your batter and leave you with undercooked fritters. Keep the temp at a medium-low once it reaches 375 degrees.
Wooden Spoon Test
To test to see if your oil is hot enough for frying without a thermometer, grab your wooden spoon a put the end of it into the oil. If the oil bubbles around it, it's ready! If it bubbles too hard, it's too hot and you will want to cool the oil a little and then test again.
Nutrition
Calories:
103
kcal
|
Carbohydrates:
31
g
|
Protein:
4
g
|
Fat:
2
g
|
Saturated Fat:
1
g
|
Polyunsaturated Fat:
0.3
g
|
Monounsaturated Fat:
0.5
g
|
Trans Fat:
0.004
g
|
Cholesterol:
39
mg
|
Sodium:
167
mg
|
Potassium:
100
mg
|
Fiber:
1
g
|
Sugar:
5
g
|
Vitamin A:
198
IU
|
Vitamin C:
2
mg
|
Calcium:
73
mg
|
Iron:
1
mg