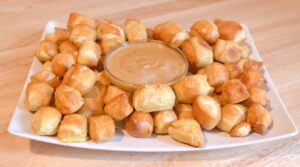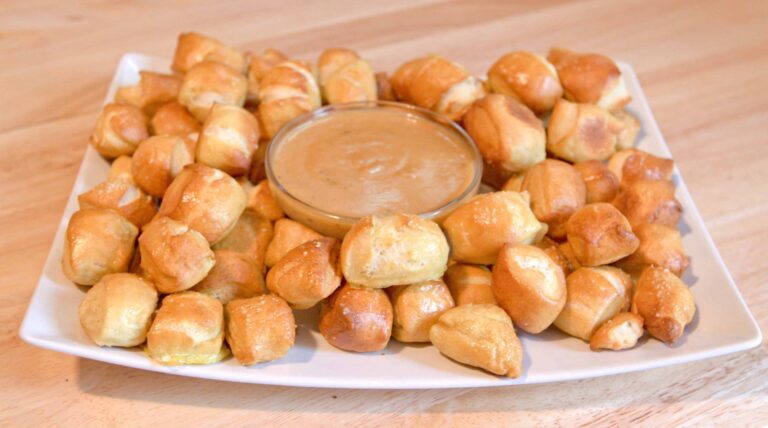 We had plans to go to a housewarming party to celebrate two of our good friends' new place together and I wanted to bring a snack that was quick, easy, and could be made with whatever we already had in the house. Pretzels it was! I wanted to try a new recipe than from the last time I made soft pretzels and since Alton Brown knows all, I was pretty sure his was going to be even better than the last one I used. And then, it hit me, Pretzel bites. Way better for a party finger food! Win.
So instead of rolling the dough out and shaping it into a pretzel shape, I cut the dough ropes into little bite sized pieces.
Meanwhile, I brought a large bowl of water mixed with baking soda to par boil the bites before going in to the oven.
Then on to a parchment paper lined baking sheet, a brush of an egg wash, and sprinkled with some kosher salt.
Baked in the oven for 12-15 minutes at 450° until they're nicely browned and fluffy little bites of salty pretzels!
While the rest of the pretzel bites were baking to deliciousness, I whipped up a hot honey mustard dipping sauce!
Super simple. Just all the ingredients into a sauce pan to cook until all the flavors meld together and it's thickened.
Once all the bites were cooked, we had ourselves a delicious party snack! Soft pretzel bites with a delicious hot and sweet honey mustard sauce. So good that our LB declared that he needed more of the mustard in his life!