Key to a delicious homemade pizza? The sauce! This No Cook Homemade Pizza Sauce is our go-to! It's a throw it in a bowl and mix kind of easy - plus it's so much healthier and more flavorful than a jar!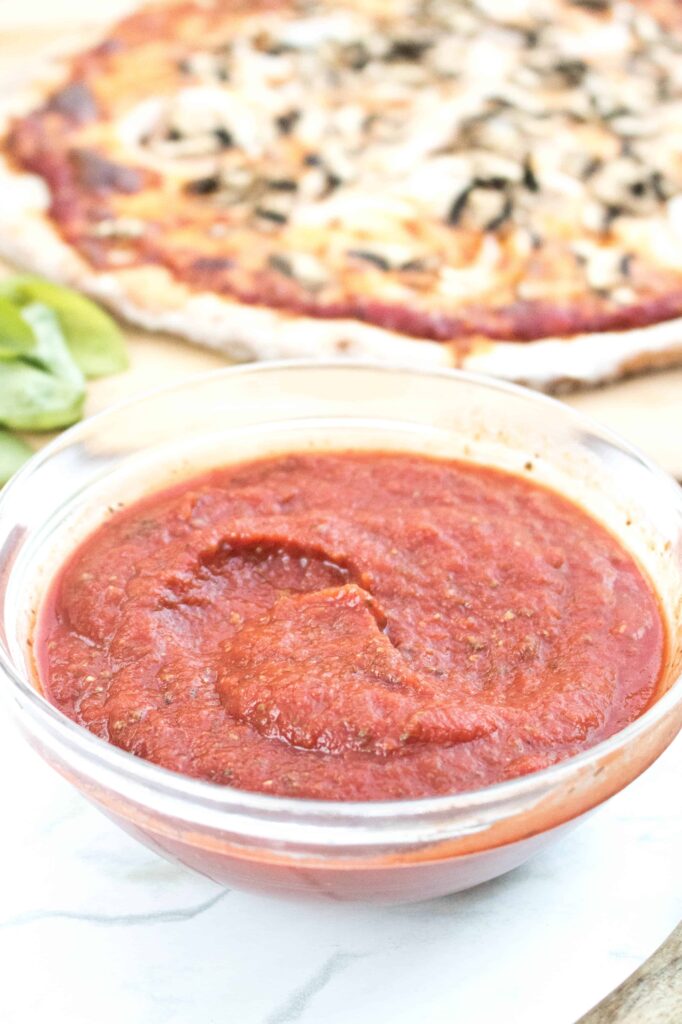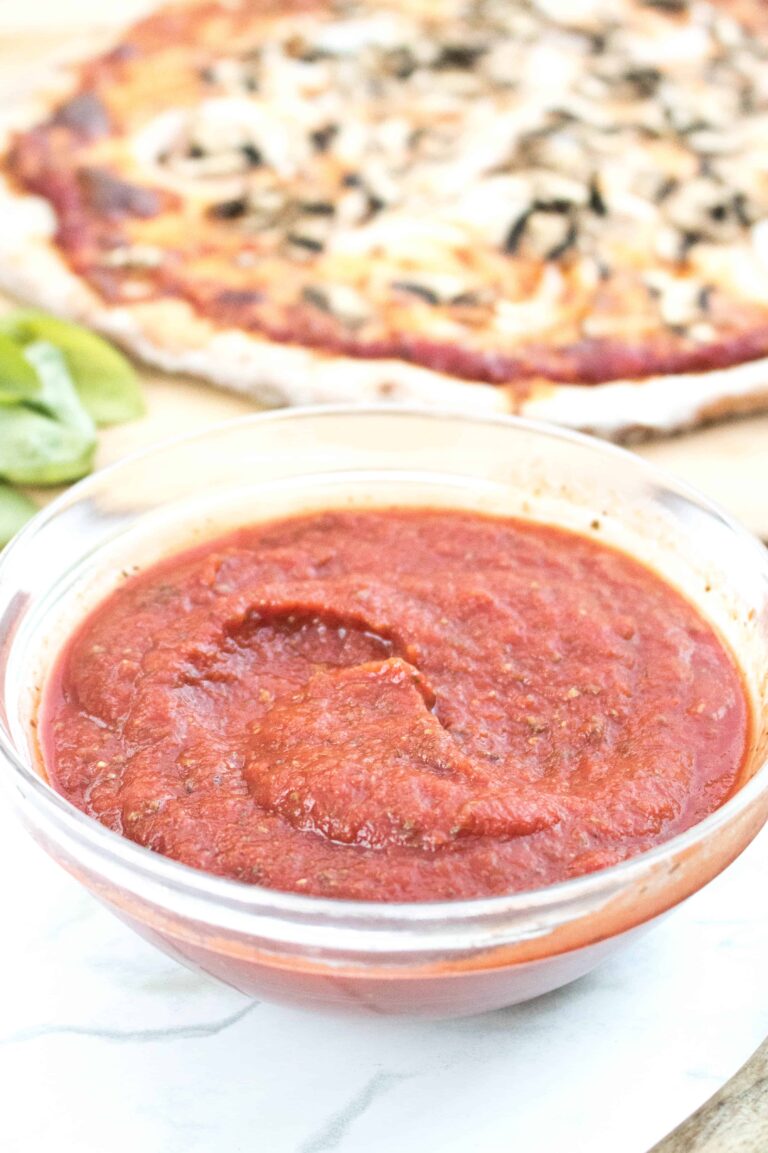 Have you ever met a person who doesn't like pizza? Right, me neither. I'm sure they exist, but I just don't need that kind of negativity in my life. Hell, pizza is so important to, after decades of trial and error, the Natick Soldier Systems Center has finally made a decent pizza MRE (meal ready to eat)! Yup. It's that important. And a crucial element? The sauce, duh. Which is why I'm sharing with you all our go-to, no fail, always make, No Cook Homemade Pizza Sauce!
Anyone who has spent any amount of time with us has had homemade pizza with us. It's one of our go-tos. Don't know what to make? Let's make pizza. Need something that'll be crowd pleasing but also pretty easy? Let's make pizza. Because Homemade Pizza solves all of life's problems.
Ingredients Needed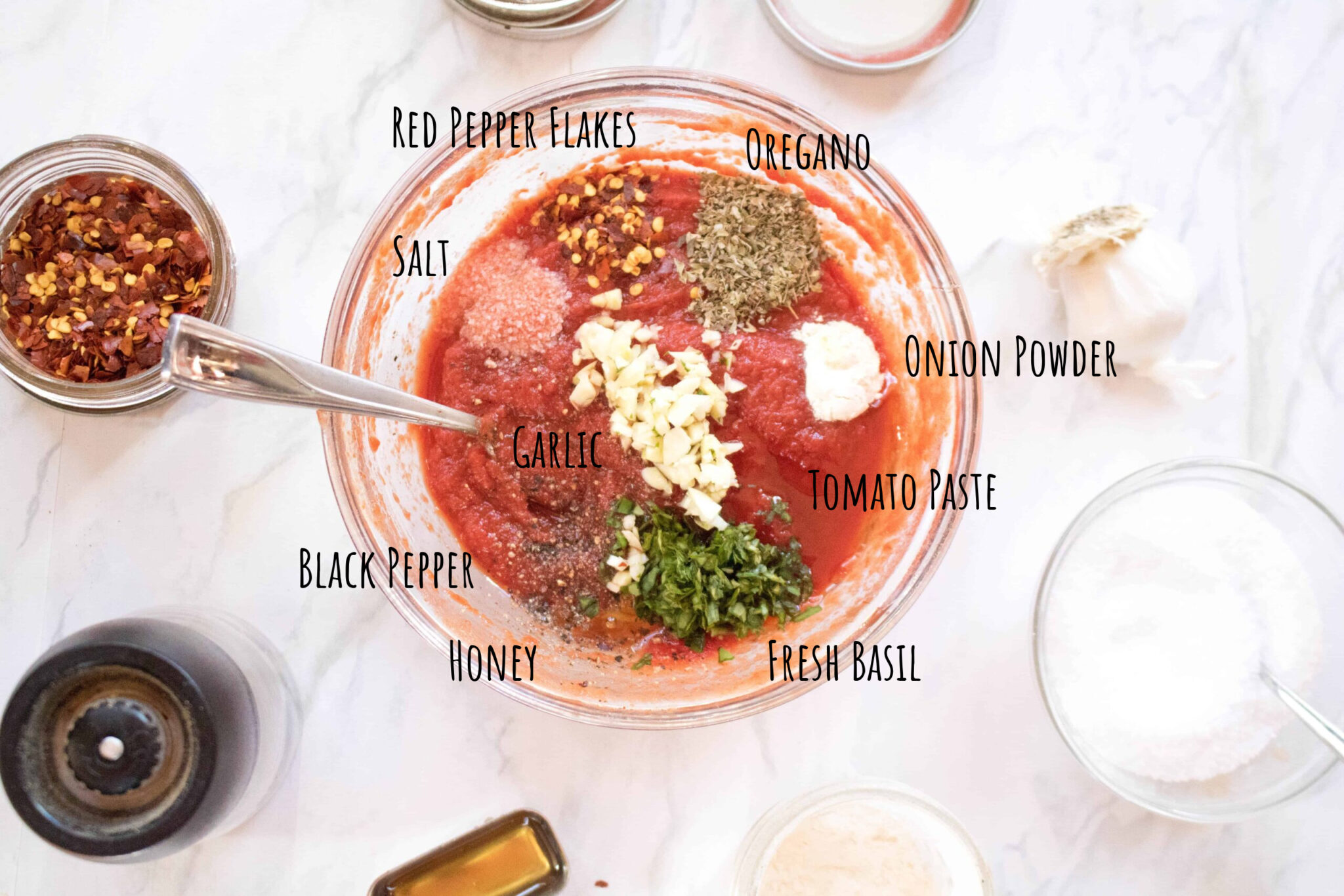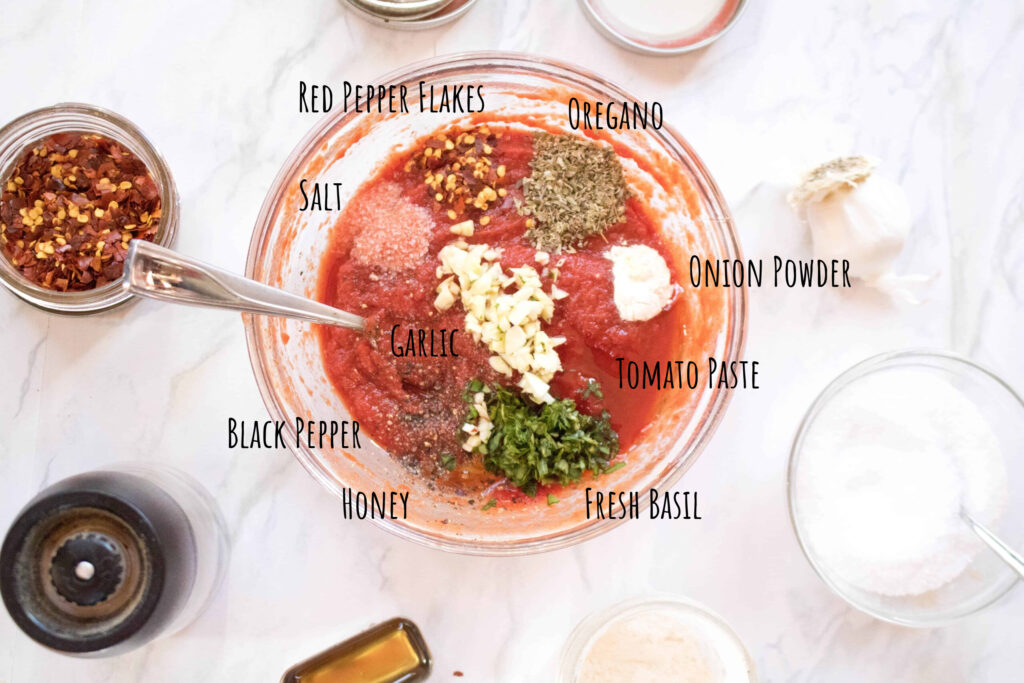 Tomato paste + Water
Kosher salt
Onion powder
Red pepper flakes
Black pepper
Basil
Fresh Garlic
Does it get much easier? Do you already have everything you need? No? Ok no problem because you can make it your own with what you have!
Customizable
This pizza sauce is soooo easy. Especially since there's no cooking required! Just a mixture of ingredients and you're ready to roll. And, even better, too sweet for your liking? Add less honey. Want it spicier? Add more red pepper. It's totally customizable.
After literally years of making our own pizza sauce, this recipe is my favorite because it has the perfect blend of sweet and spicy. And I know, I know. Canned tomato paste? That's not from scratch! You're right. It's not. If you want to make your own from scratch, you can. We did it back in 2015, and honestly, it's one of the (few) things that just is not worth it to me. Not only is not is cost effective based on the money for the tomatoes, but the freakin' time it takes is insane. So it is one of the few times I will say, a good store bought can is just fine.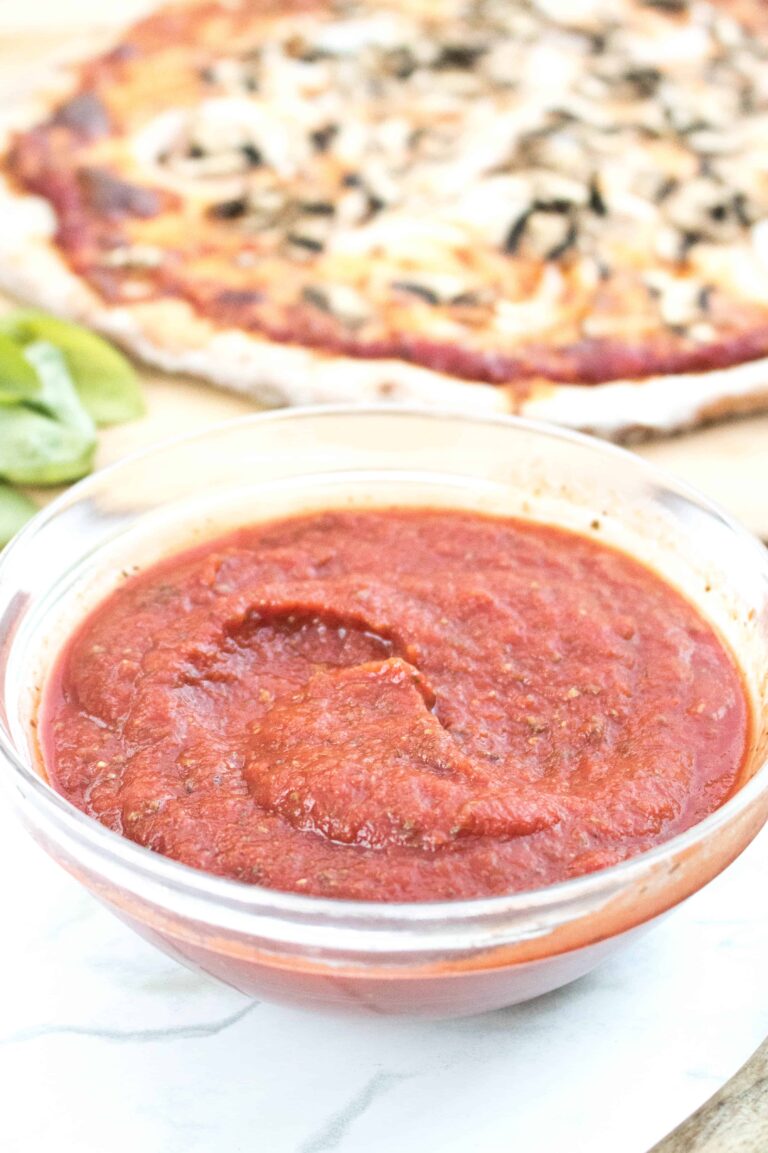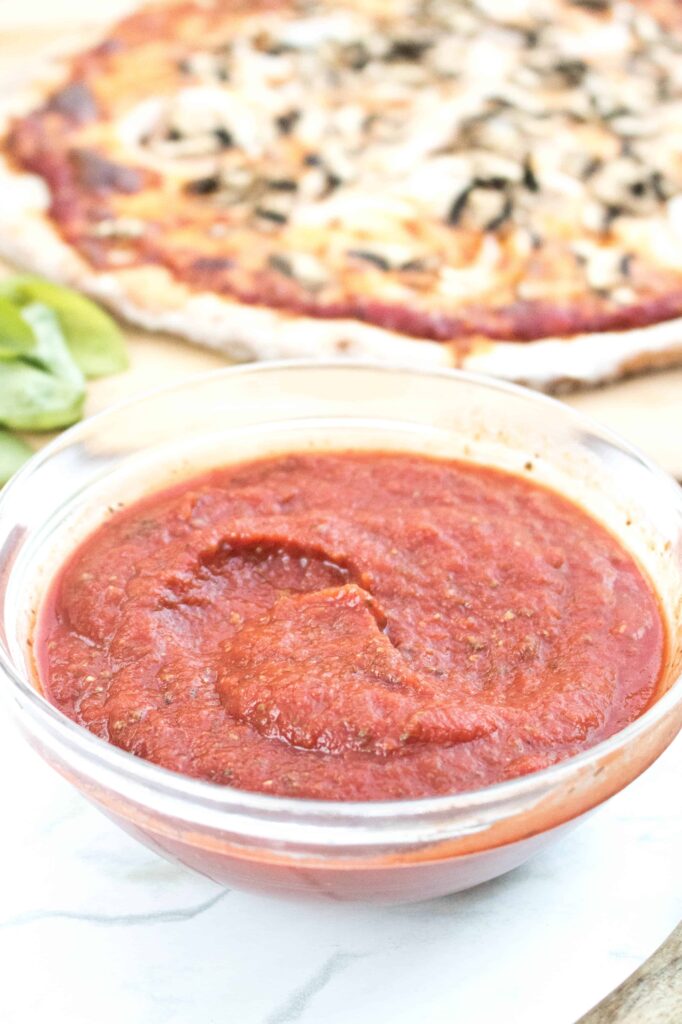 It doesn't get much easier than this and it is absolutely perfect for our homemade pizzas!
In the meantime, if you're making your own pizza with pre-made dough and canned sauce, give this No Cook Homemade Pizza Sauce a whirl! And be sure to let me know what you think on Facebook, Instagram, Pinterest, and Twitter!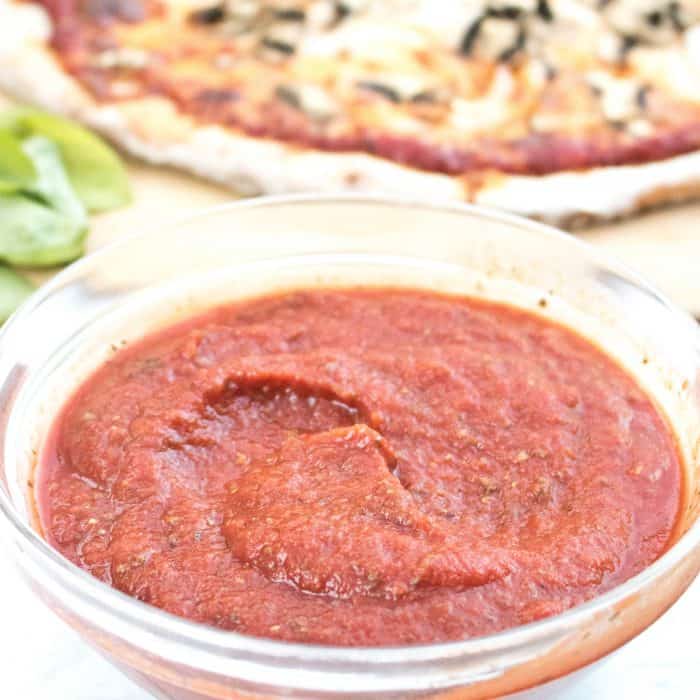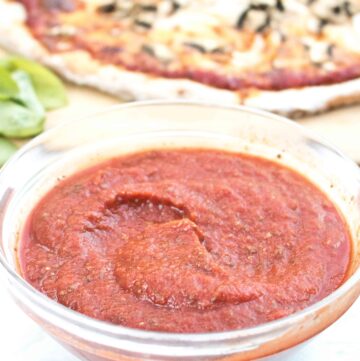 No Cook Homemade Pizza Sauce
Making your own Homemade Pizza Sauce is ridiculously easy, so much healthier, flavorful, and completely customizable!

Print
Pin
Rate
Ingredients
1

6 oz

can tomato paste

6 oz

water

1

tablespoon

honey

1/2 - 3/4

teaspoon

kosher salt

1/2

teaspoon

onion powder

1/4

teaspoon

red pepper flakes

1/4

teaspoon

fresh cracked black pepper

1

tablespoon

fresh basil, minced

or 1 tsp dried

1

extra large

garlic clove

or 1/2 tsp garlic powder
Instructions
In a small bowl mix tomato paste with water until all combined and smooth.

Add the rest of the ingredients and mix well. Cover and refrigerate for at least 30 minutes.

Use to sauce your favorite pizza or store in fridge for up to a week.