Love Chicken Pho? Did you know you can make it at home in your Crock Pot? Homemade Chicken Pho is easier than you may think!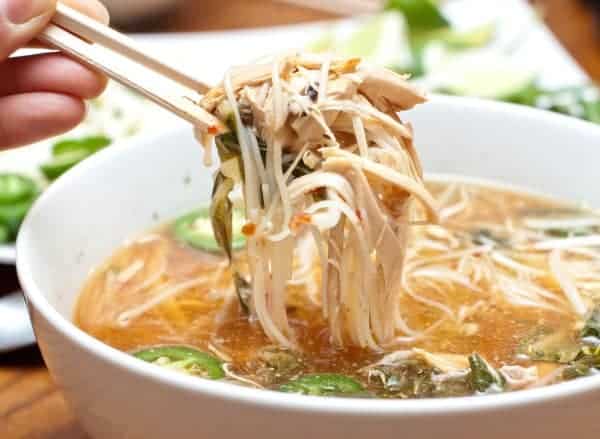 I will repeat: Crock Pot Chicken Pho. I know. And you're welcome. Ok, I'm in no way saying that this phở is anywhere near the phở that the tiny little Vietnamese woman at Toast N'Phở makes (my favorite pho in Portland), but it's close. Damn close. Mainly because we made it ourselves. In our Crock Pot. While we were at work. WIN.
The secret to an amazing phở is definitely the broth. That's why I had made a deliciously rich, fresh chicken stock the night before. Then, all it needed were the pho flavor goodness: fresh ginger, star anise, whole cloves, brown sugar, fish sauce, and cinnamon.
Mmmm, fresh, from scratch chicken stock. But a really good prepackaged stock would work just as well.
To the 8 cups of chicken stock, I added 1 1/2 tablespoons of brown sugar
2 tablespoons of fish sauce
10 star anise and 6 cloves
some fresh ginger sliced thinly
and finally a whole cinnamon stick.
Then, I added a couple of skinned and trimmed on the bone chicken breasts, meat down, into the Crock Pot
and poured the stock and spices over the chicken. Done. Left for 10 hours on low in the Crock Pot while we go to work. How much easier can it get? Not much, my friends. Not much.
After work, we came home to this bubbling deliciousness I could smell the instant I walked in the door. Poor Nigel having to be home all day in such an amazing smelling house!
First, I pulled the chicken out; slowly because it was so wonderfully fall off the bone tender.
Then, while it cooled, I prepped the final pieces: the bean sprouts, jalapenos, limes, bok choy, basil, and rice noodles. Rice noodles... totally on our make from scratch list but I wanted pho waaayy sooner than it would have taken to learn to make rice noodles, so we 'cheated.' shhhh.
When I pulled out the chicken, I also grabbed the spices (as many as I had patience to fish around for) so we were just left with the pho broth. Then I added some chopped bok choy,
and the rice noodles. These guys cooked in the covered Crock Pot for about 30 minutes on high.
Meanwhile I shredded the chicken
and prepped the fixins.
After the 30 minutes (ok, it was more like 22.5 minutes because I couldn't wait any longer I was so excited), I added the shredded chicken back into the Crock Pot.

And then we were in business. Dished out in some appropriately large pho bowls, with some bean sprouts, fresh sliced jalapenos, ripped basil, and a squeeze of a slice of lime. Seriously. Who doesn't just love pho? I have yet to meet anyone who has had pho say "meh, I don't really like pho" Which is probably a good thing because that'd be the last time I'd see them. I just don't need that type of negativity in my life.
Because really, how can you not love pho? And this pho is ridiculously easy which makes it even more loveable. It's made in a crock pot! While you're working or playing or doing anything else you want to do but be in the kitchen! How do you get better than that???
You don't. I'm still full from all the pho I ate last night and dreaming of the beef pho I'm making next!
Another one of my favorite Asian dishes made in your trusty crock pot, Crock Pot Chicken Chow Mein!
Want to see more? Be sure to follow me on Facebook, Instagram, and Pinterest for more From Scratch recipes and inspiration!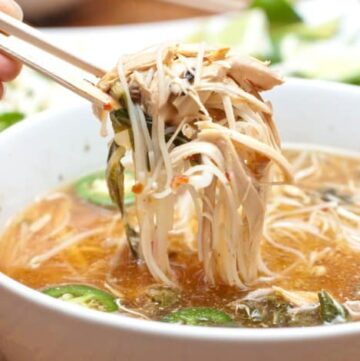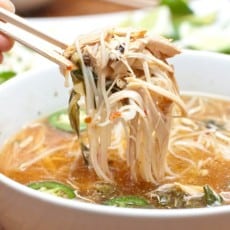 Crock Pot Chicken Pho
Chicken Pho made easily at home in your Crock Pot!
Print
Pin
Rate
Ingredients
8

cups

of Chicken Stock

2

on the bone

skinless chicken breasts

1 1/2

tablespoons

of light brown sugar

2

tablespoons

of fish sauce

1

cinnamon stick

10

star anise

1 2 1/2

inch

piece fresh ginger

peeled and thinly sliced

6

whole

cloves

6

oz

of pho rice noodles, banh pho

1/16 inch is the best, but whatever you can find will work!

4-6

cups

of bok choy chopped

12

oz

bean sprouts

1

cup

of fresh basil leaves

2

sliced jalapeños

1

lime

quartered
Instructions
Add brown sugar, fish sauce, cinnamon, star anise, ginger, and cloves to chicken stock. Place chicken breasts meat down in crockpot and then pour stock over. Let cook in crockpot for 8-10 hrs on low.

Remove chicken breasts from crockpot and set aside. Remove spices from broth. Add bok choy to broth, turn crockpot to high and let cook for another 30 minutes.

While bok choy cooks, shred chicken and slice jalapeños and prep sprouts, basil, and lime for garnishing.

Just before bok choy is done, after about 20 minutes, add the rice noodles and shredded chicken back to broth to finish cooking for the last 10 minutes.

Ladle into large bowls, add bean sprouts, jalapeños, basil, squeeze lime, and top with sriracha, chili paste, and/or hoisen to taste.