Make your own Beef Pho From Scratch in your trusty Crock Pot! You'll be surprised at just how much it tastes like Pho from your favorite Vietnamese Restaurant!
Guys. We finally did it. Years later, 2 moves, 1 kid, 1 in the slow cooker as we speak (!), and we finally made a Crock Pot Beef Pho From Scratch that we love even more than the OG Crock Pot Chicken Pho!
And let me tell you that it could not have come at a better time. Turns out that having one little one in daycare (also known as a giant cesspool of germs) while having another suppressing your immune system can make a pretty miserable winter cold and flu season. This month has been rough. Like even my husband's Chicken Noodle Soup From Scratch didn't really help, rough. Crock Pot Beef Pho From Scratch to the rescue!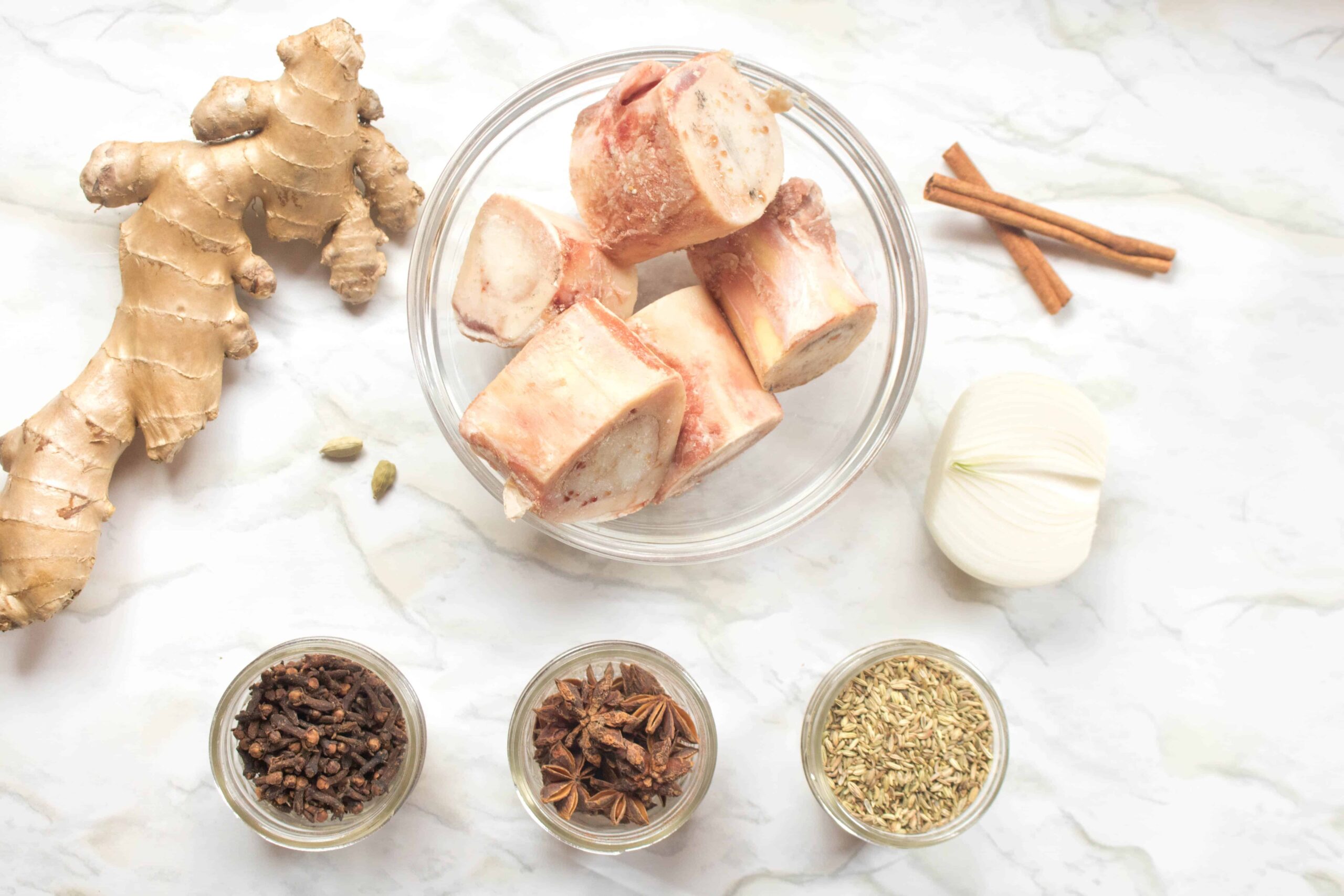 Let me just say I'm down right embarrassed at how long it's taken us to finally do a beef pho since the chicken pho is one of my most popular posts and I've gotten so many requests for beef! But what's always hung me up is the broth. Because the most important part of pho is definitely the broth. And unlike the chicken pho that just used our from scratch chicken stock, I could't just use our beef broth for the pho. It just didn't work. But this broth… ohhh this broth is pretty darn spot on. I adapted this from a recipe I found here!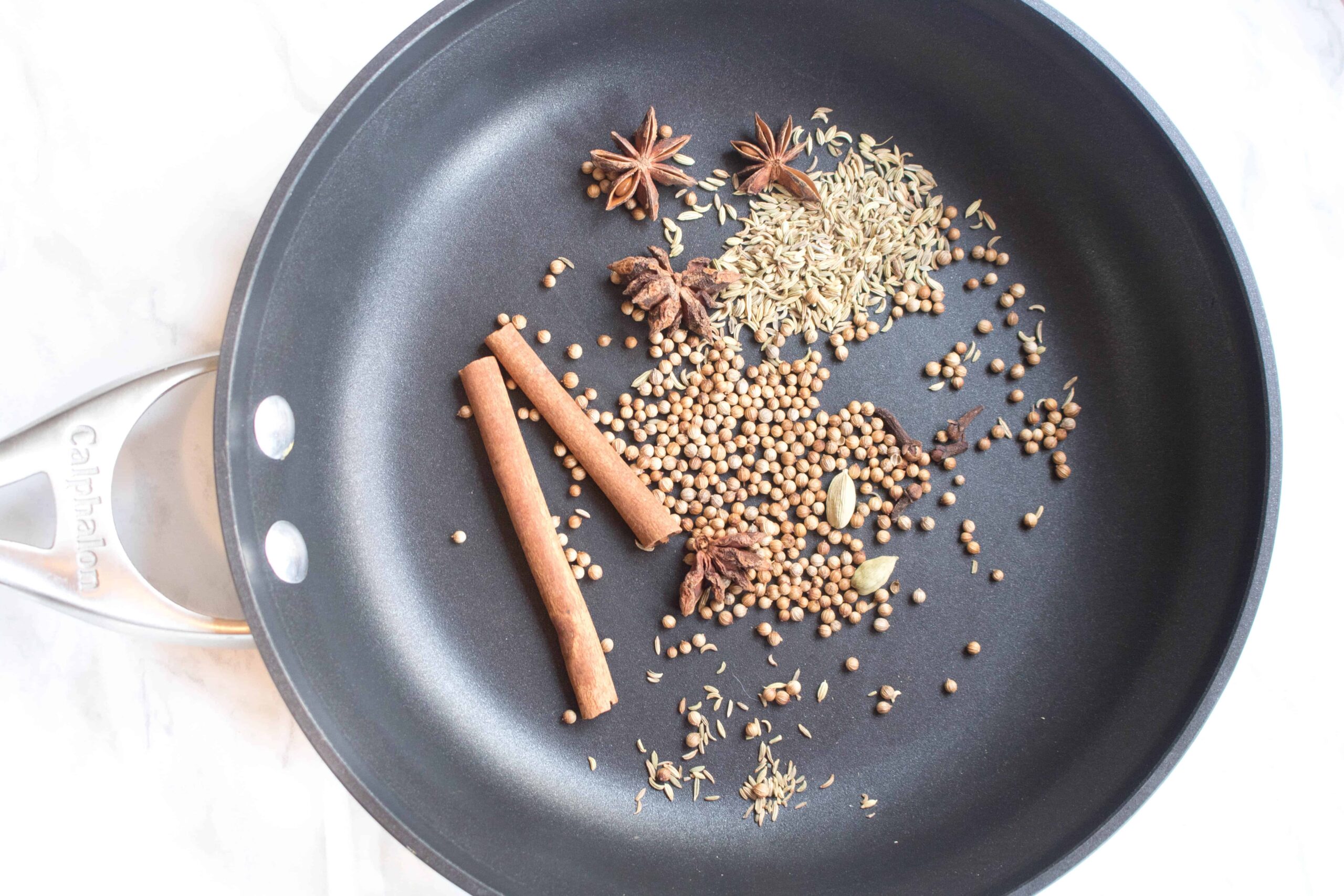 The key is toasting your spices: star anise, cinnamon, whole coriander, whole cardamon pods, cloves, and fennel seeds. Head to the bulk section of your grocery store where you can buy these in bulk and not having to buy the (more expensive) full jars. I was totally that person who bought 2 cardamon pods, which the cashier didn't really know what to do with except charge me a penny for them because their weight didn't even register… ha!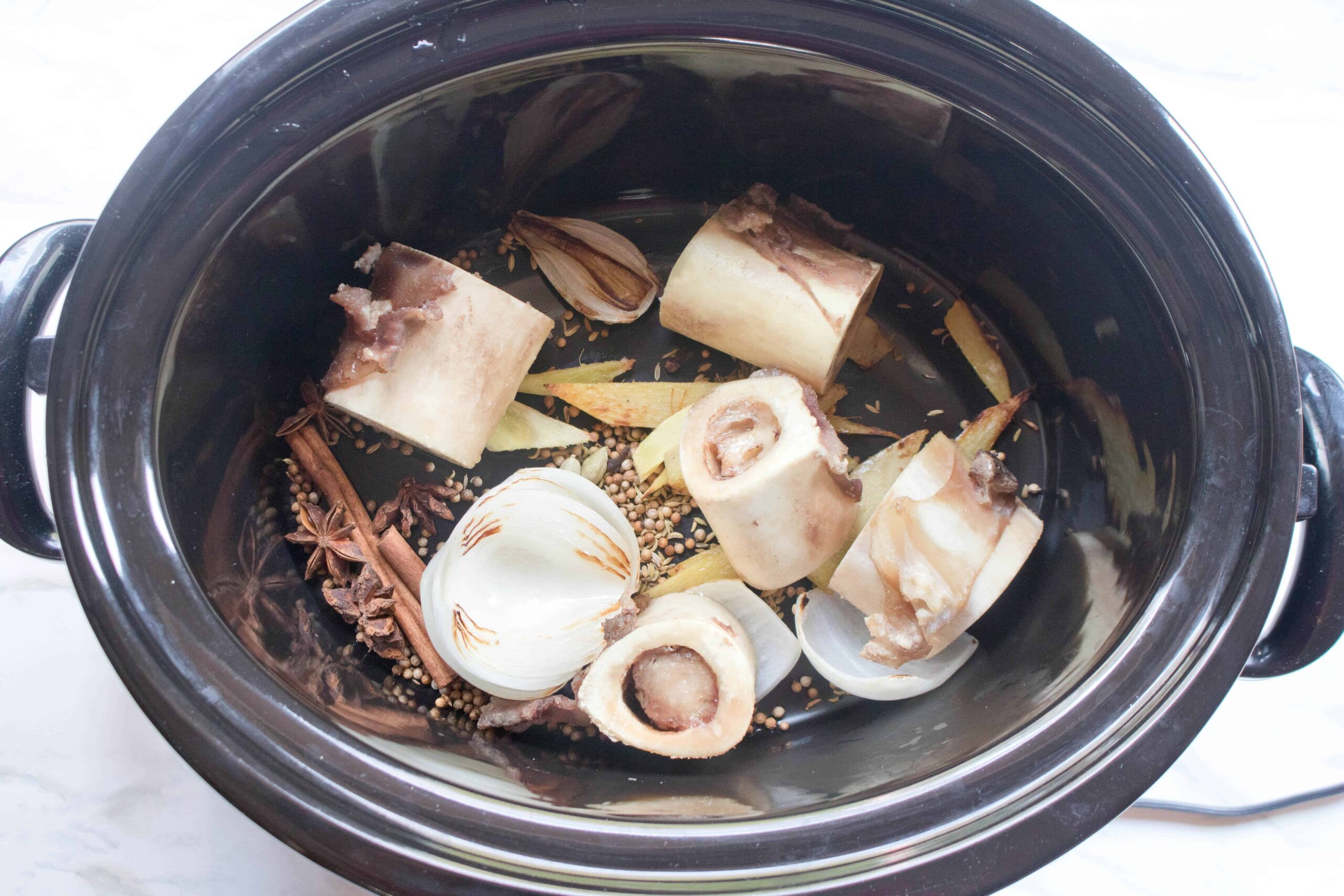 Then, and this is also really important, cook the onion and ginger to bring out their flavors. That, and blanching your beef bones, too. Don't skip either of these steps – especially the blanching of the bones! It'll get all the impurities (grossness) off of your bones. Otherwise you'll have nasty bits and floating scum in your super greasy broth. Bleh. Also marrow and knuckles bones are going to be the best; any local butcher shop will have them. Mine had them already bagged up and frozen. Also keep in mind you don't want too much extra meat / marrow in your bones. The most meaty and marrow filled the bones still are, the longer you'll have to blanch them. Pictured here is about 1.6 lbs of bones.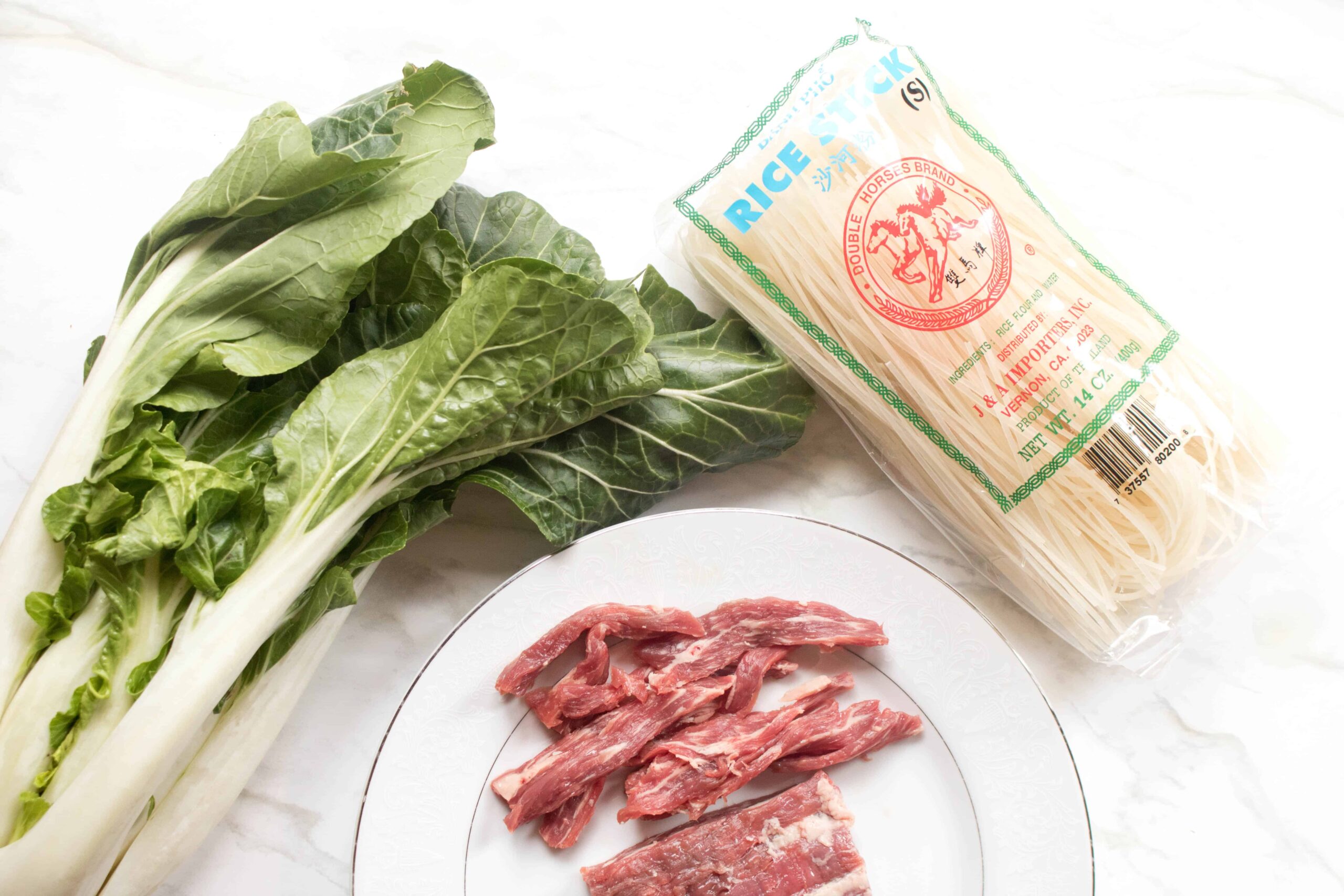 Then it's just letting your trusty Crock Pot do the work. High on 4 hrs or low on 8, whichever fits into your busy schedule. The last step is adding some bok choy, reaalllyy thinly sliced flank steak, and banh pho noodles. Most likely you're going to have to go to your local Asian market to find these. But really you can use any rice noodle you'd like, just be aware the the thickness of the noodle will greatly vary it's cooking time.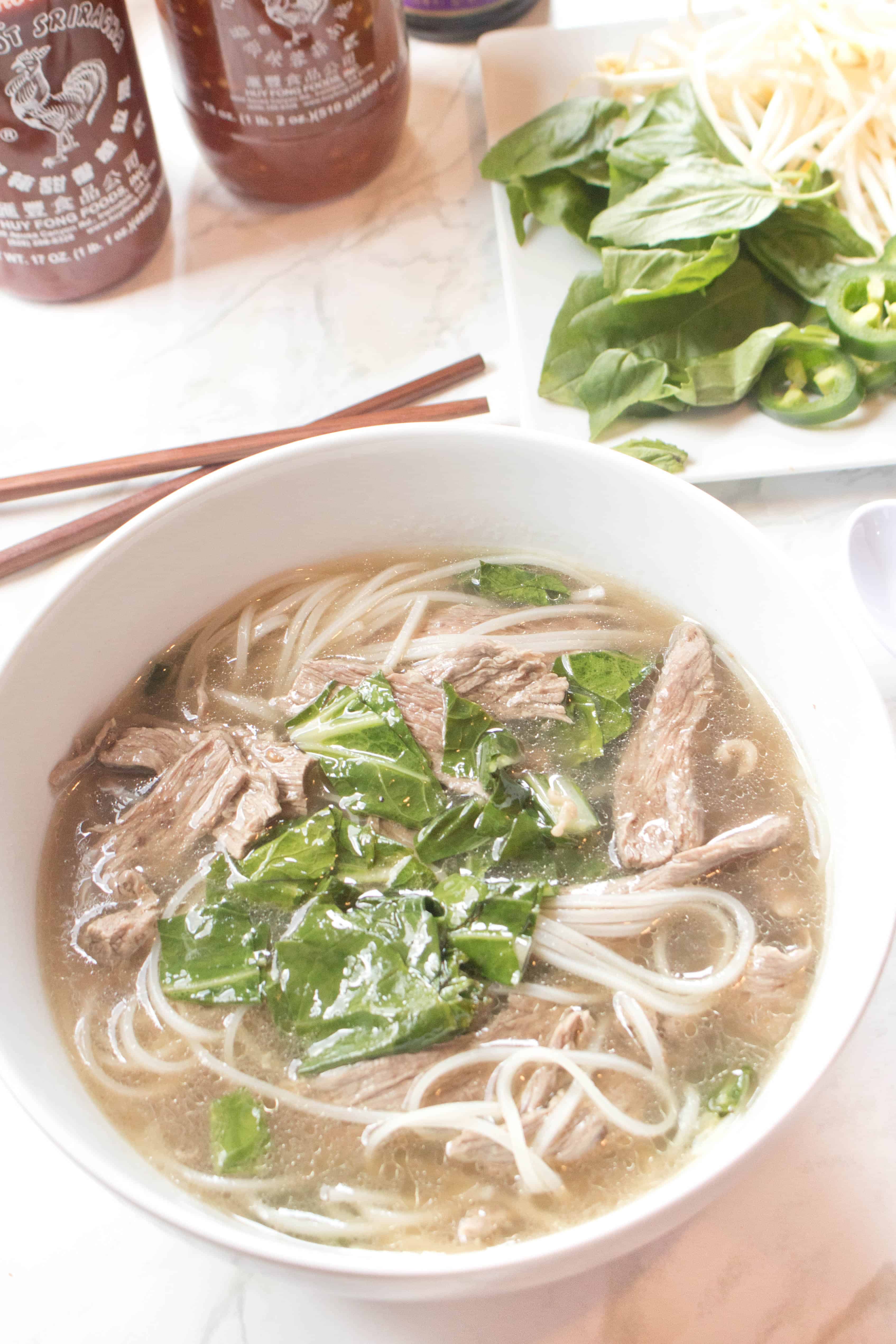 Once your broth has cooked and made your whole house smell pho-king delicious, turn the crock pot to high (if it was at low) and toss in your chopped bok choy for another 30 mins to cook and the beef and noodles in within the last 5-10 minutes. How long will depend on how rare you want your steak and how thick your noodles are. I put both in for about 10 minutes for fully cooked steak and the thicker cut banh pho noodles. But check both after 5- that may be all they need!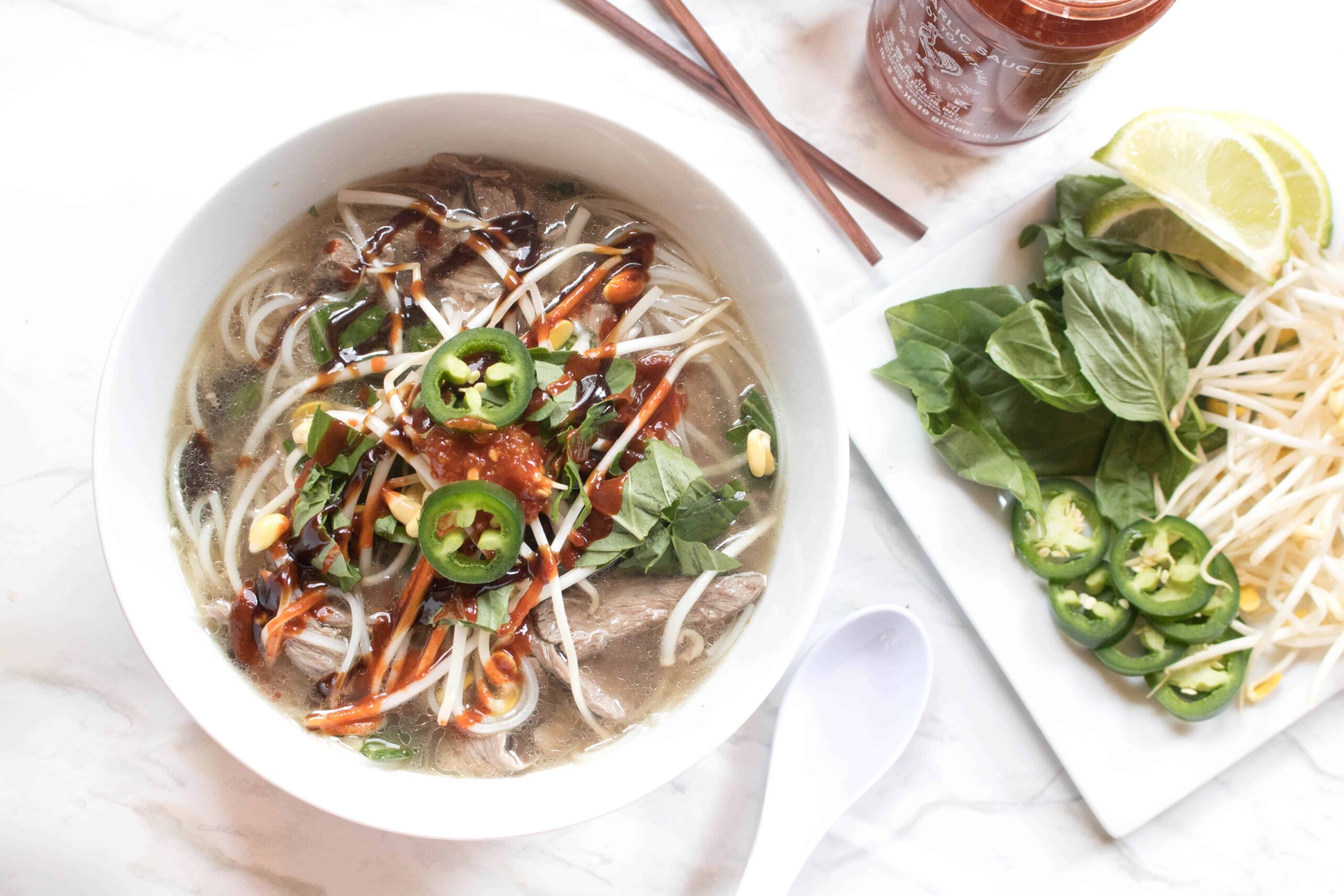 Then it's one of my favorite parts: assembling! I pile my pho with fresh basil, fresh sliced jalapenos, a good drizzle of hoisen, sriracha, chili garlic sauce, and bean sprouts! (Bean sprouts are excluded from my bowl since it is recommended not to eat them while preggo).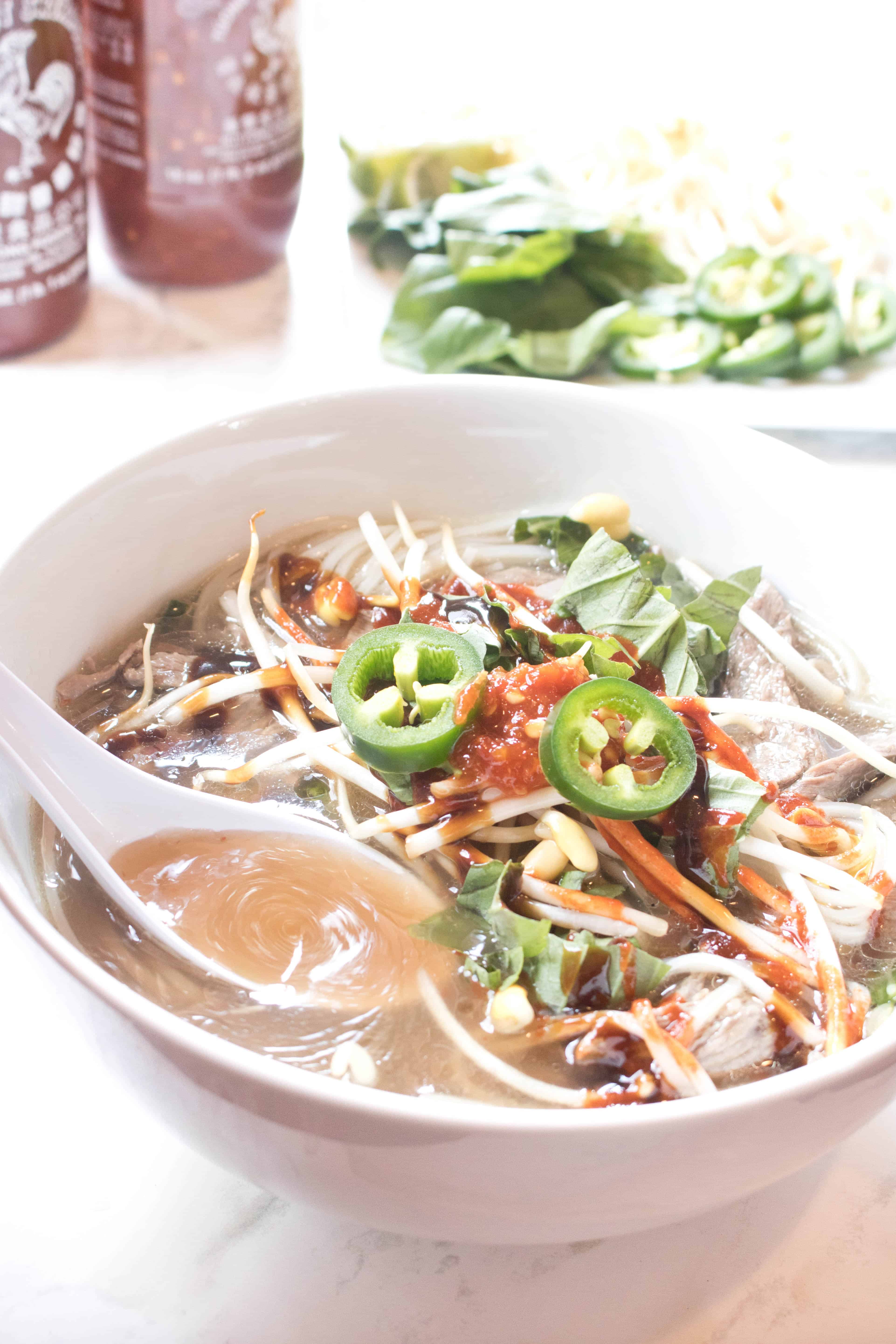 See that broth? Oh yea. It is SPOT. ON.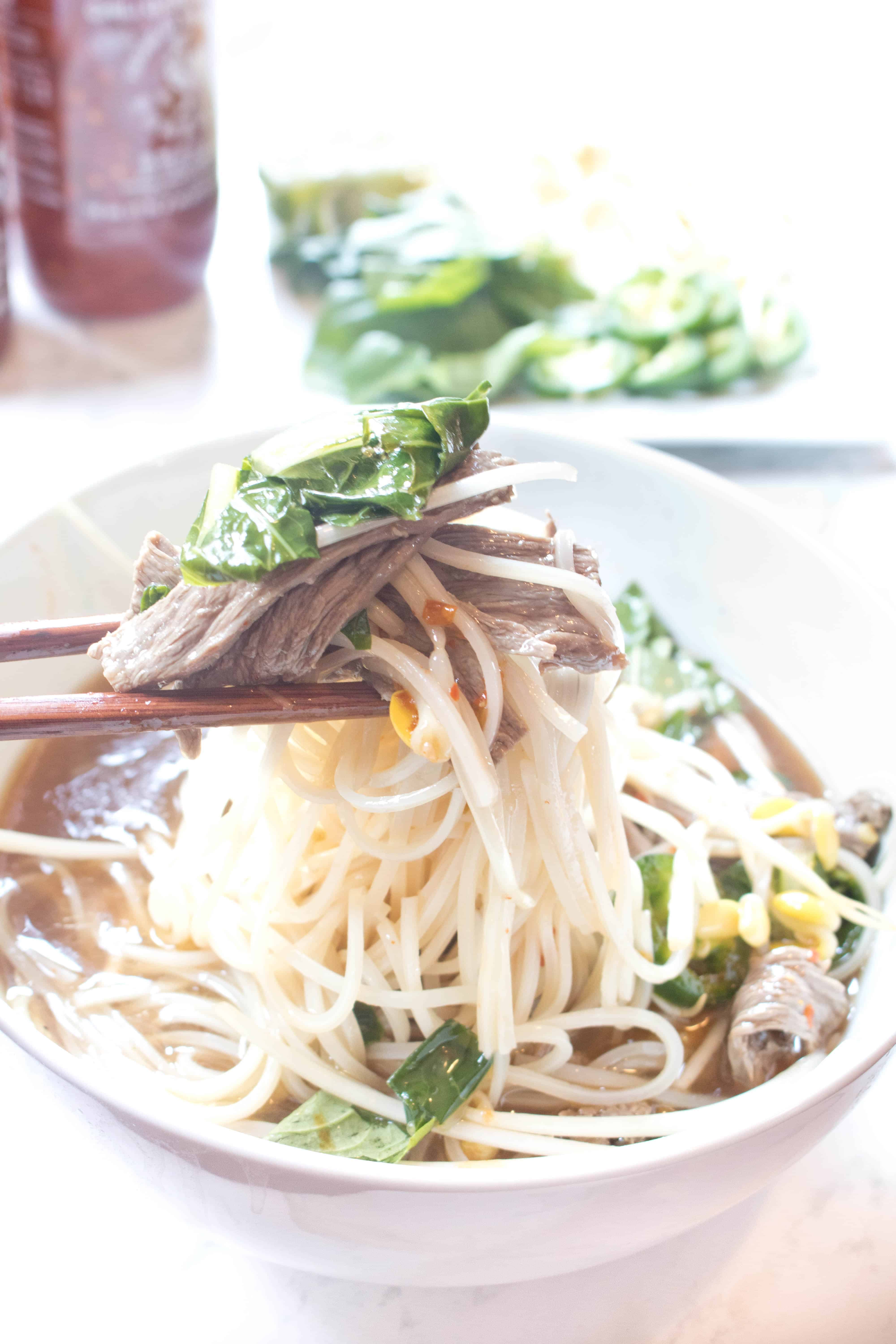 Pho-nomenal.
Pho-bulous.
Pho-king delicious. Ok I'm done…Pho-show. 😉
Enjoy!!!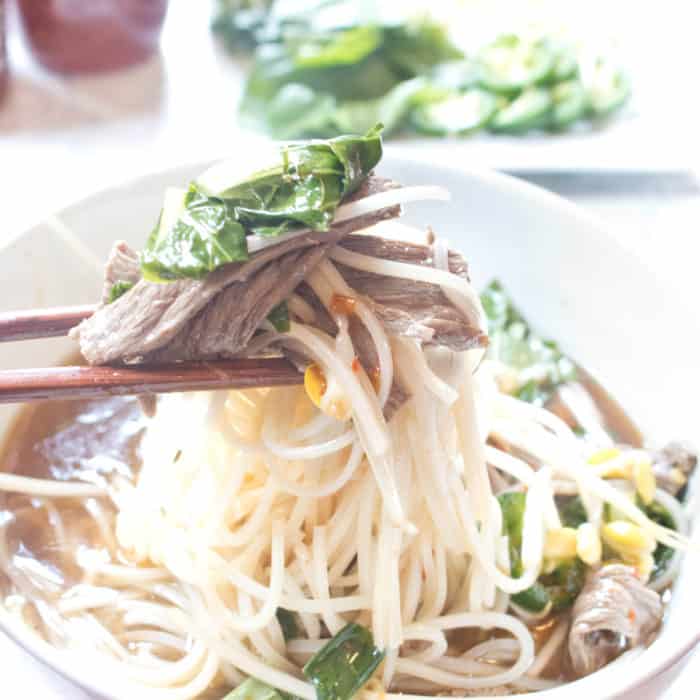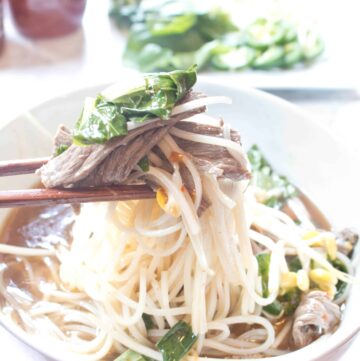 Crock Pot Beef Pho From Scratch
Make your own Beef Pho From Scratch in your trusty Crock Pot! You'll be surprised at just how much it tastes like Pho from your favorite Vietnamese Restaurant!

Print
Pin
Rate
Ingredients
1 1/2 -2

lbs

beef bones

marrow or knuckles

1/2 - 3/4

lbs

flank steak

2

whole

cardamon pods

4

whole

star anise

1

tsp

whole fennel seed

2

tsp

whole coriander seeds

4

whole

cloves

2

whole

cinnamon sticks

4 inch

fresh ginger, peeled and sliced

1/2

white or yellow onion

1

tbsp

olive oil

8

cups

water

1

bunch

bok choy

3

tbsp

fish sauce

1

tsp

sugar

8

oz

banh pho rice stick noodles

fresh basil

fresh bean sprouts

fresh jalapeno, sliced

sriracha

hoisen

chili garlic sauce
Instructions
In a saute pan on medium low, toast star anise, cloves, coriander, fennel, and cardamon pods, and cinnamon for approximately 2-3 minutes until fragrant. Add immediately to crock pot.

Add oil to pan and cook onion and ginger until onion is browned and soft, approximately 5-7 minutes. Turn ginger over half way through. Add to crock pot.

Meanwhile, bring a large pot of water to a boil and add beef bones. Blanch for 10 minutes. Drain and rinse. Add to crock pot and top with 8 cups of water, sugar, and fish sauce. Cook on high for 4 hours or low on 8 hours.

With a sieve (or colander, but dependent upon colander size it may not capture all of the seeds) drain seeds, pods, etc. from broth from crock pot into another large pot them immediately return to crock pot.

For the last 30 minutes, turn to high (or add 30 minutes to the 4 hours) and add chopped bok choy. Put flank steak in freezer for about 10 minutes to make slicing easier. Slice steak as thin as possible.

In final 10 minutes add noodles and steak to crock pot (for rarer steak less time in the crock pot and for thinner noodles less time). Check noodles for desired done-ness at 5 minutes.

Serve immediately and top with your favorite toppings!