It's both spicy and sour and loaded with pork and mushrooms. Skip the take-out and make this Homemade Hot and Sour Soup at home!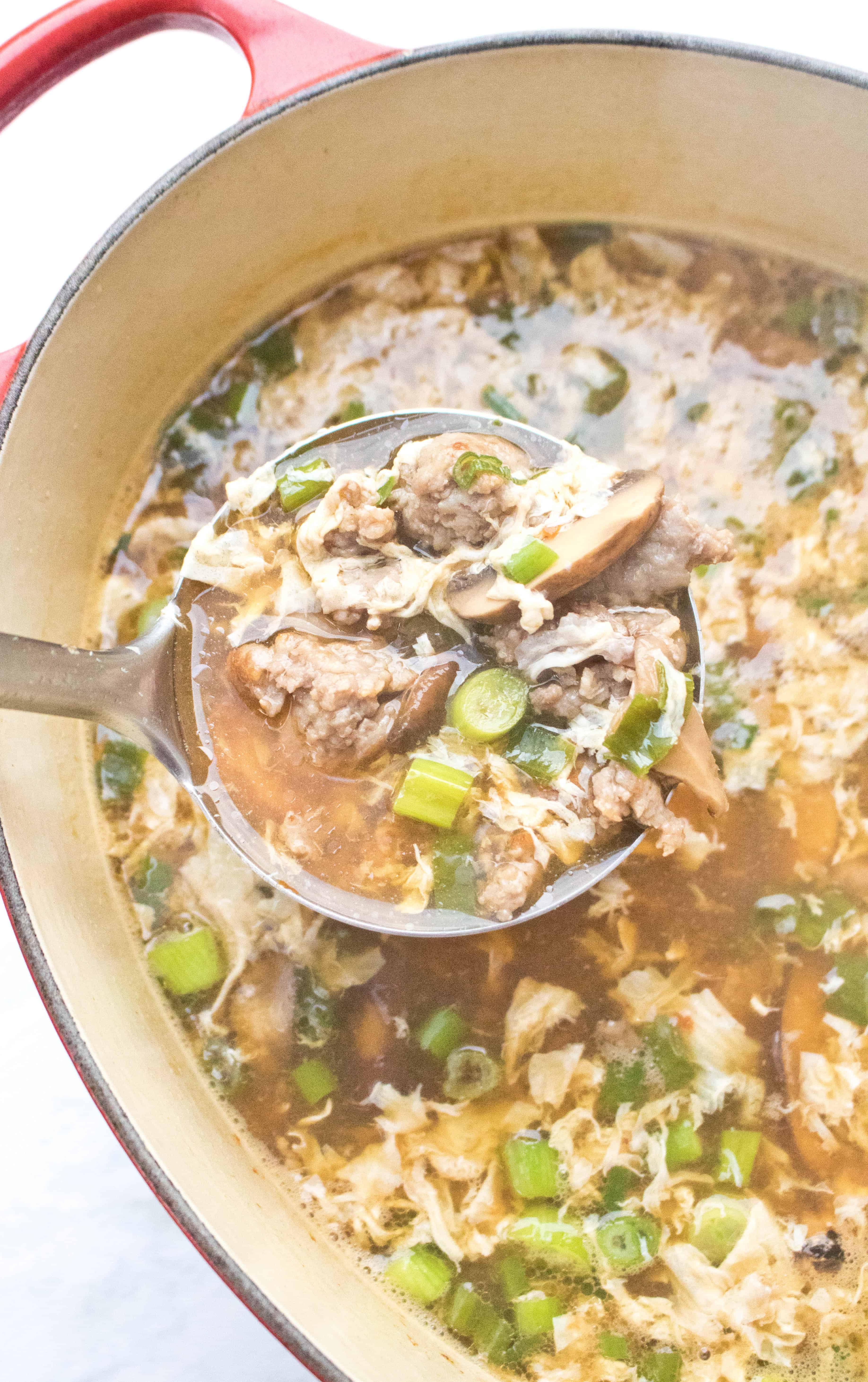 What's your favorite thing about fall? The changing leaves? The crisp mornings? The everything Pumpkin Spice? For me, those first two for sure, but definitely not the last. For me, it's not Pumpkin Spice season, it is soup season. And even though the weather here has been gloriously sunny and dry (not at all like a normal Pacific NW fall), still the leaves have been changing and the mornings have been delightfully crisp. Winter is coming… soooo we kicked off Soup Season with this new favorite: Homemade Hot and Sour Soup!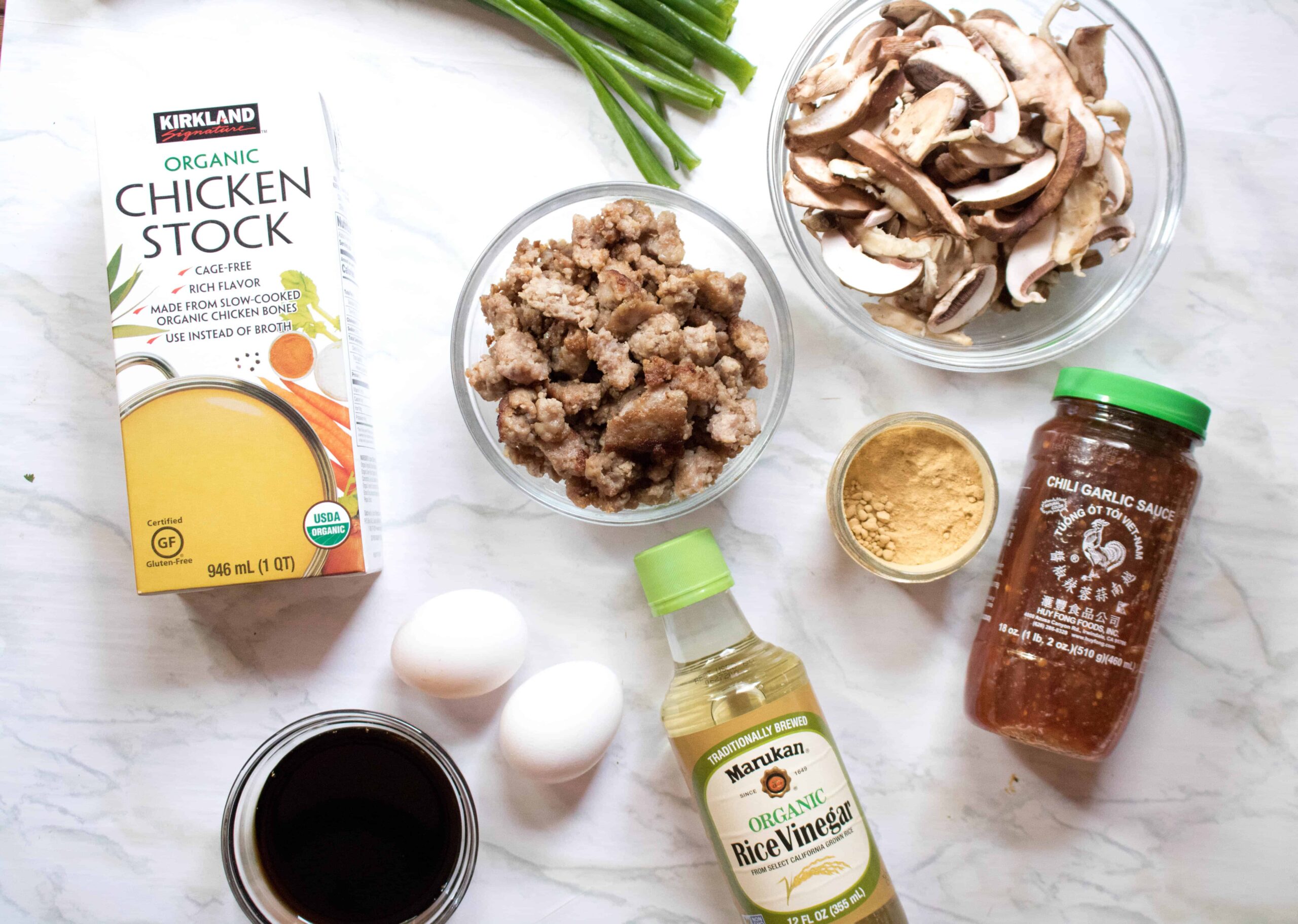 I just love how easy this soup is to throw together. You can make it with pork, tofu, or without! You can also adjust the flavor to your preference – hotter or sourer (uh is sourer a word?). Also, I didn't have any of our Chicken Stock From Scratch, but trusty old Costco allows us to have chicken stock on hand for when we don't have any of our own. Because after two kids, our Costco stockpiles has saved dinner many times.
So you can make this soup with pork, without, or with tofu like a more traditional Chinese Hot and Sour soup. Since my hubby is not a tofu fan, we decided to make this soup with ground pork. Once the pork is cooked, then it's just a matter of tossing most of the ingredients into your pot and let it simmer until you're ready to make delightful egg ribbons. Total time, just about 30 minutes; so easy!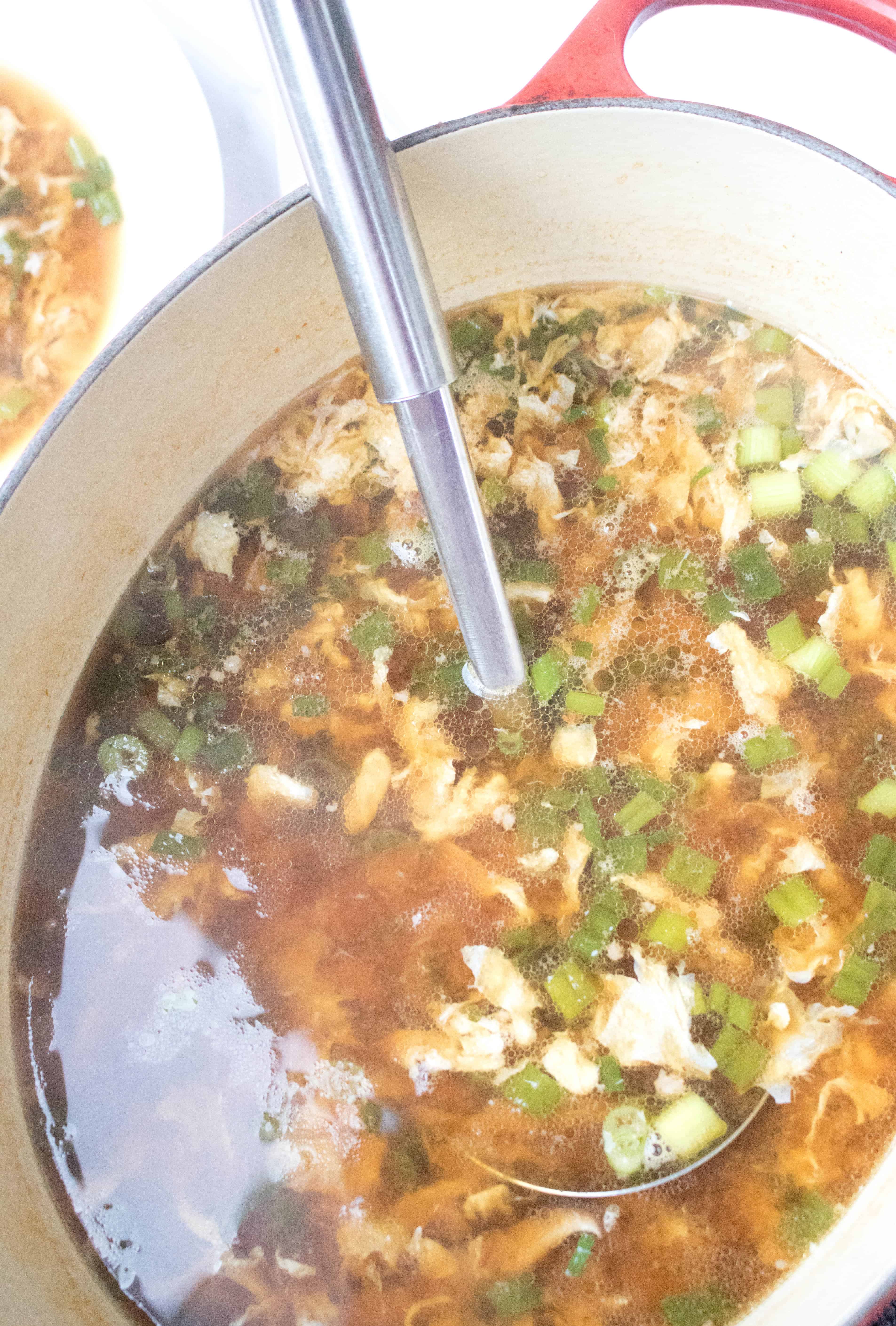 And soooo tasty.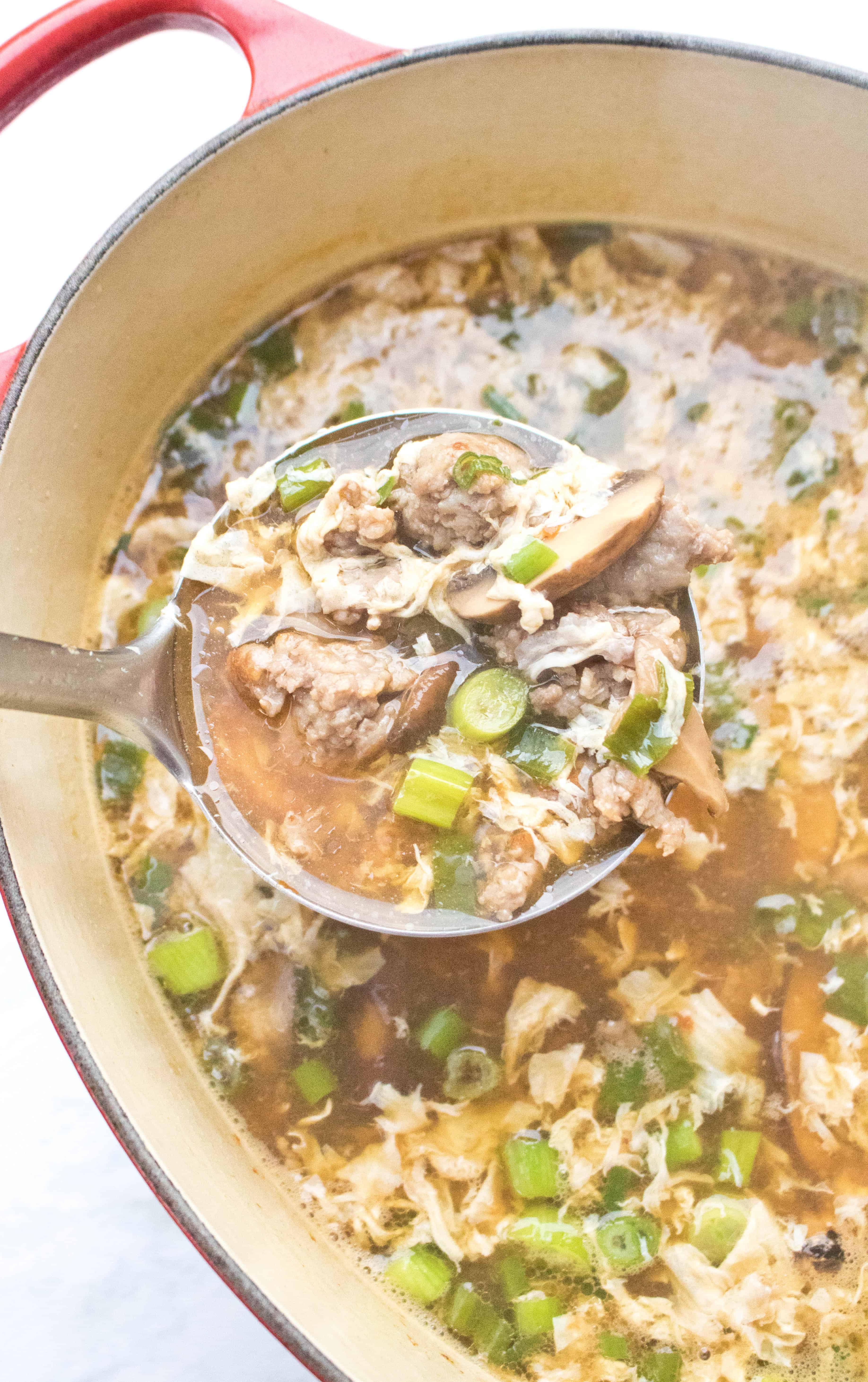 Lots of pork. Lots of mushrooms. Lots of delicious. We each added even more chili garlic sauce and some Sriracha to our own bowls because we like it extra spicccaayyyy. This recipe is a good base for a pretty mild hot and sour so that you can add to it. More chili garlic sauce or more rice wine vinegar, whatever you like. You do you, boo.
Either way, dust off those dutch ovens, Crock Pots, and Instant Pots and cozy up with some soup this soup season! We'll have this Homemade Hot and Sour Soup, Crock Pot Chicken Pho, Crock Pot Beef Pho, and Crock Pot Broccoli and Cheddar Soup are all on rotation here at our house. As amazing as the extra warm, sunny early October has been, bring onnnn Soup Season!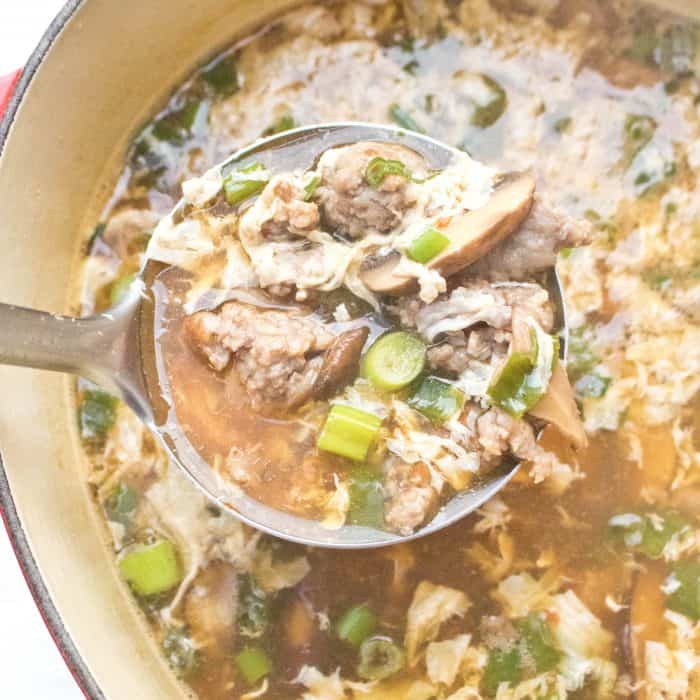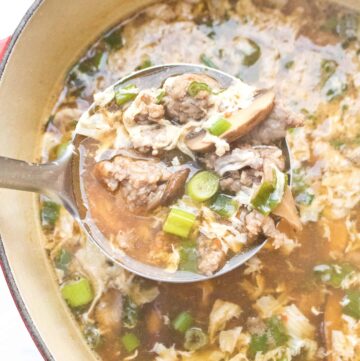 Homemade Hot and Sour Soup
It's both spicy and sour and loaded with pork and mushrooms. Skip the take-out and make this Homemade Hot and Sour Soup at home!

Print
Pin
Rate
Ingredients
10

oz

ground pork

6

oz

mushrooms

assorted, shiitake, creminis, whatever you have

8

cups

chicken or vegetable stock

1/4 cup reserved

1/4

cup

soy sauce

1/4

cup

rice wine vinegar

split

2

teaspoons

ground ginger

2

teaspoons

chili garlic sauce

1/8

cup

cornstarch

2

tablespoons

green onion, diced

1

teaspoon

sesame oil

2

eggs, whisked

tiny

pinch

white pepper

optional
Instructions
In a saute pan on medium, cook ground pork until done, crumbling as it cooks. Approximately 7-10 minutes. With a slotted spoon, remove pork from pan onto a paper towel lined plate and set aside.

Meanwhile, over medium high heat, add 7 3/4 cups of stock to a dutch oven or large pot with mushrooms, 1/8 cup of rice wine vinegar, ginger, chili garlic sauce, and soy sauce. Bring to a simmer.

Whisk the cornstarch with the other 1/4 cup of chicken stock. When stock comes to a simmer, stir in cornstarch stirring continuously until soup begins to thicken.

Gently drizzle the whisked eggs into the soup while stirring the soup continuously creating egg ribbons. Add pork, green onions, sesame oil, remaining 1/8 cup rice wine vinegar, and white pepper.

Serve immediately and add more chili garlic sauce (and or Sriracha) and rice wine vinegar to taste.
Notes
Make your own stock!
https://www.servedfromscratch.com/more-chicken-stock/
https://www.servedfromscratch.com/vegetable-stock-from-scratch/