Take your made from scratch chips to the next level by making them with the addictive acidic and salty flavors of these Homemade Salt and Vinegar Chips! Everything you love about these classic chips, but made at home and sure to impress anyone who tries them!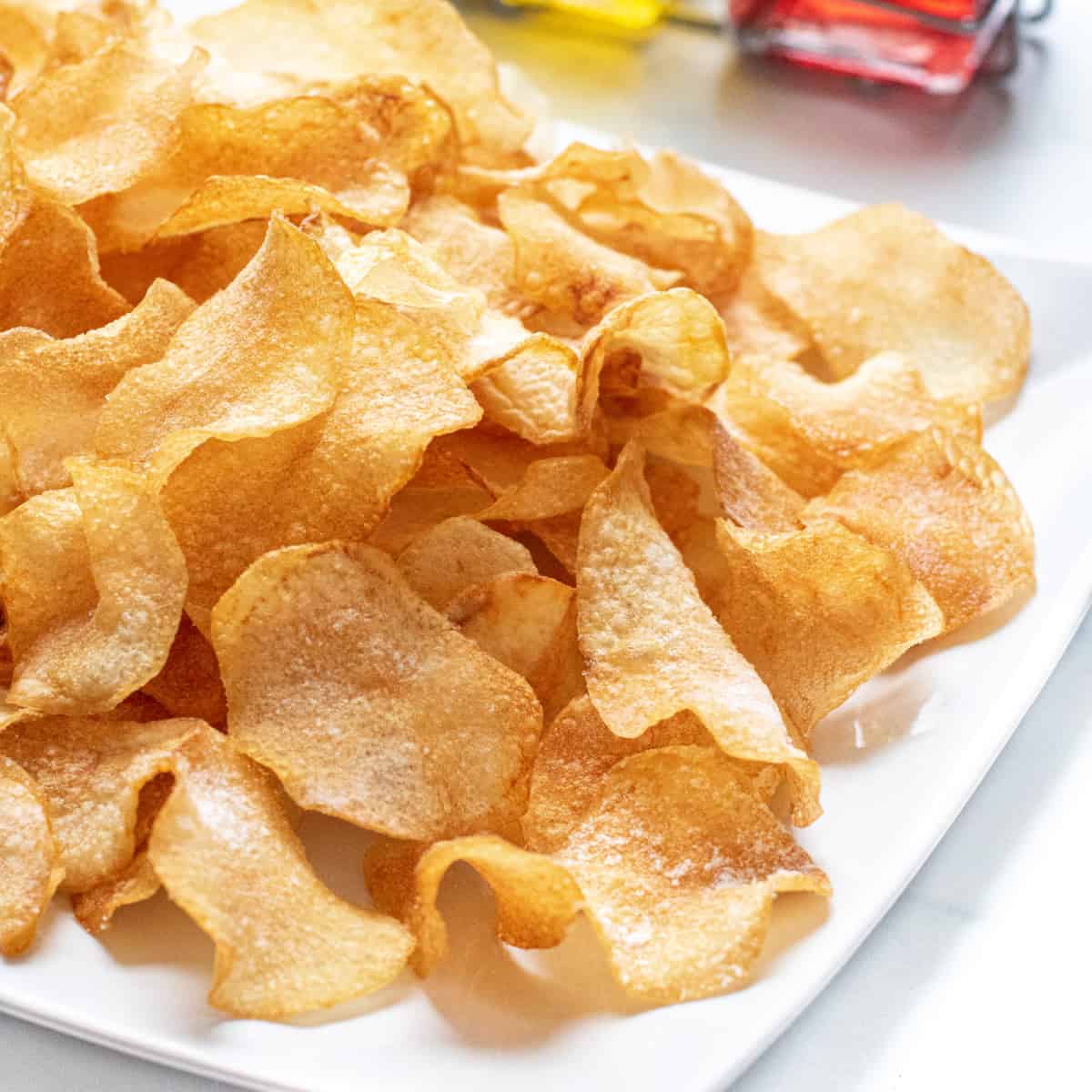 They're here!! Friends, these Homemade Salt and Vinegar Chips are ones that I have been dreaming about for a long time. I've tried a lot of different techniques to get that classic, undeniable salt and vinegar flavor, and I've finally cracked the code, and trust me, these are good. So so SO good. Perfectly crispy and with that finger-lickin' salt and vinegar flavor that a true vinegar chips fan will love!
Ingredients Needed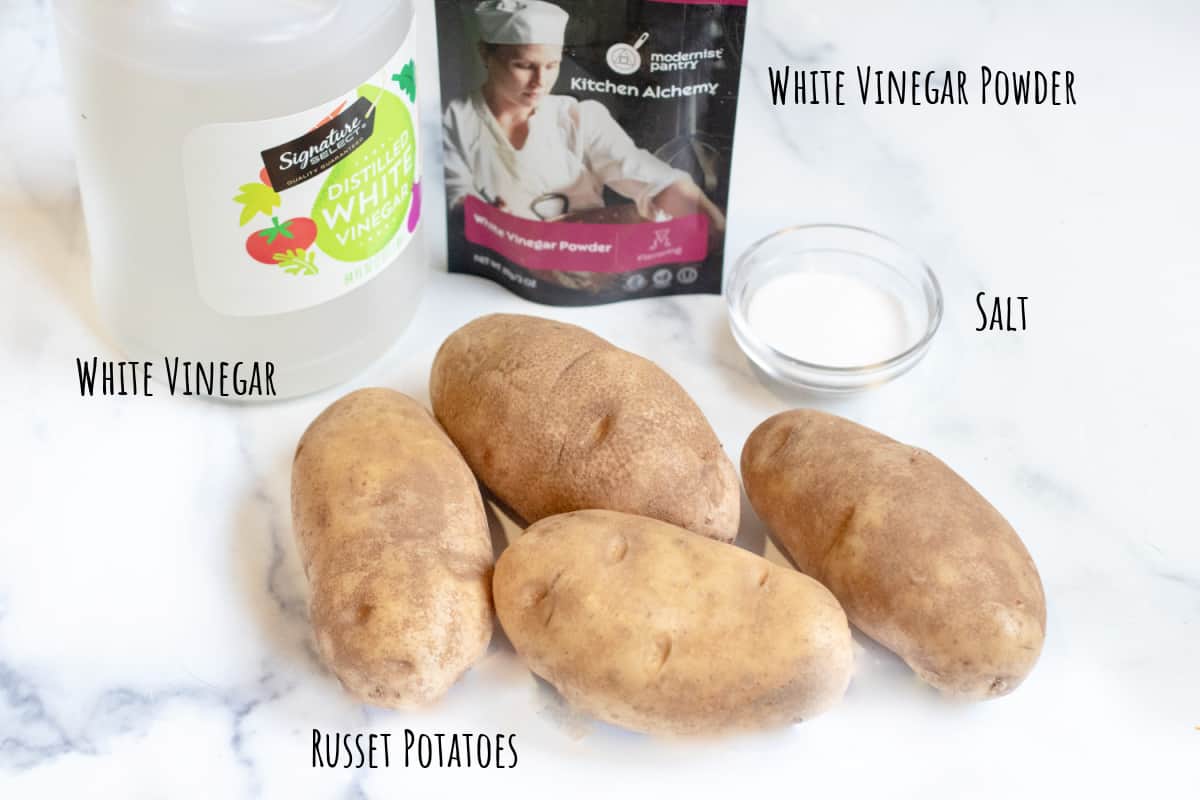 Russet Potatoes - These are hands down the best potatoes for chips. High in starch and low in moisture, that's what you need for the best crispy chips.
White Vinegar Powder - Now this is the secret sauce to these salt and vinegar chips. I have tried to get the vinegar flavor a few other methods, but then finally gave in to this powder. And let me tell you, it made all the difference. Plus, it's affordable, gluten-free, vegan, and kosher, and this little packet will provide enough powder to make a whoooolle lotta salt and vinegar chips!
Vinegar - While the powder is the (crucial) finishing touch of vinegar flavor for these chips, a lil' soak in some vinegar and water for the potato ice bath, that adds the subtle depth of vinegar flavor to these chips.
Salt - How can you have salt and vinegar chips without the salt?! While kosher salt is the standard go-to salt in our house, for chips, you really need to make sure you have fine ground table salt. That's what's going to provide the best coating for crispy crunchy chips.
Vegetable Oil - Necessary for frying. While vegetable oil is our oil of choice, you can use any high flash point, neutral oil.
The Crispiest Potato Chips, Every Time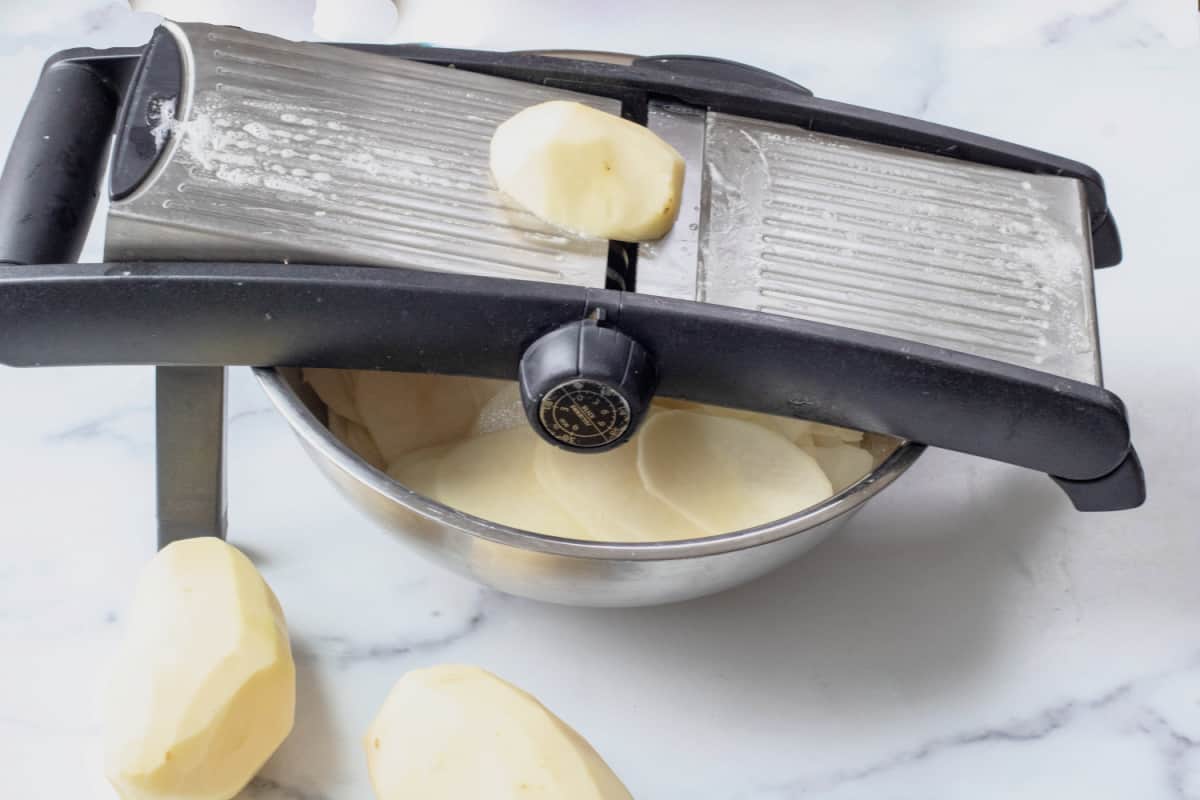 Potatoes Sliced Thin
This is step #1 to ensure that you have the crispiest potato chips is to make sure that you have the thinnest sliced potatoes possible. And really, the best way to do this is to use a mandoline slicer. Set that baby at the lowest possible setting and then slice.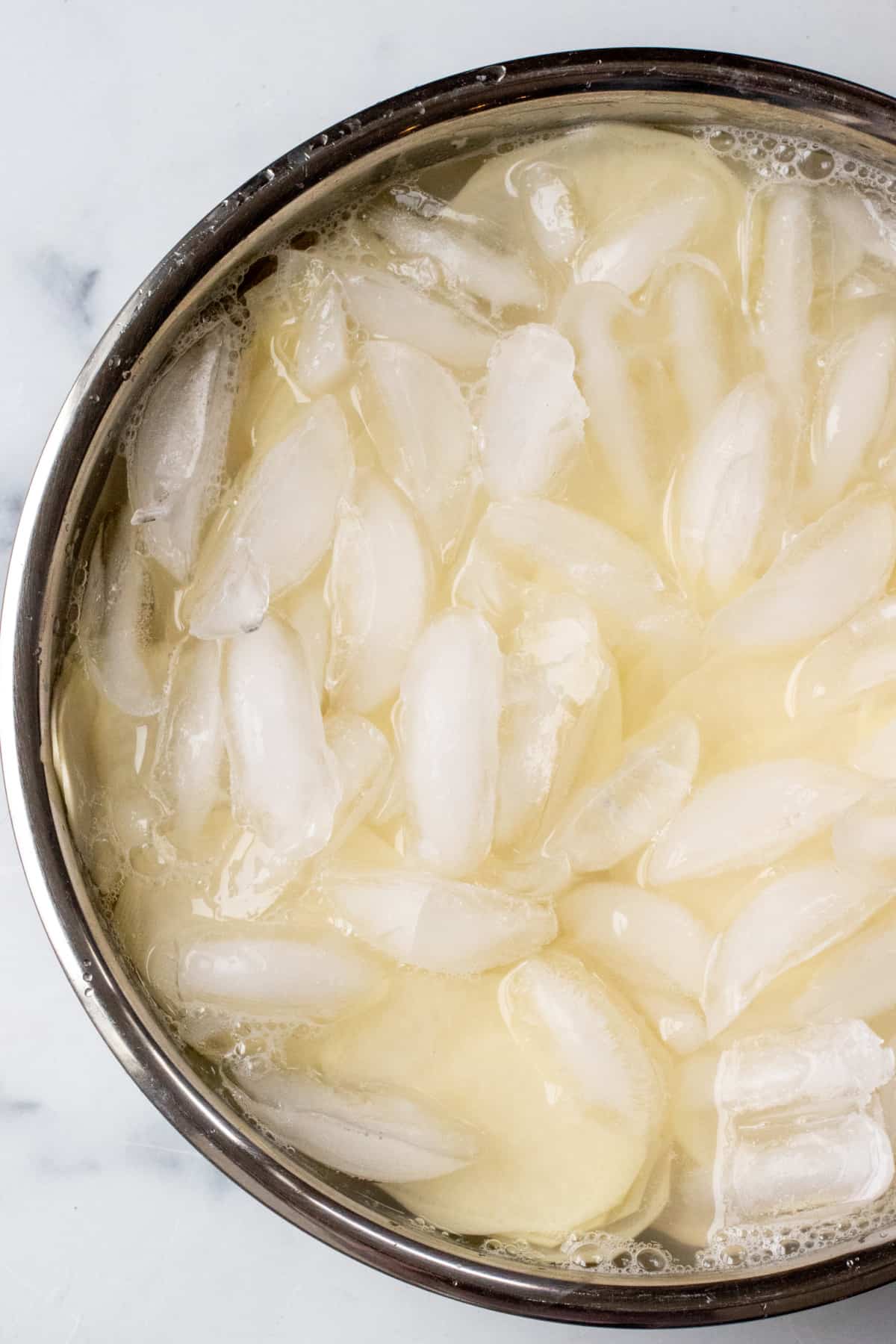 Ice Bath
The next step to the crispiest crunchiest salt and vinegar (or any other) potato chip, is a little ice bath. But not just in water, for these vinegar chips you'll want to add a couple of cups of vinegar, too. This helps impart that vinegar flavor into the chip for the subtle flavor beyond the top layer of flavor.

This is a step you really don't want to skip. Not only for the vinegar flavor, but for any time you're making a homemade chip. The ice bath is what removes the surface starch from the potatoes which is what will cause the potatoes to brown (and burn) more quickly while frying. It also helps make a crispier chip!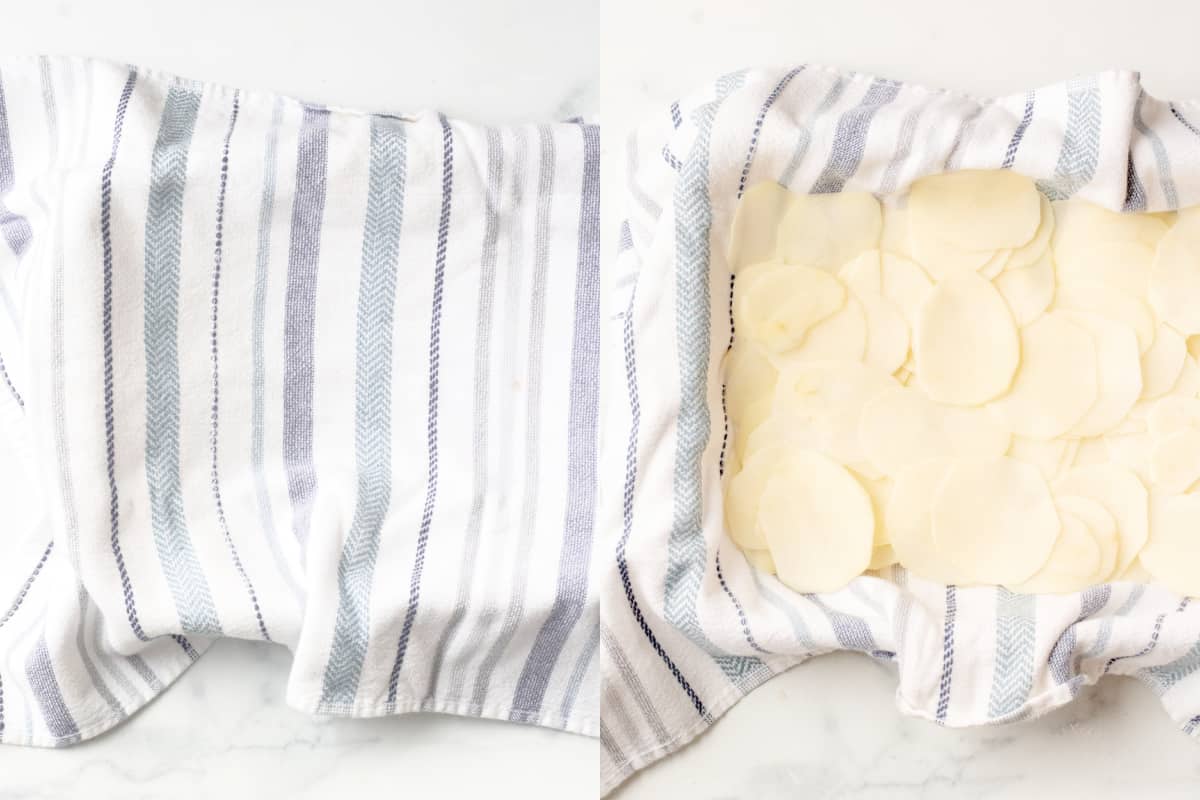 Rinse and Dry
Pour those little spud slices into a large colander and give them a quick little rinse. Then let them dry in a towel-lined tray and then dry those potato slices really well. I like to line the towel with potato slices and then pat them dry with some paper towels.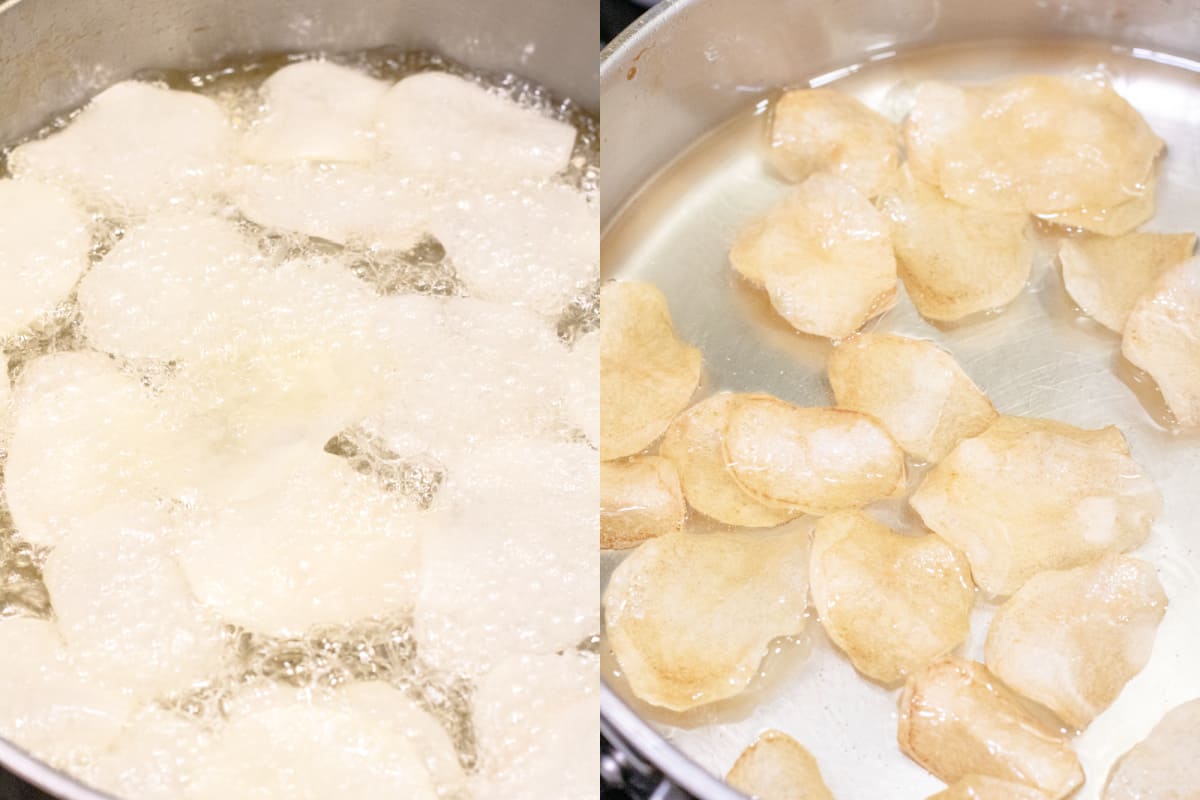 Fry!
Give those little slices of potatoes a good shallow fry until nice and golden brown and crispy! With oil at about 350-365 degrees, that's about 4 minutes, turning them, and folding them a little for those highly sought-after folded chips!
Let Cool in a Single Layer
Another important tip to maintaining the ultimate crisp and crunch with your homemade potato chips is when you remove them from the oil with your slotted spoon, make sure that you let them cool on a paper towel lined plate or tray in a single layer. Piling them up on top of one another right out of the oil, can make them soggy.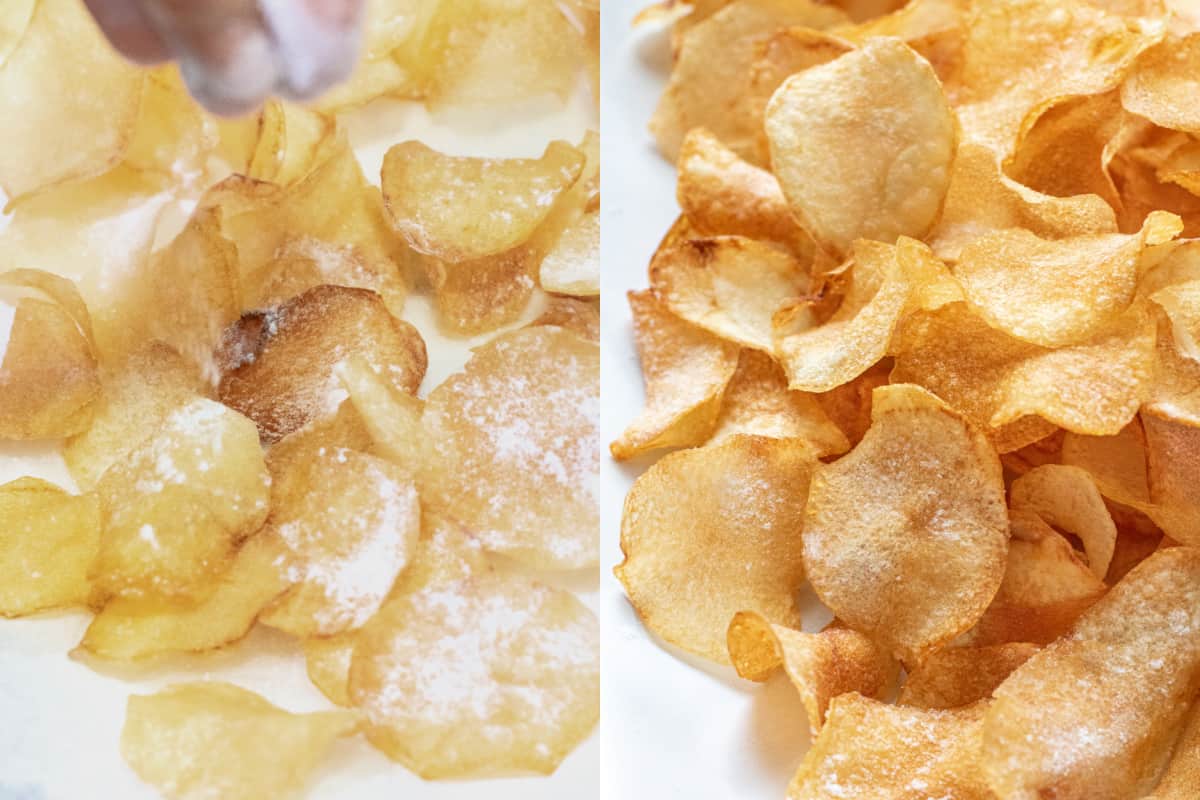 Add Salt and Vinegar Powder
The final part, once the chips are fried, just a sprinkle of the salt and vinegar powder and that's it! The perfect crispy Homemade Salt and Vinegar Chips!

I like to sprinkle one half of the chips, flip, and then give another sprinkle for the ultimate salt and vinegar flavor! You can also adjust the level of salt and vinegar on these chips by adding more or less of the salt and vinegar powder mixture. A generous sprinkling is what I think gets you to the store bought chip level, but you can totally adjust to your own taste.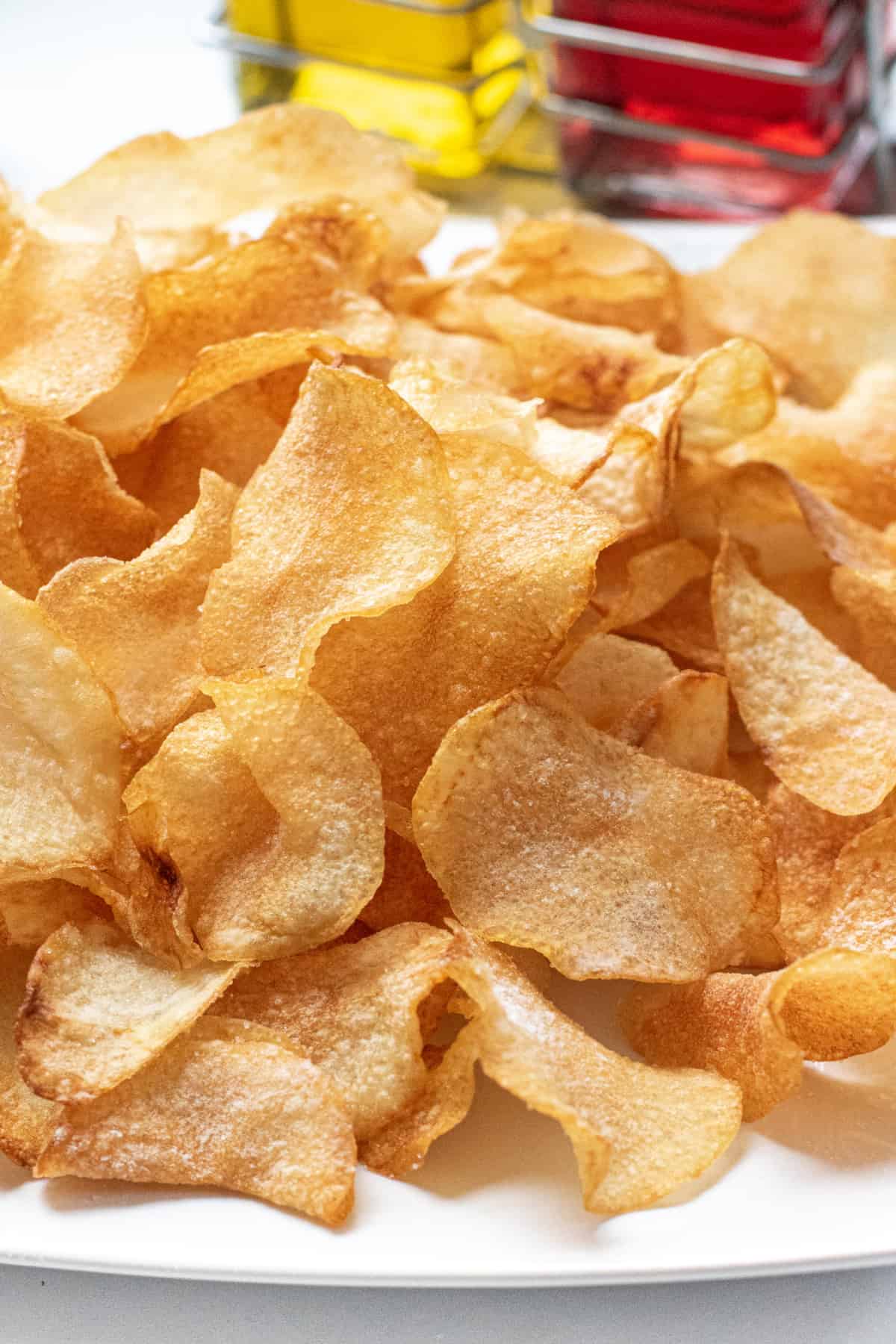 Crispy Salt and Vinegar perfection! Seriously, these Homemade Salt and Vinegar Chips are what snacks from scratch dreams are made from. Sure to get a shocked and impressed "You made these?!" from anyone you enjoy them with.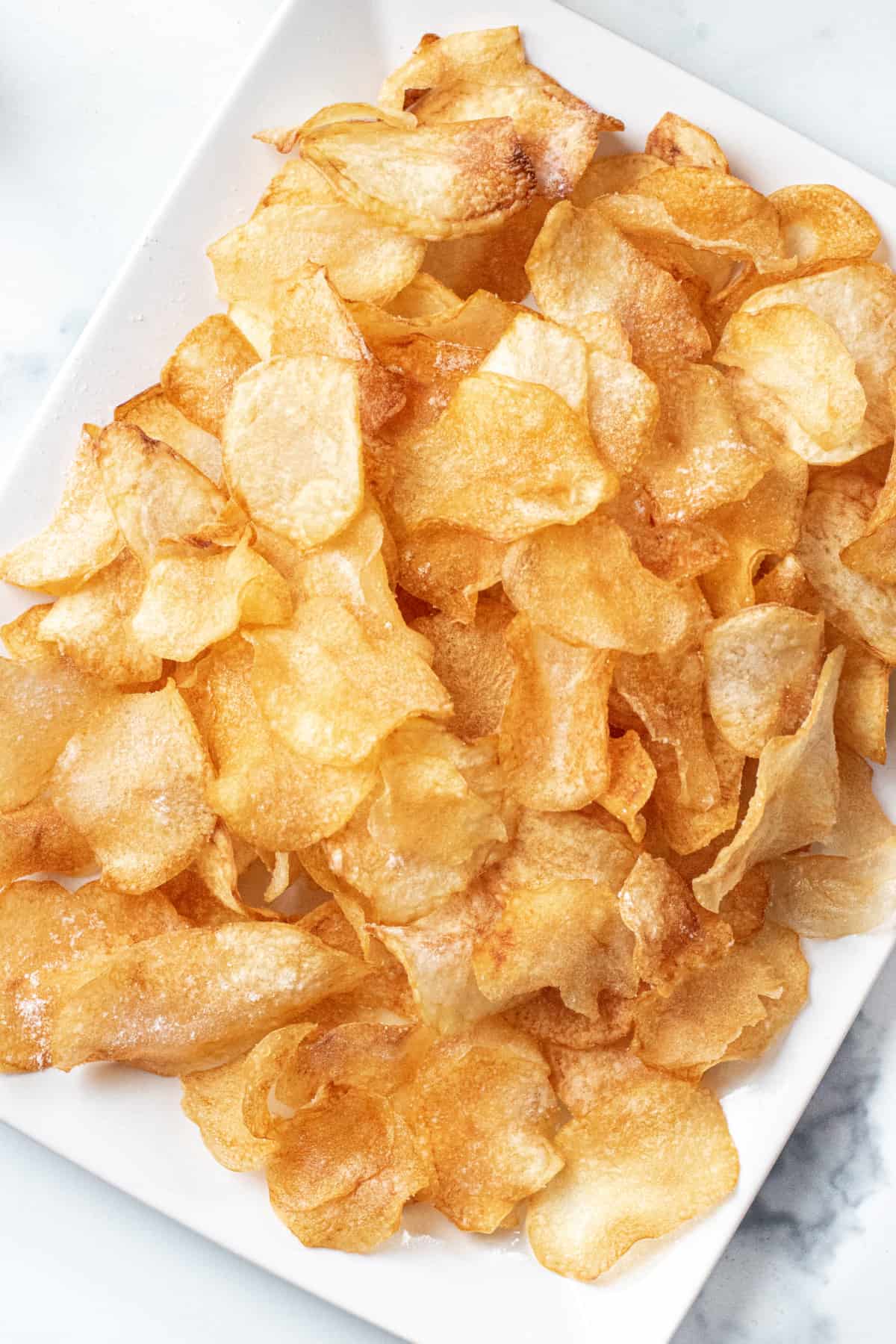 Other Salty Snack Favorites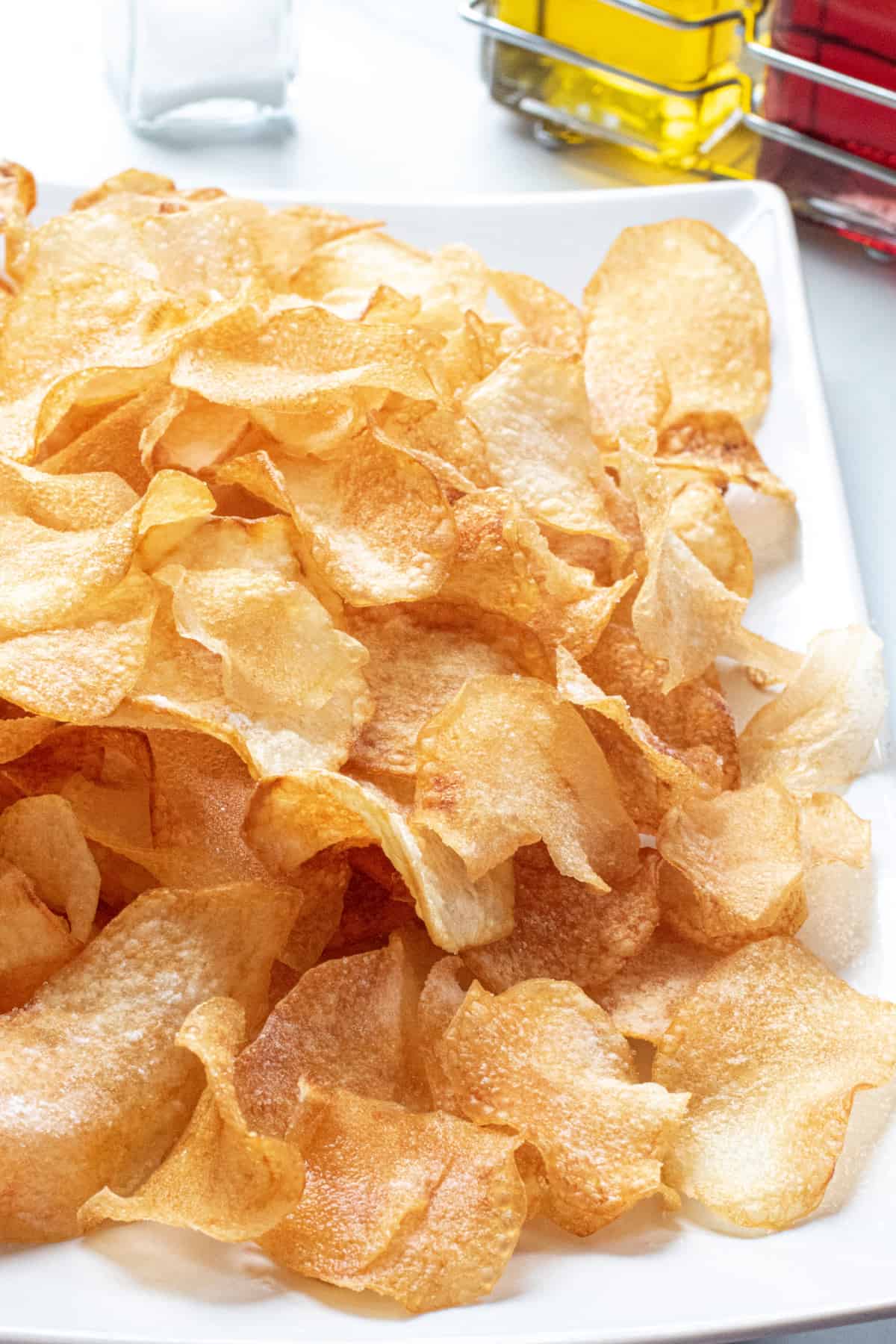 Enjoy! As always, if you make this recipe or any of my others, I love to hear what you think! Leave a comment below, email me, or you can find me on Facebook, Instagram, and Pinterest!
If you want to see more, be sure to sign up for my 5 Easy Ways to Start Cooking From Scratch!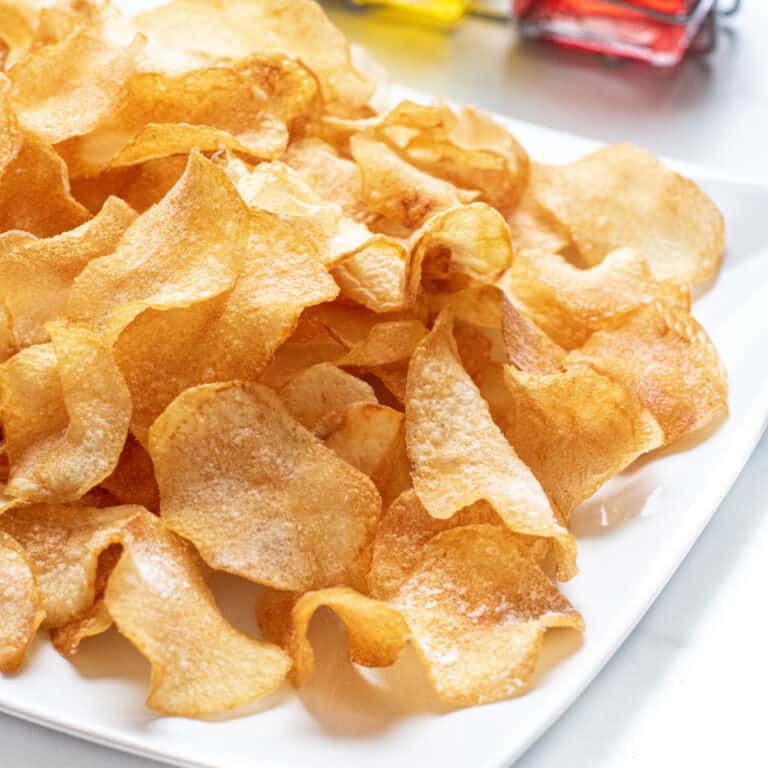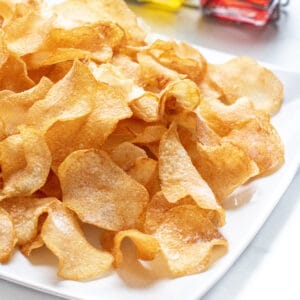 Homemade Salt and Vinegar Chips
The classic salty acidic chips made easily at home!
Print
Pin
Rate
Servings:
5
2 oz servings
Ingredients
2

lbs

russet potatoes

2

cups

distilled white vinegar

2

tablespoons

white vinegar powder

1

teaspoon

table salt

4-5

cups

vegetable oil
Instructions
Clean and peel potatoes. Slice at the lowest setting possible on a mandoline over a large bowl. Add 2 cups of vinegar and then add cold water to the bowl until it covers the potatoes and then add some ice. Let sit for 30 to 60 minutes.

Meanwhile, line a large baking dish with a clean kitchen towel and have paper towels ready.

Once the potatoes have soaked, drain into a colander and give a quick rinse. Shake off excess water.

Add potato slices to the towel-lined baking dish in a single layer and then blot dry before adding more in another layer and patting dry with paper towels. You can also line in layers of potatoes, paper towels/kitchen towels.

Meanwhile, heat 4-5 cups of vegetable oil in a saute pan until it reaches at least 350 degrees and up to 365 degrees. Use an instant read thermometer, or use the wooden spoon test.

Add potato slices to hot oil and let fry for 2 minutes on side and then turn to finish on the other side, until golden and crispy.

Remove from pan with a slotted spoon onto a paper towel lined plate. Sprinkle with vinegar and salt mixture on one side and then turn chips and sprinkle on the other side. Let cool on a single layer on a plate.

Transfer to a larger plate or platter and serve! Or store in an airtight container for 1 - 2 weeks.
Notes
Wooden Spoon Test
To test to see if your oil is hot enough for frying without a thermometer, grab your wooden spoon a put the end of it into the oil. If the oil gently bubbles around it, it's ready! If it bubbles too hard, it's too hot and you will want to cool the oil a little and then test again.
Bake
Follow all instructions for preparing the potatoes and then pre-heat the oven to 450 degrees. Spray the baking sheet with cooking oil. Add dried potato slices to a large bowl and add 1 - 2 tablespoons of olive oil and toss to coat. Sprinkle with vinegar and salt mixture. Line baking sheets with a single layer of chips and bake for 10-12 minutes. Allow chips to cool completely.
Storage
These homemade chips will keep for up to two weeks (if you can keep them around that long! They stay the crispiest for the first week. Store in an airtight container in a cool dry place.
Substitutions
Potatoes: Russets are best, but you can also use another high-starch low moisture potato like Idaho. Stay away from waxy potatoes like red, yellow, and fingerling.
Salt: Be sure that it's fine ground.
White Vinegar Powder: This is one that you don't want to skip. It's truly the best way to get that authentic vinegar chip flavor!
Nutrition
Calories:
162
kcal
|
Carbohydrates:
33
g
|
Protein:
4
g
|
Fat:
0.1
g
|
Saturated Fat:
0.05
g
|
Polyunsaturated Fat:
0.1
g
|
Monounsaturated Fat:
0.004
g
|
Sodium:
476
mg
|
Potassium:
759
mg
|
Fiber:
2
g
|
Sugar:
1
g
|
Vitamin A:
2
IU
|
Vitamin C:
10
mg
|
Calcium:
30
mg
|
Iron:
2
mg