They're one of your favorite crunchy addicting snacks easily made at home! These Healthier Homemade Corn Nuts have all the salty flavor and crunch but are baked in the oven instead of deep-fried making them everything you want in a corn nut, but just a little bit better for you.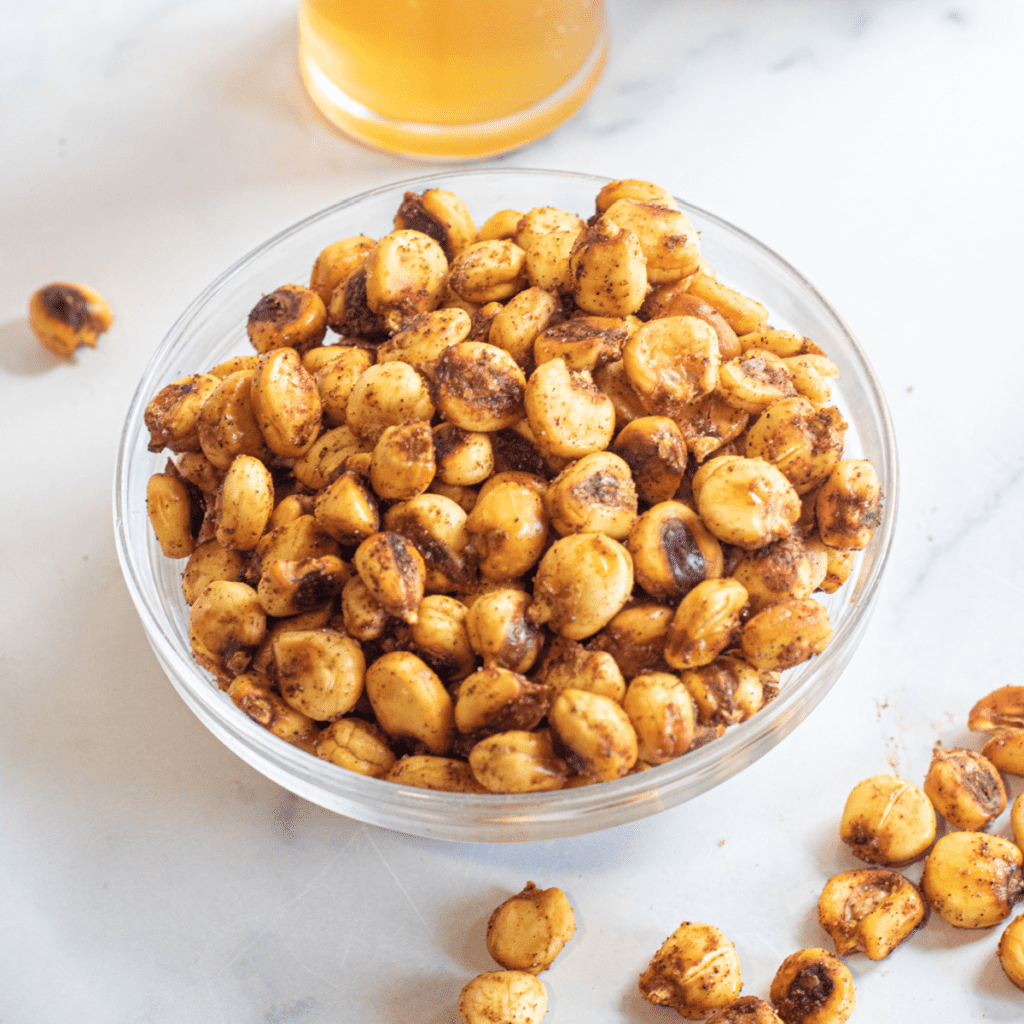 For all of my fellow salty crunchy snack lovers out there, this one is for you! Our Healthier Homemade Corn Nuts have everything you love about a classic corn nut; a deep crunch and a wonderfully addicting salty flavor! But by baking them in the oven vs. deep frying them, you'll have a version that's just a little bit healthier for you, still with everything you love about a corn nut!
Ingredients Needed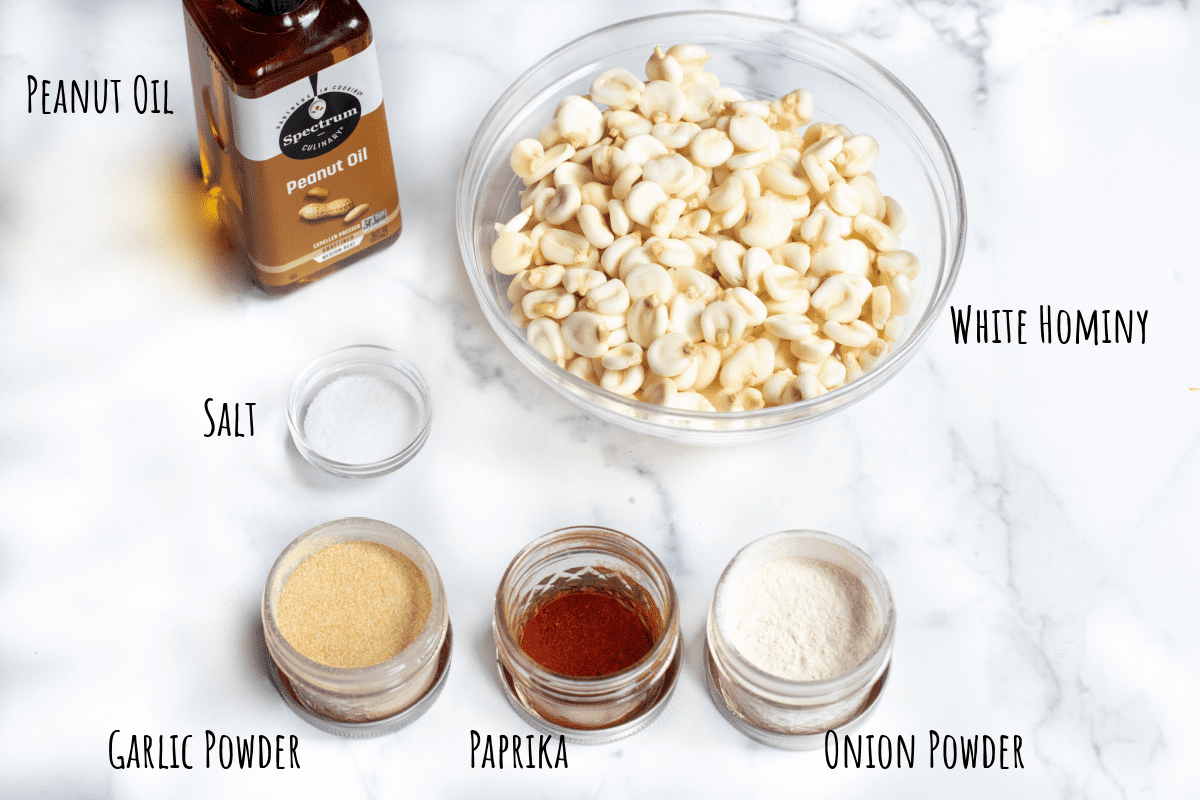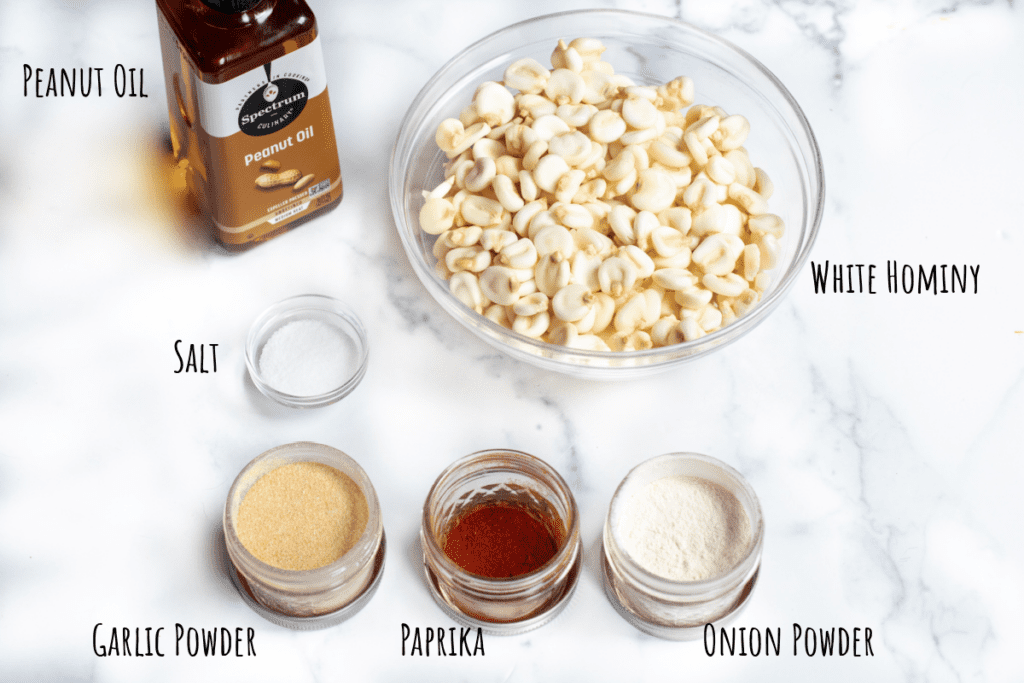 Dried Hominy - These large kernel corn nuts are perfect for getting a nice big corn nut. You can also find it called just giant white corn or Maiz Mote Pelado. Be sure to use dried hominy and

not canned

because canned hominy is already cooked and will not make the same delicious crunchy corn nut as the dried.

Peanut Oil

- This is our favorite high smoke point oil to use for these homemade corn nuts because of the nutty flavor it adds. But you could also use vegetable oil or corn oil.
Salt - While we use kosher salt for most of our cooking, for these it's important to use fine ground salt to ensure better, even coating.
Paprika and Garlic and Onion Powder - We love this combo of spices to add just the right touch of savory flavor to these crunchy corn nuts, but you can add any of your favorites, too!
What is Hominy?
Hominy is corn, but not like the corn off of the cob or popcorn kernels. Instead, this corn is dried maize (field corn) kernels that are soaked in an alkali solution in a process called nixtamalization that removes the hull and germ of the corn. This causes them to "puff" up to be much larger than typical corn kernels and also makes them more nutritious than corn off of the cob because the nixtamalization process allows the vitamin B3 in the hominy to be better digested by the human body. This process also allows for the corn to be easier to grind which is what makes ground maize aka masa harina - the key ingredient in corn tortillas!
Hominy is used in a variety of Mexican dishes and cooking. In addition to being ground down for masa harina and grits, it's also used in many Mexican soups and stews (like pozole) and is a great addition to a variety of recipes in place of corn.
Step-by-Step Instructions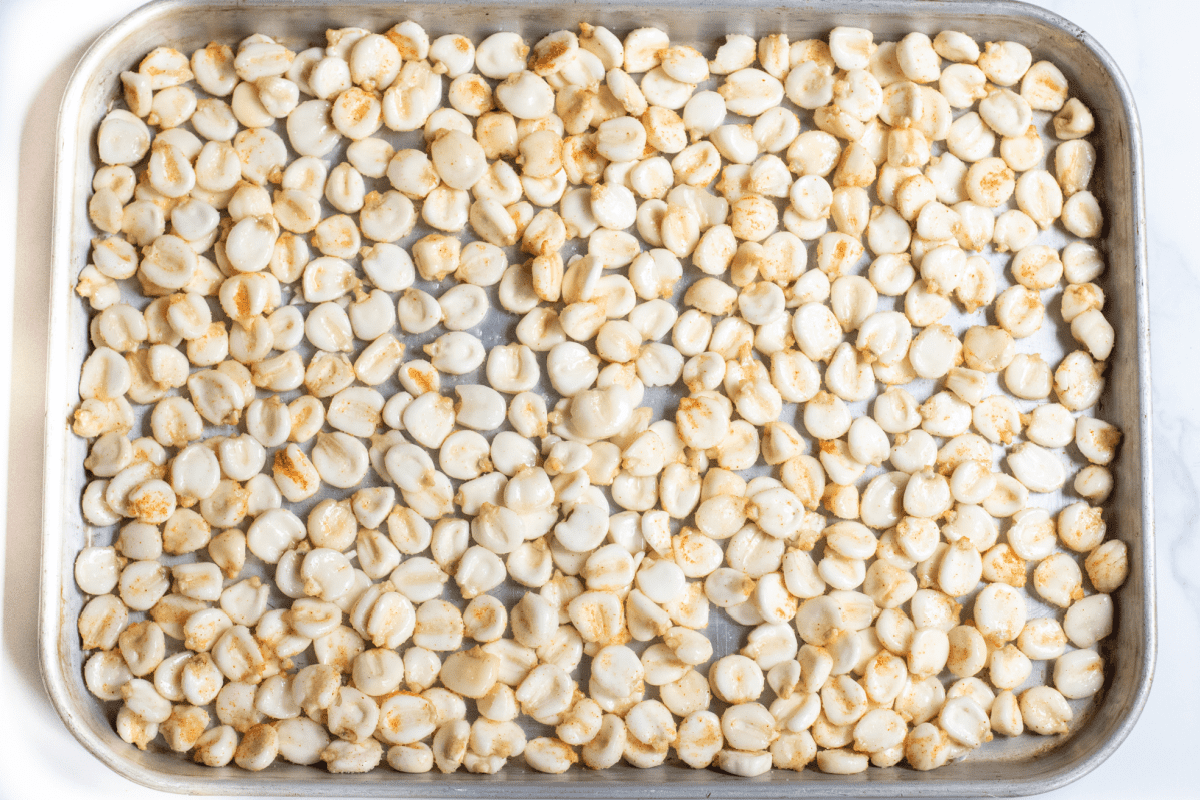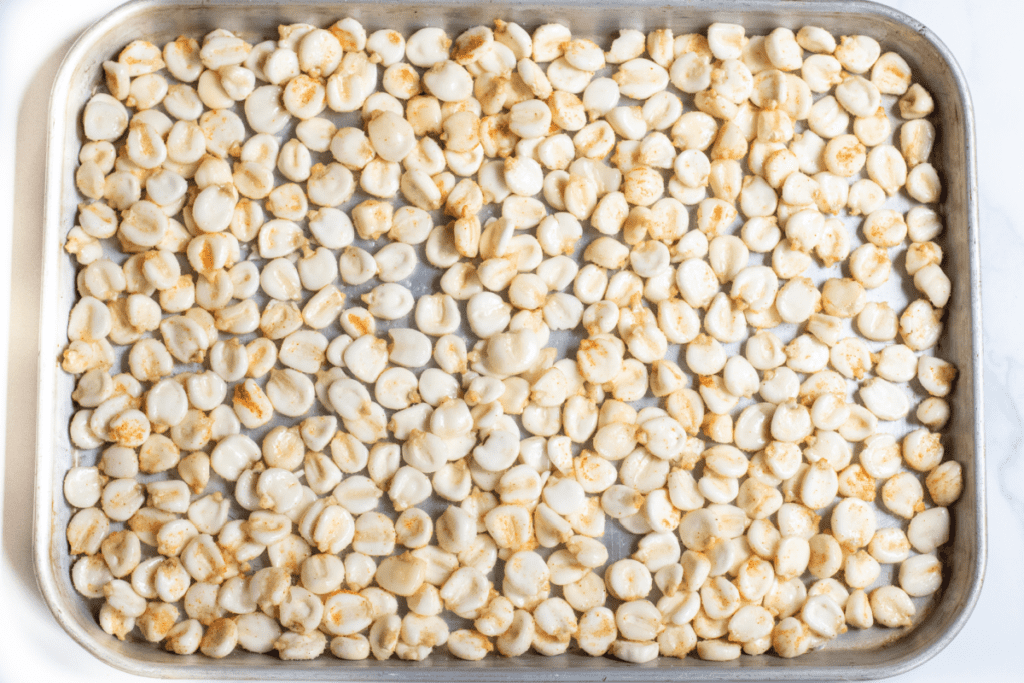 Soak and Dry Hominy
Soaking the hominy is an important step because this is what will rehydrate them, similar to soaking dried beans.
Dry the hominy well, this is what will ensure the quintessential corn nut crunch! We do this by spreading it out on a baking sheet and patting them dry with a paper towel. Then, if it's nice out, I'll pop that tray out in the sun or in a sunny spot in the kitchen to finish drying out.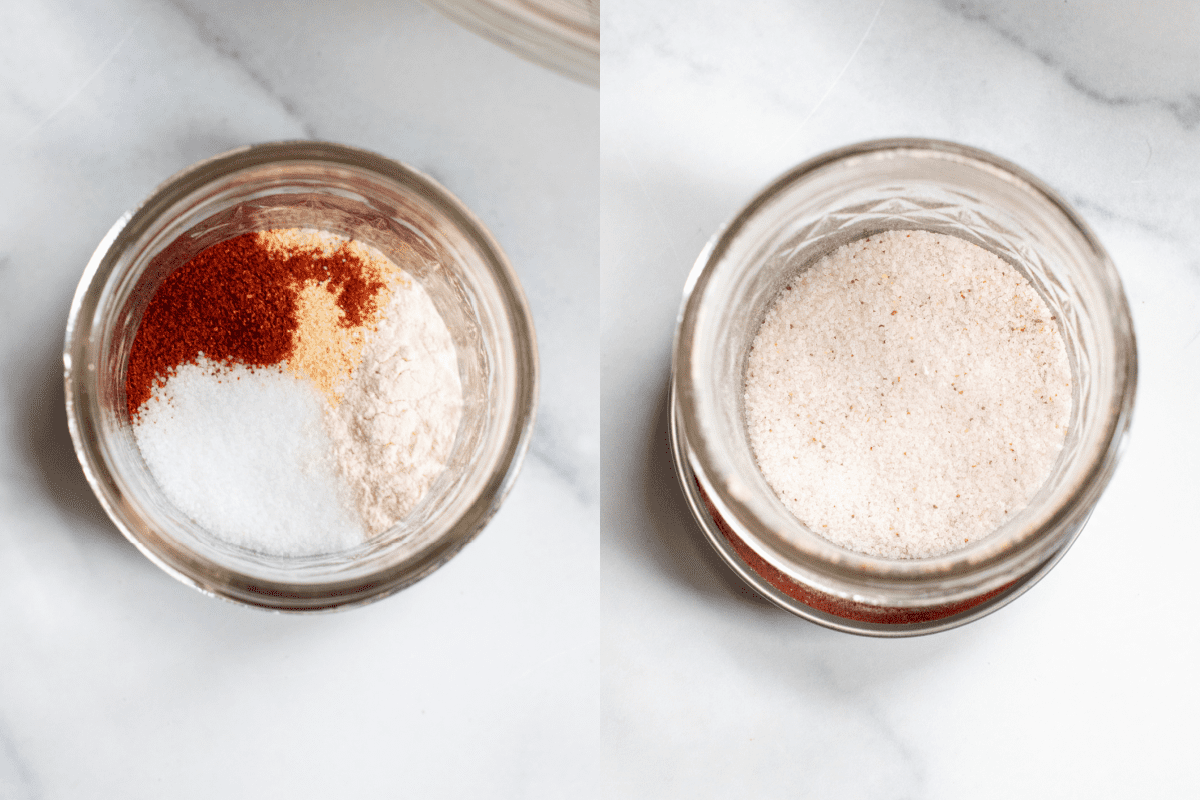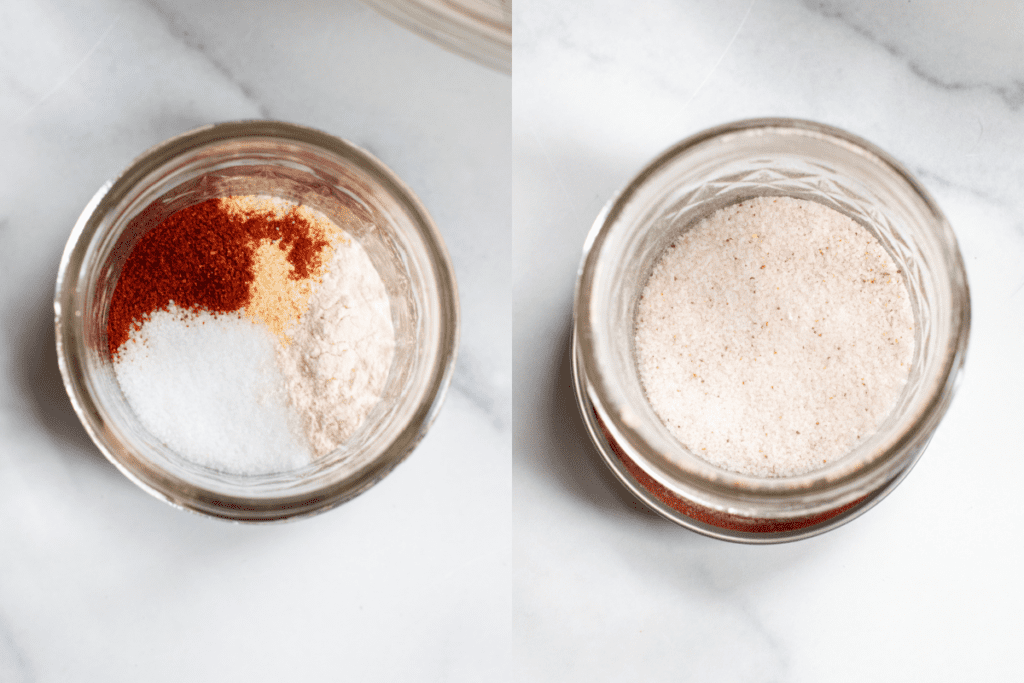 Prep your Salt and Spices
To ensure an even coating, mix your salt and spices first, before adding to the hominy. I like to put it all into a small mason jar and give it a good shake. We love these little 4 oz mason jars, it's what we use for all of our spices in our spice drawer.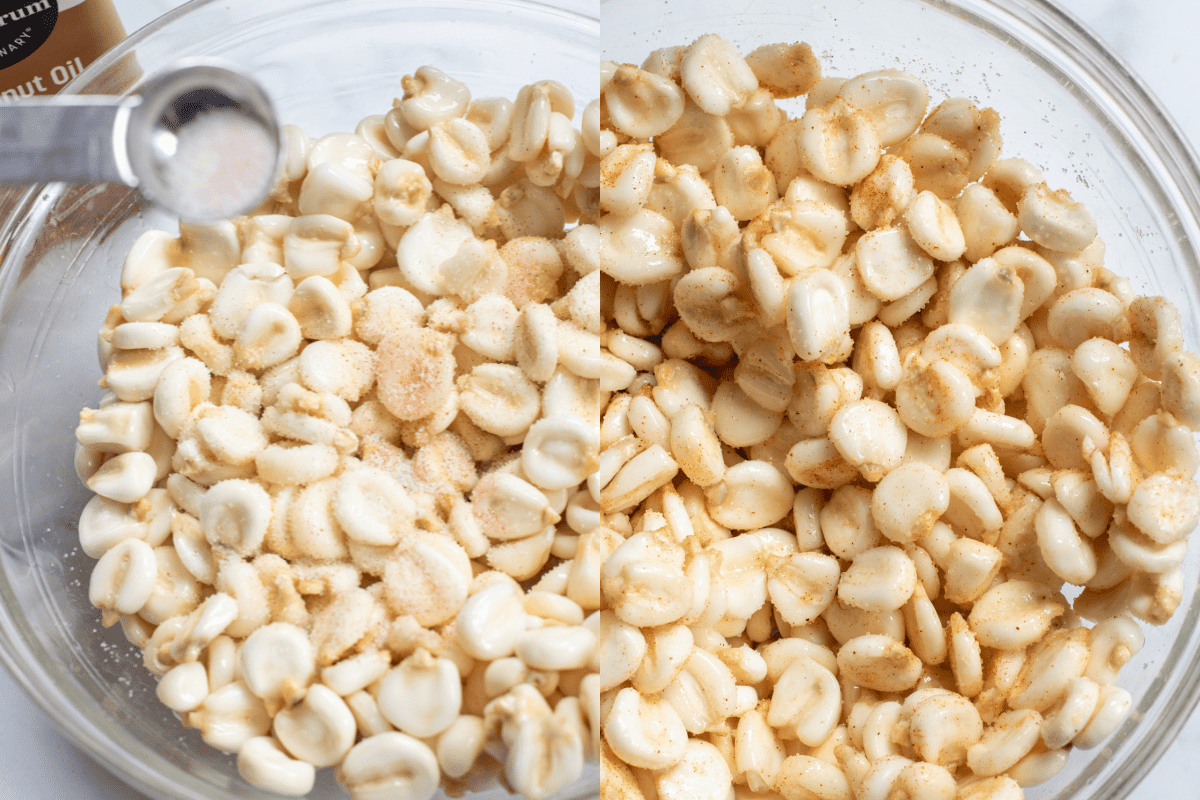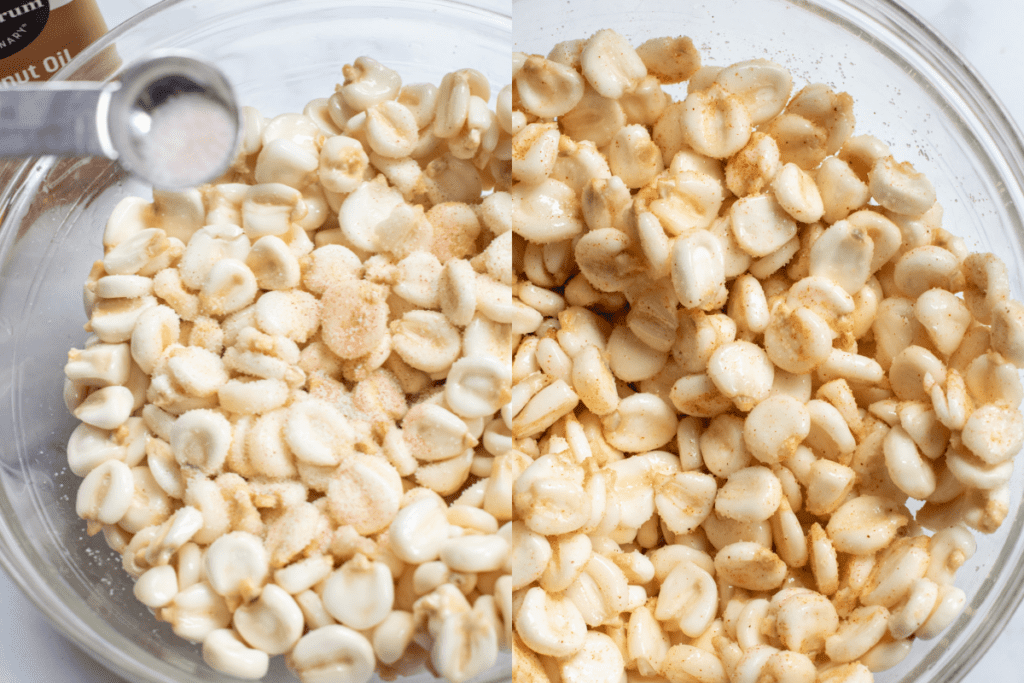 Add Oil and Salt Mixture
Once the hominy is dried, then just add it to a bowl, give it a good mix with the peanut oil and then add the salt mixture. For the best coating, add a little bit at a time, mix well, and repeat until all of the hominy is well coated.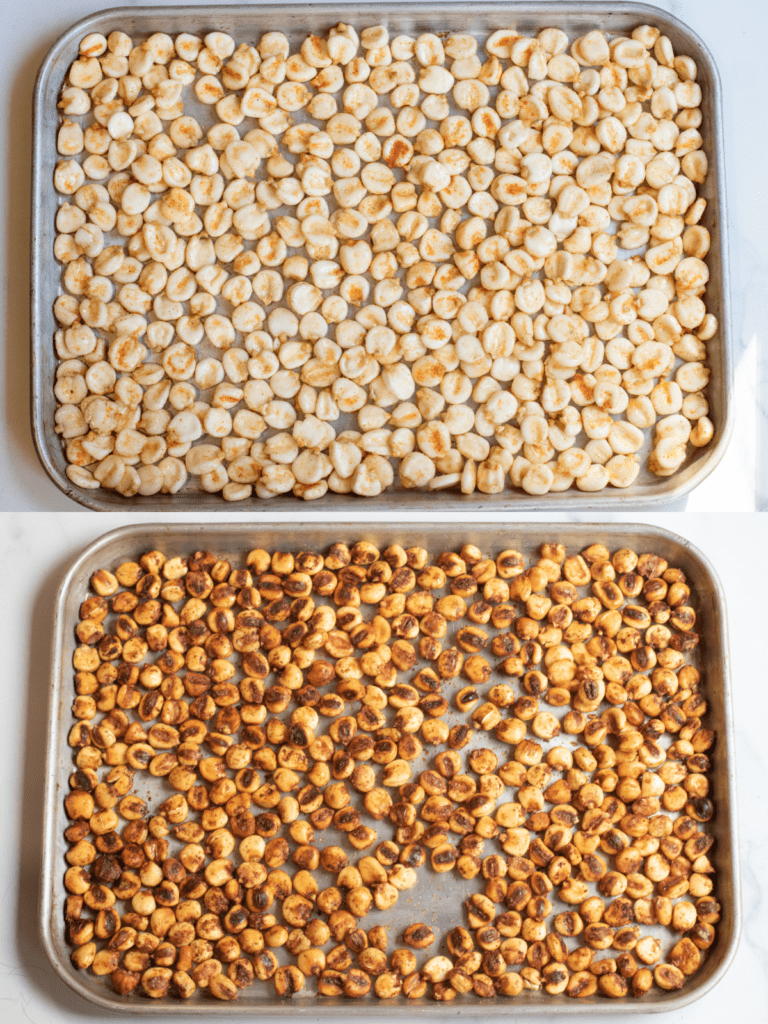 Return to Tray and Bake!
Add those oily salted corn nuts back to your tray, spread in an even layer, and bake!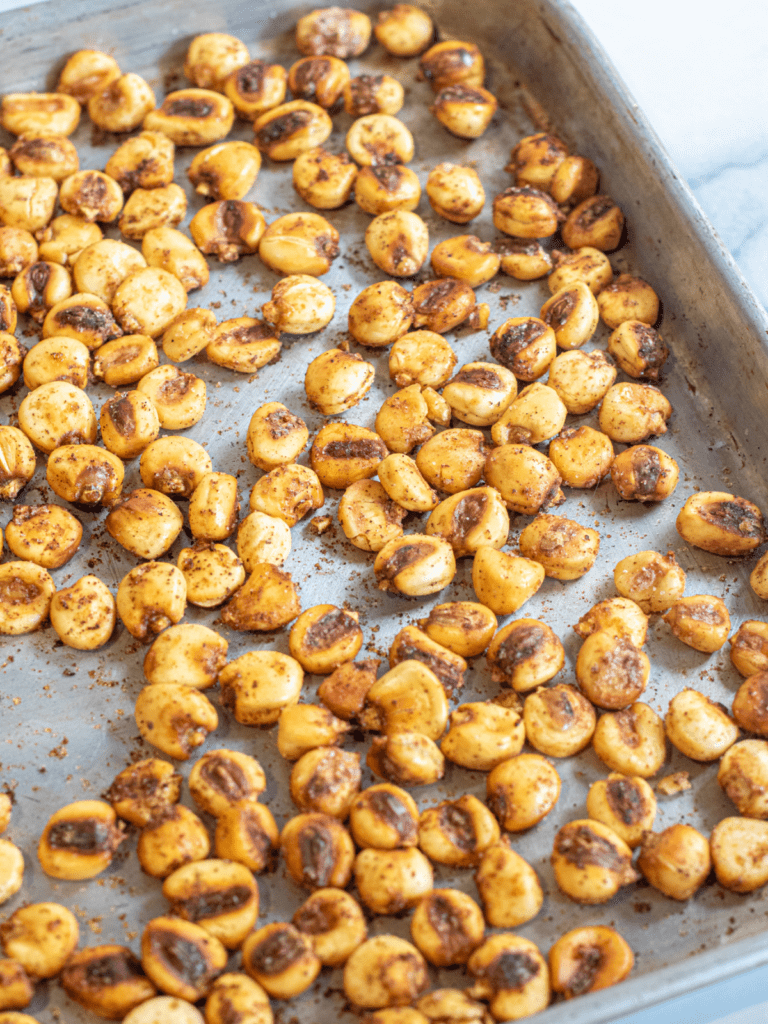 Healthier Homemade Corn Nuts! They will absolutely fulfill that corn nut craving but in just a tad healthier way!
These homemade corn nuts are just perfect with an ice-cold beer or as a party snack or accompaniment to any meat, nuts, and cheese board.
Customizable
One of the best parts of these homemade corn nuts? You can adjust the seasoning to whatever you're feeling! Here are some other great suggestions:
Lemon Pepper Seasoning
Ground Mustard
Chili Powder or Cayenne
Nutritional Yeast
Other Salty Crunchy Snacks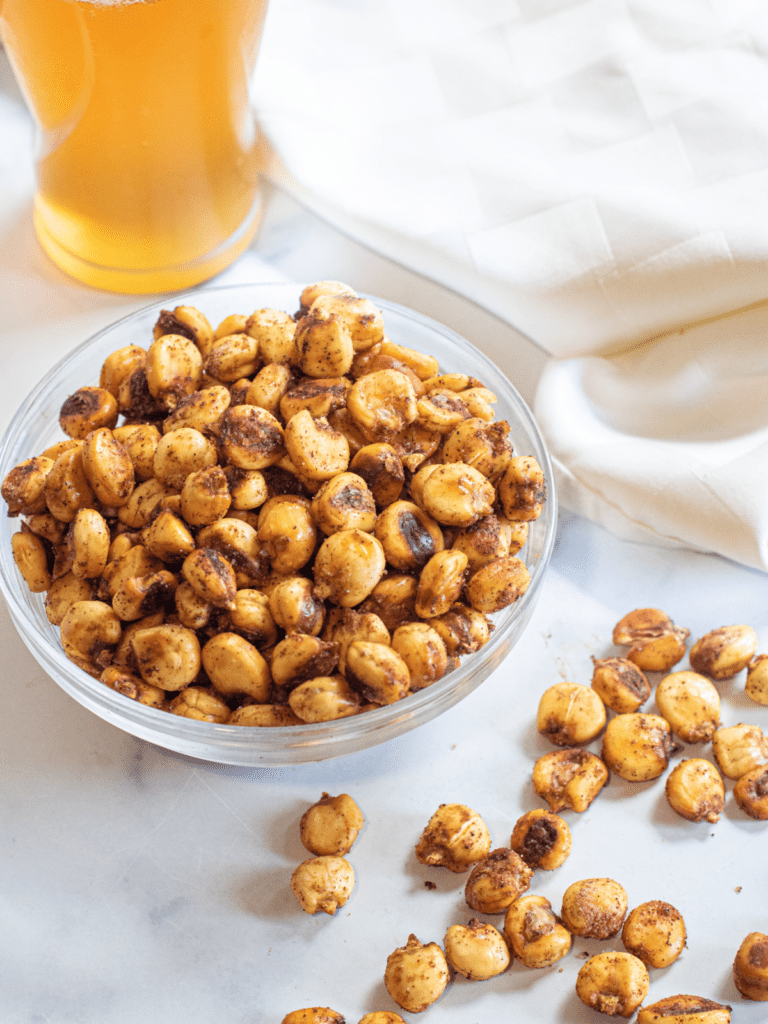 Recipe Questions and Tips
Do I have to soak the hominy first?
Yes, you will need to reconstitute/rehydrate the hominy first by soaking it for 6-12 hrs.
Can I use canned hominy?
Dried is best for this recipe. Even drying out the canned hominy, because it's already cooked, will produce a chewy "nut", not the classic crunchy corn nut.
Can I use an air fryer?
Definitely! Your air fryer is basically the same thing as the convection setting on your own, just smaller. See recipe notes for air fryer instructions.
How long do they last?
Store them in an airtight container and they will last for about 2-3 weeks - if you're able to keep them around that long! It'll be easy to tell when they've gone bad.
Are they healthier than store-bought?
The main difference between these homemade corn nuts and store-bought is that these are baked vs. being deep-fried in oil. So yes, they are a little bit healthier.
Where can I find dried hominy?
If you can't find it at your go-to grocery store (often they'll just have canned and not dried), you can buy it online, or check out your local Mexican market.
These Healthier Homemade Corn Nuts have cemented a place on any party menu or snacks list. While they take a little bit of planning and prep time, they're so easy to make in advance and are a snack that is perfect for any kind of gathering.
Enjoy! As always, if you make this recipe or any of my others, I love to hear what you think! Leave a comment below, email me, or you can find me on Facebook, Instagram, and Pinterest!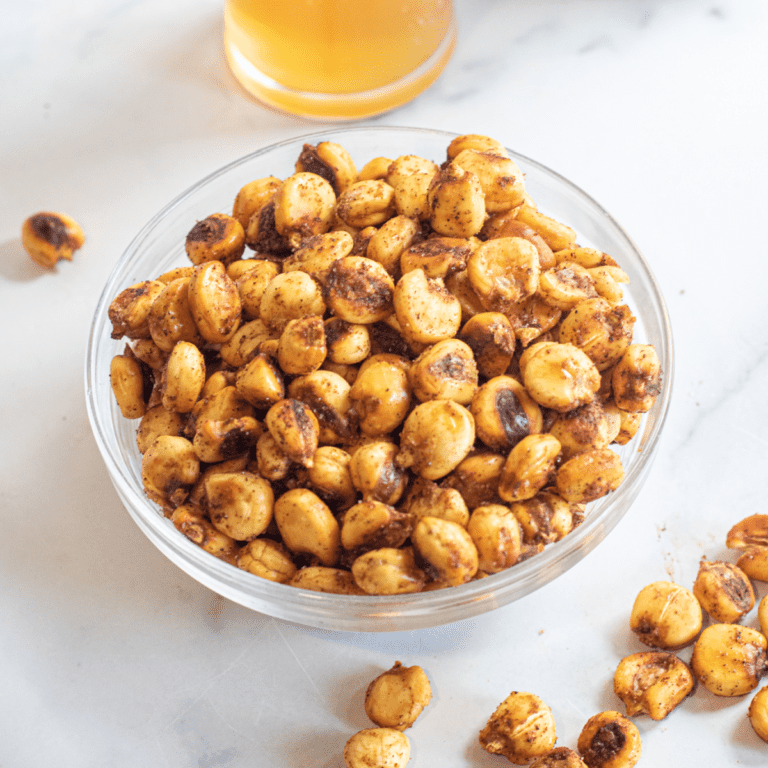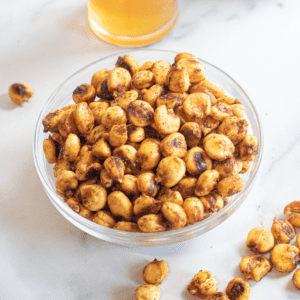 Healthier Homemade Corn Nuts
A salty crunchy corn nut but baked not fried!
Print
Pin
Rate
Ingredients
15

oz

dried hominy

2

tablespoons

peanut oil

2

teaspoons

salt

fine ground

1/2

teaspoon

garlic powder

1/2

teaspoon

paprika

1/4

teaspoon

onion powder
Instructions
Add dried hominy to a large bowl. Fill with water so that the hominy is covered with at least 1-2 inches of water. Let soak for 6-10 hrs.

Drain hominy into a colander or strainer and shake off excess liquid. On a paper towel lined rimmed baking sheet, spread out hominy. Gently pat the top with another paper towel or clean kitchen linen to remoe excesss water. Set out to dry for about an hour. You can also set in the sun to speed up process.

Pre-heat oven to either 375° convection or 400° regular bake.

Meanwhile, add your salt and spices to a small jar or bowl and mix well.

Once dried, add hominy to a large bowl. Drizzle peanut oil on top and stir well. Add salt mixture about a 1/2 - 1 teaspoon at a time. Mix well after each addition. Repeat until all hominy is well coated.

Wipe the baking sheet dry and then add hominy. Spread out into an even layer and add to oven.

Bake for 20 minutes and then gently stir. Return to oven and bake for another 20-25 minutes, being sure to check throughout the last 5 minutes for burning (40 min total for regular bake).

Remove from oven and let cool for at least 15 minutes.
Notes
Yield: Approximately 4 1/2 cups. The nutritional value is approximately 1/2 cup of corn nuts.
Convection Bake
375 degrees for 40-45 minutes. Be sure to check after 40 minutes and then again every minute after so they don't brown too much.
Regular Bake
400 degrees for 40 minutes.
Air Fryer Instructions
Pre-heat to 400 degrees. Cook in even layered batches for about 12 minutes shake, then cook for another 12 minutes before removing and letting cool.
Storage
Store in an airtight container for up to 2-3 weeks.
Substitutions
Peanut Oil: Use another high smoke point oil like vegetable, avocado, or canola. Add a little sesame flavor by using sesame oil.
Seasonings: Use your favorites! We also love making them with Ranch Dressing Mix, Lemon pepper seasoning, some nutritional yeast, or making them spicy with some chili powder.
Salt: Always use fine ground salt as it is what will coat all of your nuts the best.
Nutrition
Calories:
63
kcal
|
Carbohydrates:
7
g
|
Protein:
1
g
|
Fat:
4
g
|
Saturated Fat:
1
g
|
Polyunsaturated Fat:
1
g
|
Monounsaturated Fat:
2
g
|
Sodium:
680
mg
|
Potassium:
9
mg
|
Fiber:
1
g
|
Sugar:
1
g
|
Vitamin A:
55
IU
|
Vitamin C:
1
mg
|
Calcium:
6
mg
|
Iron:
1
mg