Did you know that you can make your own crispy, salty, potato chips at home? These homemade Cheddar Sour Cream Potato Chips From Scratch use only real whole ingredients for a fun to make healthy chip option!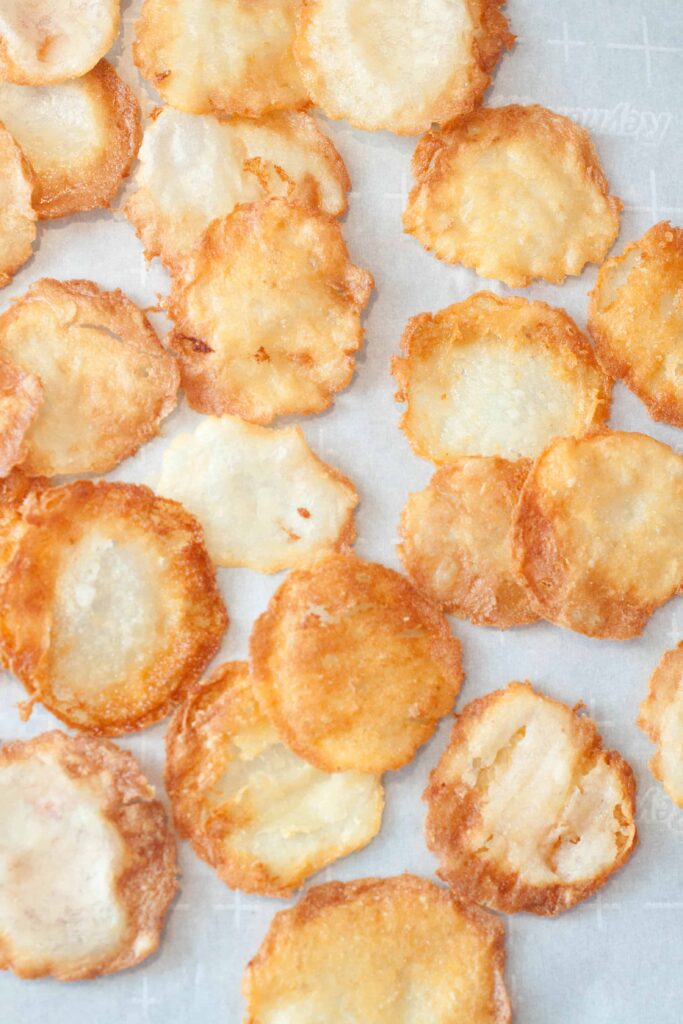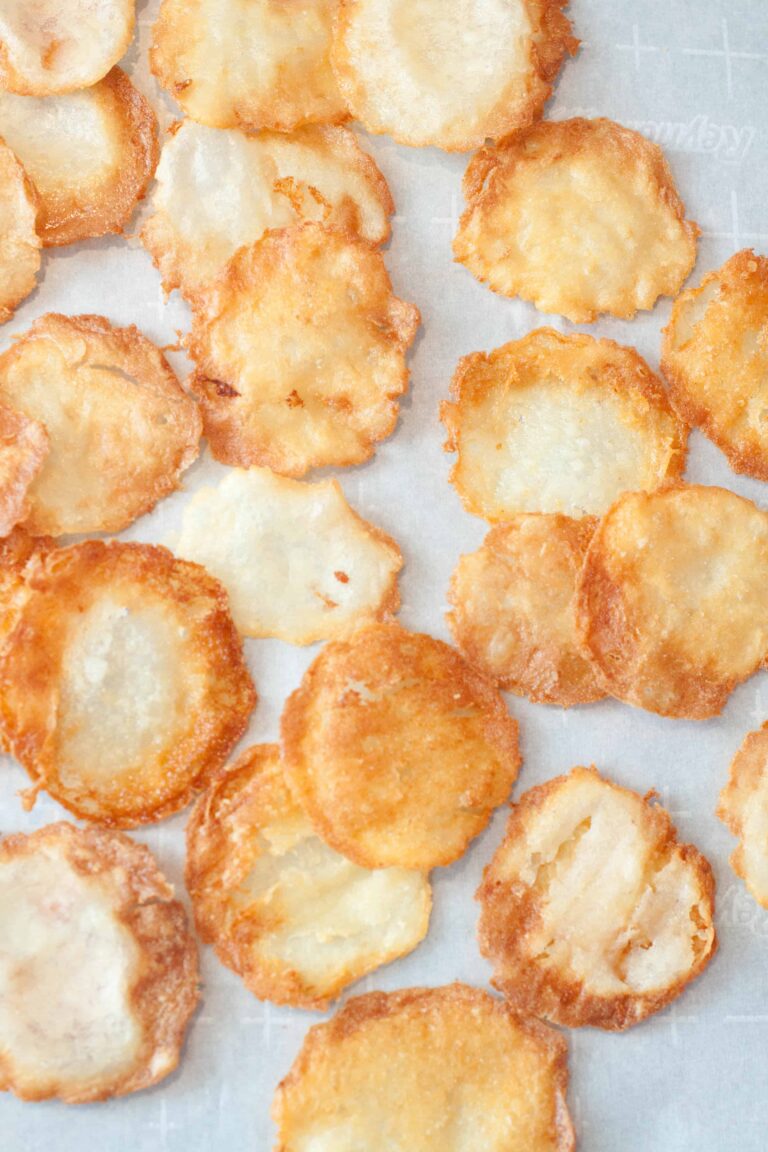 Is there anything better than homemade chips? As someone who very much prefers salty over sweet, this is 100% the kind of snack I cannot resist. These Cheddar Sour Cream Potato Chips From Scratch hit all the notes. Crunchy. Crispy. Salty. Cheesy. And From Scratch!
Ingredients Needed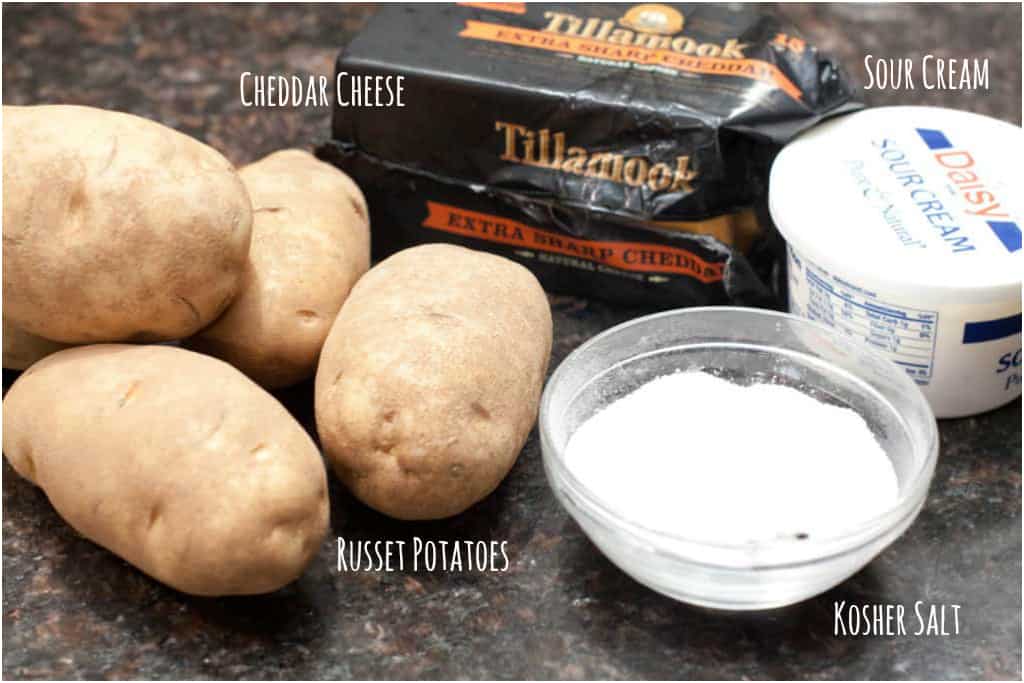 Cheddar Sour Cream Potato Chips FROM SCRATCH. Like made with just... wait for it... Cheddar, sour cream, and potatoes! No artificial flavors, no fake cheese, just the real, whole foods and their real, flavors. What a concept, right?
Cheese - My favorite for this is Tillamook's Extra Sharp Cheddar. Although any kind of cheddar works great.
Potatoes - Russets are the best for this recipe. A waxy potato don't mash up quite right.
Sour Cream - Sour cream flavored chips with real sour cream adding the flavor!
Kosher Salt - What's a chip without salt?
Step-by-Step Instructions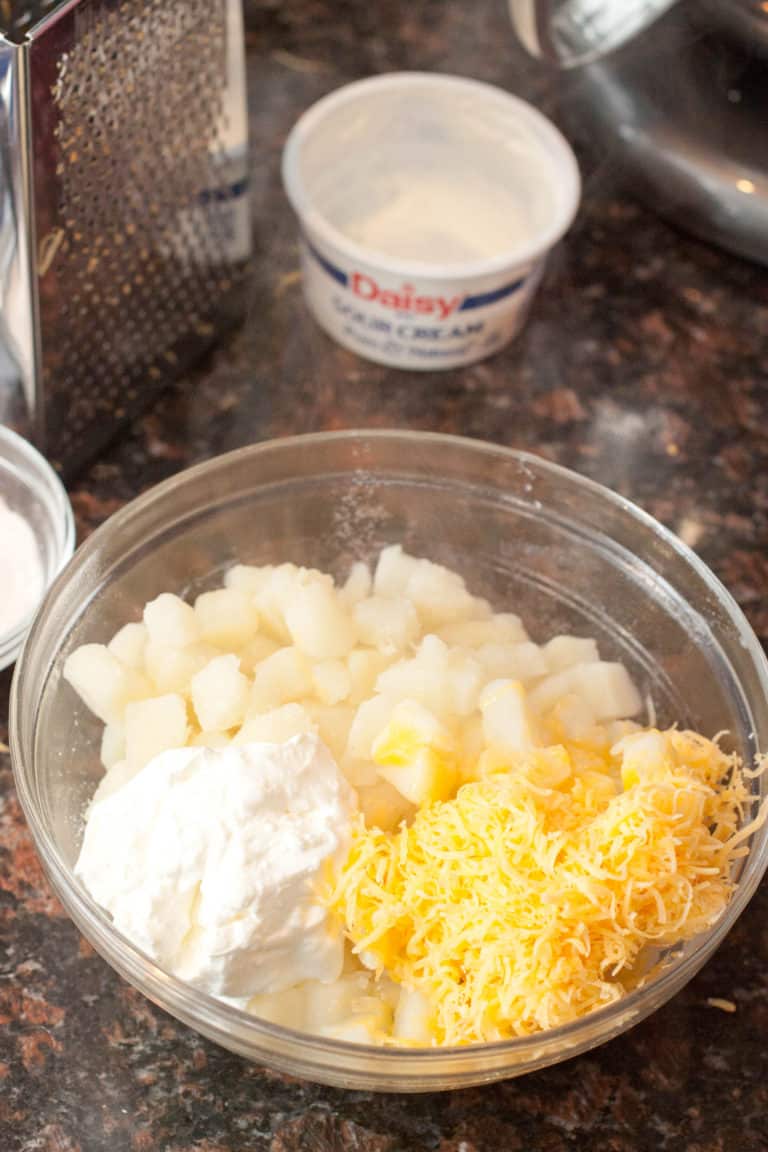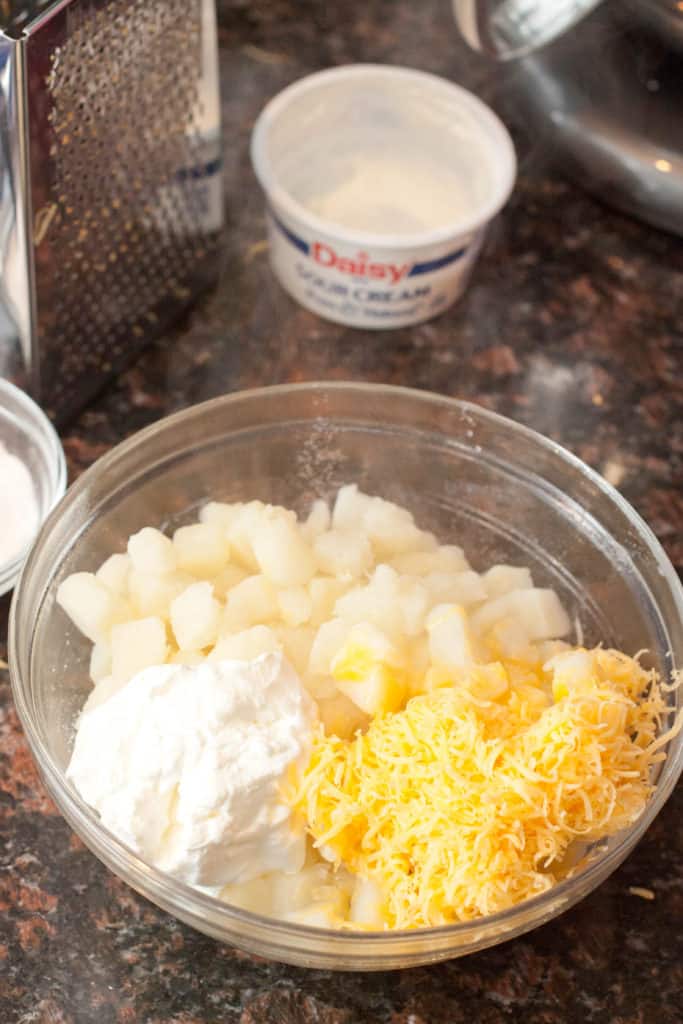 Full disclosure, these chips are a commitment and they do take some time and are a labor o love. But a labor of cheesy crunchy crispy love.
Step 1: Peel and boil the potatoes. Just like you're making mashed potatoes, because really, that's what' you're doing!
Step 2: Add potatoes to a large bowl with the cheese, sour cream, and salt.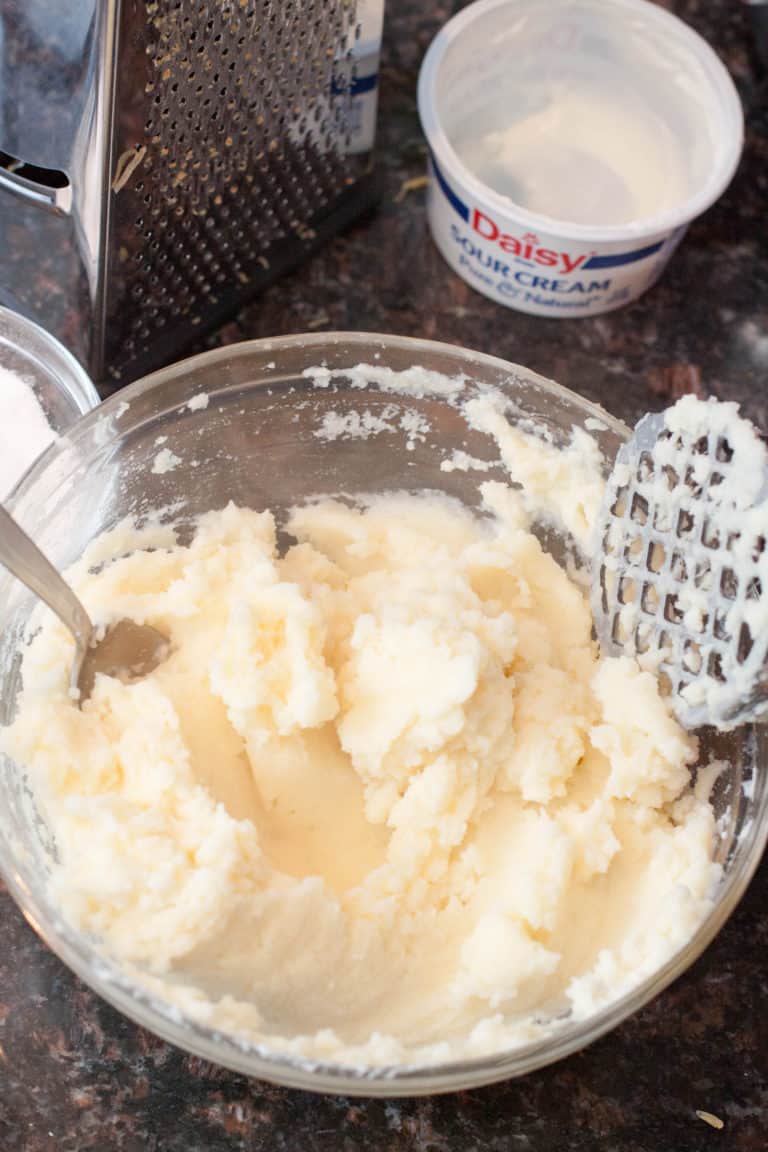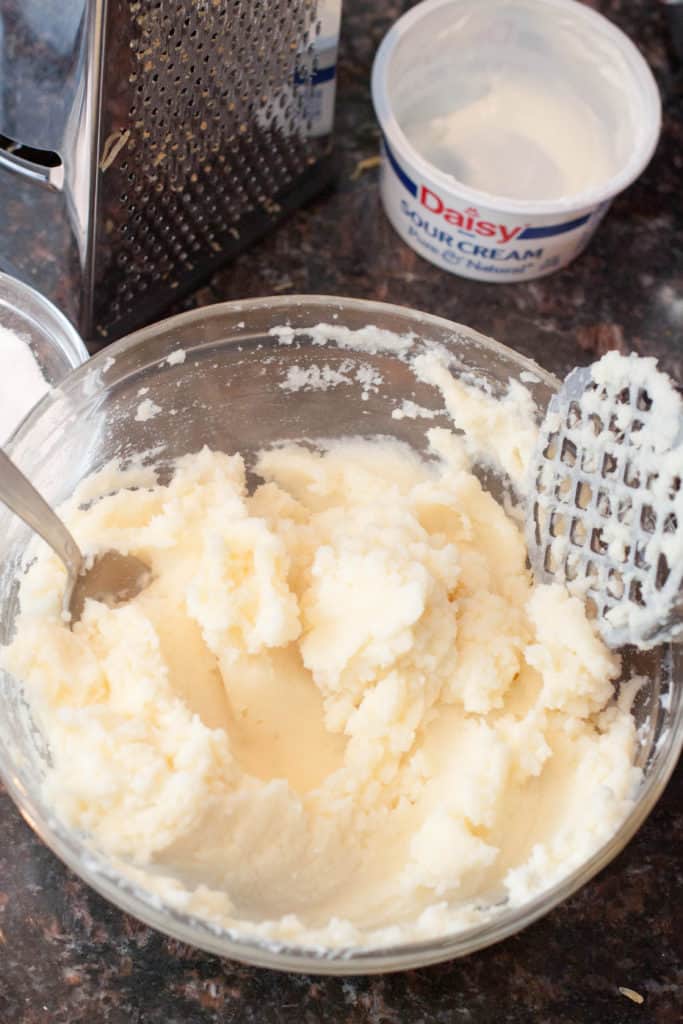 Step 3: Mash until you have nice creamy cheesy mashed potatoes! Which really, you could just stop here and have a delightful mashed potato side, too!
M was in the kitchen with me (as she always is), but when I needed to keep her occupied and away from the oven, I just gave her a spoonful of these potatoes and she proceeded to giggle, take a bite from the spoon, and then dance. Yup, she's definitely my daughter.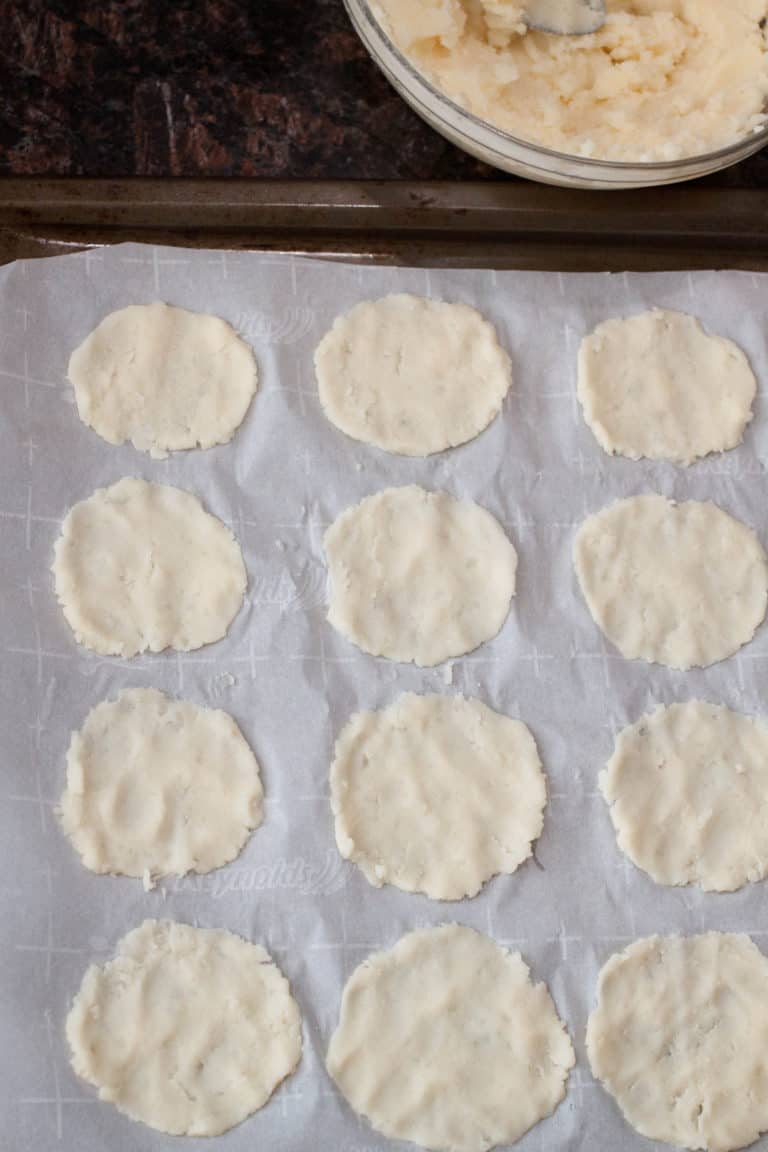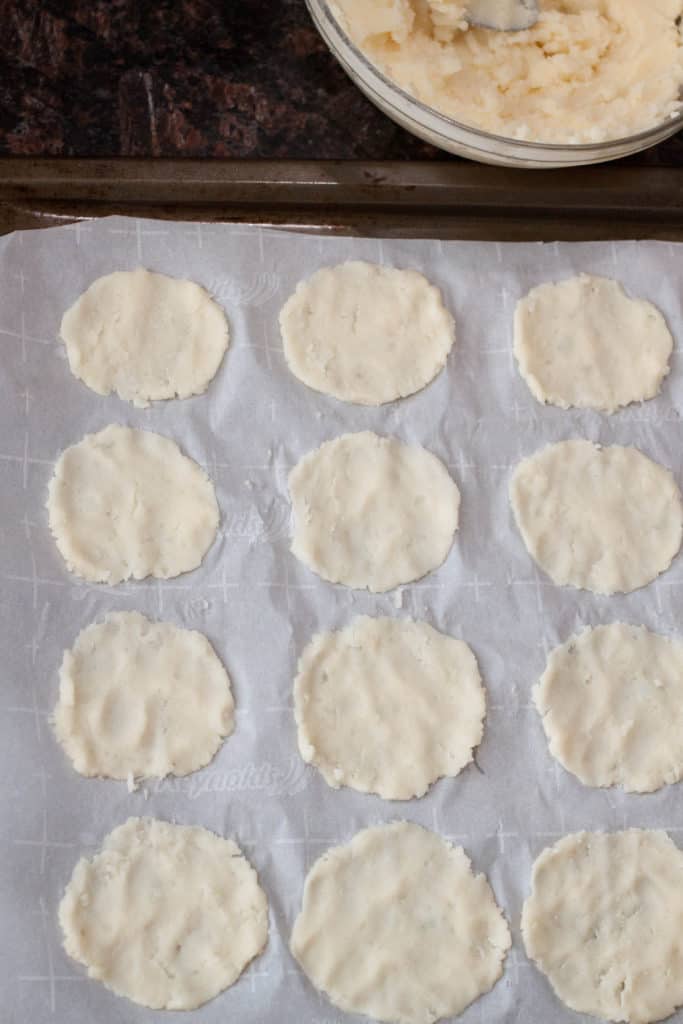 Step 4: Then they're baked for 15 mins at 350 degrees.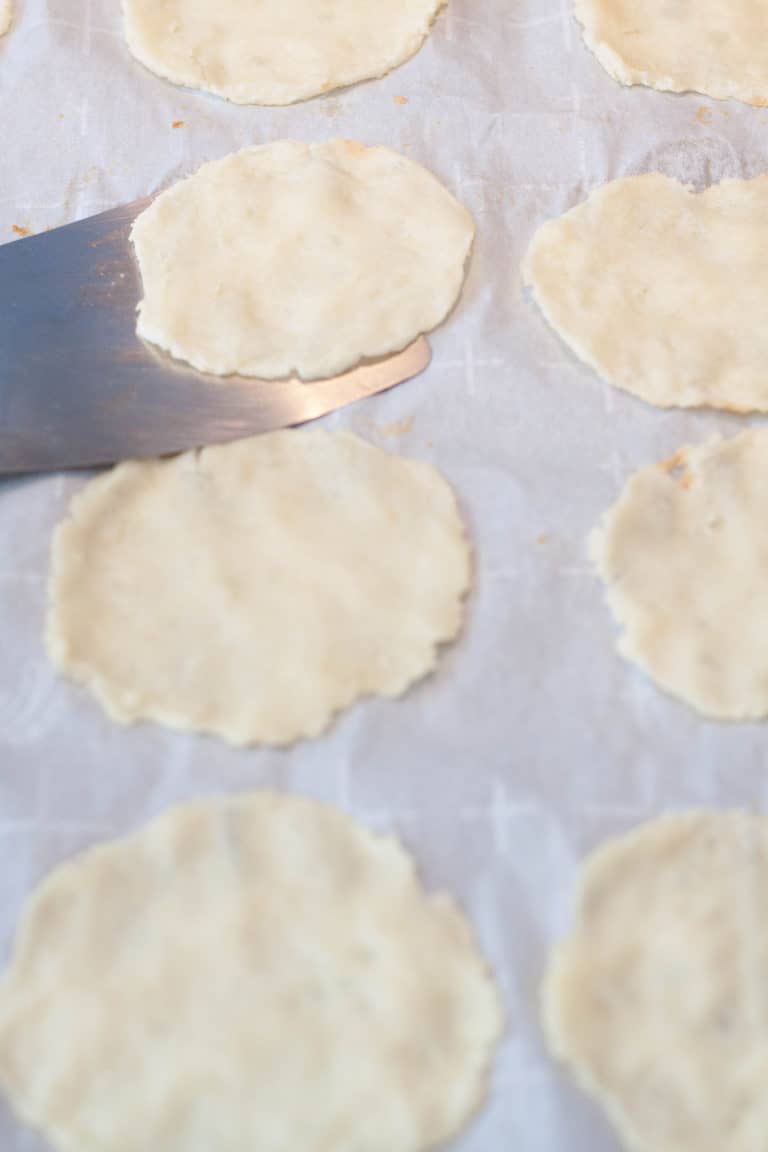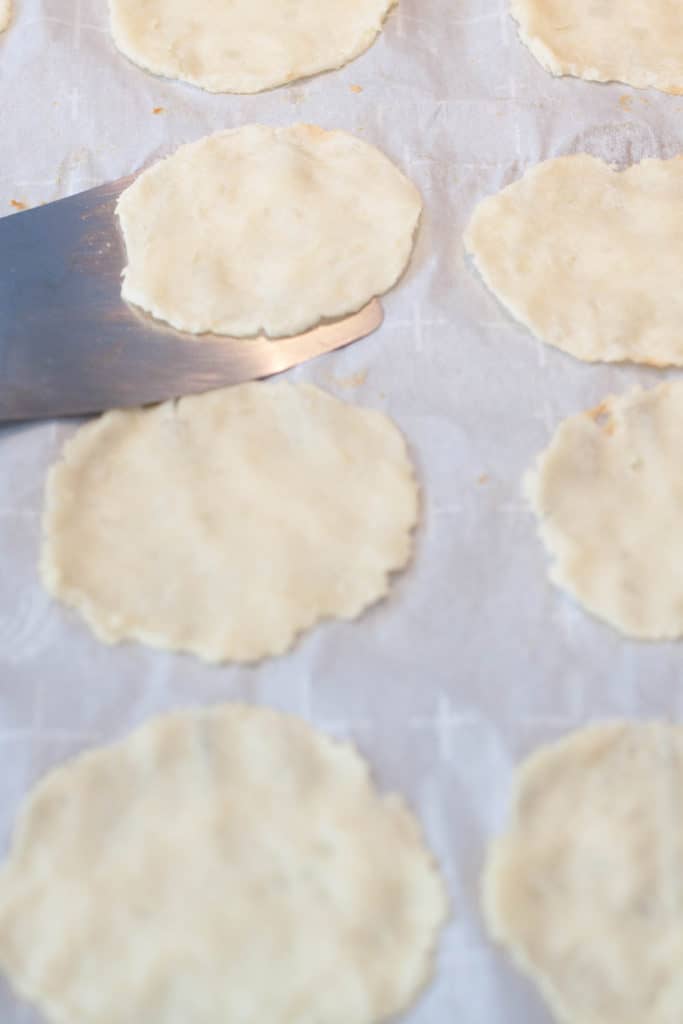 Step 5: Just long enough so that they're firm enough to remove with a spatula.
Tip: Heat the oil first and then just transfer your potatoes from the baking sheet directly into the pan.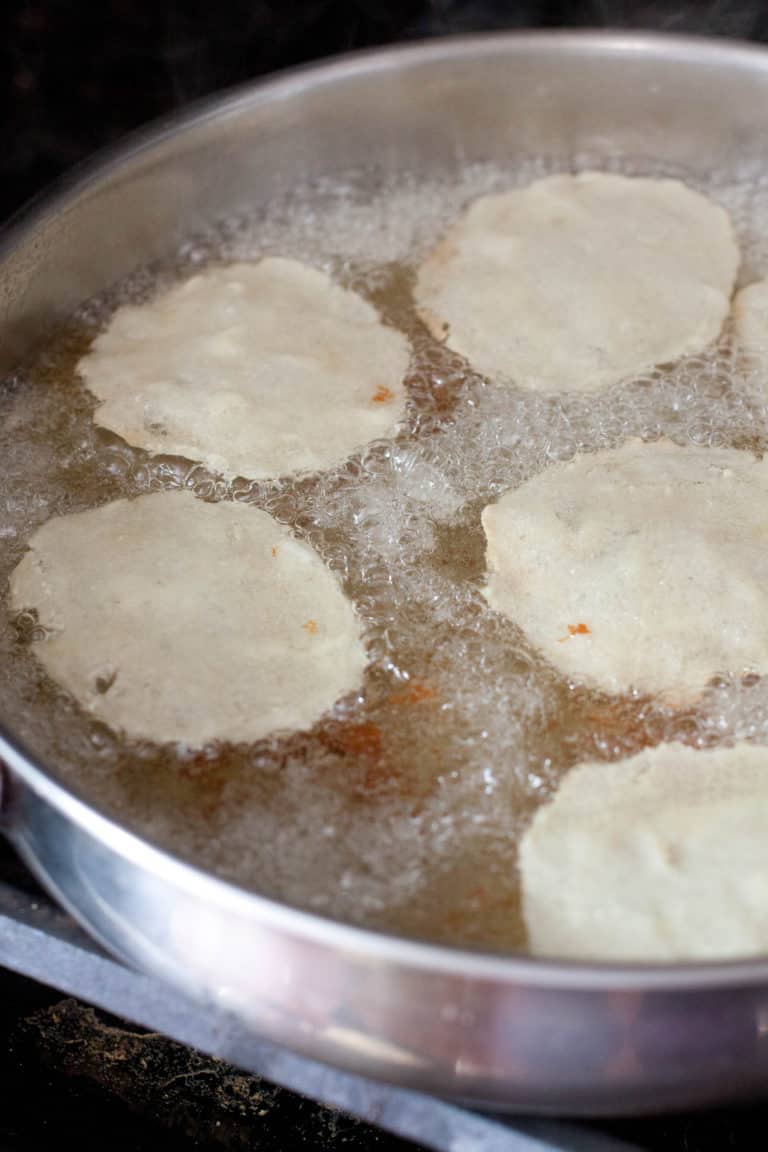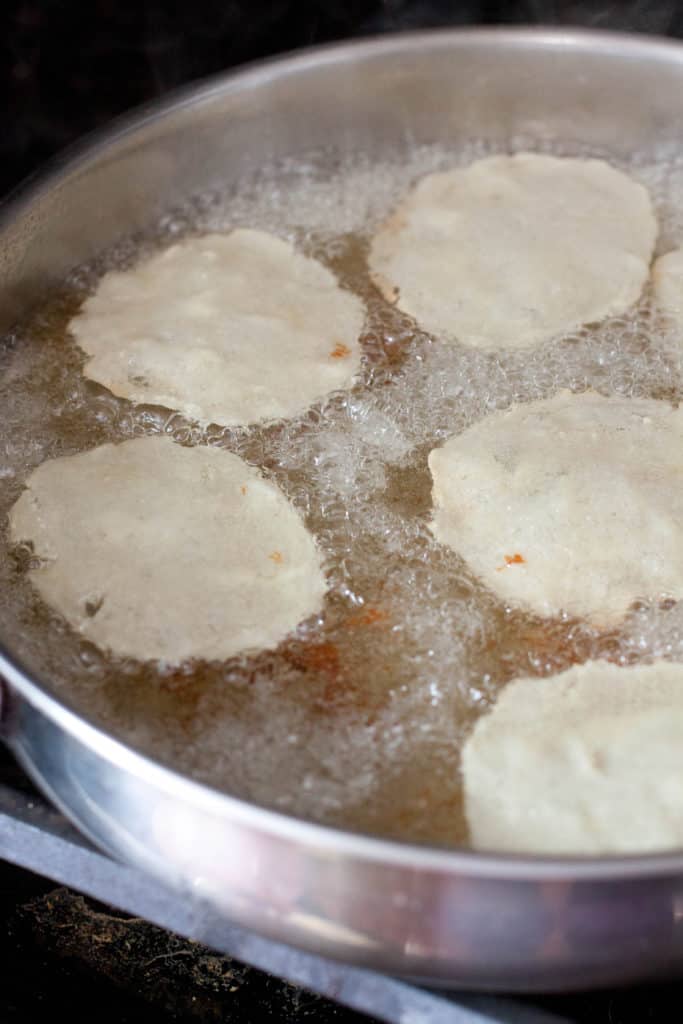 Step 6: So you can finish them with a shallow fry (in batches)!
Tip: You'll want to use either vegetable or canola oil - an oil with a higher smoke point but also a neutral flavor. Using an oil like coconut or avocado will impart those flavors into you chips.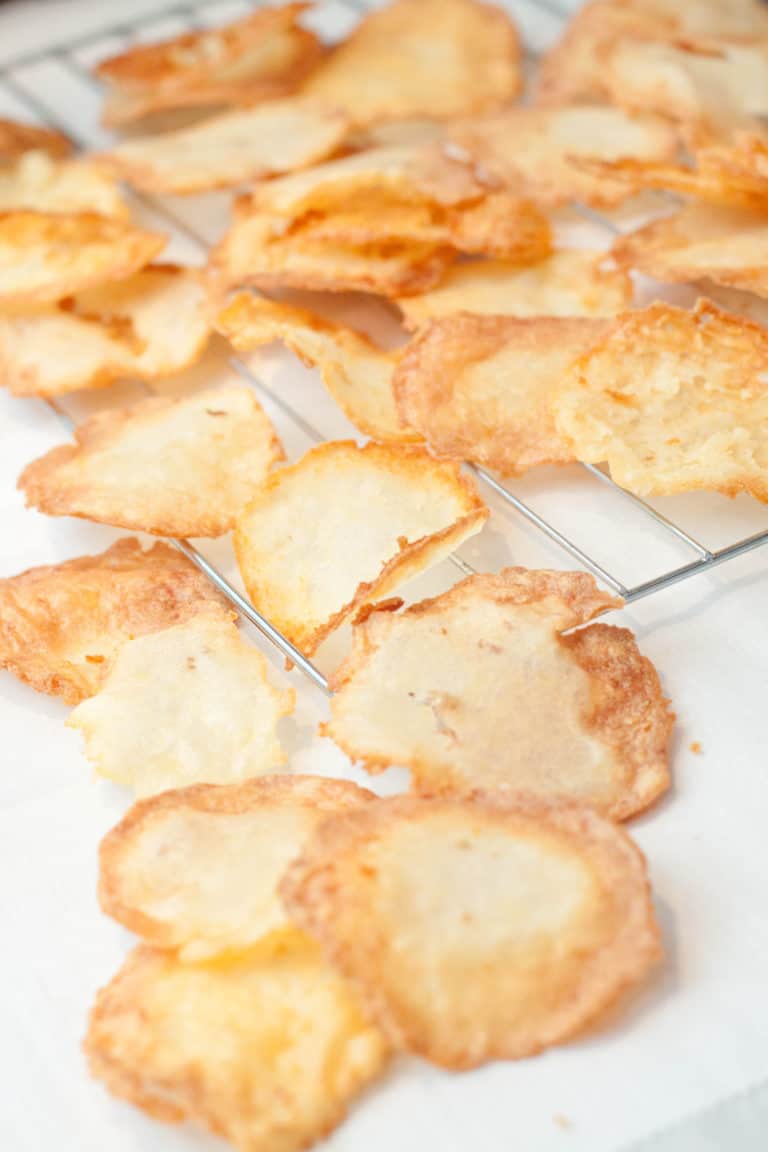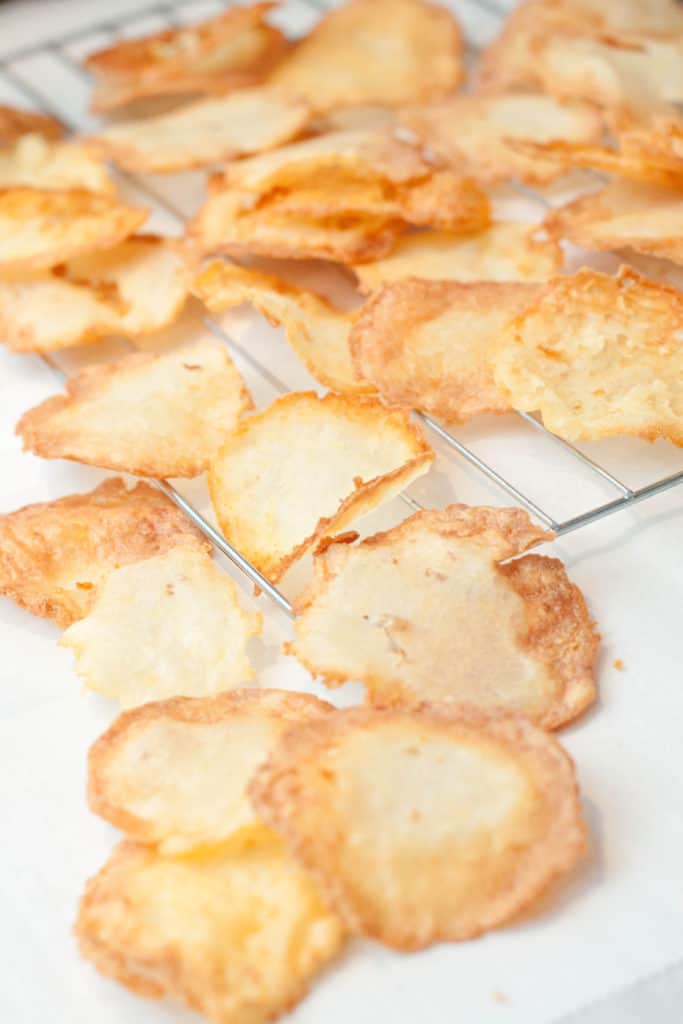 Step 7: Remove from oil and cool!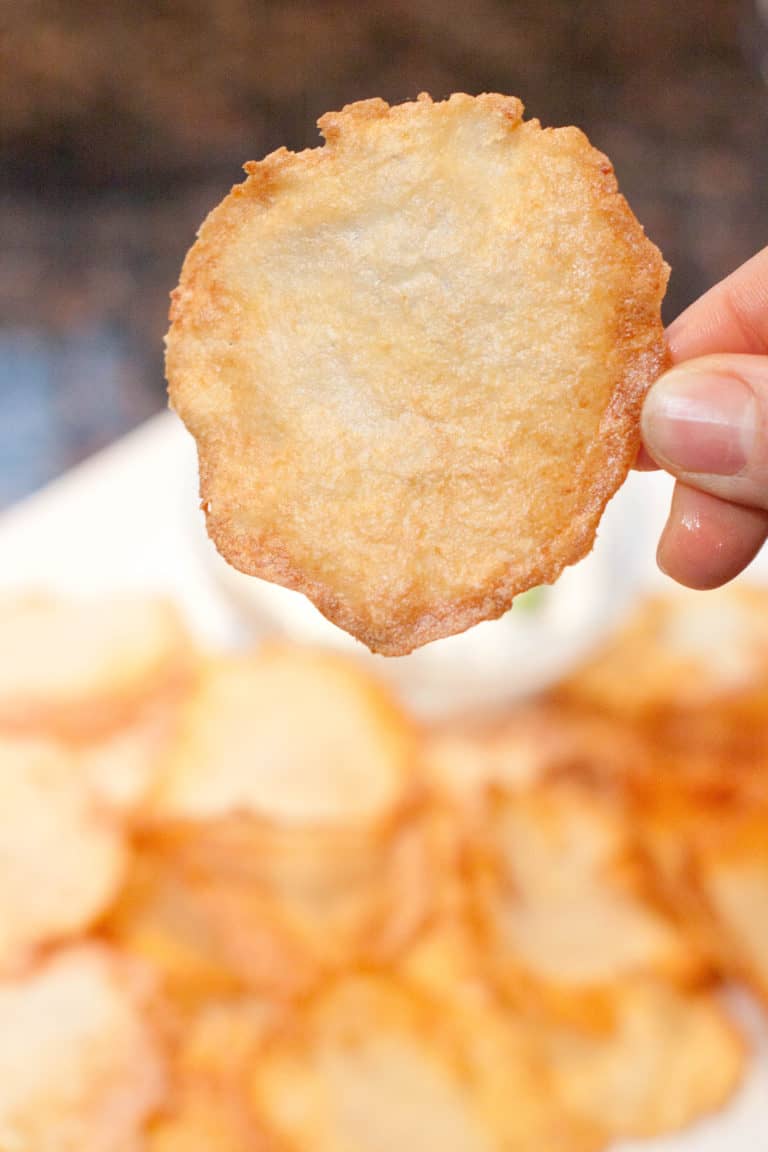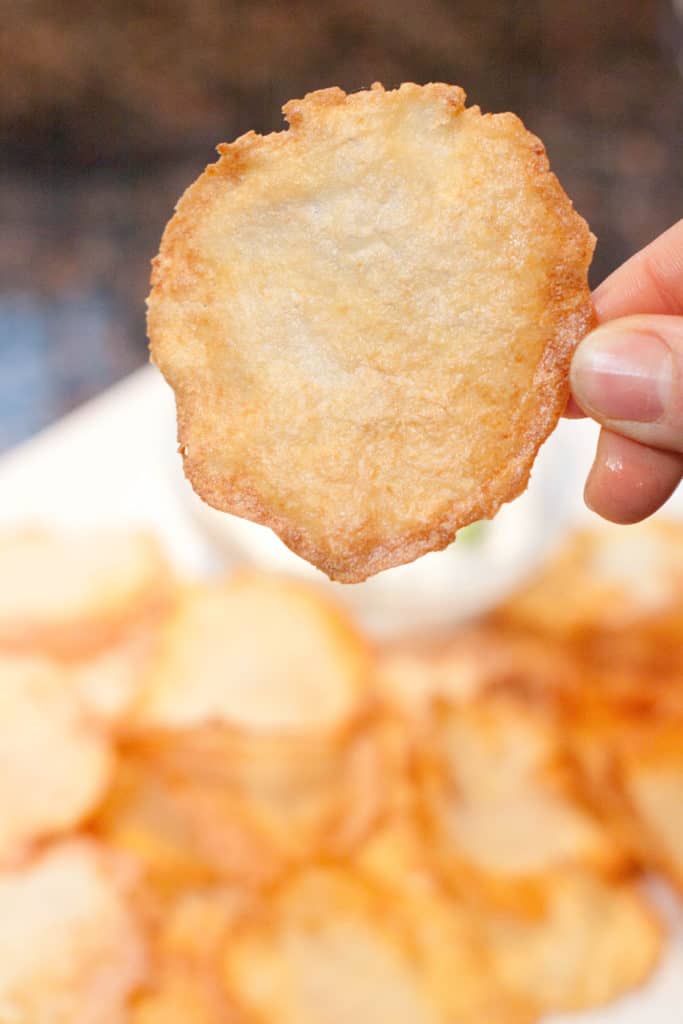 Ahhh sooo worth that labor of cheesy crunchy crispy love.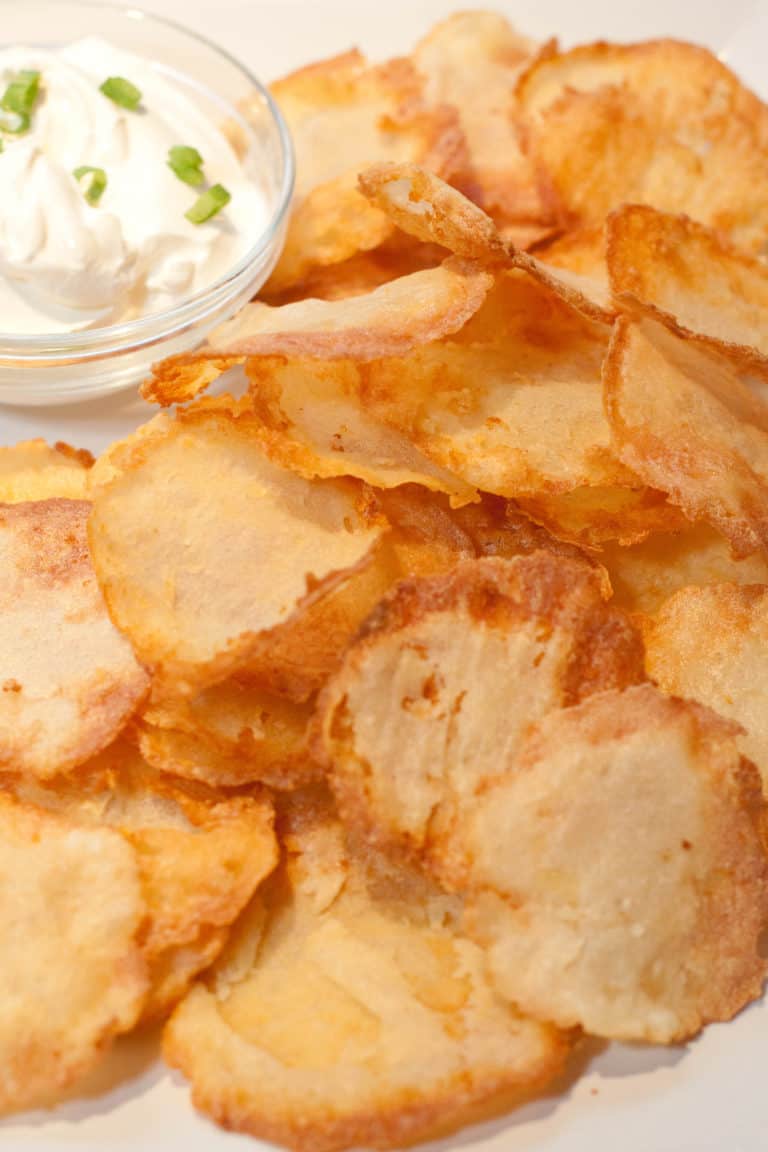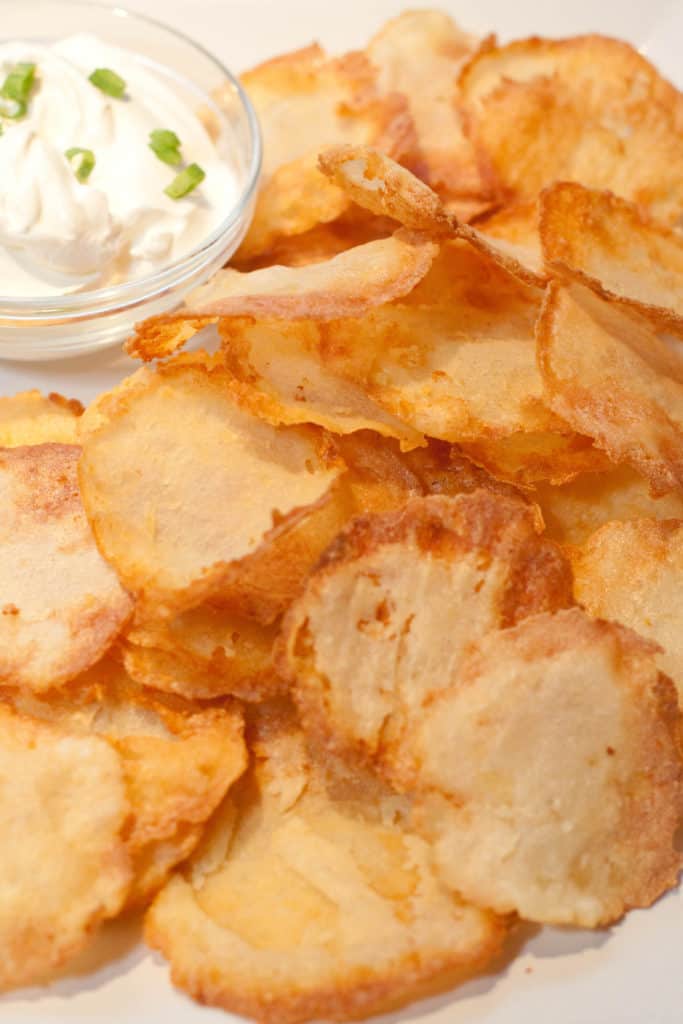 We served these with our Dill Onion Dip From Scratch but totally not needed. These bad boys are amazing all by themselves!
Other Favorite Crunchy Salty Snacks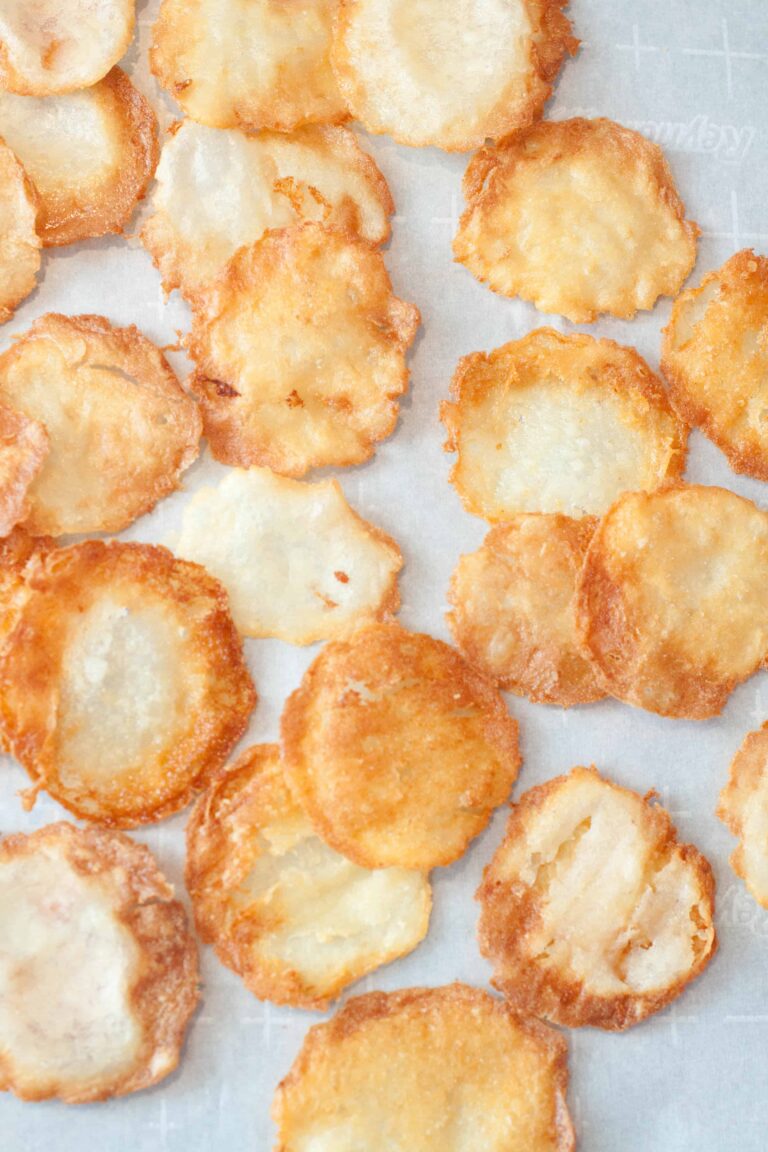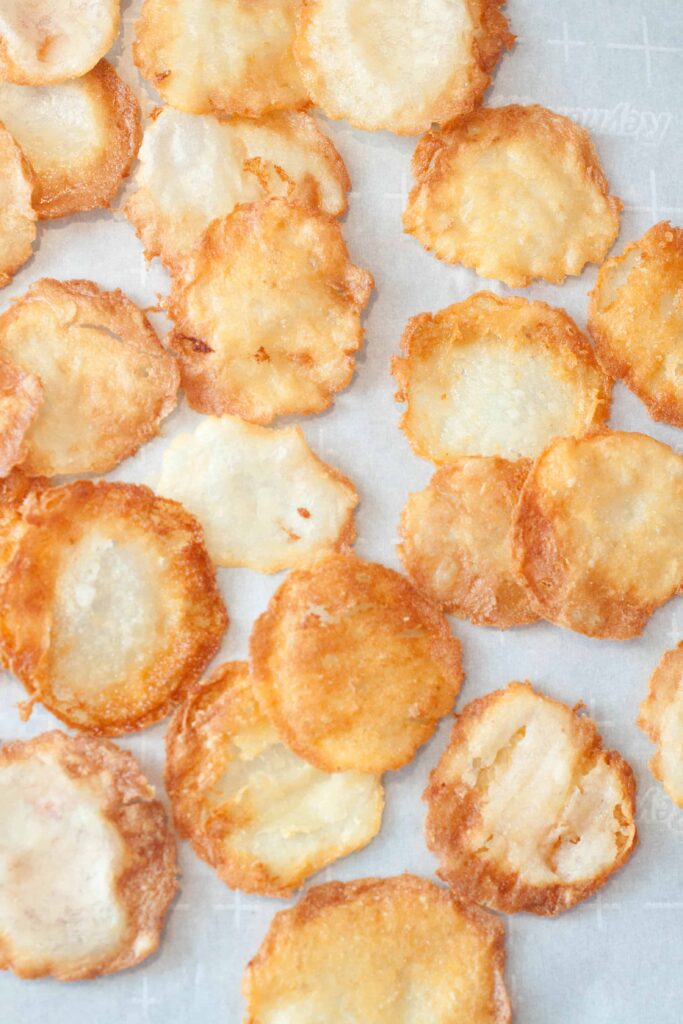 These are so fun to make! When they were done I joined M in her kitchen dance while we snacked on these super crispy, salty, cheddar-y chips!
FAQs
How hot do I heat the oil?
You'll want to heat it to about 300 degrees. You can use a digital thermometer to check, but also the best trick is to use the end of the wooden spoon. Put the spoon in the oil and if it starts bubbling around it, your oil is ready to fry.
Can I make a thicker chip?
Definitely. Just remember that will mean they will need to bake / fry a little longer. When baking, you want to make sure that they've baked long enough for the potatoes to hold together when you lift them with a spatula.
How long will the chips last?
While they're best fresh, they will last in an airtight container 1-2 weeks (as if you'd be able to keep them around for that long!)
Enjoy! As always, if you make this recipe or any of my others, I love to hear what you think! Leave a comment below, email me, or you can find me on Facebook, Instagram, and Pinterest!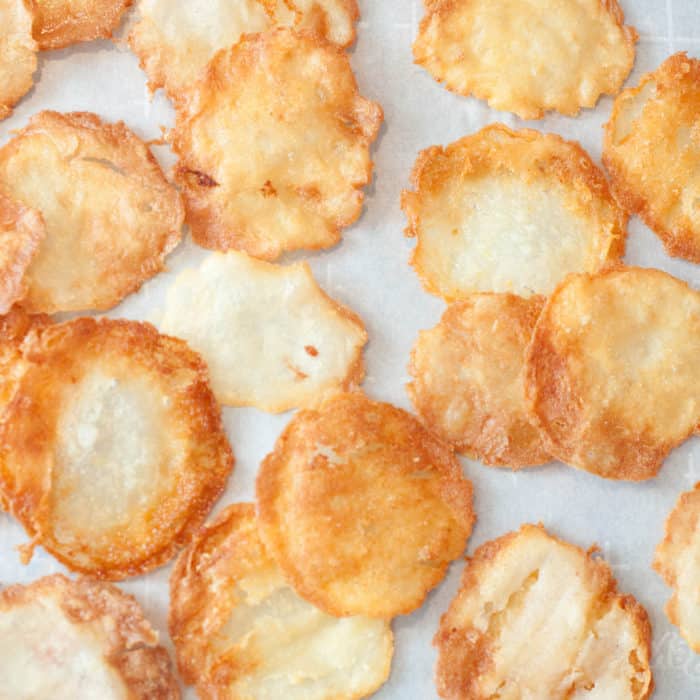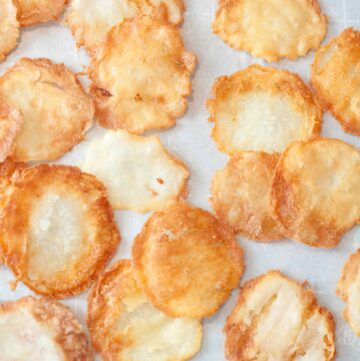 Cheddar Sour Cream Potato Chips From Scratch
Is there anything better than a homemade potato chip? How about a Cheddar Sour Cream Potato Chip From Scratch?!
Print
Pin
Rate
Ingredients
5

large

Russet Potatoes

peeled and cubed

1

cup

Extra Sharp Cheddar Cheese

finely shredded

1/3

cup

Sour Cream

1/4

tsp

kosher salt

2

cups

vegetable oil

for frying
Instructions
In a large pot, boil potatoes until very tender.

Pre-heat oven to 350 degrees and line baking sheets with parchment paper.

Drain potatoes, add to a bowl and add cheese, sour cream, and salt and mash until super creamy. Let cool.

Grab a teaspoon or so of potatoes, roll it in a ball, and then press it flat on parchment paper lined baking sheets. Spread them into rounds as thin as you can. Think the thinner, the crispier. Wiping the potato off of your hands after every couple of chips will make your hands less sticky when flattening the chips out. Alternatively, you could just use a spatula and flatten them out if you're not concerned about shape. Continue with all of the potatoes.


Bake potatoes for 15 minutes. Cool and then gently remove from parchment paper with a spatula.

Heat 2-3 cups of vegetable oil in deep saute pan until oil is about 300 degress or when it bubbles around a wooden spoon.

In batches (don't over crowd the pan) fry potato slices for 1-2 minutes until they begin to brown. If your chips are thicker, they may take longer to cook and you may need to flip them. Remove from oil and drain on paper towel lined plates. Keep only two layers per plate. Sprinkle with additional salt, to taste.

Serve immediately or store in an airtight container for 1-2 weeks. After a day you can re-crisp by adding to a baking sheet and putting under broiler for 15-30 seconds.