Originally posted December 2015 and reposted May 2020.
Who doesn't love these classic buttery, crunchy, salty crackers? Making your own homemade Ritz Crackers from scratch is a lot simpler than you might think and are super fun to make!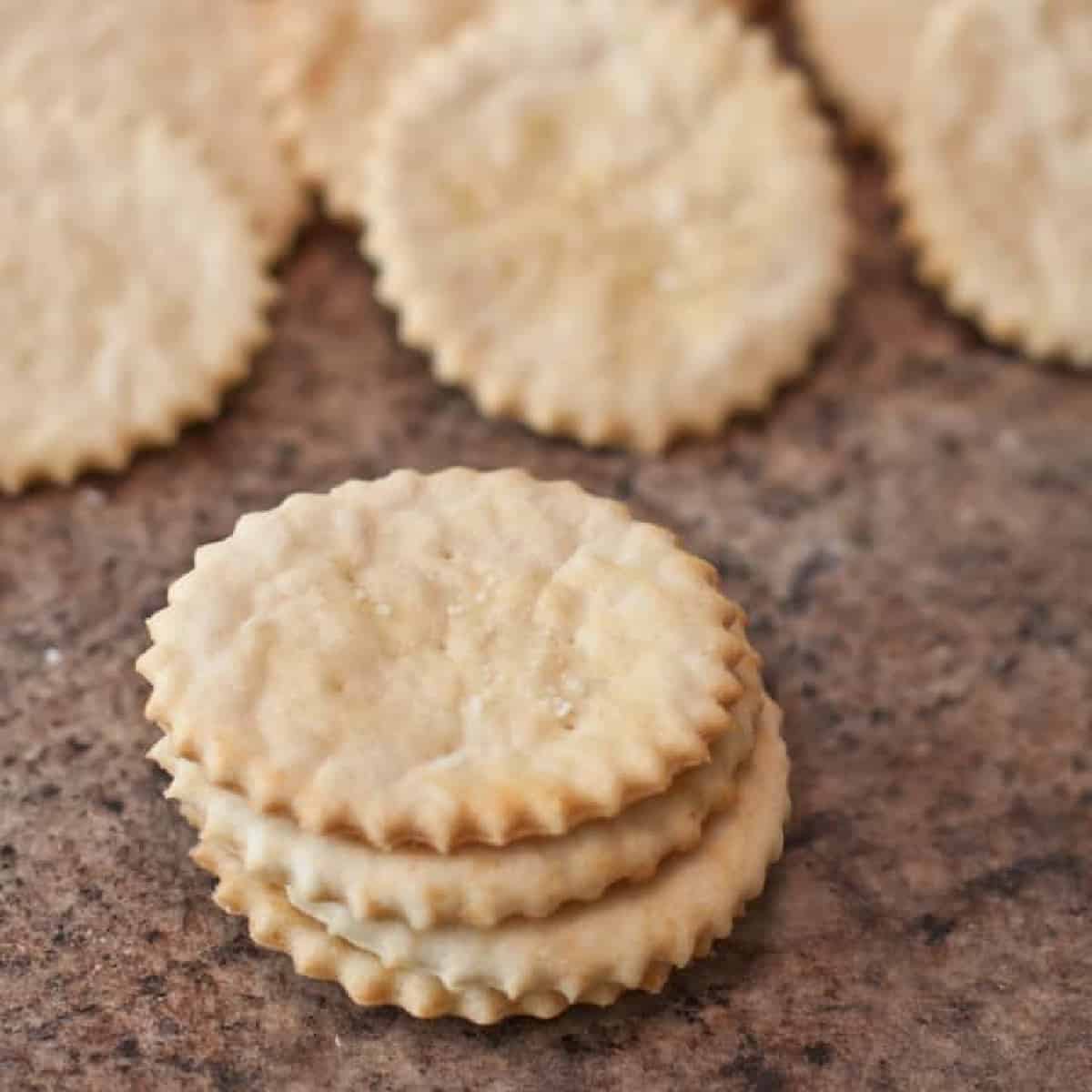 You know that iconic red box with the brown sleeves of buttery, crunchy crackers? Of course you do! So let me introduce you to one of our favorite crackers to make with our homemade Ritz cracker recipe! These Ritz Crackers From Scratch are surprisingly easy to make and have everything you love from the classic. They're crunchy. They're buttery. And they are the perfect vessel for any of your favorite Ritz cracker recipes - or to just snack on their own!
Recipe Video
Ingredients Needed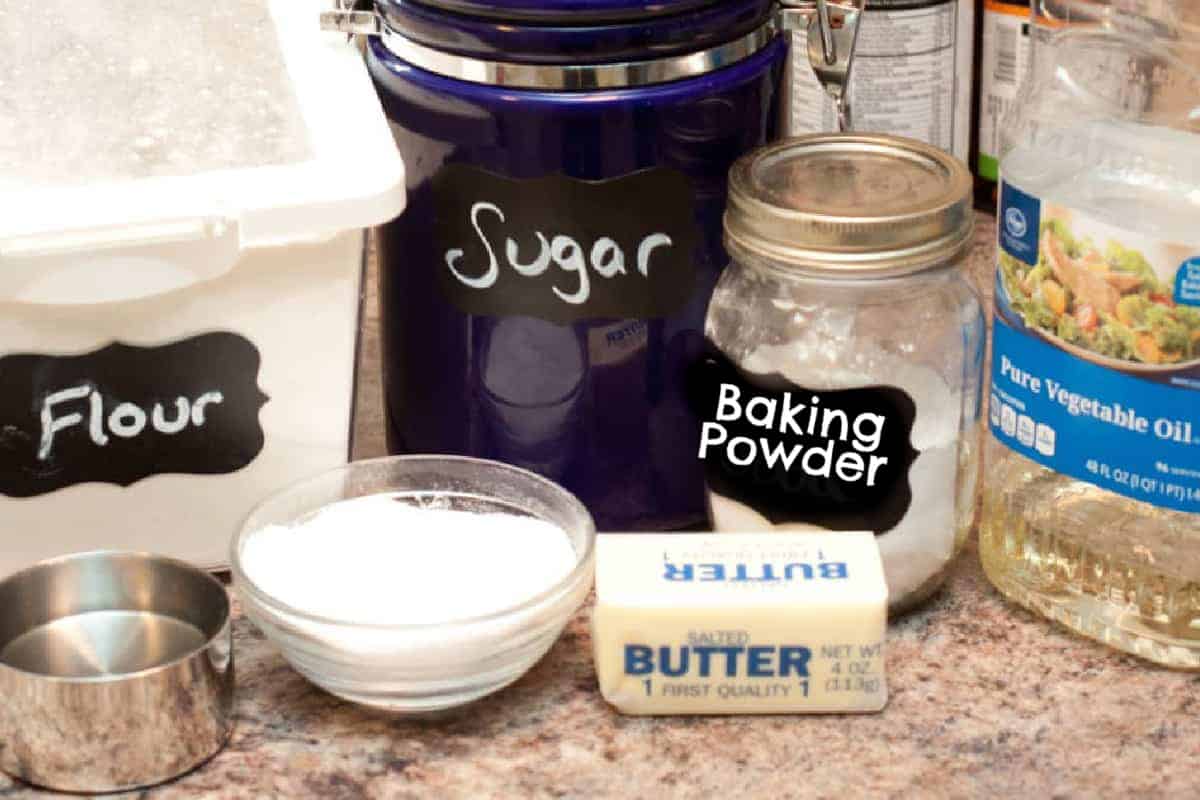 And the best part? I'm pretty sure you'll have all of the ingredients you'll need already in your pantry!
Flour - All-purpose flour is best for this recipe.
Sugar - White granulated is what works best.
Butter - You can use either salted or unsalted butter for this recipe. We use salted butter, but see the recipe notes for using unsalted.
Vegetable Oil -If you don't have vegetable oil, another neutral-flavored oil like canola will work, too.
Baking Powder - Just enough for a little leavening.
Equipment Needed
Food Processor - This is what will ensure that everything is well combined but not over-mixed. By not over mixing, you keep the crackers nice and flaky. You could use a stand mixer, but you risk overmixing the dough. This is the one we love!
Rolling Pin - Or anything else to roll the dough with. A rolling pin is easiest, but you can also grab a wine bottle too!
Cutter - This is the one that we love because it has the scalloped-edged to give it that Ritz Cracker look! (It can also be used for ravioli!)
Brush - To be able to brush with the egg wash. A good pastry brush is key in the kitchen -

we love these!
Step-by-Step Instructions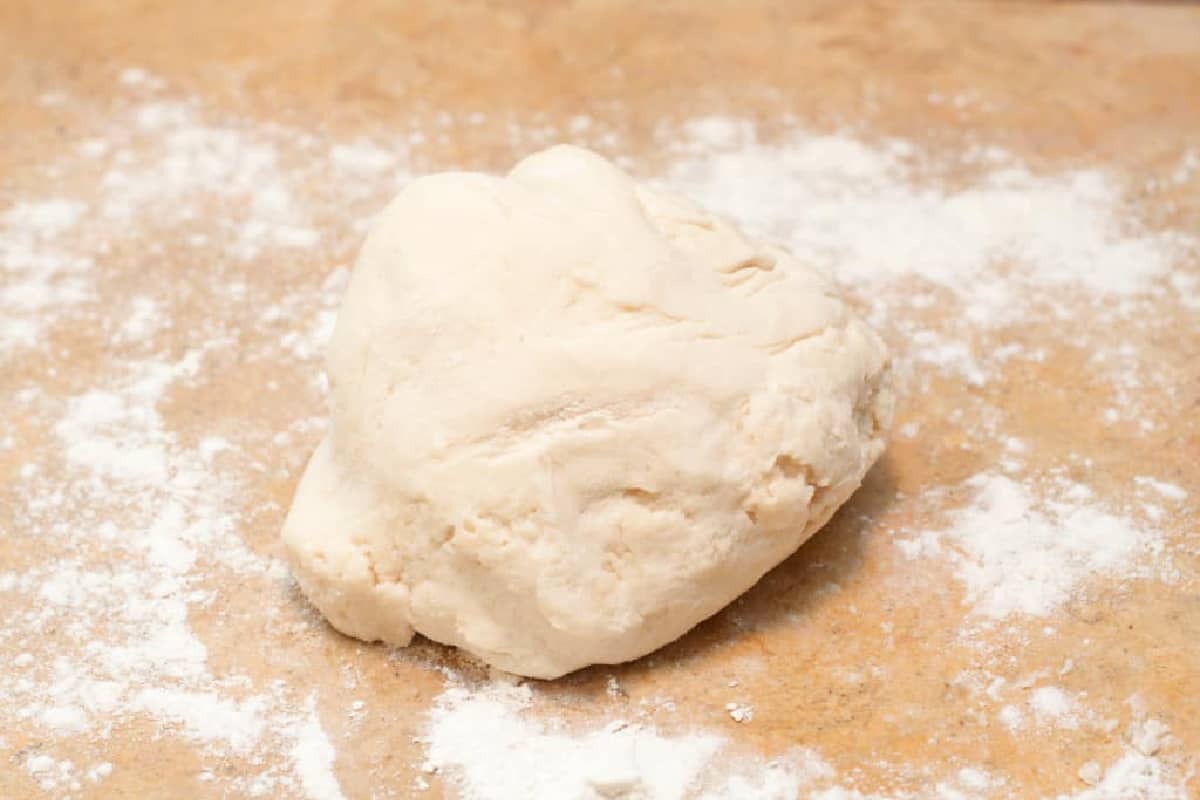 Pulse the flour, baking powder, salt, and sugar in a food processor.
Add butter a little at a time and then add oil and water.
On a floured surface roll out the dough as thin as you can (would like!)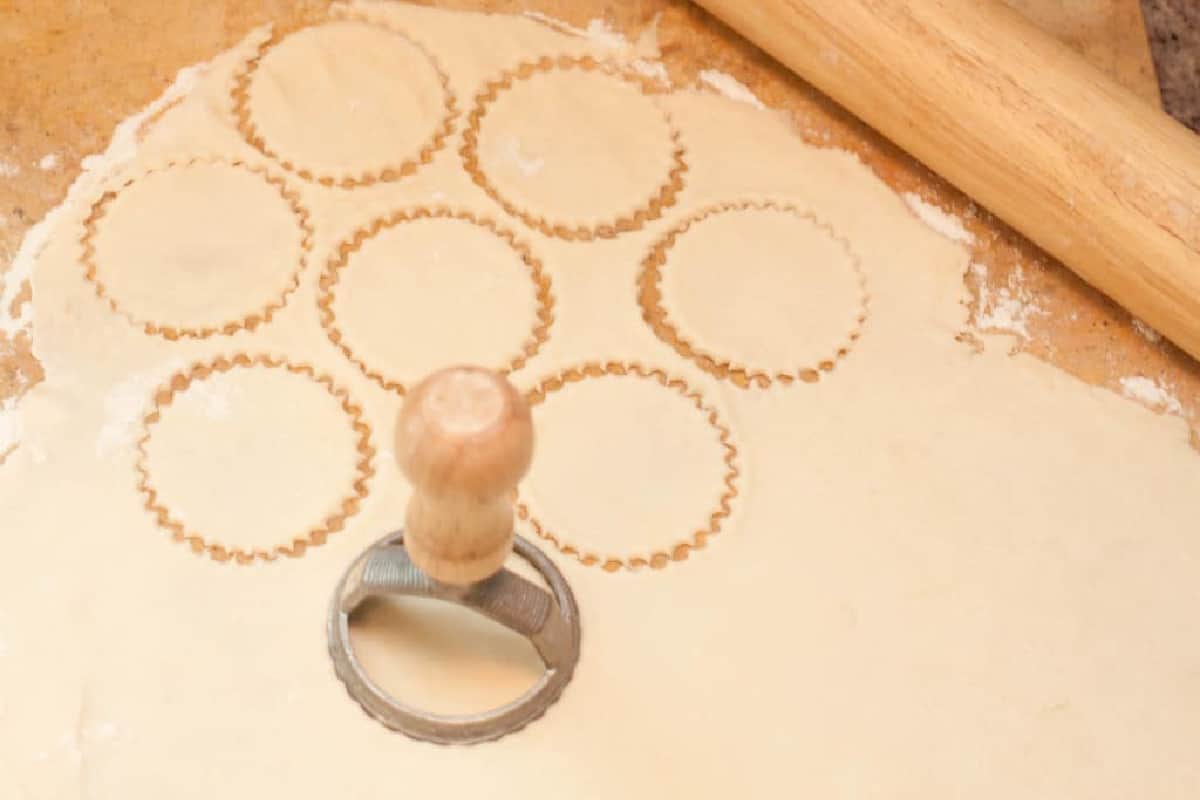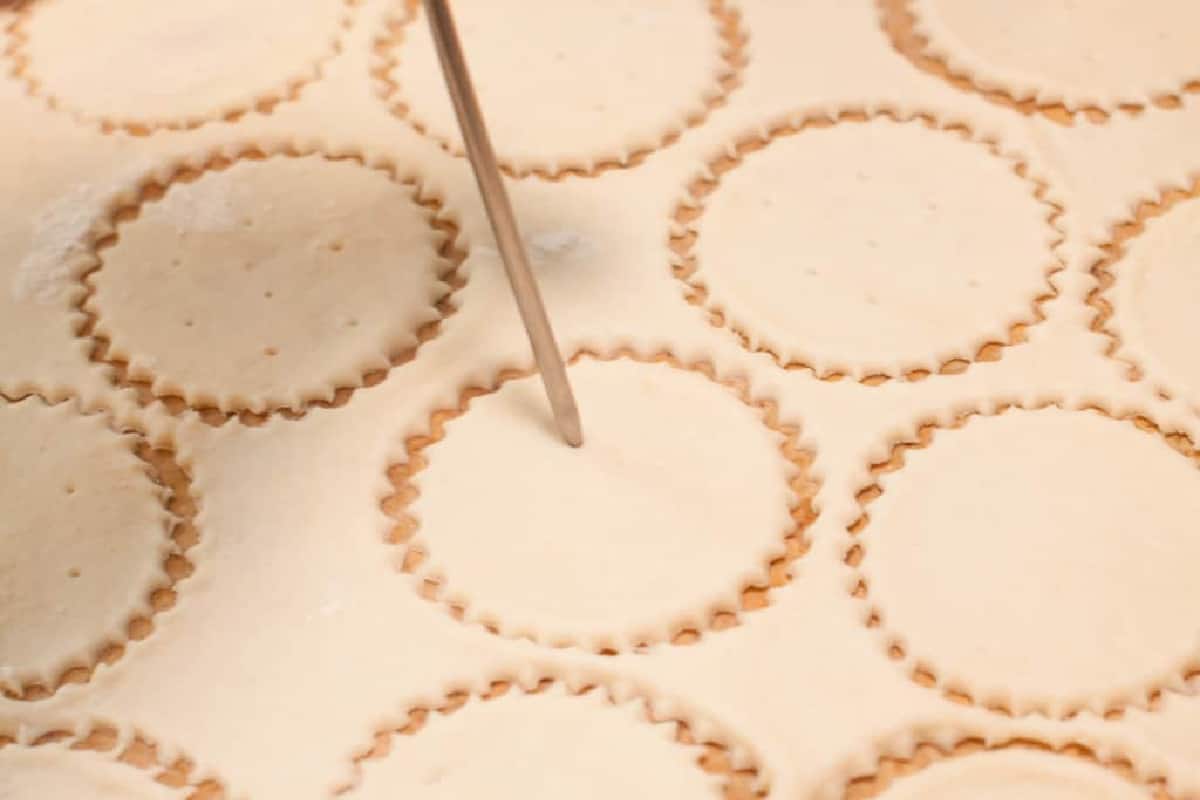 Poke holes in cutouts to give that classic Ritz appearance and also help them bake evenly.
Brush with egg wash.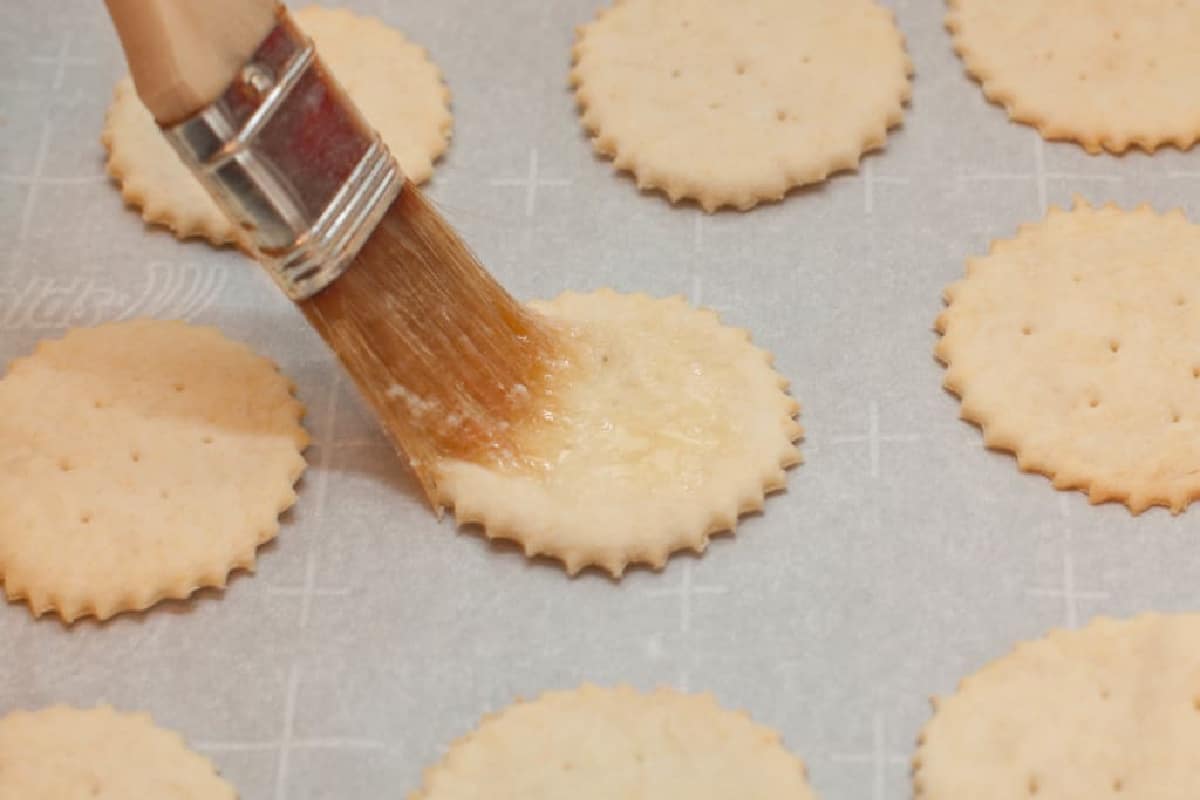 Bake crackers on parchment paper and then brush with butter right out of the oven.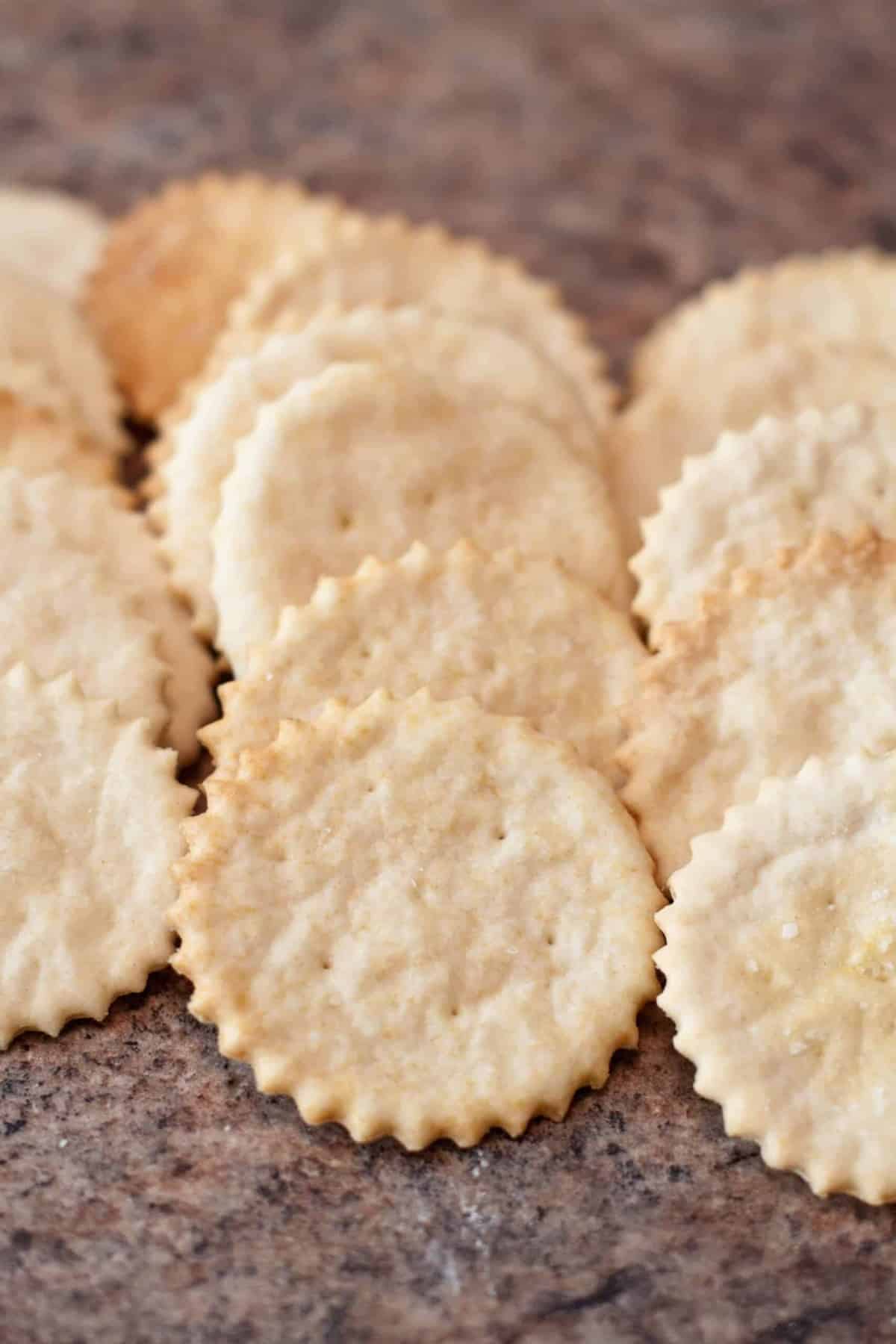 Let them cool and you have a delightful, buttery, flaky copycat Ritz Cracker From Scratch!
Our Other Cracker Recipes
Sourdough Sesame Rye Crackers From Scratch
FAQs
Do you have to use a Food Processor?
You can also use a stand mixer, but the food processor helps it from not being over-mixed. If the dough's over-mixed, then the crackers won't be as flaky. I haven't tried this without either.
Can I roll the dough in a log and cut it?
You can, but you just need to be extra careful that you slice it super thin. It will save you some time, but I personally think rolling them out is really the best way to make sure they get nice and thin.
My Dough is too wet
Be sure to spoon and level out the flour and then add the 2/3 cup of water a little at a time. You may not need all of it, just add it slowly until a ball begins to form.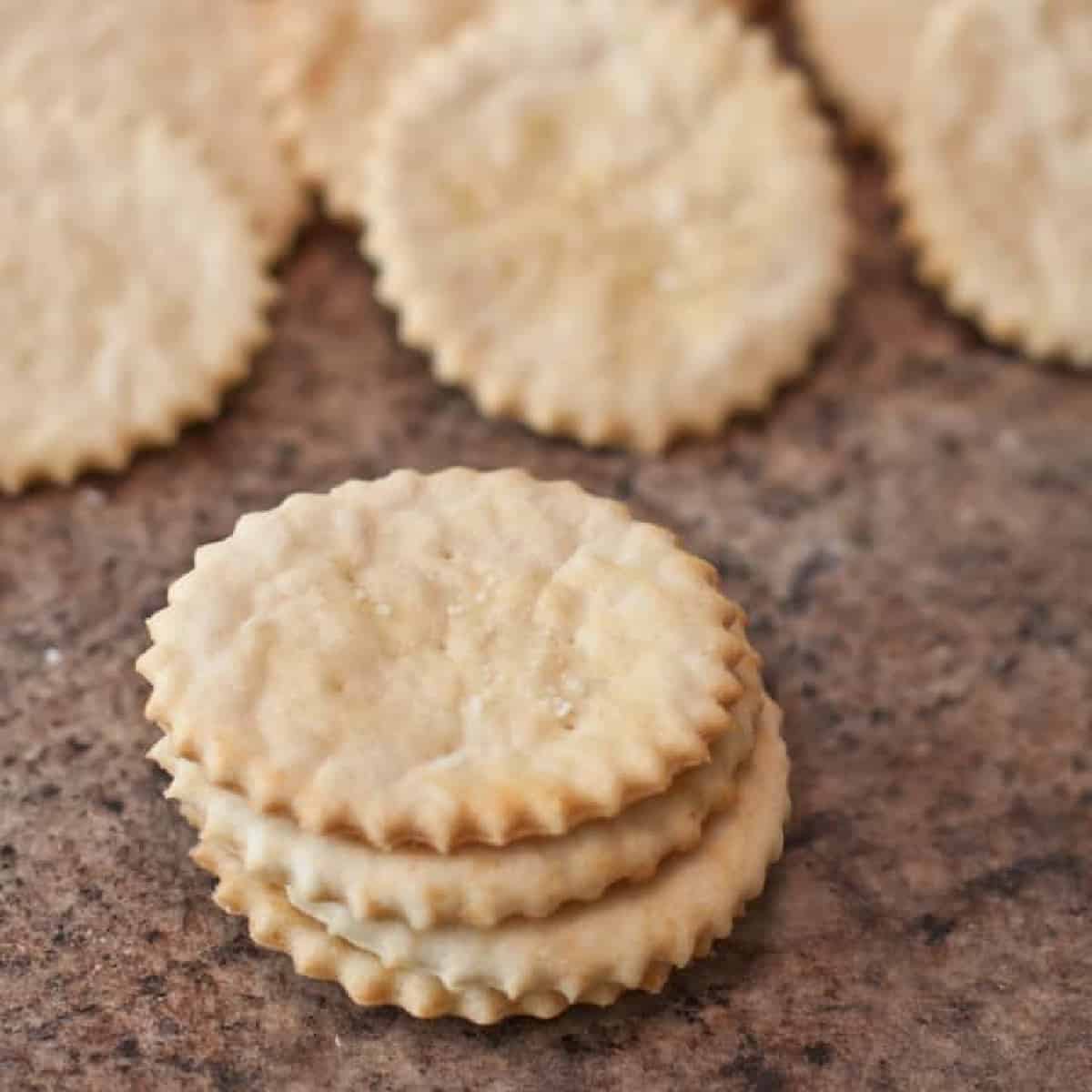 Enjoy! As always, if you make this recipe or any of my others, I love to hear what you think! Leave a comment below, email me, or you can find me on Facebook, Instagram, and Pinterest!
If you want to see more, be sure to sign up for my 5 Easy Ways to Start Cooking From Scratch!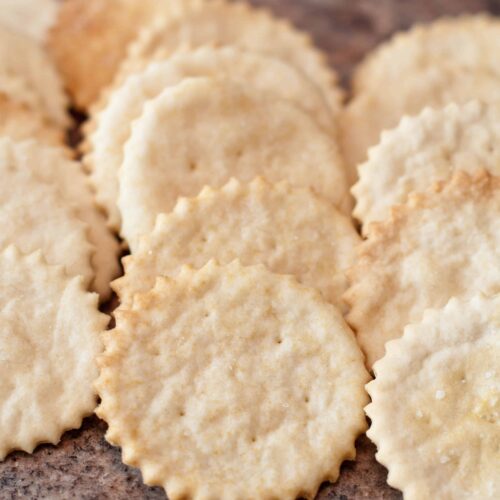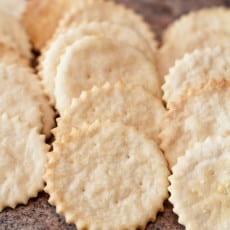 Ritz Crackers From Scratch
Your favorite buttery cracker made at home!
Print
Pin
Rate
Ingredients
2

cups

all-purpose flour

255 g

3

tsp

baking powder

14 g

1

tbsp

sugar

14 g

1

tsp

kosher salt

divided

8

tbsp

cold butter, divided

2

tbsp

vegetable oil

1 oz

1/3

cup

water

1

egg - beaten

optional for egg wash
Instructions
Preheat oven to 400 F and line baking sheets with parchment paper.

Add flour, baking powder, sugar, and 1/2 tsp of salt to the food processor and give a quick pulse to combine.

Add 6 tablespoons of cold butter a few small pats at a time, and pulse to combine then. Then slowly add vegetable oil slowly with the food processor running.

While the food processor is pulsing, add water a little bit at a time until a dough starts to form into a ball. You may not need to full 1/3 of a cup, do not add it all at once.

On a floured surface, roll dough out as thin as you can with a rolling pin. Add more flour if needed when it sticks.

Use cutter to cut the dough out and add cut outs to baking sheets. Continue to roll out dough and cut out crackers until all the dough is used up and place them on parchment lined baking sheet.

Poke holes in each of the crackers: 2, 3, and 2.

Brush the cracker cut outs with the egg wash and sprinkle with a kosher salt

Bake in oven for 10 minutes in the center rack.

Melt remaining 2 tablespoons of butter and then brush with melted butter while still hot.

Cool and enjoy!
Notes
Store in an airtight container at room temp - if you can keep them around that long!
Watch your crackers while they cooking - when they just begin to brown is when they're done.