Fresh jalapenos stuffed with homemade cheeses and crumbled bacon inside and on top make these Jalapeno Poppers From Scratch a cleaner and less greasy option of this classic appetizer.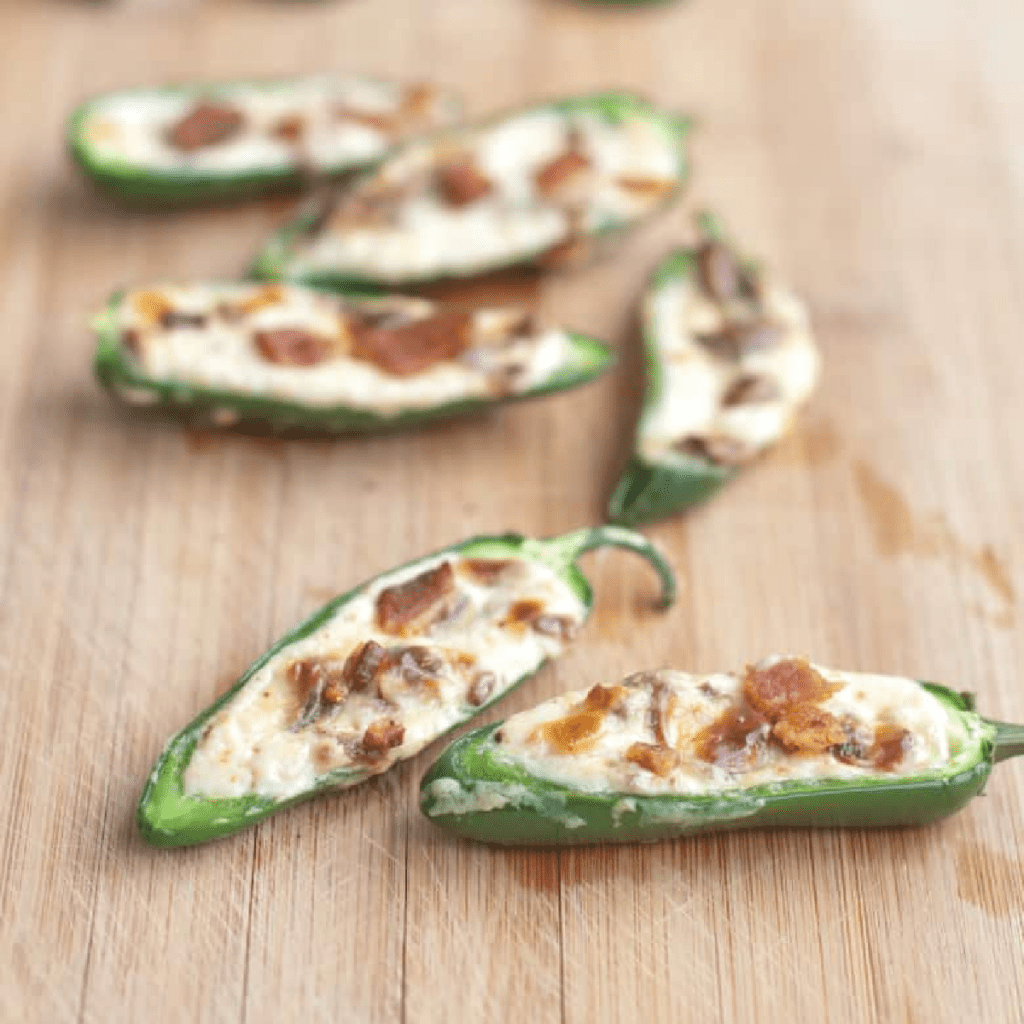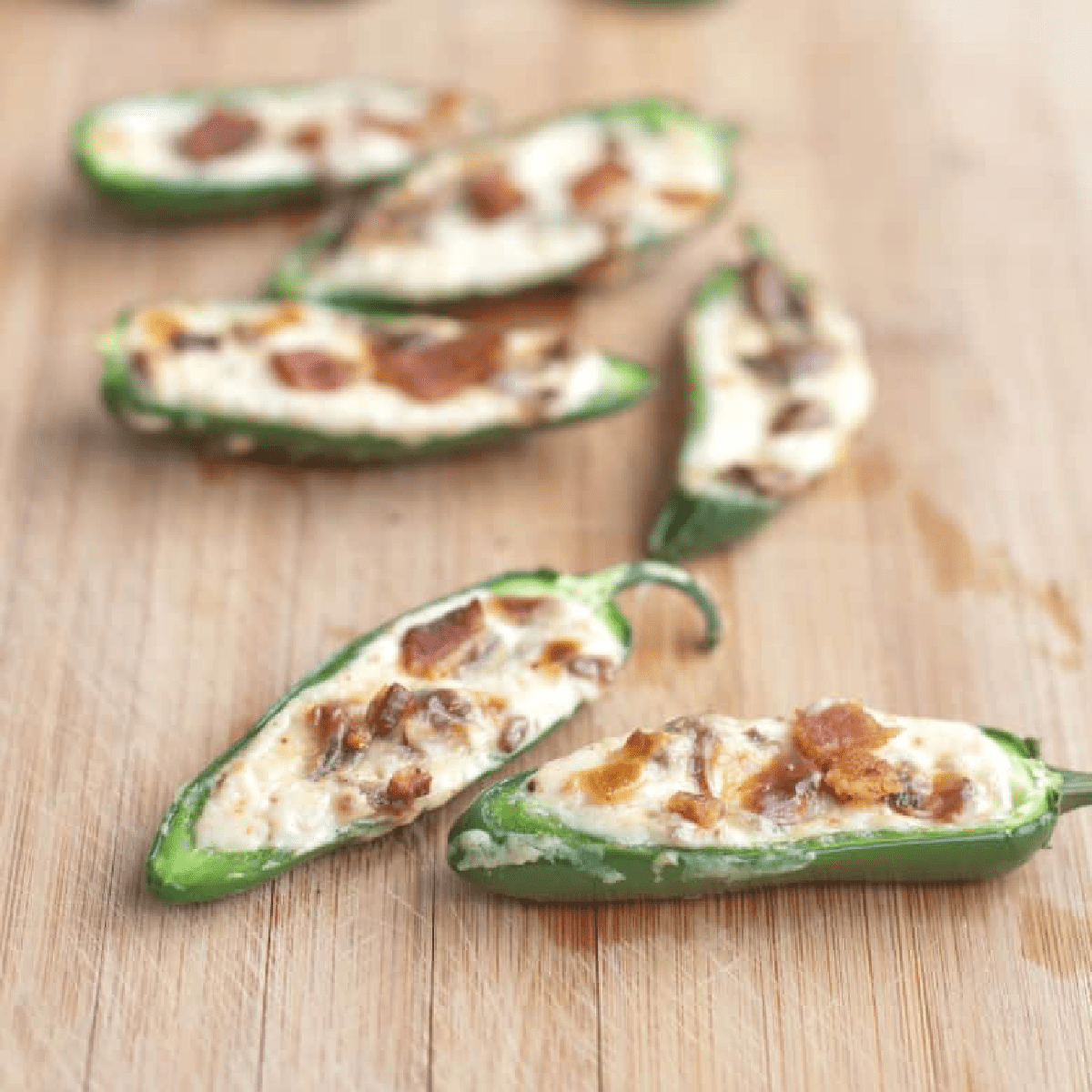 Bonjour from beautiful Whistler, British Columbia! We've been up here for the past week by 1. Celebrating our 2 year wedding anniversary by doing what we've decided we'll do every anniversary, go somewhere cool and play outdoors and 2. My studly husband competing in his first IronMan! I'll be on the sidelines with our dog Nigel drinking a beer cheering them on. And if we'd had any leftover, I'd also be eating these Jalapeno Poppers From Scratch!
Ingredients Needed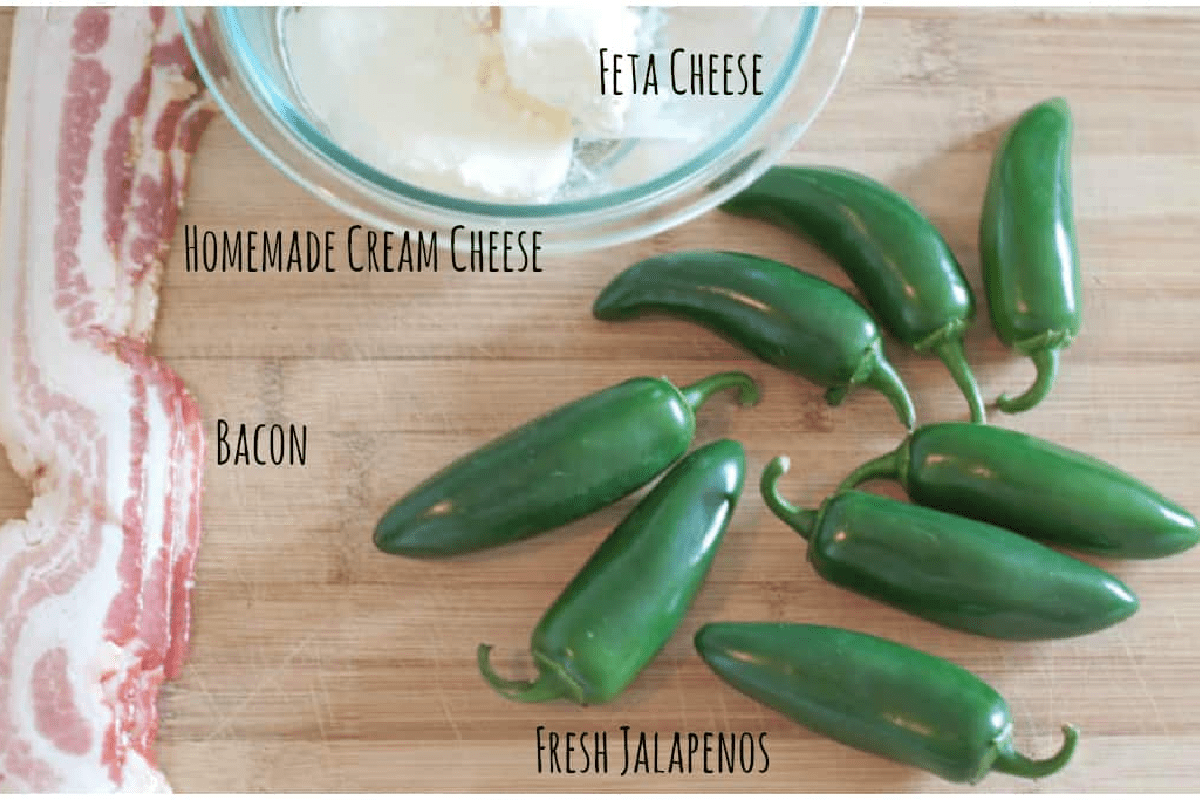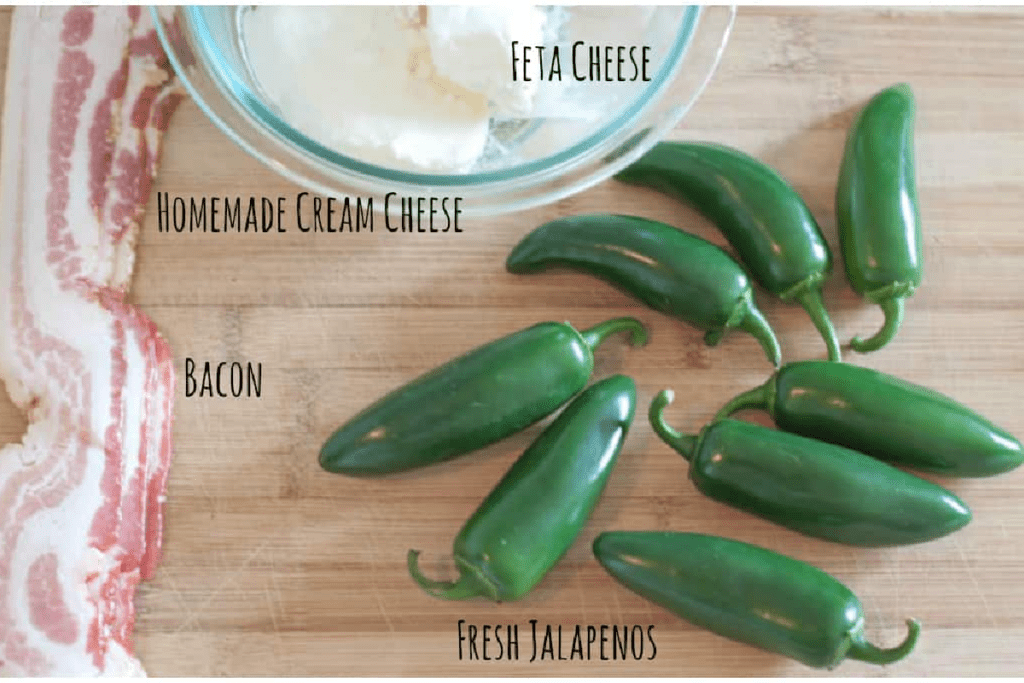 Fresh Jalapenos - We had so many from our garden this year!
Cream Cheese - Did you know you can make your own Cream Cheese From Scratch?
Feta Cheese - Did you know you can also make your own

Feta Cheese From Scratch

?
Bacon - Not necessary, you could omit to keep these little guys vegetarian friendly.
Spices - chili powder, cayenne, salt, and pepper.
Other Spices you could add: garlic powder or onion powder.
Step-by-Step Instructions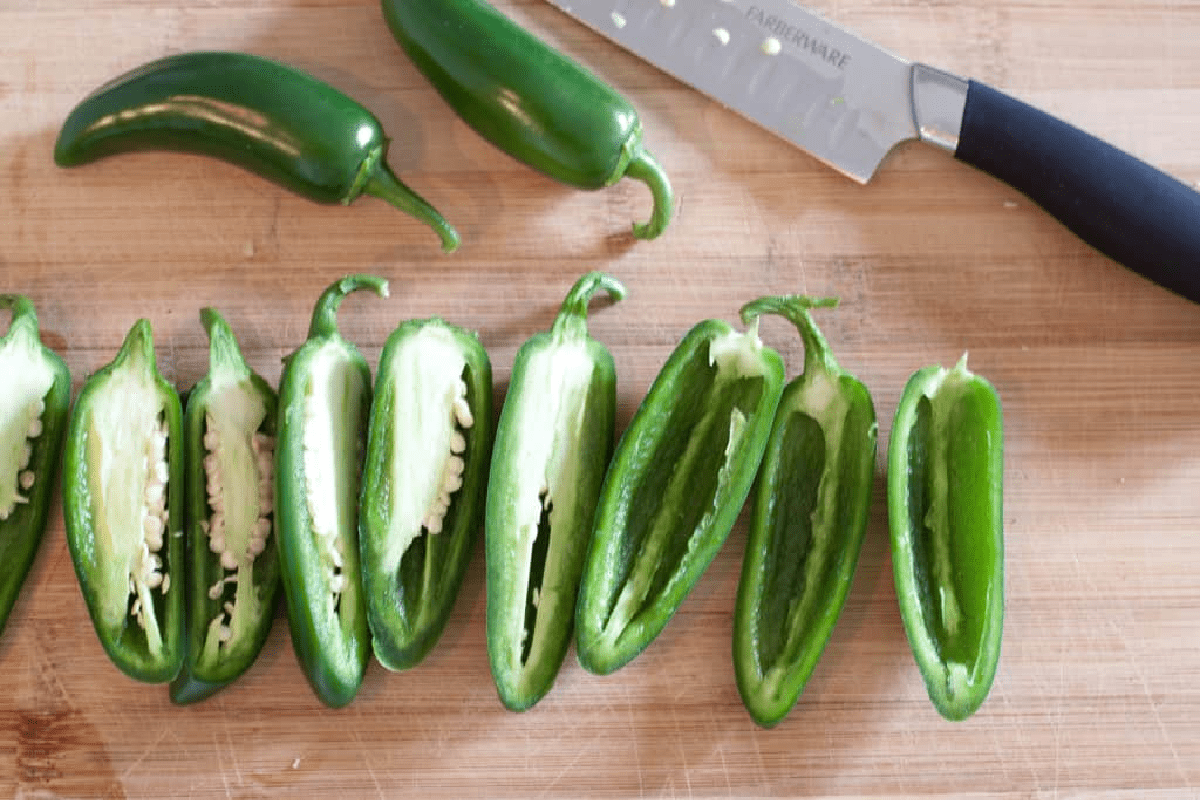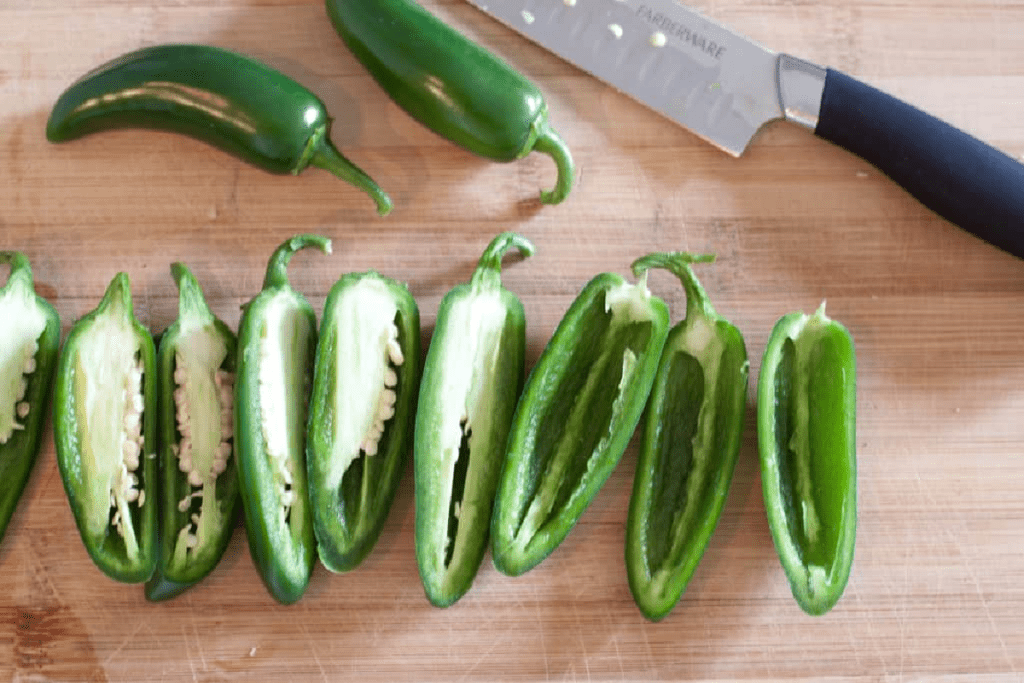 These little guys come together so fast. They're the perfect app to whip up quickly for a party!
Step 1: Prep your jalapenos by slicing them in half and scooping the membranes and seeds out with a spoon by working from the bottom of the jalapeno and scooping up to the stem.
Tips:
The heat (capsaicin) is where the heat of the jalapenos comes from and that's mostly in the membrane. So for the mildest popper, be sure to remove all of the seeds and membrane. But if you like a little more heat, leave a little bit behind and it'll add even more kick to your popper!
Be sure to wash your hands well afterward, or to be sure that none of the jalapeno is left on your hands, use some food-grade gloves. That'll help prevent that burning from touching your eyes too soon after cleaning the jalapenos!
Step 2: While you're cleaning your jalapenos, give your bacon a good fry until it's nice and crispy.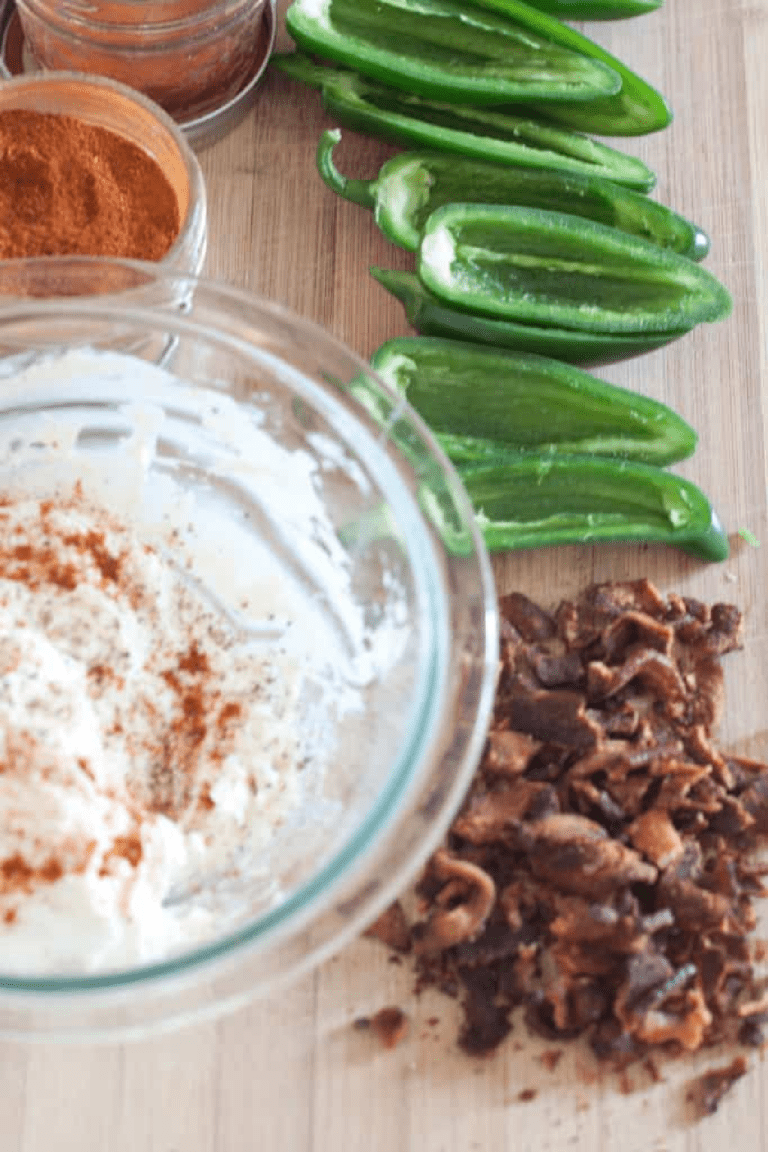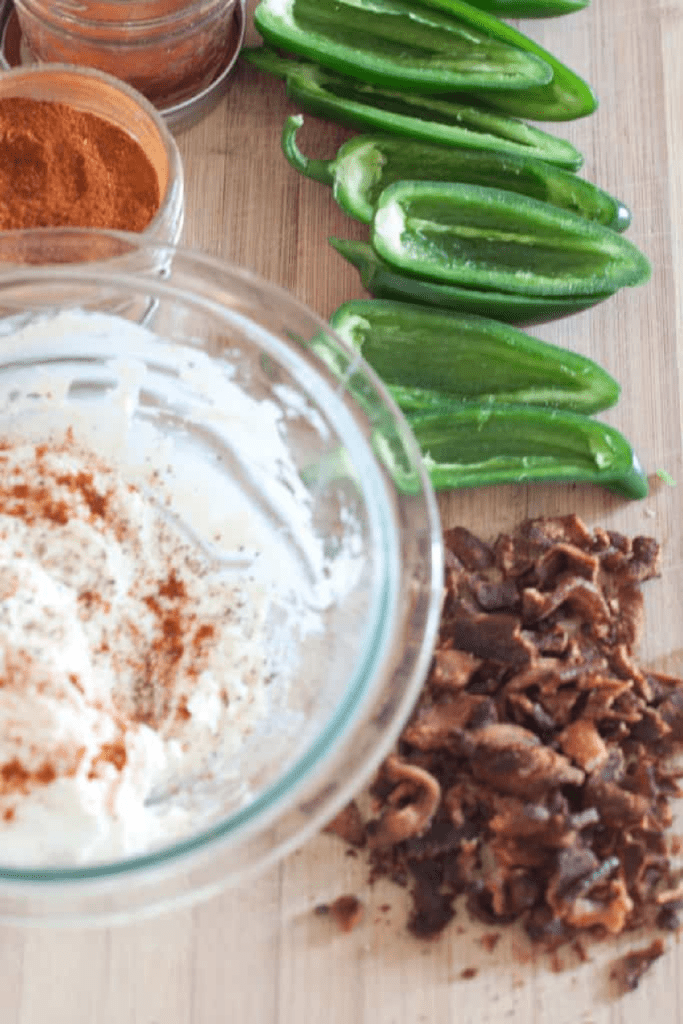 Step 3: Mix your cream cheese in a bowl with your spices and give a good mix and give that nice crispy bacon a good crumble and add about half to the cream cheese mixture, keeping the other half to top the poppers with.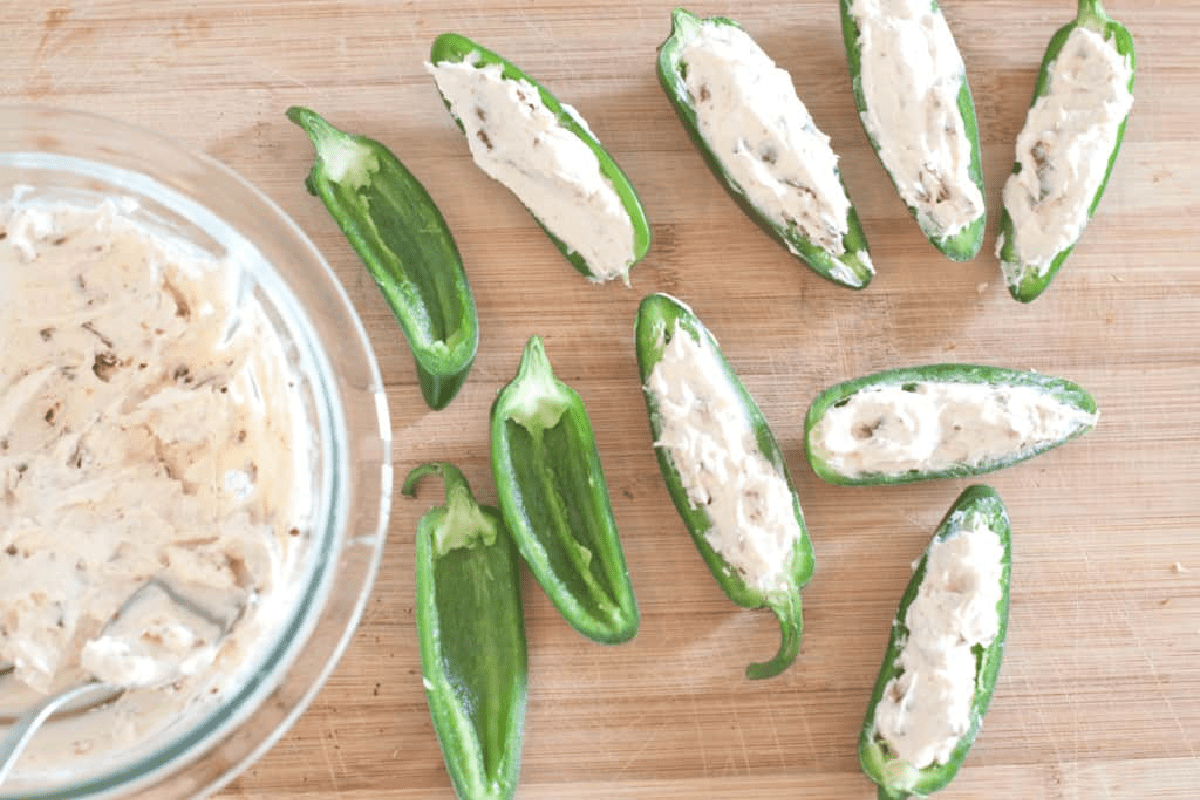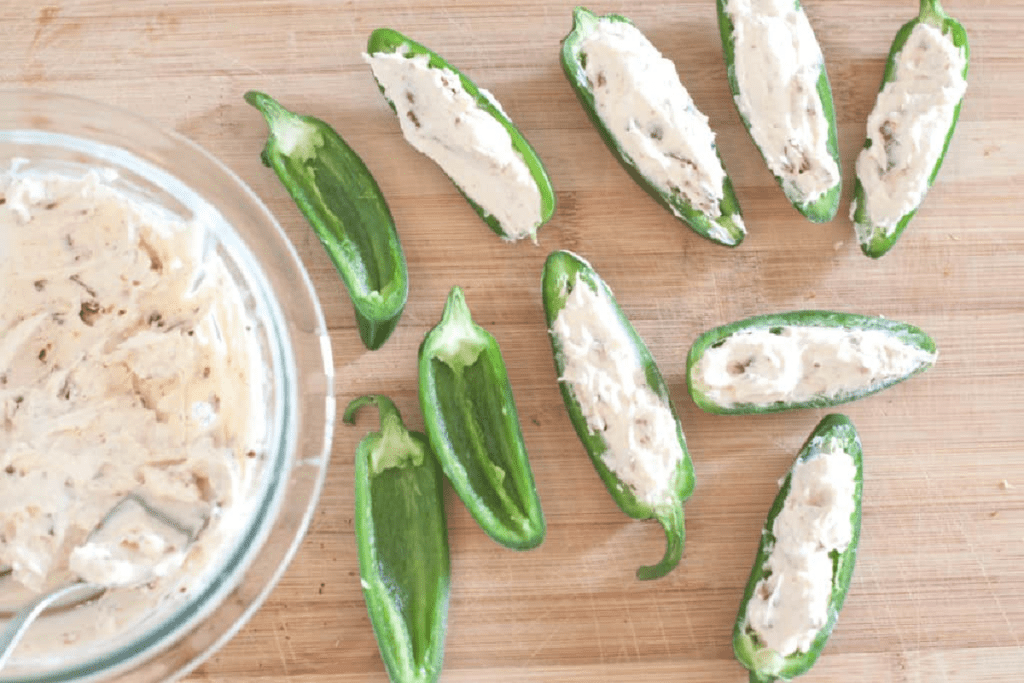 Step 4: Stuff your jalapeños and then top them with the remaining bacon!
Crumbled Bacon vs. Wrapped
A lot of other jalapeno popper recipes have you wrapping the popper in the bacon. I prefer adding it crumbled inside and on top. This keeps that great bacon flavor but reduces the greasy-ness of the bacon-wrapped popper.
Plus, have you ever tried to take a nice easy bite of a bacon-wrapped popper? Tried - right but then did you awkwardly get the bacon and pull it off and then have this weird piece of bacon hanging from your mouth that you had to eat and then you're left with the other half of the popper without any bacon? Right, oh no me neither... Ha. BUT this way, you can take a bite of your jalapeño popper, save the mess, and be sure you have bacon in your next bite!
With that said - if you're just eating your popper in one bite like a boss, well, then that's not a problem! But still, adding the crumbled bacon is still less messy when you're taking that one big bite!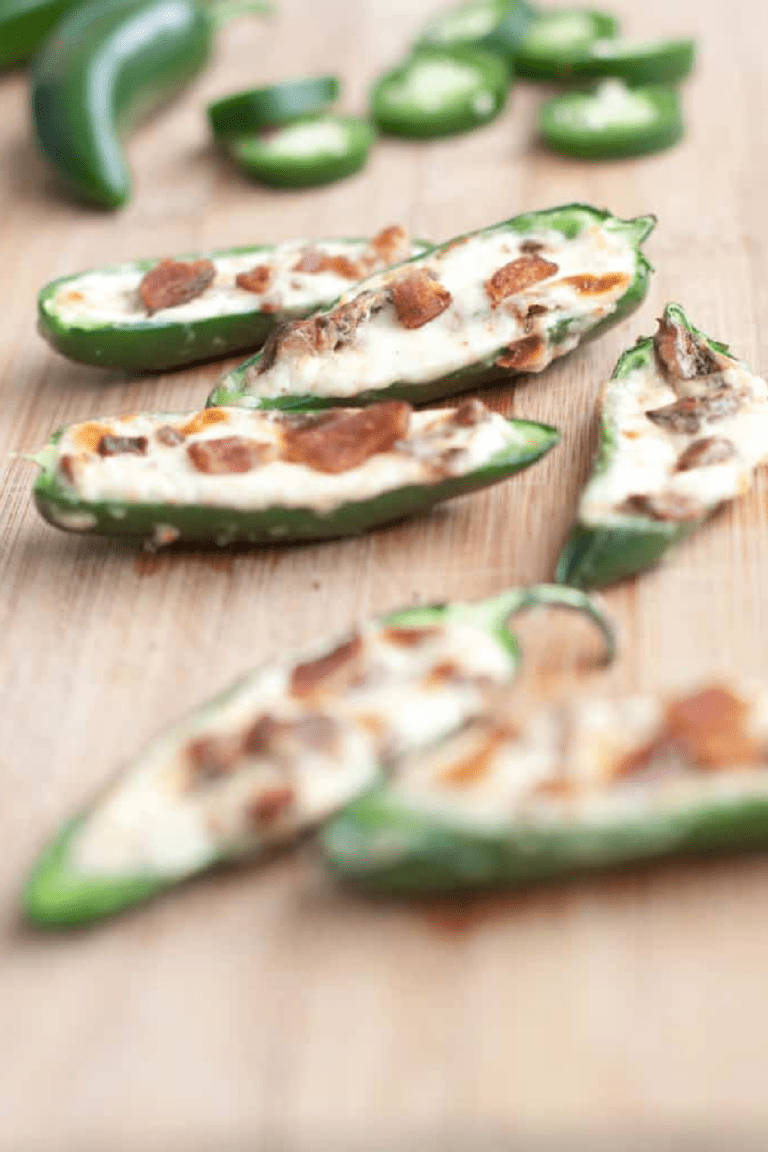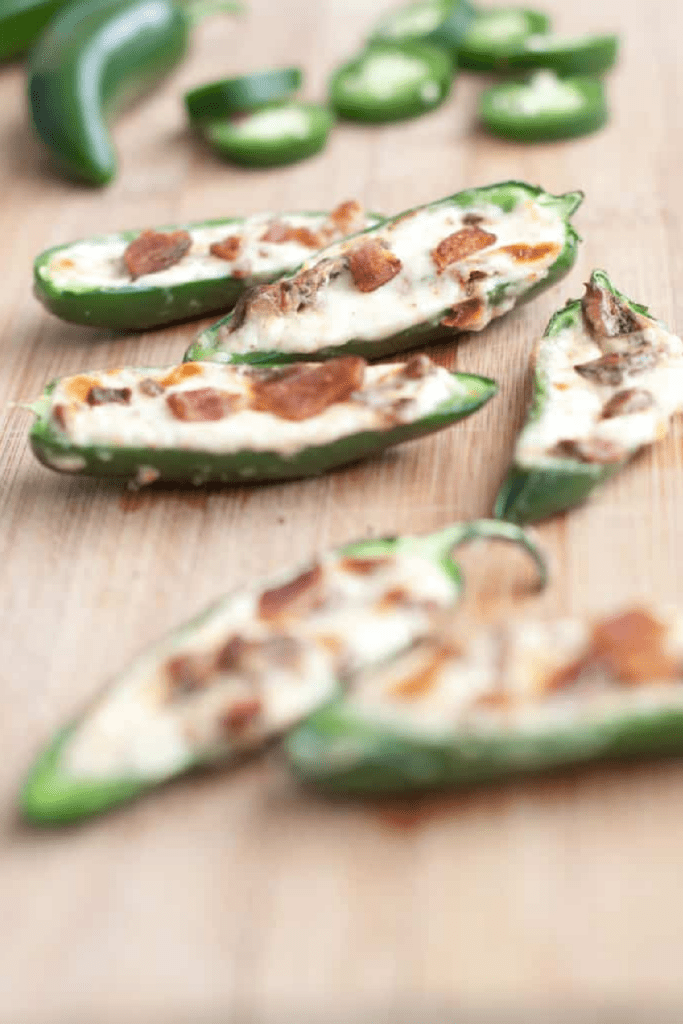 Step 6: Broil, just long enough to soften and cook the jalapeno.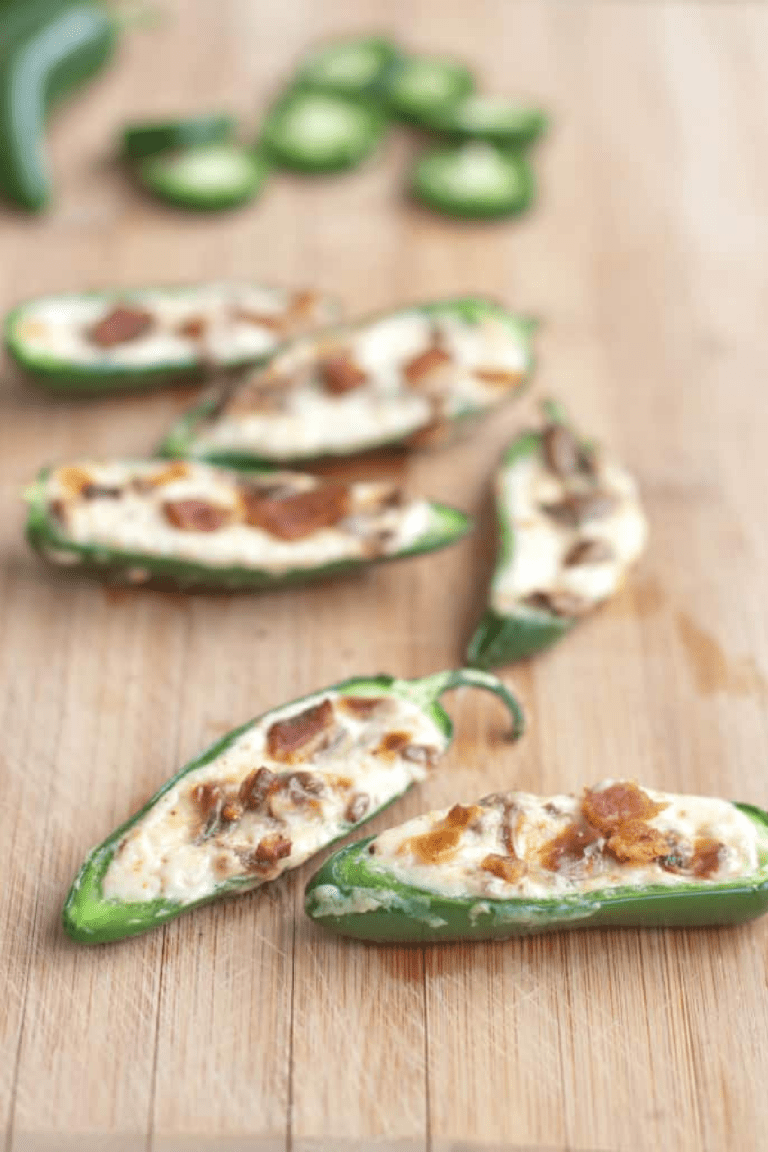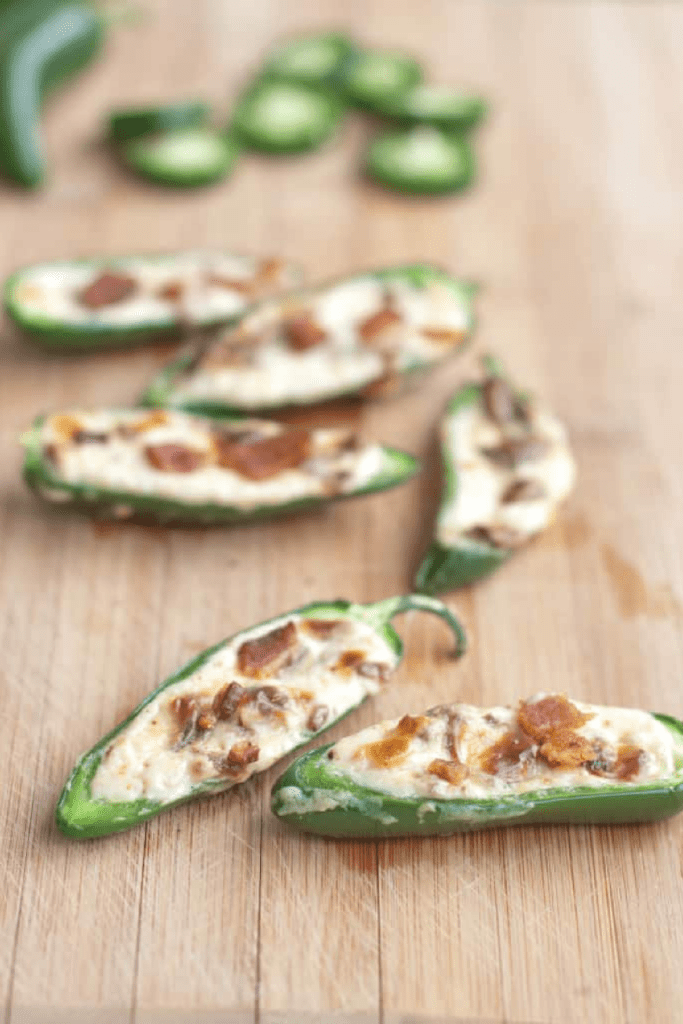 Ahh, a classic Jalapeno Popper from scratch with homegrown jalapenos and two from scratch cheeses! Vacation scratch cooking for the win! Now for the next win: my husband becoming an IronMan!
Our Other Favorite Party Snacks
Parmesan Garlic Baked Chicken Wings
Cheddar Sour Cream Potato Chips From Scratch
FAQs
Can I use just cream cheese?
Of course. I like the added flavor and saltiness that the feta cheese adds, but you can definitely just use cream cheese. In this case, I usually add just a touch more salt.
Can I use seasoned or herbed feta?
I prefer not to. I think that a basic feta is best because you don't want to herbs of the feta to overpower the flavor of the popper. But, with that said, you can absolutely - just be aware of the flavor that it'll add to the popper.

Can I just wrap the bacon around the popper?
You can, but for this recipe I think it's much easier, cleaner, and tastier to use crumbled bacon. But if you do want to wrap it, then you'll need to secure the bacon with a toothpick and then you'll want to bake the popper at 400 degrees for about 20-25 minutes to ensure that the bacon is fully cooked.
Can I bake instead of broil?
Definitely. You can bake these little guys at about 425 for 10 minutes.
Enjoy! As always, if you make this recipe or any of my others, I love to hear what you think! Leave a comment below, email me, or you can find me on Facebook, Instagram, and Pinterest!
If you want to see more, be sure to sign up for my 5 Easy Ways to Start Cooking From Scratch!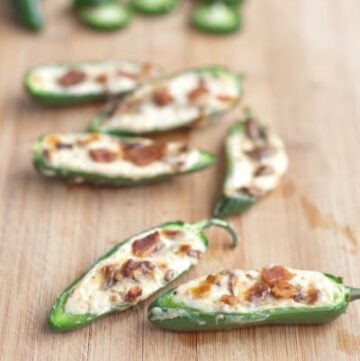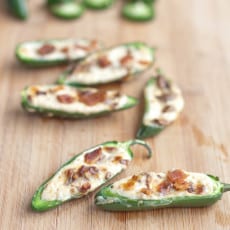 Jalapeno Poppers From Scratch
Garden fresh jalapenos stuffed with bacon and homemade cheeses for Jalapeno Poppers From Scratch!
Print
Pin
Rate
Ingredients
5

Fresh jalapenos

4

slices

bacon

1/4

cup

feta cheese

1/4

cup

cream cheese

1/4

tsp

kosher salt

1/8

tsp

chili powder

adjust to taste

1/8

tsp

cayenne

adjust to taste

fresh ground pepper

adjust to taste
Instructions
Set oven to broil and move rack second to the top position.

In a medium pan, fry bacon until crispy. Remove from pan and let cool on paper towel lined plate.

Meanwhile, clean and halve jalapenos. Remove seeds with a small spoon working from bottom of jalapeno to the top.

In a medium sized bowl, mix cheese, salt, chili powder, cayenne, and pepper in a bowl. Add half of the crumbled bacon and mix well.

Fill halved jalapenos with the cheese mixture and line on a lightly greased baking sheet. Add remaining crumbled bacon on top.

Add to oven and broil for 4 mins. Turn pan and broil another 4 minutes until cheese is bubbly and begins to brown and jalapenos are soft. Check jalapenos after 2 minutes. If they look like they're burning, lower rack to second rack.
Notes
To adjust the heat level of the poppers, keep just a little bit of the membrane of the popper when cleaning. This is where most of the capsaicin of the pepper is and that's what controls the heat.
No feta? No problem. Just use all cream cheese. Add a little bit more salt to taste.
You can also bake at 425 degrees for 10 minutes.
Leave out the bacon for a vegetarian popper.
Nutrition
Serving:
1
popper
|
Calories:
35
kcal
|
Carbohydrates:
1
g
|
Protein:
1
g
|
Fat:
3
g
|
Saturated Fat:
2
g
|
Cholesterol:
10
mg
|
Sodium:
120
mg
|
Potassium:
25
mg
|
Fiber:
1
g
|
Sugar:
1
g
|
Vitamin A:
187
IU
|
Vitamin C:
8
mg
|
Calcium:
24
mg
|
Iron:
1
mg