A classic made completely from scratch! From the cream of mushroom soup to the French's fried onions, this homemade Fresh Green Bean Casserole, made with fresh green beans, takes this comforting casserole to the next level by cutting out all of the processed ingredients!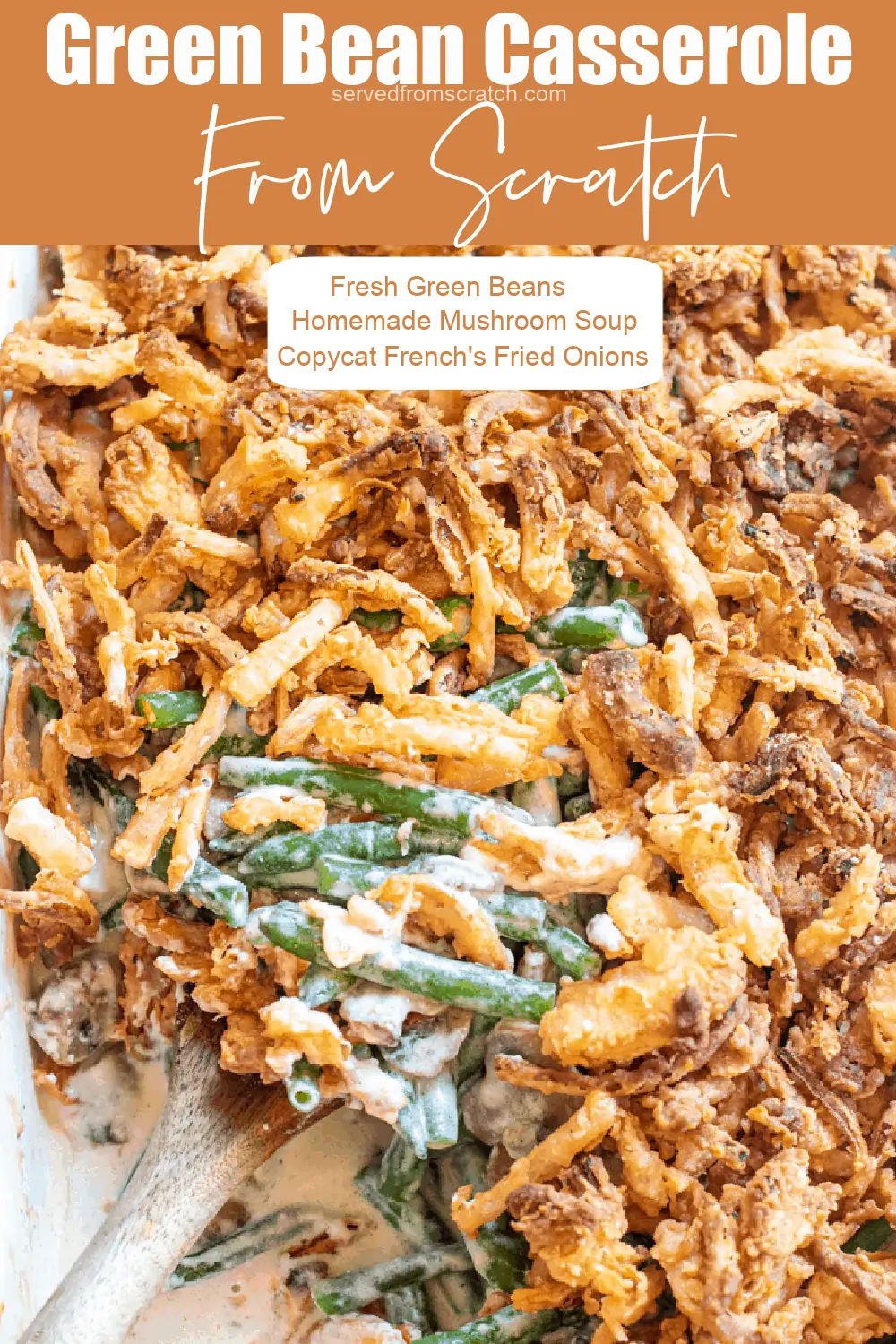 Once the weather starts to cool down, I start thinking of all the fall/winter foods! You've been a great one, summer, but bring on the cozy, comforting foods! Especially this classic, which shockingly, I have yet to share here! But now, it's finally here, friends. And once you have your made from scratch components, this Fresh Green Bean Casserole From Scratch couldn't get much easier!
While I grew up on this classic casserole made with canned beans and canned soup and canned fried onions, we're putting our from scratch flair on it by using fresh green beans, our homemade cream of mushroom soup, and our French's Fried Onions from scratch! Not only does it taste fresher and cleaner, but the texture is exactly what I want in a green bean casserole with fresh green beans, crunchy green beans, soft big pieces of mushrooms, and super crispy onions- the opposite of mushy!
Ingredients Needed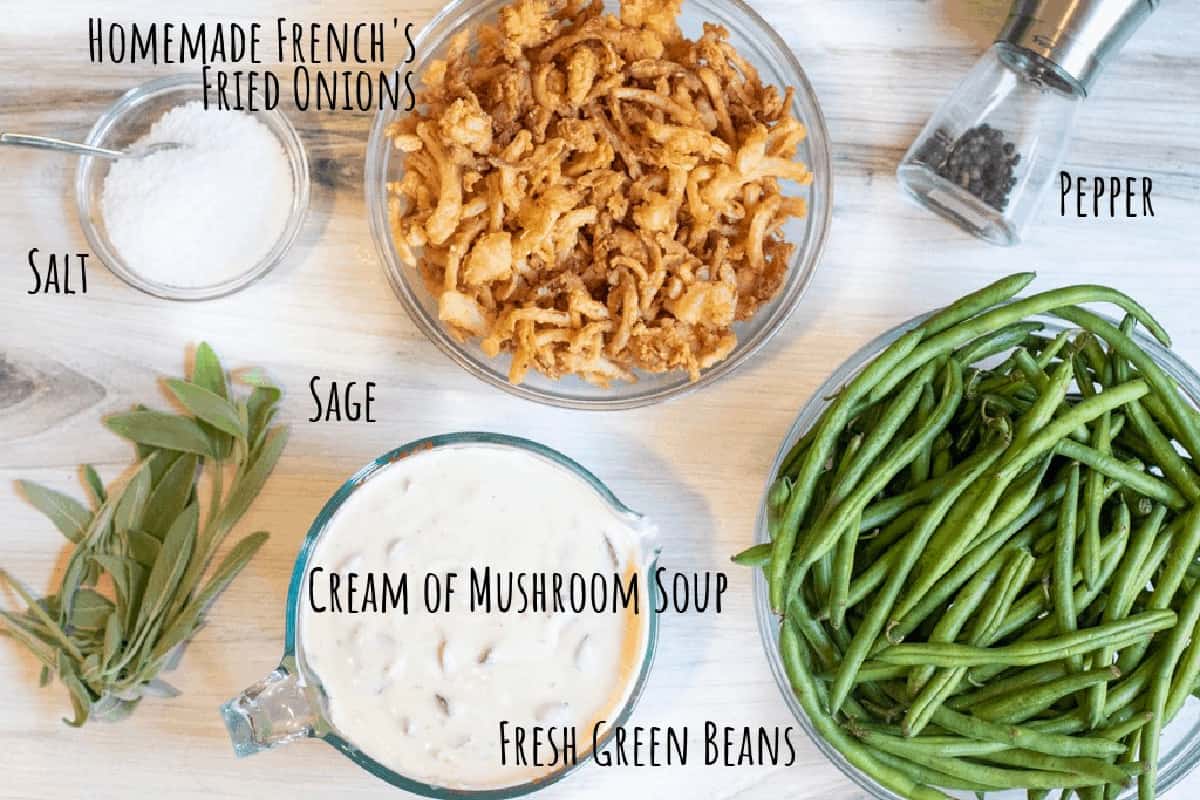 As usual, simple, fresh, made from scratch ingredients!
Fresh Green Beans - This is truly key for this recipe. While of course you can use canned or frozen, for this recipe, fresh is always our preferred. Whole frozen would be our next top choice.
Cream of Mushroom Soup - We love this homemade soup because it is packed full of fresh mushrooms! The hardest part of this is not eating all of the soup before you use it for this recipe!
French's Fried Onions - If you haven't made your own yet, DO IT. Trust me, you won't regret it. Yes, it's a little extra work and time, but oh my gosh once you taste your own, you won't want to go back to the ones in the can!
Fresh Sage - The earthy bold herb flavor of sage holds up beautifully not only to the richness of the soup but also compliments all of the mushrooms!
Salt and Pepper - But just a touch - there's so much flavor already in the soup!
Of course, you can add your own level of from scratch to this recipe and substitute the store-bought for any of these components (you'll find the conversions in the recipe card) but if you really want to elevate this classic, I strongly encourage you to try your hand at making it all for a true Green Bean Casserole From Scratch!
Make It Ahead
Now of course I also understand that making each of these items at once can be a big (daunting) undertaking. Total time for all of it if making it all at the same time is about 2 1/2 - 3 hours. Now, if you have that time, great! But if not, here are my tips to prepping it in advance to make it quick and easy, but still a show-stopping made from scratch casserole!
Cream of Mushroom Soup can be made 3 days in advance. Make a batch a few days ahead of time and store it in your fridge. When you're ready to assemble your green bean casserole, just reheat the soup in the saucepan.
French's Fried Onions can be made up to 3 days in advance, too! We find they stay nice and crispy as long as they're cooled completely before being stored. Plus, they'll crisp right back up when they're baked on the casserole!
Clean and Blanch Green Beans 3 days to 6 months in advance! Fresh green beans are key to this recipe if you want the perfect crunch and non-mushy green bean casserole. While we usually blanch the green beans right before assembly while the oven pre-heats and pre-made mushroom soup heat up, you can also blanch and refrigerate the green beans up 3 days in advance, or prep them and freeze them for up to 6 months. This is our favorite way to save all of those fresh summer green beans!
Quick and Easy Casserole Assembly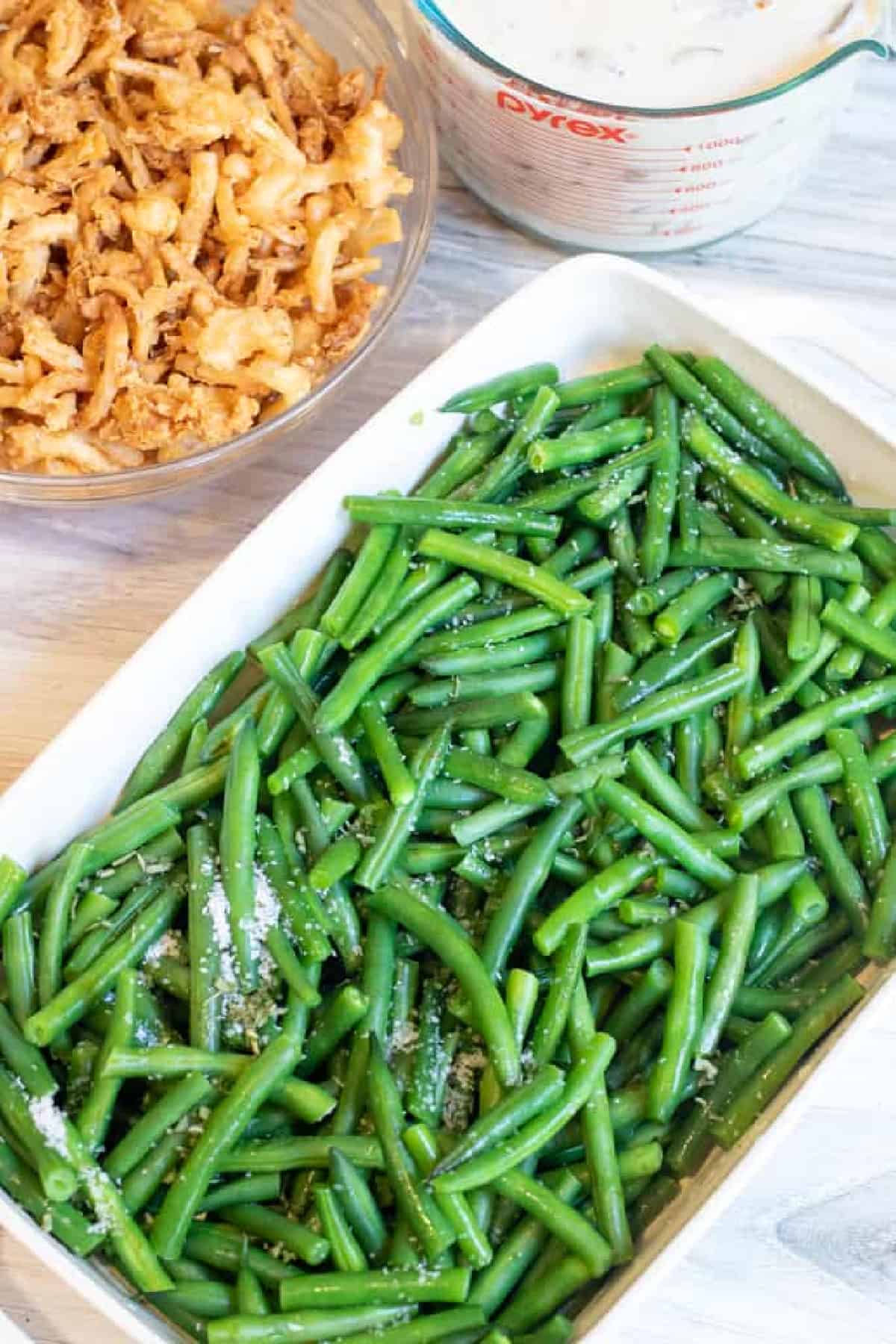 Once you have all of your ingredients ready, no matter whether you prep them all at once or a few days in advance, the assembly of this easy fresh green bean casserole is so incredibly easy.
Step 1: Add blanched beans to your baking dish (this fits perfectly in an 8.5 X 12.5 casserole dish, or anything that's at least 3.5 quarts) and then add a little more salt, pepper, and some chopped fresh (or dried) sage.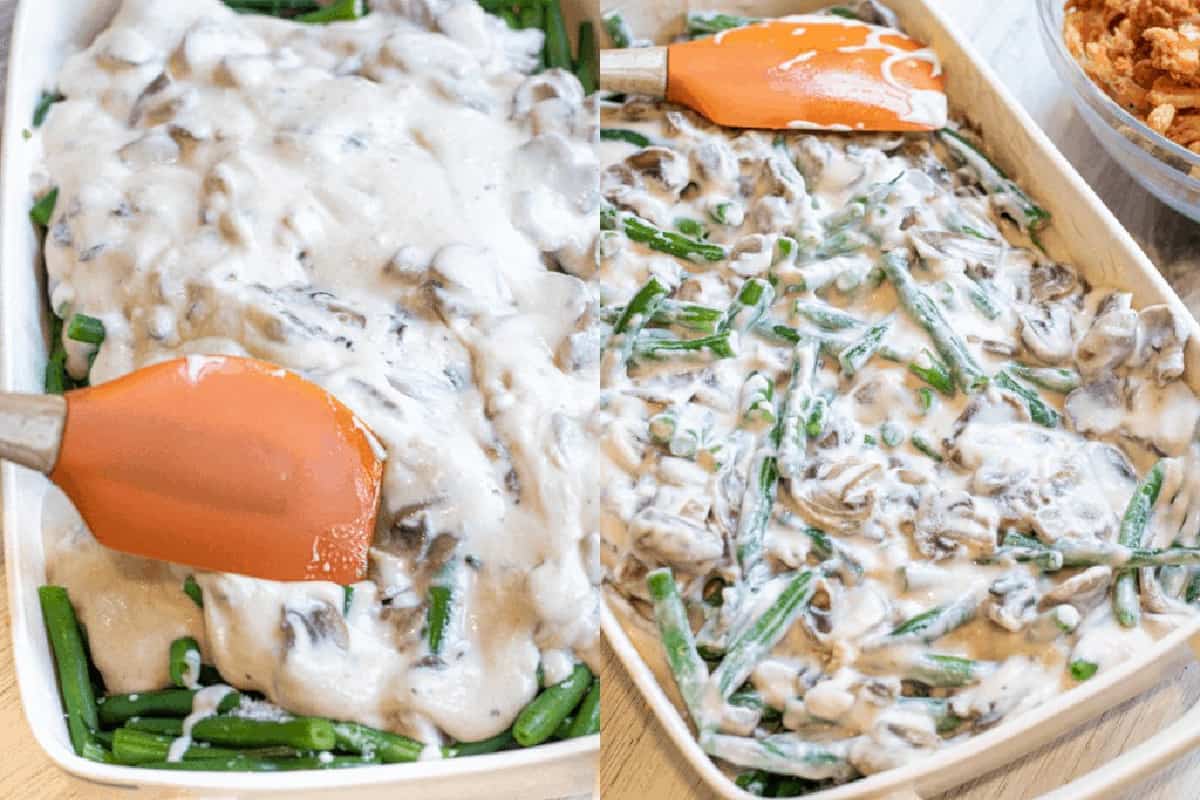 Step 2: Add the cream of mushroom soup and give a good mix.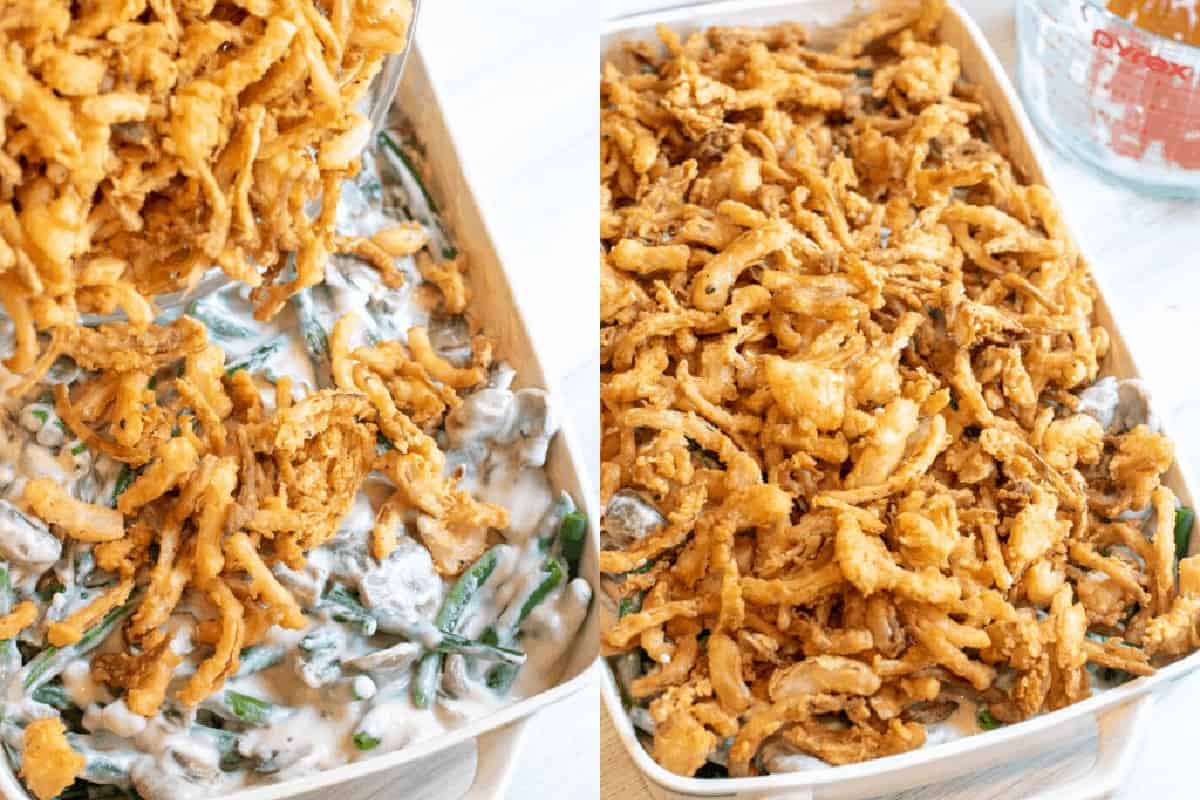 Step 3: Add the Copycat French's Fried Onions and bake!
Key to this recipe, don't skip on the fried onions! We usually add some, then mix them in, and then (generously) top with the rest.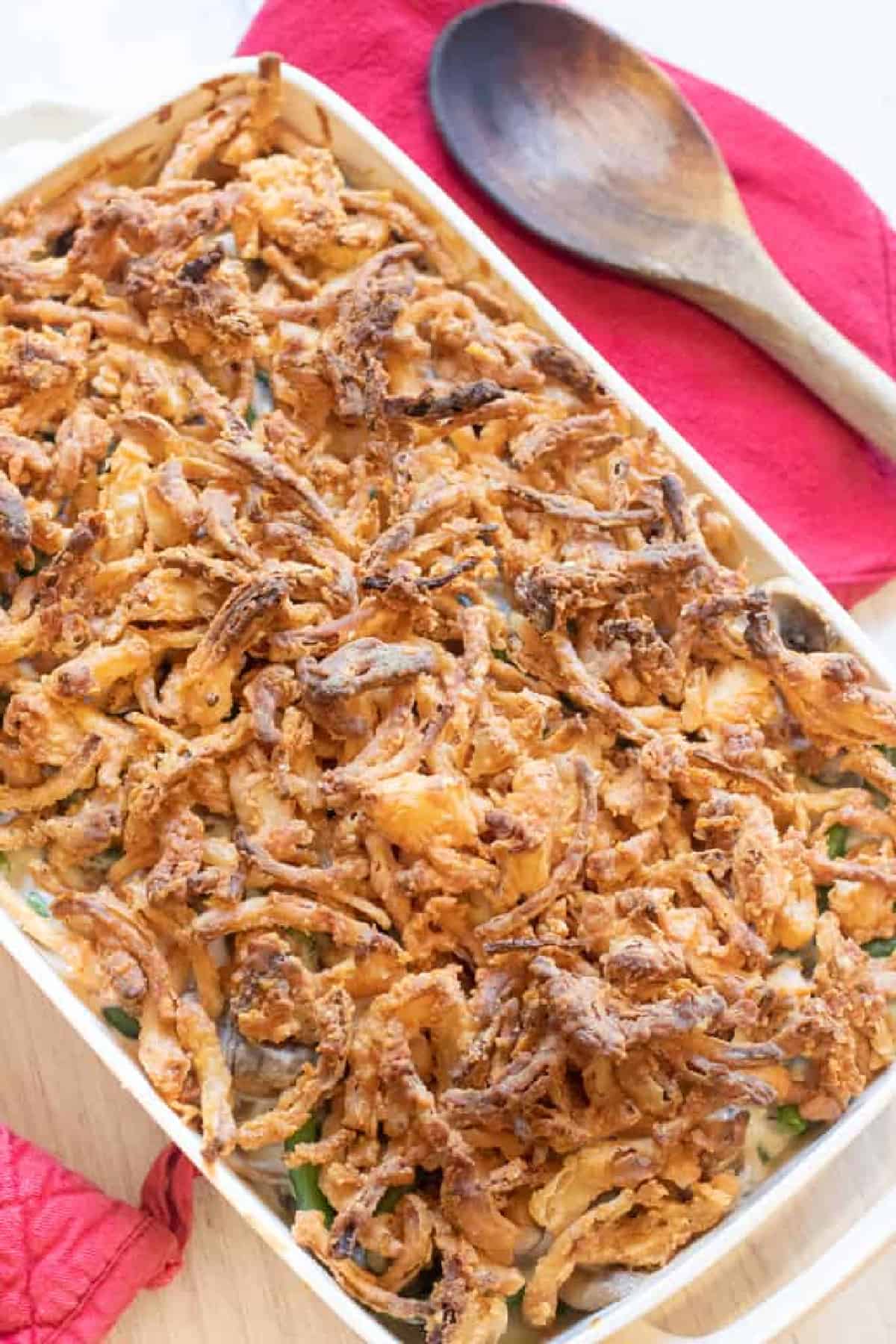 Bake for just long enough to cook the green beans a bit more and brown the tops of those onions even more. This gives this homemade green bean casserole even more of a crispy, crunchy topping!
Note: The fried onions will start to cook / brown quickly, which is why the cook time is only 15 minutes. That's also why also recommend heating the soup and thawing green beans (if using frozen) as to keep that cook time low.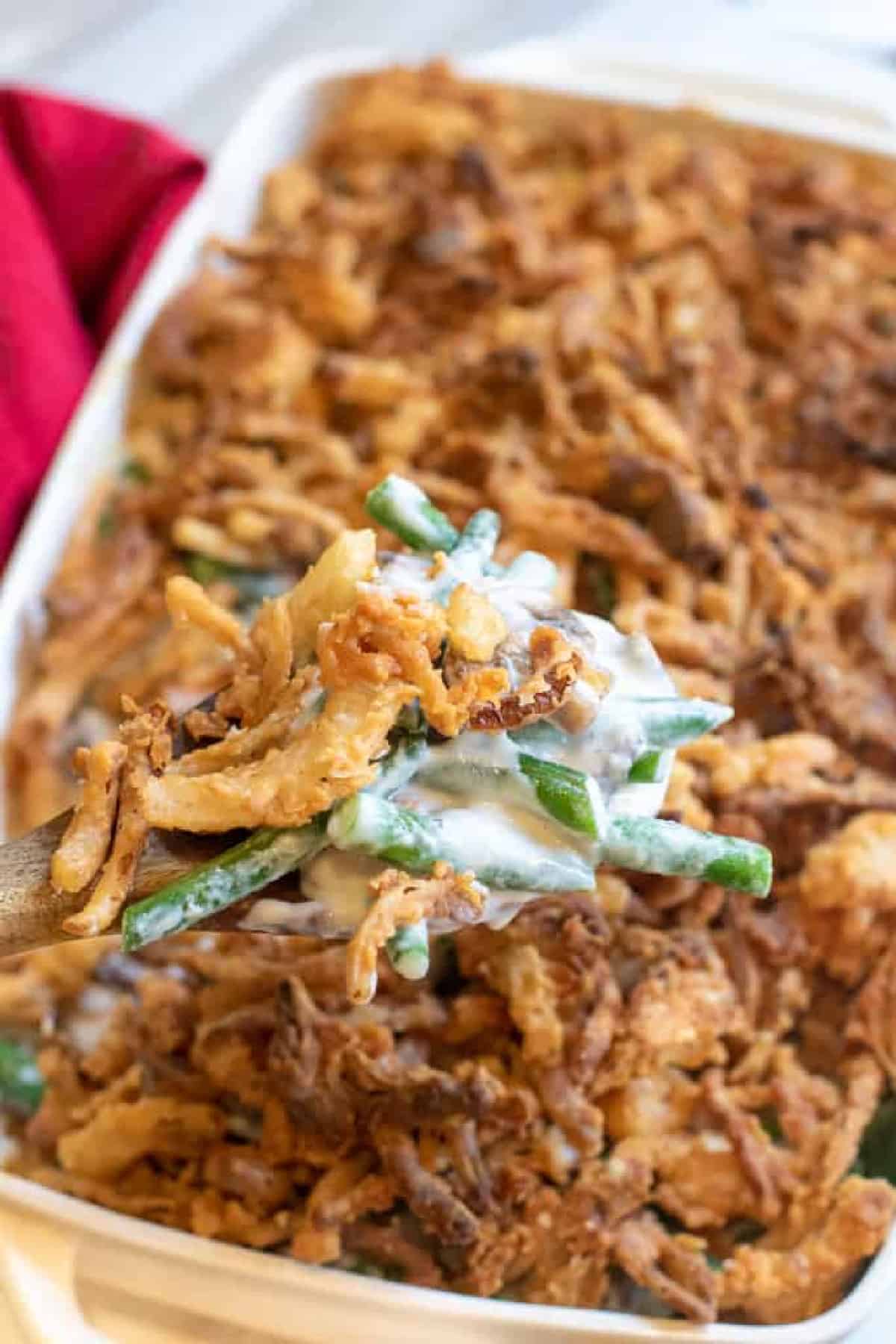 Green Bean Casserole From Scratch! Definitely not the canned variety that we all know, but instead now, in my humble opinion, the best way! Especially thanks to those super duper crispy crunchy French's Fried Onions!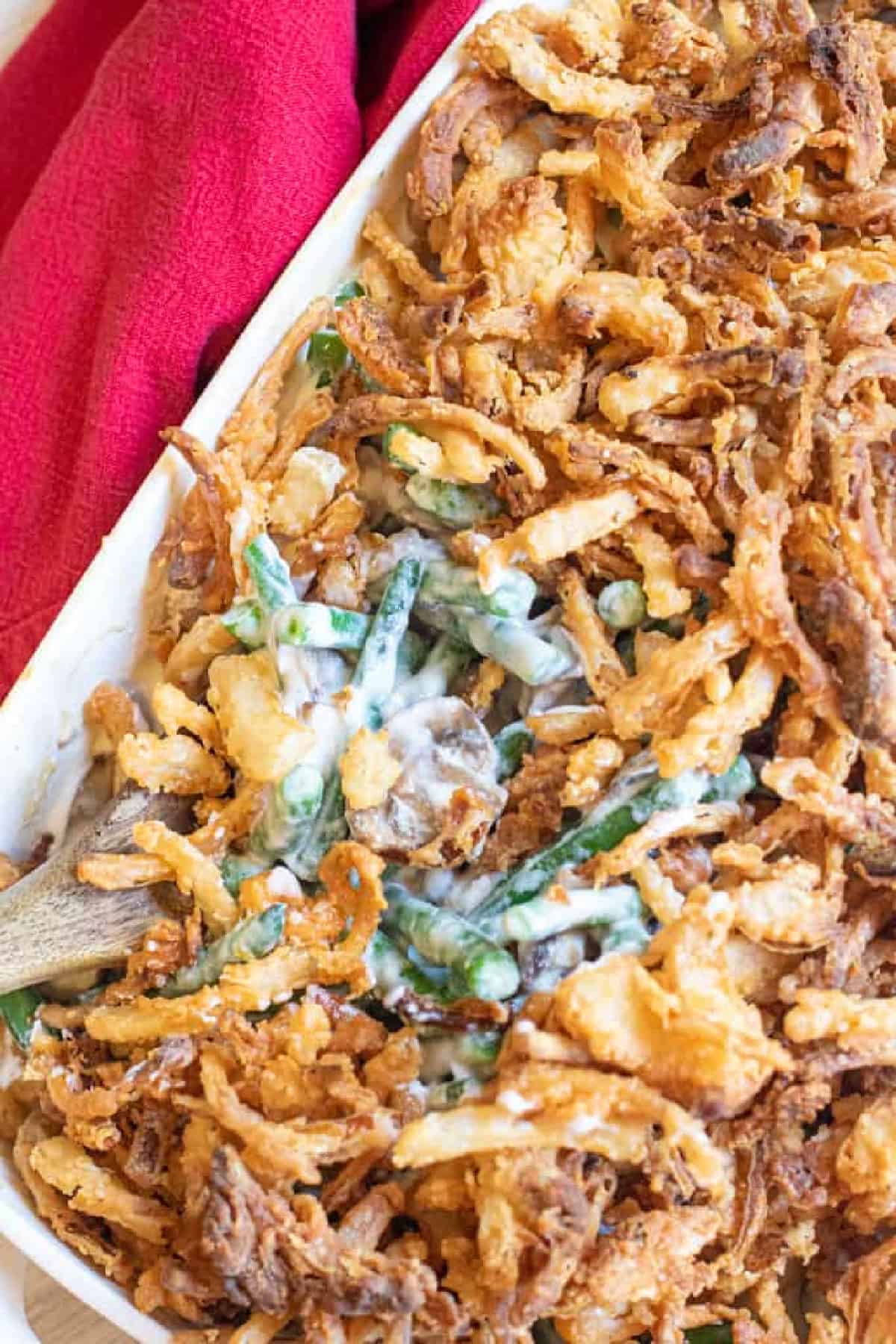 Oh and all those fresh mushrooms in that homemade mushroom soup!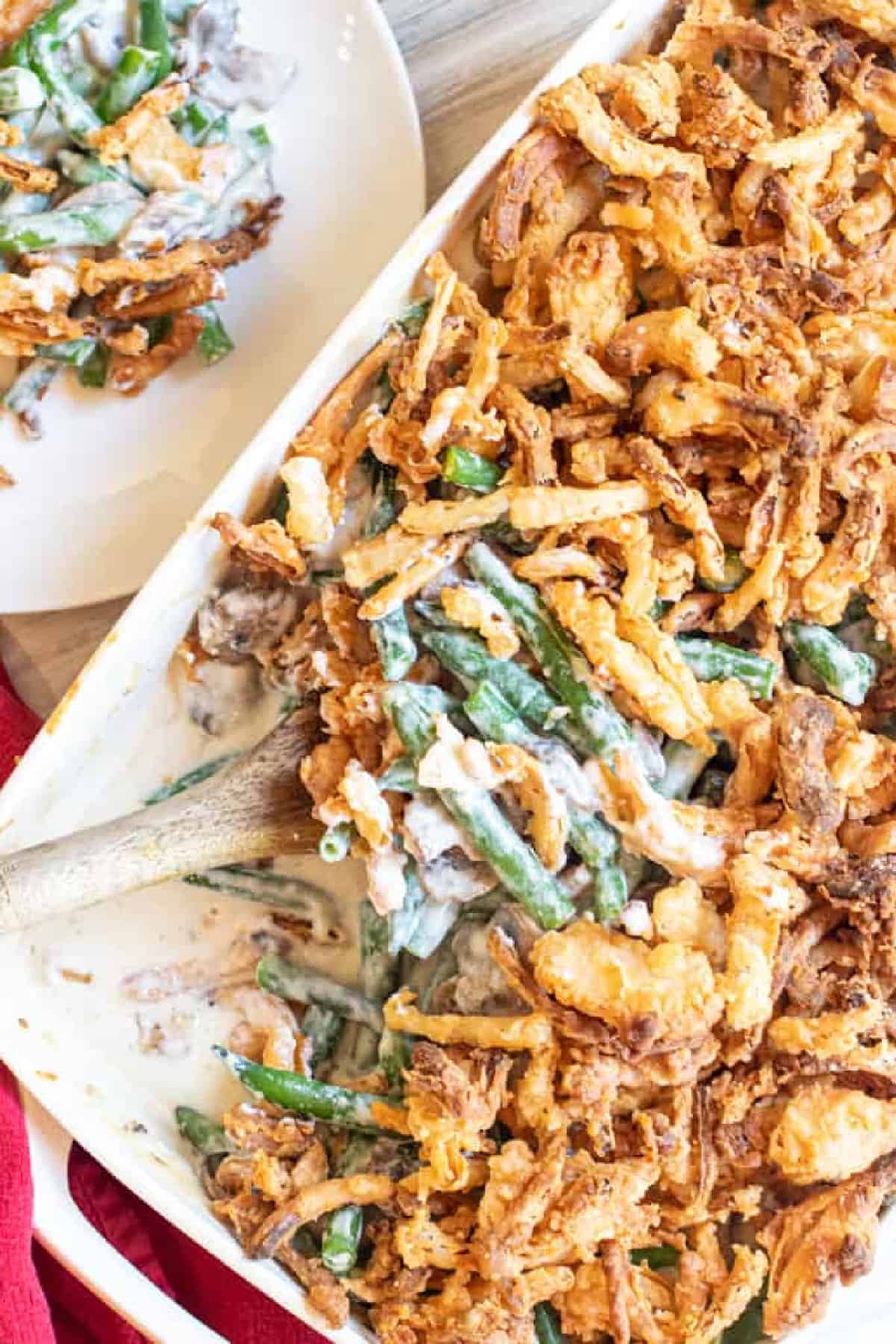 Ready for your next holiday meal (or whenever the craving hits) - and guaranteed to impress! Truly, there's nothing like a classic Fresh Green Bean Casserole From Scratch with fresh green beans, a mushroom-packed homemade soup, and especially (the best part) the copycat French's Fried Onions!
You Also Might Like...
Here are some of our other from-scratch copycat favorites for some of your holiday favorites!
Enjoy! As always, if you make this recipe or any of my others, I love to hear what you think! Leave a comment below, email me, or you can find me on Facebook, Instagram, and Pinterest!
If you want to see more, be sure to sign up for my 5 Easy Ways to Start Cooking From Scratch!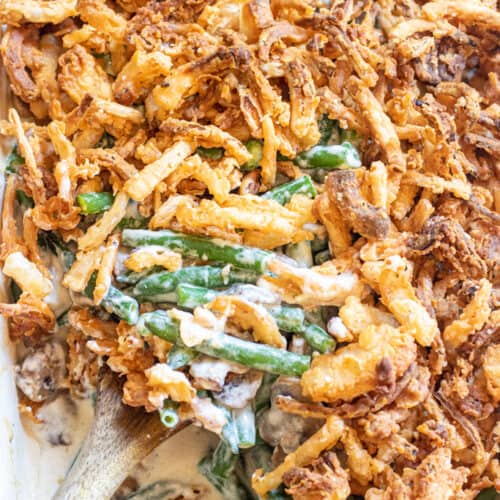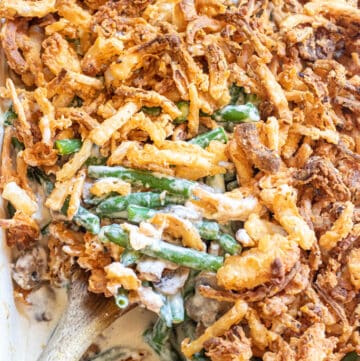 Fresh Green Bean Casserole From Scratch
A classic casserole, but made entirely from scratch!
Print
Pin
Rate
Equipment
Casserole Dish at least 3.5 quarts
Ingredients
2

lbs

fresh green beans

trimmed and cut in half or thirds

1

teaspoon

salt

1/2

teaspoon

fresh ground pepper

3-4

leaves

fresh sage

minced

12-14

oz

French's Fried Onions
Instructions
Pre-heat oven to 400°, set rack to middle of oven, and put a large pot of salted water to boil.

If using pre-made soup that's been stored in the fridge. Add soup to a medium saucepan to warm.

Once water comes to a boil, add beans. Boil beans for 5 minutes and then drain.

Add beans to a pan and sprinkle salt, pepper, and minced sage on top.

Mix warmed soup in with the green beans so that it is all well incorporated.

Sprinkle in some of the French's Fried Onions and give another mix. Or just top green beans and mushrooms with all of the fried onions.

Bake in oven for 10-15 minutes or until onions begin to brown.
Notes
Substitutions:
Green Beans: While fresh is of course our preferred, you can also use frozen. That's going to be the closest. Use whole frozen green beans and let them thaw before adding them to the pan.
Cream of Mushroom Soup: Homemade is our preferred due to flavor and mushrooms, but you can use canned as well. For this recipe, use 2 canned cups of condensed cream of mushroom soup with 1 1/2 cups of water mixed in.
French's Fried Onions: Use 12-14 oz of pre-made fried onions.
Prepare in Advance
You can prepare almost all of the components up to 3 days in advance.
Green Beans: Blanch the green beans and store them in the fridge, or freeze them for up to 6 months. Add green beans directly from the fridge into a casserole dish. Let frozen greens thaw before adding to the casserole dish.
Soup: Prepare the soup and store it in the fridge for up to 3 days.
Onions: Prepare the French's Fried Onions and ensure they cool completely before storing them in an airtight container at room temperature
Prepare the entire casserole up to 2 days in advance, minus the fried onions, and store it assembled in the fridge. To bake, remove casserole from the fridge and let it come up to room temp, at least 30 minutes and up to 60. Add onions and bake.
Nutrition
Calories:
372
kcal
|
Carbohydrates:
36
g
|
Protein:
4
g
|
Fat:
23
g
|
Saturated Fat:
9
g
|
Polyunsaturated Fat:
1
g
|
Monounsaturated Fat:
1
g
|
Cholesterol:
5
mg
|
Sodium:
1069
mg
|
Potassium:
1034
mg
|
Fiber:
4
g
|
Sugar:
6
g
|
Vitamin A:
783
IU
|
Vitamin C:
14
mg
|
Calcium:
145
mg
|
Iron:
1
mg