Skip the can and make your own Beef Stock From Scratch for all of those winter soups and stews!
Soup Season is here! Also known as boot season, also known as big cozy sweater season, also known as the season I usually gain 5-10 lbs because I begin living in tights with winter dresses / skirts and avoiding buttoning pants so I can live in happy cozy comfort food denial. Like rich winter soups. We're making those soups even better with Beef Stock From Scratch!
And the key to any soup or stew From Scratch? Homemade stock. From Scratch Chicken Stock is always in our house because it's so incredibly easy and cost effective to make. Beef stock, however, it's been on my list for awhile. It's a bit more complicated and time consuming, but as I've been dreaming of all the beef stock soups I want to start making, it had to happen.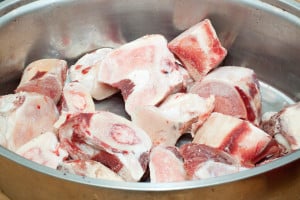 The hardest part? Acquiring beef bones. Which really just meant I needed to go to a local butcher shop and buy them, which that in and of itself is not difficult, but me remembering to do so when the butcher is open, proved to be the challenge. Our go-to butcher is Gartner's but we also recently discovered Western Meat Market which has a charming small local feel to it. Plus, there was no massive line like you find at Gartner's which won me over this particular day.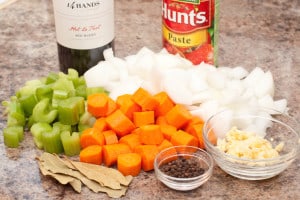 To help round out the stock's flavors: carrots, onions, celery, garlic, peppercorns, red wine, and to my surprise, tomato paste (one of the only things I buy instead of make as expressed in my ketchup recipe).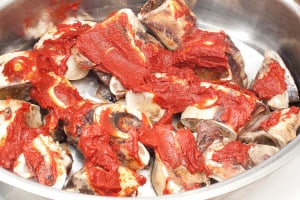 First I roasted the bones in the oven at 400 degrees for an hour. Then added the tomato paste to the bones,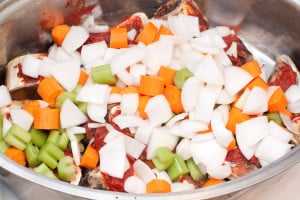 and tossed the vegetables on top and roasted for another 30. After, a quick de-glaze of the pan with a couple of cups of the red wine (to get all the browned flavor bomb bits from the bottom of the pan),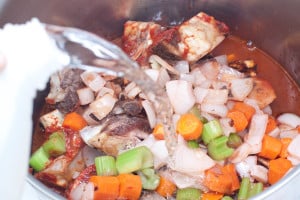 it's ready for the stock pot with lots of water.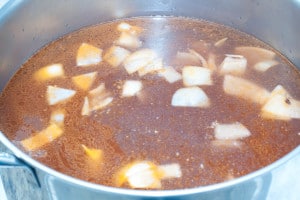 Brought to boil, then lowered to simmer so it can reduce with all the flavors and fat from the marrow of the bones.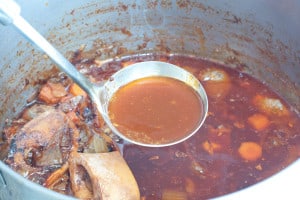 Emeril said to let it simmer for 4 hours. I let mine simmer for more like 10. I was home so I figured what the hell. The longer it simmers the the more it reduces and the more concentrated it gets, right? Right.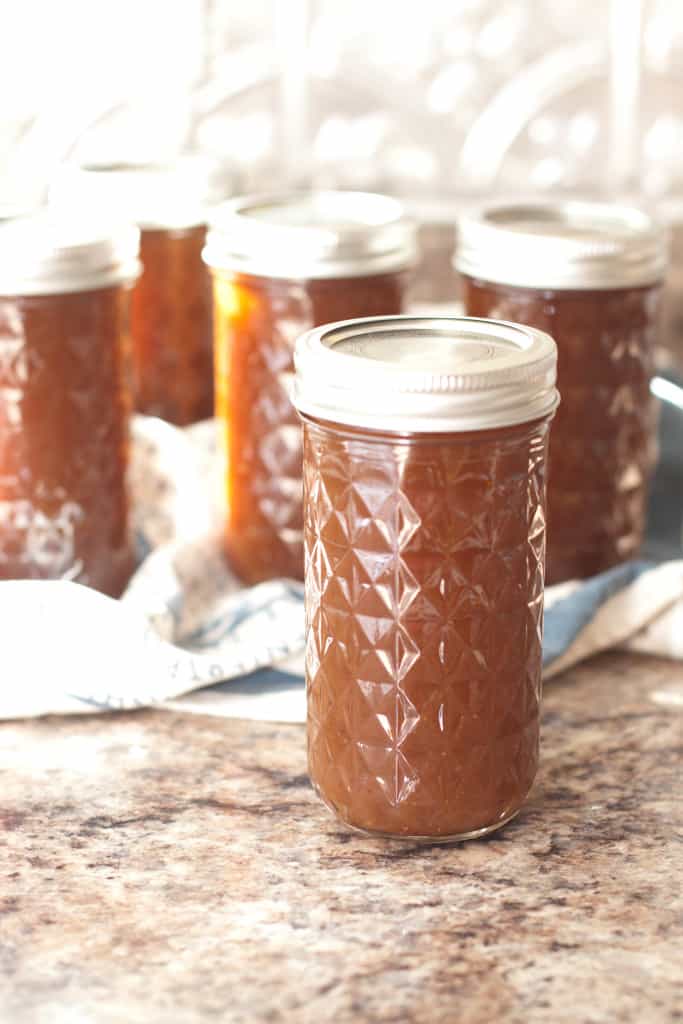 And concentrated it became. From a gallon and a half of water, I came out with 10 cups of super rich, super concentrated, super delicious beef stock from scratch. It's so rich, I'll end up probably adding an equal part water to it when I go to use it, which means 20 cups of delicious homemade stock for soups and stews. The perfect way to start the soup season! Now to find a beef pho recipe… 😉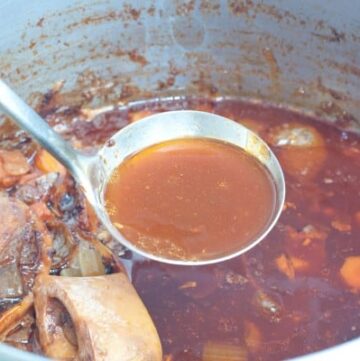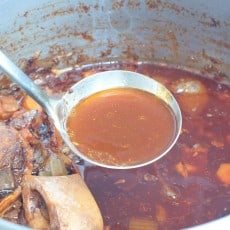 Beef Stock From Scratch
Make your own stock this winter for delicious From Scratch soups!
Print
Pin
Rate
Ingredients
7

pounds

beef bones

sawed into 2-inch pieces

1

6-ounce can tomato paste

2

cups

chopped onions

1

cup

chopped celery

1

cup

chopped carrots

2

cups

claret wine

20

peppercorns

5

garlic cloves

peeled

5

bay leaves

2

tablespoon

of salt

1 1/2

gallons

water
Instructions
Preheat the oven to 400 degrees F. Place the bones on a roasting pan and roast for 1 hour.

Remove from the oven and brush with the tomato paste. Lay the vegetables over the bones. Return to the oven and roast for 30 minutes.

Place the pan on the stove and deglaze with the wine, scraping the bottom of the pan for browned particles. Put this mixture in a large stock pot. Add the peppercorns, garlic, and herbs. Season with salt.

Bring the liquid up to a boil and reduce to a simmer. Cook for 4 hours*. Remove from the heat and skim off any fat that has risen to the surface**. Strain the liquid and discard the bones. Will yield approximately 1/2 gallon is simmered for 4 hours.

Store in air tight containers in fridge for 2-3 days, freezer for 6 months, or can with a pressure canner. Water bath canning will not work for stock due to it's low acidity.
Notes
*I simmered for much longer - totally up to you and how much time you have and how the flavors are developing. **When I'm done making stock, I let it cool and sit for awhile before skimming the fat, sometimes even refrigerating and then skimming in the morning before canning.