Ditch the packet and make your own homemade dry Onion Soup Mix From Scratch with just a few simple ingredients. Use it as a replacement for your favorite onion soup mix recipes, this recipe makes the equivalent to one of those pre-made packages, and it can be made in just as much time as it takes to tear open a package!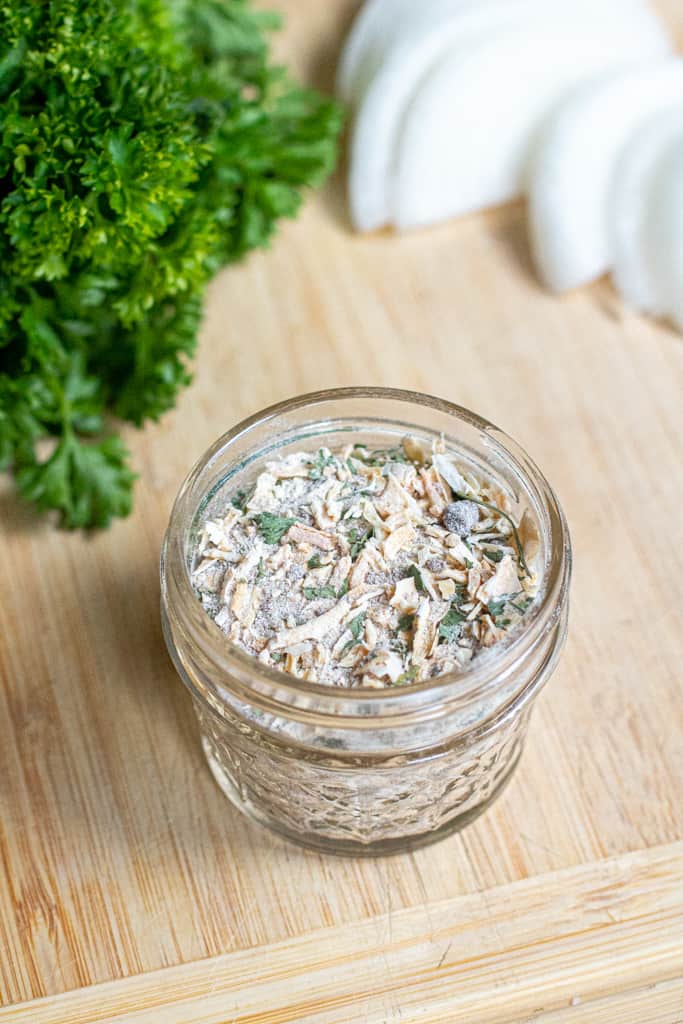 You know those onion soup mixes in a little packet? They're so convenient, aren't they? Yea, I know... but you know what else I've just discovered? Onion Soup Mix From Scratch is basically just as easy! If you dehydrate your own onions, this recipe will take a little time to dehydrate the onions, but otherwise, putting the mix together will take only seconds longer than it'll take to open the box/bag of the store-bought stuff.
We love this recipe because it's a great replacement for any of your favorite onion soup mix recipes. Crock Pot Roast? Great. Onion Dip? Yum. Any of your favorite soups? Perfect. The possibilities are endless!
Ingredients Needed
Dehydrated Onions - Of course the base of this mix. You can use store bought, but also, if you have a dehydrator, making your own dried onions is so easy.
Beef Broth Base - A powdered broth base is basically a granulated version of a boullion cube. This is our favorite to use, but to keep it vegan, this is an option as well.
Onion Powder - This is what will provide addtional onion flavor.
Garlic Powder - Is there anything better than onion and garlic together?
Celery Salt - This is one of my favorite spices in our spice drawer. The touch of celery plus the added salt is perfect for soups.
Dried Parsley - To add just a touch of herbs.
Black Pepper - Just a pinch. Too much will be a little overpowdering.
Dehydrating Onions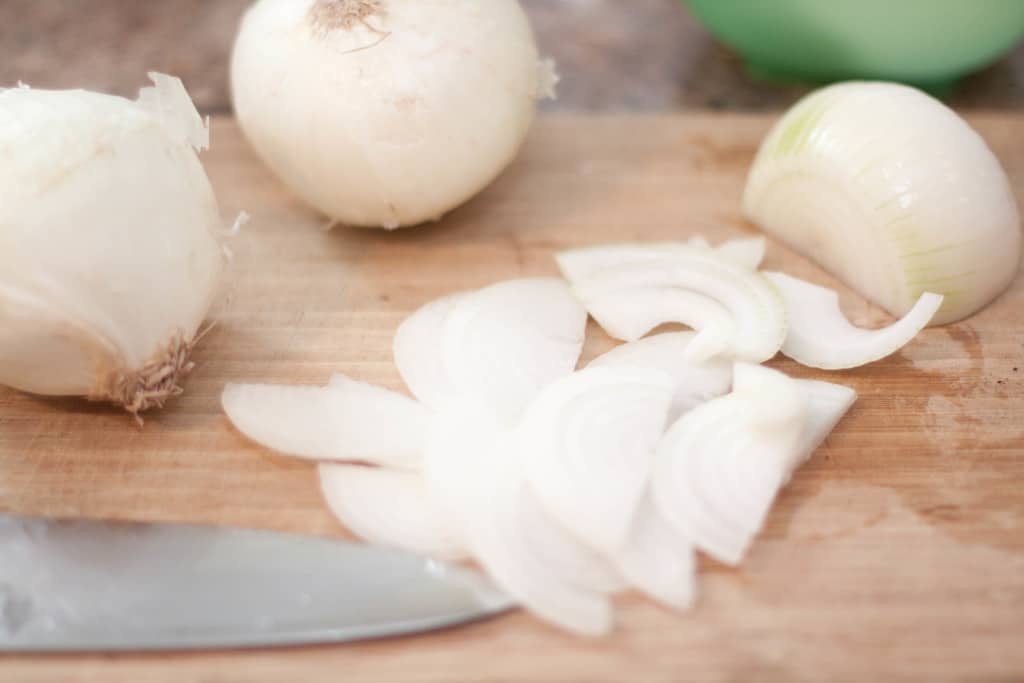 If you have a food dehydrator, then you can add even more from scratch flair to this onion soup mix recipe by making your own dried onion flakes.
For this dry onion soup mix recipe, we prefer white onions because they tend to have a stronger, spicier, more pungent flavor than yellow.
We absolutely love this dehydrator which is the Cadillac of dehydrators, although this (the first one that we had), will do the trick, too!
You don't need a dehydrator for this recipe, you could absolutely use store-bought, too.
Made in Minutes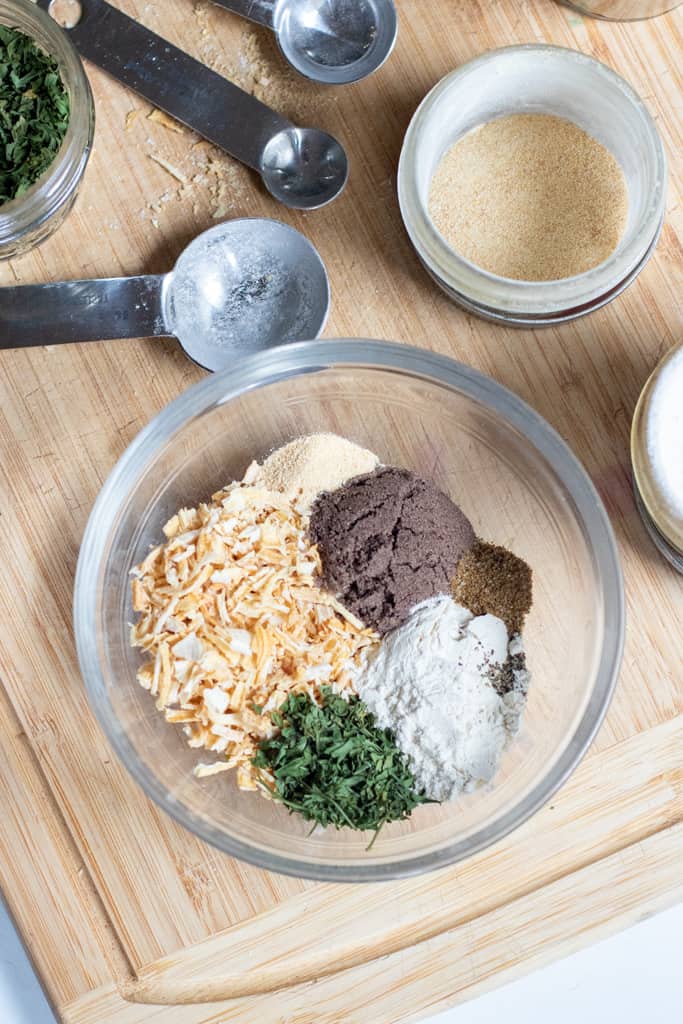 It's hard to get much easier than this, which means all of your favorite onion soup recipes will have some from scratch flair!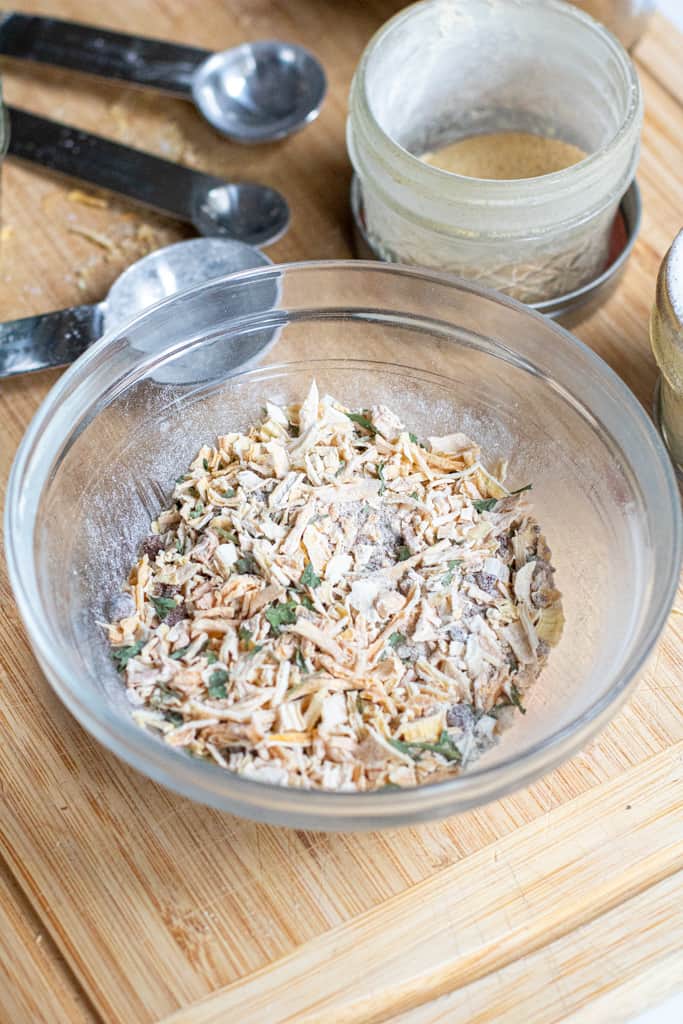 Mixed, and ready to go for your favorite onion soup mix recipes!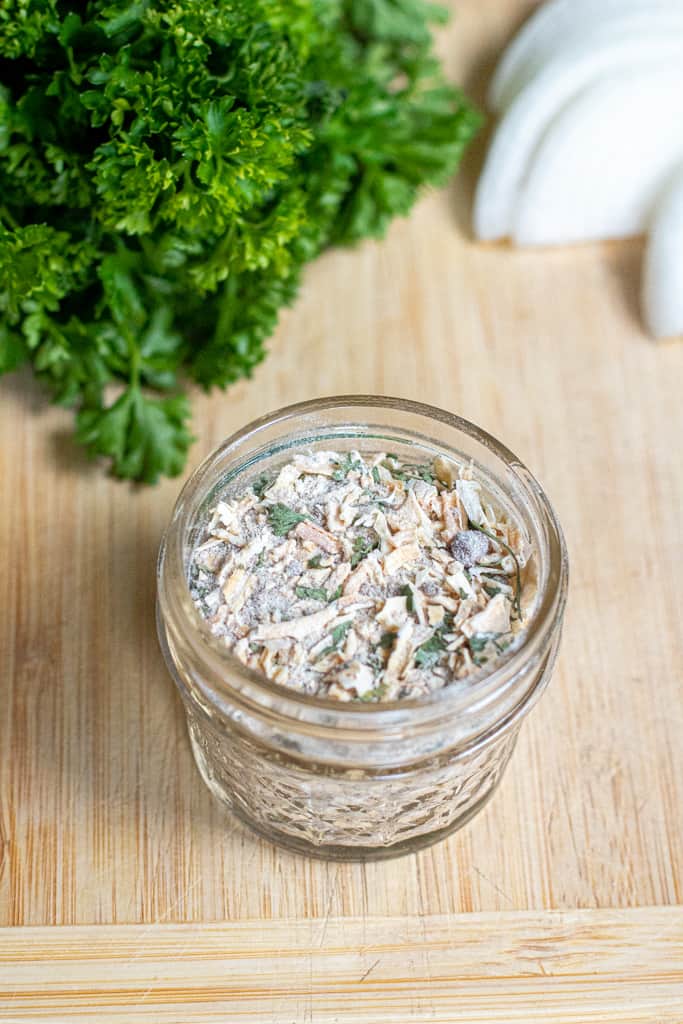 Store in a jar in a cool dry place and it's good to go for up to a year!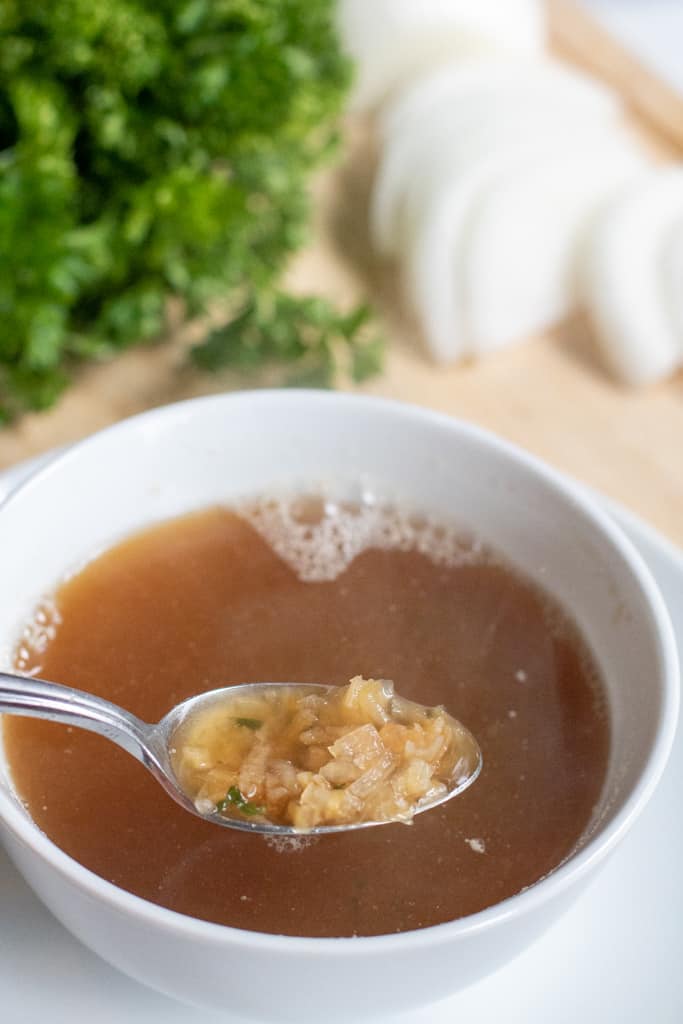 Or put this Onion Soup Mix From Scratch to use right away by making some homemade Onion Soup!
This recipe is a substitute for 1 packet of the store-bought onion soup mix, ready for any of your favorite recipes, or can simply be added to 4 cups of boiling water to make a simple onion soup.
Enjoy! As always, if you make this recipe or any of my others, I love to hear what you think! Leave a comment below, email me, or you can find me on Facebook, Instagram, and Pinterest!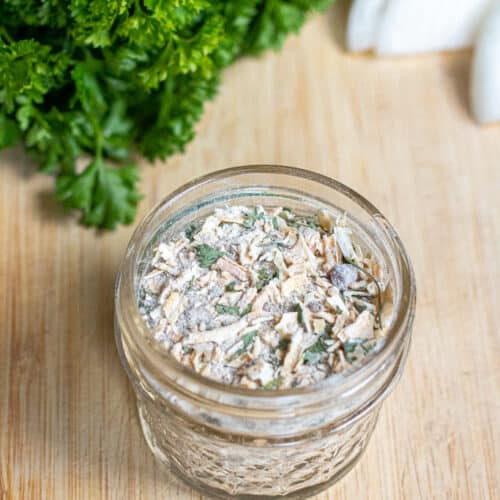 Onion Soup Mix from Scratch
Make your own Onion Soup Mix From Scratch
Print
Pin
Rate
Ingredients
1/3

cup

dry onion flakes

or your own dried onion

1

tablespoon

beef broth base

or vegan broth base

1.3

tablespoon

onion powder

1 tablespoon + 1 teaspoon

1

teaspoon

dried parsley

1/2

teaspoon

celery salt

1/4

teaspoon

garlic powder

pinch

ground black pepper
Instructions
In a small mixing bowl, combine all ingredients and mix.

Store in an airtight container or up to 1 year.

Use as 1 packet of store-bought dry onion mix.
Notes
To Make Dehydrated Onions
Slice onions thin and add to dehydrator trays. Dehydrate at 125˚F until completely dry, about 3 to 9 hours.
Best onions to use: White onions
Substitutions
You can also use a vegan broth base or granulated bouillon.
Nutrition
Calories:
107
kcal
|
Carbohydrates:
24
g
|
Protein:
4
g
|
Fat:
1
g
|
Saturated Fat:
1
g
|
Polyunsaturated Fat:
1
g
|
Monounsaturated Fat:
1
g
|
Cholesterol:
1
mg
|
Sodium:
2374
mg
|
Potassium:
424
mg
|
Fiber:
3
g
|
Sugar:
8
g
|
Vitamin A:
5
IU
|
Vitamin C:
16
mg
|
Calcium:
88
mg
|
Iron:
1
mg