Ditch the packet. Make your own Onion Soup Mix from scratch!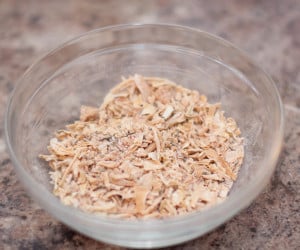 You know those onion soup mixes in a bag? They're so convenient, aren't they? Yea, I know... but you know what else I've just discovered? Onion Soup Mix From Scratch is almost just as easy thanks to a food dehydrator and a little bit of time!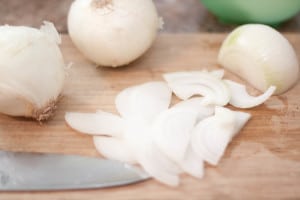 Seriously. So easy. Just slice up some white onion (or sweet, whatever you have),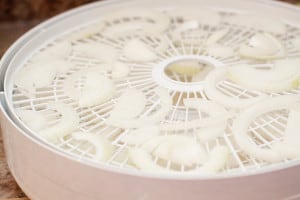 add them to your handy dandy food dehydrator,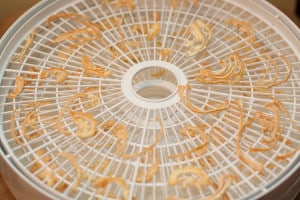 and let it do its magic.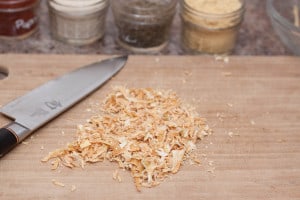 Once the onions are all nice and dried (I left mine in for 24 hrs mainly because I forgot about them, but they would probably do fine with just 12-18) a quick chop and viola! Homemade dried onion flakes. Don't have a dehydrator? Not a problem- you can find dried onion flakes in the spice section of the grocery store, too.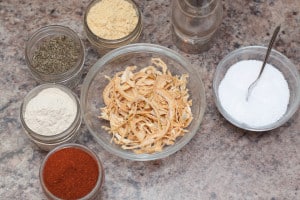 Then, it's super easy. Just a mix of a bunch of spices you probably already have in the house: paprika, garlic powder, thyme, mustard powder, pepper, and salt.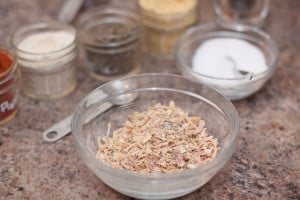 And then you have your very own, from scratch, onion soup mix! Add water for a soup, sour cream for a dip, or use it in any other recipe that calls for onion soup mix. All from scratch and much cheaper than buying the pre-made packages. Stay tuned for the Crock Pot Chuck Roast I made with ours by following me via email!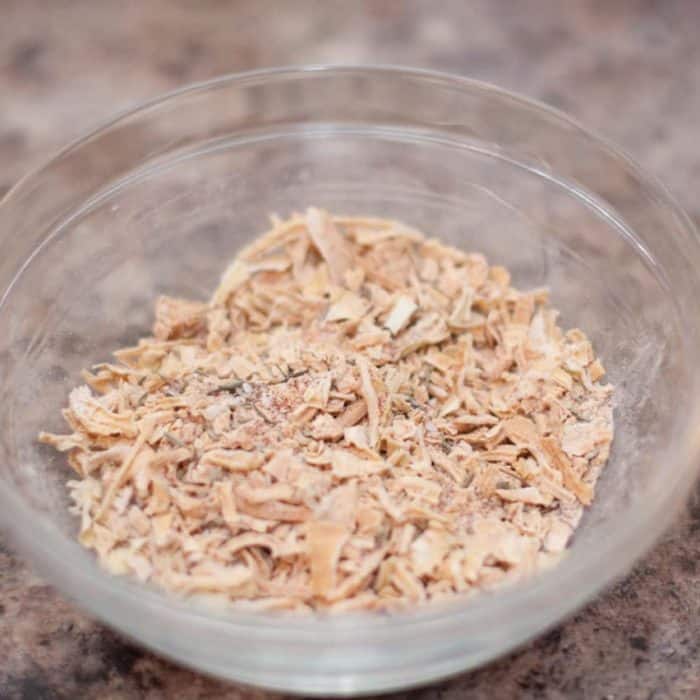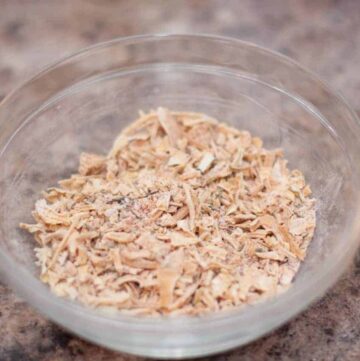 Ingredients
1/4

cup

dry onion flakes or your own dehydrated onion

1

teaspoon

kosher salt

1

teaspoon

dried thyme

1

teaspoon

paprika

1

teaspoon

dry mustard

1

teaspoon

garlic powder

1/4

teaspoon

black pepper
Instructions
To Dehydrate Onions
Slice 2 onions thin and line in dehydrator. Dehydrate at 145 degrees for at least 15 hours.

When dried, chop.
For the Mix
In a small mixing bowl, combine all ingredients.

Store in an airtight container.

To use, stir into recipes as you would commercial onion soup mix (about 1 to 2 tablespoons per 1/2 cup sour cream for dip).