This Easy Homemade Rice Pilaf is a classic rice dish that's simple to make in one pot or skillet, is packed full of flavor, and is a favorite side dish in our house!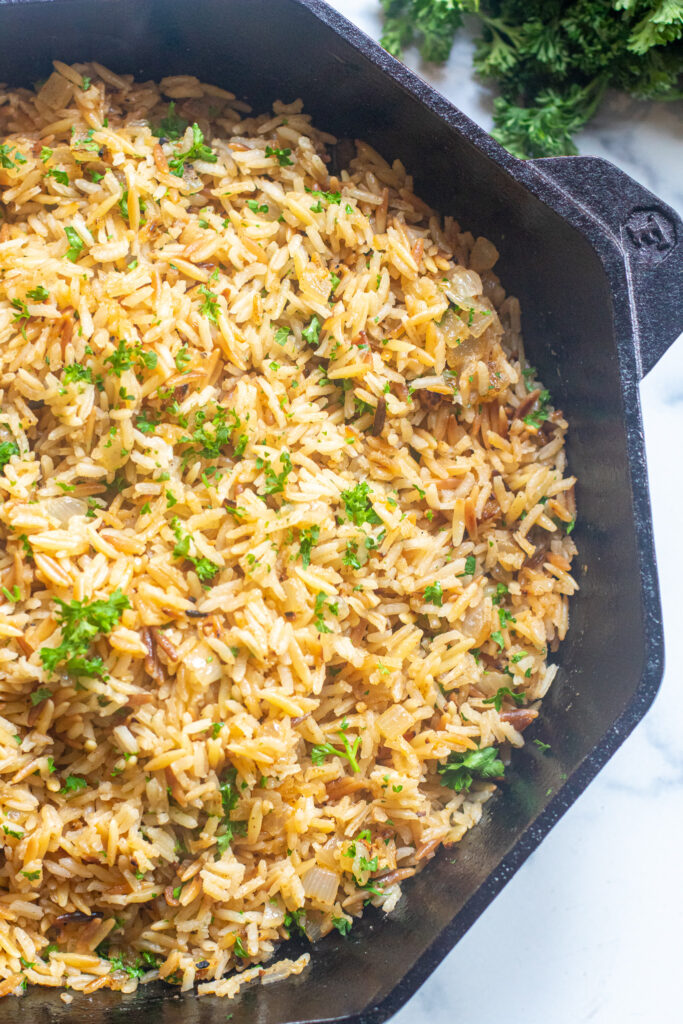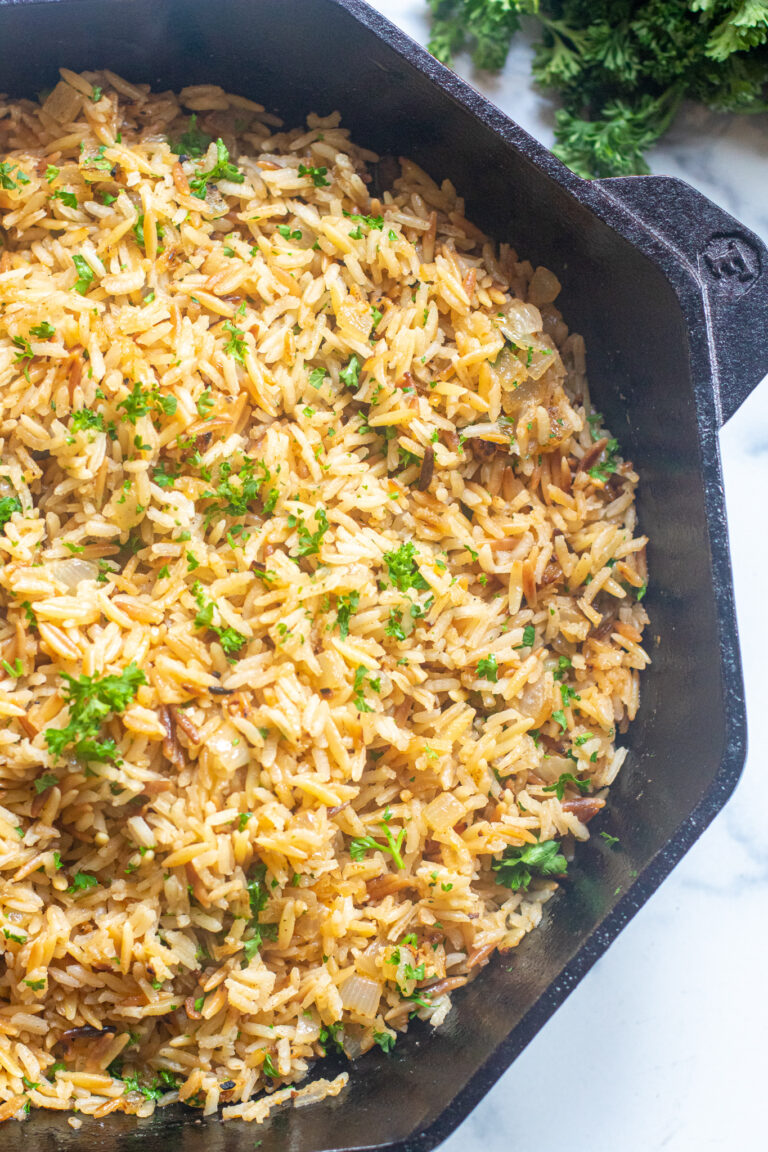 Ahhh another fond food from my childhood that came from a box. Did anyone else grow up on (or still make) rice pilaf from a box? I have vivid memories of it when I was a kid because I absolutely loved it. But you know what I love even more? How this Easy Homemade Rice Pilaf made from scratch is almost just as easy as opening that box and will be the rice pilaf of my girls' childhood!
Recipe Video
What is Rice Pilaf?
Pilaf is actually a cooking method where the rice is cooked first in some garlic and onion (or other aromatics like shallot or fennel) and then finished in a cooking liquid, like water or stock (for more flavor). This is what makes it so flavorful and delightful - and what makes it different from your regular rice dish. This technique is also how you get that lovely fluffy texture where the rice doesn't clump or stick together.
In other regions of the world, you may encounter it as pilau (from the Indian subcontinent), palaw (in Afghan cuisine), pulao (Persian) or plav (Central Asia), and pilav (in Turkey). Nearly every region in the world has a variation of a rice dish cooked in a similar method. Some with meat, some without, and some with wheat-like bulgar.
An easy but delicious homemade pilaf though is basically made up of 5 components: Aromatics + Rice and Orzo + Spices + Cooking Liquid, and a Finishing touch.
Ingredients Needed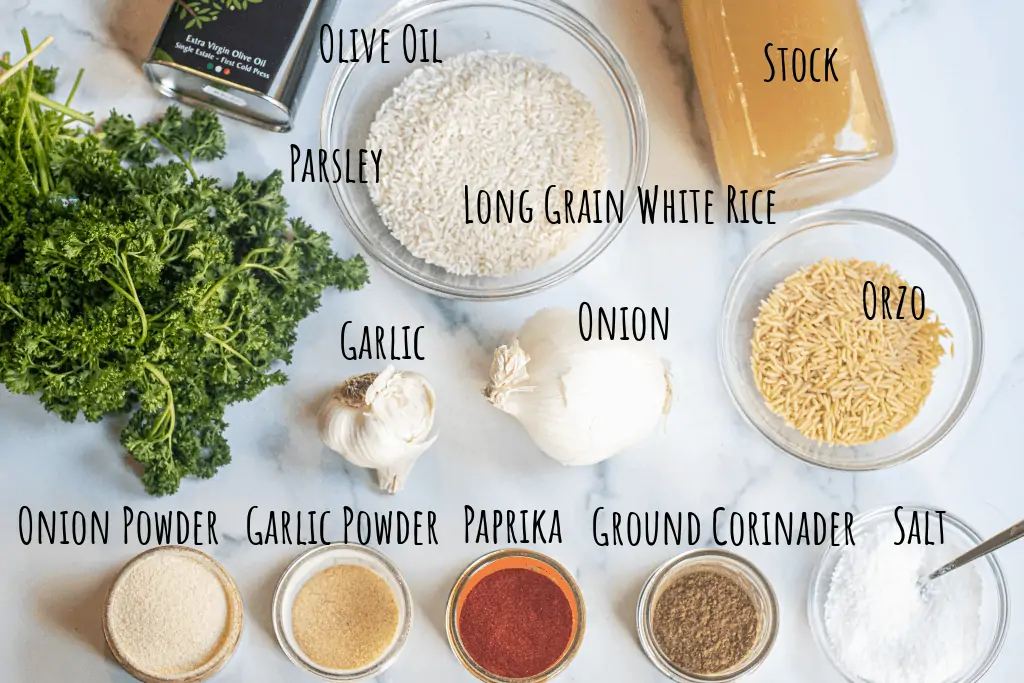 Aromatics - Garlic and Onion, true staples in our cooking! Fresh is key, and we even add a little extra flavor with some powdered but you really need at least some fresh for this recipe as it's the base of a great pilaf.
Rice - For the rice, Long Grain White, Basmati or Jasmine all work great. Be sure you rinse it!
Orzo - Not found in all rice pilaf dishes, but the added taste and texture (and look) of the orzo pasta is what really brings me back to the boxed version from my childhood.
Cooking Liquid - We prefer a nice homemade Stock. Use Vegetable to keep it vegetarian or chicken, whatever you have on hand, or use it and a mixture of water.
Olive Oil - Not only used for the fat to cook your garlic and onion, but it's also key to coat the rice! See the how-to below for why it's so important. Butter would of course also work.
Salt and Spices - Garlic and Onion Powder, Paprika, and Ground Coriander are my favorites but you could also use curry or cumin.
Finished With: Fresh Parsley for a pop of herbal freshness.
Rinsing Rice: A general good practice when cooking rice. This is super simple and worth the little added effort because it removes the extra starch on the outside, which ultimately helps prevent it from getting mushy or sticking and clumping. Just add it to a strainer and run cold water over it, gently moving it with your hands. You'll see the cloudy (starch-filled) water drain. Just 15-30 seconds of this is plenty and then let drain. No need for it to be completely dry before cooking.
Step-by-Step Instructions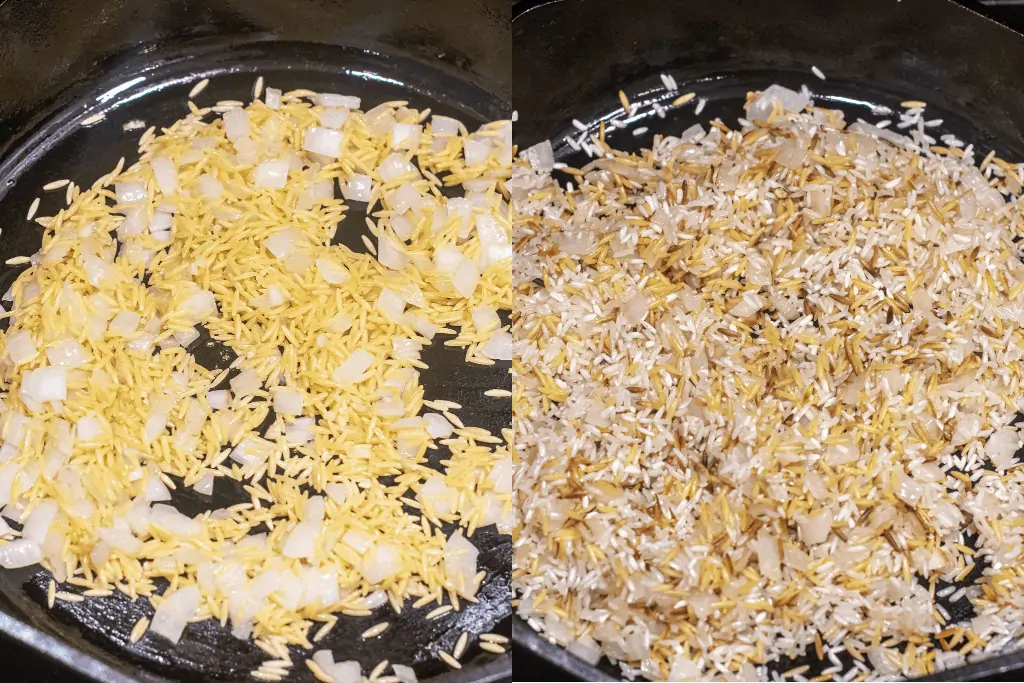 Step 1: Sauté your aromatics in 1/2 the oil and then add the orzo and coat it with oil and toast.
Step 2: Add the other 1/2 of the oil and then add your rinsed rice and stir to coat all of the rice.
This step is very important to not only building flavor but toasting the grains and coating them with oil will help prevent it from clumping.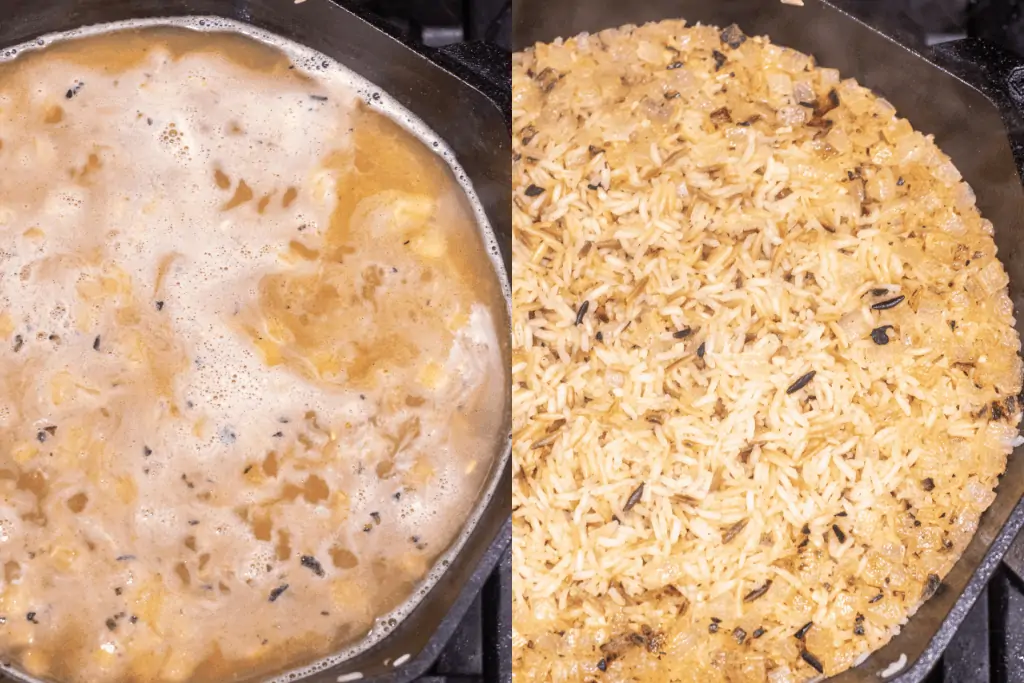 Step 3: Add your spices, give a mix, add the stock, cover, then sit back and relax and finish the rest of your dinner in the next 15 minutes.
Be sure to check the package of the rice you use for cooking time, most will say 15-20 minutes.
Top 2 Tips for Cooking Rice
Don't lift the lid. Resist! Hold back the urge to lift that lid and take a peak. The minute you lift the lid of the pot and that steam escapes, you've messed with the perfect balance of liquid to rice! Unless you smell something badly burning (which would usually mean the liquid to rice ratio was off from the start), leave that lid on!
Never stir the rice. By stirring it, you're going to activate the starch in the rice and that's when you end up with mushy rice. Save that rice stirring only for your risotto.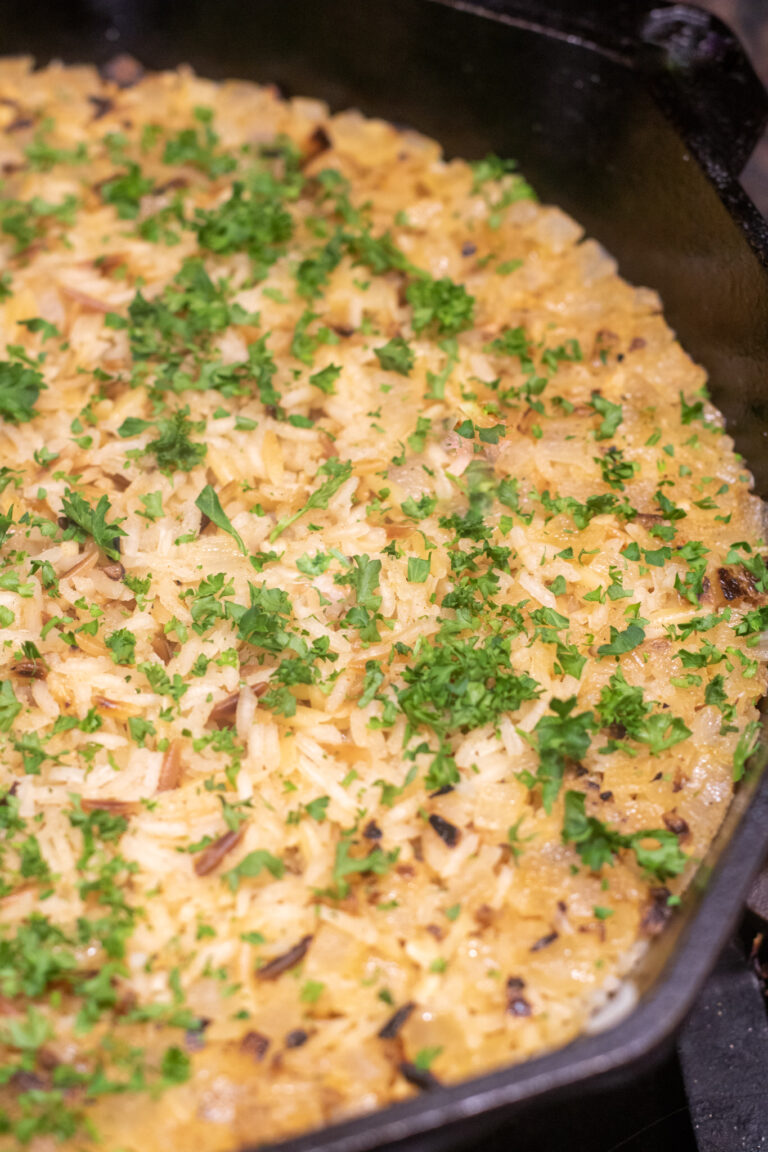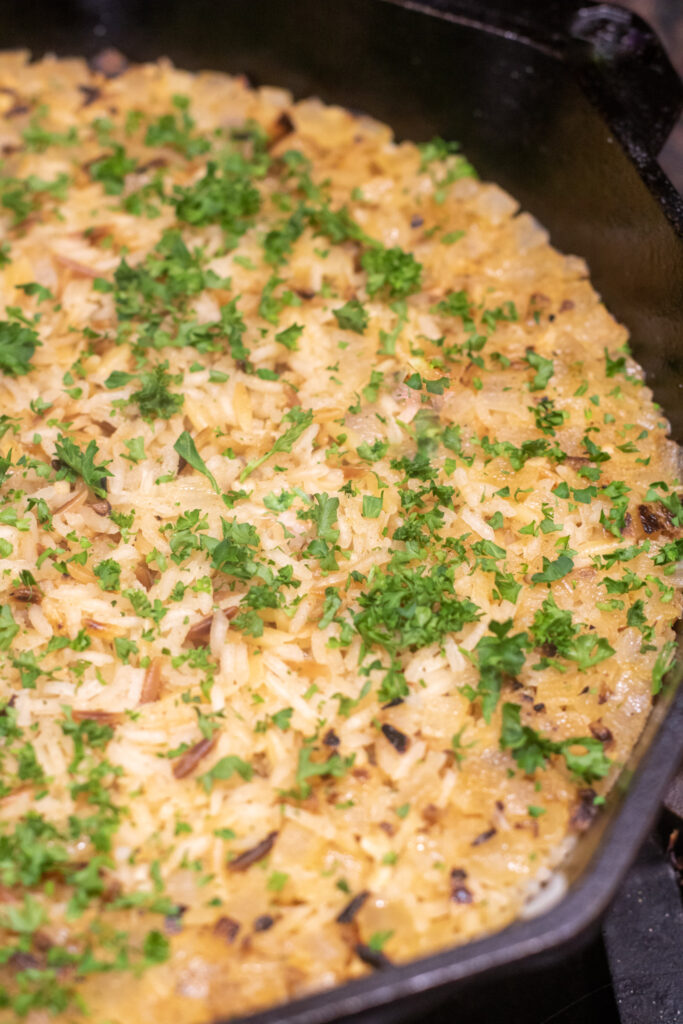 Step 4: Once you have that beautiful perfectly cooked rice (thanks to you not lifting the lid or stirring it), let that rice rest. Take it off the heat and give it a couple of minutes, covered, to collect a little more of that steam into the rice. This is what will help it become nice and fluffy.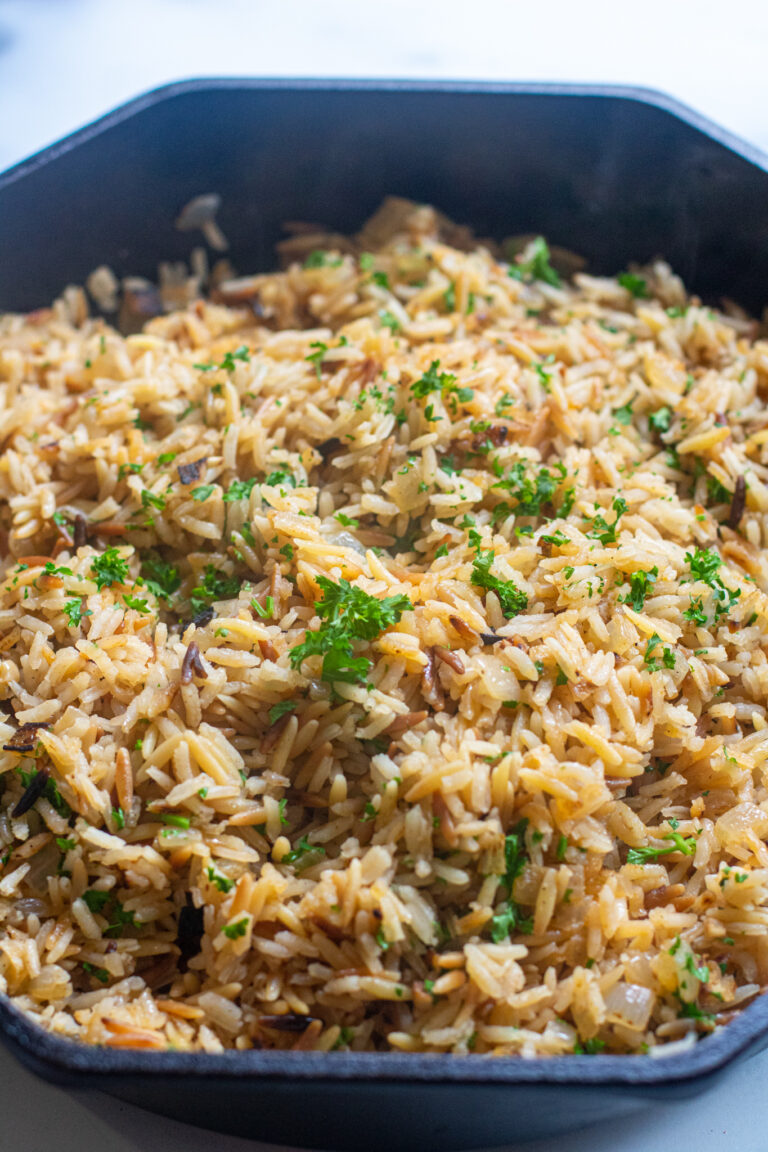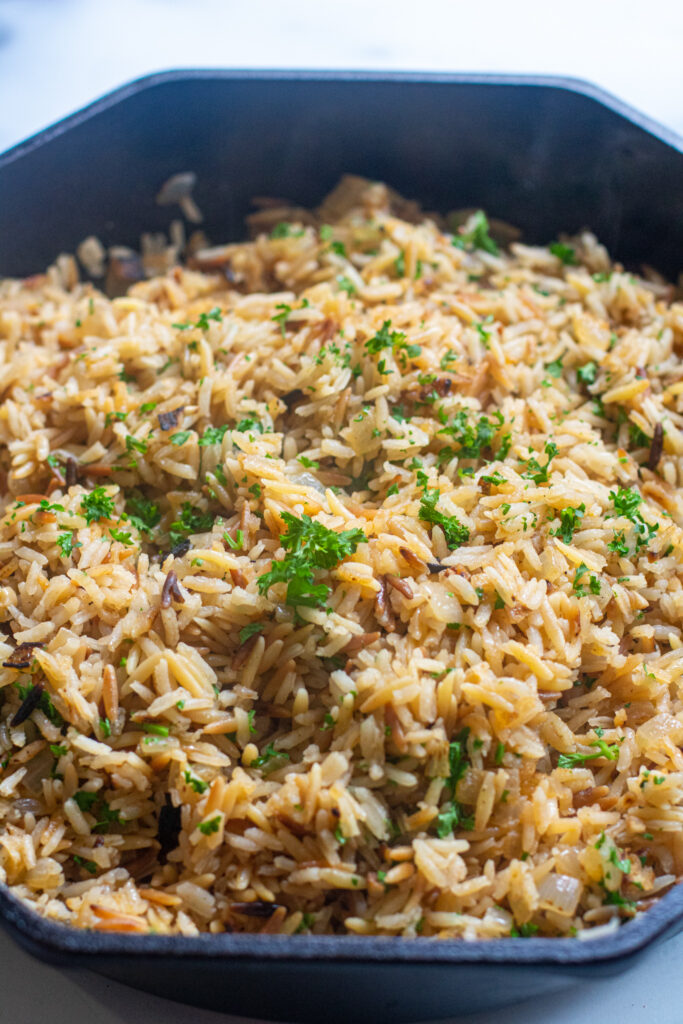 Once it's rested for a few minutes, add your fresh parsley, give it a fluff, and you have beautiful, fluffy, perfectly cooked Easy Homemade Rice Pilaf!
Customizable
Now that you have the basics of an easy pilaf down, the possibilities are endless!
For Aromatics, you should always use onion, but you can also add:
Shallots, Fennell, Celery, Garlic, or Carrots
For the Cooking liquid you can use:
Chicken Stock, Vegetable Stock, Beef Stock, Seafood Stock, Water, or a mixture of any.
For the Spices here are some of our favorites:
Coriander, Curry, Cumin, Garlic Powder, Onion Powder, Cayenne, Turmeric, Paprika, or even just a dash of Cinnamon.
Finish with:
Fresh Parsley, Fresh Mint, Fresh Cilantro, or/and Chopped nuts like almonds or pecans!
Are you already thinking up some other amazing combinations?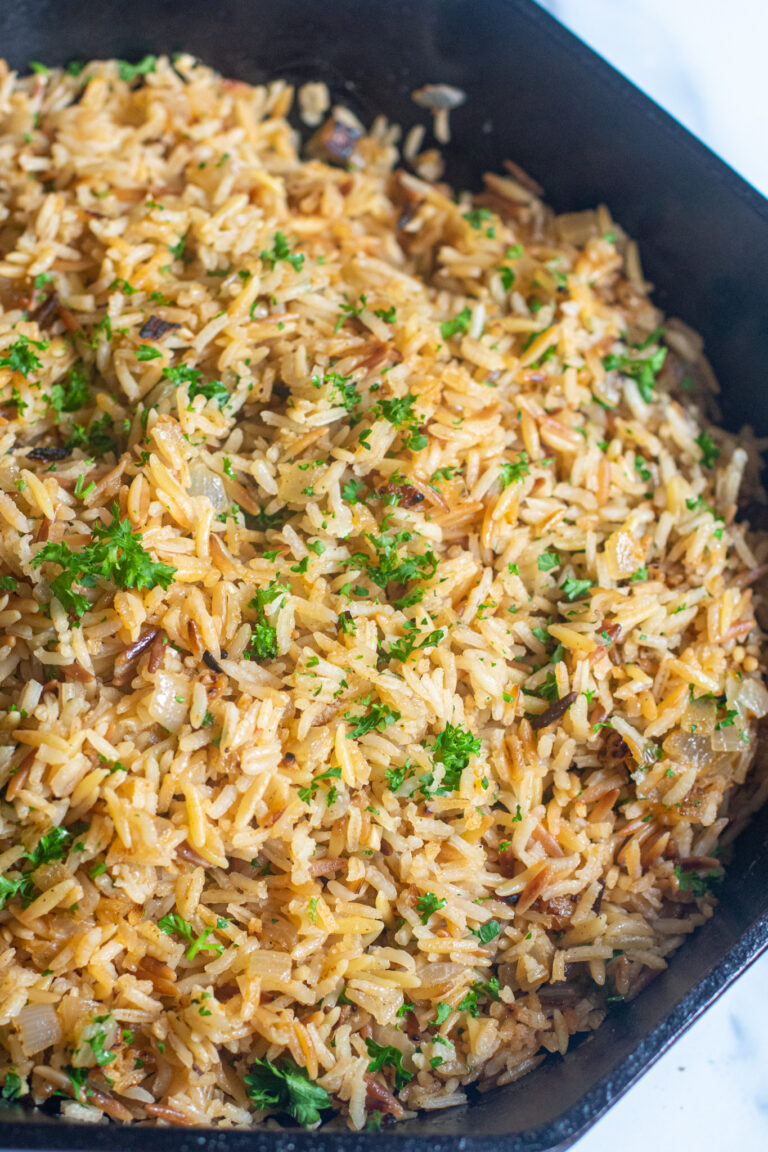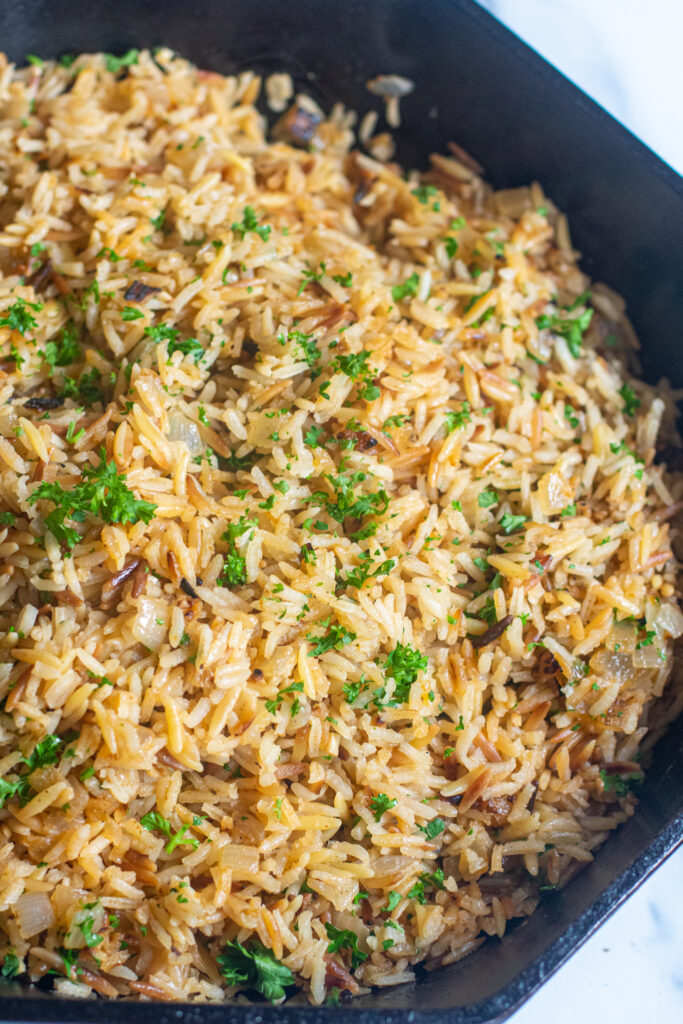 Serve It With
Your favorite meat or protein dish! We love it with:
FAQs
What do I cook it in?
We LOVE our 12" Finex Cast Iron for this, but you can use any nonstick deep skillet or pot with a lid that will fit 4 cups of cooked rice (at least 2 quarts).
Do I have to use orzo?
Nope! Use all rice if you'd like. I just prefer the added texture and color it adds.
Can I use brown rice?
Yes, long grain is best. Although it will greatly adjust your cooking time as brown rice to cook is usually 40 minutes. We prefer this recipe with white rice.
Can I make it ahead?
Technically, yes. But it will not be the same. While still good, when rice is stored in the fridge it'll start to dehydrate a little and it just doesn't reheat quite the same. Great for leftovers, knowing they're leftovers, but not to bring to a dinner party.
How long does it last?
Up to about 5 days in the fridge and 1 month in the freezer.
Can I add meat?
Yes, you can cook some ground beef with the garlic and onion and then add the orzo and rice. We prefer this without meat, but if you're set on a meaty rice dish, then I'd suggest a Plov (Russian/Ukrainian) rice dish which uses lamb, chuck roast, or chicken, or Uzbek Plov (Uzbekistan).
Do I have to rinse the rice?
No, it's not necessary, although it does remove the excess starch which will help make your rice nice and fluffy. In general, it's a good practice to rinse your rice before cooking it, although if you don't, it's not the end of the world and this recipe will still turn out great.
Enjoy! As always, if you make this recipe or any of my others, I love to hear what you think! Leave a comment below, email me, or you can find me on Facebook, Instagram, and Pinterest!
If you want to see more, be sure to sign up for my 5 Easy Ways to Start Cooking From Scratch!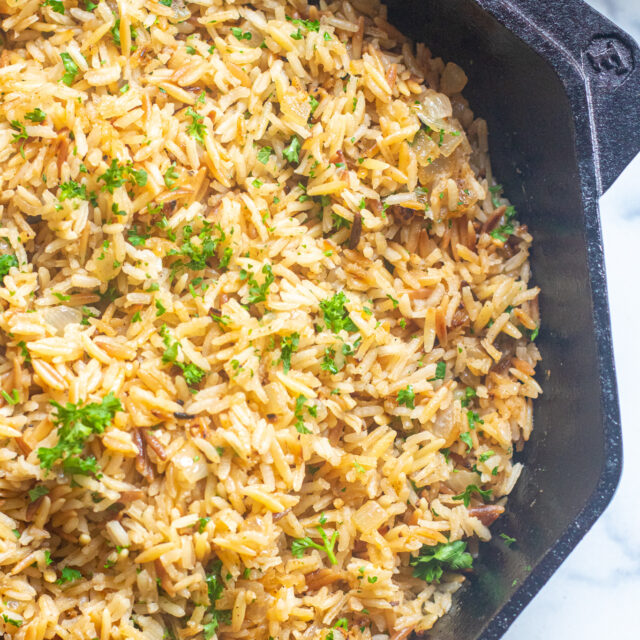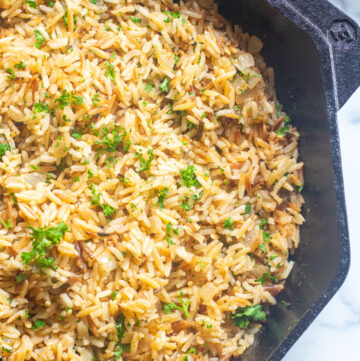 Easy Homemade Rice Pilaf
A classic rice dish that's simple to make in one pot or skillet, is packed full of flavor!
Print
Pin
Rate
Ingredients
2

tablespoons

olive oil, divided

1/2

large

onion, diced

white or yellow

3

large

garlic cloves, minced

1/2

cup

orzo

1

cup

long grain white rice

rinsed

3

cups

stock

vegetable or chicken

1/4

teaspoon

coriander

1/4

teaspoon

garlic powder

1/4

teaspoon

onion powder

1/4

teaspoon

paprika

1/4

teaspoon

salt

1/2

cup

fresh parsley, chopped
Instructions
Heat 1 tablespoon of olive oil on medium in a cast iron skillet, deep skillet, or pot. Add garlic and onion and sauté for 60-90 seconds.

*If using stock that's been stored in the fridge, take it out of the fridge to warm to room temperature. Or you can heat it in a pot or put it in a pyrek measuring cup and pop it in the microwave (using cold stock will add to the time it takes to bring it to a boil).

Add orzo and stir well to coat orzo. Toast for 3 minutes, stirring often.

Add remaining 1 tablespoon of olive oil and then add rice. Stir to ensure that all of the rice is coated in the oil. Toast rice for 4-5 minutes until rice is translucent.

Add spices, garlic powder, onion powder, coriander, paprika, and salt to the rice and stir to combine.

Slowly add warm or room temperature stock to the pan. Turn up heat and bring it to a boil, then turn down heat to medium / low (a gentle simmer), cover, and let cook for 15 minutes (or follow the cooking time on your rice package). Don't remove the lid until the cooking time is up!

After 15 minutes, remove rice from heat and let rest, covered, for 3 minutes.

Remove lid, garnish with parsley and then fluff with a fork and serve immediately.
Notes
Rinsed Rice: Add rice to a strainer and run cold water over it and gently move it around with your hand a bit. You'll notice the water that's drained is cloudy - that's the extra starch. You could also add it to a bowl, fill with cold water, and then stir with hands to rinse, then drain water.
Be sure to use a seasoned cast iron, non-stick skillet, pan, or pot with a lid. You will need something that will fit 4 cups of cooked rice, at least 2 quarts.
Let the rice cook! While it's cooking, don't open the lid and don't ever stir! This will affect the liquid to rice ratio and stirring will make the rice mushy.
Nutrition
Calories:
216
kcal
|
Carbohydrates:
38
g
|
Protein:
4
g
|
Fat:
5
g
|
Saturated Fat:
1
g
|
Sodium:
573
mg
|
Potassium:
120
mg
|
Fiber:
1
g
|
Sugar:
2
g
|
Vitamin A:
713
IU
|
Vitamin C:
8
mg
|
Calcium:
24
mg
|
Iron:
1
mg