Incredibly easy to make, my Mom's Bean Salad recipe is a classic that will bring you back! With simple, fresh ingredients, this sweet and tangy kidney bean salad recipe is for an easy make-ahead, gluten-free, vegan, side salad that my kids love!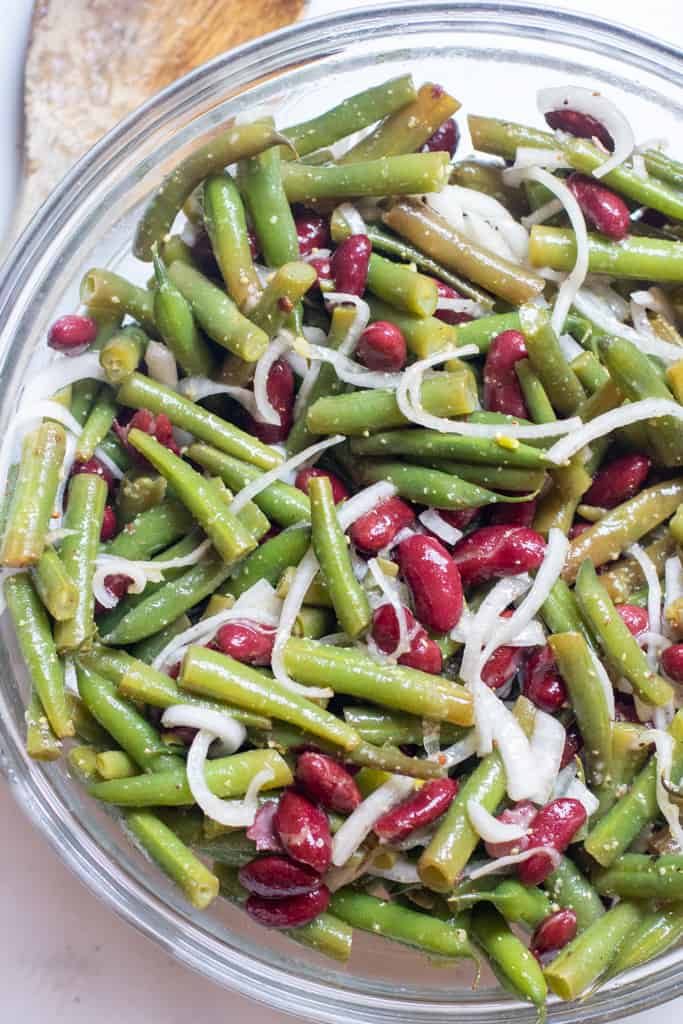 It's a classic in our family and an absolute favorite of our girls. They absolutely love my Mom's Bean Salad recipe and if ever there is a way to get them to eat green beans, This. Is. It! Even better, it's a kidney bean recipe that is so stinkin' easy to make, and it's actually better the next two days while all of the flavors meld, so it is the perfect make-ahead cold bean salad.
Ingredients Needed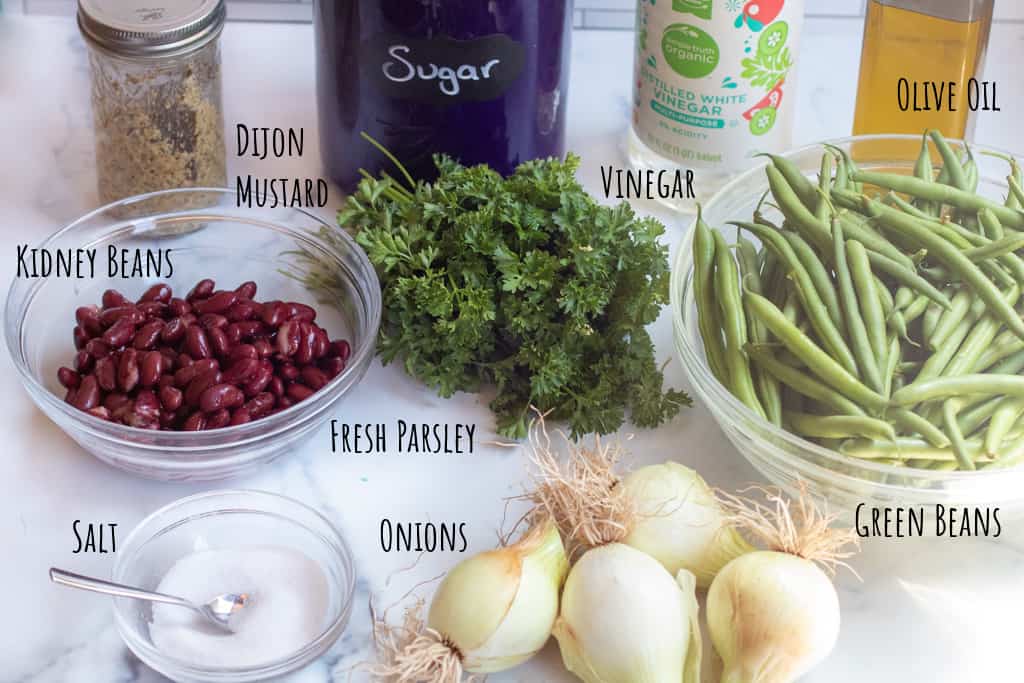 Fresh and easy.
Green Beans - We prefer fresh, especially the gorgeous ones at the Farmer's Markets right now, but you can of course make this with frozen or canned.
Kidney Beans - Dried or canned, whatever's the easiest for you.
Onions - White or yellow (the sweeter the better), again we used these gorgeous ones from our local farmer's market. The only onion we wouldn't suggest is red.
Sugar - To add the sweetness that my girls absolutely love about this recipe.
Vinegar - White is our preferred for it, but we also love this with apple cidar vinegar or even a rice wine vinegar.
Dijon Mustard - Have you made your own, yet?
Olive Oil - Vegetable or Canola Oil would also be great for this.
Salt and Fresh Parsley
Easy to Make
Made in just 1, 2, 3.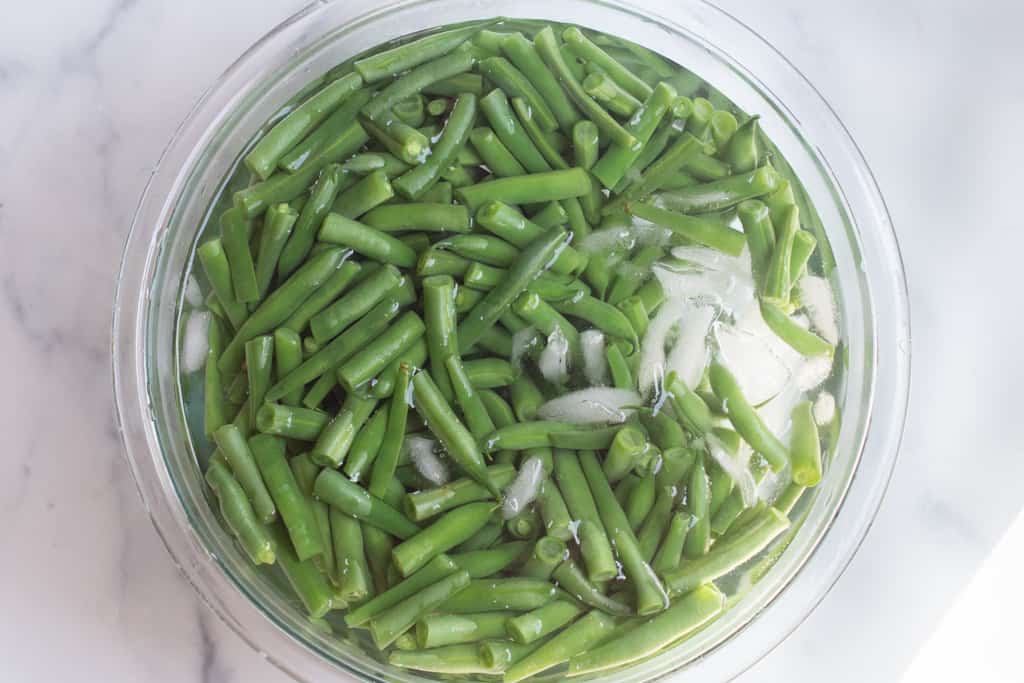 Trim, cut, and blanch/cook green beans. Add them to a bowl of ice water to stop the cooking.
Just like our Parsley Pesto Green Beans! I love when the green beans have a little extra crunch, but you could also boil until fully cooked or even steam the beans too if you want them a little softer.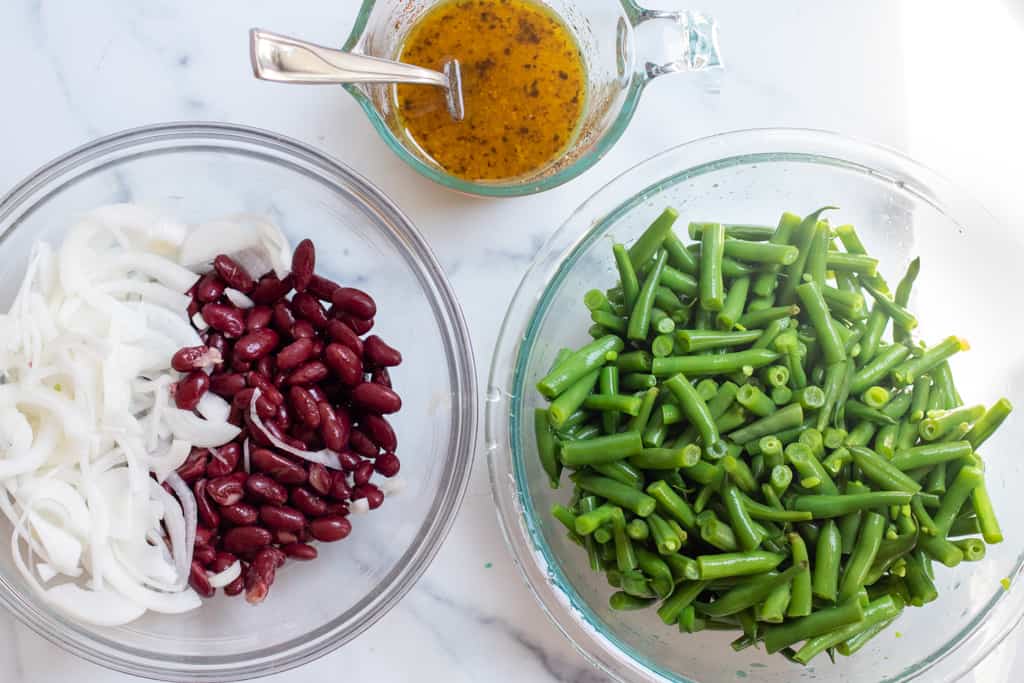 2. Add sliced onions and kidneys to a bowl and whisk dressing.
We love to use a measuring cup with a pour spout when whisking dressings.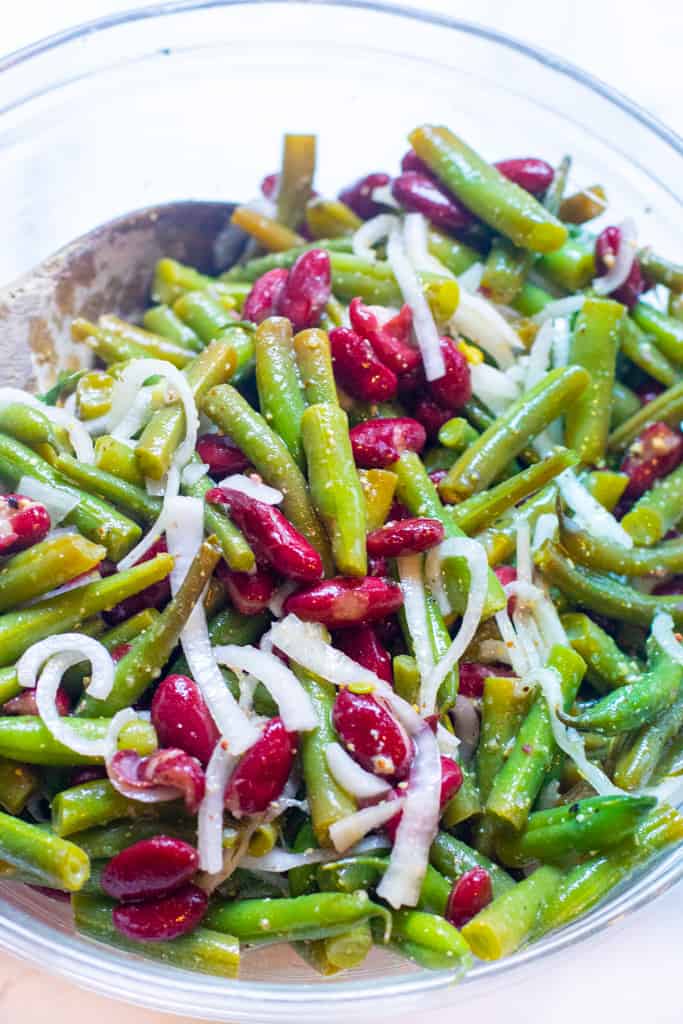 3. Add just a touch of fresh parsley and give it a good mix.
Done! Easy, right?
Let Sit
This is my favorite part of this easy, kidney bean salad, it's better the next day. This means that it's not only OK, but it's actually ideal if you make it in advance! Leave it to Mom's Bean Salad recipe to totally mom-it and know how to makes it the most convenient.
Next Day: While you can definitely eat this right away, it's best to prepare it in advance and let it sit overnight. This will let all of the flavors in the dressing absorb into all of the beans and onions.
Second Day: Will have even more flavor! This is what makes this bean salad perfect for meal prep!
1 Week: Mom's Bean Salad is great in the fridge all week!
Customizable
This bean salad is also great because you can use so many kinds of beans in it. Use fresh beans, frozen beans, or canned beans. All work!
Green Beans and Wax Beans - Add a little more color by mixing in some yellow wax beans, too!
Kidney Beans, Cannellini, Garbanzo, Great Northern Beans, Navy Beans, Pinto Beans... the list goes on and on! Use whatever you have.
Onions and Shallots - Add some shallots in for a gentle added sweetness.
Sugar Level - Adjust it to your taste! 1/3 of a cup is really the lowest level, we've tried it with less and it wasn't enough. But you could also crank it up to up to 3/4 cup of sugar. See FAQs.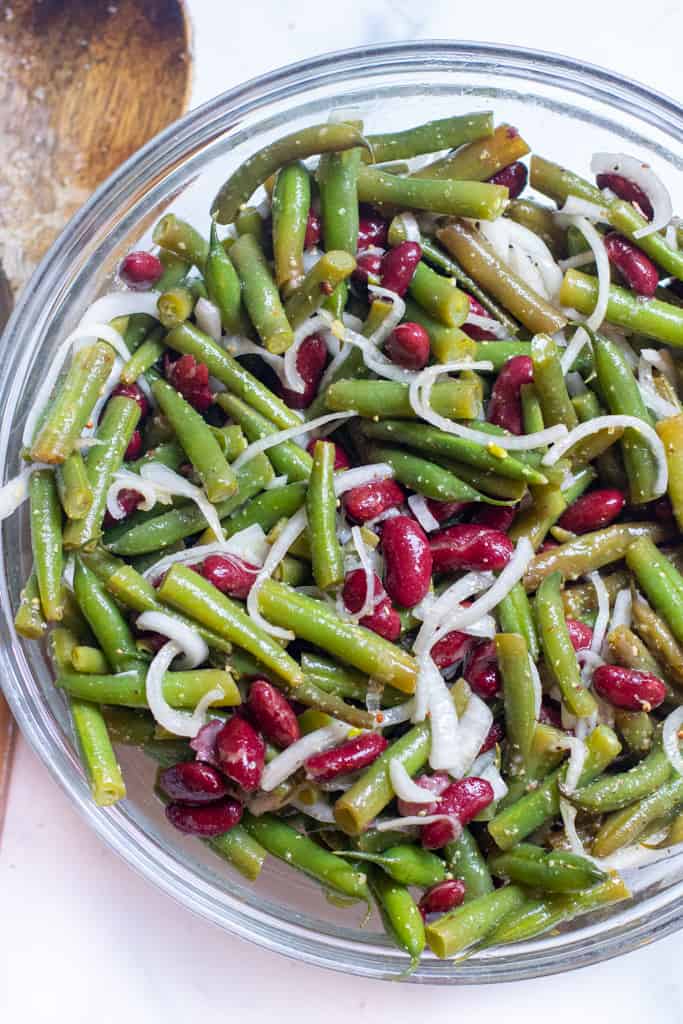 Mom's Bean Salad, a classic bean salad recipe that's perfect to meal prep, for hot summer days, gluten-free, vegan, side salad that may just get those kids to eat their green beans!
Other Bean Favorites
FAQs
Can I use all canned beans?
Of COURSE. This will make this an even faster salad to make! Just drain the beans and give a rinse and shake in a colander before adding to a bowl.
Use a total of 2 cans of green beans and/or wax beans and 1 to 1 1/2 can of kidney, garbanzo, pinto, etc. beans.
Can I use frozen green beans?
Sure can. Just cook in the bag per instructions and then add to an ice bath to stop cooking.
Can I add more/less sugar?
Adjust the sweetness to your liking. You can use up to 3/4 cup of sugar without it becoming too sweet. If using 3/4 cup of sugar, up the vinegar to 2/3 cup.
What other beans can I use?
Any that you have/want!
Enjoy! As always, if you make this recipe or any of my others, I love to hear what you think! Leave a comment below, email me, or you can find me on Facebook, Instagram, and Pinterest!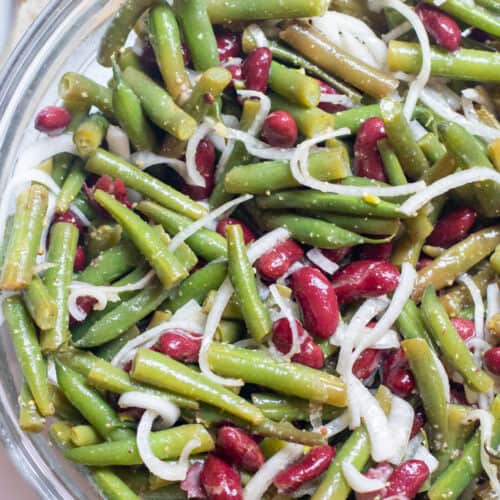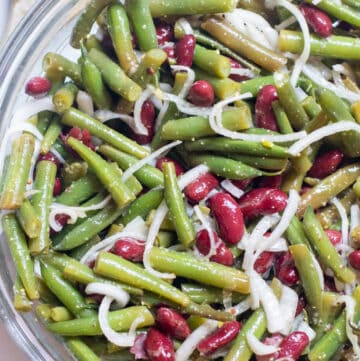 Mom's Bean Salad
A classic cold summer bean salad that's a little tangy, sweet, and delicious!
Print
Pin
Rate
Ingredients
1

lb

fresh green beans

or mix with wax beans

1/2

cup

dry kidney beans, soaked for at least 6 hrs

or 1 15oz can, rinsed and drained

1 1/2

cups

white onion

sliced thin

1/3 - 1/2

cup

white sugar

1/4

cup

olive oil

1/3

cup

white vinegar

1

tablespoon

Dijon mustard

1/4

teaspoon

salt

1/8

teaspoon

fresh ground pepper

1

tablespoon

fresh parsley

minced
Instructions
If using dry kidney beans, add beans to a medium sized bowl with 2-3 cups of water. Let soak at least 6 hours or overnight. Drain and rinse.

Canned beans: Drain in to a colander and rinse.

If using fresh green beans (and/or) wax beans, bring a large pot of water to a boil. Trim ends off of beans and cut in half. Once the water has come to a boil, add beans and blnach for at least 5 minutes. This will produce a crunchy green bean, for a softer bean let cook for 10-15 minutes. See recipe notes for canned and frozen.

Strain green beans and add to a large bowl with ice water to stop the cooking.

Meanwhile, create dressing by adding oil, Dijon mustard, vinegar, sugar, salt, and pepper to a small bowl (we love to use a measuring cup with a pour spout). Whisk with a fork until sugar has dissolved.

Drain green beans and add them to a large bowl with onions and kidney beans and mix well.

Pour dressing on and mix well. Top wtih fresh parsley.

Cool in fridge before serving. This salad is best served the next day!
Notes
Storing: Store in an airtight container for up to a week. The next day and the day after are when the salad is at its best, making this salad perfect for meal prepping! Substitutions: Canned Green Beans: Use canned green beans or wax beans, 2 cans of green or 1 of each, and just drain and rinse before adding to the bowl. Canned Kidney Beans: Use canned kidney, pinto, navy, great northern, or garbanzo beans, and just drain and rinse before adding to a bowl. Use 1 total can. White Vinegar: Use apple cider vinegar or unseasoned rice wine vinegar. Sugar: Adjust to your preferred sweetness. Use as little as 1/3 cup up to 3/4 cup. If using 3/4 cup of sugar, up the vinegar or 2/3 cup.
Nutrition
Calories:
240
kcal
|
Carbohydrates:
35
g
|
Protein:
5
g
|
Fat:
9
g
|
Saturated Fat:
1
g
|
Polyunsaturated Fat:
1
g
|
Monounsaturated Fat:
7
g
|
Sodium:
134
mg
|
Potassium:
435
mg
|
Fiber:
5
g
|
Sugar:
21
g
|
Vitamin A:
581
IU
|
Vitamin C:
14
mg
|
Calcium:
54
mg
|
Iron:
2
mg