Everything you love about a Caprese salad but with all of those garden-fresh summer zucchini! Our Caprese Zoodle Salad is made with tender zucchini noodles and an easy balsamic reduction for a new zoodle salad recipe you'll want to enjoy all summer long!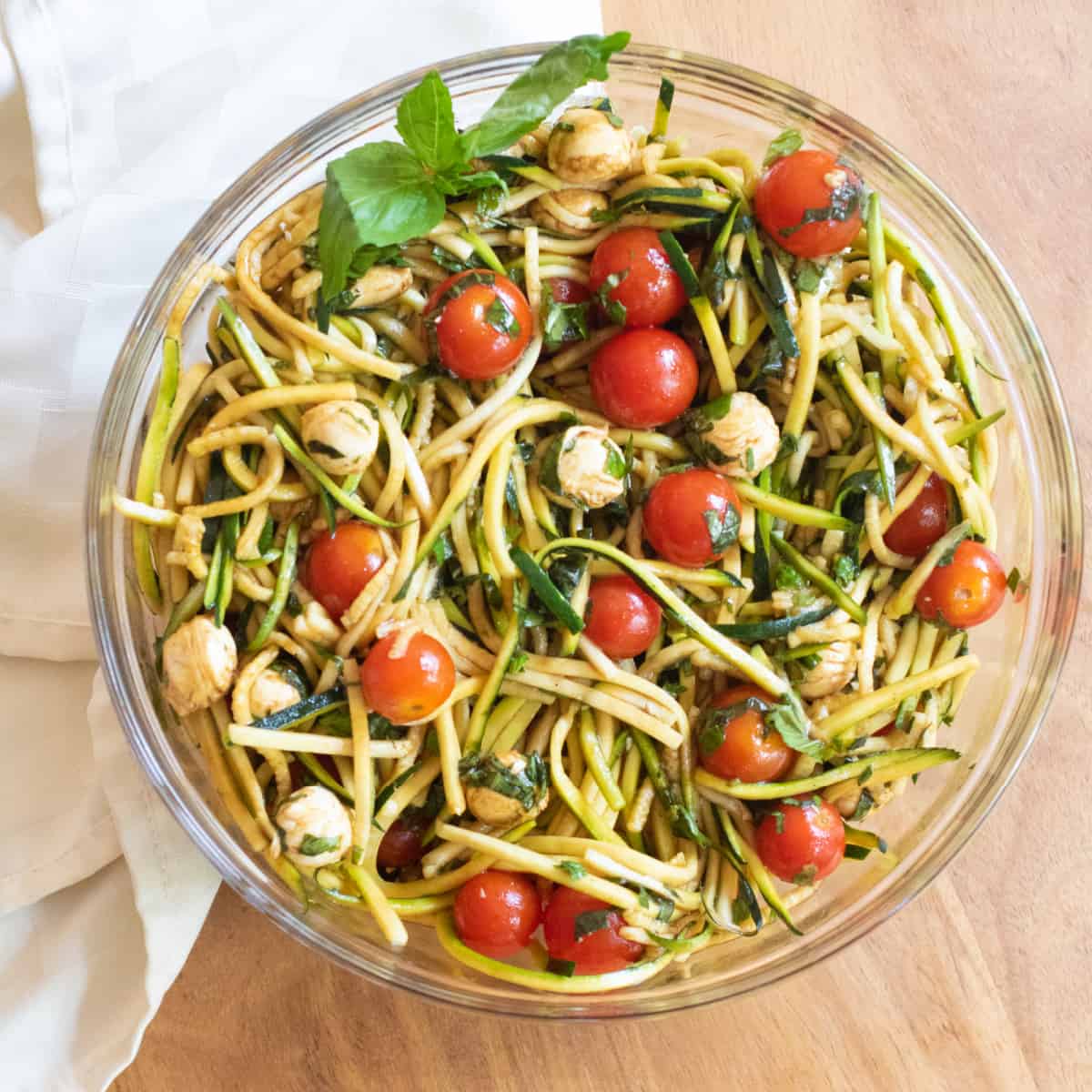 Let me introduce you to your new favorite zoodle recipe. Dare I even say, your new favorite zucchini recipe?! Well, actually it would be your new favorite healthy zucchini recipe since our Zucchini Apple Bars are definitely your favorite, right? No matter where it lands on your zucchini recipe ranking, our new Caprese Zoodle Salad needs to be made, trust me, you won't regret it! It's all that you love from that Italian classic appetizer but made into a delicious and unique side salad!
Ingredients Needed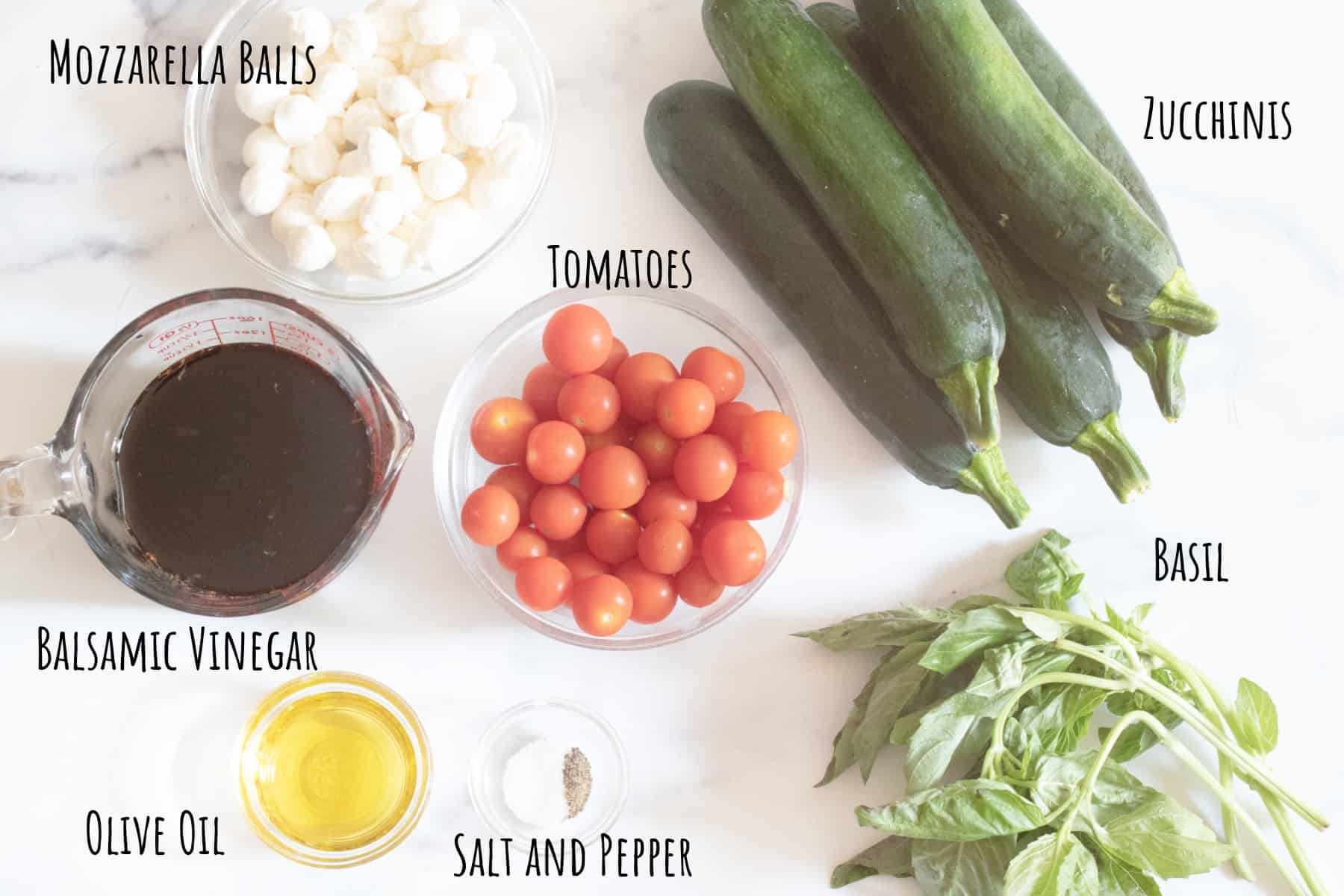 Zucchini - Save those big baseball bat-sized zucchini for baking with, for this zoodle recipe you want to make sure to use zucchinis that are tender and with fewer seeds. Save the big ones for the Zucchini Apple Bars!
Cherry Tomatoes - Use these or another small sweet tomato for a pop of flavor and a gorgeous color. You can of course use any other kind of tomato chopped, too, but I think that not only do the cherry tomatoes look the best, but they also add an added signature summer sweetness to this zoodle salad.
Mozzarella Pearls - As with any caprese, you want to use a fresh mozzarella cheese and for this recipe, we use little pearls because not only do they look great, but they add a great little bite-sized piece of cheese to your salad. If you're making your own mozzarella cheese, you can shape it into these fun little pearl shapes, too!
Basil - Fresh only for this one - and for all caprese!
Balsamic Vinegar - Use your favorite! Or, you could also skip the entire step of reducing the balsamic vinegar and just use a premade balsamic glaze.
Olive Oil - Use the favorite that you use for your favorite vinaigrettes.
Salt and Pepper - Just enough to help sweat the zucchini and season this zoodle salad.
Easy to Make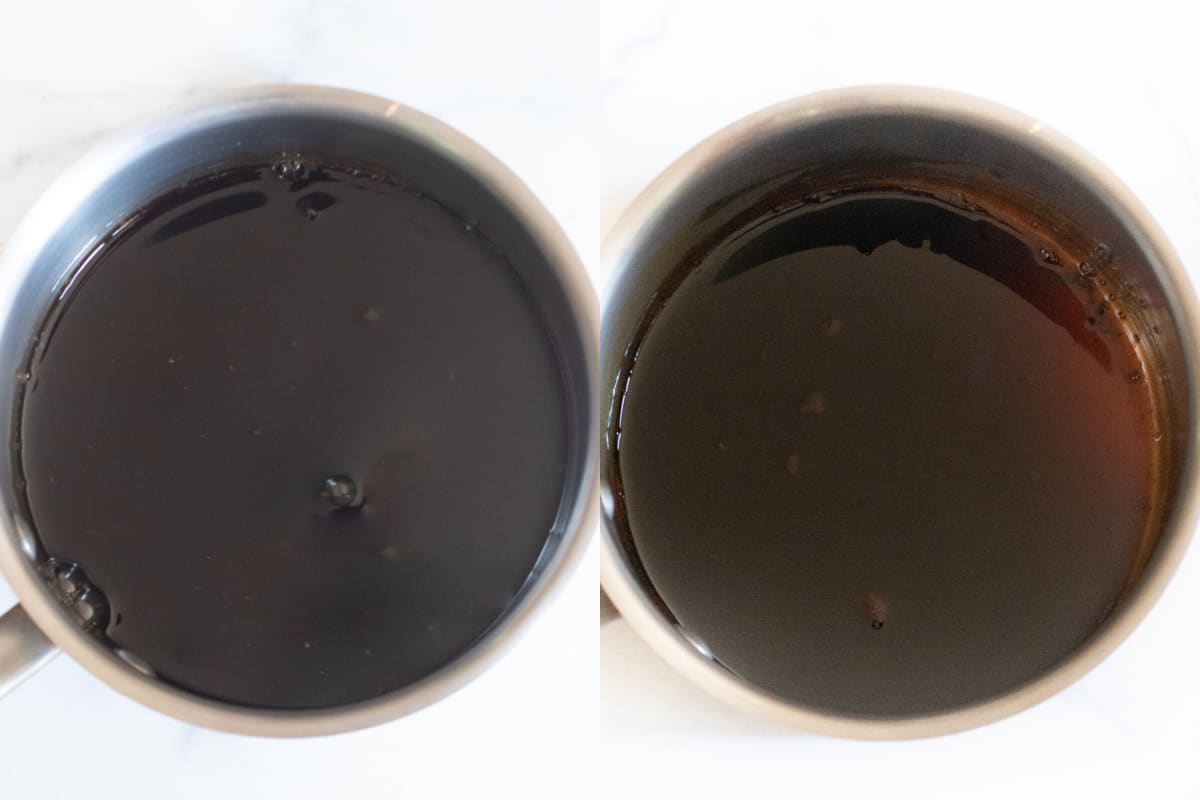 Create the Balsamic Glaze
Making the balsamic glaze is as simple as adding the balsamic vinegar to a pot, bringing it to a boil, and letting it reduce. That's it!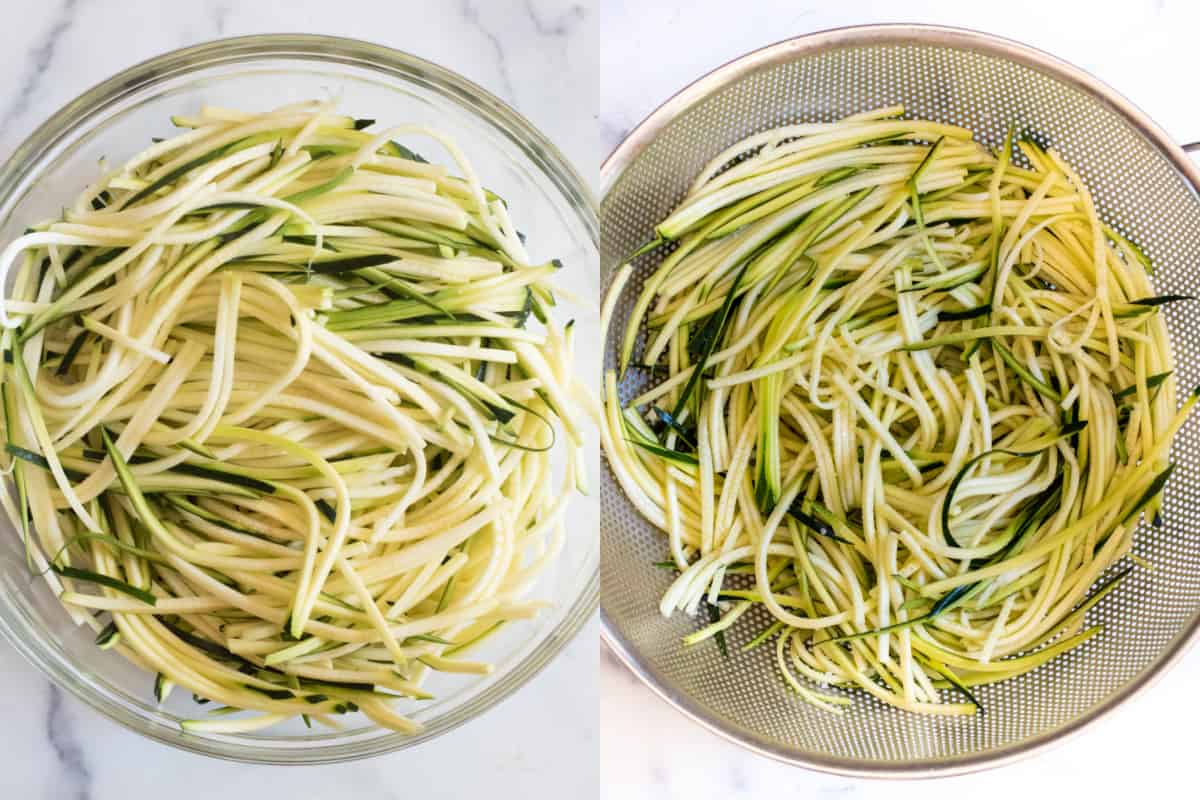 Cut and Sweat the Zoodles
While you're balsamic reduces, use your mandoline or veggie spiralizer to zoodle your zucchini. Then it's time to sweat them. Add some kosher salt and let it all sit for just enough time to release the excess liquid of the zucchini so that you don't have all of that liquid in this zoodle salad recipe.
How long do you have to sweat zucchini? At least 30 minutes and up to a few hours. You'll be surprised at how much water is released!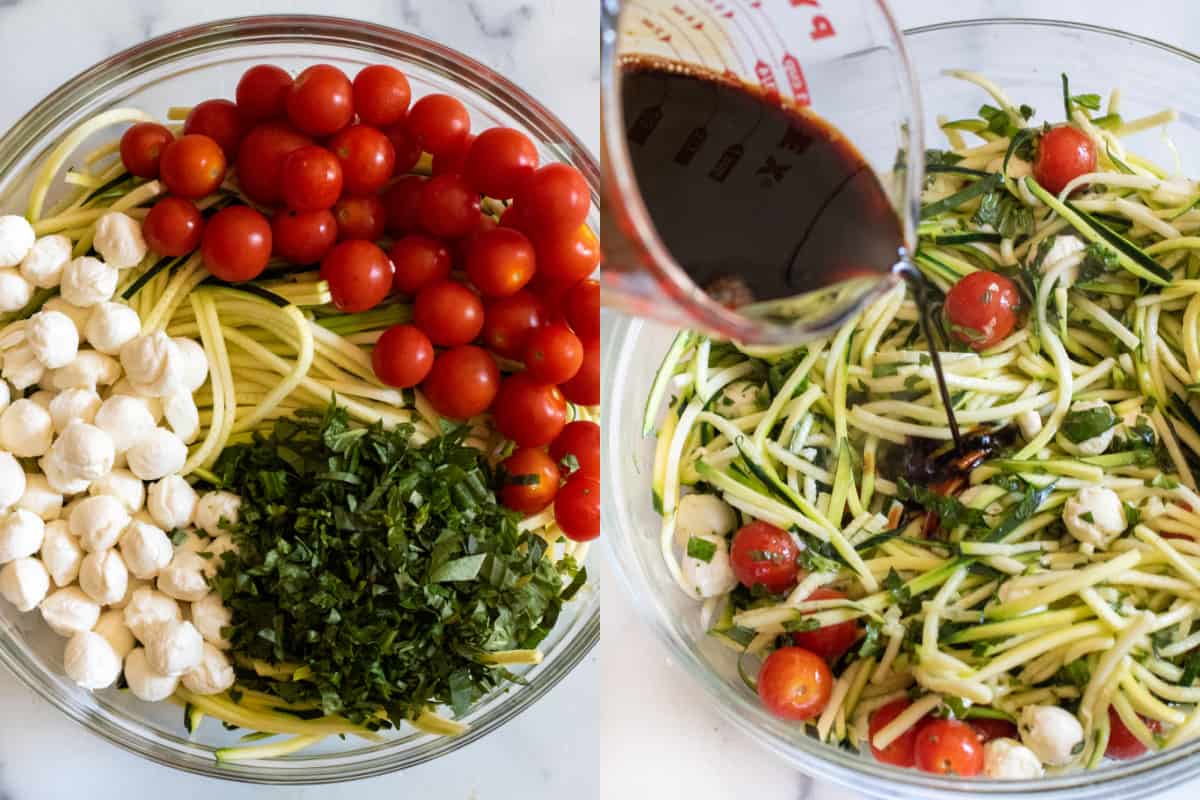 Assemble
Once the zucchini has been sweated, then it's just a matter of adding it to a bowl with the cherry tomatoes, mozzarella, and basil before adding the balsamic vinegar reduction.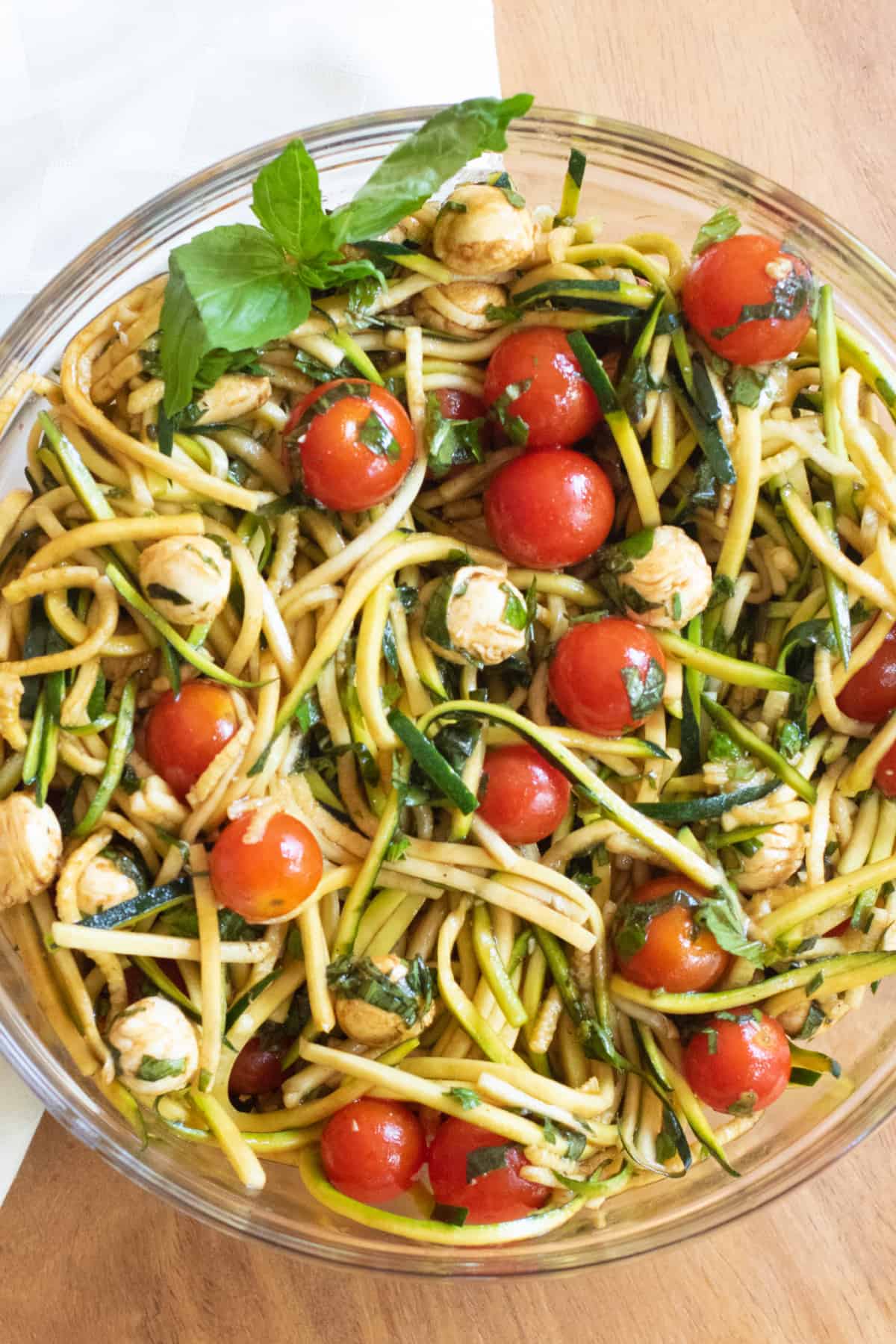 Caprese Zoodle Salad, done! Our new favorite zucchini zoodle recipe that's great to bring to serve at those backyard BBQs as a healthy, gluten-free, vegetarian option!
Recipe Tips
Do I Have to Sweat the Zucchini?
You don't have to, however, if you don't that'll mean all of that excess water in the zucchini will end up in your bowl and will ultimately water down your balsamic glaze. So while you could get away with throwing this together super fast and skipping that step and using a premade balsamic glaze, it'll be extra delicious if you take that extra step to sweat the zucchini.
Make Ahead
This is a great salad to make ahead! You can sweat your zucchini ahead and make the balsamic glaze (for up to two weeks in advance!) and then just toss it all together up to a few hours before serving.
The Best Zucchini to Use for Zoodles
Anyone who has grown zucchini at home is familiar with those huge baseball bat-sized ones that can grow hidden beneath the leaves! Those are best saved for baking. The best zucchini to use for zoodles are zucchini about 5" - 8" long. These will have little to no seeds in the center which is what makes them best to zoodle (or ribbon!)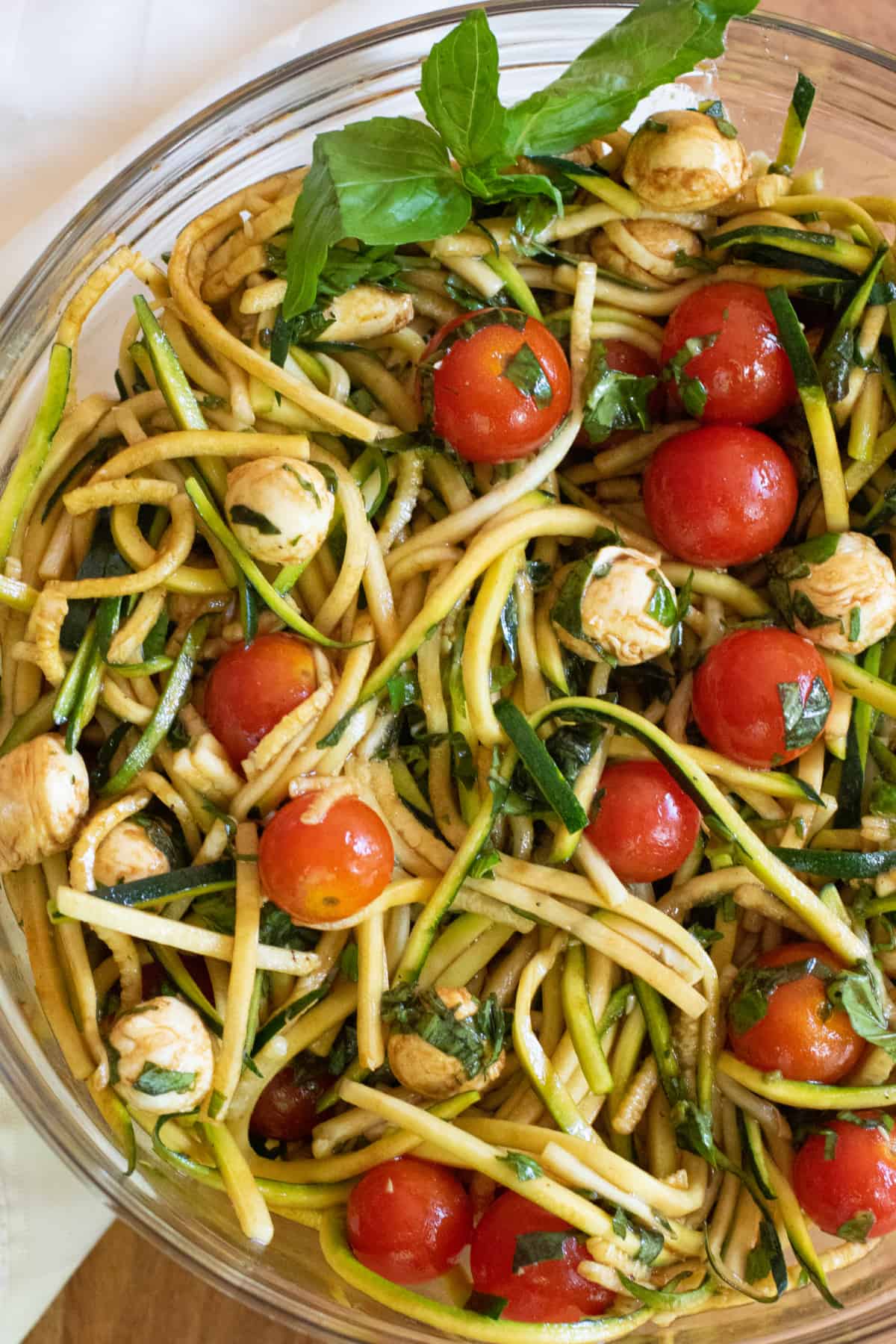 You Also Might Like
Enjoy! As always, if you make this recipe or any of my others, I love to hear what you think! Leave a comment below, email me, or you can find me on Facebook, Instagram, and Pinterest!
If you want to see more, be sure to sign up for my 5 Easy Ways to Start Cooking From Scratch!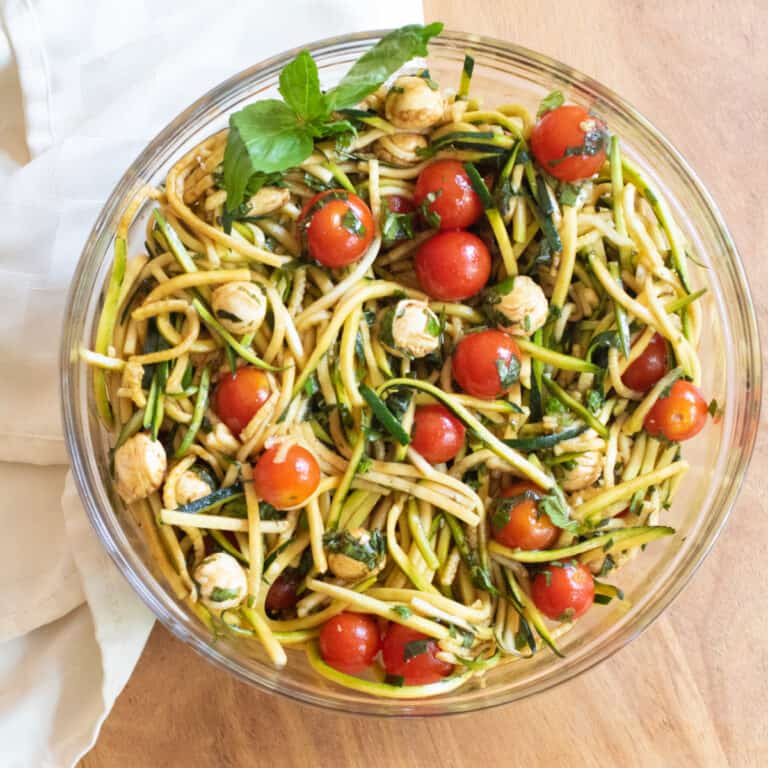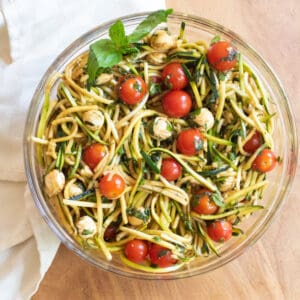 Caprese Zoodle Salad
Everything you love about a Caprese salad, but made with zoodles!
Print
Pin
Rate
Ingredients
8

cups

zucchini zoodles

approximately 4 whole zucchinis

10

oz

cherry tomatoes

approximately 2 cups

8

oz

fresh mozzarella pearls

1.5

cups

balsamic vinegar

2/3

cup

fresh basil

packed chopped, or approximately 1 oz of just leaves, or about 2.5 oz of total basil from a package with stems.

3

tablespoons

olive oil

1

teaspoon

salt

1/8

teaspoon

black pepper
Instructions
Prep Zucchini: Zoodle zucchini with either a mandoline or spiralizer. Add to a large colander and sprinkle with kosher salt. Place in a sink or over a bowl to collect the released liquid. Let sweat for 30 minutes or up to a few hours.

After at least 30 minutes, shake off excess liquid and then use paper towels to gently squeeze out any additional liquid from the zucchini zoodles.

Balsamic Glaze: While the zucchini is sweating, create the balsamic glaze by adding the balsamic vinegar to a small saucepan. Heat on medium to bring to a boil and then reduce to low/medium-low to a very low simmer to reduce. Let simmer for approximately 20-30 minutes until it has reduced to about 1/3 of a cup.

Assemble Salad: Add sweated zoodles, mozzarella pearls, tomatoes, basil, olive oil, and pepper to a large bowl and mix well. Drizzle on balsamic glaze and mix well.

Serve and enjoy!
Notes
Make Ahead
Zoodles: You can prep the zucchini noodles up to 2-3 days in advance. After sweating, add to a container lined with a paper towel and store in the fridge.
Balsamic Glaze: Make ahead and store in an airtight container in the fridge for up to 2 weeks.
Salad: You can prepare the assembled salad a few hours in advance, but we recommend anything longer to just have all the components prepped and stored separately and then assemble a few hours before you're ready to serve.
Substitutions
Zoodles: If you don't have access to fresh zucchini, a premade can be used too - like these! Thaw before using.
Tomatoes: Use another small sweet tomato, like grape or an assortment of cherry and grape. If using grape tomatoes we suggest slicing them in half. Or you could use chopped of your other favorites, but we prefer smaller sweeter tomatoes.
Mozzarella: Make your own, or use pearl-sized mozzarella or sliced/cubed fresh. Make sure that they're not marinated.
Balsamic: You can make your own balsamic glaze, or buy it premade.
Zoodle Tips
If using a mandoline, be sure to use the hand guard.
If your zucchini have large seeds, scoop out the seeds so as to not include them in your noodles. Although you should use zucchinis that won't have large seeds, the best size is 5 in - 8 inches long.
Nutrition
Calories:
294
kcal
|
Carbohydrates:
23
g
|
Protein:
13
g
|
Fat:
17
g
|
Saturated Fat:
6
g
|
Polyunsaturated Fat:
1
g
|
Monounsaturated Fat:
8
g
|
Cholesterol:
30
mg
|
Sodium:
670
mg
|
Potassium:
1035
mg
|
Fiber:
4
g
|
Sugar:
19
g
|
Vitamin A:
1258
IU
|
Vitamin C:
68
mg
|
Calcium:
269
mg
|
Iron:
2
mg