Skip the store-bought. You can make your OWN homemade Corn Tortillas and Chips From Scratch with just 3 ingredients at home!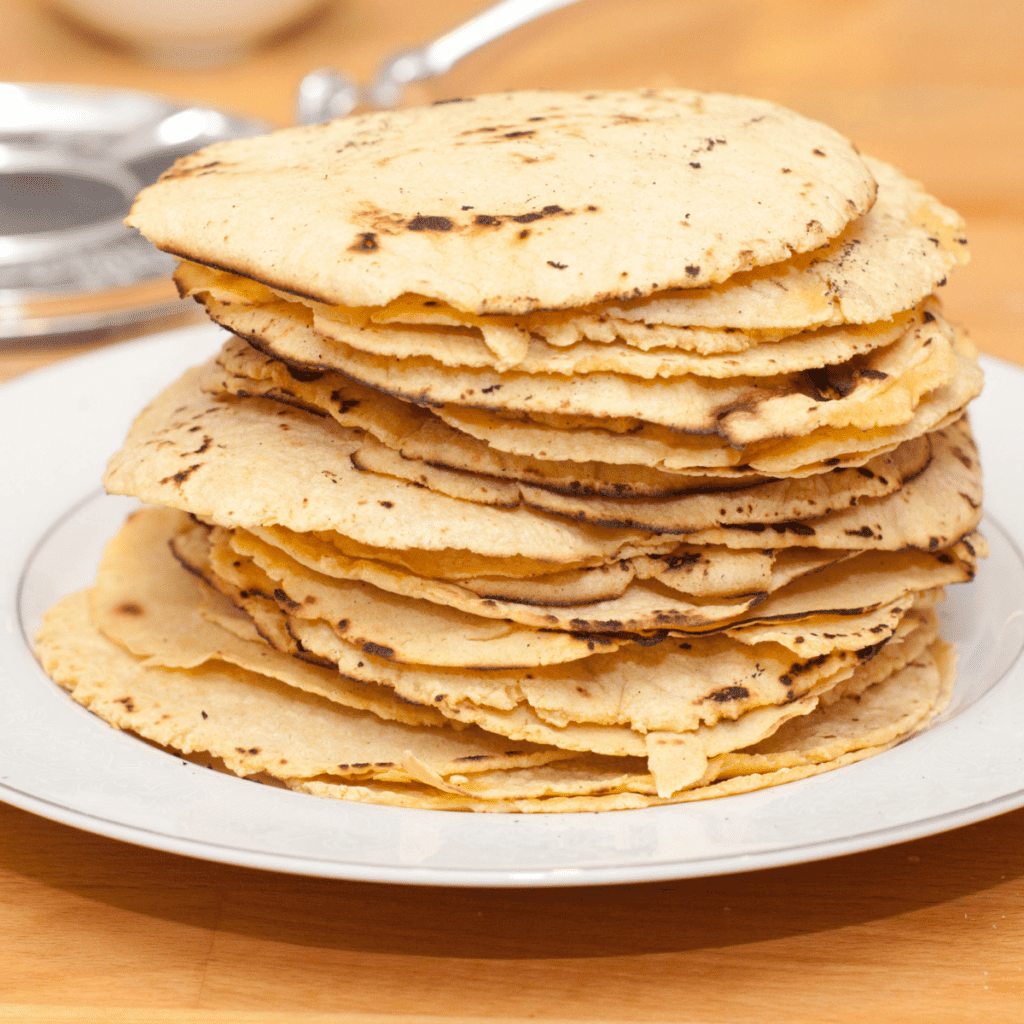 If there's anything that this household loves, it's tacos. They're basically a food group to us around here. So it's only natural that we'd make our own Homemade Corn Tortillas and Chips from scratch!
Ingredients Needed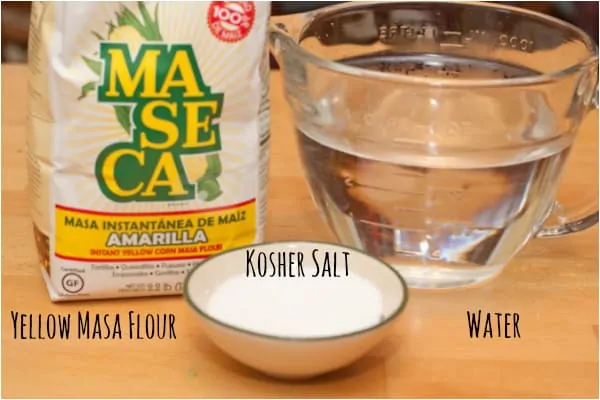 It truly doesn't get any easier!
Yellow Masa Harina flour
Kosher Salt
Water
What is Masa Harina Flour?
Masa harina is the soft flour made from finely ground hominy or dried corn kernels that is basically the all purpose flour of Mexico and Central America. You can find it in yellow or white.
You'll most commonly come across Instant Masa, which notes how quickly a dough (masa) can be formed - just add water!
Step-by-Step Instructions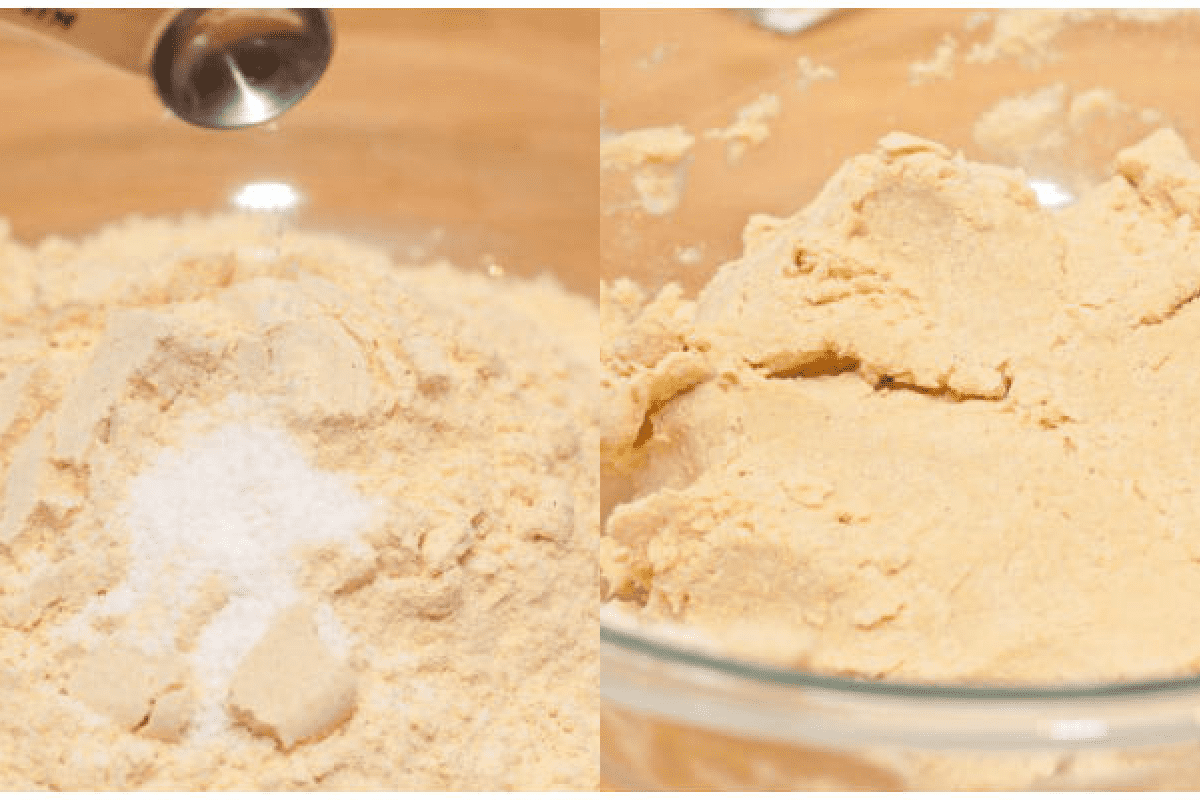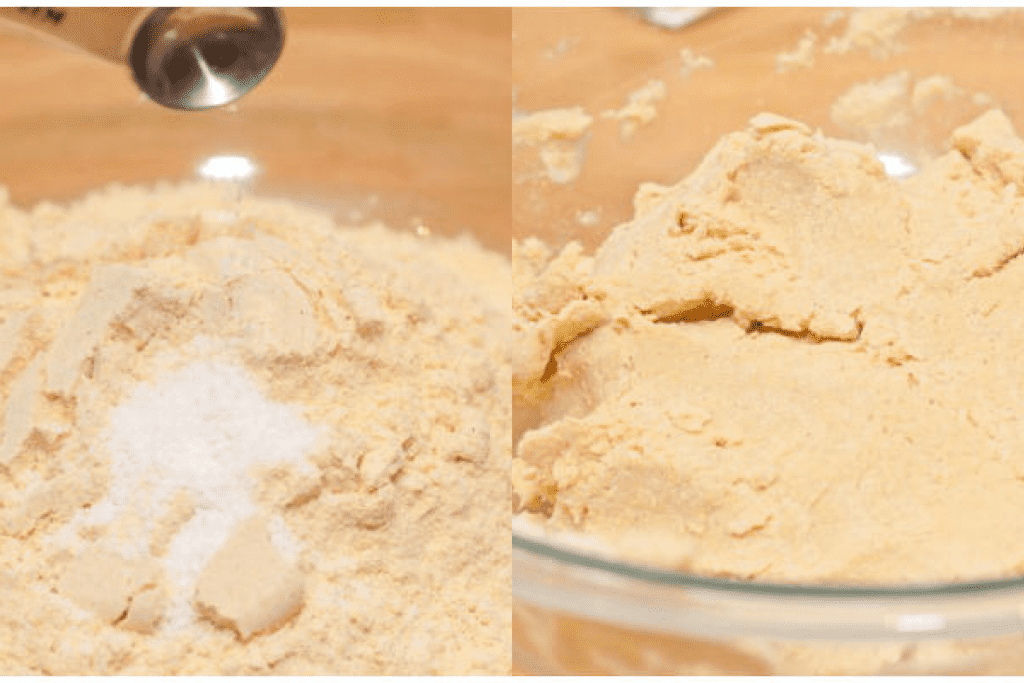 First: Make the dough by adding the masa flour and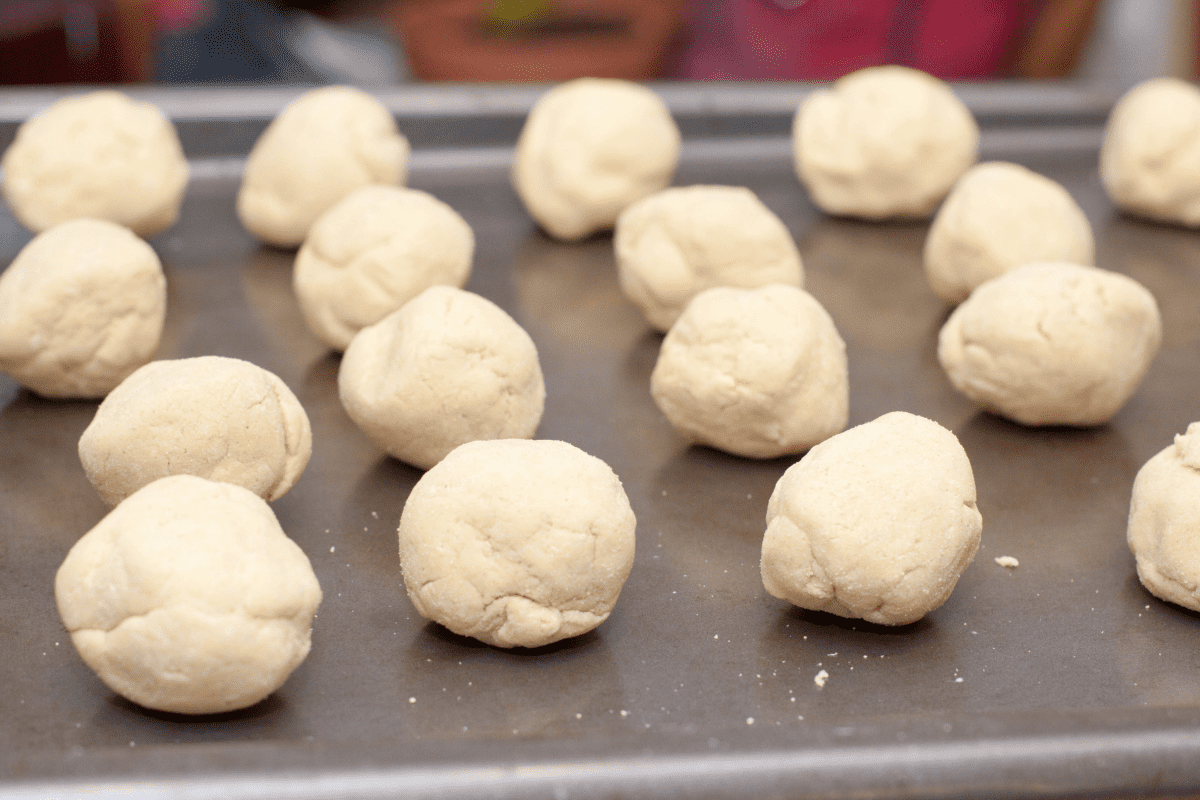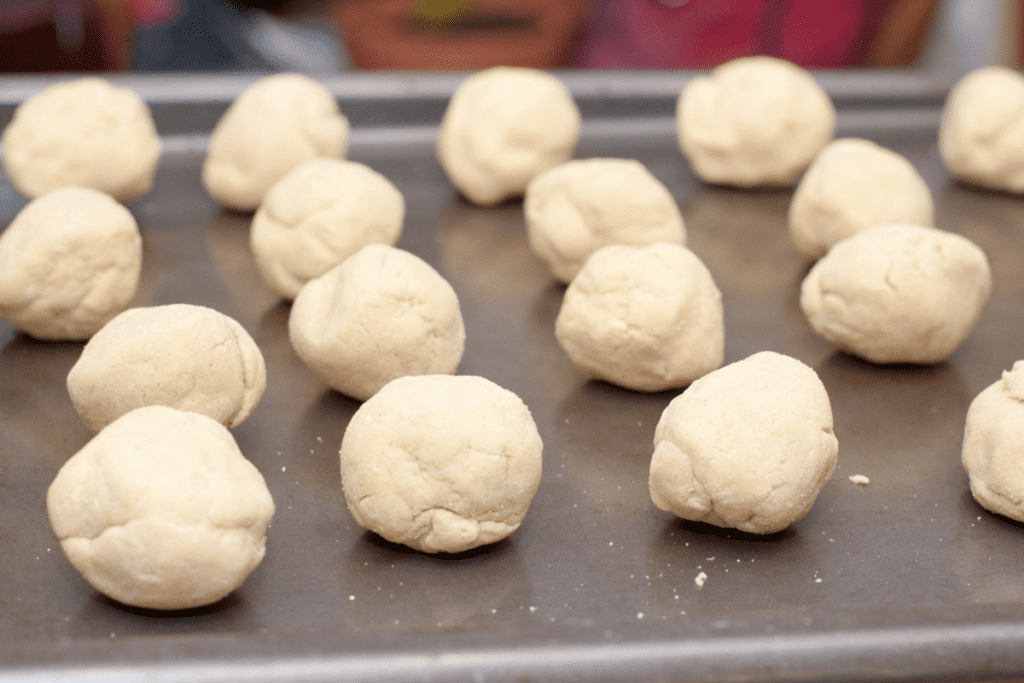 Then just rolled out into little 1.4 / 1.5 oz balls and line on a baking sheet.
Second: Roll out little 1.4 / 1.5 oz balls.
Not sure how big 1.4 oz is? Eyeball it, they're about 3 inch little balls. But we also recommend getting a little kitchen scale. It'll help you in more ways than you'd expect, and they're pretty inexpensive for how versatile they are. This one is our favorite and then this is the Cadillac version!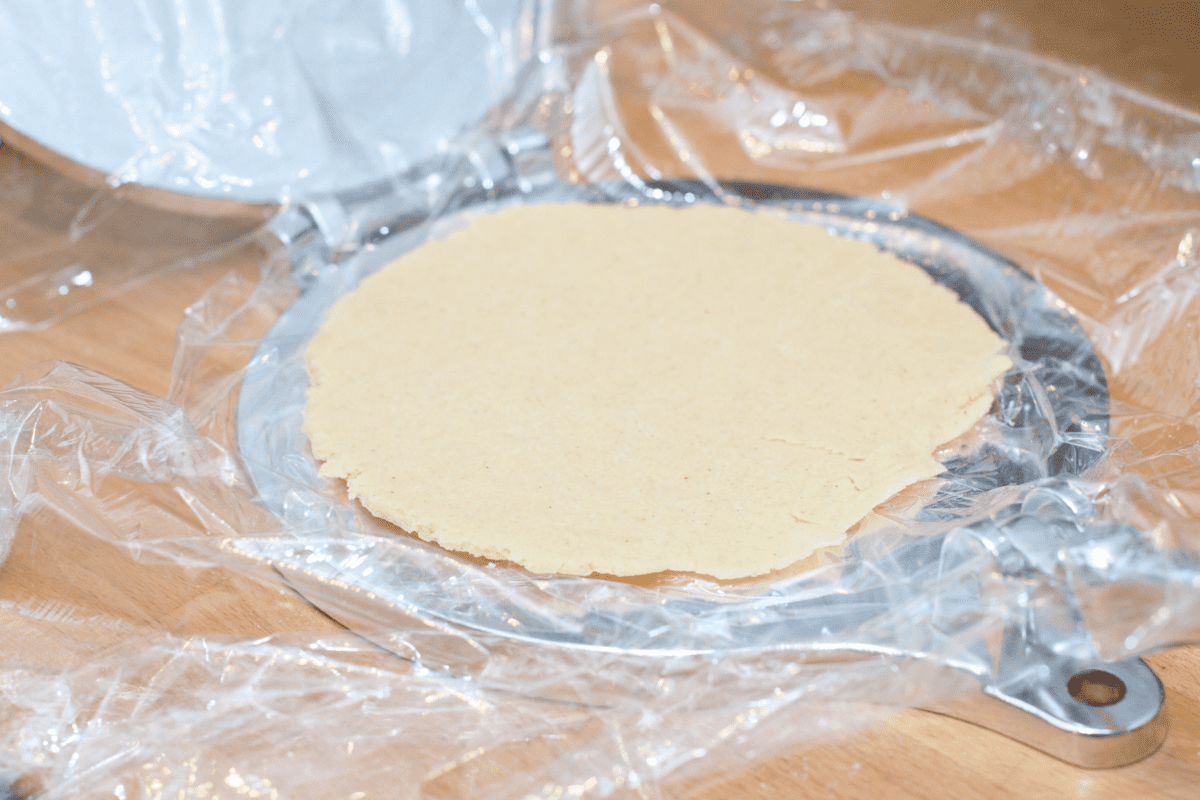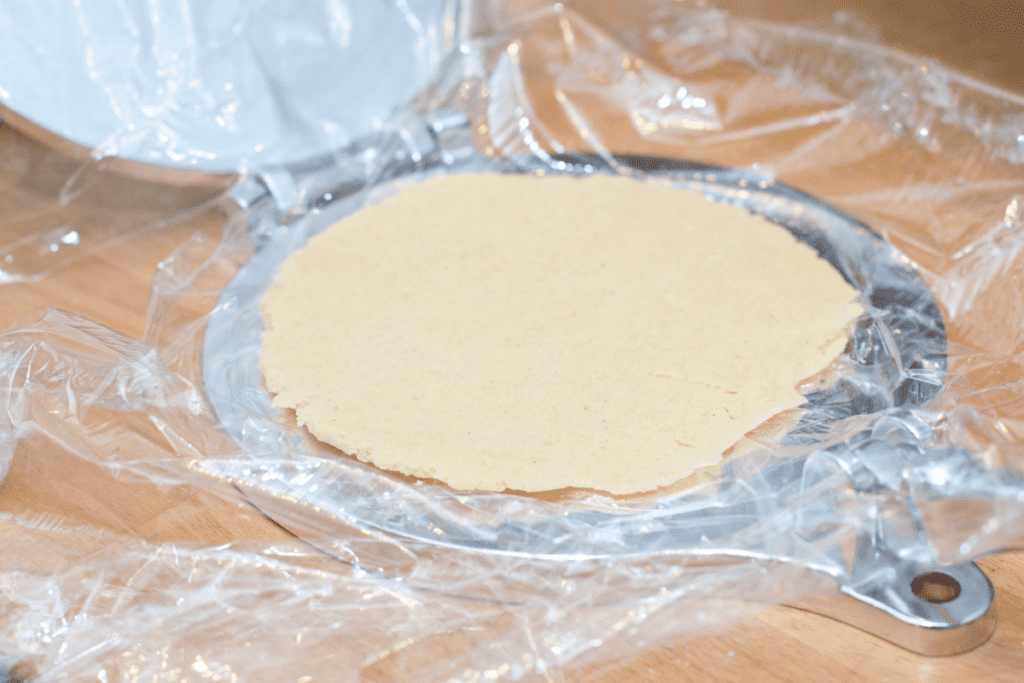 Third: Press! You can use a rolling pin, but a tortilla press really is the best. Not only is it way faster and will ensure you get a nice round press, but it's fun to use!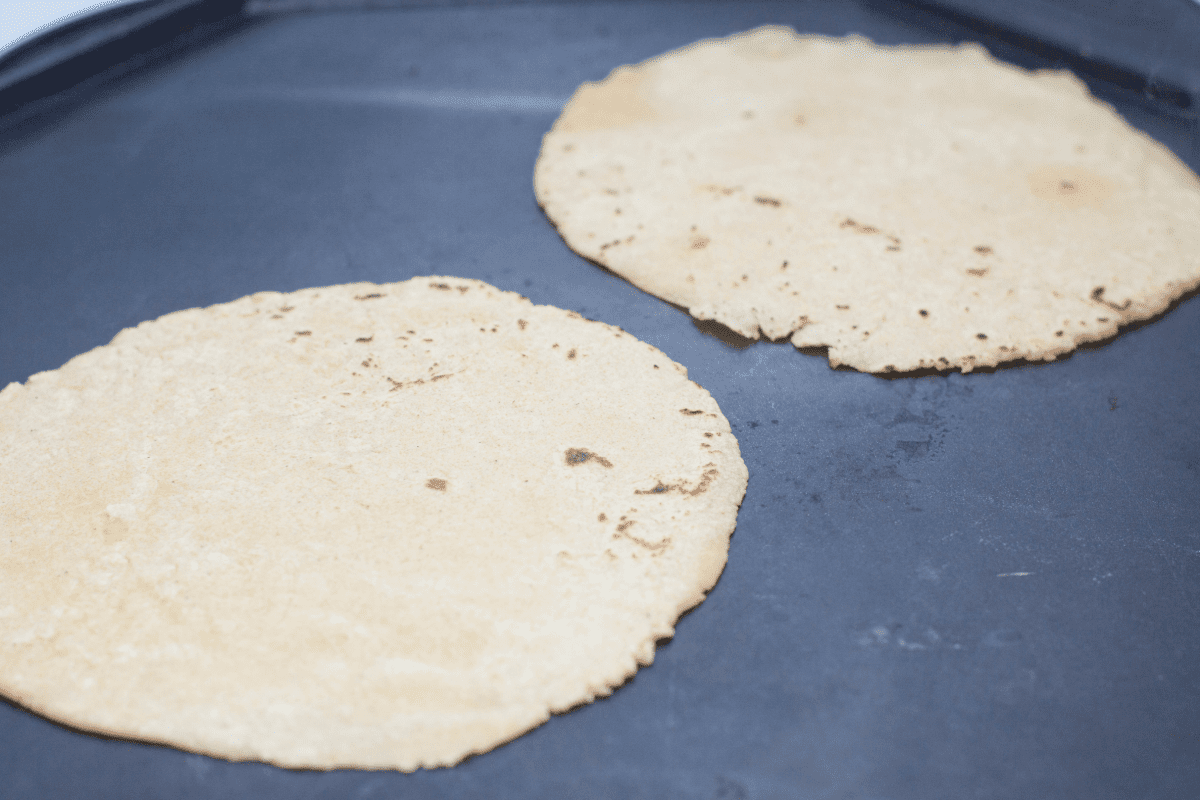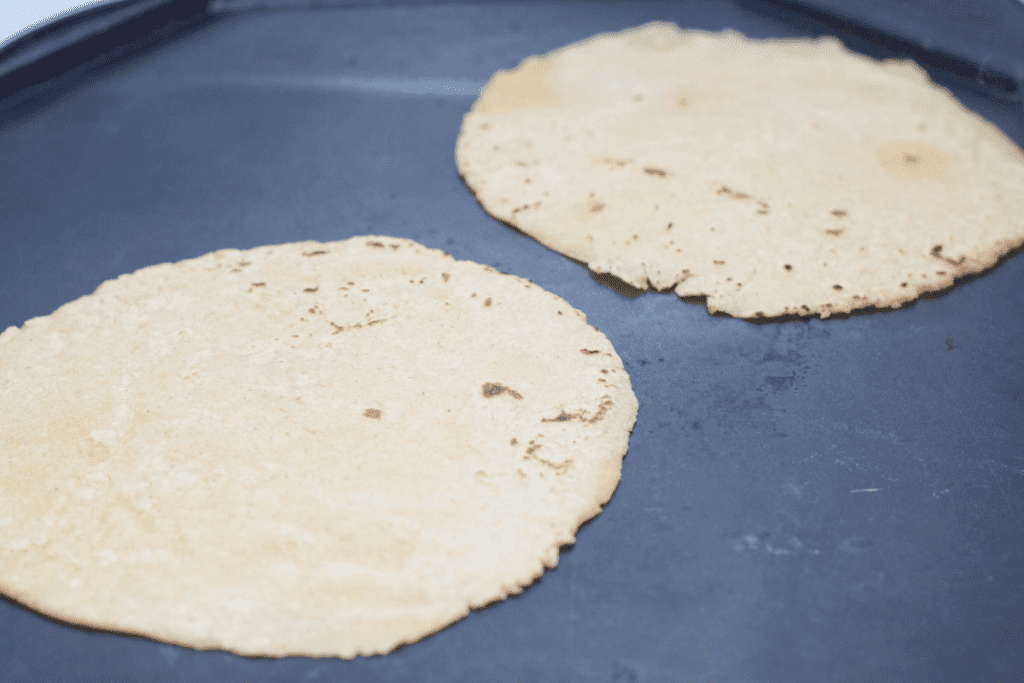 Fourth: Cook on a griddle for about 50 seconds on each side.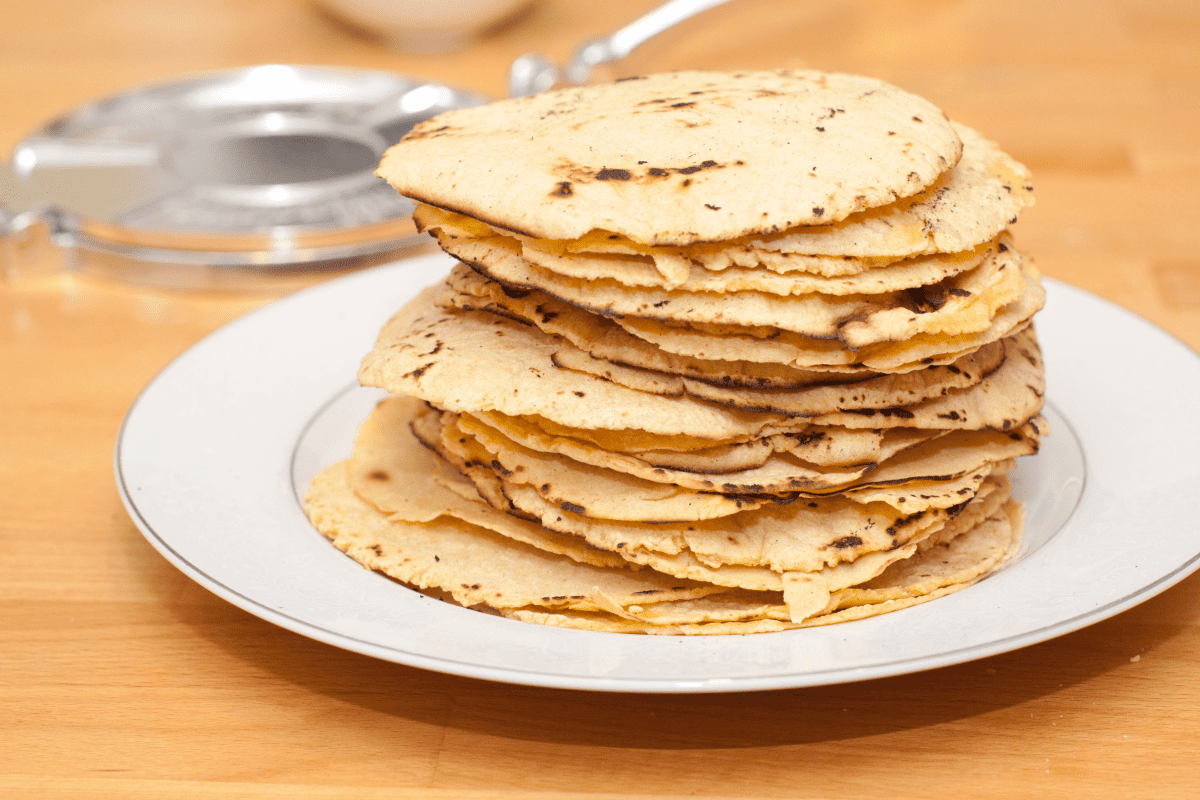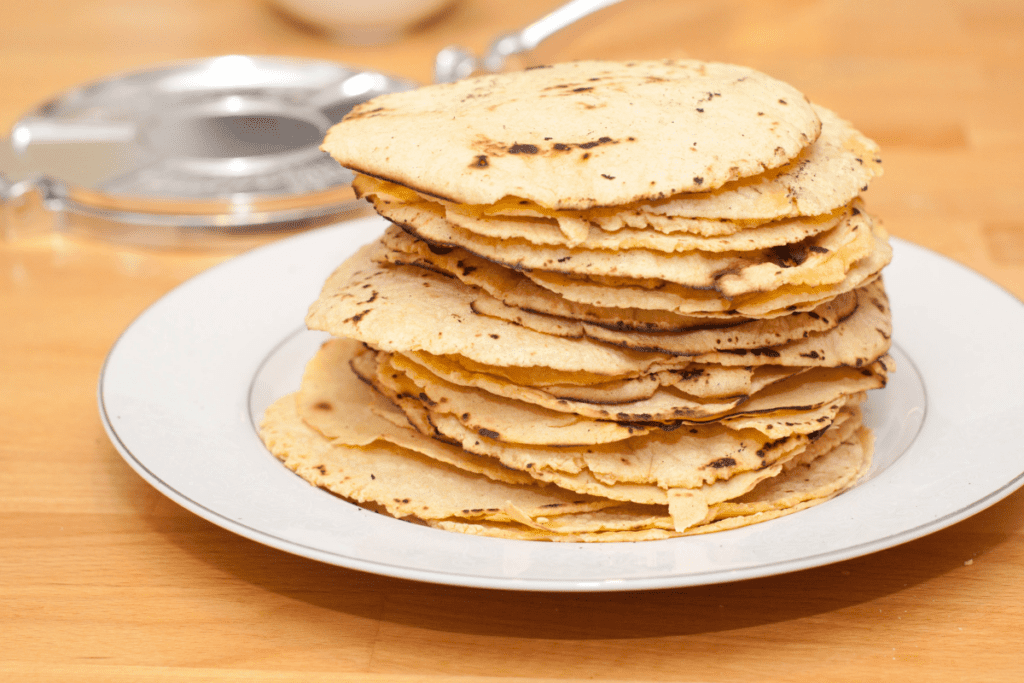 Seriously, so easy anndd tasty. I've seen a lot of corn tortilla recipes that add oil to the dough, totally unnecessary in my opinion.
Ways to Use Fresh Corn Tortillas
Crock Pot Chicken Enchilada Tacos
Crock Pot Chicken Carnitas Tacos
And then of course, one of our favorites, Homemade Corn Tortilla Chips!
Making Corn Tortilla Chips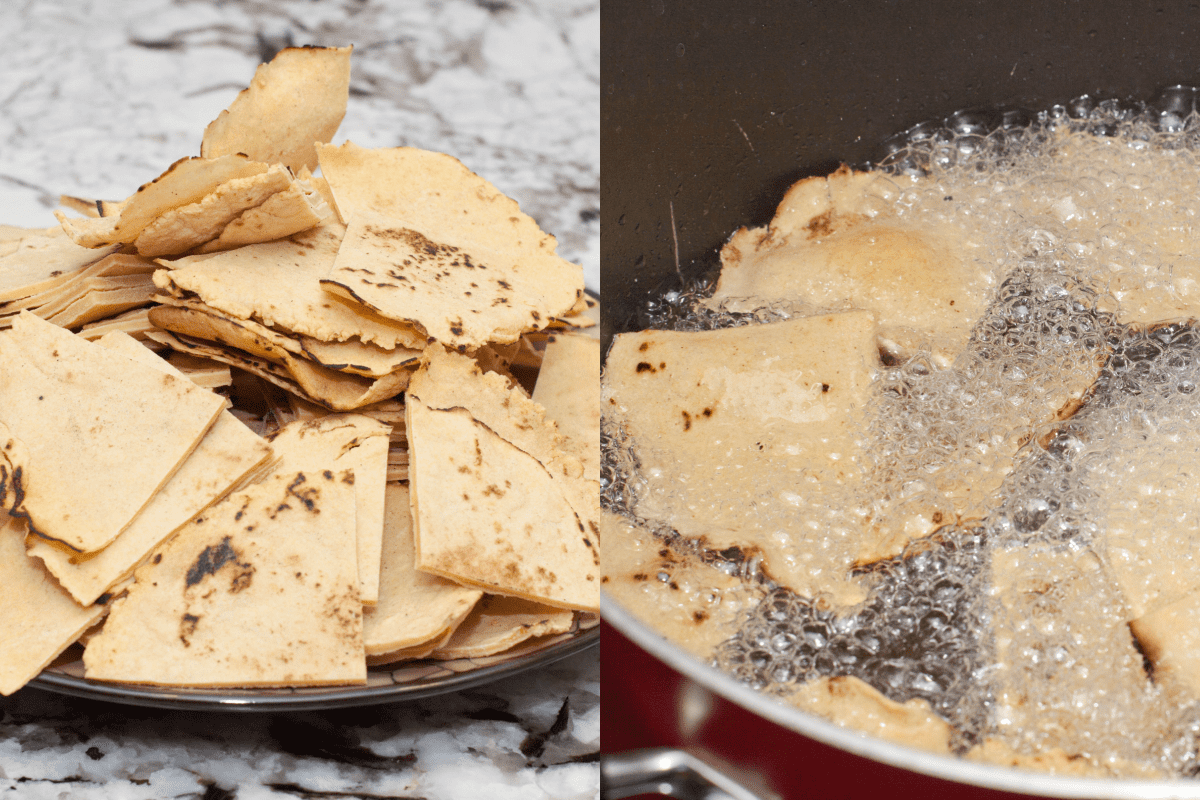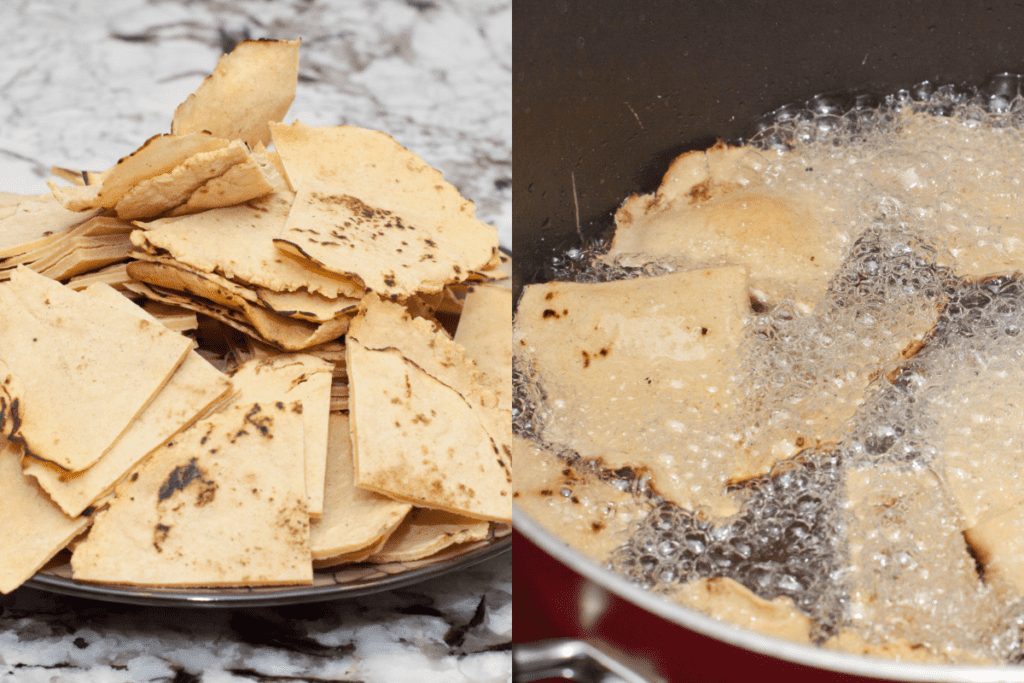 Once you have your tortillas, to make the tortilla chips, just cut your tortillas into triangles. Based on the size of our tortillas, we'd quarter them. Then in a pot of hot oil, given 'em a little fry.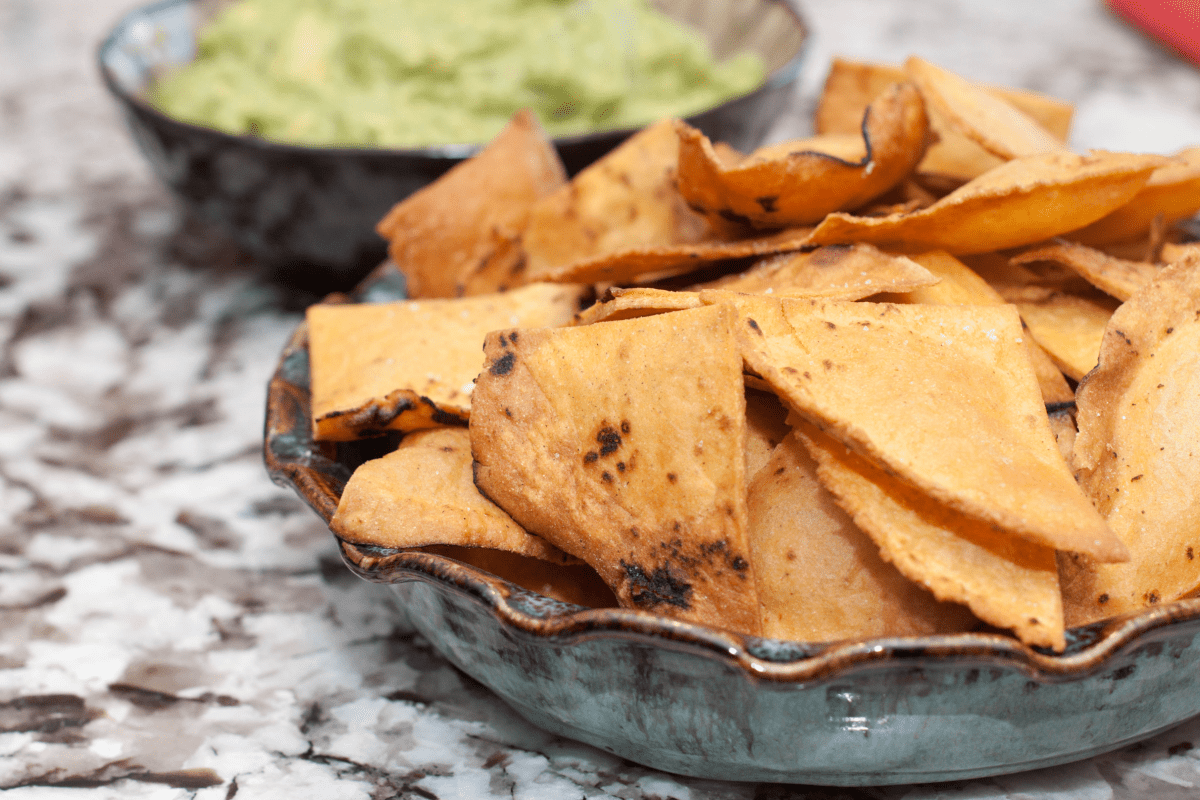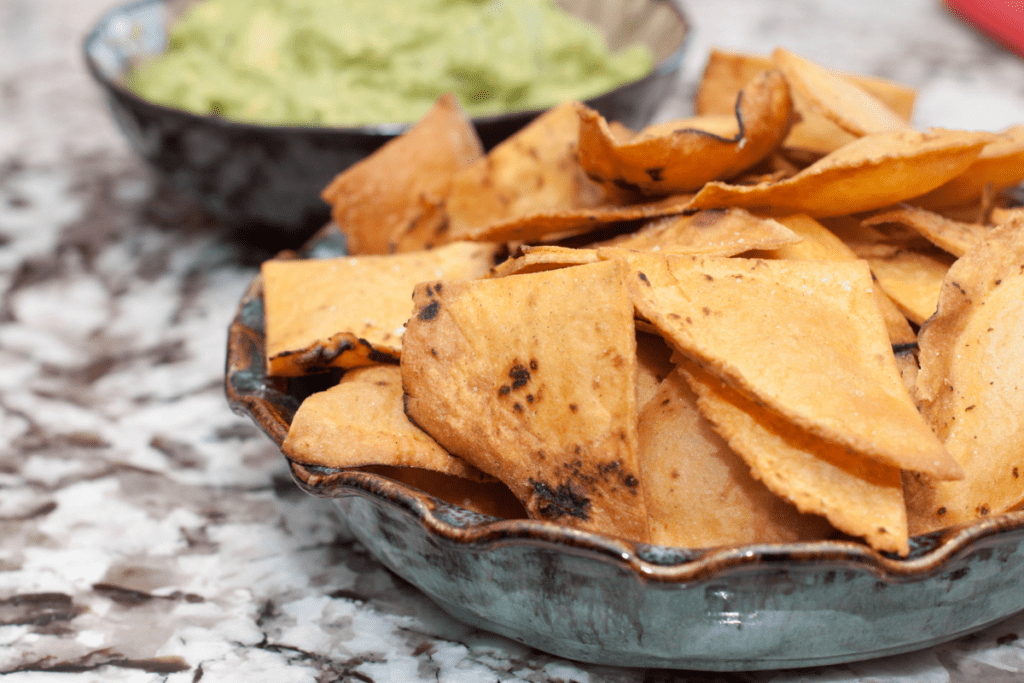 and let cool on a paper towel lined plate and then done!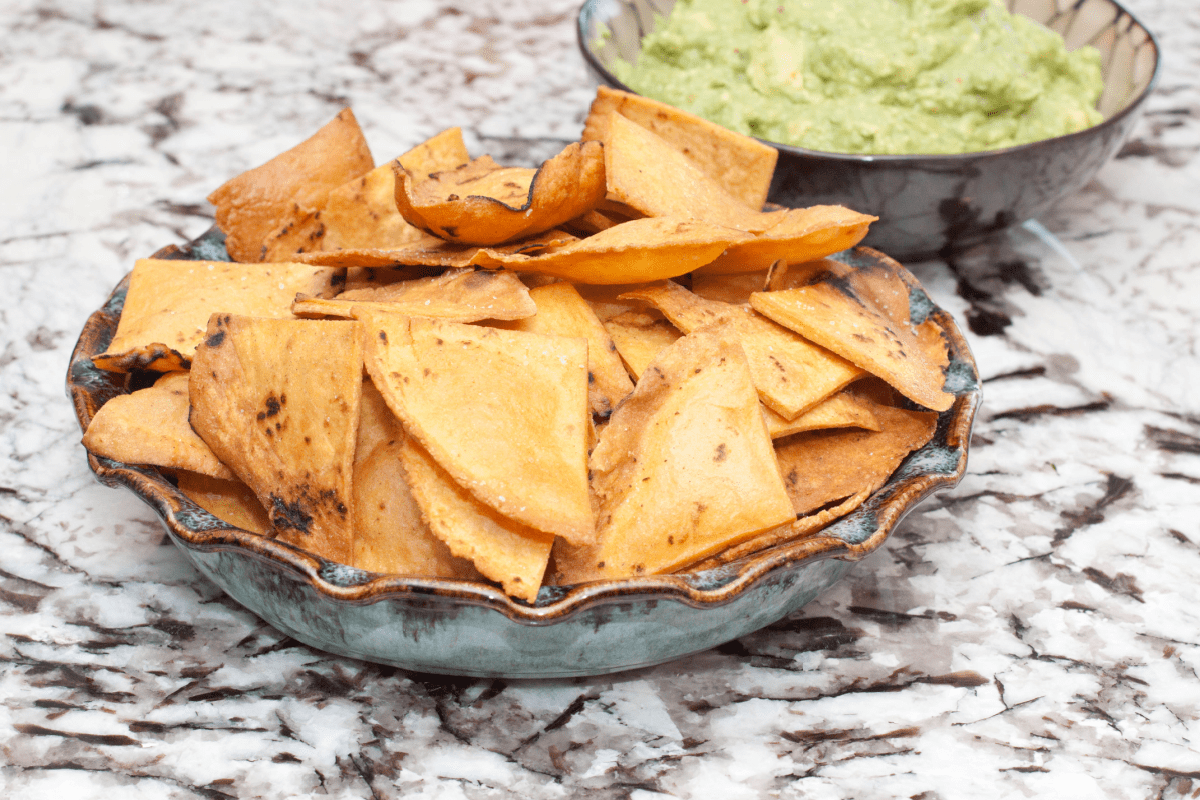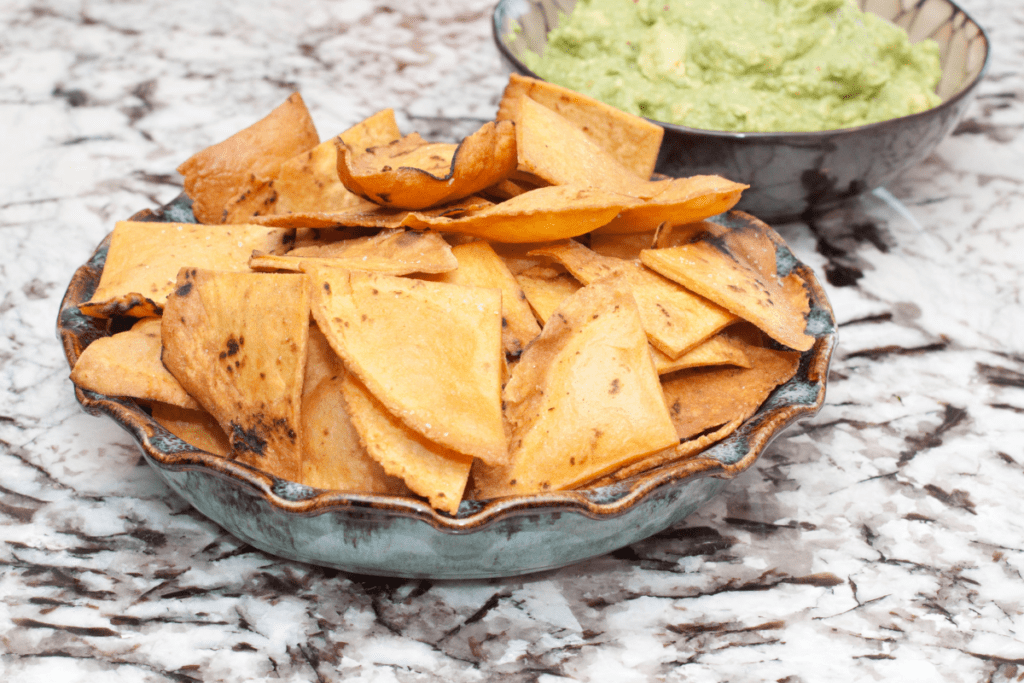 What's better than a fresh homemade corn tortilla? Just a fresh crispy out-of-the-pan homemade corn tortilla chip, that's what!
What to Serve with Tortilla Chips
FAQs
Should I use yellow or white masa flour?
Totally up to you. The only difference is that the white with white corn, the yellow is made with yellow corn. I prefer yellow just for the color.
Does it have to be "Instant" masa flour?
The term instant refers to how quickly the dough comes together. Masa Harina is corn flour treated with lime. Most packages found in larger grocery stores will have the label "instant" but as long as it is masa harina, you're golden.
Do I have to use a tortilla press?
No, you don't. You can just roll them out as thin and as round as you can with a rolling pin. But a press will make the whole process much faster and easier.
What kind of oil can I use to fry the chips?
You want to be sure to use an oil that has a higher smoke point. This means that they are best for higher-temperature frying. We prefer to use peanut oil, vegetable oil, or canola oil.
Enjoy! As always, if you make this recipe or any of my others, I love to hear what you think! Leave a comment below, email me, or you can find me on Facebook, Instagram, and Pinterest!
If you want to see more, be sure to sign up for my 5 Easy Ways to Start Cooking From Scratch!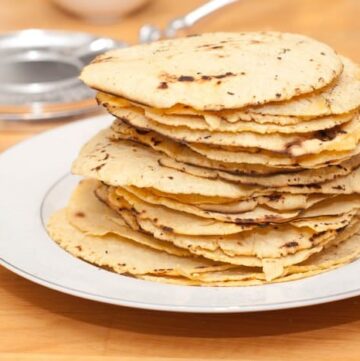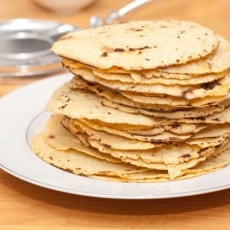 Corn Tortillas and Chips From Scratch
Skip the store bought. You can make your OWN Corn Tortillas and Chips From Scratch with just 3 ingredients at home!

Print
Pin
Rate
Ingredients
2

cups

of Instant Masa Flour

1 1/3

cups

of water

1/4

teaspoon

of salt
Tortilla Chips
oil for frying

peanut, canola, or vegetable
Instructions
In a bowl mix the masa flour with salt. Add water and mix until a soft dough forms. If it feels a little dry, add a teaspoon of water at a time.

Divide dough into approximately 16 equal balls weighing approximately 1.4 to 1.5 oz each. If you don't have a scale, just divide dough in half, then halve each half and repeat until you have 16 pieces. Roll them into balls and with a moist paper towel, cover them to keep the dough soft.

Line each side of a tortilla press with plastic wrap. Place dough in the middle and press until ball is about 5 to 6 inches in diameter. *With my press, I did one press, then rotated the tortilla and pressed again because it seemed to press thinner on one side.

Heat skillet or griddle on medium high heat. Carefully peel tortilla off of plastic and cook for about 50 seconds on each side. Cover them with a cloth napkin to keep them soft and warm.

When cool, store tortillas in a plastic bag in the refridgerator for up to a week or freezer for a few months.
To Make Corn Tortillas Chips
Let tortillas completely cool and then quarter them.

Fill a sauce pan with peanut oil or vegetable oil so that it's 3 inches deep in the pan. Heat oil on medium high and then slowly add the quartered tortilla pieces, one layer at a time.


Fry until they begin to golden and then with a slotted spoon, transfer them to a paper towel lined plate. Sprinkle with salt. Cool and serve with guacamole, pico, or on their own!

Notes
To prevent sticking, use plastic wrap around your press.
Be sure to use an oil that has a high smoke point like peanut, vegetable, or canola oil.
Nutrition
Calories:
52
kcal
|
Carbohydrates:
11
g
|
Protein:
1
g
|
Fat:
1
g
|
Saturated Fat:
0.1
g
|
Polyunsaturated Fat:
0.2
g
|
Monounsaturated Fat:
0.1
g
|
Sodium:
37
mg
|
Potassium:
37
mg
|
Fiber:
1
g
|
Vitamin A:
30
IU
|
Calcium:
19
mg
|
Iron:
1
mg