Skip the store bought. You can make your OWN Corn Tortillas and Chips From Scratch with just 3 ingredients at home!
My husband is a taco fiend. And by fiend I mean he will happily eat tacos every single day of the week. He said that to me and thinking he was being hyperbolic, one Sunday I made a ton of flour tortillas and then made him tacos for dinner every single night for the next 6 straight days. And by day 7, he was sad we were out of tortillas. I repeat: Fiend.
Although I love our flour tortillas, corn tortillas have been on my list for a long time. This past week it was one of my best girl Adrienne's birthday and for her party she wanted some carne asada tacos with corn tortillas. No need to twist my arm. I bought a little tortilla press and some masa and then realized how silly it was that I had waited so long to make them. They're so easy.
Masa + salt,
+ water and mixed until a dough forms.
Then just rolled out into little 1.4 / 1.5 oz balls,
and then pressed! Done. Sooo easy. And the tortilla press? Totally affordable! I bought this one on Amazon and totally love it.
So as I continued to press out the little dough balls, I heated up a griddle and cooked them while I pressed. Just about 50 seconds on each side and they were done.
Seriously, so easy anndd tasty. I've seen a lot of corn tortilla recipes that add oil to the dough, totally unnecessary in my opinion.
The next day at Adrienne's I quartered the tortillas to fry them into chips.
Into a pot of peanut oil…
…and oooh my goodness.
Corn Tortillas and Chips from scratch and some homemade guacamole?! Now that is how you start a fiesta! We noshed on devoured these chips with the guac while we drank Coronas, Negro Modelos, let the steaks marinate, and soaked up this rare but wonderfully sunny March!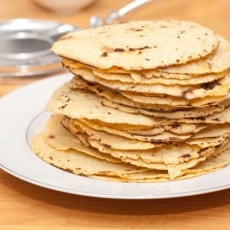 Corn Tortillas and Chips From Scratch
Skip the store bought. You can make your OWN Corn Tortillas and Chips From Scratch with just 3 ingredients at home!

Print
Pin
Rate
Ingredients
2

cups

of Instant Masa Flour

1 1/3

cups

of water

1/4

teaspoon

of salt
Instructions
In a bowl mix the masa flour with salt. Add water and mix until a soft dough forms. If it feels a little dry, add a teaspoon of water at a time.

Divide dough into approximately 16 equal balls weighing approximately 1.4 to 1.5 oz each. If you don't have a scale, just divide dough in half, then halve each half and repeat until you have 16 pieces. Roll them into balls and with a moist paper towel, cover them to keep the dough soft.

Line each side of a tortilla press with plastic wrap. Place dough in the middle and press until ball is about 5 to 6 inches in diameter. *With my press, I did one press, then rotated the tortilla and pressed again because it seemed to press thinner on one side.

Heat skillet or griddle on medium high heat. Carefully peel tortilla off of plastic and cook for about 50 seconds on each side. Cover them with a cloth napkin to keep them soft and warm.

When cool, store tortillas in a plastic bag in the refridgerator for up to a week or freezer for a few months.
To Make Corn Tortillas Chips
Let tortillas completely cool and then quarter them.

Fill a sauce pan with peanut oil or vegetable oil so that it's 3 inches deep in the pan. Heat oil on medium high and then slowly add the quartered tortilla pieces, one layer at a time.


Fry until they begin to golden and then with a slotted spoon, transfer them to a paper towel lined plate. Sprinkle with salt. Cool and serve with guacamole, pico, or on their own!